Living in West Michigan means I'm never too far from a small brewery and, in many cases, that brewery has terrific food on offer as well. One of the most common offerings in a local brew pub is beer cheese or beer cheese soup. As an appetizer, it is thick and rich with sharp cheeses and hoppy or malty notes and served with soft pretzels or bread. In soup form it has all of the cheesy and beery goodness, but they let you eat it by the spoonful. I wanted to replicate the flavors at home but with a slightly lighter recipe and this is where my Beer Cheese Soup recipe was born.
Beer cheese isn't a new concept. Welsh rarebit (or Welsh rabbit) has been around since the 18th century and is a stout and cheese sauce that also can contain dry or prepared mustard, Worcestershire sauce, and egg yolk. It is served on top of a slice of bread, and can also be broiled. This recipe doesn't have any of the Worcestershire, egg, or mustard, but has a few vegetables for good measure. Because, you know, beer and cheese need balance.
Your final beer cheese soup flavor is highly dependent on both the beer and cheese you choose to use. I have made this with wheat beers, Belgian beers, and lagers with success. I almost always choose a sharp cheddar or aged gouda, but other good options are white cheddar, gruyere, Parmesan, or any combination. Just make sure you don't use a pre-grated cheese. You will get a grainy texture from the packaged shredded cheese. In the soup I made in these photographs, I used a lager from Founders with Beemster aged gouda. It is one of my favorite combinations.
The soup starts with a basic blend of mirepoix with garlic. The vegetables get sautéed in some olive oil until they are softened a bit. It is thickened with a bit of flour which gets cooked a bit to take away the raw flour taste.
Adding the beer to the flour and vegetable mixture will help deglaze the pan and loosen up any bits that have stuck to the pot. When you pour in the beer it will foam up quite a bit, but just keep stirring to combine everything. Add in the evaporated milk and milk (if using), and bring the mixture to a boil. Watch it carefully, it can boil over quickly! Once the soup has reached a boil, turn the heat down and simmer for 10 minutes. Feel free to use any combination of fat-free to whole milks as I've mixed and matched them with success in the past.
Once the soup has simmered and the vegetables are completely tender, you can remove the pot from the heat and blend the soup to make it smooth. I favor using an immersion blender, but the soup can be transferred to a regular blender as well (take care to cover the blender top with a towel in case of eruptions). Once smooth, all of the cheese can be stirred in and the soup should be seasoned with salt and pepper. White pepper is particularly good here; I think the fruity flavors in white pepper compliment the hops in the beer so well.
Ladle the soup into bowls and serve it with veggie sticks and pretzel rolls for a complete meal. If you are making this as a cheesy appetizer, spoon it into a heat proof serving bowl and broil it for a bit for a little extra something. Serve it with toast points, pretzel chips, soft pretzel sticks, or vegetables for a really popular party platter.
I hope you give this a try and really enjoy the fun of creating combinations. Please leave a comment if you make it and tell us what cheese and beer combinations you tried!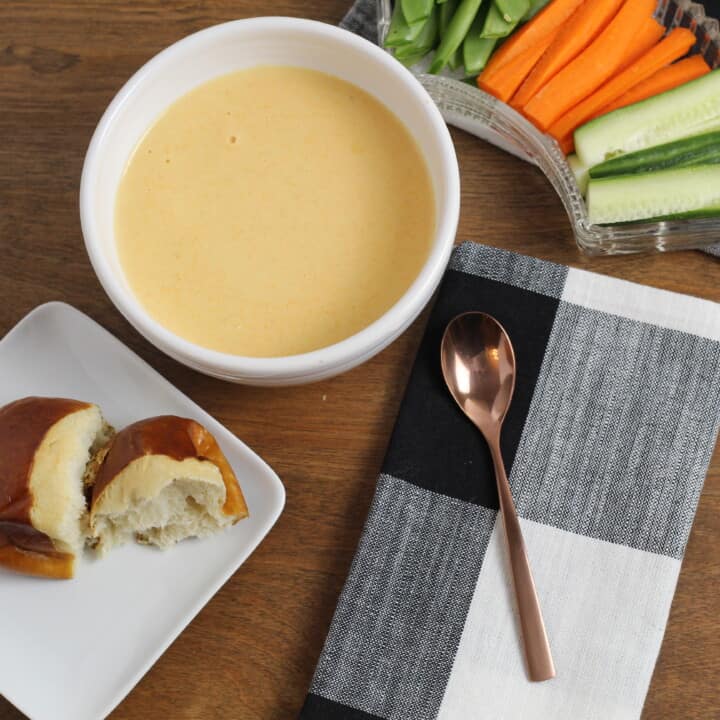 Beer Cheese Soup
This soup is brewpub fare lightened up a bit for an at-home treat! The flavor can be customized with your favorite cheese and beer combination. Modify the recipe slightly for a beer cheese dip to serve with soft pretzels.
Print
Pin
Rate
Ingredients
¼

cup

canola or vegetable oil

1

cup

carrot, diced

one large carrot

½

cup

celery, diced

one rib

½

cup

sweet yellow onion, diced

½ medium onion

2

cloves

garlic, peeled and crushed

¼

cup

all-purpose flour

1

12oz. can

evaporated milk

whole, 2%, or fat-free all work equally well

1½

cup

milk

16

oz.

beer

lager, wheat beer, Belgian blonde, or stout

8

oz.

shredded cheese

sharp cheddar or aged gouda

1½

teaspoon

kosher salt, or to taste

½

teaspoon

white pepper, or to taste
Instructions
Heat the oil over medium heat and saute carrot, onion, celery, and garlic for about 7-10 minutes, or until softened.

Add the flour and stir, cooking for 3 minutes.

Add in the beer to deglaze, whisking while drizzling the beer in a slow stream.

Stir in milks and increase heat to high. Bring to a boil (watch that it doesn't boil over!) and then reduce heat to a simmer on low heat for 10 minutes.

Remove pot from heat. Use an immersion blender to blend to a smooth consistency or transfer the soup by ladlefuls to a blender to blend to a smooth consistency.

Stir in cheese and heat until melted. Season with salt and pepper to taste.
For beer cheese dip:
Omit the 1½ milk added in step 4 and add only the evaporated milk.
Notes
We like this best served with pretzel rolls for dipping.  I've heard of restaurants serving this with popcorn over the top as a garnish and I think that sounds like a great idea!  We like the white pepper for it's fruity flavor and how it compliments the beer, but feel free to use black pepper if it is more to your liking.
Share on Facebook