I'm back with another restaurant dupe, this time the Avgolemono Soup from San Francisco restaurant La Mediterranee. It was different from any other lemon-chicken-rice soup I'd had before (or since) with it's creamy texture. I have very fond memories of enjoying a cup of this soup alongside a feast of Mediterranean pastries, dolma, and falafel. It's somehow rich and bright at the same time with the flavor of lemon shining through. I think I made an excellent version and I hope you agree!
This Veggie Packed Chicken Gnocchi Soup is another creamy, delicious soup you have to try!
Ingredients for Avgolemono Soup
This soup is only made of five ingredients (plus salt), so you know you have to select the best you can find. Use a rich stock or broth, juicy lemons, and freshly cooked chicken.
Chicken broth or stock: use a good quality one!
Long grain rice: this provides some of the body of the soup
Eggs: eggs make the smooth and creamy texture of the soup possible
Fresh lemon juice: don't substitute bottled, this is a major flavor component in the soup
Shredded cooked chicken: I often use rotisserie chicken breast for this recipe
Kosher salt: adjust the amount in the recipe based on your taste as well as the salt content in your broth or stock
Toppings and garnish: chopped parsley, shredded hard boiled egg, and sweet paprika are all good options.
Preparation
Start the soup by boiling the broth and cooking the rice until it is really tender. The whole soup is blended, so you don't want any "bite" to the rice. I temper the eggs to prevent them from curdling in the soup. This sounds like a complicated cooking technique, but the most important thing to remember to master it is to *keep* whisking. In a medium bowl I combine the eggs, lemon juice, and salt with a whisk. Then, I take a ladle of the hot soup broth and slowly stream it into the egg mixture while whisk, whisk, whisking. This heats the eggs slowly enough that they don't instantly cook and turn into lemony scrambled eggs. I add one more ladle with the same technique for good measure before transferring the egg mixture to the saucepan off of the heat slowly with (you guessed it) more whisking.
Now you can drop the whisk and start using a wooden spoon. The soup will get slowly heated until the eggs cook completely and a thick, custard texture is created. You'll know you're there when the soup coats the back of the wooden spoon and you can drag a line through it with your finger. The soup will start out really foamy, but that will subside as you slowly stir. For me this takes about 5 minutes. Add the chicken and blend the soup using an immersion blender or standard blender. Take care in blending hot liquids! I usually remove the center part of the blender top and cover with a kitchen towel to let steam escape. Taste for salt and your soup is done!
Serving Avgolemono Soup
This Avgolemono Soup is full of flavor on its own, but a little garnish makes for nice presentation. Sweet paprika is a pretty contrast, in these photos I opted for parsley and shredded hard boiled eggs. This soup can be served as a main dish with bread or salad or you can make it a part of a Mediterranean feast with falafel, Hummus, pita, or Spinach and Feta Pie.
If you don't finish up all of the soup, it can be refrigerated for 2-3 days. It thickens up as it cools, so adding a tablespoon of water can bring it back to the desired texture if you wish.
Try It and Share
I hope you try this Baked Gnocchi with Sun Dried Tomato Cream and share the recipe with family or friends. I want to see your results! Tag your photo with #planeatpostrepeat and mention me @planeatpostrepeat on Instagram or Facebook. I can give you a virtual high five and thank you for cooking one of my recipes! Comment below with any questions and please leave a review so others can find this recipe more easily.
Are you as big a fan of lemon as I am? Try these recipes and find a new favorite: Edamame and Lemon Spread, Lemon Ricotta Shells, or Lemon Curd Thumbprint Cookies!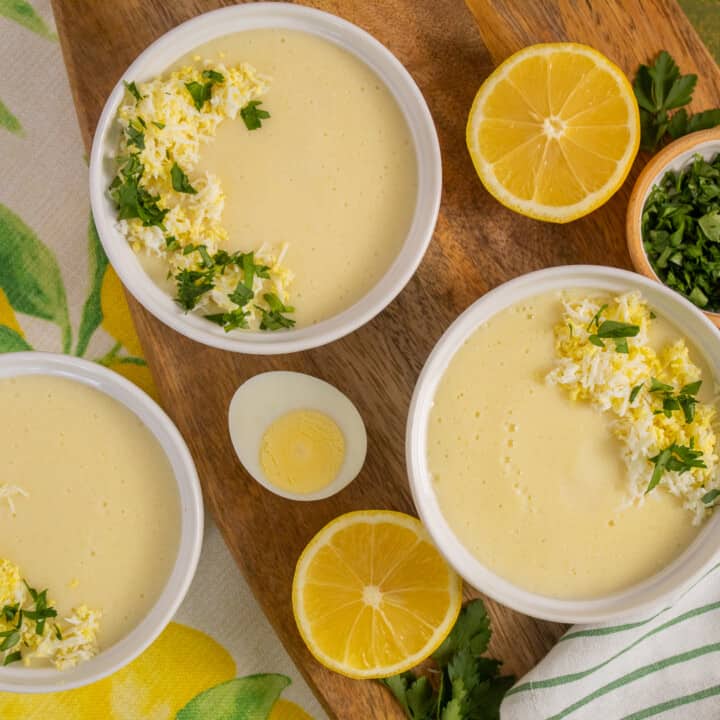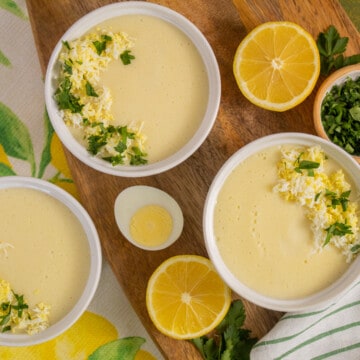 Avgolemono Soup
Brightly flavored with lemon, this version of Avgolemono Soup is made with just six ingredients and has a smooth and velvety texture.
Print
Pin
Rate
Ingredients
6

cups

chicken broth or stock

½

cup

uncooked long grain rice

3

oz.

fresh lemon juice

½

teaspoon

kosher salt

or to taste

½

cup

cooked and shredded chicken breast

chopped parsley, sweet paprika, or grated hard boiled egg

for garnish
Instructions
Bring the broth to boil in a large sauce pan over high heat. Add the rice, cover, and simmer over low heat for 15 minutes, or until rice is tender.

In a medium bowl, whisk the eggs with the lemon juice and salt.

Temper the eggs by slowly adding a ladle of the hot stock to the egg mixture while whisking vigorously. Repeat with a second ladle of stock.

Remove the sauce pan with the remaining stock and rice from the heat. While whisking constantly, add the egg mixture to the stock.

Put the soup back on the stove over low heat. Stir constantly until the foam subsides and the soup coats the back of a wooden spoon, about 5 minutes. Do not let the soup boil.

Taste the soup for seasoning and adjust if needed. Serve immediately with garnishes, as desired.
Notes
The soup will thicken as it cools.  When reheating, add a tablespoon of water to thin the soup if needed.
Share on Facebook