Cool, creamy avocado pairs up with chicken and black beans in a flavor-packed package for these Freezer Friendly Chicken Avocado Burritos. They can be prepared three ways: baked, grilled in a skillet with some oil, or pressed on a panini grill!
Looking for a few more recipes to build your freezer stash? Make a batch of Chile Colorado or Baked Sweet Potato and Soyrizo Tacos to have meals on hand for dinner emergencies.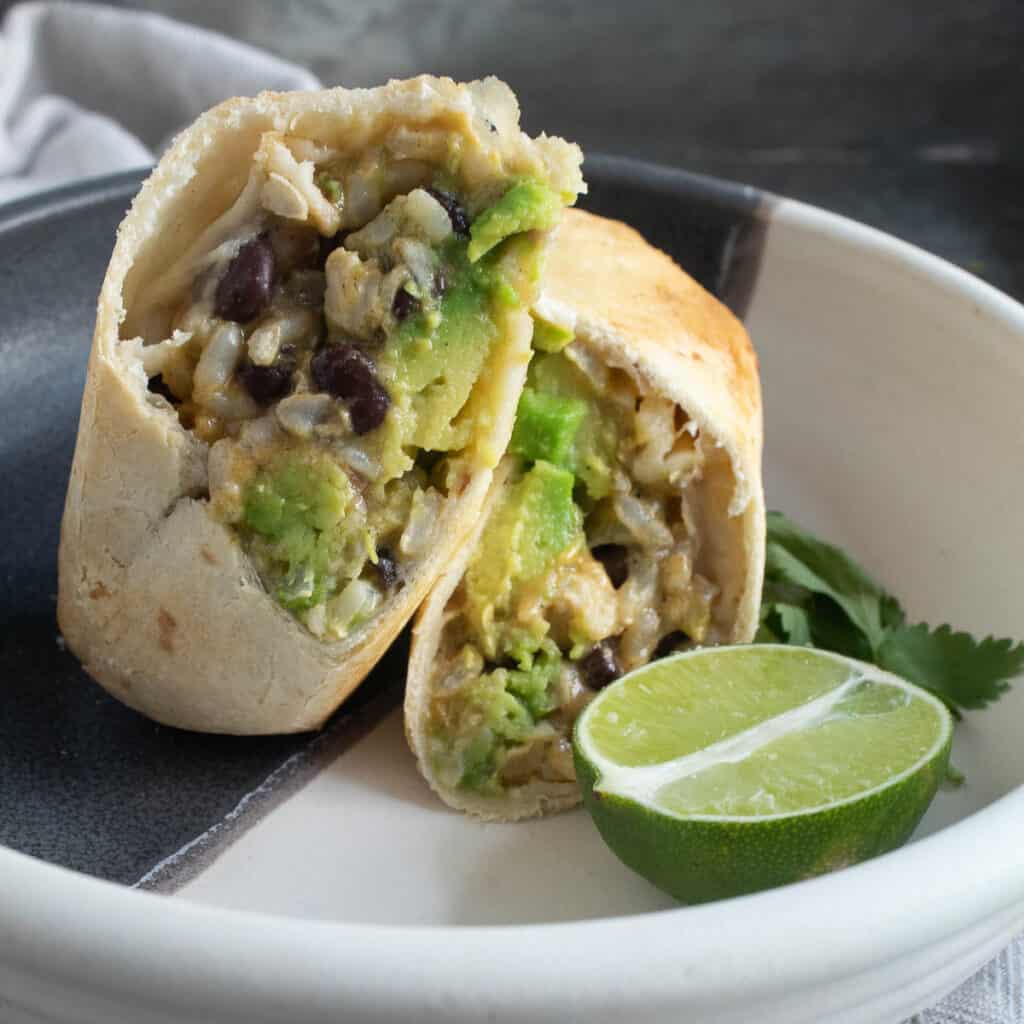 Nothing is as sure a hit in this house as burritos. Not even pizza. Even if I just made basic beans-rice-cheese burritos they'd be forever popular (please don't jinx me, Universe!), but today's offering is a little bit elevated. We've got the beans-rice-cheese trifecta (duh), but there's also chicken, avocado, and a creamy and warmly-spiced sauce to bring it all together.
Ingredients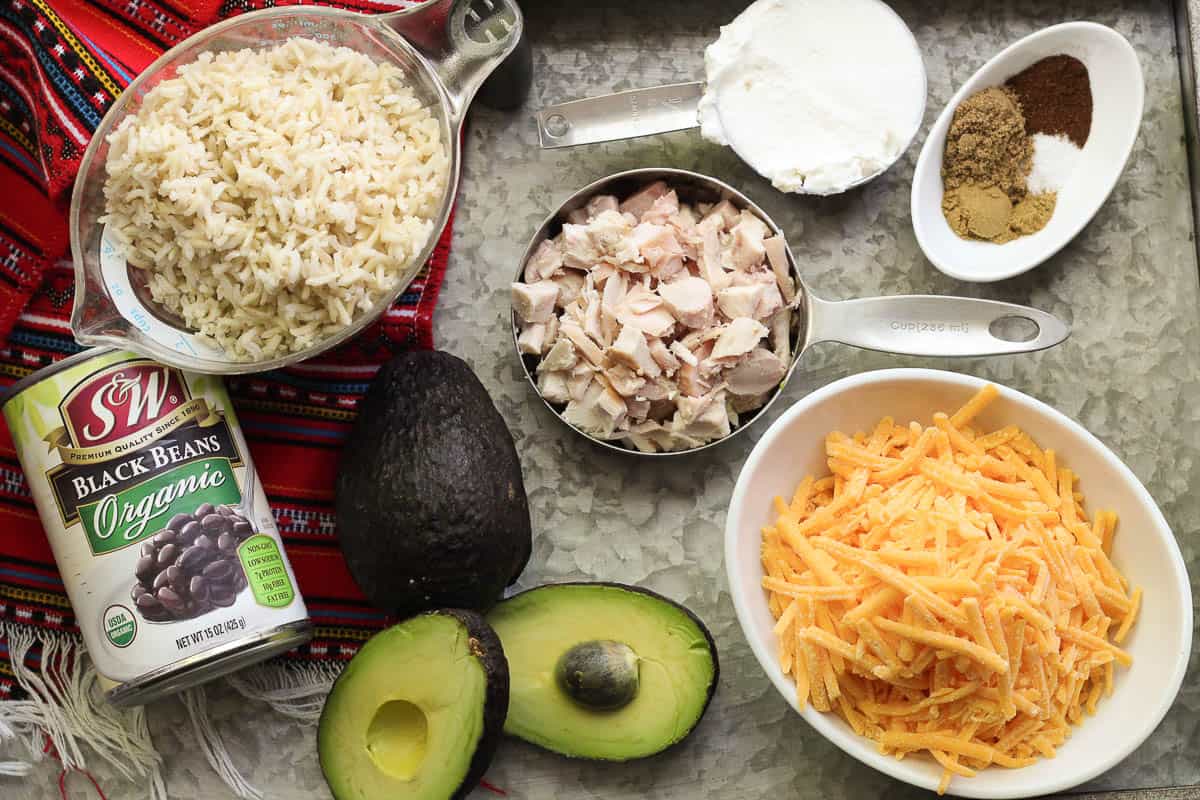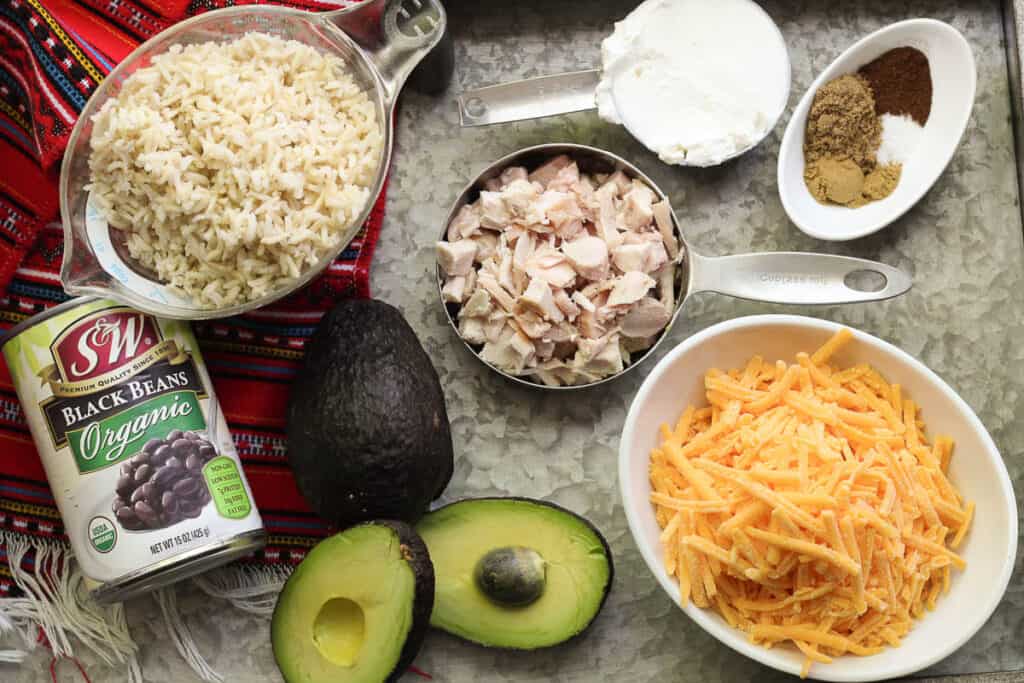 Chicken: This is a great time to use chopped chicken from a rotisserie chicken. I also like to use canned chicken in this recipe for a really easy filling. To make these burritos vegetarian, feel free to leave out the chicken altogether.
Rice: Use brown or white rice, but make sure it has cooled before stirring it into the filling mixture.
Cheese: I generally have shredded cheddar cheese on hand, but substitute a Mexican blend, Monterey jack, pepper jack for a hint of spice, or a Colby cheese if you prefer.
Avocados: Use avocados that are just barely ripe so that they don't get too smashed up when you are stirring up the filling.
Black Beans: Be sure to drain and rinse your beans and remove all of the water before adding the beans to the filling mixture.
Dried Spices: Coriander, cumin, and ancho chili powder make a warmly spiced filling that isn't too spicy for the whole family to enjoy.
Greek Yogurt: Thick Greek yogurt is perfect for blending the spices for a sauce that brings all of the ingredients together but isn't too loose for filling the burritos.
Prepare the Filling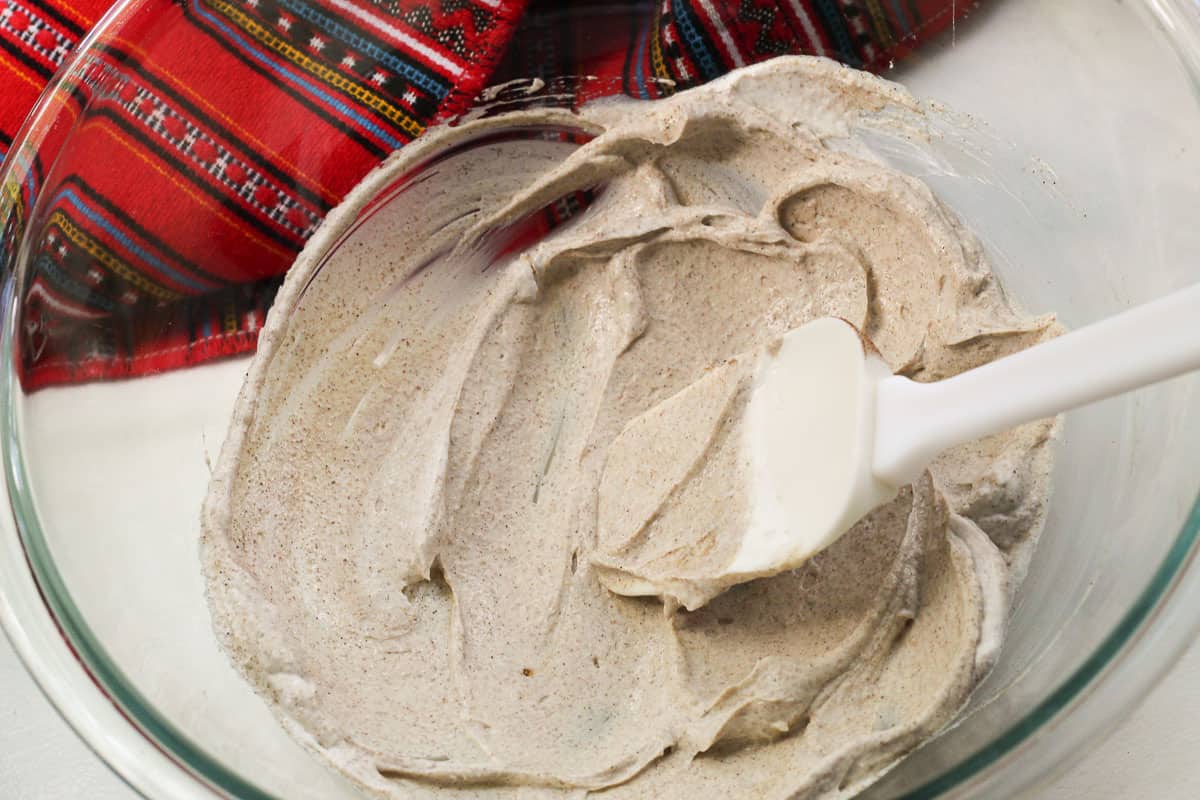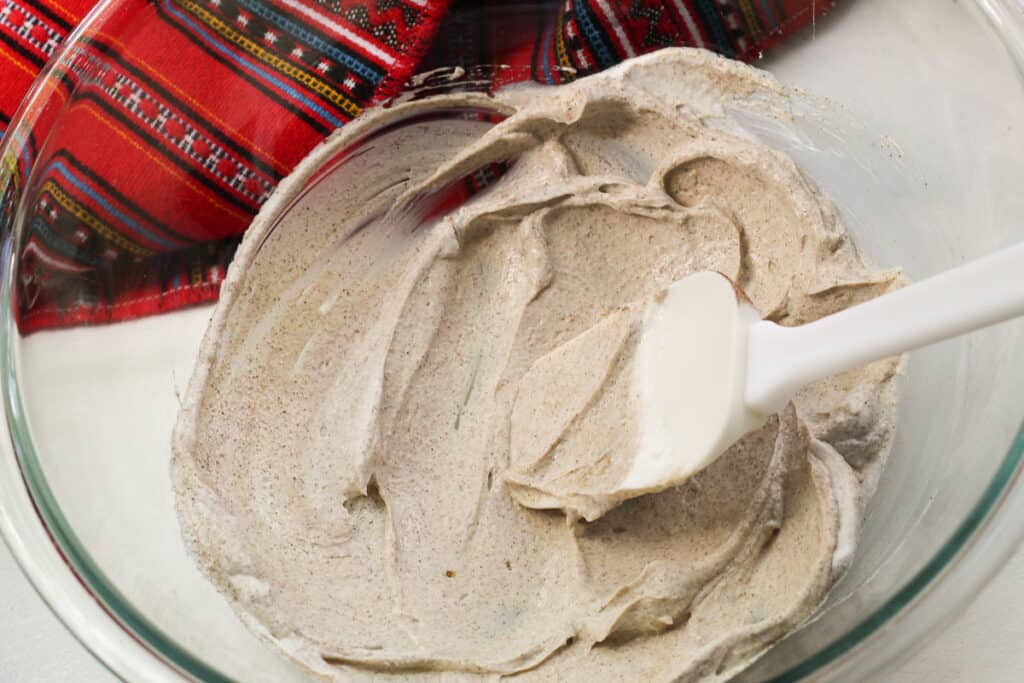 I like to mix up the sauce first. Grab a big bowl and combine the Greek yogurt, cumin, coriander, ancho chili powder, and salt. This way the spices get evenly distributed within the filling for perfect bite after perfect bite.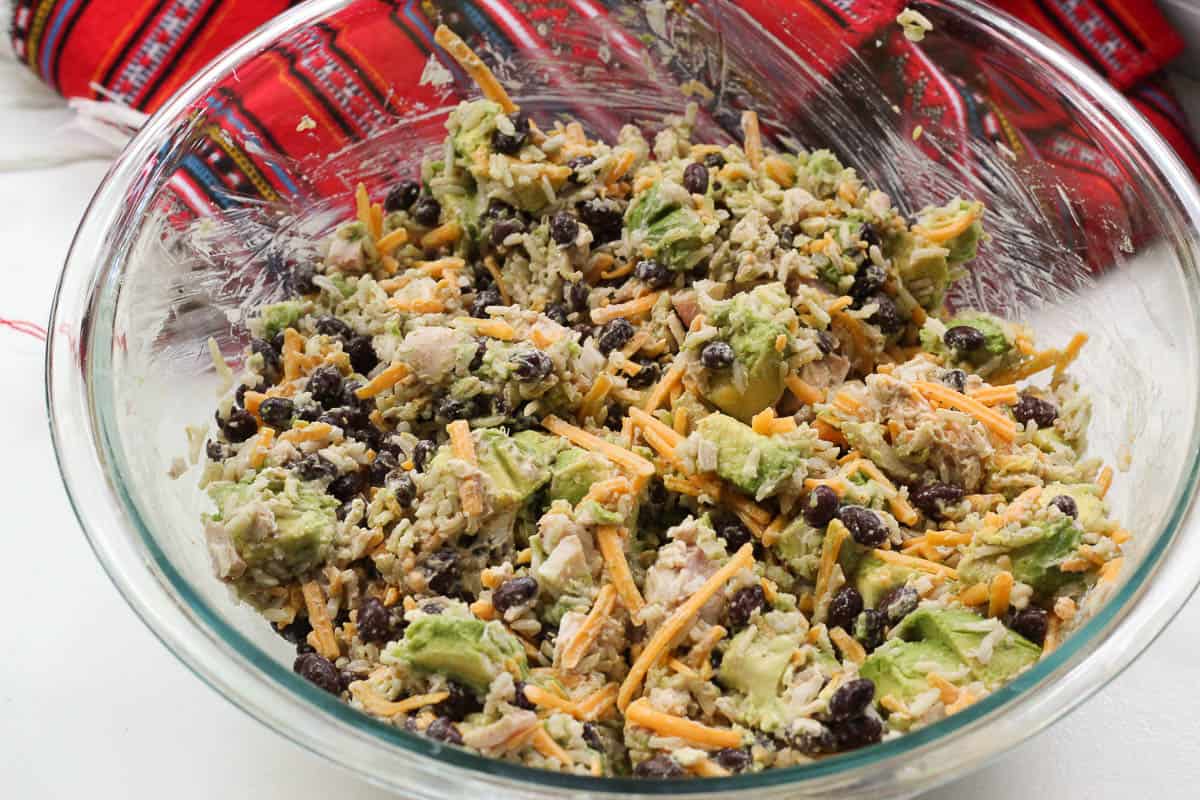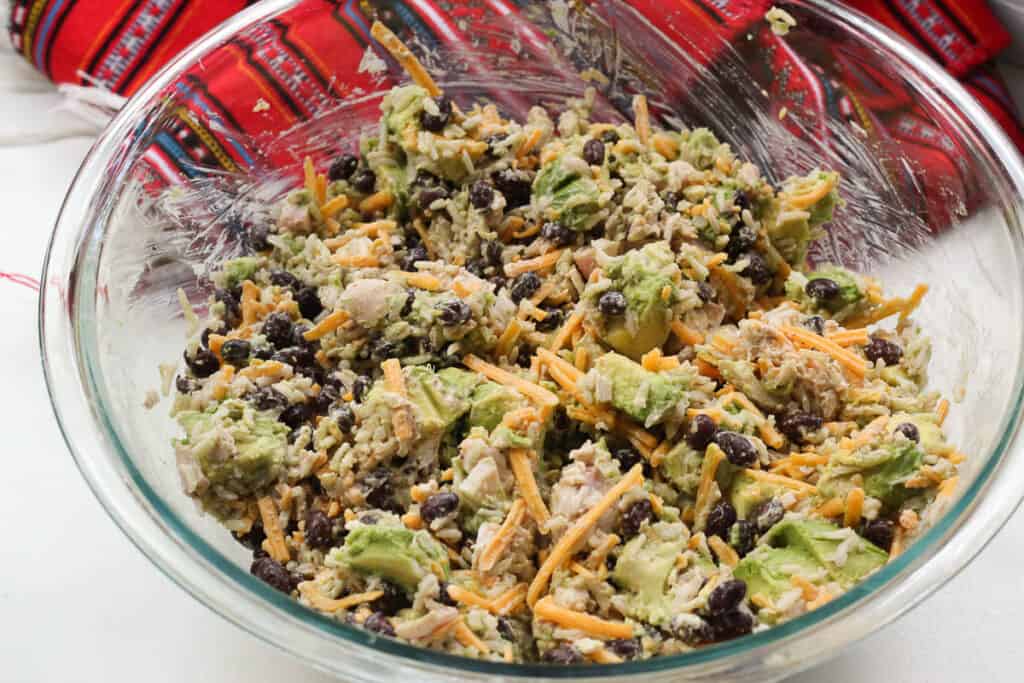 Stir the rest of the filling ingredients into the sauce. Fold the avocado in gently to avoid mashing it up too much. Getting a bite with a chunk of avocado is bliss!
Fill the Tortillas and Wrap for Freezer Storage
This recipe makes 8 big burritos if you have the giant flour tortillas to start with. This time around I had only the large-ish tortillas and I got 10 burritos. I take the bowl of filling and sort of divide it into wedges with my spoon to help portion things out. The burritos get rolled up and then you can either go directly to frying them or wrap them up for the freezer.
Whether you are going to cook them directly after filling them or you are working with thawed burritos, you can finish them three ways. Bake them in the oven, grill them in an oiled skillet, or grill them in a panini press! Then bring them to the table with lime wedges, salsa, hot sauce, cilantro, or sour cream.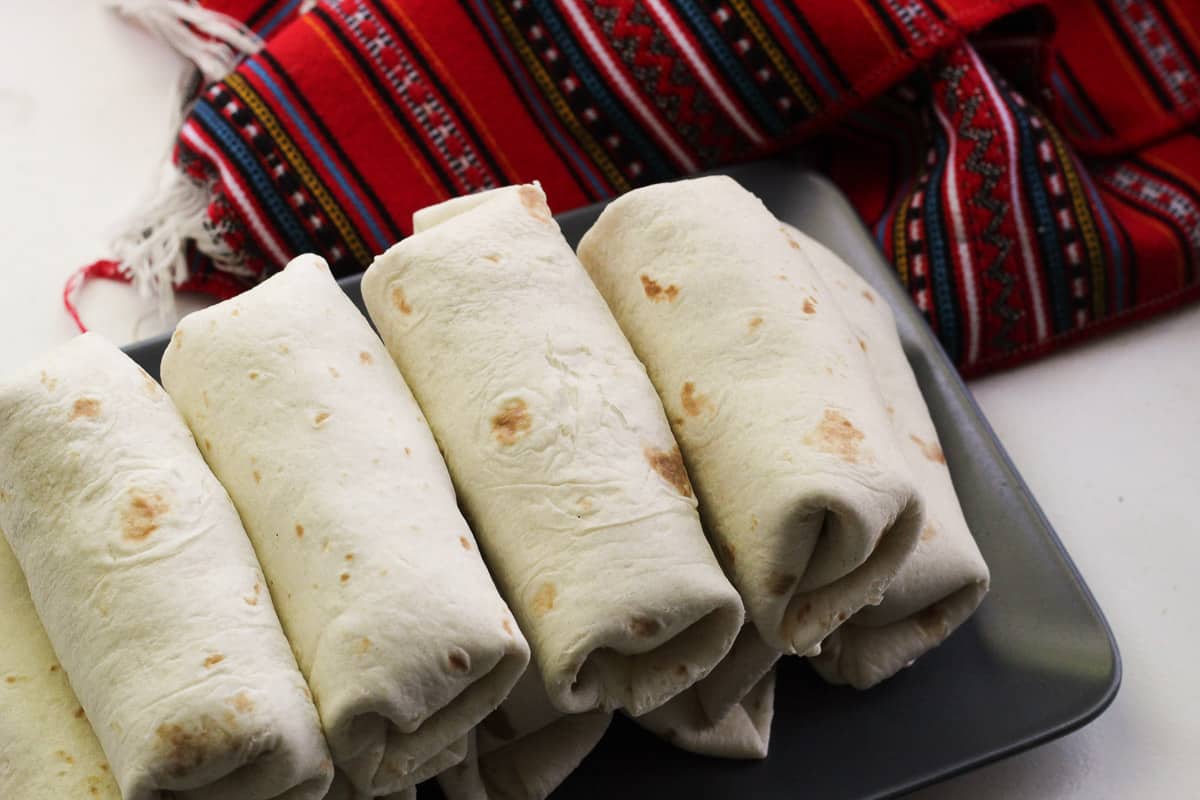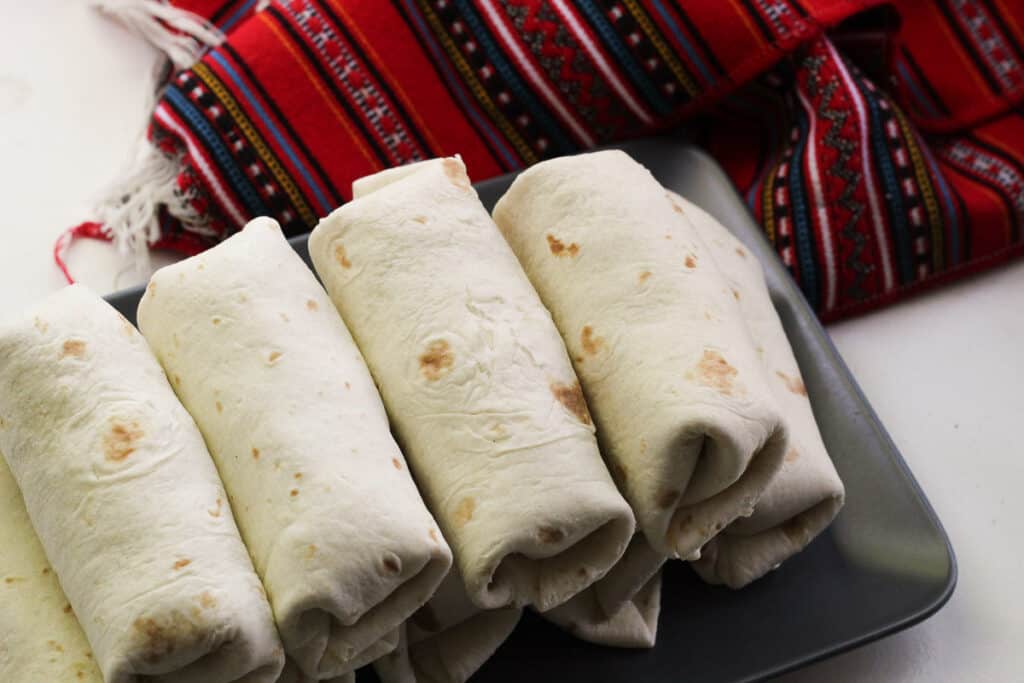 If you are going to freeze your burritos, wrap each one separately in plastic wrap. Then place them in a labeled freezer bag and freeze for up to three months. Before cooking the burritos, thaw them completely overnight in the refrigerator. They will not heat up in the middle if they are still frozen when you start cooking them.
Bake the Burritos
Baked burritos have a crisp outer layer and piping hot filling and are a great way to get dinner to the table almost hands-free.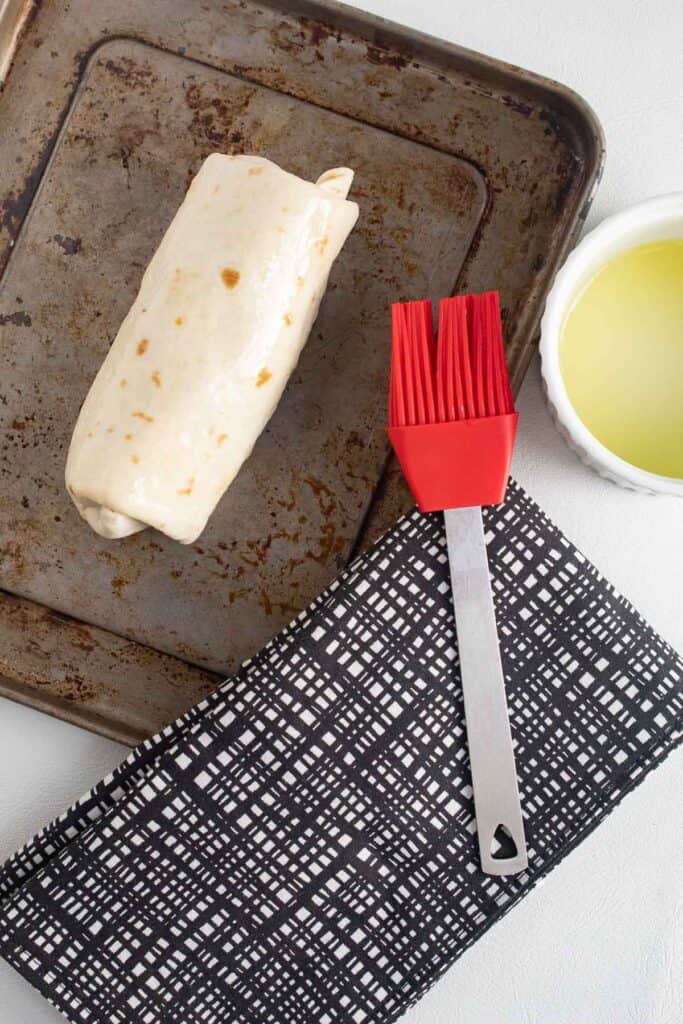 Preheat your oven to 400F. Brush each burrito with olive oil or vegetable oil to coat all sides. Place the burritos about 2 inches apart on a sheet pan. Bake for 20 minutes total, turning them half way. To get an extra golden finish, broil them for the last two minutes.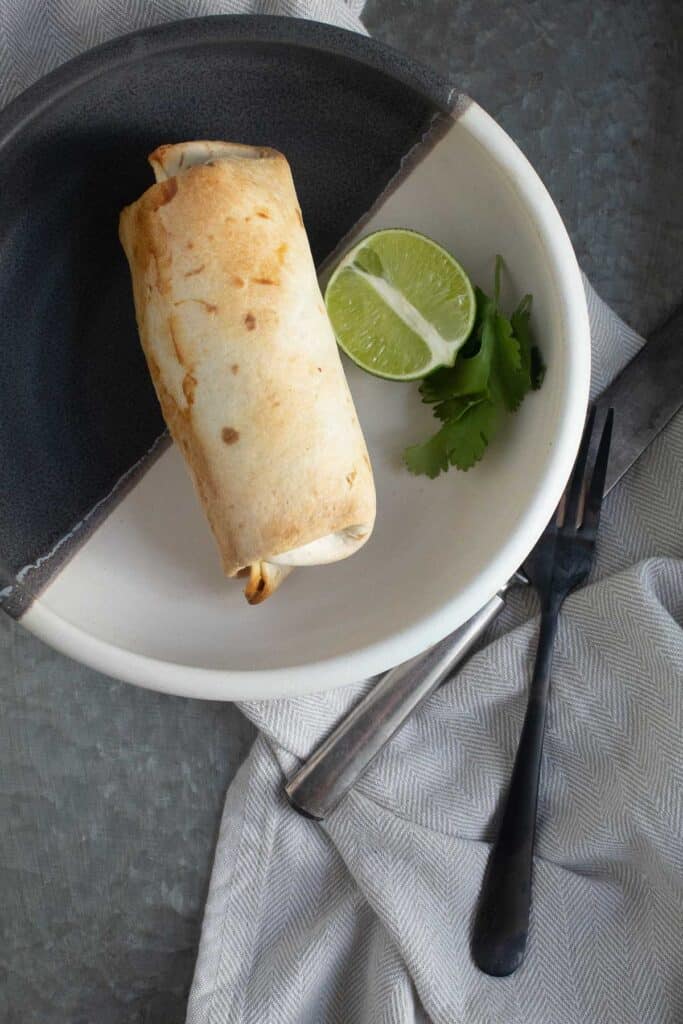 Grill with a Panini Press
Heat your panini press to medium-high and add the burritos to the grilling surface. Grill for about 4-5 minutes, until the tortilla is golden.
Grill the Burritos in a Skillet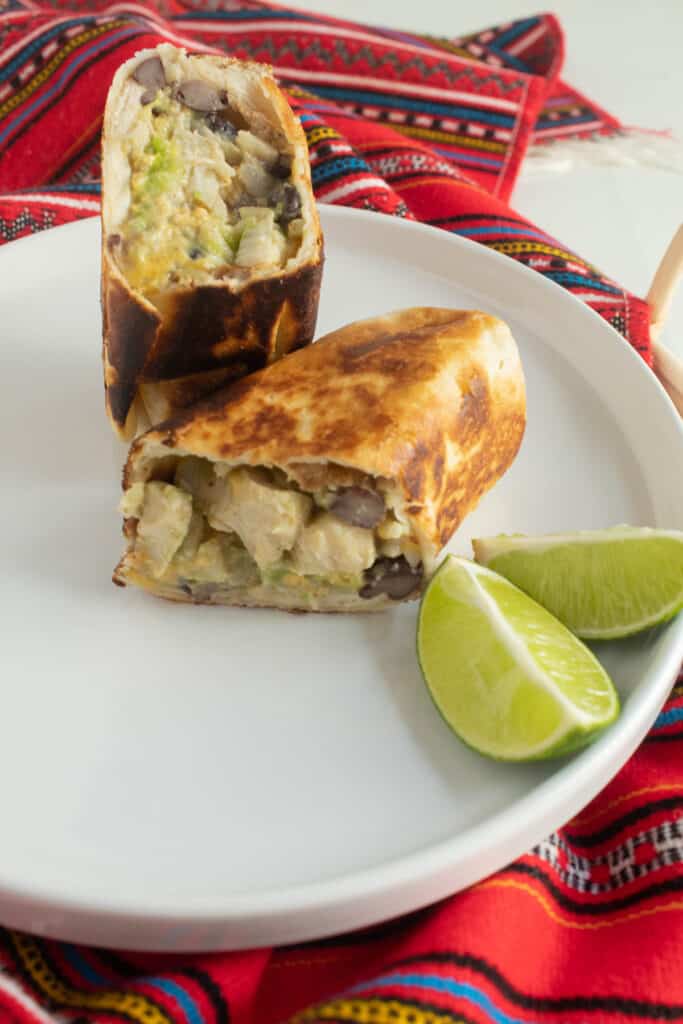 Add a bit of olive oil or vegetable oil to a skillet and heat it over medium heat. Add the burritos to the pan and spin them to lightly coat them with oil. Cook, rotating every 1-2 minutes, until the burritos are golden brown on all sides.
Spread the Love
I usually prep the batch of chicken avocado burritos the night we are going to eat them and freeze any we don't cook, but I have also wrapped the whole batch up in plastic wrap and frozen them for later dinner "emergencies". This was a popular option for preparing for those first few bleary months of bringing home a newborn. This is a perfect recipe to bring to a friend in need of some support! Just print out the recipe for them so they know how to reheat the burritos when they wish.
Try it and Share
These Freezer Friendly Chicken Avocado Burritos will help you build the freezer stash every busy family needs. I want to see your results! Tag your photo with #planeatpostrepeat and mention me @planeatpostrepeat on Instagram or Facebook. I can give you a virtual high five and thank you for cooking one of my recipes! Comment below with any questions and please leave a review so others can find this recipe more easily.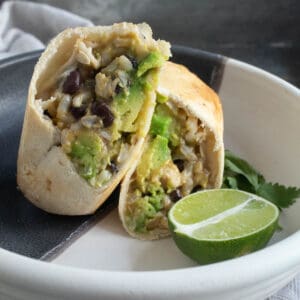 Freezer Friendly Chicken and Avocado Burritos (Baked or Grilled)
These are full of creamy avocado and warmly spiced with cumin and chili powder. Mixing the filling before rolling the burritos ensures each bite is as good as the first!
Ingredients
Burritos:
½

cup

Greek yogurt

½

tsp.

ancho chili powder

1

tsp.

ground coriander

1

tsp.

ground cumin

1

tsp.

kosher salt

2

ripe avocados, chopped

1

cup

cooked chicken, chopped

2

cups

cooked rice

brown or white rice

6

oz.

shredded cheddar or Mexican blend cheese

1

15 oz. can

black beans, drained and rinsed

8

flour tortillas, burrito-sized

2

tbsp.

olive oil
For Serving:
lime wedges

salsa

hot sauce

sour cream

cilantro
Instructions
Prepare the Burritos
Mix the yogurt, chili powder, coriander, cumin, and salt in the bottom of a large bowl.

Add the avocados, chicken, rice, cheese, and beans to the bowl and fold to incorporate all ingredients.

Divide the filling into 8 wedges and fill the tortillas. Cook immediately using one of the methods below.

To freeze the burritos for later use, wrap individually in plastic wrap and freeze. Thaw in the refrigerator for 24 hours and crisp using one of the methods below.
Grill your Burritos in a Skillet
Add olive oil to a skillet and fry the burritos over medium heat, rotating until golden on all sides.
Bake your Burritos in the Oven
Preheat the oven to 400°F. Place the burritos on a sheet pan and brush with oil on all sides.

Bake for 20 minutes total, turning the burritos halfway.
Grill your Burritos on a Panini Press
Preheat your panini press or grill to medium-high.

Place your burritos on the grill and cook for about 5 minutes, until golden on all sides.
Serving Suggestions
Serve with a squeeze of lime, a spoonful of salsa or sour cream, a sprinkle of chopped cilantro, or a dash of hot sauce.
Nutrition facts are sometimes provided below and are calculated using an online calculator. With specific brands of ingredients and additions, omissions, or substitutions the nutrition facts may change. We encourage you to use your own nutrition facts caculator to obtain the most accurate nutrition facts for your meal.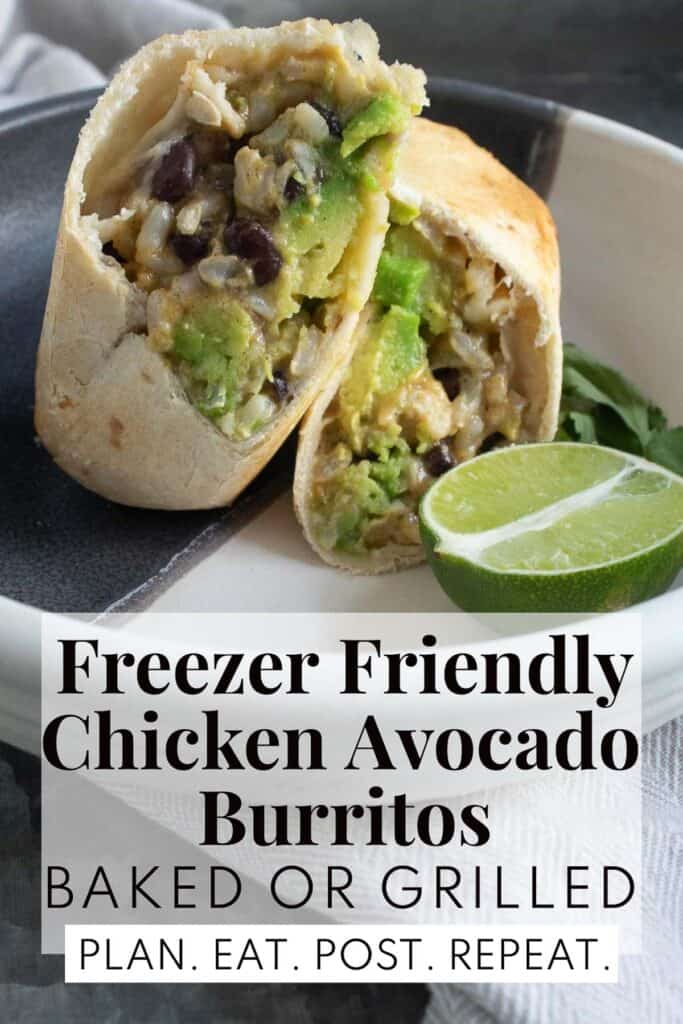 This recipe was republished on October 20, 2022 from an original post dated June 25, 2020.