This sautéed corn with peppers side dish is a speedy addition to your dinner table. The chili onion crunch adds a huge boost of flavor to this versatile corn medley recipe that can pep up any meal.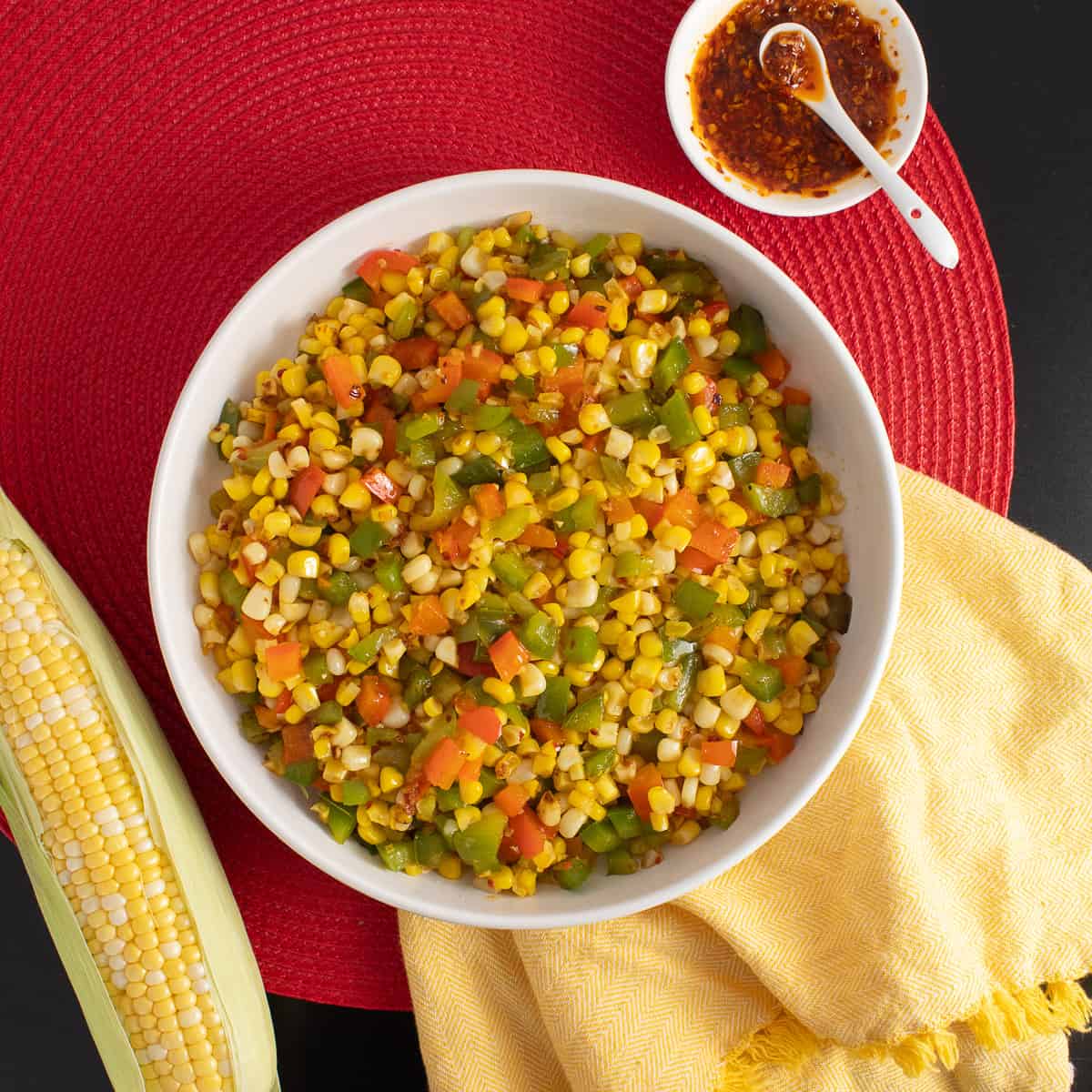 This sautéed corn medley has sweet corn, crunchy and fresh bell peppers, and chili onion crunch with a deep caramelized onion flavor and a subtle heat. Serve it in your next burrito bowl for a flavor punch!
Corn is a great side to add to meals throughout the year. Simple corn on the cob is great in summer but as the temperature drops, recipes like this confetti corn sauté and the Corn and Cabbage Slaw from my Ground Pork Tacos are welcome pops of fresh flavor.
Jump to:
Ingredients
I include ingredient notes here when I think they'll be helpful, including ways to source, any preparation tips, or why I've chosen a particular ingredient. Be sure to check out the recipe card below for the full list of ingredients and their quantities!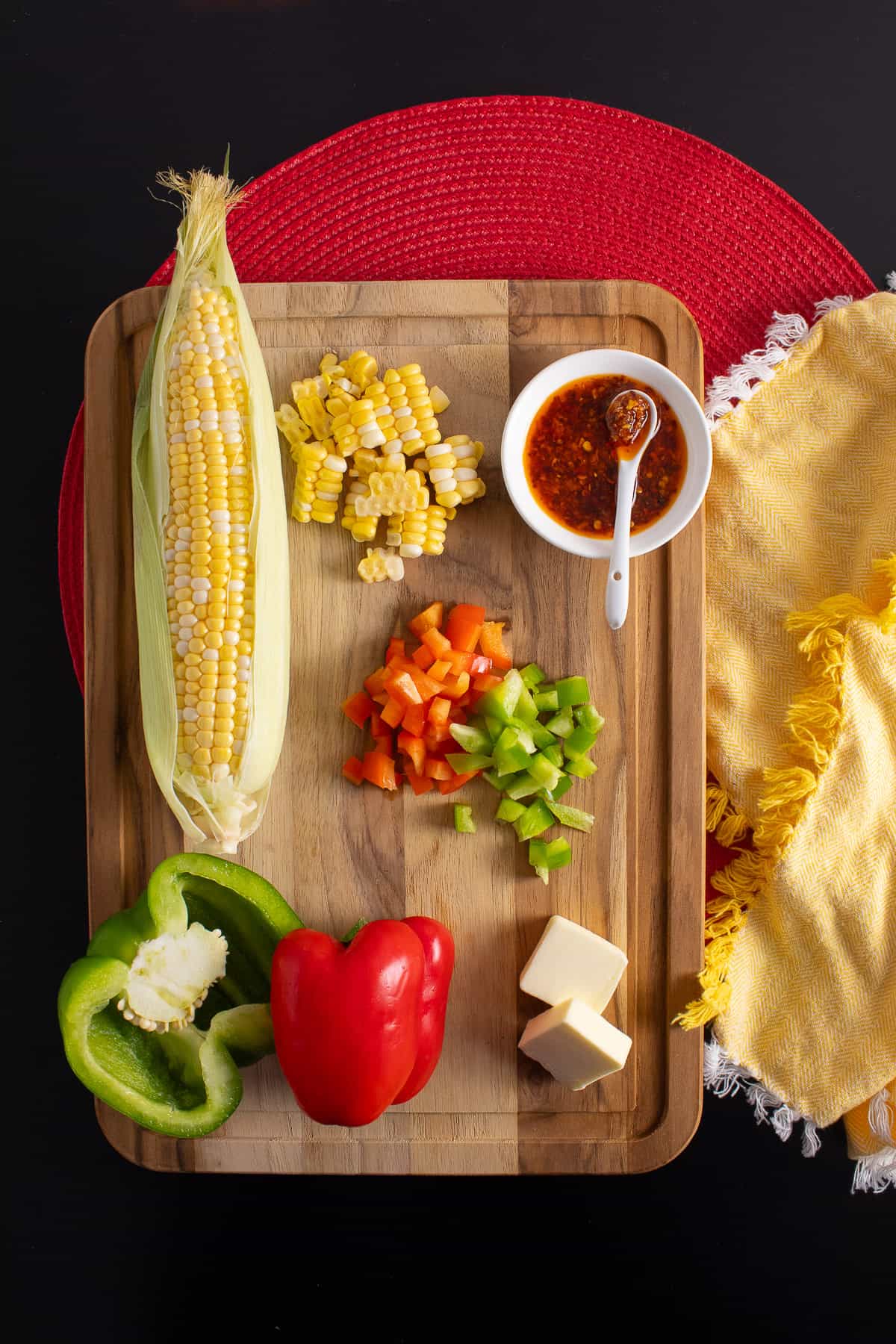 Corn - If you are using fresh corn right off the cob, check out the FAQ in my Corn Au Gratin for the best way to cut corn kernels from the cob. You can also use canned corn or frozen corn in this recipe. Roasted corn would be delicious here, too!
Red and Green Bell Peppers - Diced sweet peppers add color and crunch to this side dish. Choose whichever colors you have access to. Dice them to be similar in size to the corn kernels.
Butter - I use salted butter in this recipe. If you only have unsalted butter on hand, check the seasoning at the end of cooking to see if a pinch more salt is needed.
Chili Onion Crunch - This condiment is available at Asian markets as well as at Trader Joe's. The spice level will vary depending on brand, so find a favorite!
What is Chili Onion Crunch?
This condiment is a mixture of onions, garlic, and sweet and spicy dried peppers all suspended in a flavorful oil. You may also see it labeled chili crisp, crunchy chili onion, or chili crunch. What all of these brands have in common is that they are delicious!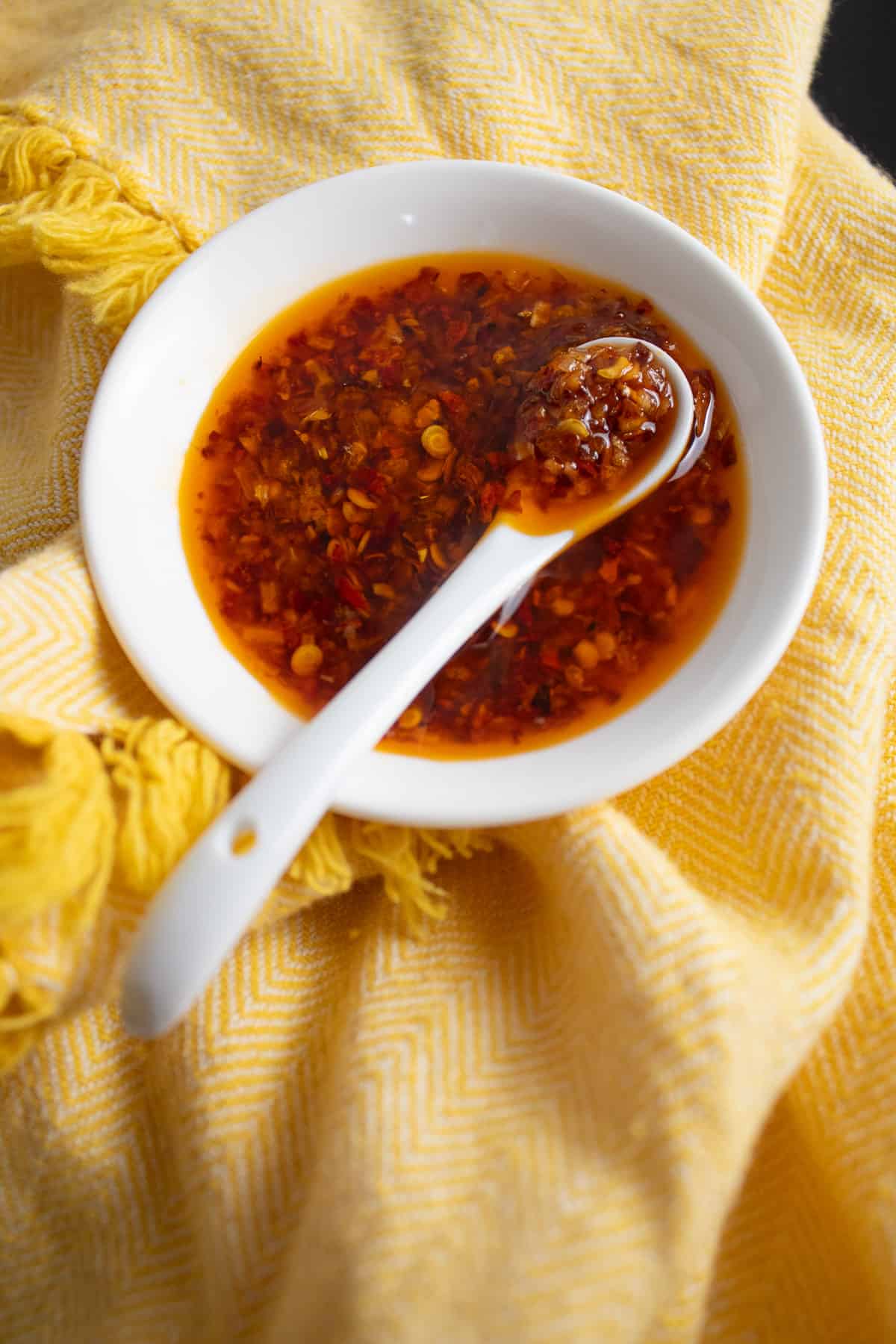 Different varieties will have a varying proportion of crunchy bits to oil and some will be spicy while others are quite mild. The crunchy bits are often deeply flavorful dried onion or garlic flakes, dried chili flakes, chili seeds, or sesame seeds.
You'll find loads of ways to use it: from topping cottage cheese or eggs, to stirring in soups, to adding into simple stir fry. Pick up a jar next time you see it and you'll be pleasantly surprised.
Instructions
Grab you favorite skillet to cook up this corn with peppers side dish right on your stovetop in minutes!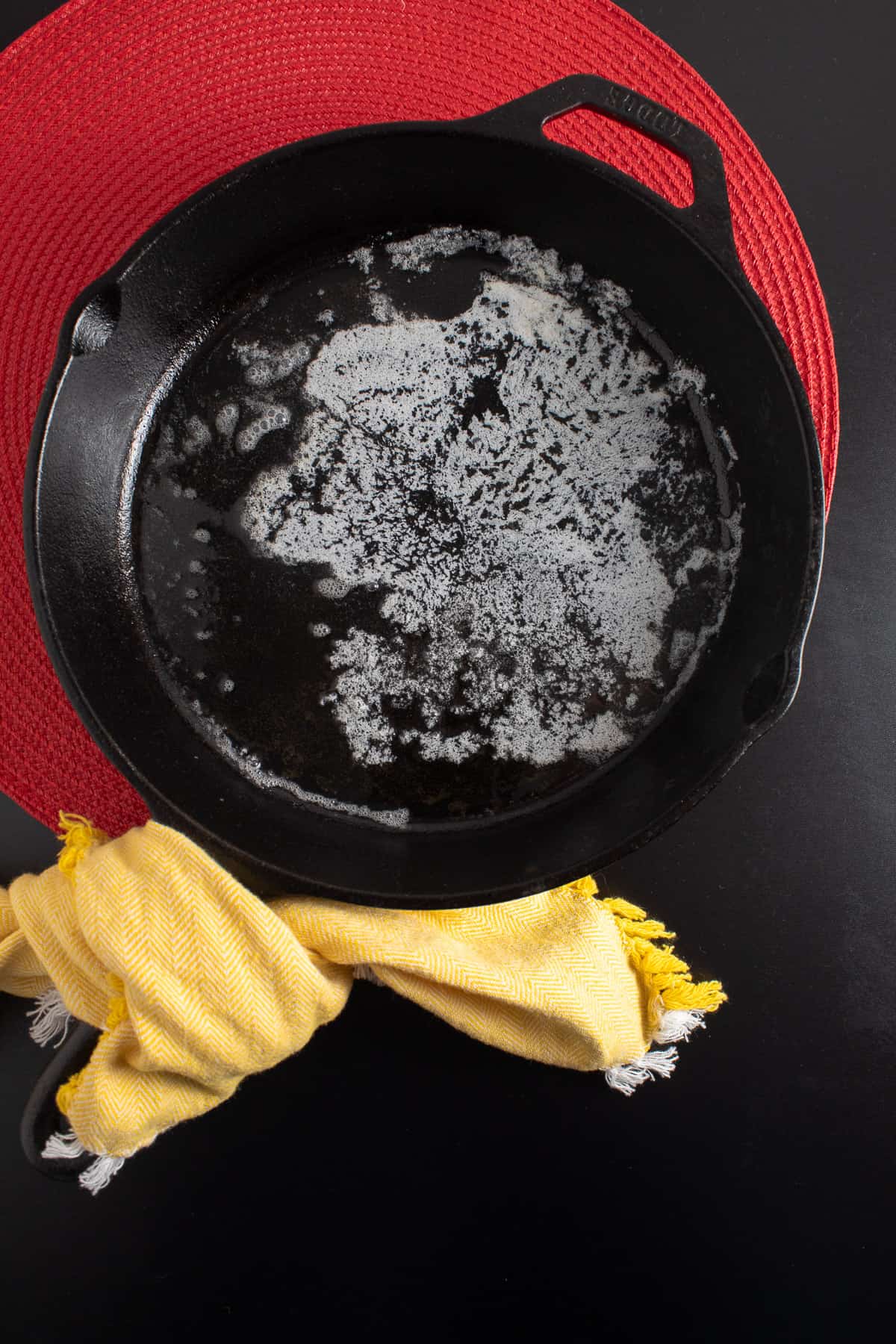 Heat the skillet over medium-high heat and melt the butter.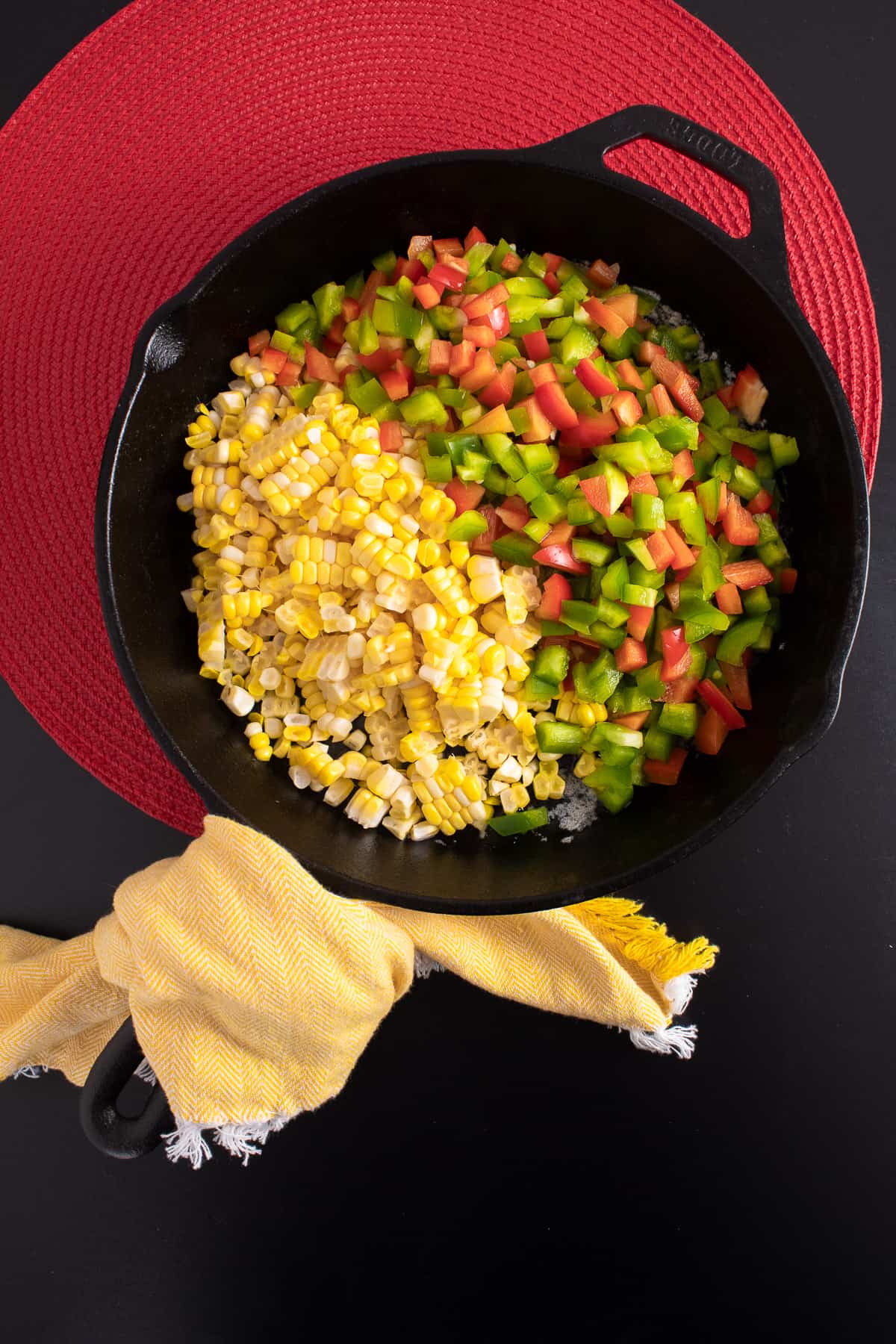 Add the fresh corn and diced peppers and sauté for 5-7 minutes until the peppers are tender. Use frozen corn directly from the freezer or drain canned corn before adding to the skillet.
Stir in the chili onion crunch and the salt.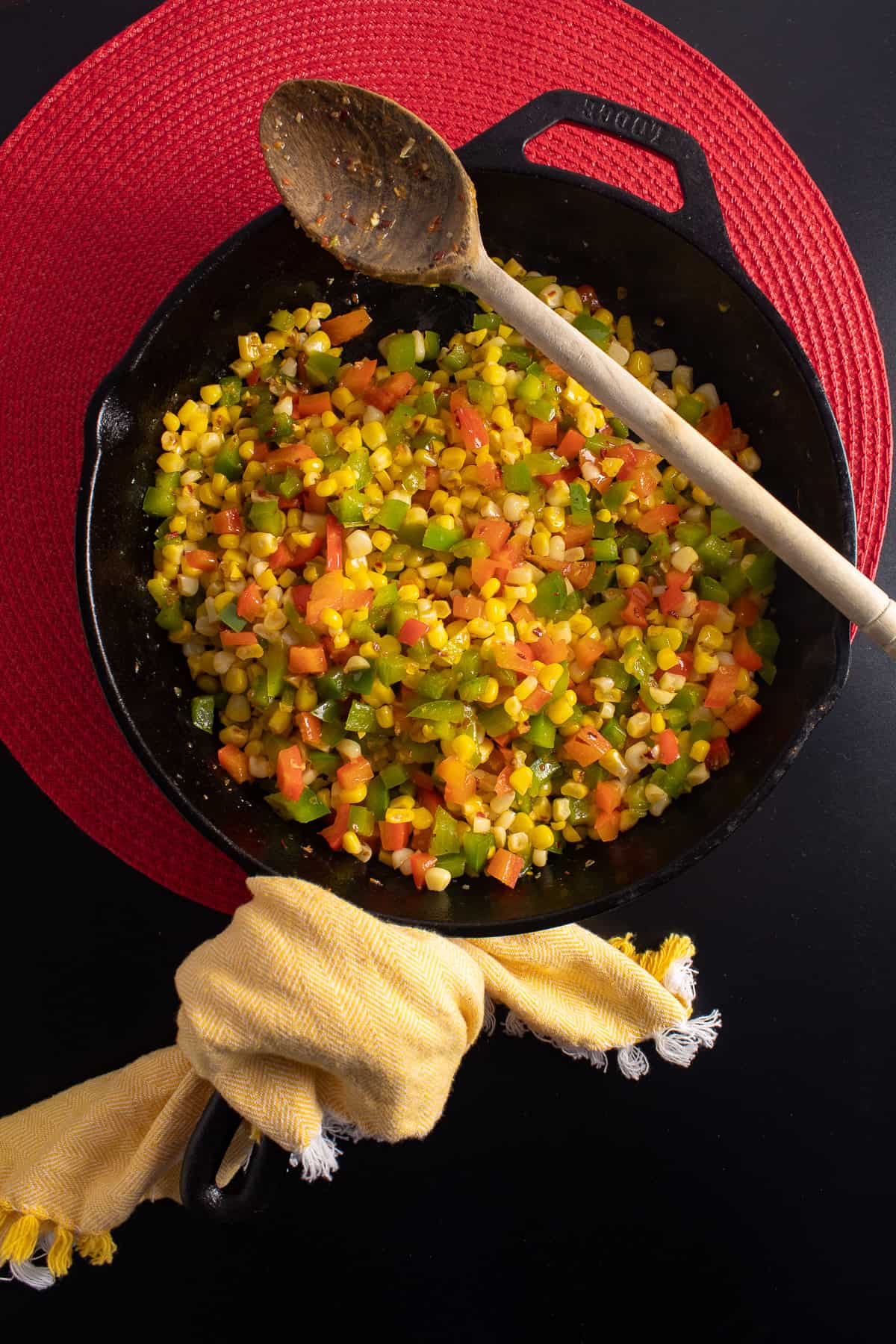 Cook for an additional minute, stirring to coat all the corn medley with the oil.
Transfer the confetti corn with peppers to a serving dish or serve it right form the stove top. This happens all the time at our house, I won't tell on you.
Serving Suggestions
Add this corn with peppers side dish to any grilled or roasted meats for a great pairing. It's great as an addition to burrito bowls or folded into tacos. Sprinkle the corn and peppers over a Chicken Tortilla Soup. Add some fried potatoes and serve it as a hash with eggs at breakfast, too!
Substitutions
Some substitutions that have been tested to work out well in this recipe are listed below. If you try other successful ingredient swaps, share with us in the comments!
Swap Olive Oil for Butter - To make this a dairy-free dish, omit the butter and use olive oil instead.
Use Summer Squash - Dice zucchini or other summer squash and use that in place of the bell peppers.
Make It Kid Friendly
If you find a mild chili onion crunch brand, this side dish is generally a safe bet for the whole family. If spice levels are still an issue, keep the garlicky flavor by sautéing thinly sliced garlic cloves in the butter at the start of the preparation until they are golden. Add the corn and peppers and omit the chili onion crisp.
If the bell peppers are a a problem, omit them! Sweet corn and mild chili onion crunch is a great simple pairing.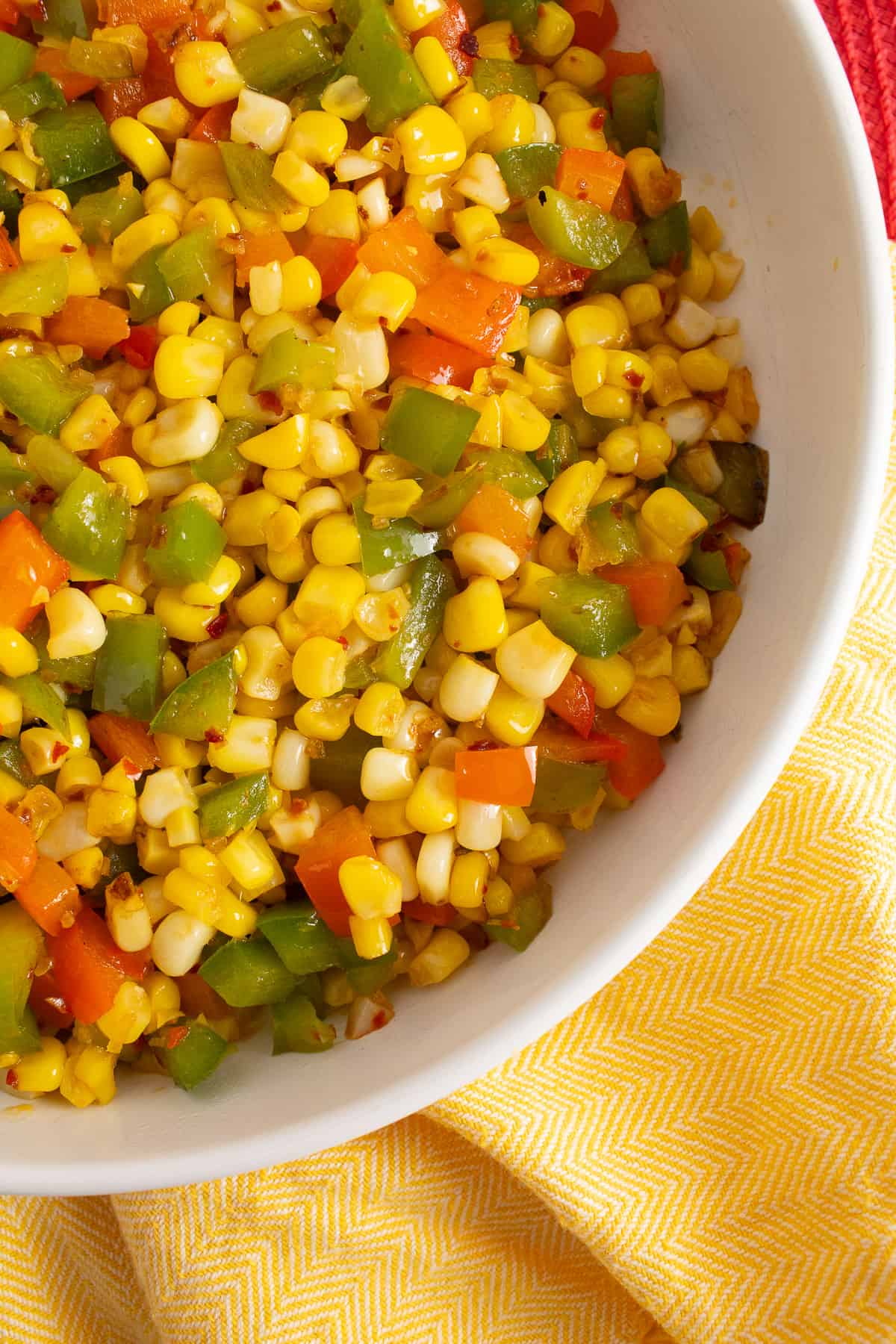 Storage
Store any leftovers in an airtight container for up to three days. I would not recommend freezing the sauté, the peppers tend to get mushy after a freeze and thaw cycle.
Make Ahead Options
I think this recipe tastes great fresh from the skillet or reheated from the refrigerator. If you'd like to save some time on a hectic weeknight, do all of the chopping the day before and store the corn and peppers in an airtight container to use later.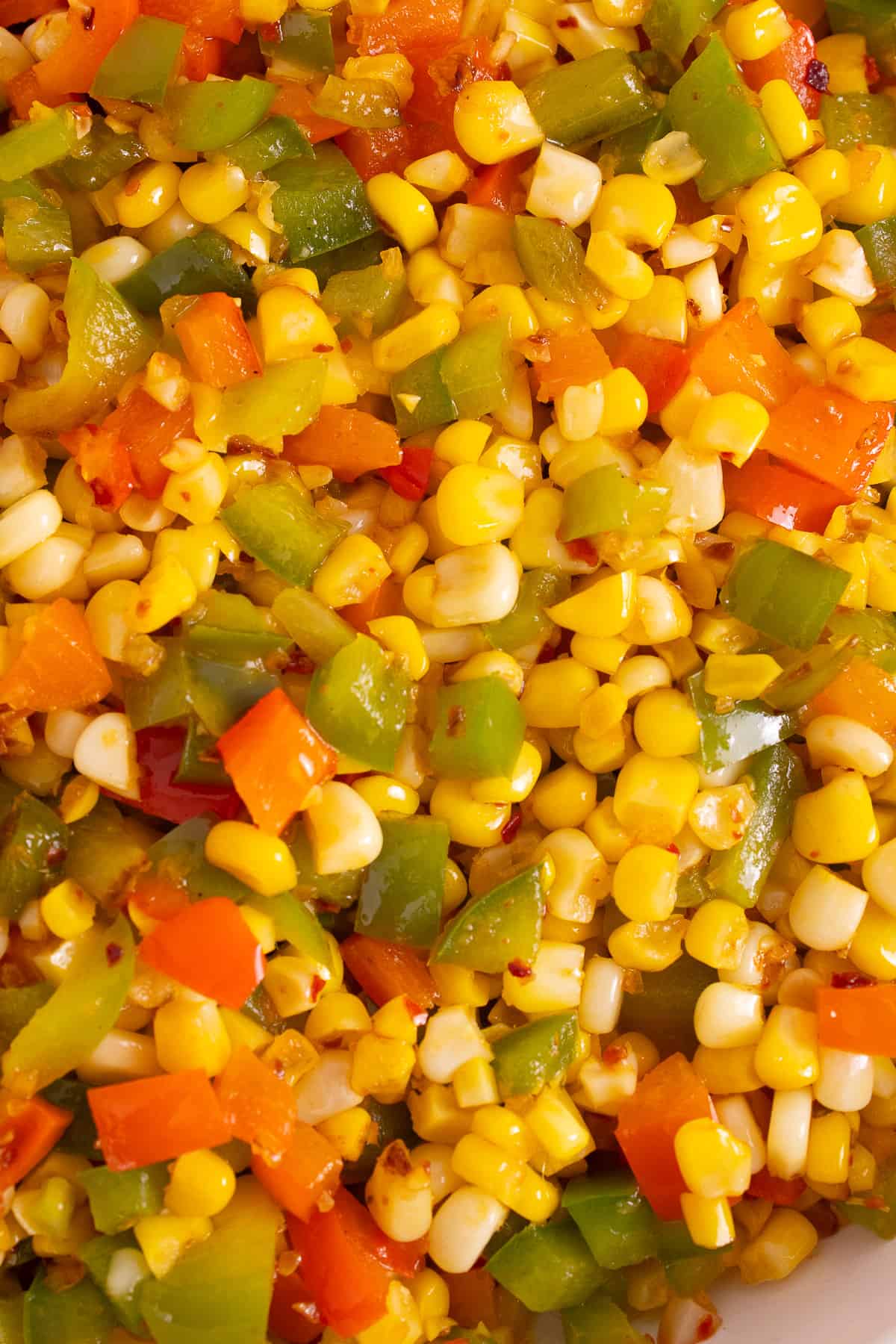 FAQ
How can you add spice to this corn and pepper sauté?
Remove the seeds from a jalapeño pepper and finely dice it before adding to the recipe along with the bell peppers for an extra kick of spice.
What herbs or spices can you add to the corn and peppers to add flavor?
A sprinkling of fresh chopped cilantro or parsley would be a great garnish. Adding a hefty pinch or cumin, coriander, or chili powder would also compliment the other ingredients in the recipe.
Can you add other condiments to the corn and peppers?
Yes! Use chili onion crunch or swap it for spicier chili oil, sriracha, chili garlic sauce, or Tabasco.
Related
This sautéed corn with peppers side dish kicks up the flavor of simple corn and bell peppers with a smoky and savory condiment. Check out these other side dishes that add sweet, cheesy, or spiced flavors to elevate a simple vegetable.
Pairing
All of the recipes below are great options for pairing with this side dish.
Try It and Share
I hope you try this sautéed corn with peppers and chili onion crunch and share the recipe with family or friends. I want to see your results! Tag your photo with #planeatpostrepeat and mention me @planeatpostrepeat on Instagram or Facebook. I can give you a virtual high five and thank you for cooking one of my recipes! Comment below with any questions and please leave a review so others can find this recipe more easily.
Recipe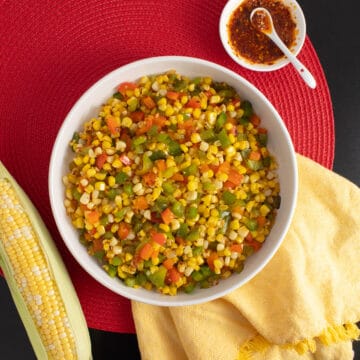 Sautéed Corn with Peppers and Chili Onion Crunch
A sauté of sweet corn and peppers is flavored with chili onion crunch for a confetti corn side to pair with grilled meats or dinner bowls.
Ingredients
2

tablespoon

salted butter

1½

cups

corn kernels

(from the cob, frozen, or canned)

1

cup

red bell pepper

(diced)

1

cup

green bell pepper

(diced)

½

teaspoon

kosher salt

1

tablespoon

crunchy chili onion
Instructions
Heat a skillet over medium-high heat. Add the butter and allow it to melt.

Add in the corn and peppers and sauté for 5-7 minutes until the peppers are tender.

Add the salt and crunchy chili onion sauce and cook for 1 more minute, stirring to combine.
Nutrition facts are sometimes provided below and are calculated using an online calculator. With specific brands of ingredients and additions, omissions, or substitutions the nutrition facts may change. We encourage you to use your own nutrition facts caculator to obtain the most accurate nutrition facts for your meal.
Nutrition Facts
Calories:
91
kcal
Carbohydrates:
10
g
Protein:
1
g
Fat:
6
g
Saturated Fat:
3
g
Polyunsaturated Fat:
0.4
g
Monounsaturated Fat:
1
g
Trans Fat:
0.2
g
Cholesterol:
10
mg
Sodium:
335
mg
Potassium:
151
mg
Fiber:
2
g
Sugar:
4
g
Vitamin A:
1004
IU
Vitamin C:
52
mg
Calcium:
7
mg
Iron:
0.3
mg