In Baja beach towns like Rosarito Beach, you used to be able to get these big goblets of shrimp cocktail served up with cold beer and little oyster crackers or saltines. We would make the trip from our Anaheim home occasionally when I was a kid, but I don't remember a lot about the trips aside from boogie boarding and watching my parents enjoy the shrimp cocktail. I wasn't really interested in the shrimp, but I would luck out with a generous vendor and get a meal's worth of crackers to munch on. I don't have any idea what Rosarito Beach looks like these days, but I'd sure like a chance to time travel to the Rosarito Beach of my memory and drink a cold Mexican lager while feeling the ocean breeze on my face.
Enjoy this Baja Shrimp Cocktail and keep your cool by pairing it with Simple 3-Ingredient Sweet Corn Ice Cream!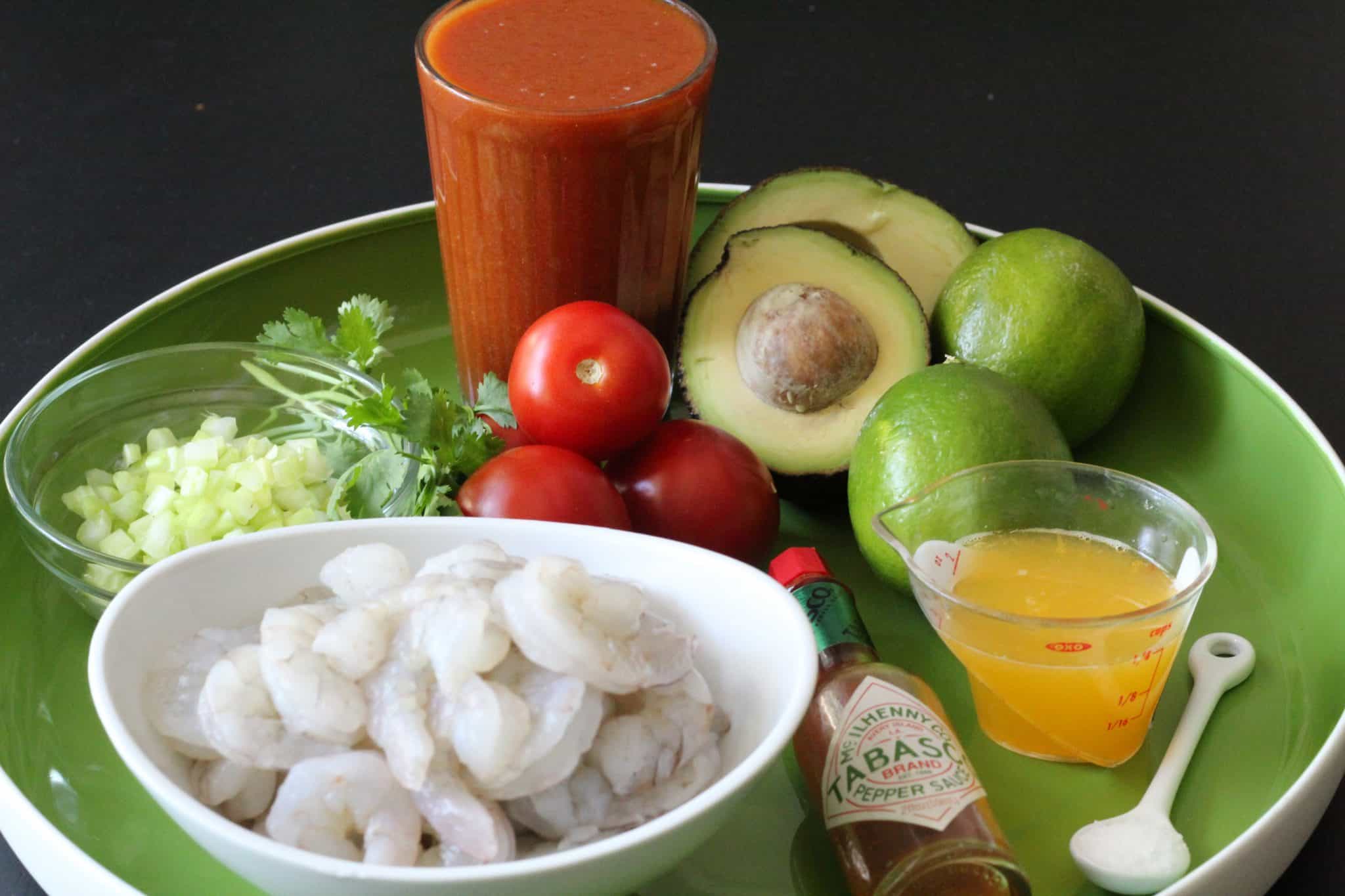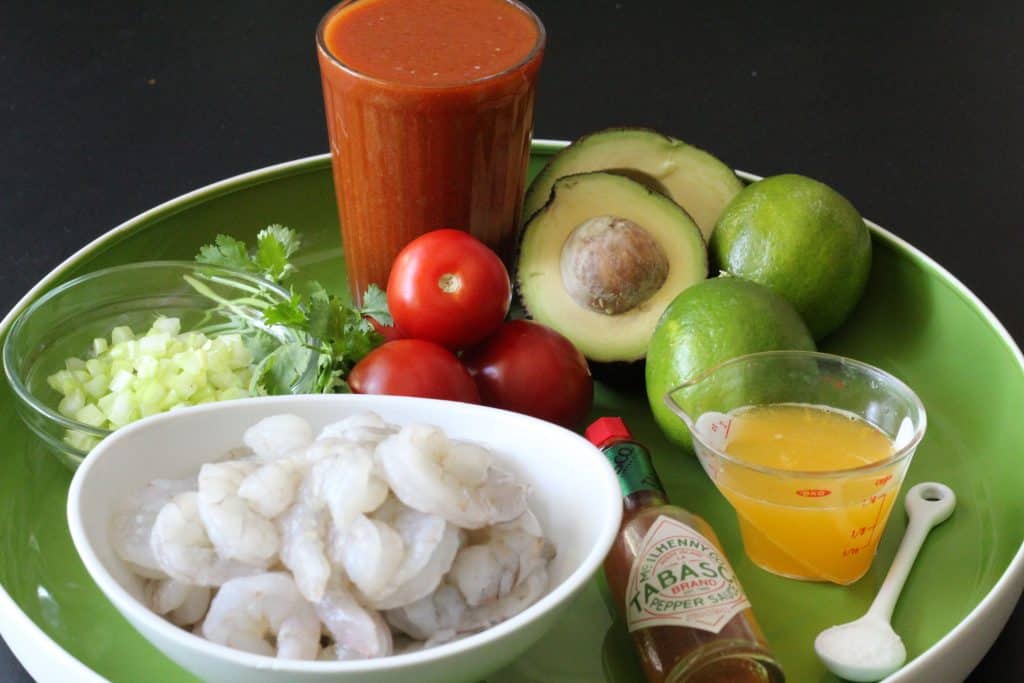 The thing is, I've never enjoyed shrimp cocktail because I can't tolerate horseradish. It's cringe-worthy for me! Some years back, I was feeling nostalgic for the warm beaches of Mexico and I put this version together. It can't possibly be authentic since I never actually ate it as a kid and therefore have no flavor profile to compare it to, but I sure like this version. It's tart and sweet from the trio of orange, lime, and tomato juices, has some crunchy texture from the celery, and the creamy avocado tastes so good when it's chilled. You can dial in the spice as much as you'd like, just keep the seeds on the jalapeno or switch fresh jalapeno for hot sauce (or leave it out altogether).
When I'm cooking the shrimp, I take a few steps to ensure that it's soft and sweet but never... bouncy. Do you know what I'm talking about? When shrimp gets overcooked and gets that tough texture, it's just ruined for me. So for this recipe, I try to buy 41-50 count shrimp so that they'll cook up quickly and I only have to chop them into 4 pieces once they are cooked. I cook them in rapidly boiling water that has been heavily salted. I only let them cook for about two minutes and then I quickly stop the cooking by draining them and plunging them into an ice water bath. Once they are completely cooled, I chop them up and mix them together with the other ingredients before the mixture chills for a couple of hours.
When it's time to serve, I'm so ready to construct that perfect bite. I'm always in search of the perfectly constructed bite, but with the shrimp cocktail prepared this way I can usually get all of the flavors balanced on one giant tortilla chip: sweet shrimp, buttery avocado, crisp celery, a little spice, and fresh citrus. It's swoon-worthy.
Give the recipe a try, pop open a crisp lager, and transport yourself to a breezy beach. Vacation's on me!
If you need more shrimp recipes, try this Shrimp Poke Bowl or some Garlic Paprika Shrimp!
Baja Shrimp Cocktail
Pretend you are on a beach with a beer and enjoy this refreshing summer meal. Shrimp get mixed with avocado, celery, and tomatoes and marinate in a spicy and tart tomato sauce.
Ingredients
¼

cup

lime juice

¼

cup

orange juice

1

12 oz. can

tomato juice (spicy or regular)

1

jalapeno, seeds and ribs removed and diced fine

2

medium

ribs celery, diced fine

2

small to medium tomatoes, seeded and chopped

1

avocado, diced

¼

cup

cilantro, chopped

1

pound

41-50 count shrimp

peeled and tails removed

kosher salt, to taste

hot sauce, as desired
For serving:
oyster crackers, saltines, or tortilla chips

lemon or lime wedges

avocado slices
Instructions
Bring a pot of heavily-salted water to a rolling boil. Add shrimp and cook for two minutes (do not overcook). Remove shrimp to a bowl of iced water and cool. Chop into ½" pieces.

Combine remaining ingredients in a medium bowl. Add shrimp and chill for 1-2 hours, covered.

Check the mixture for salt, then serve with crackers or tortilla chips, lime or lemon wedges, and sliced avocado
Nutrition facts are sometimes provided below and are calculated using an online calculator. With specific brands of ingredients and additions, omissions, or substitutions the nutrition facts may change. We encourage you to use your own nutrition facts caculator to obtain the most accurate nutrition facts for your meal.