Smoky paprika, garlic, and cumin season tender shrimp, hearty chickpeas, and bright red peppers for quick dinner bowls you'll love. Pair it with cous cous, rice, or quinoa for a complete meal!
Dinner bowls are perfect for families with picky eaters. Try Roasted Carrot and Chickpea Grain Bowls , Hoisin Pork Rice Bowls, or these Sweet Potato and Black Bean Bowls for a little variety in your weeknight dinners.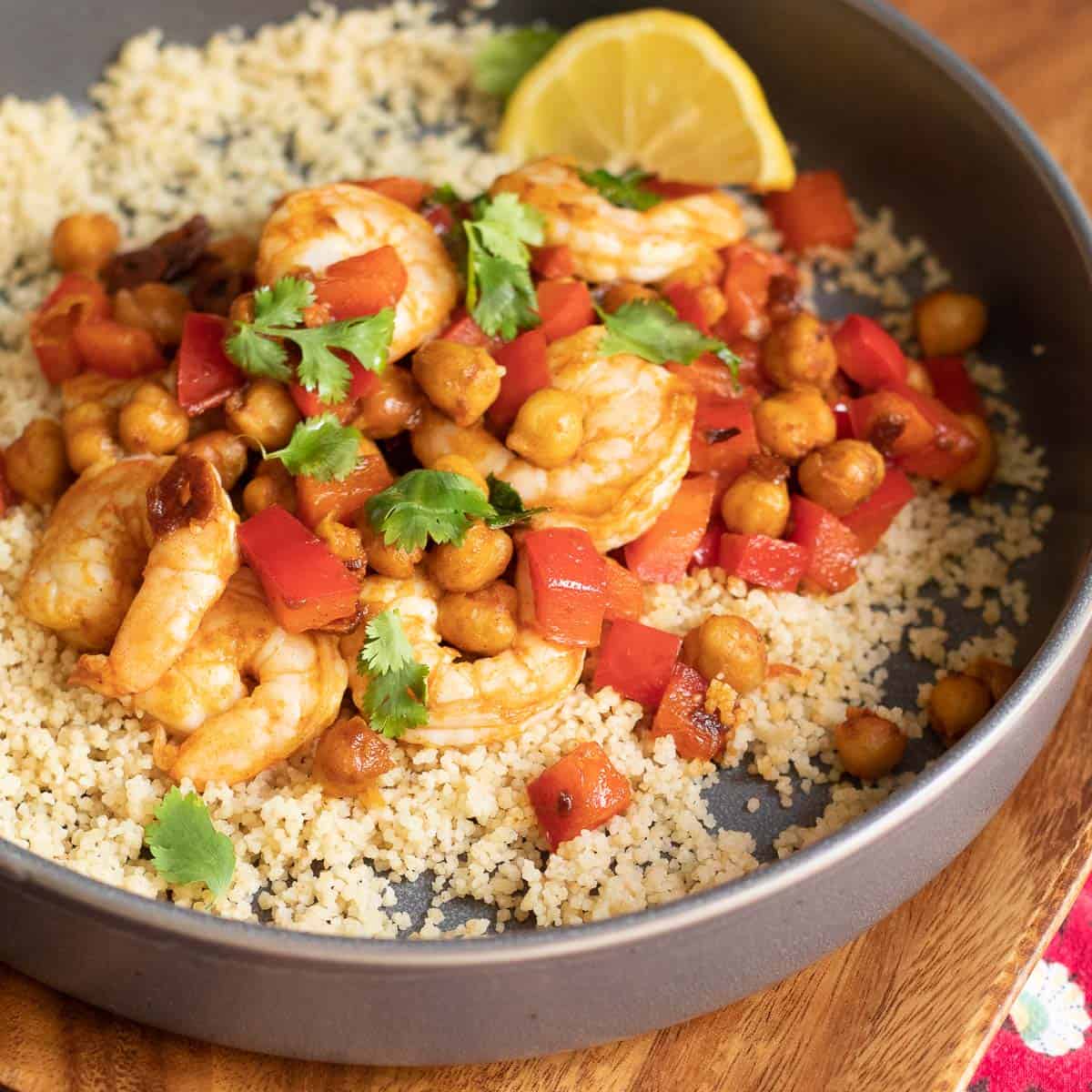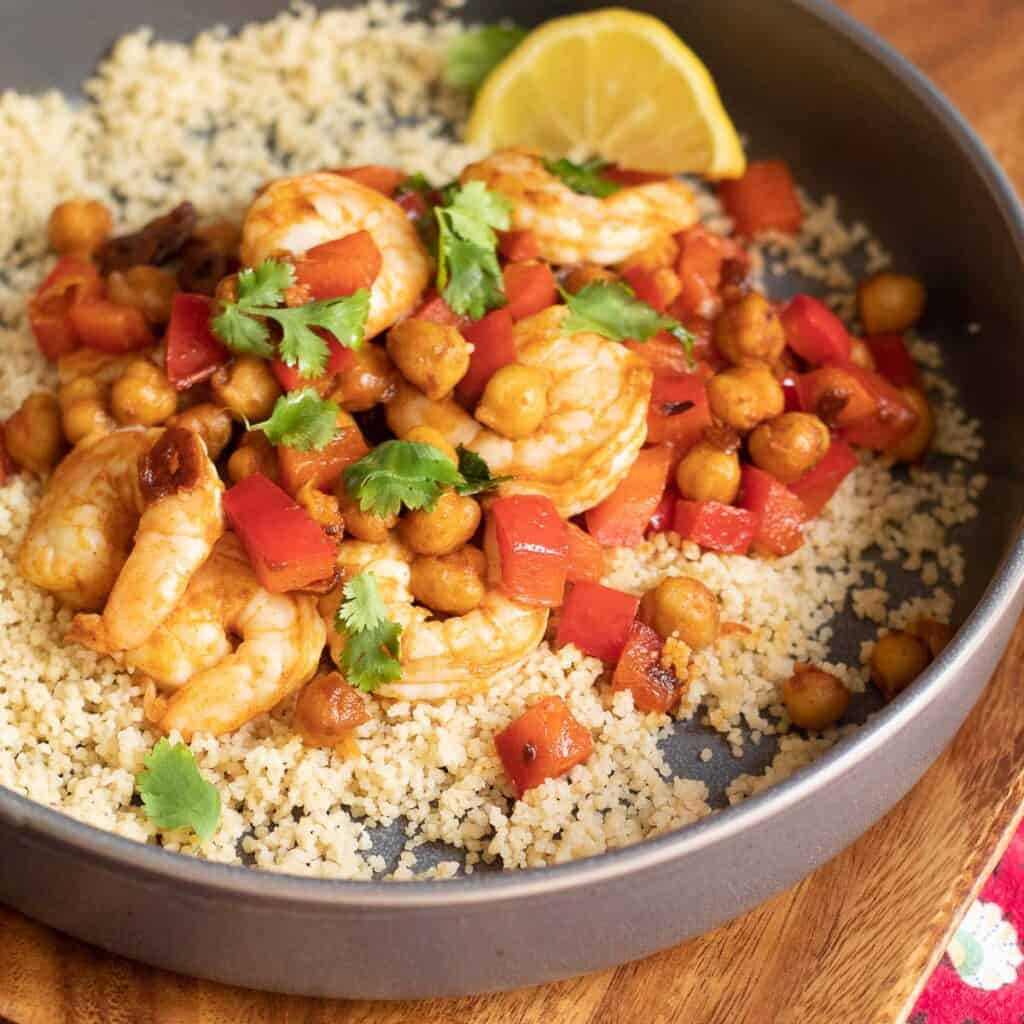 Ingredients
A good dinner bowl has some synergy from the combination of ingredients. The whole is greater than the sum of the individual parts! This group of ingredients definitely qualifies; a mixture of pantry staples and a few fresh ingredients combine for big flavor.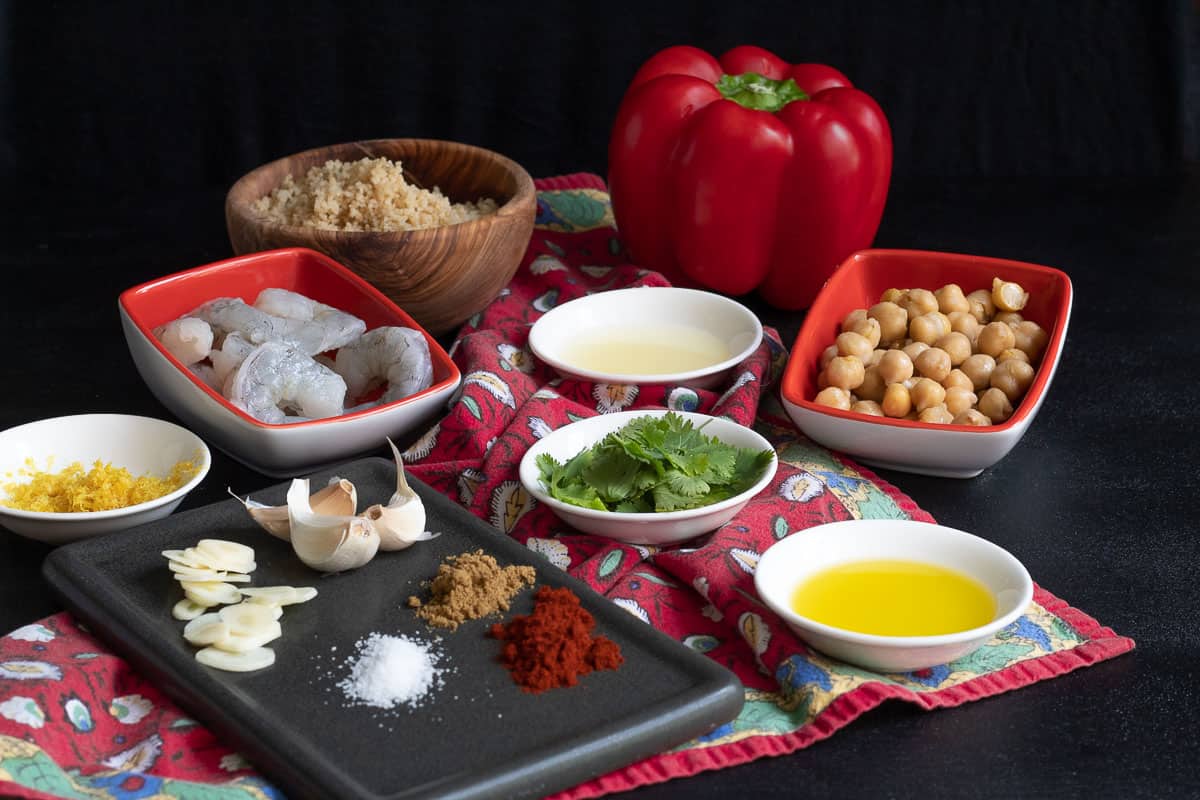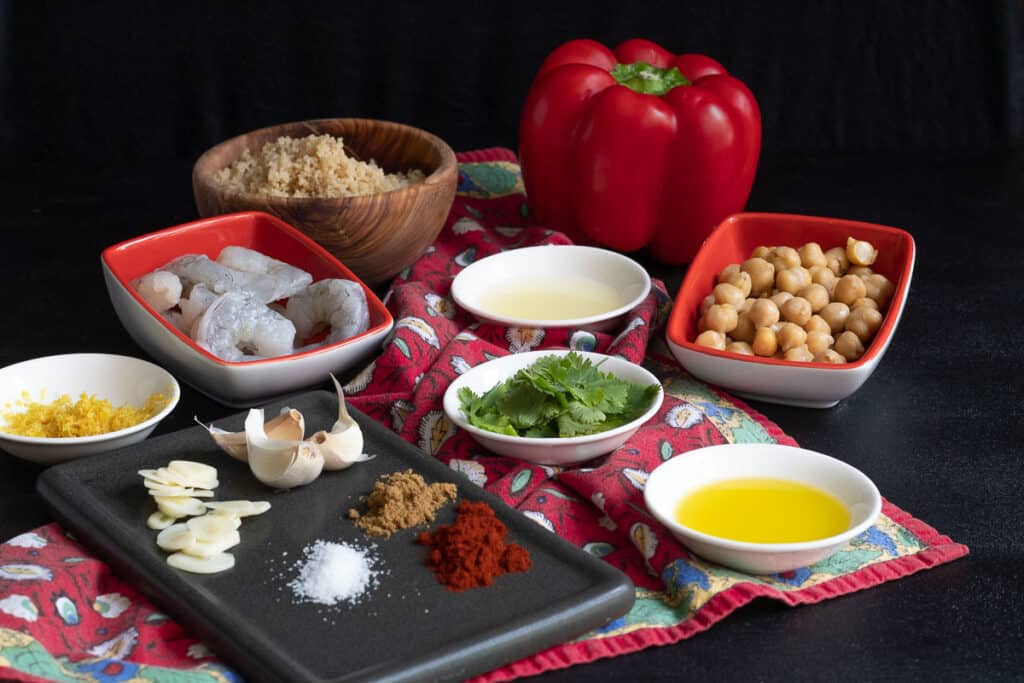 Fresh Green Herbs: Use either parsley or cilantro in this dish, but don't skip the herbs altogether. I'm partial to the cilantro, but my daughter isn't a fan so we often substitute parsley.
Lemon: One lemon is used to flavor the dish in two ways. Zest the lemon first for those aromatic oils. Then juice the lemon for that bright burst of acidity.
Olive Oil: This recipe uses a generous amount of olive oil to help carry the toasted garlic flavor all throughout the dish. Don't skimp on the oil!
Garlic: I call for four cloves of garlic, sliced thin to flavor the dish. Measure garlic with your heart and add more if you please.
Red Bell Pepper: Sweet red bell peppers are a veggie most of our house can agree on. Dice it up or slice it in strips.
Chickpeas: We eat a lot of these in our house! Full of fiber and easily jazzed up with spices, they are the best of dinner shortcuts. Chickpeas can also be called garbanzo beans or cici beans.
Dried Ground Spices: Smoked paprika and cumin combine to make an earthy spice base for the dish.
Shrimp: We use frozen shrimp in the 31-40 count size. They come from Costco peeled and with the tails removed for ease.
A Bowl Base: Get creative here! Use cooked rice, quinoa, farro, orzo, or cous cous. For an extra level of ease, use a precooked packaged product that you can simply microwave to reheat. I like using cous cous because it cooks up in under 15 minutes.
Preparation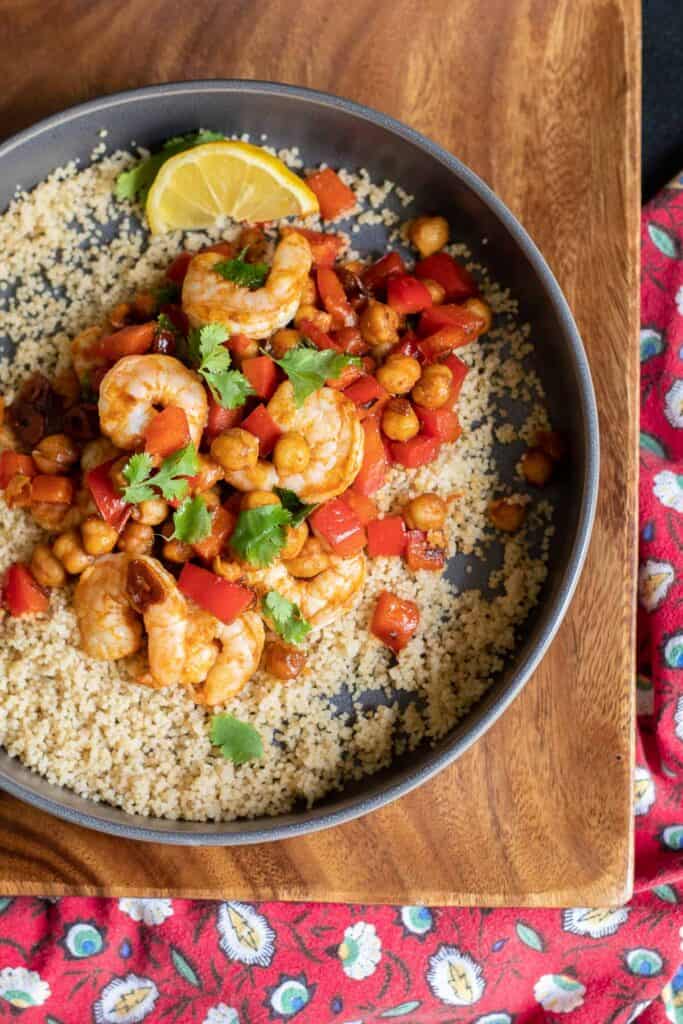 This dish cooks up very quickly so you need to get everything chopped, measured, juiced, and ready before your start cooking. Have your grains or pasta cooked and ready to place in the serving bowls. You want to serve this up immediately after cooking so call the family in and set that table!
Once you are prepared, heat your sauté pan to medium. Add the oil, garlic, and peppers and cook until the garlic is golden brown and the peppers are silky. Don't be tempted to raise the heat to go faster! If garlic burns, it tastes awful and you'll have to start over.
Next, add the chickpeas, spices, and salt and keep stirring to get the chickpeas coated and to prevent the garlic and spices from burning. Cook the mixture for a couple of minutes. Increase the heat to medium-high and add the shrimp. Cook just until the shrimp turn pink and are no longer translucent. Stir in the lemon juice, zest, and parsley or cilantro.
Remove the pan from the heat and stir everything to coat with the sauce. Spoon the mixture over your prepared bowls of grains or pasta. Garnish with extra herbs, lemon wedges, and a drizzle of olive oil.
We love the flavor of smoked paprika in this dish. Try this Roasted Red Pepper Chicken for another recipe featuring this spice!
Make It Kid Friendly!
You can make a lot of substitutions to this dish to please all of the palates in your house. My kiddos are not eating shrimp these days, so I leave that off of their bowls. The peppers, chickpeas, and sauce are filling enough over a hearty bowl of quinoa or farro.
We have made this with chicken thighs cut in bite-sized pieces as well, just cook as directed for the shrimp but allow a little bit of extra time to get the chicken cooked through to a safe temperature.
If red peppers are not a favorite with your crew, try substituting zucchini. Cut the zucchini into a medium dice but add it a few minutes into the garlic cooking time. Zucchini is best when it is cooked tender-crisp, in my opinion, so it needs less time than the peppers.
Try It and Share
I hope you try these Garlic Paprika Shrimp Bowls with Chickpeas and Lemon and share the recipe with family or friends. I want to see your results! Tag your photo with #planeatpostrepeat and mention me @planeatpostrepeat on Instagram or Facebook. I can give you a virtual high five and thank you for cooking one of my recipes! Comment below with any questions and please leave a review so others can find this recipe more easily.
Love shrimp? Try this Shrimp Poke Bowl or some Baja Shrimp Cocktail!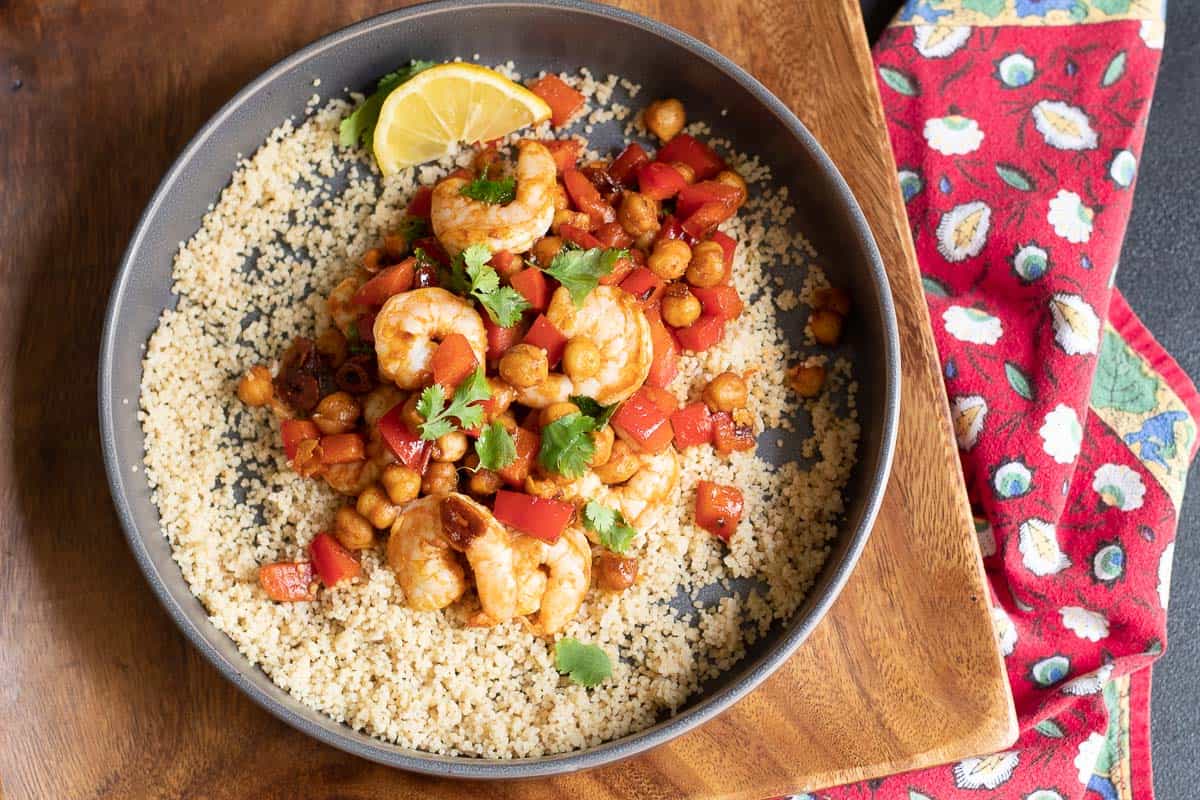 Recipe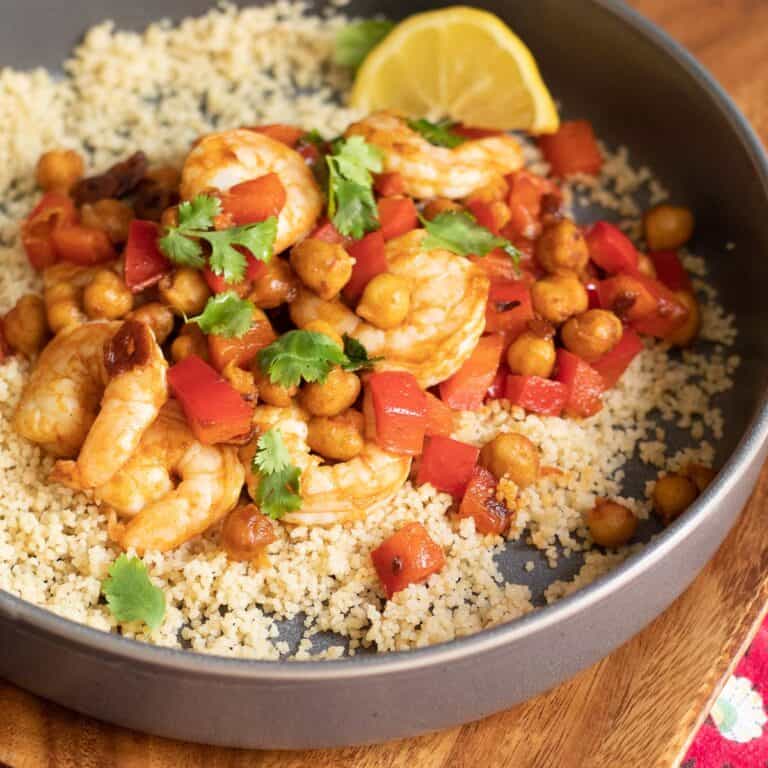 Garlic Paprika Shrimp Bowls with Chickpeas and Lemon
Garlic Paprika Shrimp Bowls are full of warm spices and fresh flavors with chickpeas and lemon to make a hearty and quick meal suitable for company or weeknight meals.
Ingredients
¼

cup

chopped parsley or cilantro

(plus additional for garnish)

zest of one lemon

¼

cup

fresh squeezed lemon juice

6

tablespoon

olive oil

(plus additional for garnish)

4

cloves

garlic, thinly sliced

2

bell peppers, diced

1

15oz. can

chickpeas, rinsed and drained

1½

teaspoon

ground cumin

2

teaspoon

smoked paprika

1

teaspoon

kosher salt

1

pound

shrimp with shells removed

4

cups

cooked grain or small pasta

(quinoa, farro, rice, cous cous, or orzo)

lemon wedges

(for garnish)
Instructions
Combine the lemon zest, juice, and parsley or cilantro in a small bowl and set aside.

Heat oil in a large sauté pan over medium heat and cook garlic and peppers until garlic is golden and fragrant and peppers are softened, about 10 minutes.

Add the chickpeas, cumin, paprika, and salt to the pepper mixture and continue to cook for 1-2 minutes.

Add the shrimp to the pan and increase heat to medium-high. Saute until the shrimp are cooked through.

Toss in the lemon and herb mixture. Stir to combine and remove from the heat.

Spoon the shrimp over beds of grain or pasta and garnish with extra herbs and olive oil. Serve immediately.
Nutrition facts are sometimes provided below and are calculated using an online calculator. With specific brands of ingredients and additions, omissions, or substitutions the nutrition facts may change. We encourage you to use your own nutrition facts caculator to obtain the most accurate nutrition facts for your meal.