Craving poke flavors but landlocked and looking for a simple substitute? This shrimp poke bowl uses an easy-to-source protein in place of fresh sushi-grade fish and you won't miss out with the spicy and sweet sauce and loads of sides to make a beautiful dinner bowl.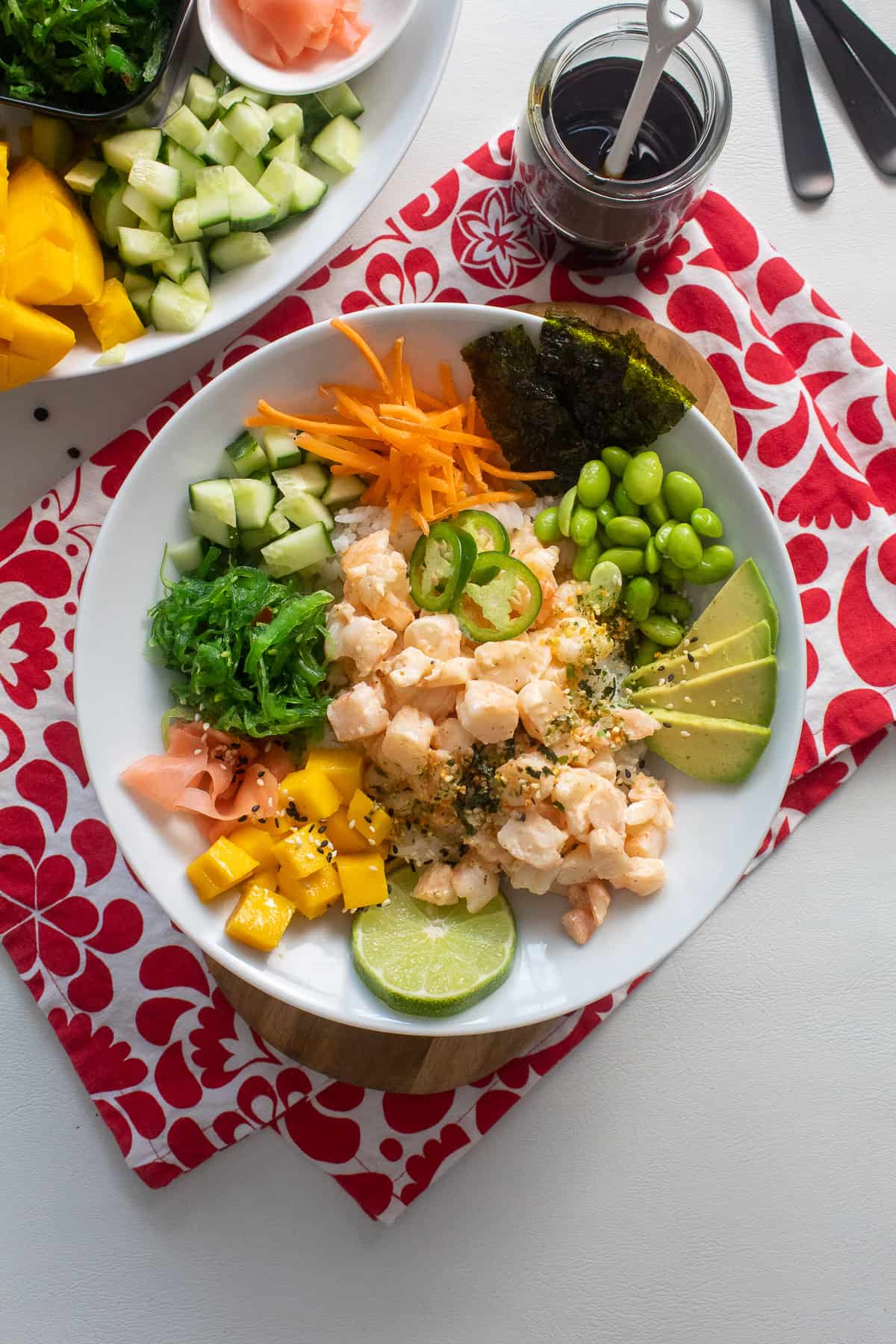 Poke (pronounced "poh-kay") is diced raw fish marinated with onions, sesame oil, and sea salt and is a specialty in Hawaii. Poke is Hawaiian for "to slice or cut". With locally sourced fish, this simple seasoning is all that's needed to make a delicious dish. If you aren't lucky enough to visit the Hawaiian islands, I have a solution for you.
Make a shrimp poke bowl! Poke bowls are more of a "mainland" concept and not at all like traditional poke. They draw from Hawaiian and Japanese flavors for their many toppings and sides. A poke bowl has the poke placed over a bed of rice and surrounded by toppings.
Using (cooked!) shrimp allows us landlocked poke fans to make a quick and tasty bowl for dinner without sourcing fish that's been flown in to our local markets.
Jump to:
Ingredients
There are loads of ingredients for this recipe, but don't despair; you can make these bowls as simple or as complex as you like! You are only limited by your imagination.
I source many of these ingredients at our local Asian market, but larger supermarkets should also be a good source.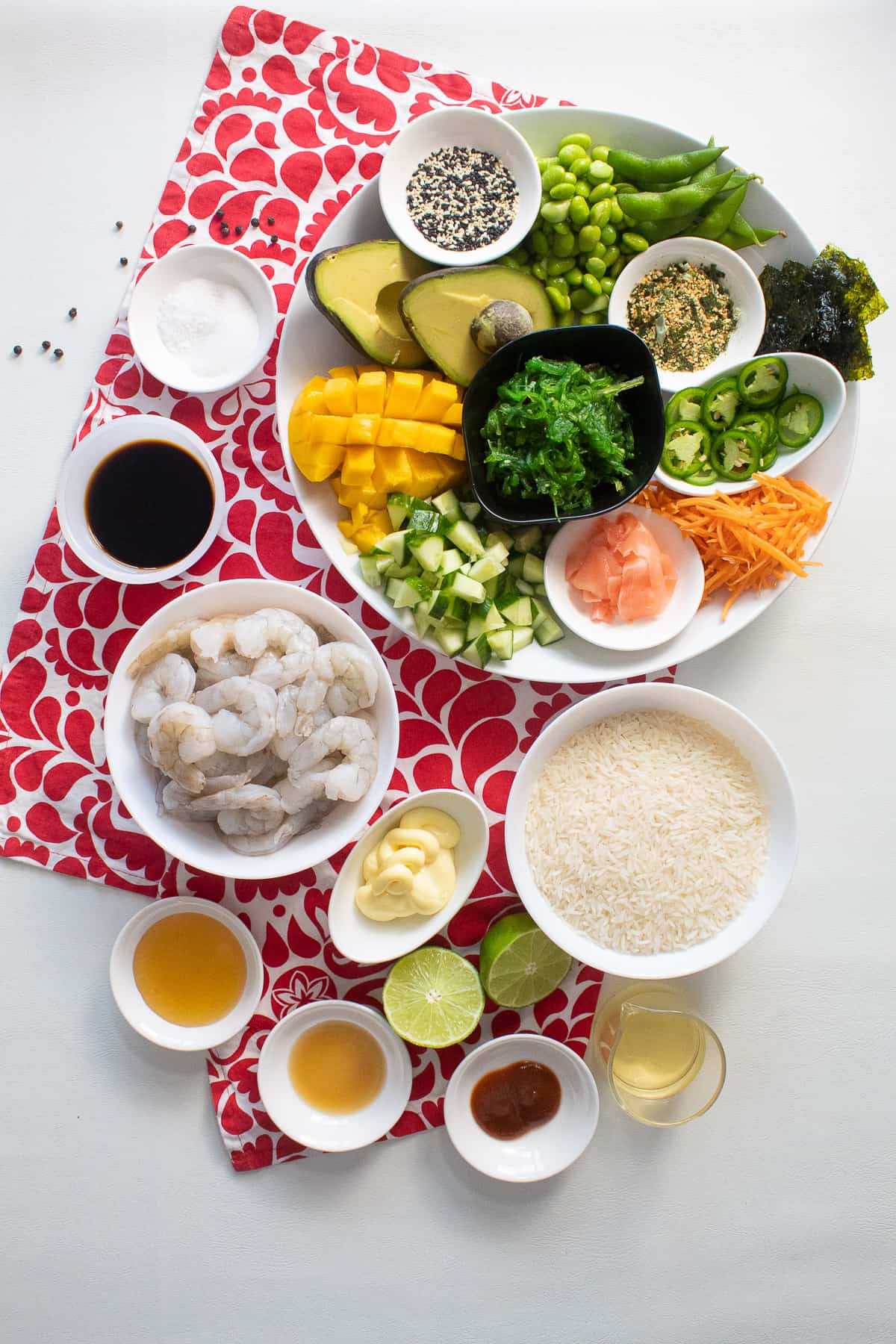 I include ingredient notes here when I think they'll be helpful, including ways to source, any preparation tips, or why I've chosen a particular ingredient. Be sure to check out the recipe card below for the full list of ingredients and their quantities!
Jasmine Rice: I think this is the best alternative to actual sushi rice, with a shorter grain that makes it cook up tender and slightly sticky.
Raw Shrimp: I use a frozen shrimp in a 31-40 size. From Costco, these come with tails removed for simple prep. If you can only find tail-on shrimp, I think it's easiest to remove the tails after cooking and cooling, just twist them off. Thaw frozen shrimp quickly by running them under cool water and use immediately after thawing.
Mayonnaise: You can use a classic Hellman's mayonnaise here or the richer Kewpie mayonnaise.
Sriracha: We love the flavor of classic sriracha, but use a favorite hot sauce here! We've also used sambal oelek or chili-garlic sauce in place of the sriracha with great success.
Seaweed Sheets or Seaweed Salad: You can get snack-sized seaweed sheets at Trader Joe's and Costco or you can cut up nori sheets with scissors. I find seaweed salad (also called wakame salad) at Costco occasionally or at my local Asian market.
Furikake Seasoning: Furikake is a blend of seaweed flakes, sesame seeds, dried fish, salt, sugar, and other ingredients. There are so many different varieties and brands, find a new favorite and you can sprinkle it over plain rice or stir frys for additional flavor.
Pickled Ginger: We can source pickled ginger at our regular supermarket. Just scoop some out of the container and squeeze out the excess brine.
Prepare the Seasoned Rice
I usually make my rice using the Instant Pot, but I've included the directions for both stovetop and Instant Pot methods in the recipe card below. Combine the rice and water and cook with your preferred method.
Combine the rice wine vinegar, salt, and sugar in a small bowl and sprinkle it over the cooked rice. Stir the rice to distribute the seasoning evenly and set the rice aside.
Prepare the Shrimp Poke
It's key to not overcook the shrimp to avoid a bouncy, rubbery texture. Just a few minutes in the frying pan is all you need! Heat the pan over medium-high heat and add one teaspoon of vegetable oil.
Cook the shrimp for 2 minutes on one side and then 1 minute on the second side, just until cooked through.
Immediately transfer the shrimp to a cutting board to cool and chop into small pieces (about ½").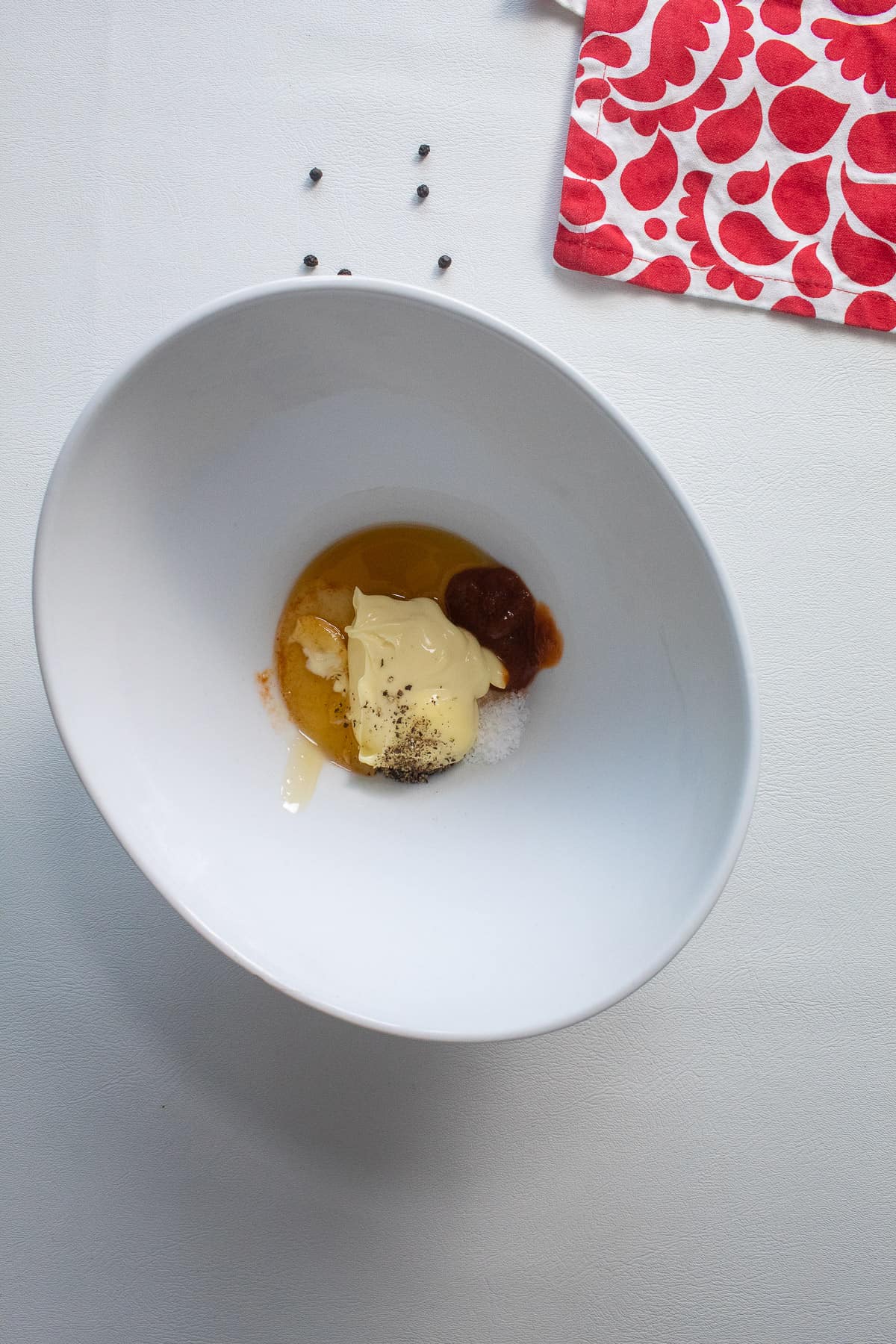 Combine the mayonnaise, sriracha, sesame oil, honey, salt, and pepper in the bottom of a medium bowl.
Stir together the shrimp and the sauce until the shrimp are well coated. Set aside.
Prepare the Soy-Lime Sauce
Stir together the soy sauce, honey, rice wine vinegar, water, and lime juice in a small bowl or shake it up in a small jar.
Assemble Your Poke Bowl
Chop, dice, and prepare the rest of your toppings. A suggested list of toppings and garnishes is in the recipe card, but feel free to pick and choose your favorites.
Fill the bottom of each bowl with a layer of the seasoned rice. Add toppings and finish with the soy-lime sauce at the end. As you can see, I like a little bit of everything on my shrimp poke bowls!
A shrimp poke bowl can be a great family-friendly dinner where everyone can build a bowl with their favorite toppings and sides and leave the table satisfied! I call these dinners "DIY". The Barbecue Chopped Chicken Salad, Hoisin Pork Rice Bowls, or Curry Poached Fish are other great recipes to try out for DIY dinners.
Hint: Remember that providing a big variety of toppings means that even your pickiest eaters will find something to add to their rice!
Serving and Storage
Prepare the bowls for your guests or just bring bowls of warm rice to the table along with a platter of all of the toppings and let everyone build their own bowl. I love the contrast between the warm rice and the fresh chilled toppings!
Poke bowls are meant to be enjoyed the day you cook them and I don't recommend refrigerating a prepared bowl for the next day.
However, you can store the rice, shrimp, soy-lime sauce, and diced vegetables separately in airtight containers in the refrigerator and build a fresh bowl the following day. The edamame, diced mango, cucumber, and carrots are vegetables that will hold up well in the refrigerator overnight.
Warm up the rice in the microwave for the base of the bowl. Add the diced vegetables and shrimp poke, then sprinkle on some sesame seeds and soy-lime sauce for a great at-home lunch.
Make It Kid Friendly
Shrimp would be a no-go with the kids in our house, but not to worry! I just omit the shrimp in their bowls altogether. There are plenty of other toppings that make a complete meal suitable for their tastes.
You can also substitute tofu for the shrimp. Simply fry up drained, pressed, and cubed tofu instead of the shrimp. Then toss the crispy cubes with the same mayonnaise based sauce.
If spice is an issue for your family or guests, feel free to omit the sriracha in the sauce that coats the shrimp.
Top tip
Use a separate cutting boards or wash your cutting board between preparing the shrimp and the rest of the toppings for food safety.
FAQ
Do you eat the rice hot or chilled?
It is best to enjoy the rice hot for the proper texture. The rest of the toppings, however are chilled or at room temperature.
Do you mix all of the ingredients together in the bowl before eating?
That's up to you, but I like to vary each bite with a bit of shrimp and a different combination of toppings.
Related Recipes
Shrimp is a versatile ingredient for quick dinners. Try these recipes next:
Recipe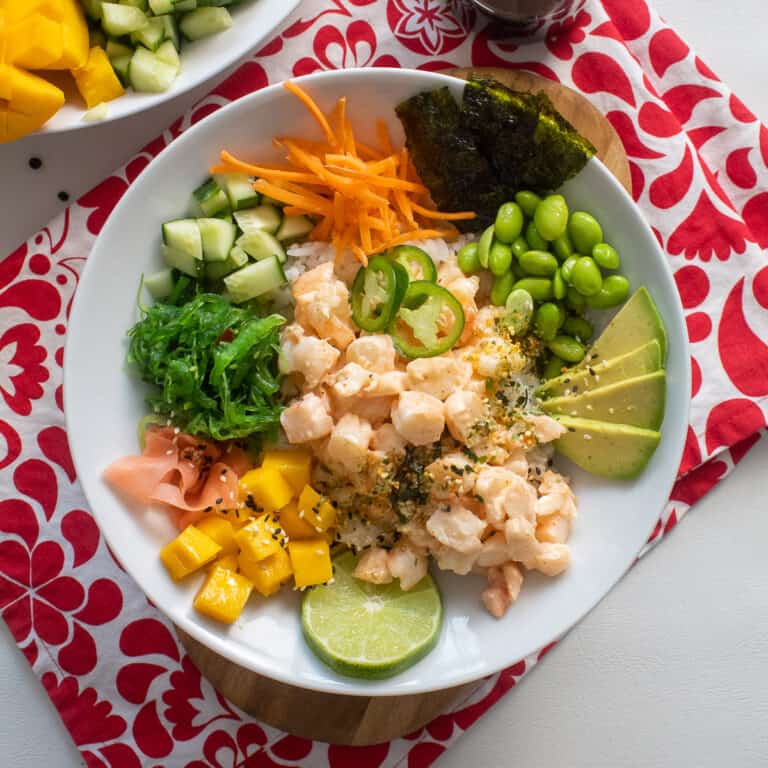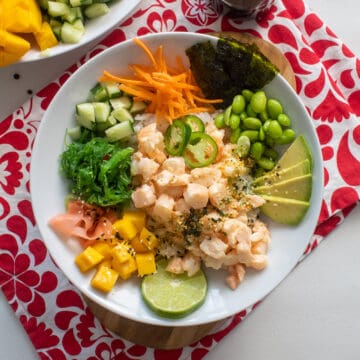 Fresh and Flavorful Sesame Shrimp Poke Bowl
Sweet and spicy chopped shrimp poke bowls are dressed up with a variety of toppings and a punchy soy-lime sauce over a bed of seasoned rice.
Ingredients
Seasoned Rice
1½

cups

jasmine rice

2

tablespoon

rice wine vinegar

1

teaspoon

granulated sugar

½

teaspoon

kosher salt
Shrimp
1

lb

raw shrimp

1

teaspoon

vegetable oil

¼

cup

mayonnaise

(Japanese Kewpie mayo if you can find it)

2

teaspoons

sriracha

1

teaspoon

sesame oil

1

teaspoon

honey

¼

teaspoon

kosher salt

⅛

tsp

ground black pepper
Soy-Lime Sauce
¼

cup

low sodium soy sauce

1

tablespoon

lime juice

1

tablespoon

honey

1

tablespoon

rice wine vinegar

1

tablespoon

water
Poke Bowl Toppings
1

cup

edamame

4

sheets

seaweed

(or seaweed salad)

1

tablespoon

furikake seasoning

1

cup

diced cucumber

2

tablespoon

pickled ginger

½

cup

diced mango

1

medium

avocado

½

cup

shredded carrots

1

jalapeno, sliced in rings

1

tablespoon

sesame seeds
Instructions
Prepare Rice - Instant Pot
In the pressure cooker insert, combine rice and 2 cups water. Cook with manual high pressure for 6 minutes. Allow natural release for 10 minutes and then do a quick release of the pressure.

Stir the vinegar, sugar, and salt together in a small bowl and then sprinkle the mixture over the rice. Fluff the rice with a large spoon to mix in the seasoning and then set aside.
Prepare Rice - Stovetop
In a medium saucepan, combine rice and 2½ cups water. Bring to a boil over high heat and then drop the heat to a slow simmer and place a lid on the pot. Allow the rice to cook for 15 minutes and then remove from the heat.

Stir the vinegar, sugar, and salt together in a small bowl and then sprinkle the mixture over the rice. Fluff the rice with a large spoon to mix in the seasoning and then set aside.
Prepare the Shrimp
Remove the tails from the shrimp if needed. Heat a skillet over medium high heat and add one teaspoon of vegetable oil.

Cook the shrimp for 2 minutes on the first side then one minute on the second side, until cooked through. Immediately move the shrimp to a cutting board to stop the cooking.

In a medium bowl, combine the mayonnaise, sriracha, sesame oil, honey, salt, and pepper until smooth.

Chop the shrimp into small pieces and stir it into the sauce. Set the shrimp aside.
Soy-Lime Sauce
Combine the soy sauce, lime juice, honey, rice wine vinegar, and water in a small bowl. Set aside.
Build the Shrimp Poke Bowl
Chop or dice any of the desired toppings.

In each bowl, add a portion of the seasoned rice. Top the rice with a portion of the shrimp.

Add as many toppings to the bowl as desired. Spoon over the soy-lime sauce and serve immediately.
Nutrition facts are sometimes provided below and are calculated using an online calculator. With specific brands of ingredients and additions, omissions, or substitutions the nutrition facts may change. We encourage you to use your own nutrition facts caculator to obtain the most accurate nutrition facts for your meal.
Nutrition Facts
Calories:
653
kcal
Carbohydrates:
82
g
Protein:
28
g
Fat:
24
g
Saturated Fat:
3
g
Polyunsaturated Fat:
9
g
Monounsaturated Fat:
9
g
Trans Fat:
0.04
g
Cholesterol:
149
mg
Sodium:
1815
mg
Potassium:
872
mg
Fiber:
7
g
Sugar:
13
g
Vitamin A:
3389
IU
Vitamin C:
22
mg
Calcium:
160
mg
Iron:
3
mg