Some soups are all about the rich broth or the creamy base. Many are favorites because of hearty ingredients and they hit the spot on cold nights. Others are about the toppings; I mean what is french onion soup without the crouton and gruyere? Chicken tortilla soup kind of hits all those notes. It's got a base of broth punched up with warming chiles, belly-filling beans, corn, and tomatoes, and the toppings go on as far as you can pull together from your kitchen: avocados, tortilla chips, shredded cheese, cilantro, lime, sour cream, or hot sauce.
You can use canned chicken breast in this Easy Chicken Pecan Salad, too!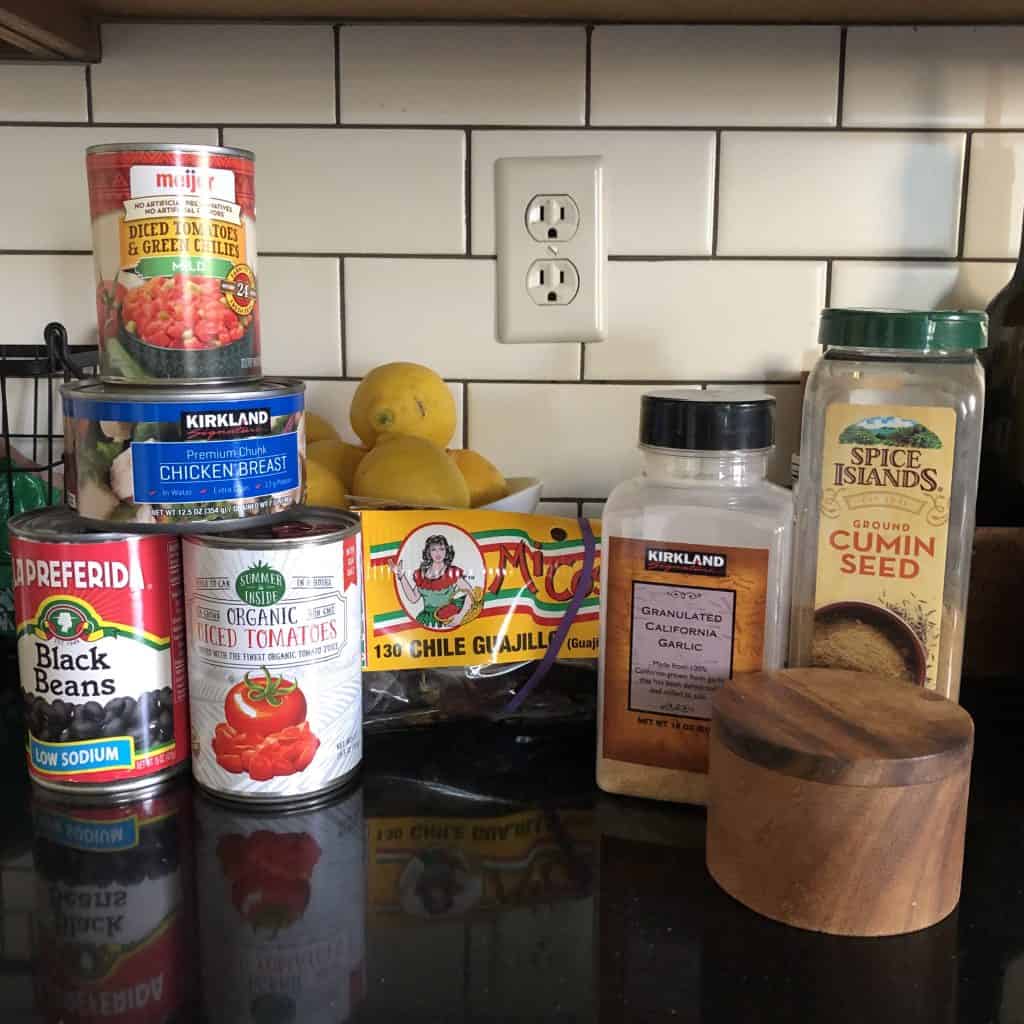 This pantry-friendly version uses tortilla chips as the tortilla component, doing away with crisping up corn tortilla strips in the oven before you get to dig in. Take a few minutes at the beginning to re-hydrate your guajillo chile and make a flavorful sauce as the base for the broth. Then add in canned tomatoes with green chiles, chicken, beans, and pantry spices to bring more layers of flavor. Toss in a handful of corn from the freezer, and you're almost there. It comes together quickly, but tastes like it's been building flavor for longer. When you bring the soup to the table with the platter of toppings, you'll get a few oohs and ahhhs! Everyone likes toppings, and kids like to customize whenever they get a chance.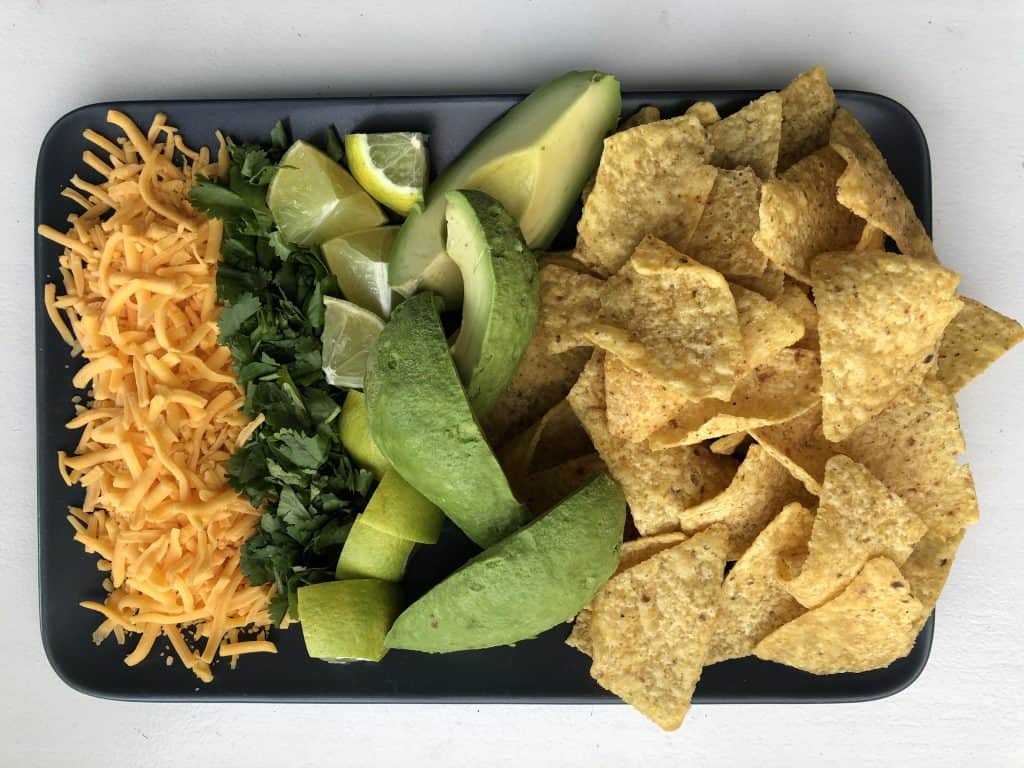 Your final bowl construction is up to you, and it always makes me giddy for the first bite. Try it out tonight and let me know how it went in the comments!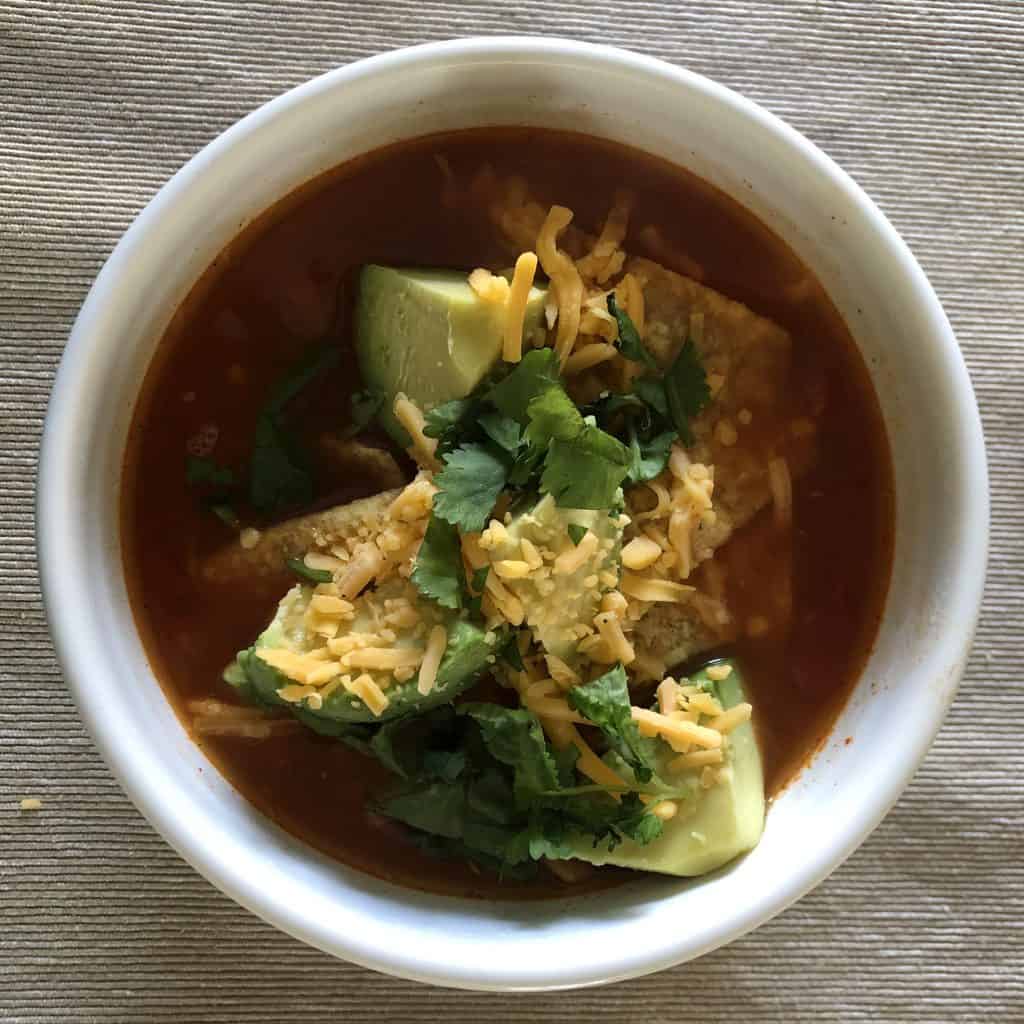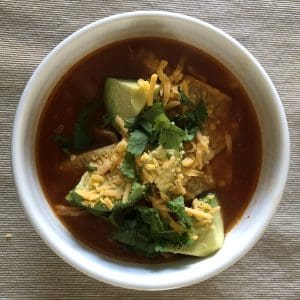 Chicken Tortilla Soup
Made entirely of shelf-stable and pantry goods, this soup hits all of the flavor marks. Add in some fresh toppings and this is a family favorite!
Ingredients
1

dried guajillo chile, stems and seeds removed

½

teaspoon

onion powder

2

teaspoon

garlic powder

1

teaspoon

ground cumin

½

teaspoon

ground coriander

1

15 oz. can

diced tomatoes

2

tsp

salt (adjust to taste)

4

cups

chicken stock

1

15 oz. can

black beans, drained and rinsed

1

10 oz. can

mild diced tomatoes with green chiles (Rotel)

½

cup

frozen corn

1

12.5 oz. can

chicken breast
Soup Toppings
shredded cheddar or cotija cheese

diced avocado

lime wedges

chopped cilantro

corn tortilla chips
Instructions
Add 1 cup of boiling water to the dried chile in a coffee mug. Allow to steep until the chile is softened. Strain, reserving the liquid.

In a blender, combine the softened chile, onion and garlic powders, cumin, coriander, 15 oz. can diced tomatoes, and salt. Blend until smooth, adding the liquid from the chile if needed to get a smooth puree.

In a large stock pot, heat up the chicken stock over medium-high heat. Add in the chile puree. When the mixture comes to a boil, add the corn, beans, Rotel, and canned chicken (break the chicken into pieces if it is in large chunks).

Return the soup to a boil, then reduce heat to maintain a simmer. Simmer 15 minutes (or longer).

Serve by adding a handful of tortilla chips to a bowl and then ladling soup over the top. Garnish with cheese, avocados, cilantro, lime, and additional chips.
Nutrition facts are sometimes provided below and are calculated using an online calculator. With specific brands of ingredients and additions, omissions, or substitutions the nutrition facts may change. We encourage you to use your own nutrition facts caculator to obtain the most accurate nutrition facts for your meal.