In the peak of summer, basil is plentiful and this homemade basil lemonade is a perfectly refreshing way to use it. You can make this lemonade by the pitcher or by the glass, depending on how many you are serving. Or, keep it to yourself for a treat!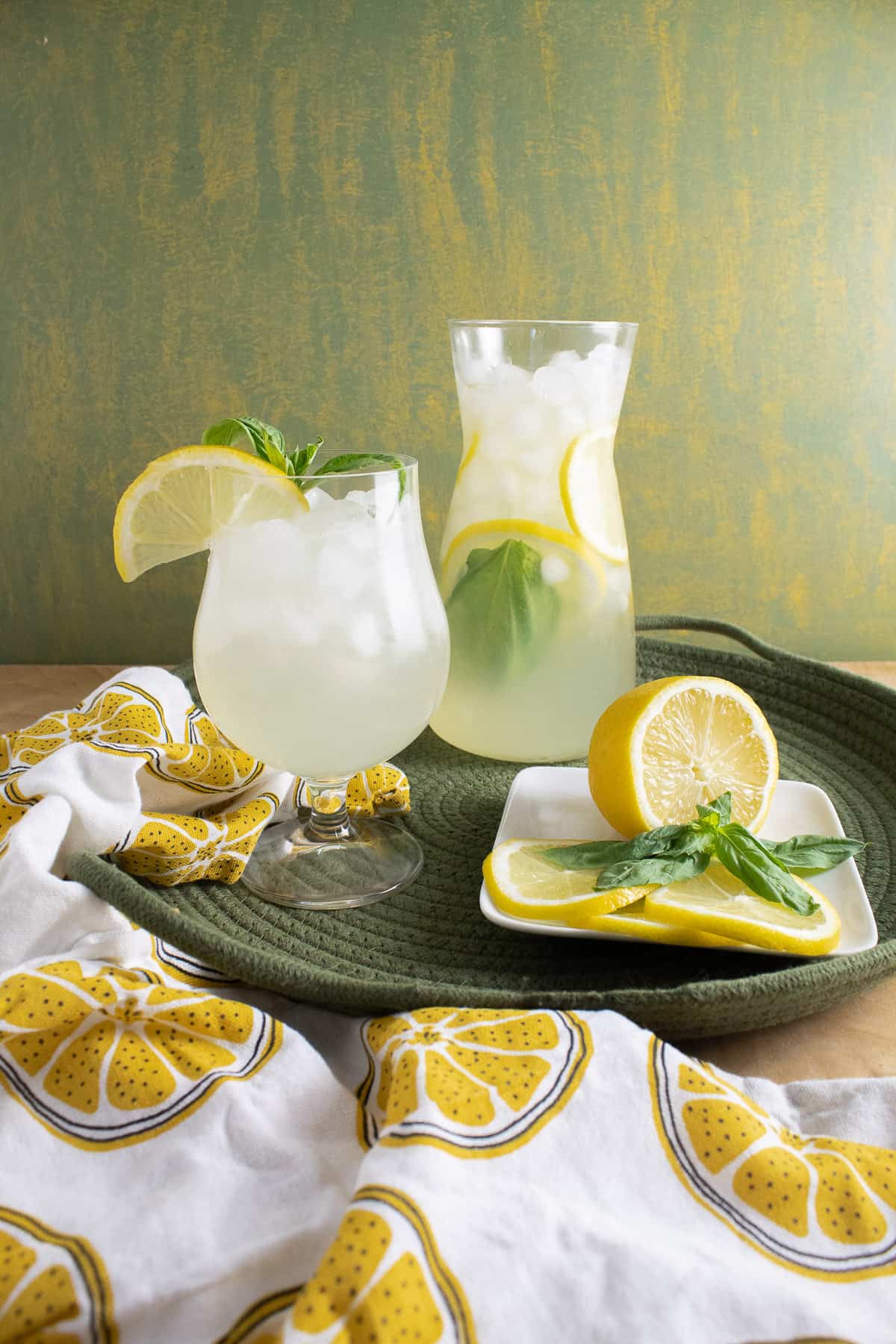 Adding herbs to desserts and beverages is one of my favorite ways to level up a basic recipe. Adding basil to classic lemonade is a perfect example. The fresh tart lemon juice and verdant licorice-laced basil are a terrific pairing. Using a basil simple syrup adds concentrated basil flavor without having to manage tiny flecks of basil in your drink.
If you love lemon in your desserts, Try my Strawberry Lemon Bars, Lemon Cream Cheese Fruit Dip, or these sweet Lemon Curd Thumbprint Cookies!
Jump to:
Ingredients
I include ingredient notes here when I think they'll be helpful, including ways to source, any preparation tips, or why I've chosen a particular ingredient. Be sure to check out the recipe card below for the full list of ingredients and their quantities!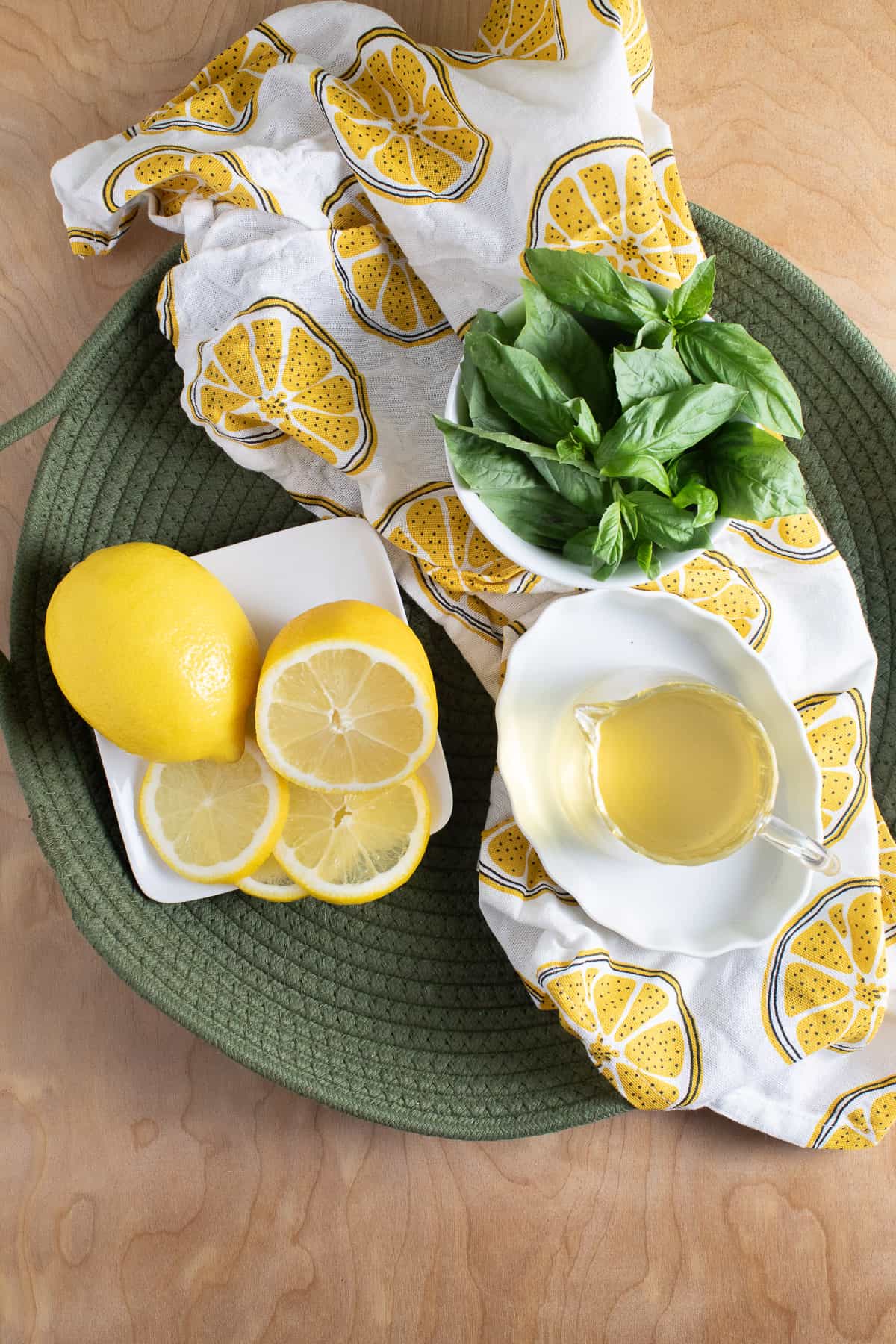 There are only three components to this simple homemade basil lemonade recipe!
Basil Simple Syrup - I have an entire post dedicated to the many ways to use this herbal and fragrant basil simple syrup. You'll also find abbreviated instructions in the recipe card notes below.
Fresh Lemons - This is no time to turn to bottled lemon juice as a quick swap. Use 5-6 fresh lemons, depending on size, for juicing and garnish to make a pitcher of lemonade.
Basil Leaves - A handful of additional basil leaves are used for garnish and to add to the pitcher to cue your guests that there's something special about this lemonade. Keep a few sprigs of basil intact for garnishing.
Instructions
Once you have your basil simple syrup, preparing the basil lemonade is a snap.
Juice the lemons to yield about 8 ounces of juice.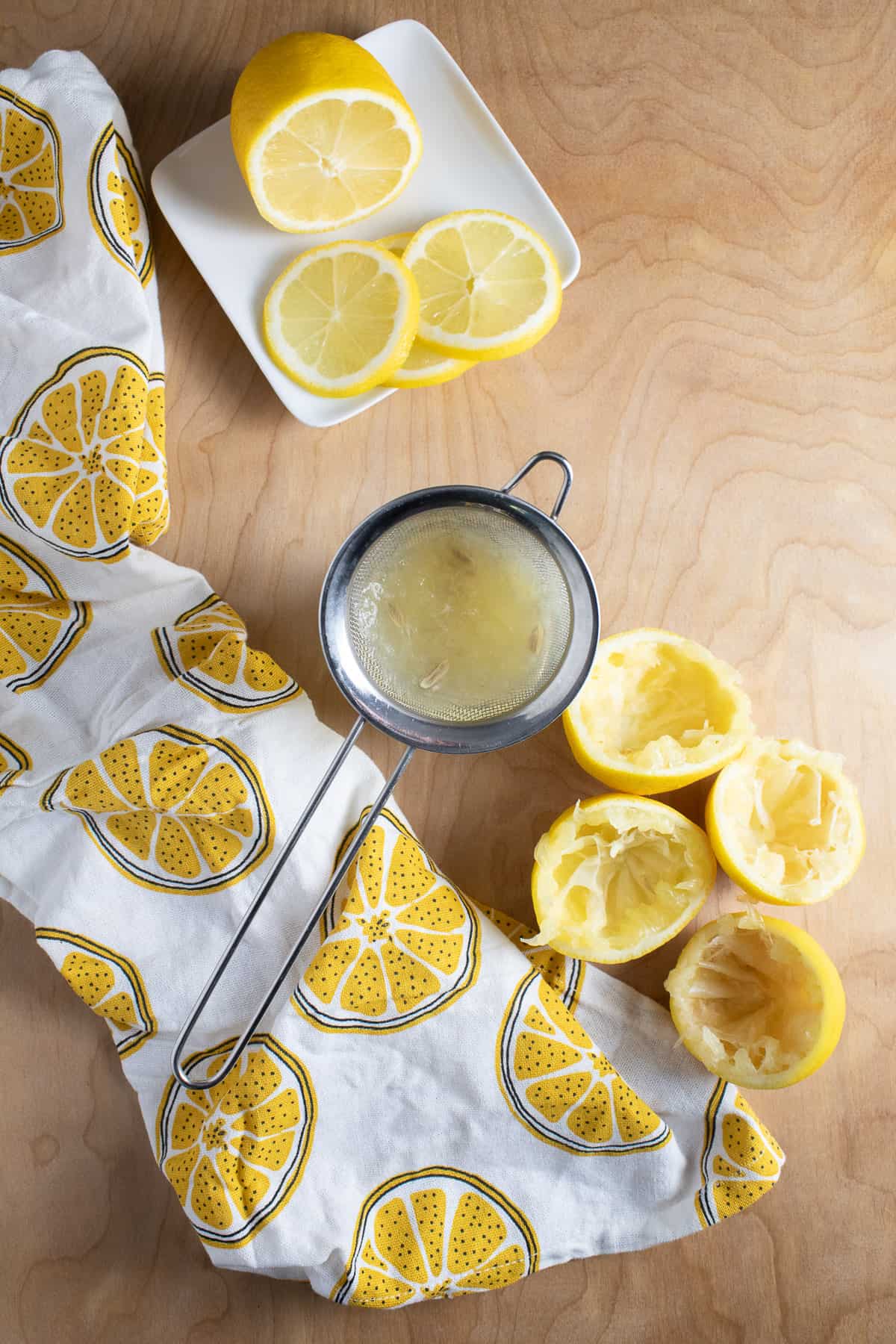 Strain the juice over a mesh strainer to remove seeds and pulp.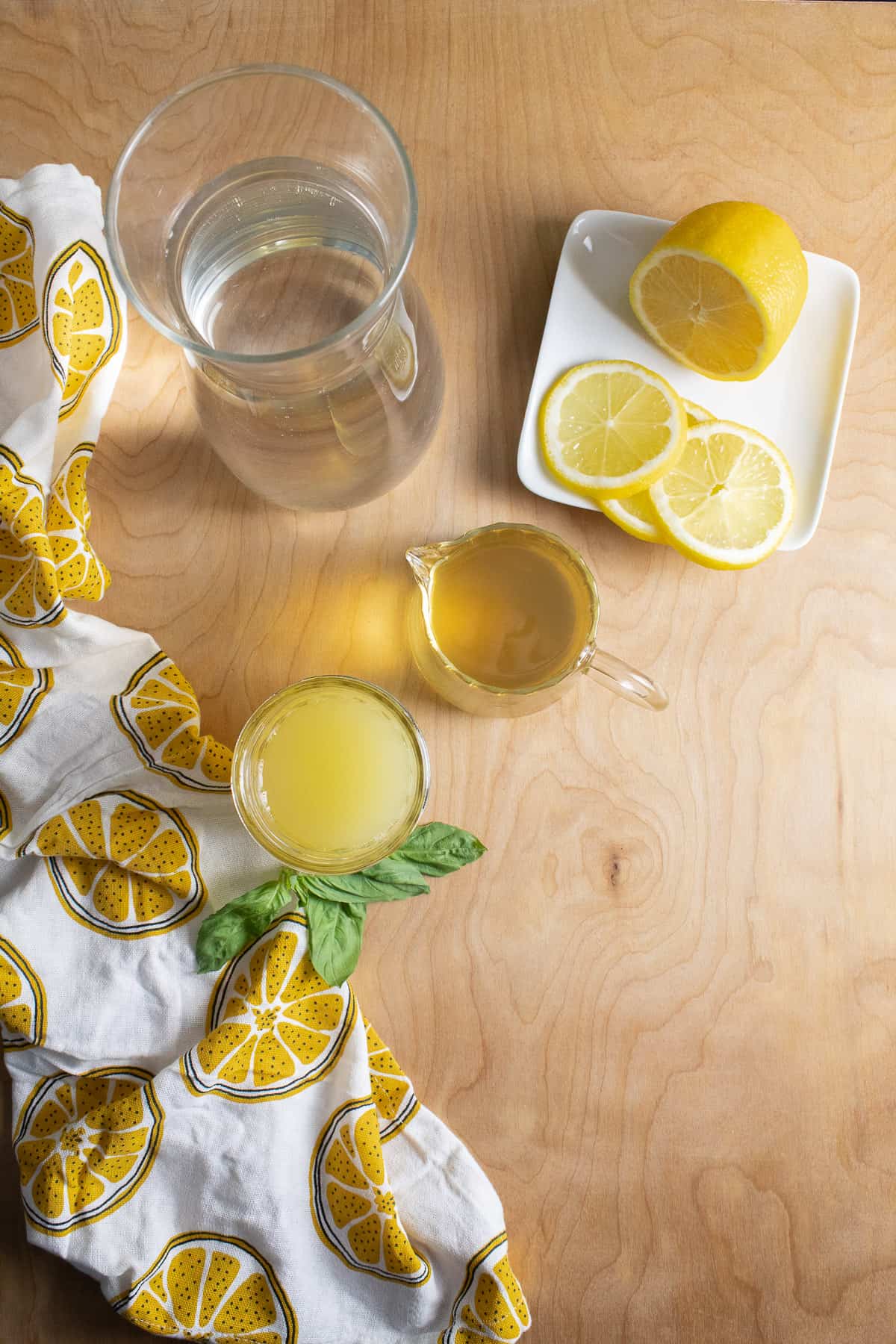 Gather filtered water, basil syrup, lemon juice, lemon slices and basil leaves.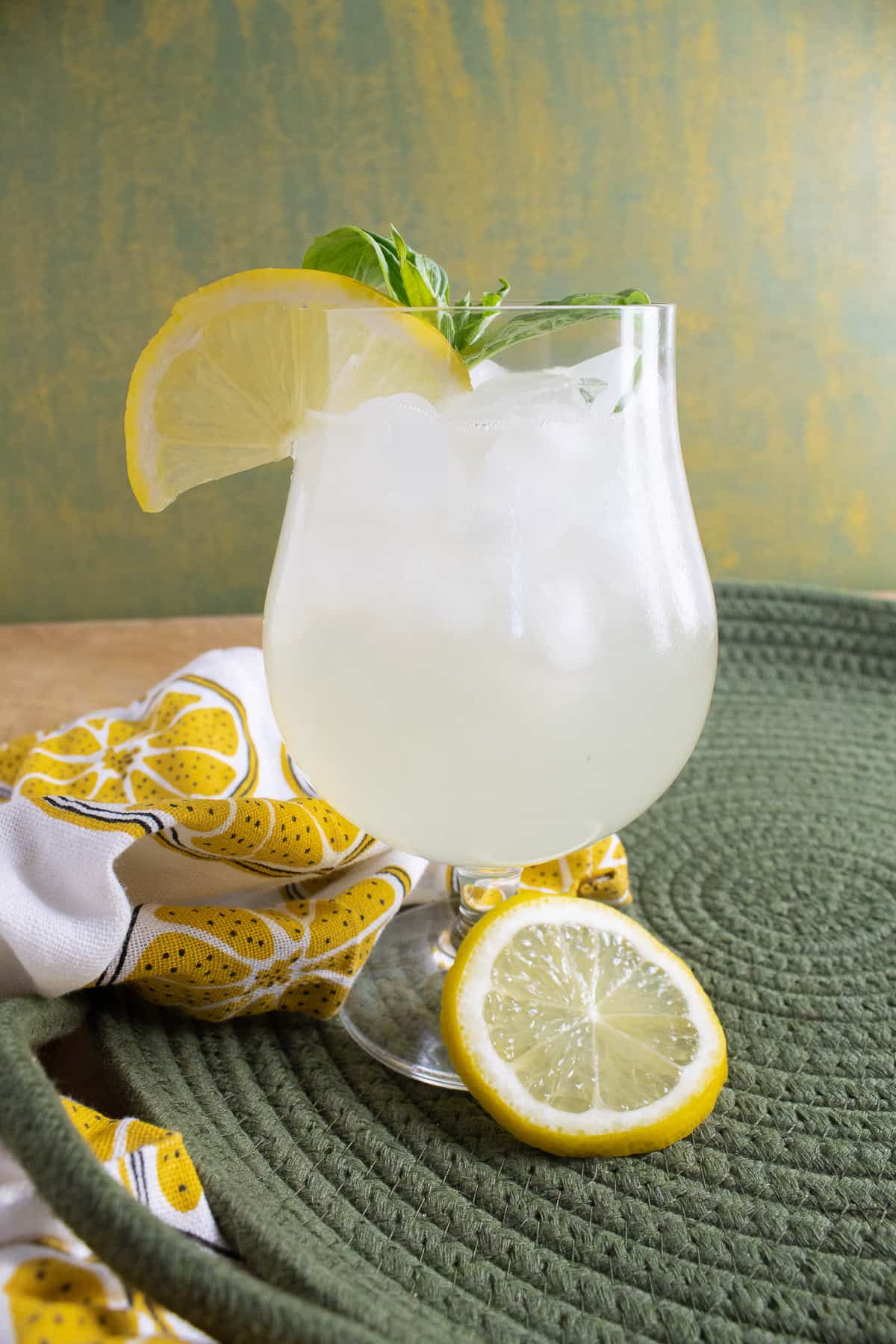 Prepare a single serving of basil lemonade by adding 1 ounce of syrup, 1 ounce of lemon juice, and 6 ounces of water. Garnish with lemon slices and a sprig of basil.
Make a Pitcher: To prepare a pitcher of eight servings of basil lemonade at once, use the quantities listed in the recipe card. Add whole slices of lemons and basil leaves to the pitcher and also provide extras for garnishing each serving.
Variations
There are so many ways to modify this basil lemonade to make it your own. Check out some of these ideas:
Swap Lemon for Lime - A basil limeade is equally refreshing!
Add Berry Flavor - Add a dash of blueberry simple syrup or strawberry simple syrup to make a blueberry basil lemonade or strawberry basil lemonade.
Make a Cocktail - Combine 1 ounce lemon juice, 1 ounce basil syrup, and 1.5 ounces of vodka, gin, bourbon, or tequila to a cocktail shaker with an abundance of ice. Shake vigorously for 30 seconds to a minute until the cocktail is well diluted and chilled. Strain over fresh ice in a low tumbler and garnish with basil and lemon slices.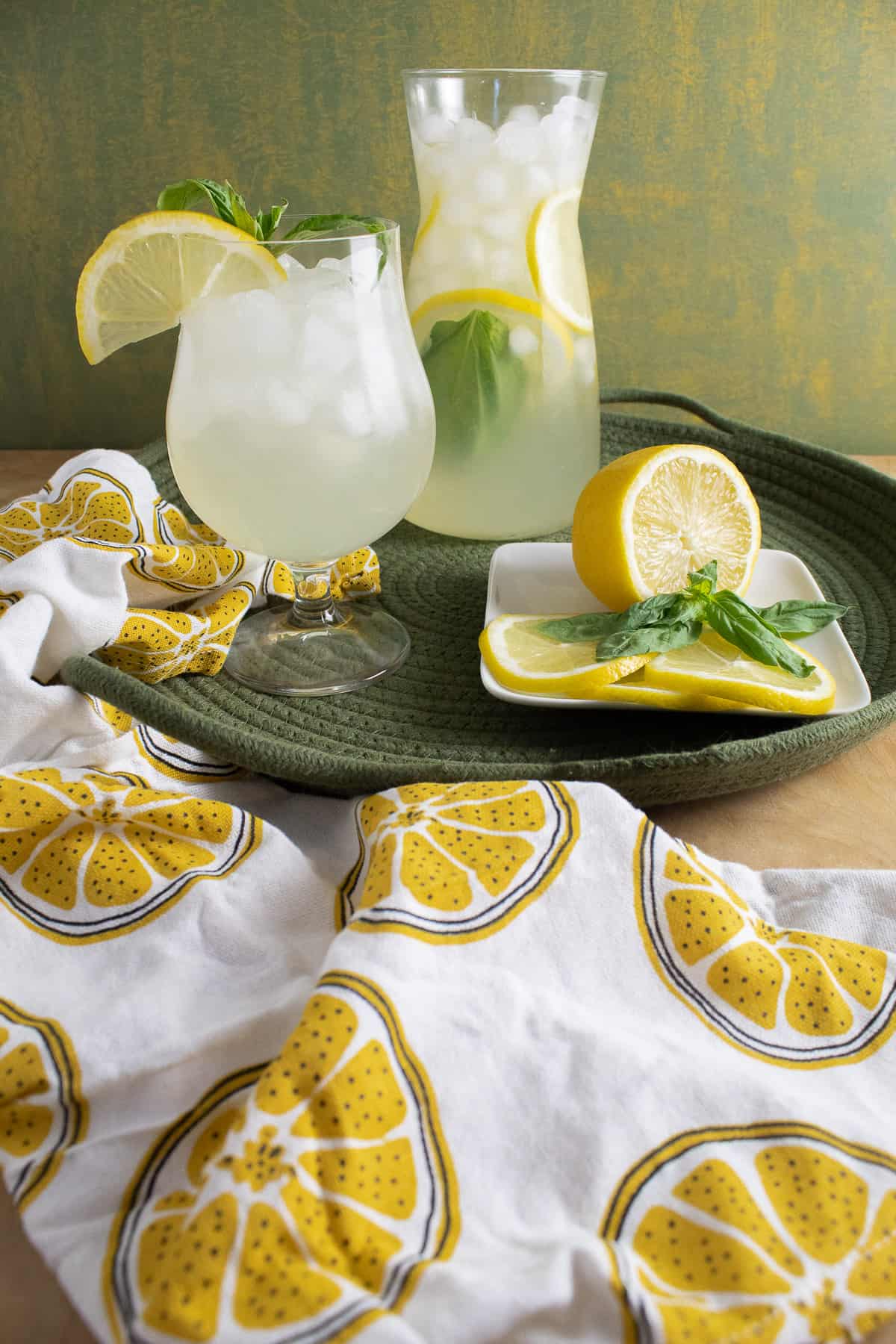 Equipment
A citrus reamer, glass juicer dish, or handheld squeezer are all great options for getting every last drop of juice from your lemons. I love the glass juicer dish because you get to use gravity to assist you in getting all of the juice. You can find these glass juicers at most any thrift store. They are durable and dishwasher-safe, not to mention pretty to look at!
Storage
Your prepared basil lemonade will last up to 3 days in the refrigerator. Store it in a lidded carafe, pitcher, or covered jar to keep the lemonade from picking up other refrigerator flavors.
FAQ
Is the basil flavor strong in the basil lemonade?
You will definitely pick up the flavor of the basil in the lemonade, with some grassy and licorice notes. It is not overpowering, though, and less "green" tasting than when you blend in fresh basil leaves to the juice as in other recipes.
How can you balance sweet and sour flavors in basil lemonade to your liking?
Add extra basil simple syrup to make the lemonade a bit sweeter, or extra lemon juice to increase the tartness of the lemonade.
Can you use dried basil to make basil lemonade?
It is not recommended to use dried basil in place of fresh basil leaves.
More Simple Syrups
Simple syrups add concentrated flavor to beverages and desserts and last for a good amount of time when sealed and stored in the refrigerator. Check out these recipes that use a variety of fruit or herbs for simple syrups:
Savory Lemon Recipes
Lemon works in both sweet and savory dishes. Try one of these savory recipes the next time you are craving fresh lemon flavor:
Try It and Share
Make this homemade basil lemonade and show us your results! Tag your photo with #planeatpostrepeat and mention me @planeatpostrepeat on Instagram or Facebook. I can give you a virtual high five and thank you for cooking one of my recipes! Comment below with any questions and please leave a review so others can find this recipe more easily.
Recipe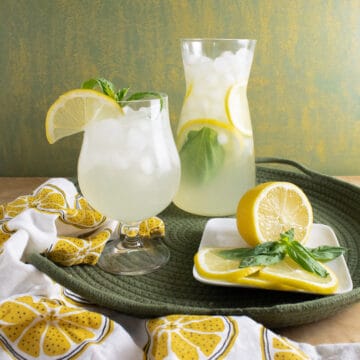 Basil Lemonade
Refreshing, light, and full of real lemon juice and basil, this basil lemonade will help you beat the heat in the most delicious way.
Ingredients
8

oz

basil simple syrup

8

oz

lemon juice

(fresh squeezed (approximately 5-6 lemons))

12

basil leaves

(for garnish)

12

lemon slices

(for garnish)
Instructions
Juice the lemons and strain the juice to remove the seeds.

Add the lemon juice, basil syrup, and 48 ounces of water to a pitcher. Add 4 slices of lemon and 4 leaves of basil to the pitcher.

Stir well and serve the lemonade over ice. Garnish with lemon slices and basil leaves.
Notes
To make the Basil Simple Syrup (see the recipe for more details):
Add 2 cups basil leaves (about 2 ounces) and 1 cup granulated sugar to a sauce pan with 1 cup water.  Bring to a rolling boil and cook for 2-3 minutes.  Remove from the heat and allow the syrup to steep for 30 minutes before using a mesh strainer to remove the leaves.  Store in the refrigerator in an airtight container.
Nutrition facts are sometimes provided below and are calculated using an online calculator. With specific brands of ingredients and additions, omissions, or substitutions the nutrition facts may change. We encourage you to use your own nutrition facts caculator to obtain the most accurate nutrition facts for your meal.
Nutrition Facts
Calories:
112
kcal
Carbohydrates:
29
g
Protein:
1
g
Fat:
0.3
g
Saturated Fat:
0.02
g
Polyunsaturated Fat:
0.03
g
Monounsaturated Fat:
0.004
g
Sodium:
1
mg
Potassium:
86
mg
Fiber:
1
g
Sugar:
26
g
Vitamin A:
356
IU
Vitamin C:
26
mg
Calcium:
21
mg
Iron:
0.4
mg