This Fresh Cucumber Jalapeno Lemonade is the refreshing summer drink that you never knew you needed! It is sweet, tart, subtly spicy, and has the cool addition of cucumber to quench your thirst. Drink it as lemonade, a bubbly mocktail, or a special cocktail, but whatever you do don't miss out!
Looking for another summer beverage to quench your thirst? Try my Stone Fruit Sangria or Strawberry Jalapeno Margaritas next! This would also be the perfect beverage to pair with Easy Pan Seared Salmon with Zest Peach and Mango Salsa.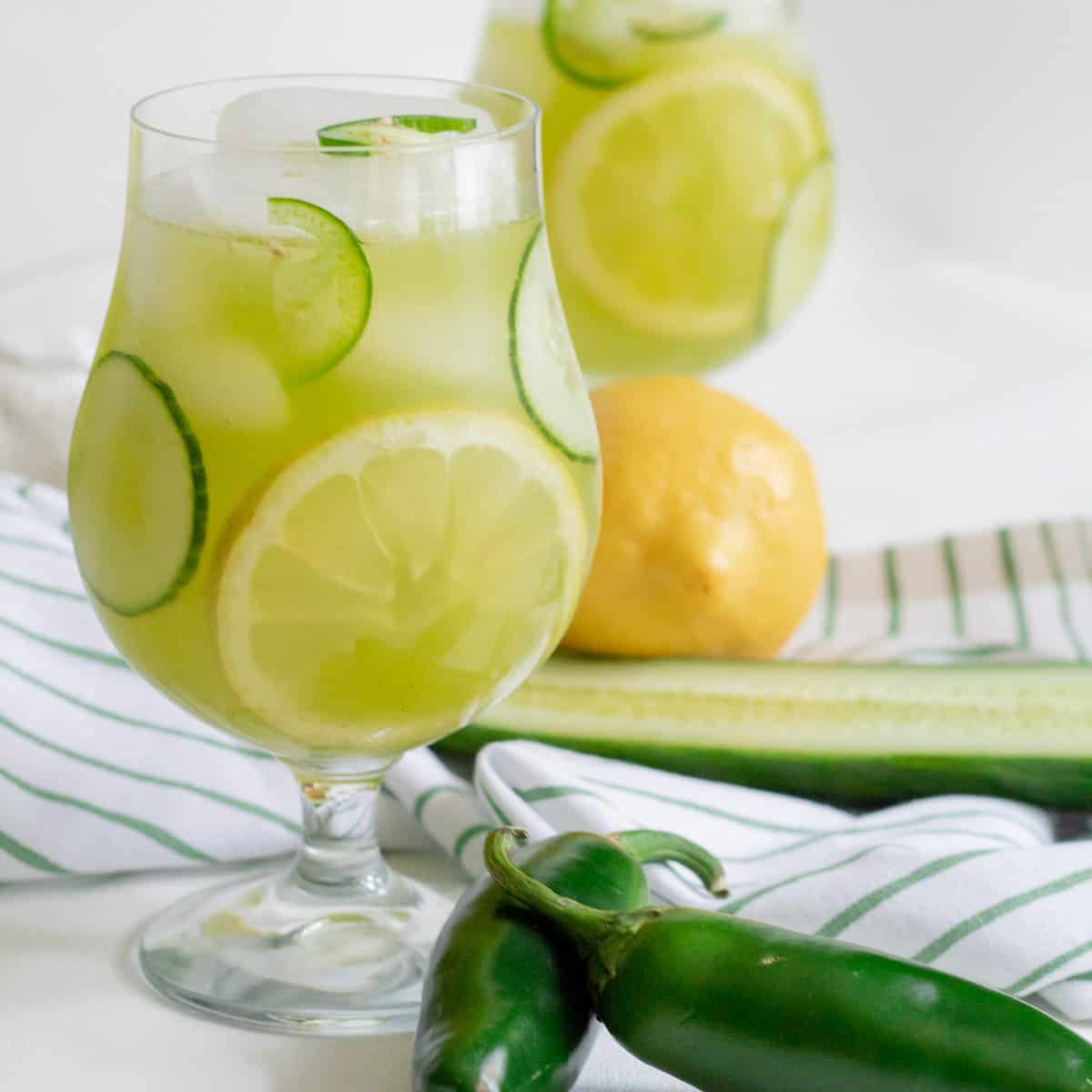 Ingredients
Jalapenos: These are available in most regular supermarkets. Jalapenos can vary in spice level from pepper to pepper, but they are generally on the lower end of the Scoville scale with mild to moderate heat.
Granulated Sugar: Sugar is the main component of simple syrup (a 1:1 ratio of sugar and water) that we use to sweeten the lemonade.
English Cucumber: These greenhouse varieties of cucumbers are longer and contain fewer seeds than the traditional garden cucumbers. Choose one that is free of blemishes and feels solid and relatively heavy for the best flavor.
Fresh Lemons (or Limes!): Three to four large lemons will yield enough juice for the lemonade. Do not substitute bottled lemon juice in this recipe, it just isn't the same! If limeade is your jam, feel free to substitute an equal amount of lime juice in this recipe.
Prepare the Jalapeno Simple Syrup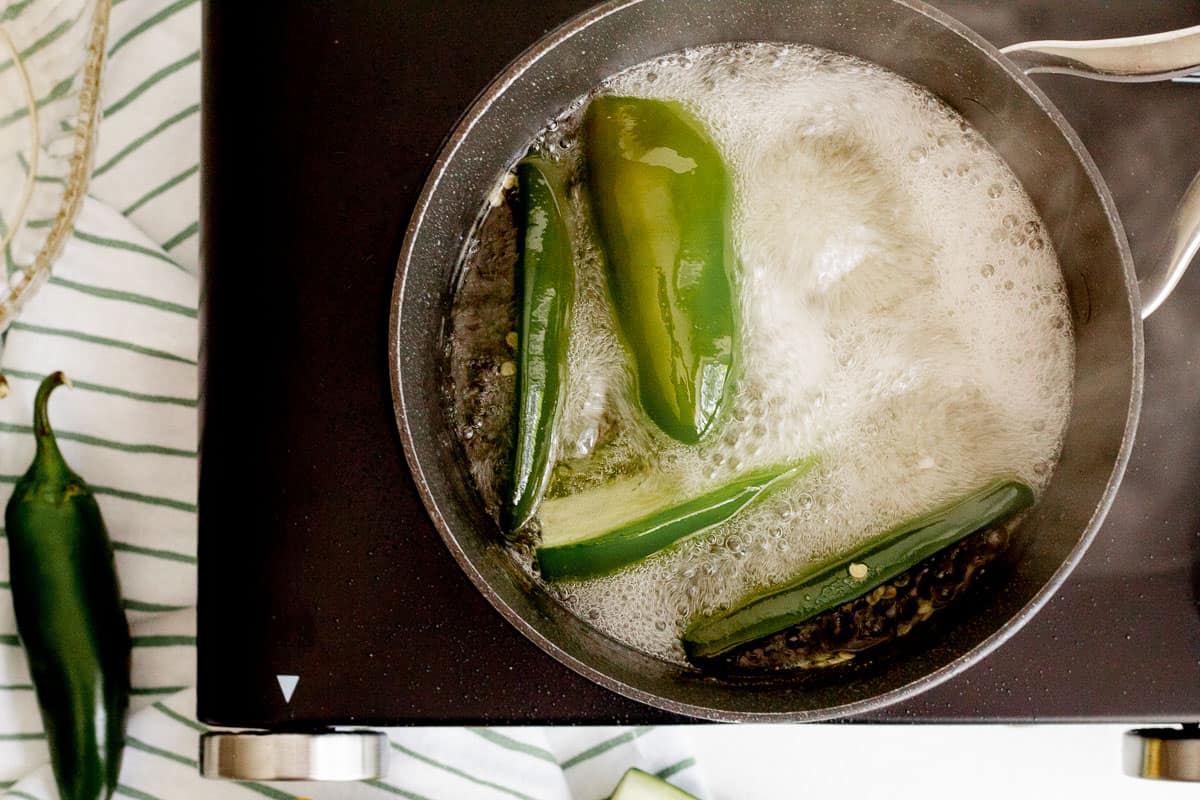 We are going to make an infused simple syrup to get the most out of the jalapenos without adding too much spice. Because each jalapeno is different, your jalapeno simple syrup will vary in spice level. I like to have the kick of the spice in my final lemonade, so I leave the seeds and membranes of the jalapeno intact when I add it to the simple syrup mixture. Simply chop off the stem and halve the jalapeno lengthwise before adding to the sugar and water in a medium sauce pan. Bring the mixture to a boil and then remove from the heat to allow it to steep for 2 hours. Strain away the pepper pieces and your syrup is ready!
Looking for other simple syrups to flavor your drinks? Try this 2-Ingredient Homemade Strawberry Simple Syrup recipe next!
Prepare the Lemonade Concentrate
Use a blender to make the cucumber-lemon juice. Add cubed cucumber and the freshly squeezed lemon juice to the pitcher of the bender and blend until very smooth. Strain the juice with a mesh strainer over a medium bowl and use a wooden spoon to stir the juice until most of it passes through the mesh. The pulp leftover in the strainer is the texture of thick applesauce.
Combine the strained simple syrup and the cucumber-lemon juice in a large pitcher or a jar. This concentrate can now be diluted with water for lemonade, sparkling water for a mocktail, or the spirit of your choice for a cocktail!
Choose: Lemonade, Mocktails, or Cocktails
To make a refreshing lemonade, mix two parts of lemonade concentrate with three parts of water in a pitcher. For example, add two cups of concentrate to three cups of water. Stir it well and serve the lemonade over ice.
You can use the same proportions (2:3) to make a mocktail with soda water or sparkling water. Pour ½ cup (4 ounces) of concentrate into a tall glass and add ¾ cup (6 ounces) of sparkling water and ice.
Finally, make a cocktail that's sure to be the hit of your next gathering by adding lemonade concentrate and either vodka or tequila in a 1:1 proportion (equal parts) to a cocktail shaker filled with ice. For one cocktail, I usually add 2 ounces of each. Shake vigorously and strain over a glass filled with crushed ice.
In all cases, don't forget to add a garnish (or three!). Ribbons or slices of cucumber, jalapeno cut in coins or on the bias, and lemon slices will alert your guests to the flavors that they are about to enjoy!
FAQ for Cucumber Jalapeno Lemonade
How do you make a pitcher of cocktails for serving a crowd?
I like what you are thinking. Add equal parts of lemonade concentrate and the spirit of your choice to a pitcher. Add ice cubes to chill the pitcher. Provide glasses filled with crushed ice as well as garnishes to add to each glass. You can have cocktails ready for the whole crew in minutes this way.
How long will the lemonade concentrate keep?
I store my concentrate in a glass jar in the refrigerator for up to 3 days. The bright green color will turn a bit darker, but the flavor will still be great.
How spicy is the lemonade?
I would call the spice mild. It's almost more of a suggestion of spice than anything too overt. If you'd like to up the spice factor, add one of the halved jalapenos from the simple syrup to the cucumber and lemon mixture when blending.
Can limes be used instead of lemons?
100% yes! I developed the recipe with lemons, but lime juice will be a delicious substitution. Cucumber Jalapeno Limeade would be perfect with tequila or rum.
Jalapeno simple syrup is a great way to add jalapeno flavor to beverages. Try this Basil Simple Syrup recipe next!
Try It and Share
I hope you give this Fresh Cucumber Jalapeno Lemonade a try and that it quenches your thirst on the next hot day. I want to see your results! Tag your photo with #planeatpostrepeat, pin my recipe, and mention me @planeatpostrepeat on Instagram so that I can give you a virtual high five and thank you for cooking one of my recipes. Comment below with any questions and please leave a review so others can find this recipe more easily!
Recipe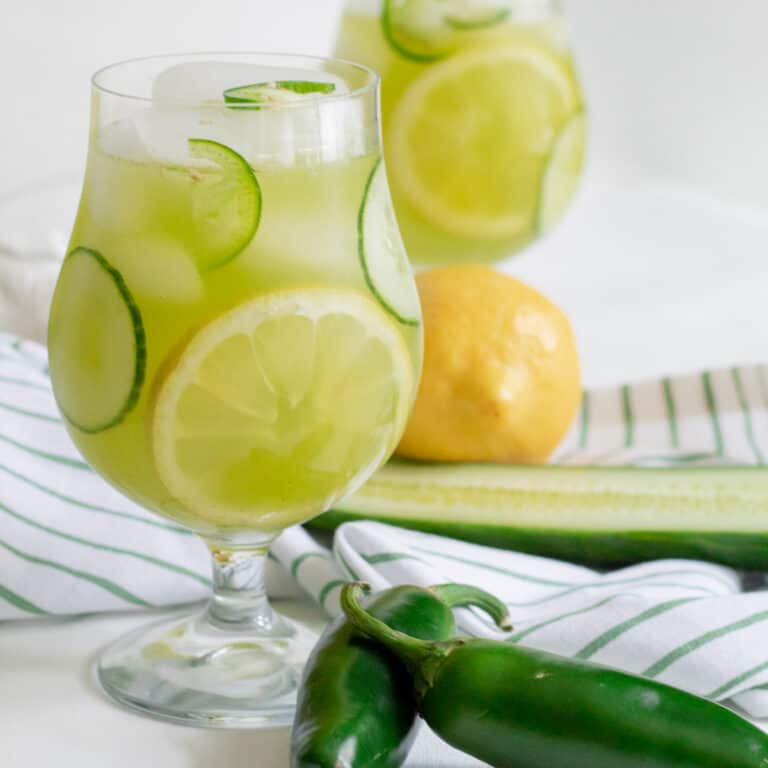 Fresh Cucumber Jalapeno Lemonade (Mocktails or Cocktails)
Lemonade gets a makeover with spicy jalapeno simple syrup and refreshing cucumber in this Fresh Cucumber Jalapeno Lemonade recipe.
Equipment
blender

large pitcher

mesh strainer

cocktail shaker
Ingredients
Jalapeno Simple Syrup
2

medium

jalapenos

(plus extra for garnish)

1½

cups

granulated sugar
Lemonade
3-4

lemons

(plus extra for garnish)

1

English cucumber

(plus extra for garnish)
Optional Cocktail or Mocktail Ingredients
vodka

tequila

crushed ice

soda water or sparkling water

sliced cucumber, lemons, and jalapenos

(for garnish)
Instructions
Prepare the Jalapeno Simple Syrup
Remove the stem from the jalapenos and then halve them lengthwise. Add them to a medium saucepan along with the granulated sugar and 1½ cups of water.

Bring the mixture to a boil over medium-high heat. Allow the syrup to cook at a rolling boil for two minutes.

Remove the syrup from the heat, cover, and allow to rest and cool for 2 hours.

Strain the syrup with a mesh strainer over a medium bowl and reserve for the lemonade concentrate.
Prepare the Lemonade Concentrate
Juice the lemons until you have 1½ cups of fresh juice. Roughly chop the washed cucumber.

Add the lemon juice and the cucumber pieces to the blender and blend until very smooth.

Strain the juice with a mesh strainer over a medium bowl. Stir with a spoon to get most of the juice through the strainer.

Combine the jalapeno simple syrup and the cucumber-lemon juice in a large pitcher or jar. Store in the refrigerator for up to 3 days. Dilute this concentrate as described below.
For Lemonade
Combine 2 cups of the lemonade concentrate with 3 cups of water in a large pitcher. Stir well and serve over ice with slices of cucumber, jalapeno, or lemons as garnish.

Prepare lemonade using the same proportions but use soda water or sparkling water for a refreshing mocktail.
For Cocktails
Add a generous amount of crushed ice to a serving glass.

In a cocktail shaker, combine lemonade concentrate and a spirit of your choice (vodka and tequila work well) in a 1:1 proportion. Shake with a large handful of ice.

Strain the cocktail over the crushed ice in the serving glass and garnish with sliced cucumber, jalapeno, or lemons.

For a pitcher of cocktails, Add 2 cups of lemonade concentrate and 2 cups of your spirit of choice and stir with ice. Pour over ice in individual glasses and garnish as above.
Nutrition facts are sometimes provided below and are calculated using an online calculator. With specific brands of ingredients and additions, omissions, or substitutions the nutrition facts may change. We encourage you to use your own nutrition facts caculator to obtain the most accurate nutrition facts for your meal.