Freshly baked bread is a luxury you can have at home with this recipe for Caprese Focaccia! A soft but chewy interior is matched with a crisp and olive oil-flavored exterior for a stellar textural combination. Juicy tomatoes, basil, mozzarella, and balsamic glaze all flavor this simple bread for a delicious treat.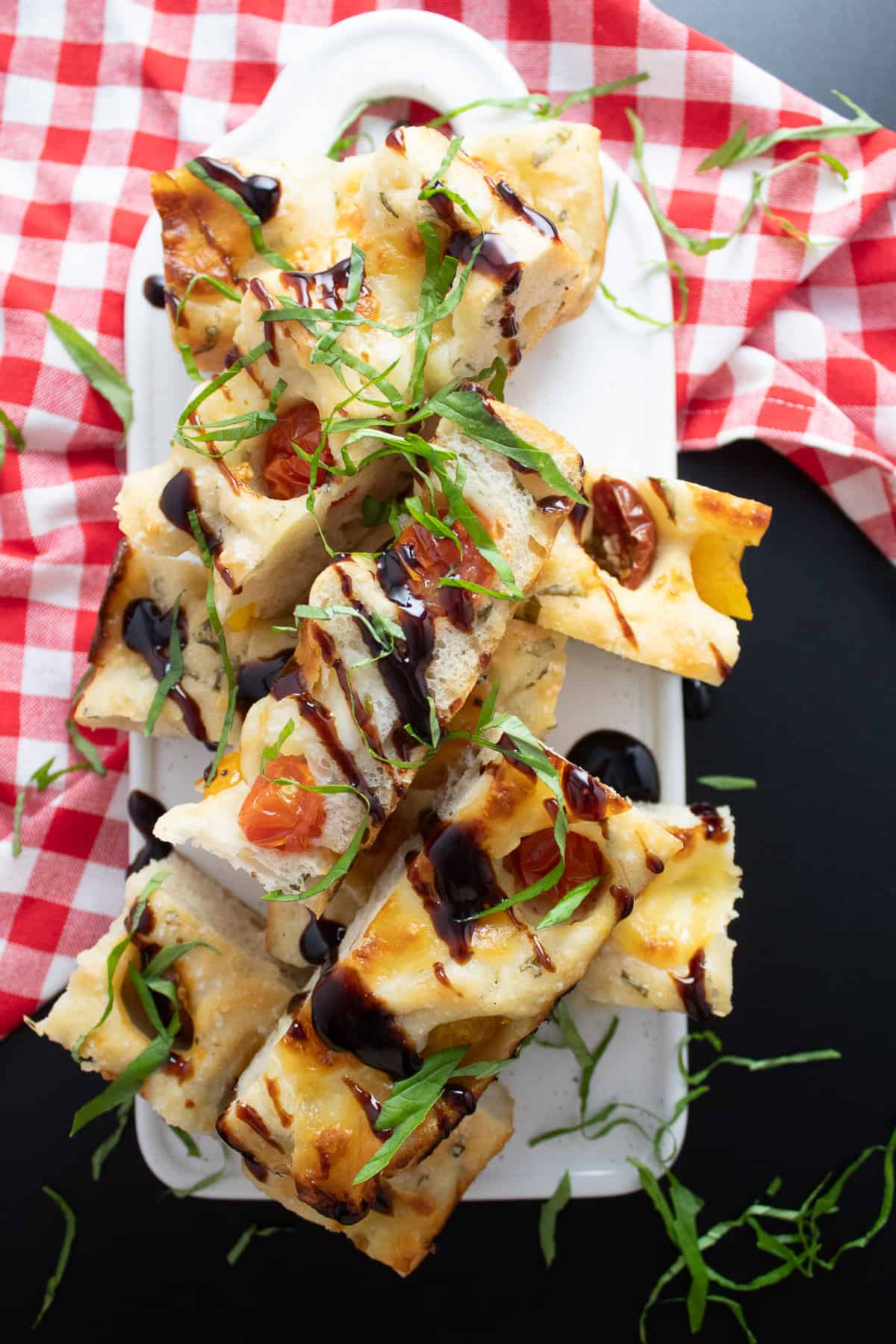 If you think that homemade bread is above your kitchen skills level, you've not yet tried focaccia bread. This bread is no-knead and done in about 3 hours from start to finish and the rewarding flavor and texture far outweigh the effort required to make it.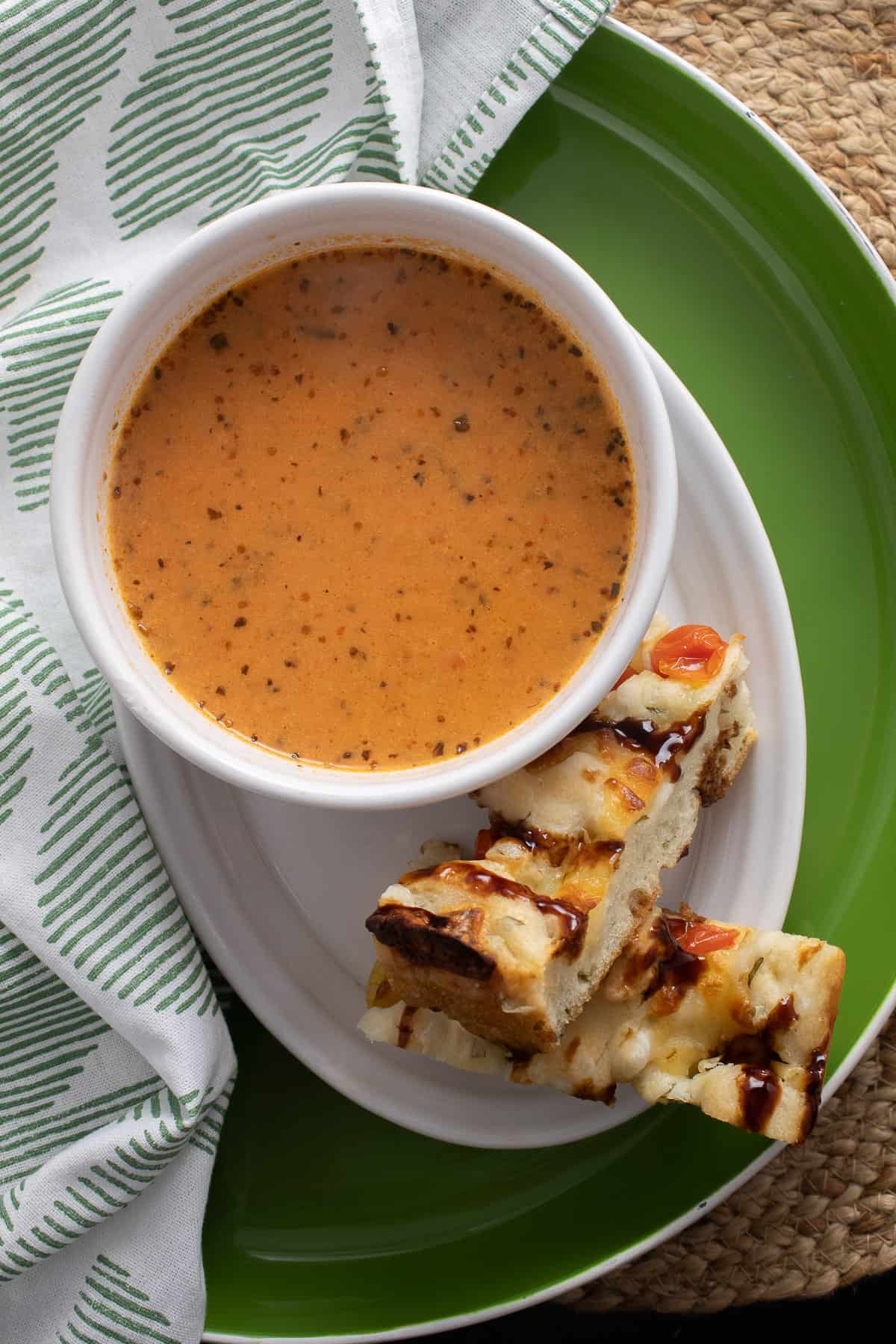 Caprese focaccia makes a delicious side for a dinner salad or bowl of soup. You wouldn't want to miss an opportunity for a focaccia bread sandwich, either! Focaccia elevates even the most basic turkey sandwich to new levels.
I love all things with fresh tomatoes, basil, and garlic and this caprese focaccia would be perfect for soaking up the flavorful sauce in chicken pomodoro or even a basic bolognese. Try it as an appetizer with this Cherry Tomato Confit! Or, serve it with Roasted Red Pepper Chicken instead of the couscous and swipe it through that bold red pepper sauce.
Jump to:
Ingredients
Pantry staples combine with fresh ingredients to make this focaccia bread shine.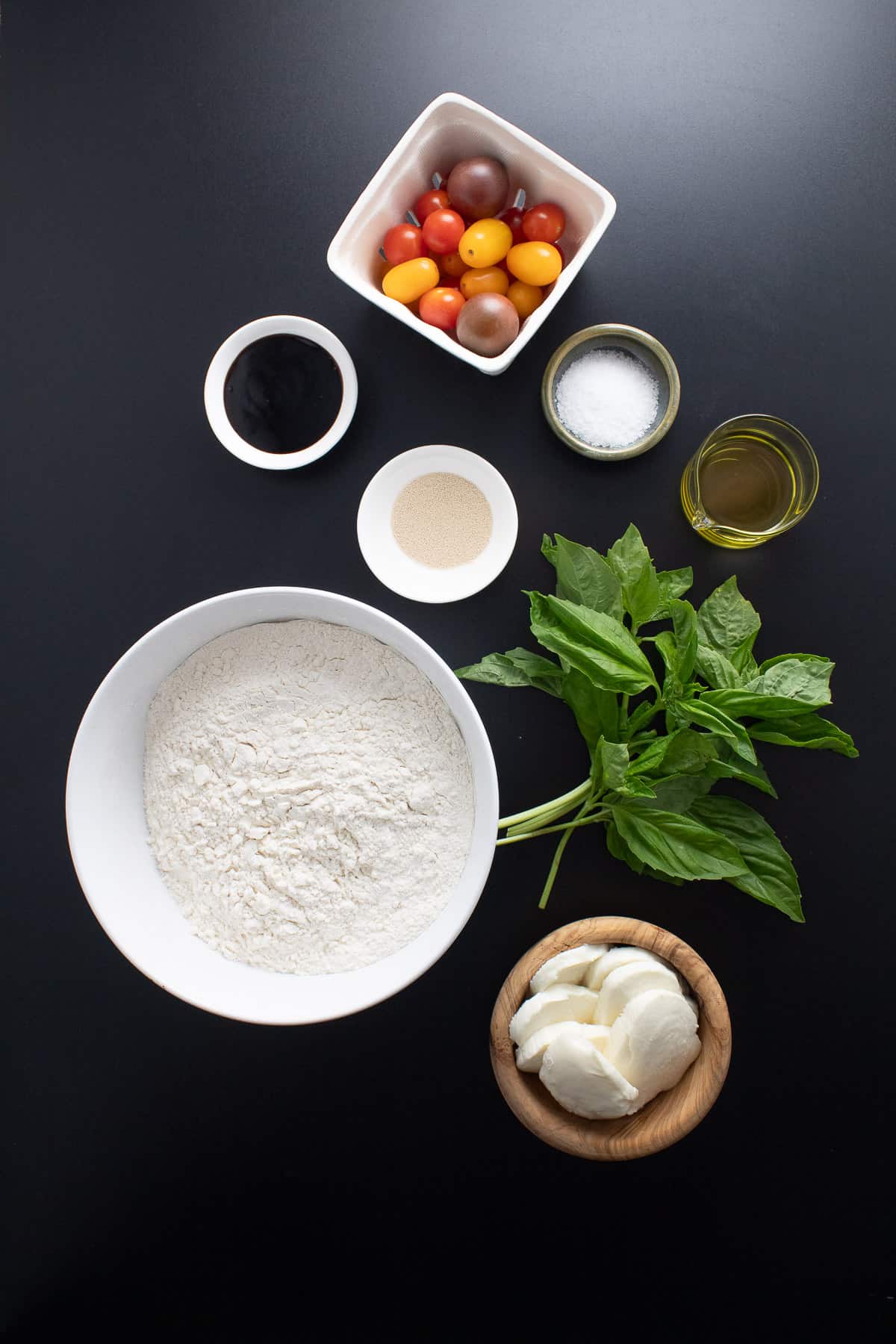 Active Dry Yeast - Active dry yeast comes in larger granules and needs to be mixed with water before you add it to the flour and other ingredients. This hydration step is key to success in making your focaccia.
All-Purpose Flour - No need to purchase a special bread flour for this recipe. All-purpose flour has a lower protein content than bread flour and will produce a soft and tender texture to the interior of the focaccia.
Olive Oil - Use a good quality olive oil for the recipe, as it will flavor the outside of the bread. Save your fancier extra virgin olive oil for drizzling over the top of the baked focaccia, though.
Basil Leaves - Choose fresh green leaves and chop them into fine pieces so that they distribute throughout the dough.
Mozzarella - Quarter large slices of fresh mozzarella or chose small ciliegine or bocconcini mozzarella stored in brine. Avoid using shredded mozzarella for this recipe, It will be lost in the dough and not have as much impact as chunks of fresh mozzarella.
Tomatoes - Choose any cherry or grape tomato and slice them in half if they are larger than, say, an acorn so that they bake up juicy but not soggy. You can use red tomatoes or a variety of colors in this recipe.
Balsamic Glaze - Topping this caprese foaccia with a balsamic glaze drizzle really enhances the bread. I buy balsamic glaze at Trader Joe's but I have instructions for making your own in this Zucchini and Burrata Bowl recipe.
I include ingredient notes here when I think they'll be helpful, including ways to source, any preparation tips, or why I've chosen a particular ingredient. Be sure to check out the recipe card below for the full list of ingredients and their quantities!
Instructions
Making caprese focaccia takes some time, but it is not a complicated process. Here is a step-by-step guide to ensure your bread-making success.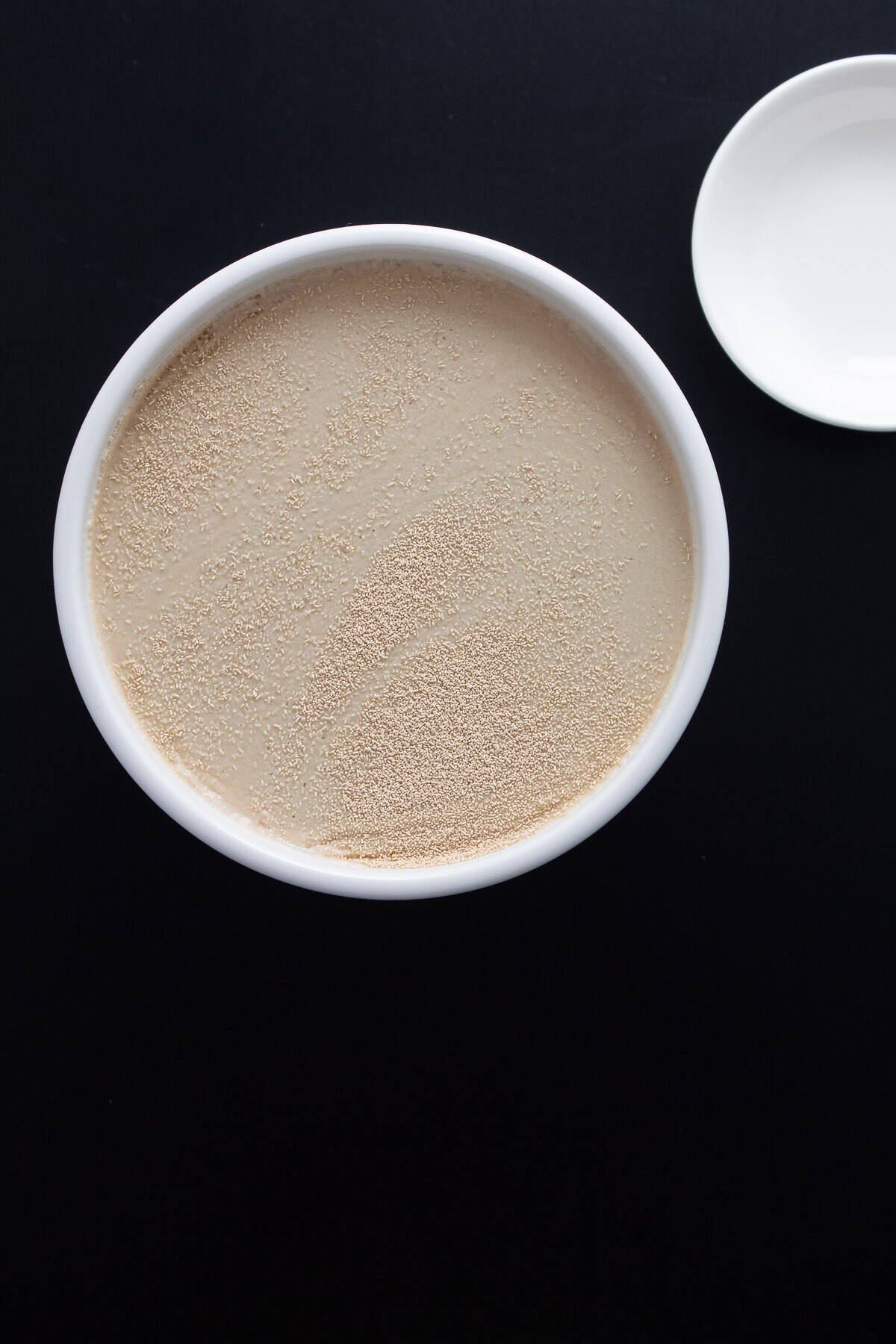 Sprinkle the active dry yeast over two cups of warm water (between 105° and 110°F). Whisk it into the water and set it aside for at least 5 minutes.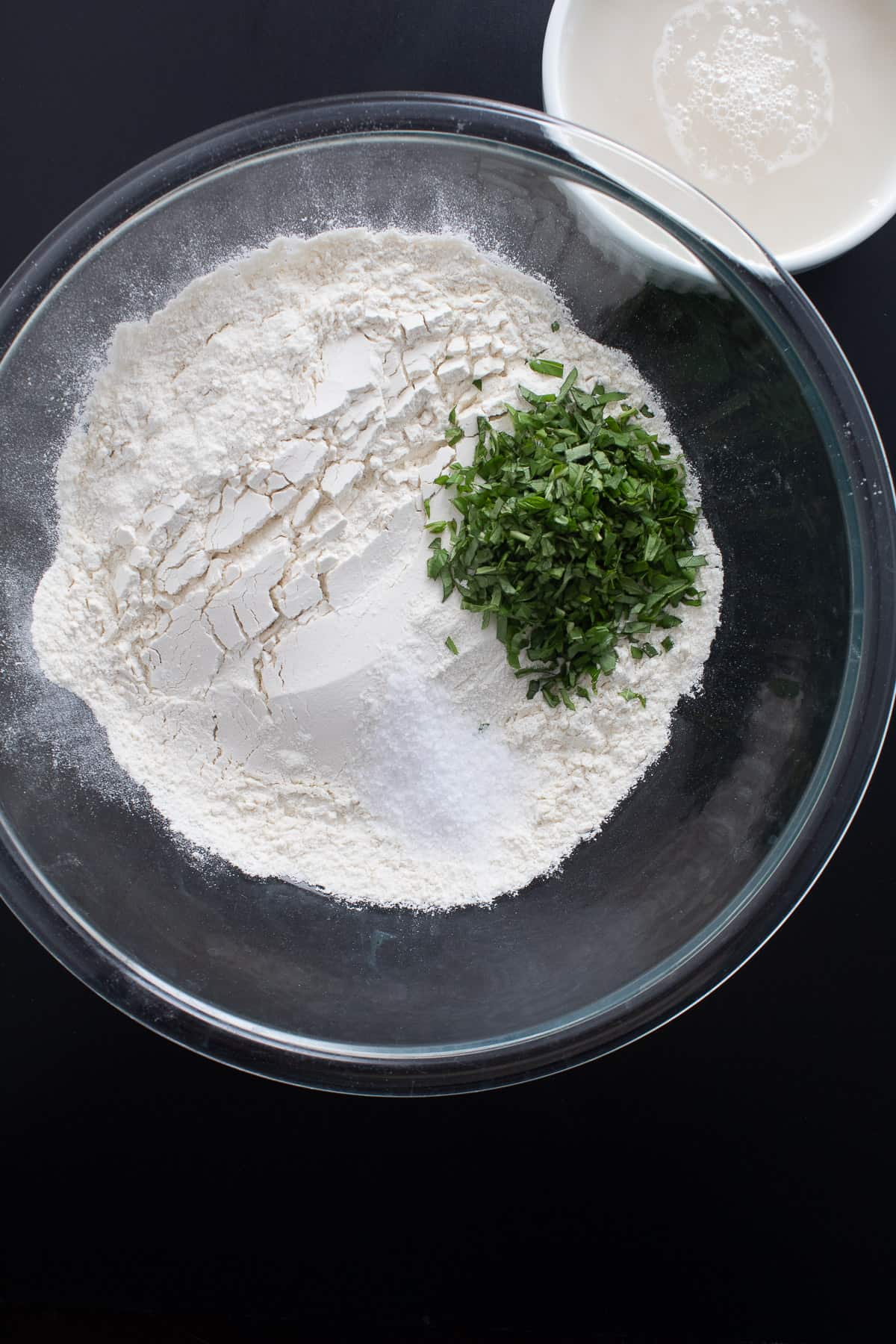 Chop up the basil and add it to a large bowl along with the flour and salt. Whisk the dry ingredients together.
Add the yeast and water to the dry ingredients and mix well with a wooden spoon or flexible spatula until all of the flour is hydrated.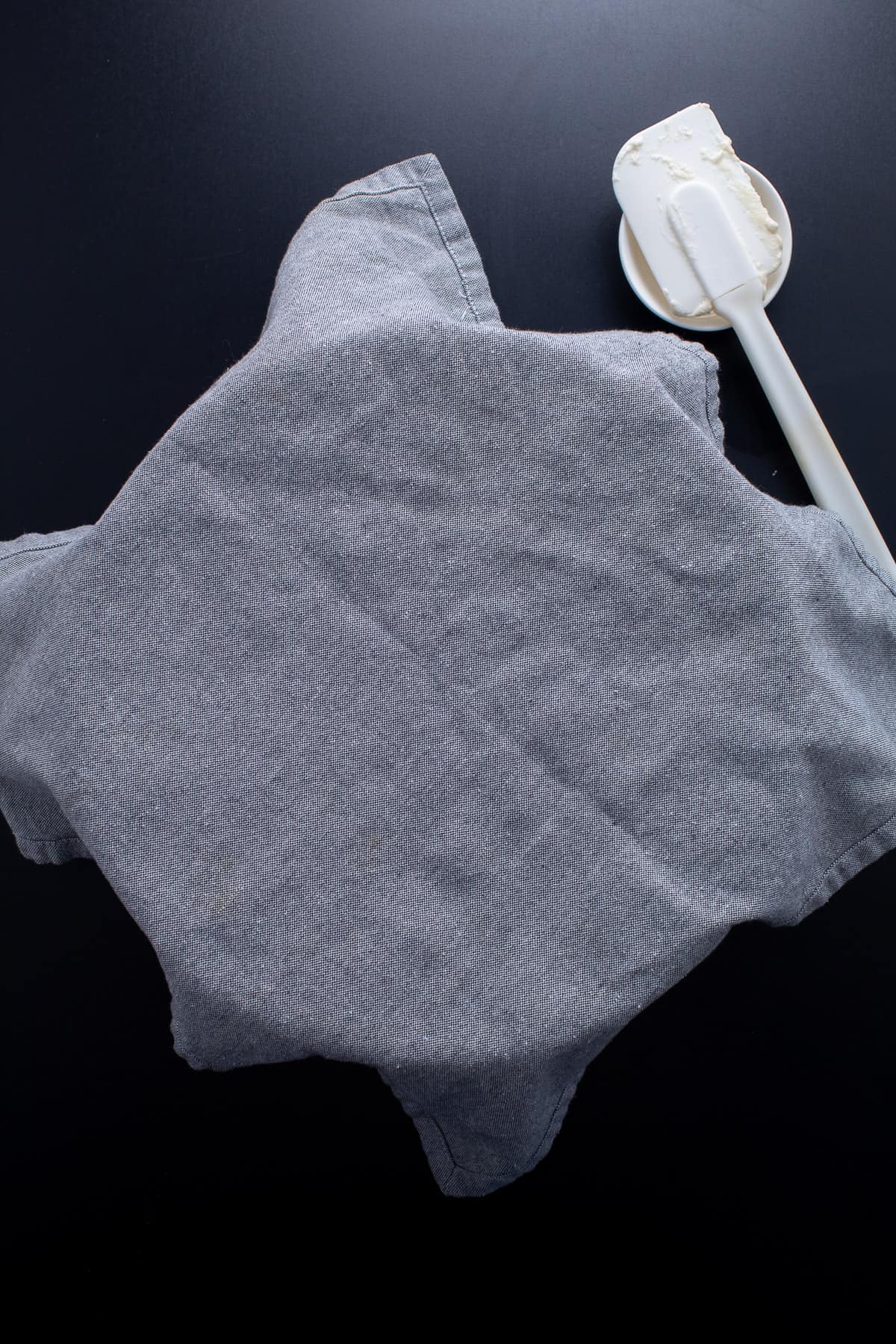 Cover the dough with a kitchen towel or plastic wrap and set in a warm spot in your kitchen to rise for 90 minutes.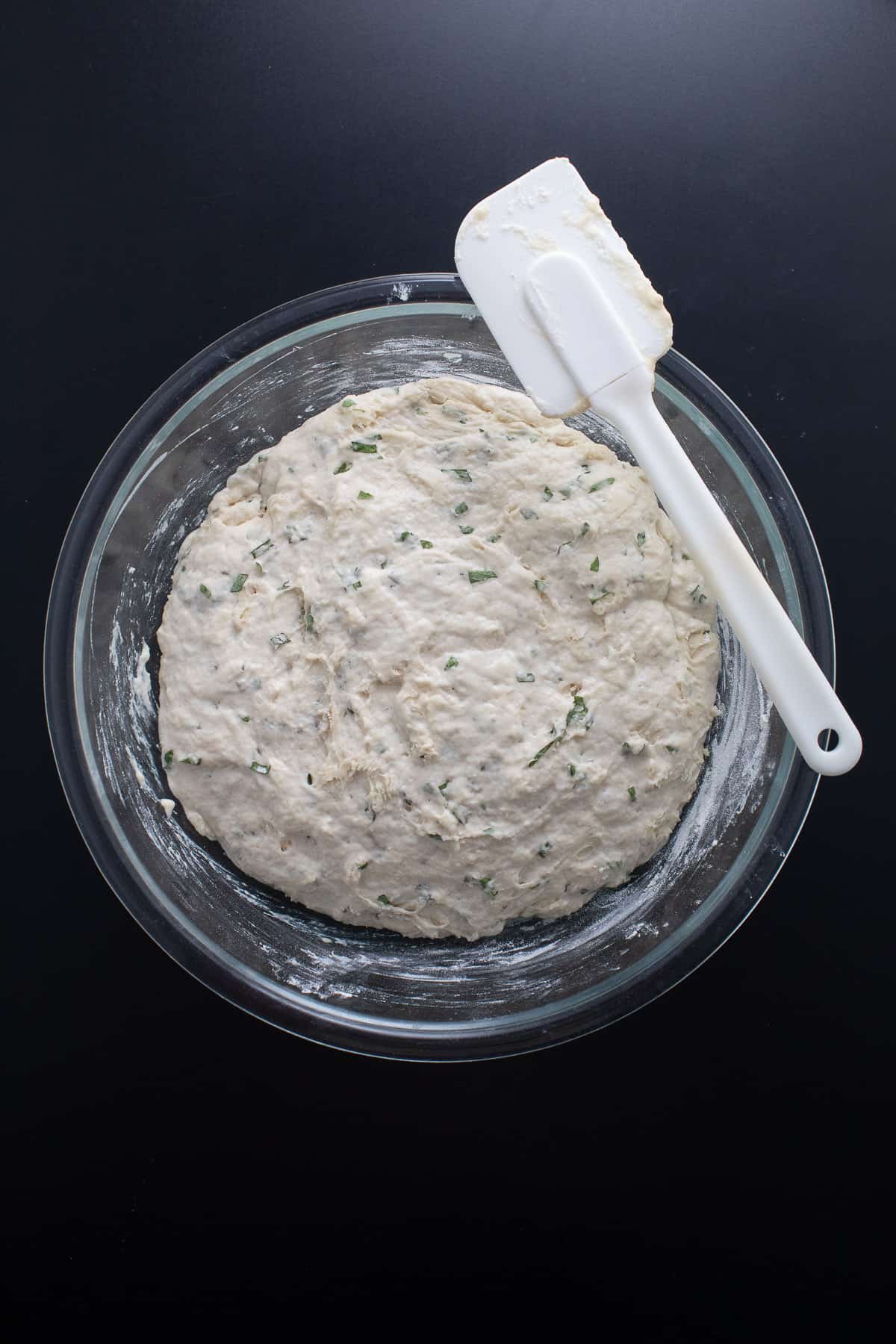 The dough should be approximately double the size.
Preheat your oven to 425°F and add the olive oil to a 9" x 13" baking dish or pan. Transfer the dough to the pan. Dip your fingers in the oil around the edges before gently stretching the dough out to a basic rectangle. Let it rest for 20 minutes while you prepare the mozzarella and tomatoes.
Use some additional olive oil to coat your hands. Gather the dough towards the center of the pan and flip the dough over so that it is thoroughly coated in oil.
This doesn't have to be perfect, just stretch the dough to the sides of the pan again by gently lifting and pulling the corners and edges.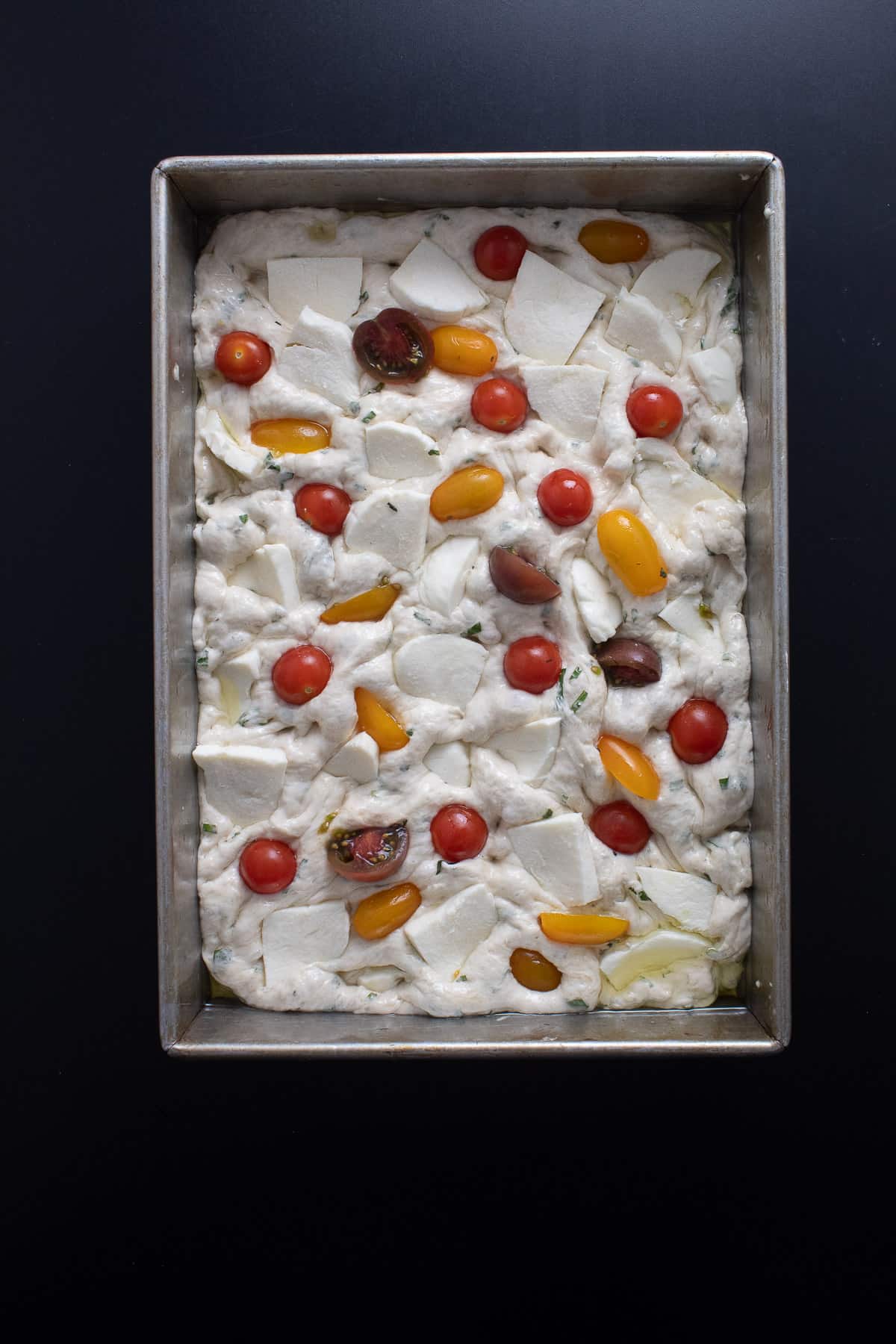 Scatter the tomatoes and the cheese over the dough evenly. Press them into the dough with your fingers. Sprinkle the dough with an additional ½ teaspoon of kosher salt. Let it rest 15 minutes.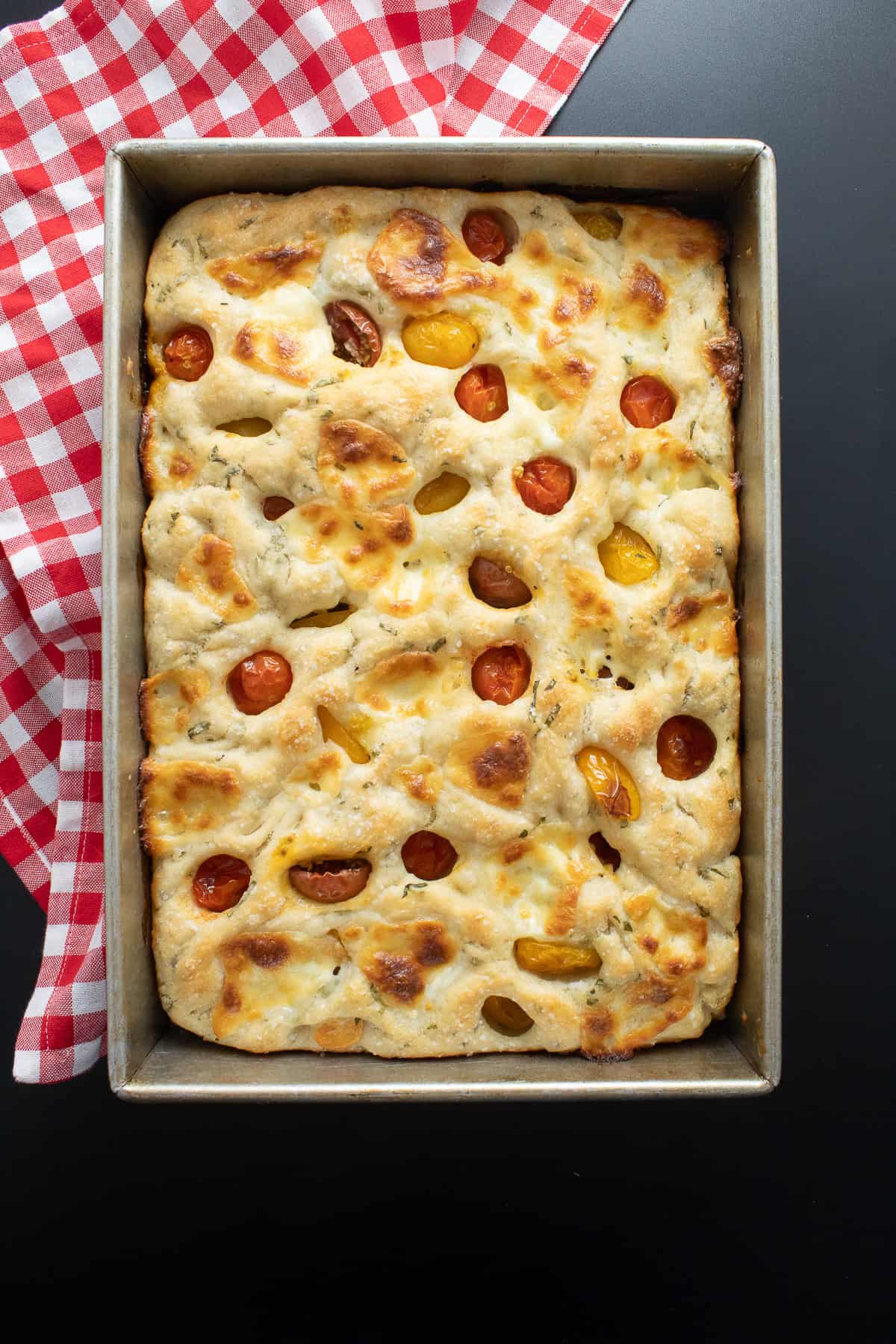 Bake the caprese focaccia for 23-25 minutes. The edges will pull away from the sides of the pan and the top will be golden.
Allow the focaccia to rest in the pan for 5 minutes before using a large spatula to loosen it and transfer it to a wire rack to cool completely.
Serving as a Side or Appetizer
Marvel at that golden and crispy edge before slicing it into 16 pieces for serving. If you plan on making focaccia bread sandwiches, slice the bread into 8 pieces. When serving this as an appetizer I cut it into 24 squares and then cut those squares in half on the diagonal for triangles.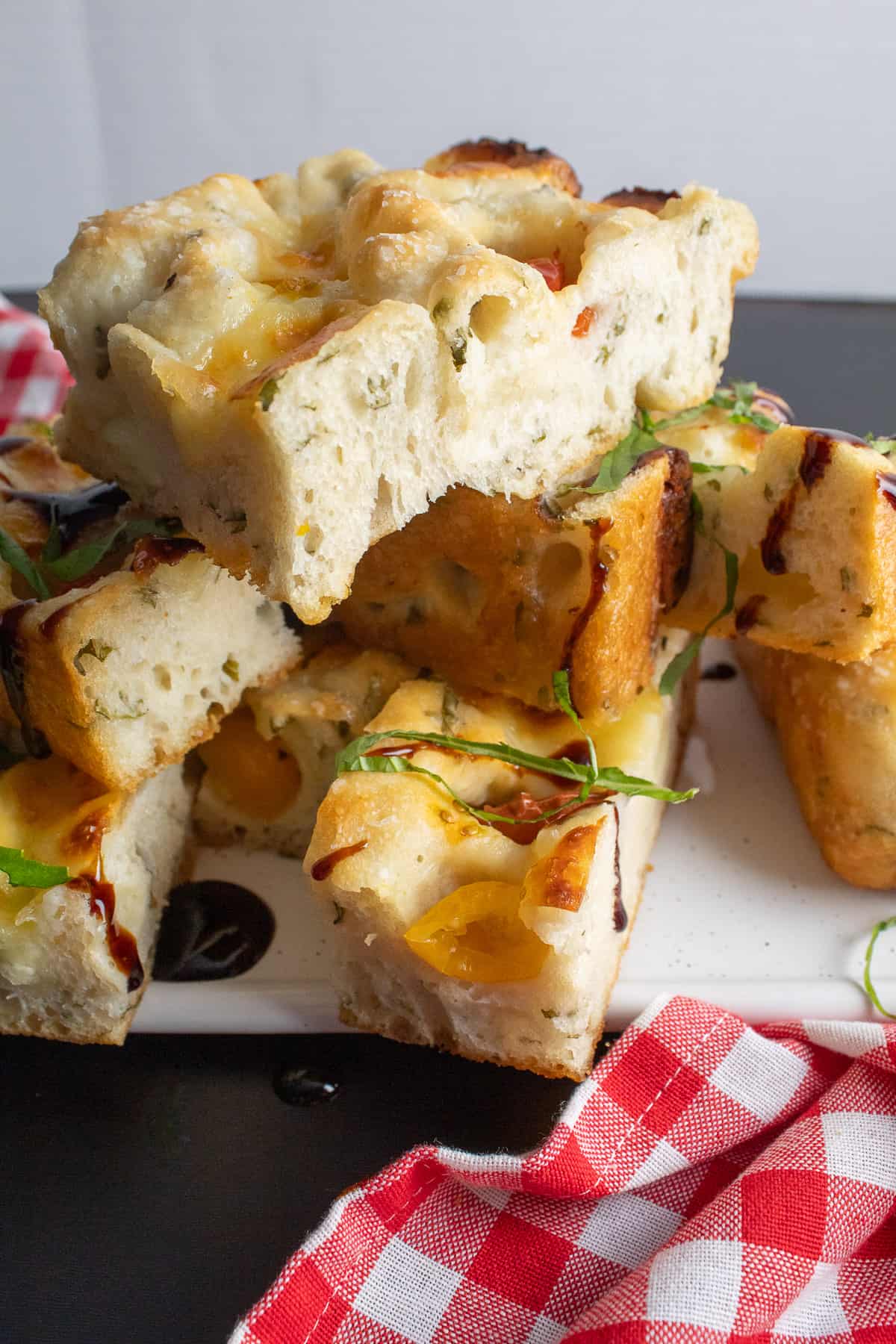 Drizzle the bread with the balsamic glaze and sprinkle over some freshly sliced basil leaves for garnish.
Make a Focaccia Bread Sandwich
Focaccia makes a great bread for sandwiches. Slice each piece in half horizontally and fill with any of these options:
Turkey Pesto - Add prepared pesto, mayonnaise, turkey slices, and spinach leaves.
Roasted Veggie - Roasted zucchini, eggplant, and bell pepper slices can be layered along with some Pomegranate and Roasted Red Pepper Dressing for a vegetarian option.
Kid Friendly Grilled Cheese - Layer on cheddar, mozzarella, or provolone cheese and broil the open-faced sandwich under the broiler for a deluxe grilled cheese.
BLAT - Pile on slices of cooked bacon, crisp lettuce, creamy avocado, and juicy tomato for a kicked-up BLT.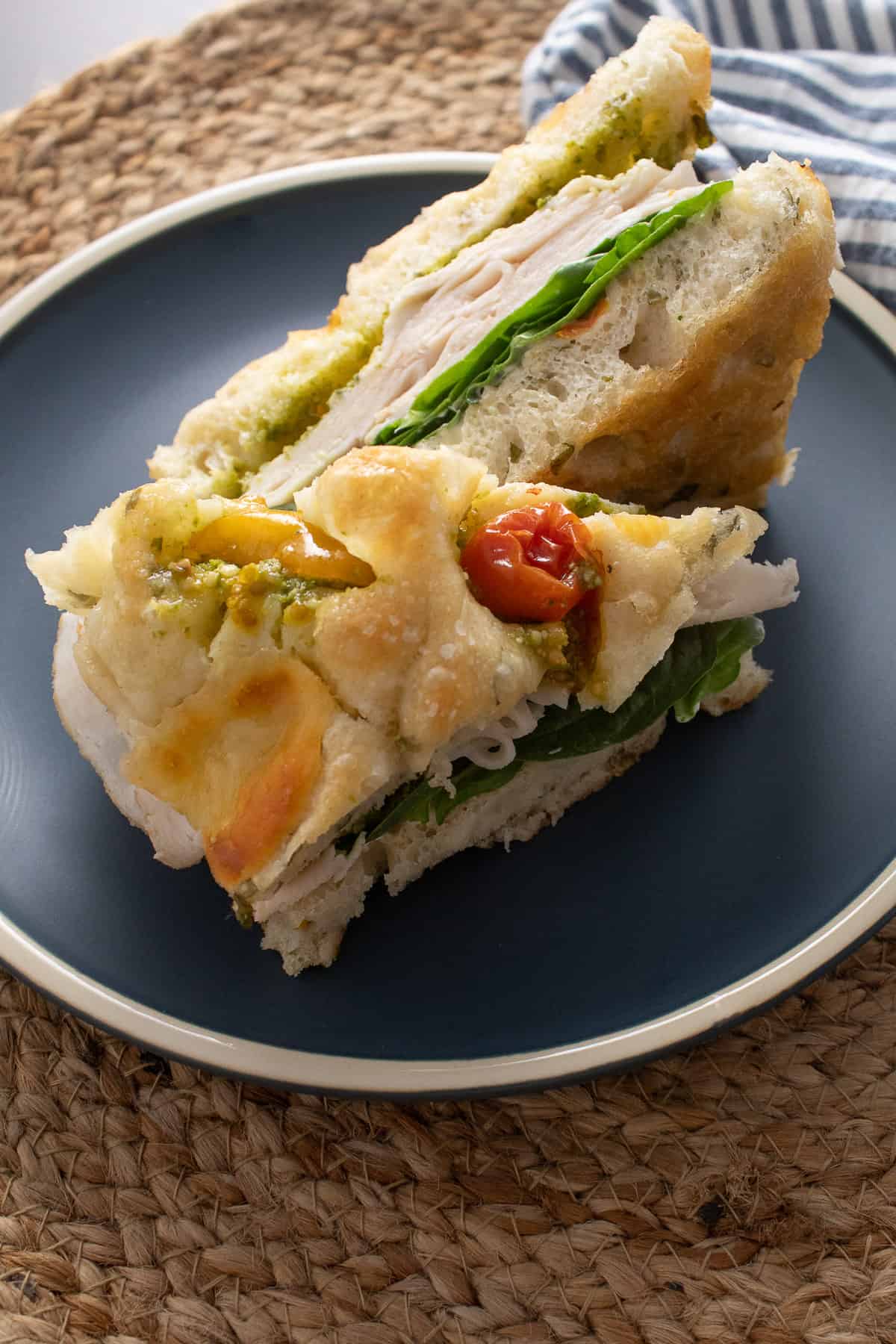 Storage and Reheating
Store the focaccia in an airtight container on the countertop for up to 2 days. For longer storage (up to 4 days), chill it in the refrigerator. If you store it in the refrigerator, warm it to room temperature or toast in in a toaster oven or broiler for better flavor.
Top tip
Letting the dough rise to double the volume is different in my kitchen from summer to winter. In cooler, dry weather (winter) I will cover my rising dough with plastic wrap and place it in the oven with the oven light on to keep the dough moist and warm. In summer when the humidity and temps are higher, I cover the dough with a kitchen towel and allow it to rise on the countertop. Adjust your rising conditions according to the weather!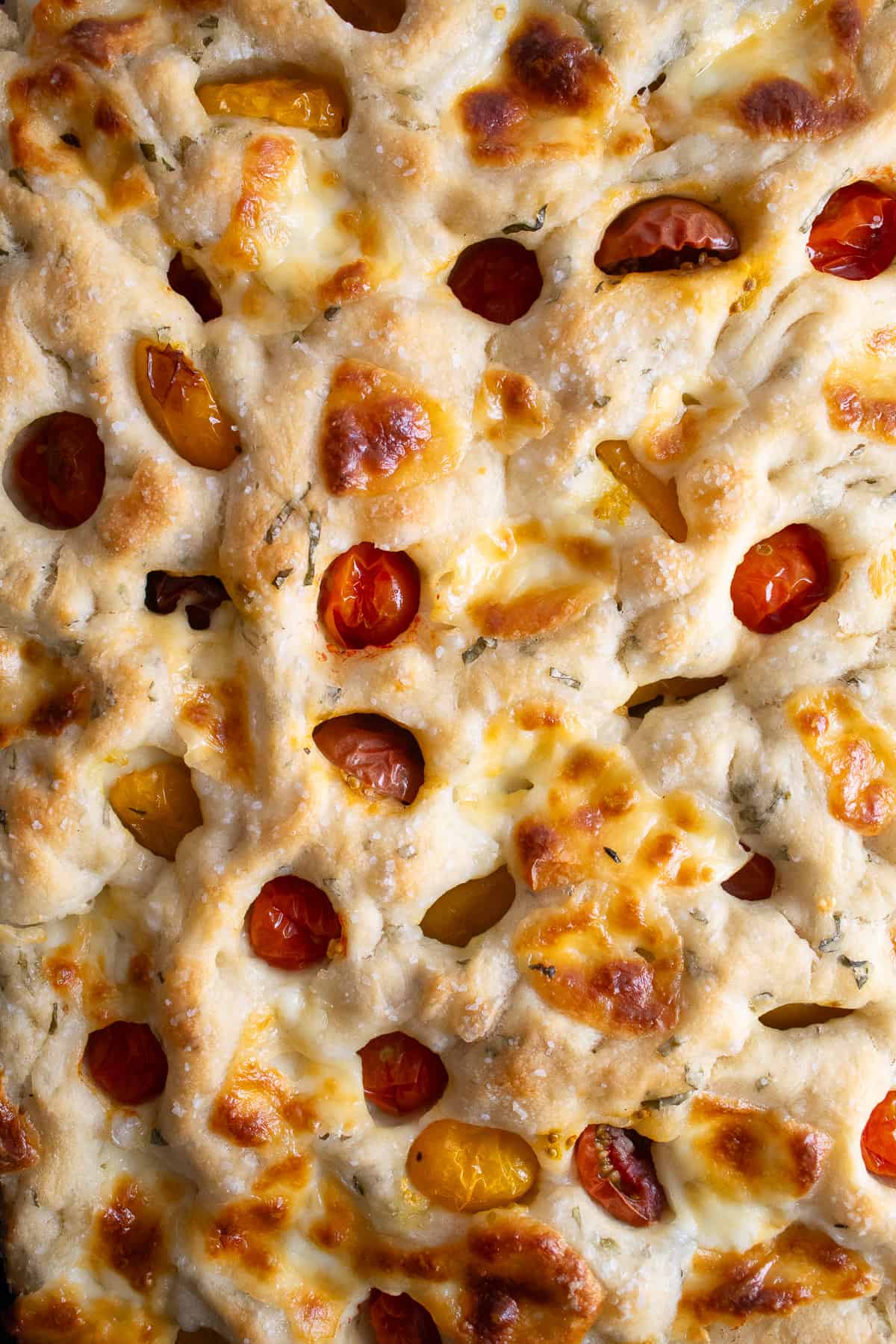 FAQ
How is focaccia bread different from other breads?
Focaccia has a higher amount of yeast than many breads, giving it plenty of lift for good texture. It is flavored with olive oil and is made like a flatbread, not in loaves. It is also a higher hydration bread, meaning the proportion of water to flour is high (almost 90% in this recipe).
Do you serve focaccia bread warm or cold?
Room temperature is best for the texture and flavor of this caprese focaccia. You can also serve it warm by adding slices to a sheet pan and placing them in the oven on the warm setting for 10-15 minutes. The flavors of the basil, mozzarella, and tomatoes are subdued when the bread is served cold.
Can you reduce the salt in the recipe?
Salt is key to the flavor of this focaccia and should not be reduced in the recipe. Salting both the dough and the tops of the focaccia ensure a delicious bread.
More Tomato and Basil Recipes
Basil and tomatoes are two of my favorite ingredients. Here are some related recipes that feature these flavors:
Pair Caprese Focaccia with a Salad
A slice of bread is always a welcome addition to a salad. Here are some great options to pair with your focaccia:
Try It and Share
Make this Caprese Focaccia and show us how you enjoy it! Tag your photo with #planeatpostrepeat and mention me @planeatpostrepeat on Instagram or Facebook. I can give you a virtual high five and thank you for cooking one of my recipes! Comment below with any questions and please leave a review so others can find this recipe more easily.
Recipe
Caprese Focaccia with Mozzarella, Basil, and Tomatoes
With a soft interior and crisp edges, this caprese focaccia is flavored with basil, tomatoes, and mozzarella for a delicious treat.
Ingredients
1

teaspoon

active dry yeast

4

cups

all-purpose flour

(500 grams or 18 ounces)

¼

cup

basil leaves

(finely chopped, plus extra for garnish)

2½

teaspoon

kosher salt

(divided)

¼

cup

olive oil

(plus extra for coating hands)

1

cup

cherry tomatoes

(or grape tomatoes, about 6 ounces)

6

oz.

fresh mozzarella

(cut in 1-inch pieces)

2

tablespoon

balsamic glaze
Instructions
Add the yeast to two cups of warm water in a small bowl and allow the yeast to sit for 5 minutes and hydrate.

In a large bowl, mix the flour, salt, and basil well to distribute the ingredients evenly. Add the yeast and water and stir until there are no dry patches of flour.

Cover the bowl with a kitchen towel and allow to rise for 90 minutes.

Preheat your oven to 425°F. Add the olive oil to your 9" x 13" baking pan.

Transfer all of the dough to the oiled pan. Dip your fingers in the oil and stretch the dough to the edges of the pan. Let the dough rest another 20 minutes.

Oil your hands again and flip the dough over in the pan so that both sides are coated with oil. Stretch the dough to the edges again.

Press the tomatoes and the cheese into the dough, dimpling the dough as you go. Let the dough rest for 15 minutes.

Sprinkle the dough with an additional ½ teaspoon of salt and bake, uncovered, for 23-25 minutes. The baked focaccia will be browned on top and have golden edges.

Rest the focaccia in the pan for 5 minutes. Transfer it to a wire rack to cool for about 20 minutes.

Slice into 16 pieces and drizzle them with balsamic glaze and additional chopped basil immediately before serving.
Nutrition facts are sometimes provided below and are calculated using an online calculator. With specific brands of ingredients and additions, omissions, or substitutions the nutrition facts may change. We encourage you to use your own nutrition facts caculator to obtain the most accurate nutrition facts for your meal.
Nutrition Facts
Calories:
181
kcal
Carbohydrates:
25
g
Protein:
6
g
Fat:
6
g
Saturated Fat:
2
g
Polyunsaturated Fat:
1
g
Monounsaturated Fat:
3
g
Cholesterol:
8
mg
Sodium:
432
mg
Potassium:
65
mg
Fiber:
1
g
Sugar:
1
g
Vitamin A:
137
IU
Vitamin C:
2
mg
Calcium:
60
mg
Iron:
2
mg