This is almost an embarrassingly simple recipe for a very basic food, but it's one I return to over and over because it is my favorite version of chicken salad. I've updated the recipe to include five different variations so there's something here for everyone.
Looking for another great way to use up leftover turkey or chicken? Try a Creamy Chicken or Turkey Pot Pie with Puff Pastry Crust or this Leftover Turkey Turnovers with Simple Potato Curry Filling as well!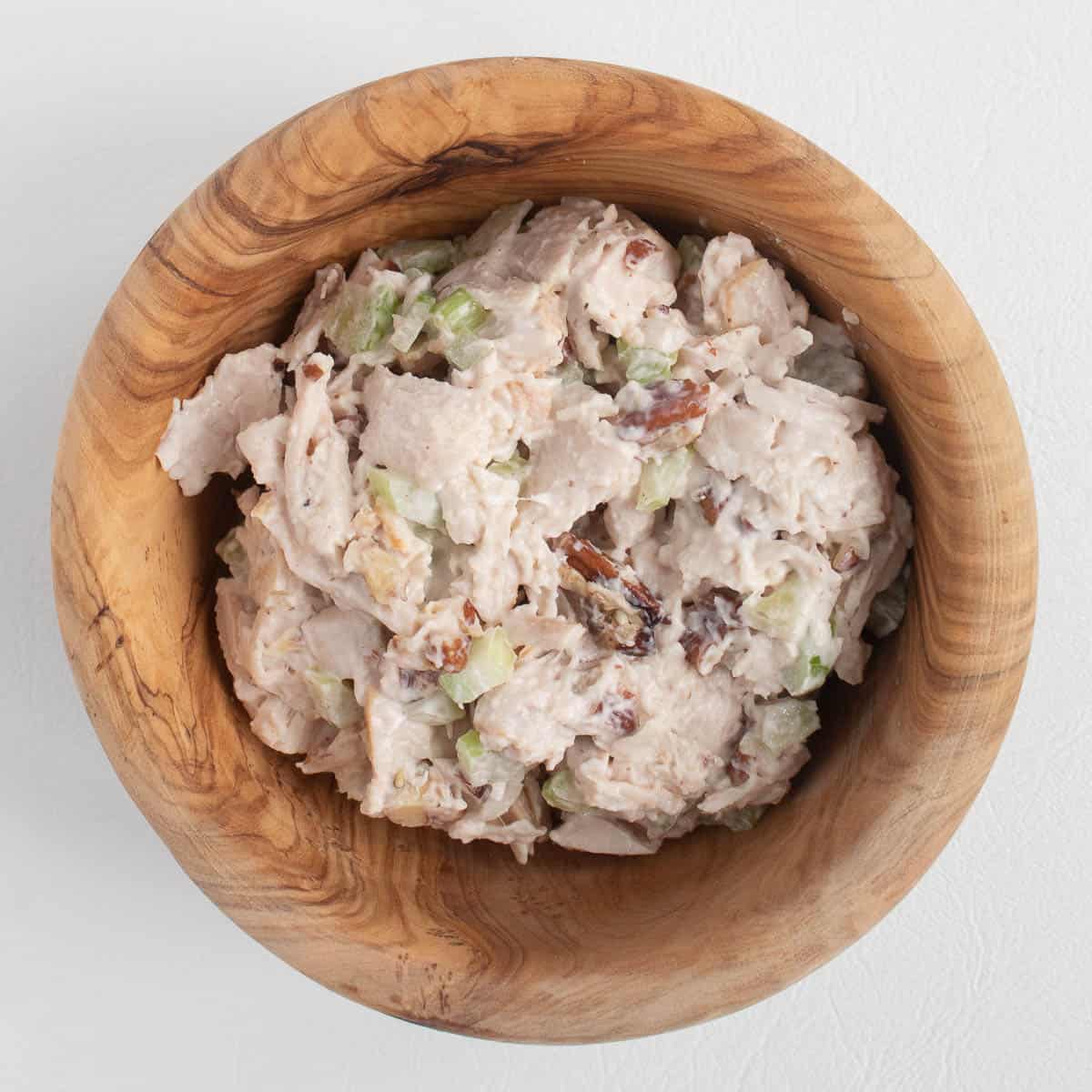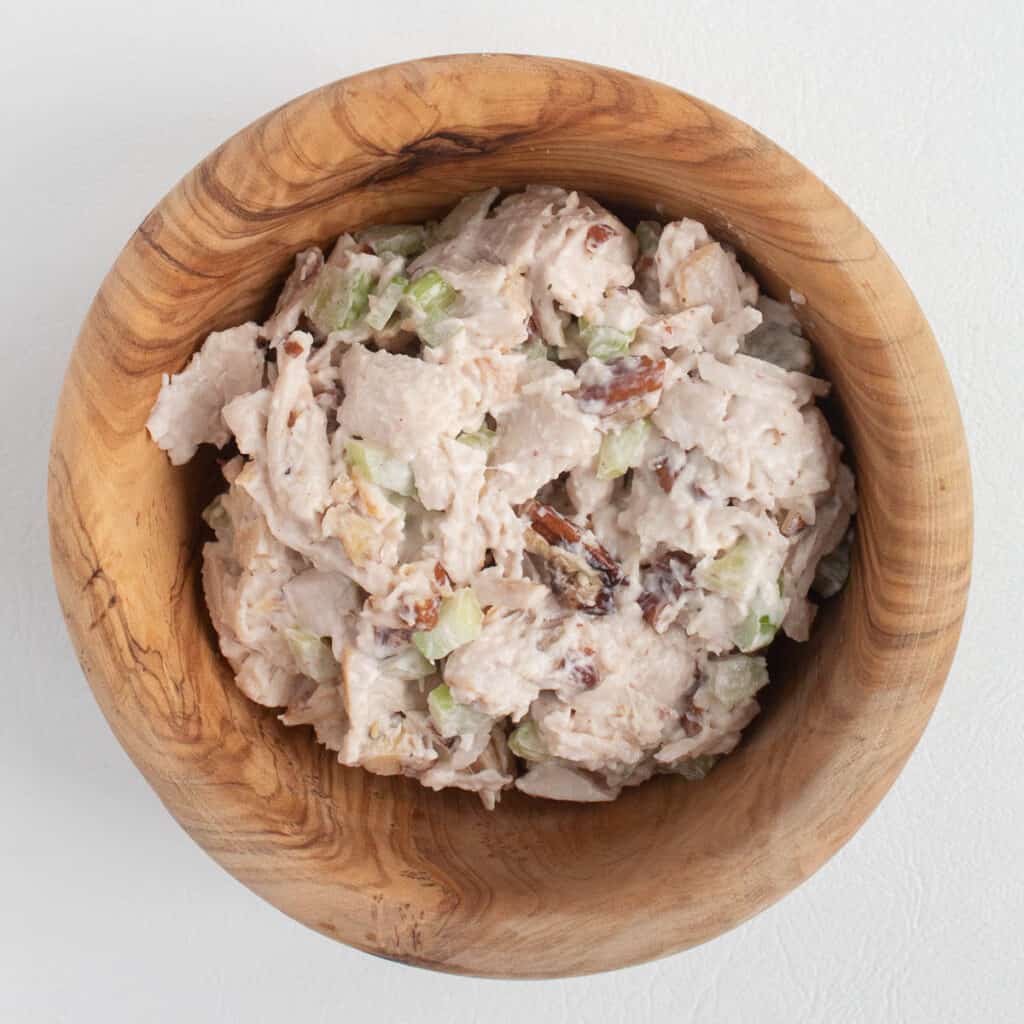 I make Easy Chicken Pecan Salad almost every grocery shopping day that I pick up a rotisserie chicken from Costco. I'd argue that this is the very best thing that you can do with a rotisserie chicken besides stand at the kitchen counter and eat those tiny drumsticks right out of the package (and the chicken bones get frozen for batches of rich chicken stock later).
Ingredients
Leftover Chicken or Turkey Breast: Dice up the chicken or turkey for lettuce wraps or serving on crackers. I prefer the meat shredded for sandwiches so that they hold together better.
Pecans: The sweet and buttery flavor of pecans gets even better with toasting, so don't skip that important step!
Celery: I love the crunchy texture that celery brings to this salad. Dice the celery very fine so that it doesn't fall out of your sandwiches.
Mayonnaise: This is a mayonnaise-only zone, you won't find any "sandwich dressing" substitutes here.
Salt and Pepper: Season to taste, but extra black pepper is encouraged.
Preparation of the Basic Chicken Pecan Salad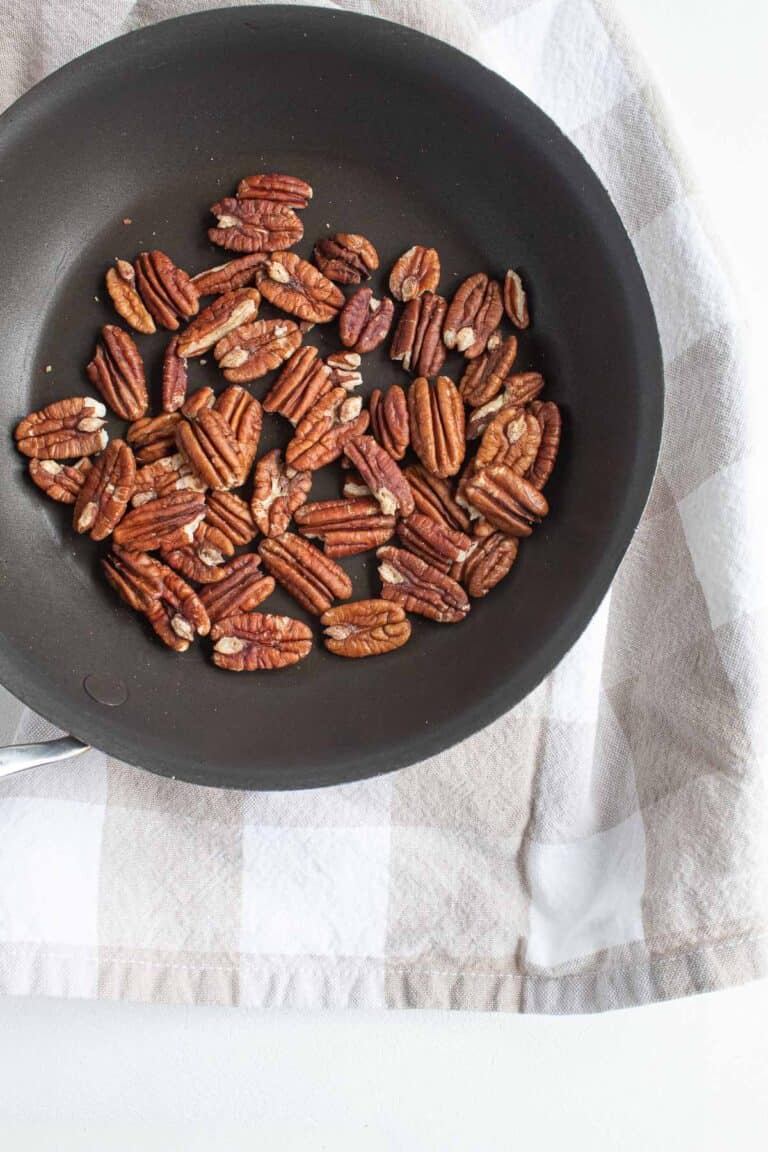 To start, take a few minutes to toast the pecans in a dry frying pan before chopping them up and adding them to the mix! It makes such a big difference here. If you are like me and tend to burn nuts when "toasting" them, don't walk away. You'll know they are ready when you start to smell the nutty aroma.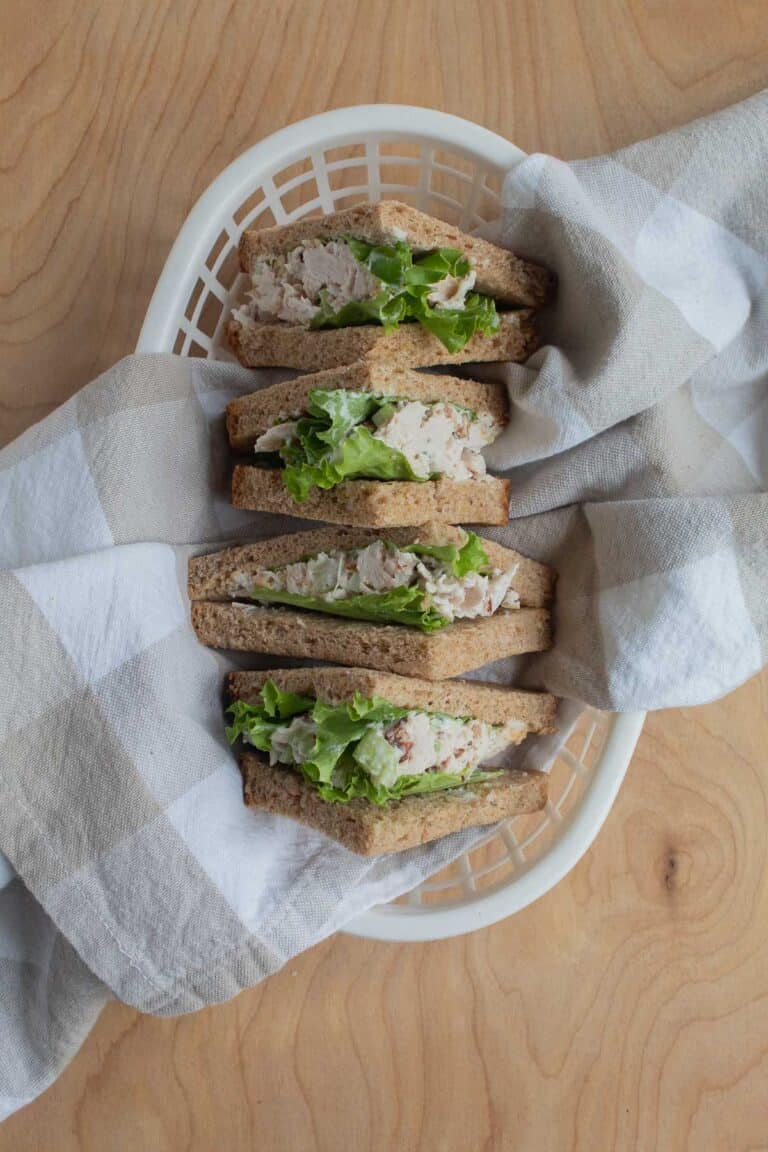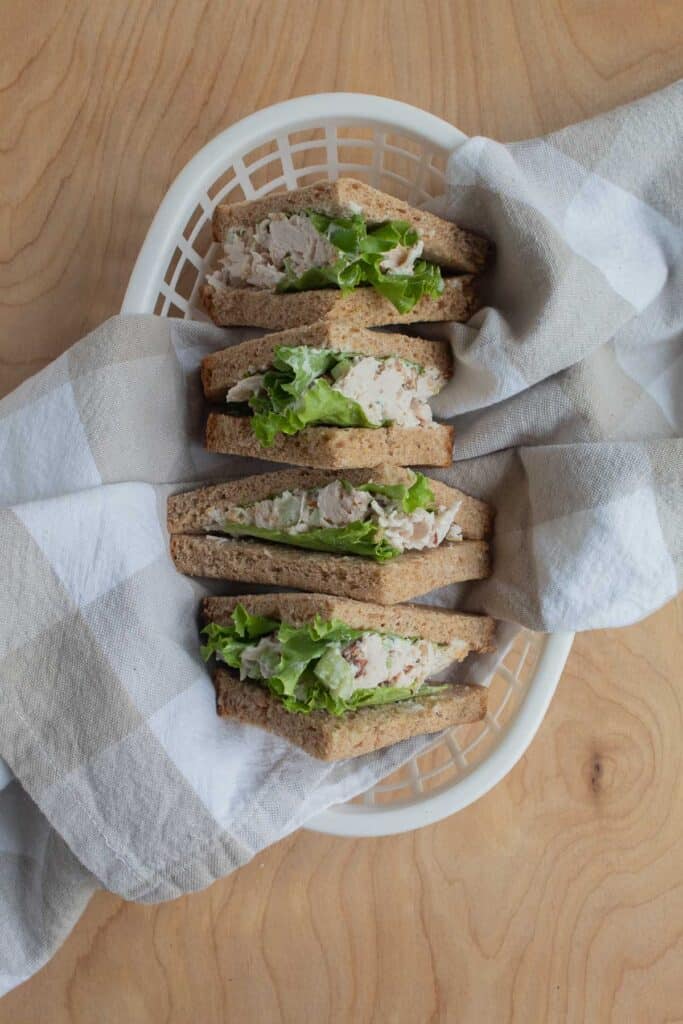 Dice the celery, grind some pepper, find the salt and mayonnaise and you are almost there. Mix the ingredients in a bowl and check the salt and pepper for your preferred seasoning level. If you aren't using the Chicken Pecan Salad immediately, store it in an airtight container for up to three days. It won't hang around long enough to worry about storage, though. Basic chicken pecan salad is perfect on wheat bread for lunch!
Cranberry Chicken Pecan Salad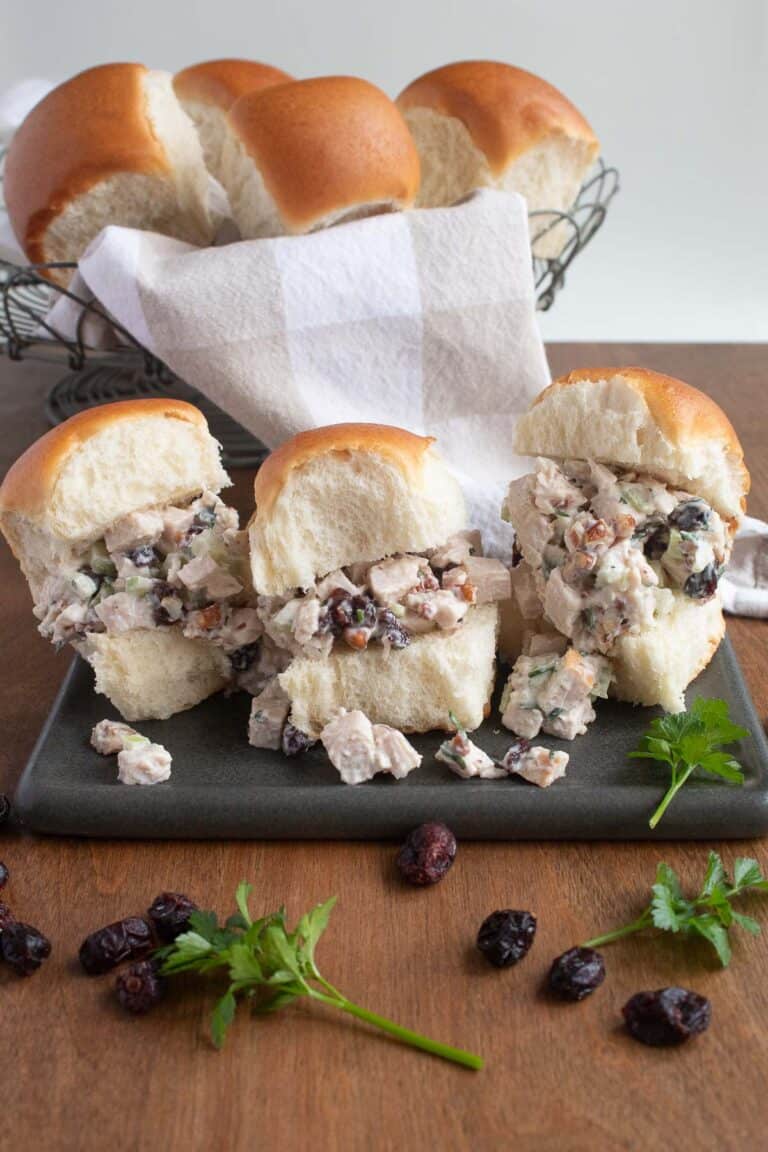 This variation has sweet cranberries and fresh parsley for a subtle flavor boost to the basic recipe. Simply stir in these two extra ingredients! I love to serve it on sweet Hawaiian-style rolls for a crowd.
Chicken Pecan Apple Salad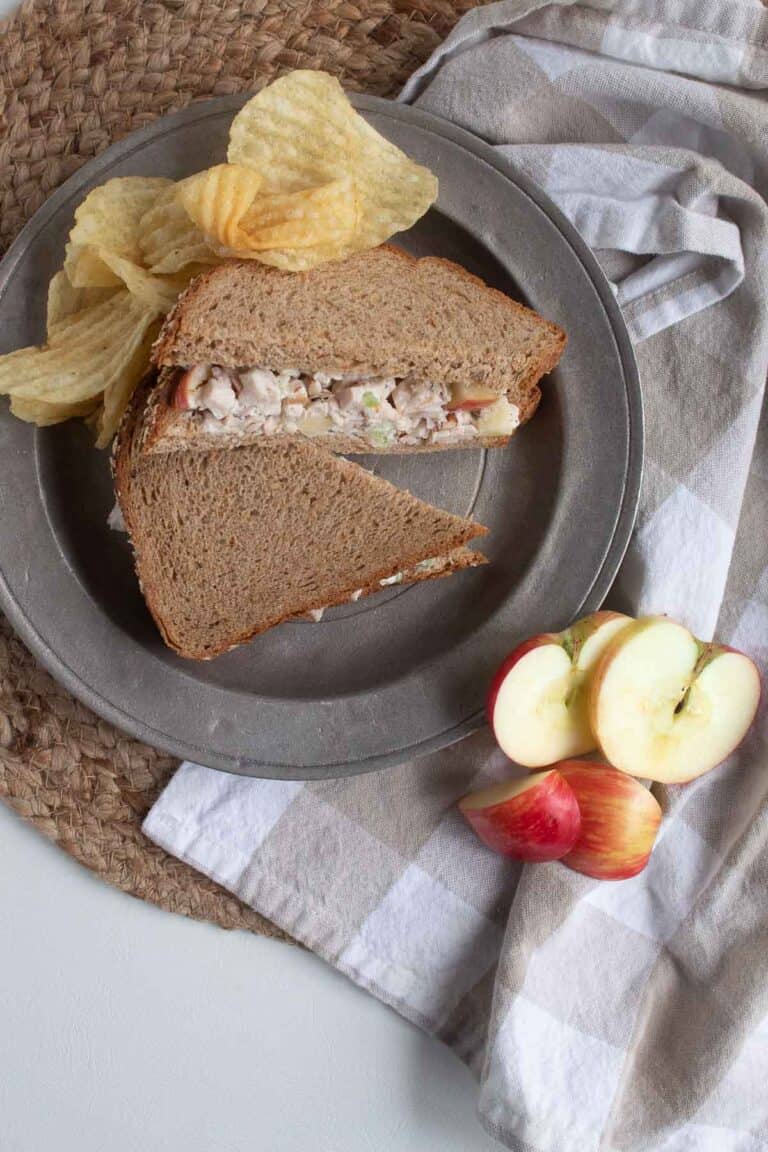 Apples and thyme are a terrific combination, and they give extra crunch and flavor to the basic chicken salad recipe. This is still a simple recipe, perfect for weekday lunch on wheat bread.
Curry Chicken Salad with Grapes
Curry powder livens up the chicken salad with and earthy blend of spices. I like to add shredded carrot and quartered grapes to balance the flavor and add a bit more texture. With the additions, I usually need a bit more mayonnaise to get the right texture. This version is terrific served in large leaves of lettuce for a wrap.
Chicken Salad Melt
You can make a chicken salad melt with any of the variations above, but my favorite combination is either the basic chicken pecan salad or the chicken pecan apple salad with a sharp cheddar cheese.
Heat a skillet over medium-low heat. Butter one side each of two slices of bread. Place one buttered side down on the skillet and sprinkle over the cheese. Add a generous scoop of chicken salad and then cover with the other slice of bread buttered side up.
Place a lid on top of the skillet and cook until the bread is golden. Flip the sandwich and cook until the other side is golden and the cheese is melted.
Other Substitutions
Use canned chicken for a simple substitution that you can make any time, no leftovers required!
Substitute Greek yogurt for half of the mayonnaise for an extra creamy version. I'd adjust the salt a but to keep the seasoning balanced.
Use grilled chicken for an extra layer of smoky flavor that goes particularly well with the curry chicken salad version.
Try It and Share
I hope you try one of these Chicken Pecan Salad variations and share the recipe with family or friends. I want to see your results! Tag your photo with #planeatpostrepeat and mention me @planeatpostrepeat on Instagram or Facebook. I can give you a virtual high five and thank you for cooking one of my recipes! Comment below with any questions and please leave a review so others can find this recipe more easily.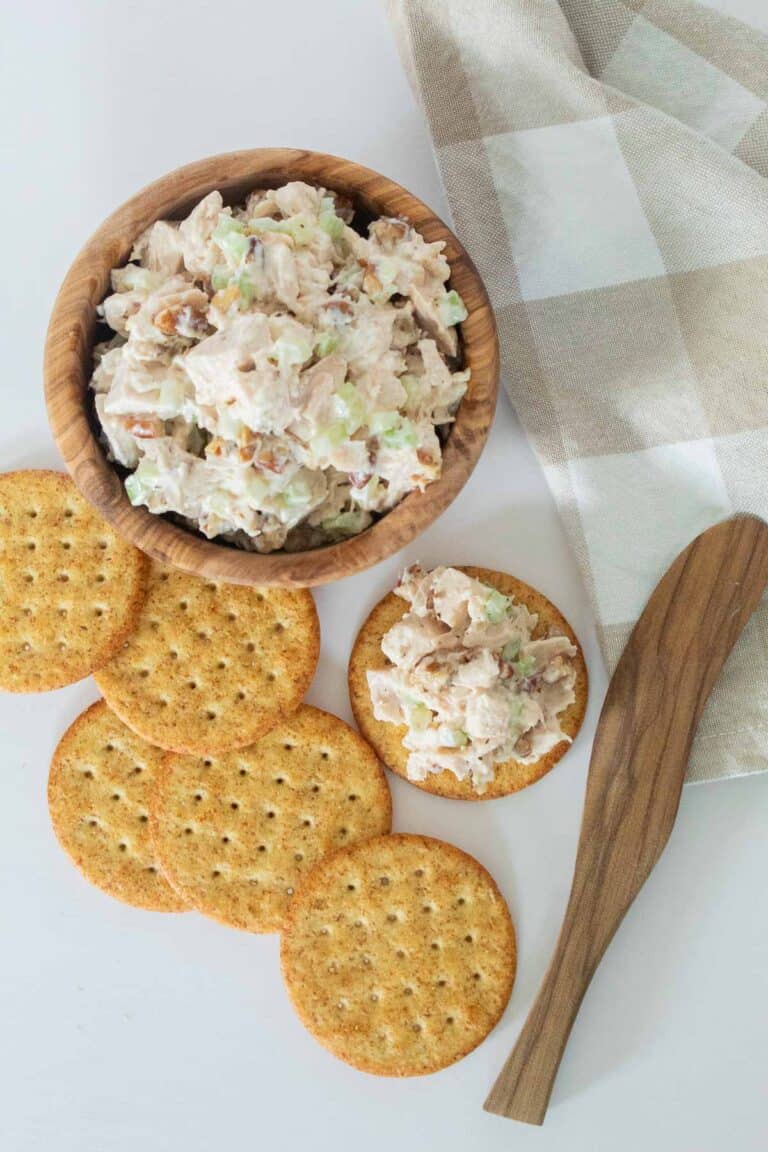 Recipe
Easy Chicken Pecan Salad (With 5 Variations!)
This Chicken Pecan Salad recipe can be enjoyed in sandwiches, on crackers, or a bed of lettuce and the recipe details five different variations to step up your chicken salad game.
Ingredients
Basic Chicken Pecan Salad
2

cups

diced or shredded cooked chicken or turkey breast

(about 10 oz.)

⅓

cup

pecans, toasted and chopped

(about 1.3 oz.)

⅓

cup

finely diced celery

(one large rib)

⅓

cup

mayonnaise

kosher salt and pepper, to taste
Cranberry Chicken Pecan Salad
¼

cup

dried cranberries, chopped

1

tablespoon

parsley, finely diced
Chicken Pecan Apple Salad
½

cup

apple, diced in ¼" pieces

½

teaspoon

dried thyme leaves
Curry Chicken Salad with Grapes
¼

cup

shredded carrot

½

cup

green grapes, quartered

1½

teaspoon

curry powder

1

tablespoon

mayonnaise
Chicken Salad Melt
⅓

cup

shredded sharp cheddar cheese
Instructions
Basic Chicken Pecan Salad
Toast the pecans in a dry skillet over medium-high heat for 2-3 minutes, until fragrant. Remove to a cutting board to cool and then chop.

In a medium bowl, combine diced chicken, celery, pecans, mayonnaise, and salt and pepper until well mixed. Taste for seasoning and adjust as needed.
Variations
Stir in the additional ingredients listed above.

For the chicken salad melt butter one side of a piece of bread. Place it in a skillet (butter side down) heated over medium-low heat. Sprinkle the cheese over the bread and then cover with a generous amount of chicken salad. Place another piece of buttered bread (buttered side up) on top and cover the skillet with a lid. Cook 3-4 minutes per side, until the bread is toasted golden and the cheese is melted.
Nutrition facts are sometimes provided below and are calculated using an online calculator. With specific brands of ingredients and additions, omissions, or substitutions the nutrition facts may change. We encourage you to use your own nutrition facts caculator to obtain the most accurate nutrition facts for your meal.