If strawberry season is your favorite, this strawberry goat cheese salad is for you. There are three ways that strawberry flavor gets packed into this one: fresh strawberries, strawberry-coated goat cheese medallions, and a sweet-tart strawberry balsamic vinaigrette dressing.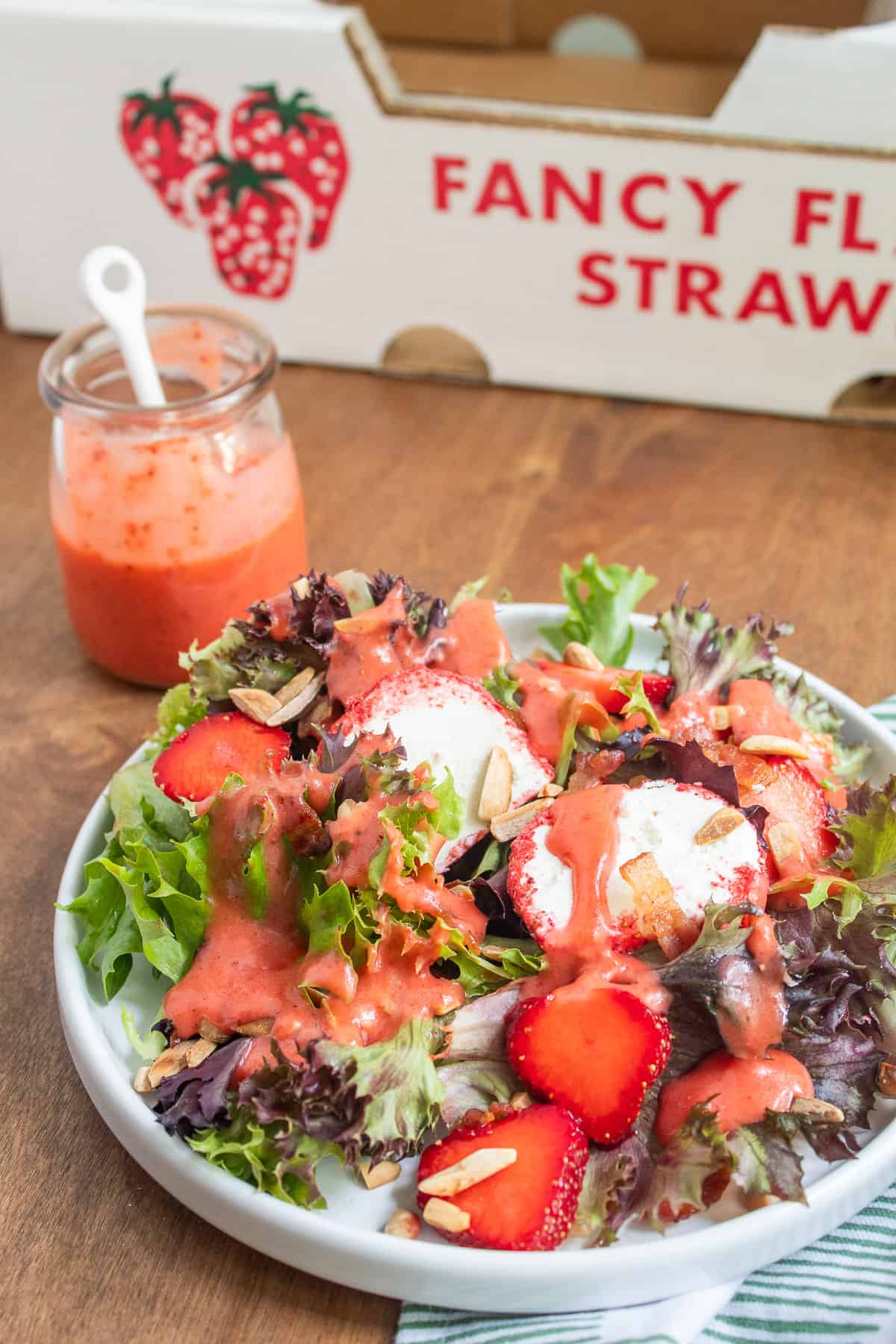 We are lucky enough to be able to pick fresh strawberries right from the fields in early June and this salad is a great way to highlight their sweet, fruity, and floral flavors.
Do you love a savory salad with the addition of fruit as much as we do? This Crispy Halloumi Lentil Salad has pomegranate arils, and this Grilled Peach and Zucchini Salad combines smoky chunks of zucchini and peaches.
Jump to:
Ingredients
Gather up some of the sweetest berries you can find and make this salad for your next barbecue.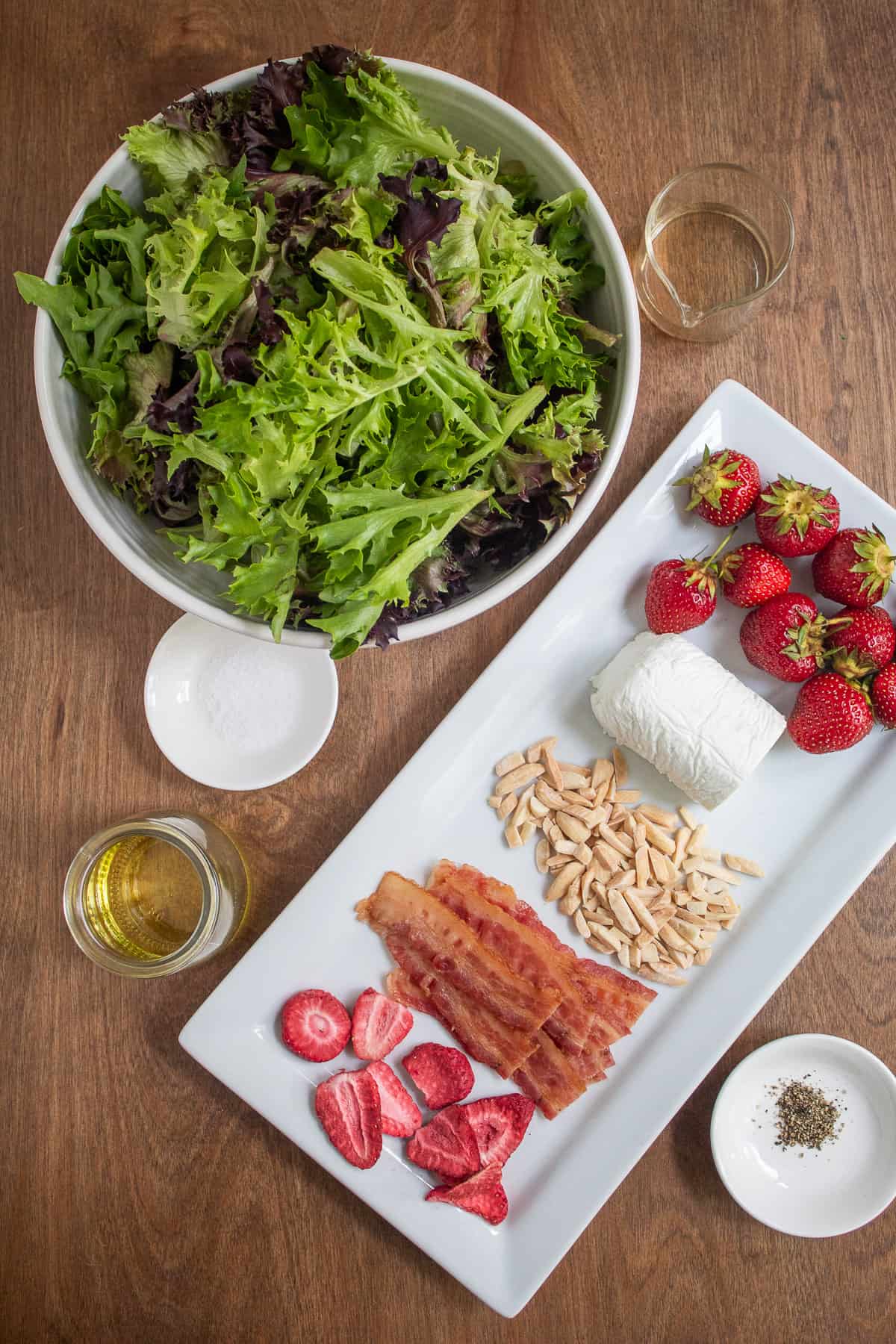 I include ingredient notes here when I think they'll be helpful, including ways to source, any preparation tips, or why I've chosen a particular ingredient. Be sure to check out the recipe card below for the full list of ingredients and their quantities!
Mixed Greens - Any combination of your favorite salad greens will work here. I've made this with spinach, arugula, and butter lettuce as well.
Fresh Strawberries - You'll need about one cup of sliced strawberries for the whole salad, divided between the salad and the strawberry balsamic vinaigrette.
Goat Cheese - I use a small log of goat cheese for the recipe, but you can use crumbled goat cheese as well. It will just change the presentation.
Freeze-Dried Strawberries - These are sourced at Trader Joe's or at our major supermarket and they are in sealed bags. They really concentrate the strawberry flavor and can be crushed into a powder for flavoring the goat cheese.
Cooked Bacon - This one of my favorite speedy kitchen tips. Pre-cooked bacon can be reheated in a snap in the microwave. Feel free to crisp up some regular bacon in a small skillet if you don't use pre-cooked bacon.
Slivered Almonds - I love the hearty crunch of the almonds when they are in this shape. Be sure you don't skip the toasting step for maximum flavor.
White Balsamic Vinegar - This has the tangy sweetness of regular balsamic vinegar, but with a lighter flavor and it is a pale yellow-green color. I find it at Trader Joe's.
Make the Strawberry Balsamic Vinaigrette
The strawberry balsamic vinaigrette balances the peppery greens and cuts through the richness of the cheese and bacon. It comes together in a flash if you use a mini blender or food processor.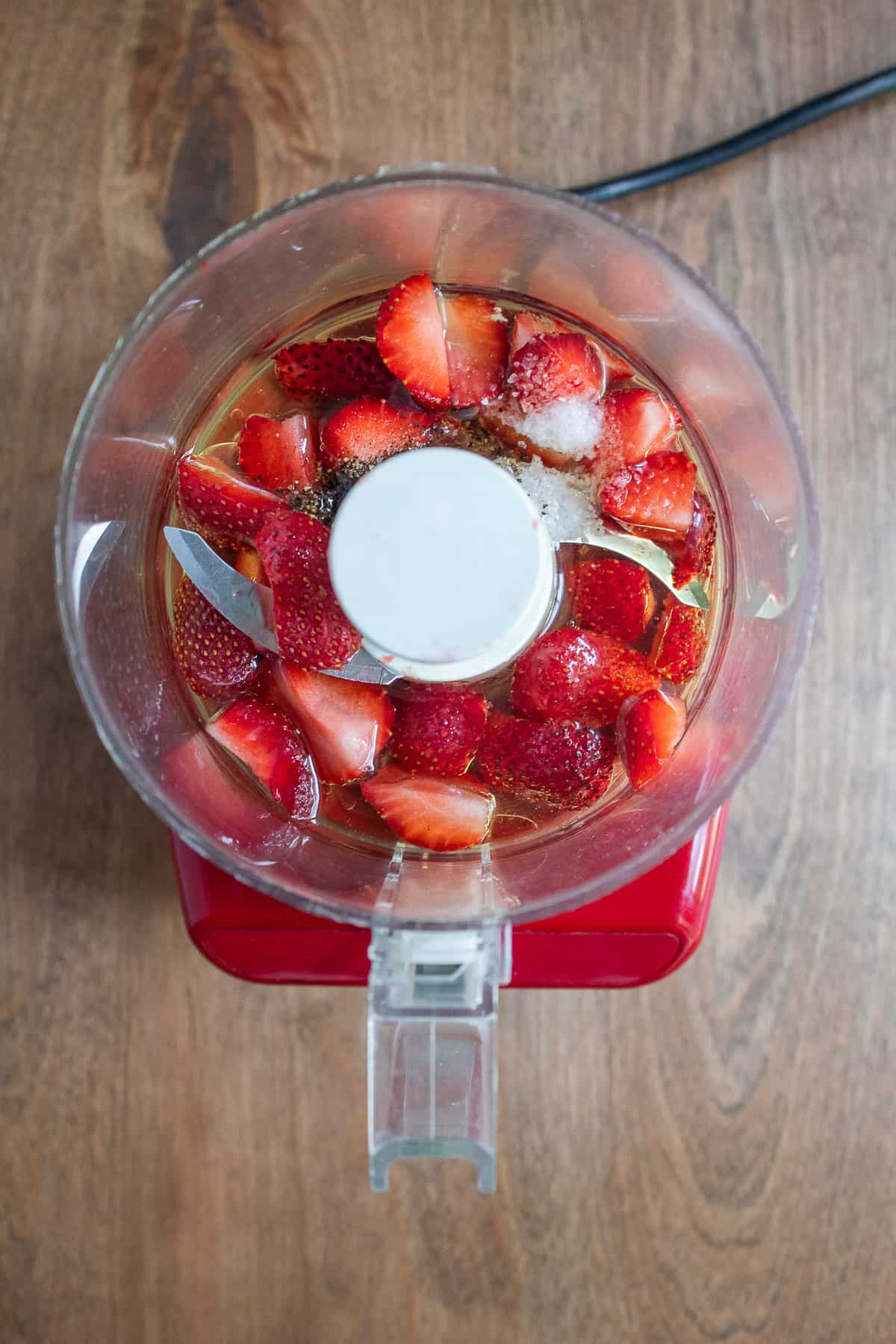 Combine ⅓ of the strawberries, olive oil, white balsamic vinegar, salt, and pepper in the food processor.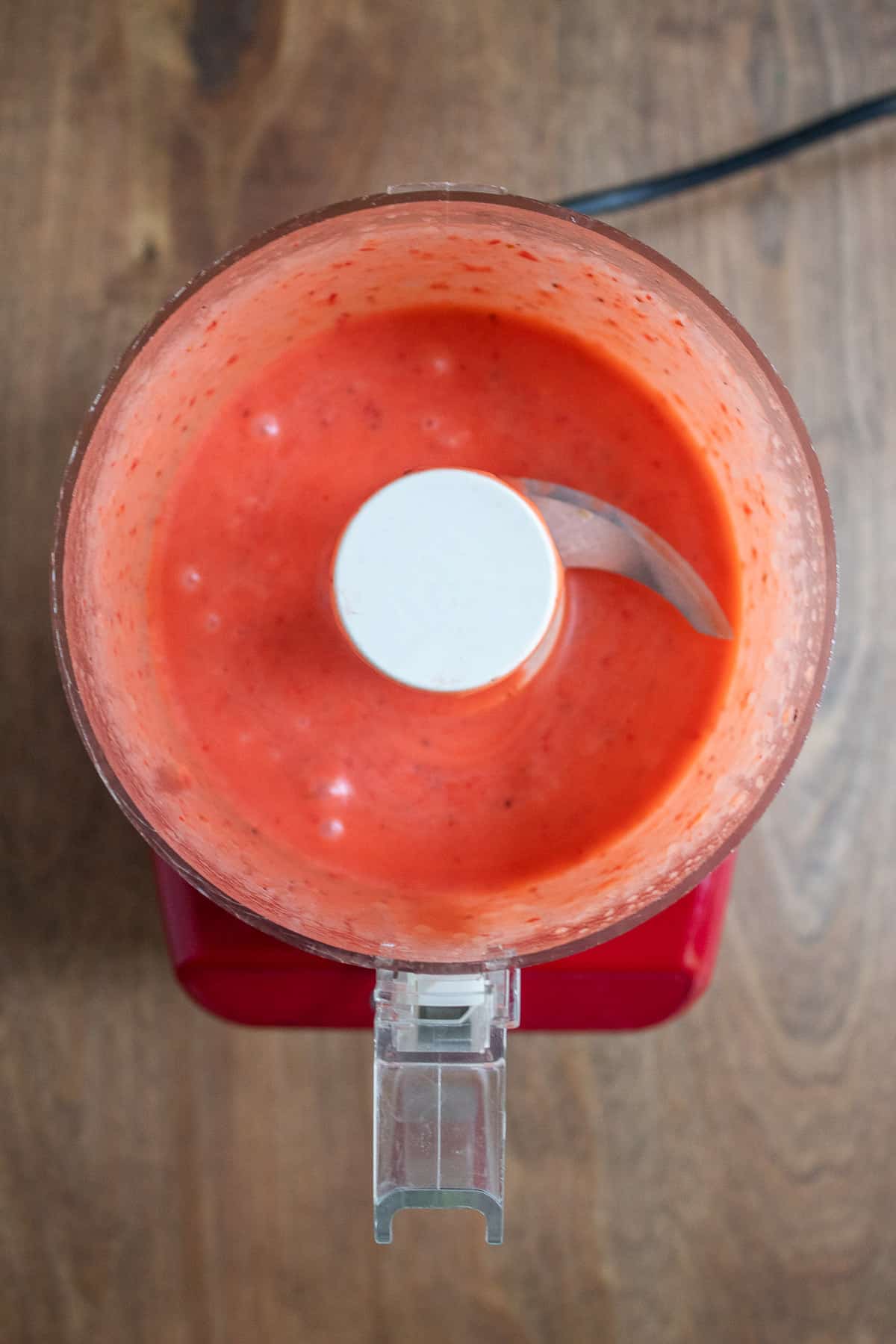 Process until the vinaigrette is smooth and all of the strawberries have been pureed. The dressing will be thick and glossy. Transfer it to a serving container and set it aside.
Prepare the Salad Toppings
What's a salad without yummy toppings? This one has it all: sweet, sour, savory, and salty. Start by throwing the goat cheese into the freezer to firm up enough to slice into rounds. Chop the bacon into small pieces.
Toast the almonds in a dry skillet for 2-3 minutes, or until golden and fragrant. Set them aside to cool.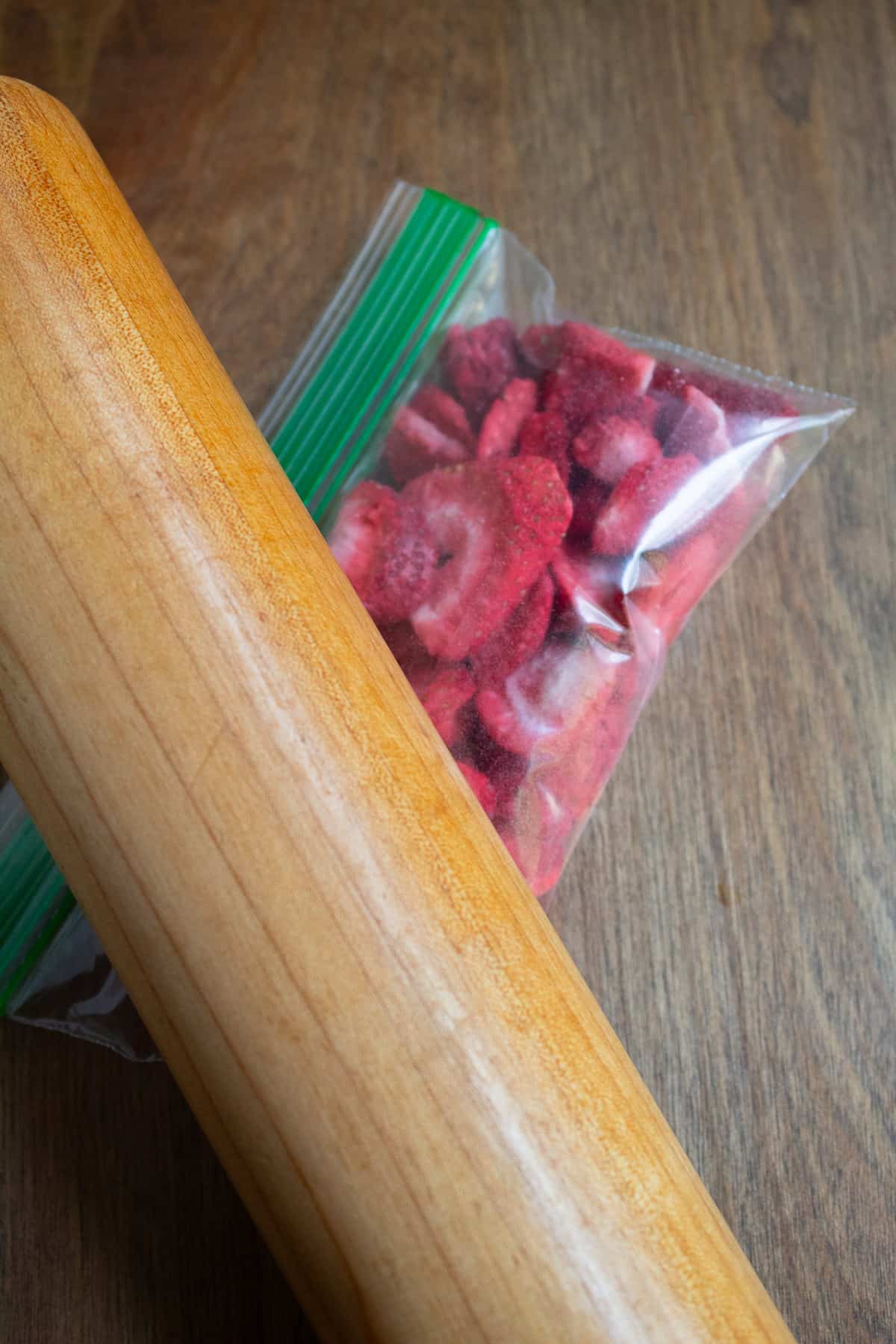 Crush the freeze-dried strawberries in a zip bag using a mallet or a rolling pin.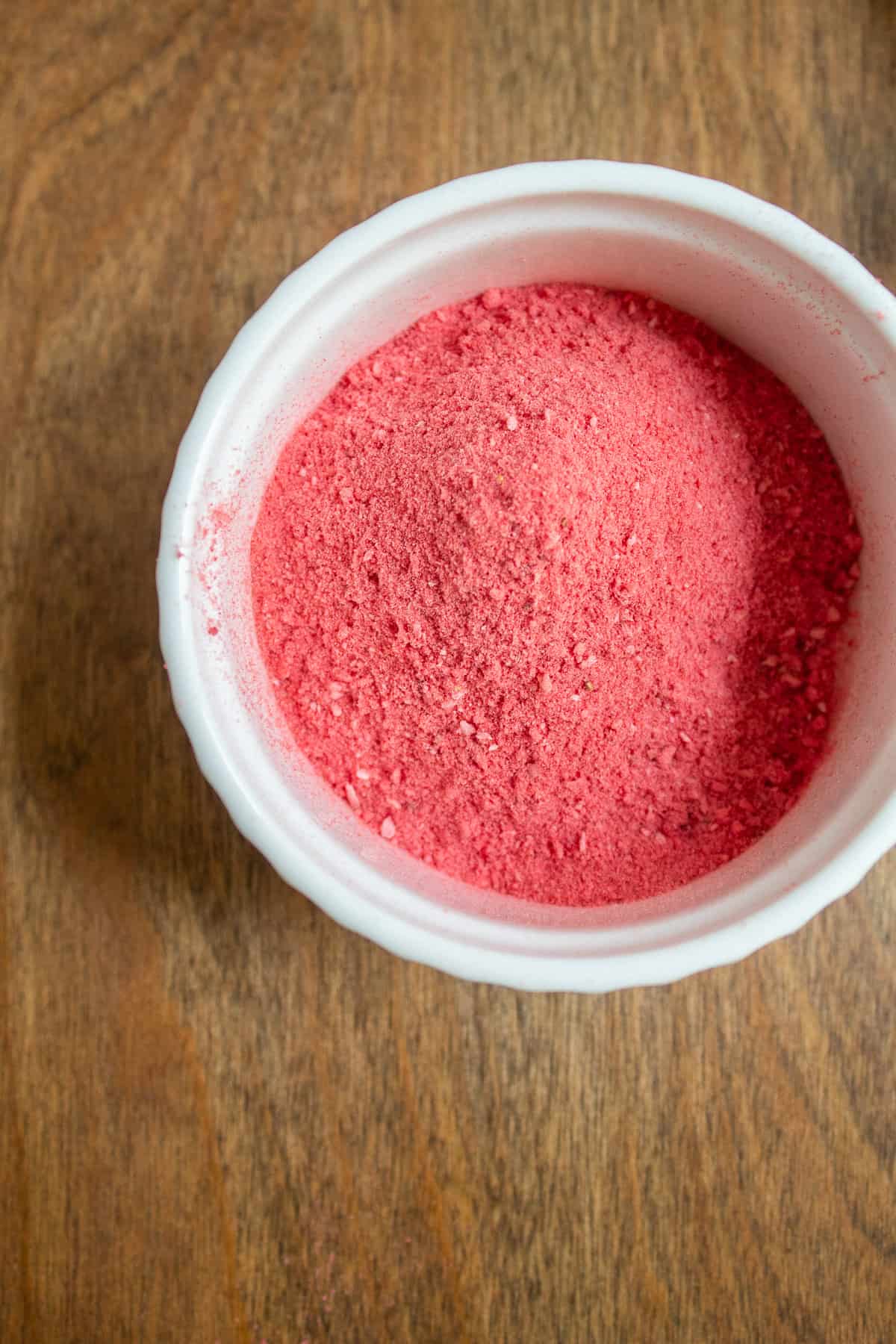 The crushed powder should be uniform in texture. Transfer it to a small bowl or plate.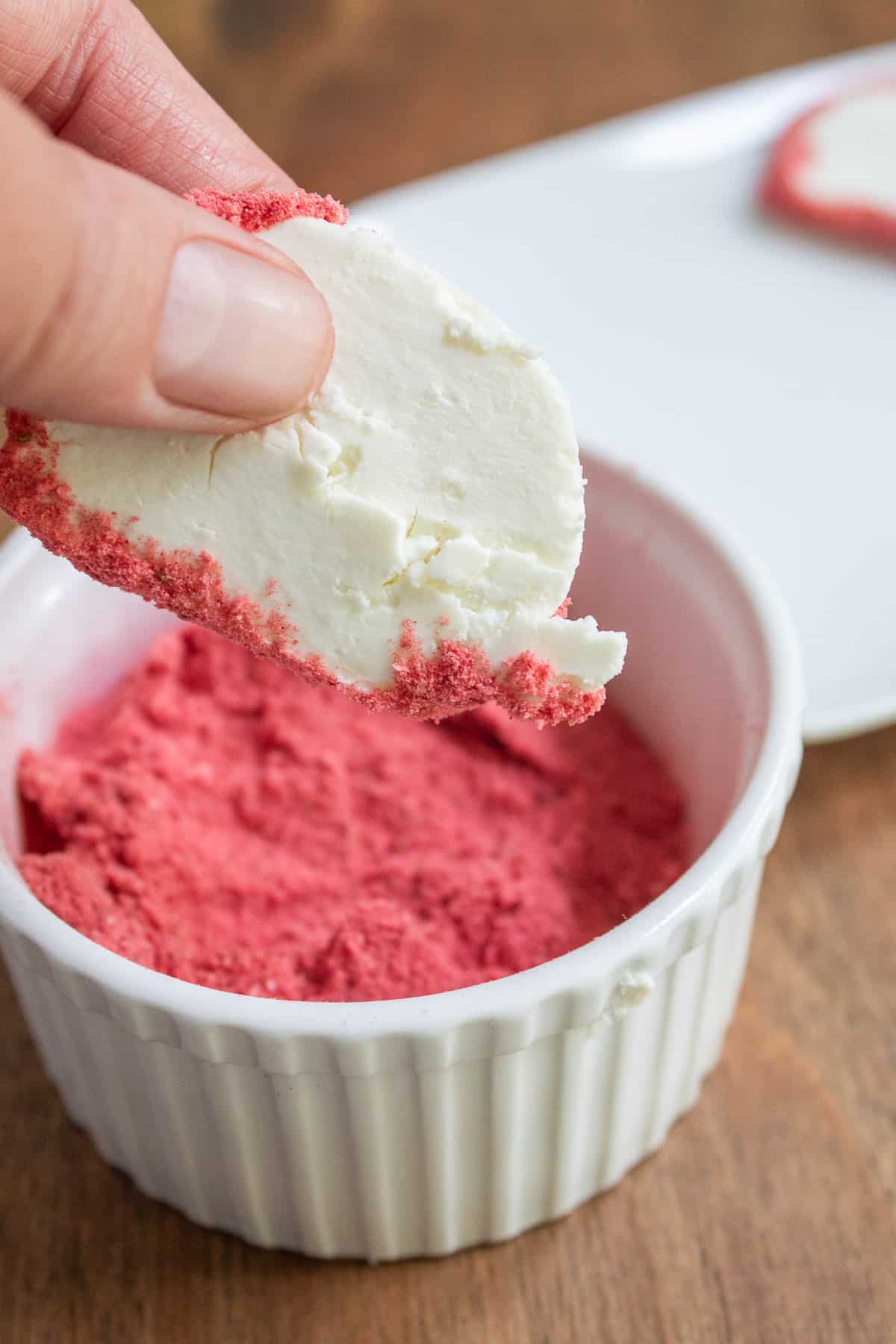 Slice the goat cheese into ¼- to ½-inch rounds. Dip the edges of each round into the strawberry powder.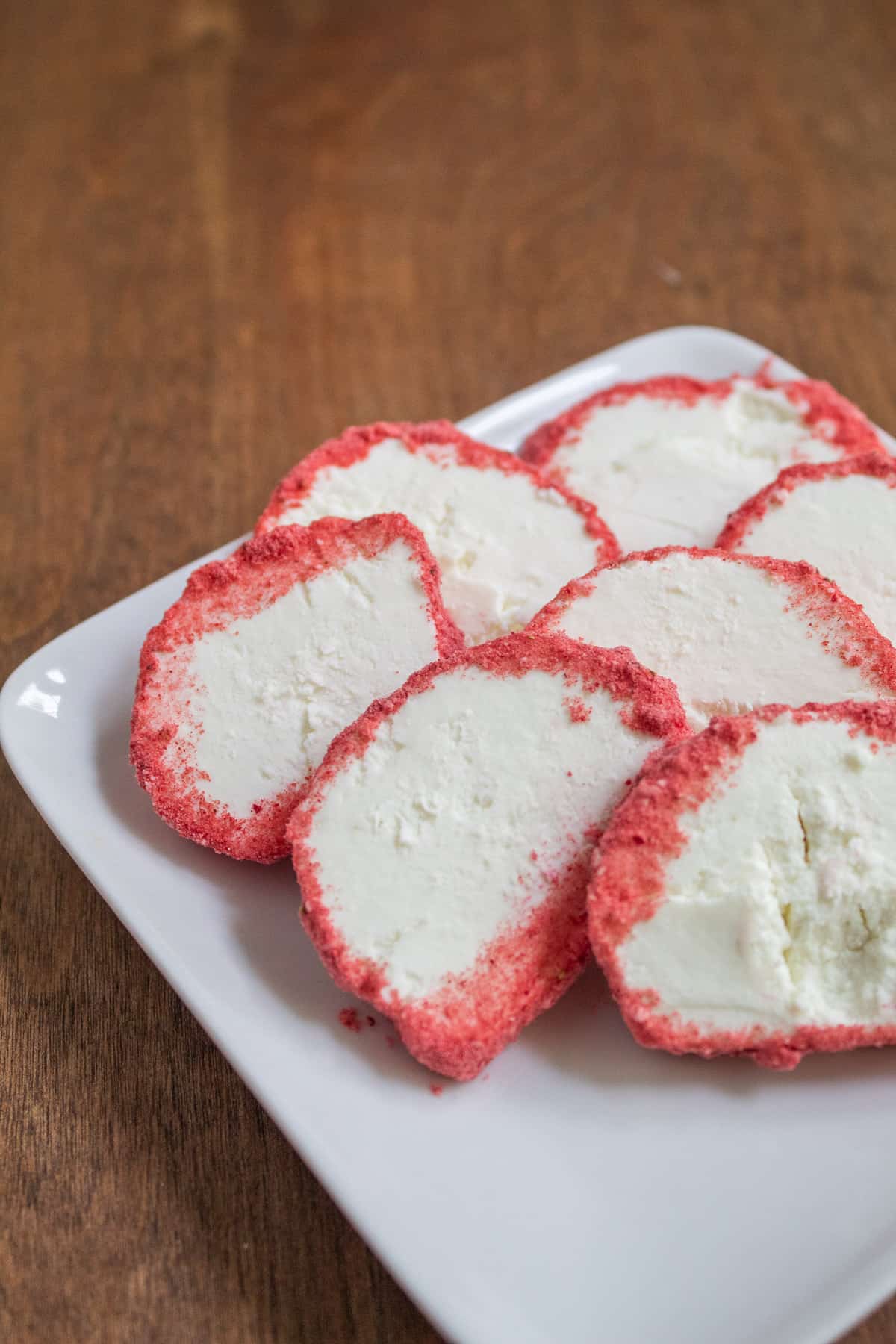 Set the strawberry-coated cheese on a small plate and use it as soon as possible so that the coating doesn't bleed into the cheese.
Assemble the Salad
Wash the salad greens and pat them dry. Layer them in the bottom of a large bowl. Scatter the strawberries over the greens.
Scatter the almonds and bacon over the greens and berries. Nestle the goat cheese rounds into the salad.
Top the salad with a drizzle of the strawberry balsamic vinaigrette and bring the extra dressing to the table.
Hint: This strawberry goat cheese salad is best served as a composed salad, meaning the ingredients are arranged rather than tossed together. With the delicate strawberry-dusted goat cheese, it would all be muddled if you toss things together before serving! Plan on serving the salad arranged in a large bowl or on individual plates.
Substitutions and Variations
This recipe is forgiving of a number of substitutions to make it something your whole family will enjoy. Try one of these suggestions:
Swap the Greens - Feel free to use spinach, romaine, arugula, or Bibb lettuces in this salad. I like a mix of peppery greens and tender lettuces.
Make a Mixed Berry Goat Cheese Salad - Freeze-dried blueberries are generally available wherever you find the strawberries. Use these to coat the goat cheese and add fresh raspberries in place of the fresh strawberries. Mix and match your berries!
Make a Vegetarian Version - Use chickpeas in place of the bacon if you want to keep the salad vegetarian. I love them tossed with salt, pepper, and olive oil and roasted for 20-30 minutes at 425F for a crispy bacon swap.
Change the Nuts - Use pistachios, pecans, or walnuts in place of the almonds.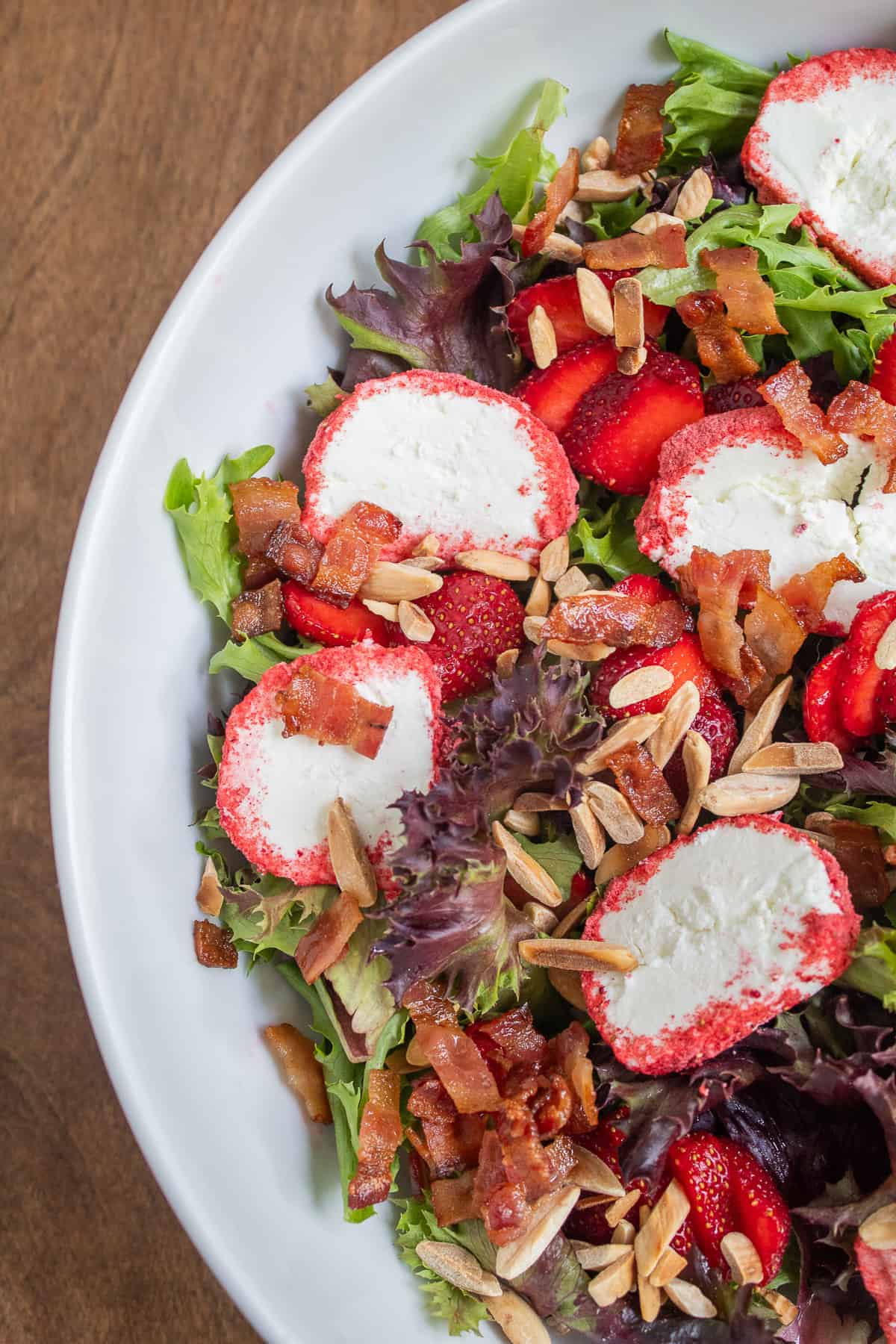 Make it Kid Friendly
The kids at my dinner table won't eat this as a salad, but they will enjoy most of the components separately. Make a kid plate with the freeze-dried strawberries, almonds, bacon bits, fresh strawberries, and some cubed cheddar or mozzarella and let them snack away.
Equipment
I love my mini food processor for making the strawberry balsamic vinaigrette. I've also used my bullet blender and an immersion blender successfully. If you only have a standard blender, double the vinaigrette ingredients and freeze the extra for another salad later on.
Make-Ahead Options
This salad is best enjoyed right after preparation. If you'd like to get some prep out of the way, make the dressing, wash and dry the greens, and toast the almonds the night before.
Storage
If you have leftover dressing, store it in the refrigerator for up to three days or freeze it in a airtight plastic container for up to a month.
The dressed greens won't stand up to storage in the refrigerator overnight without wilting.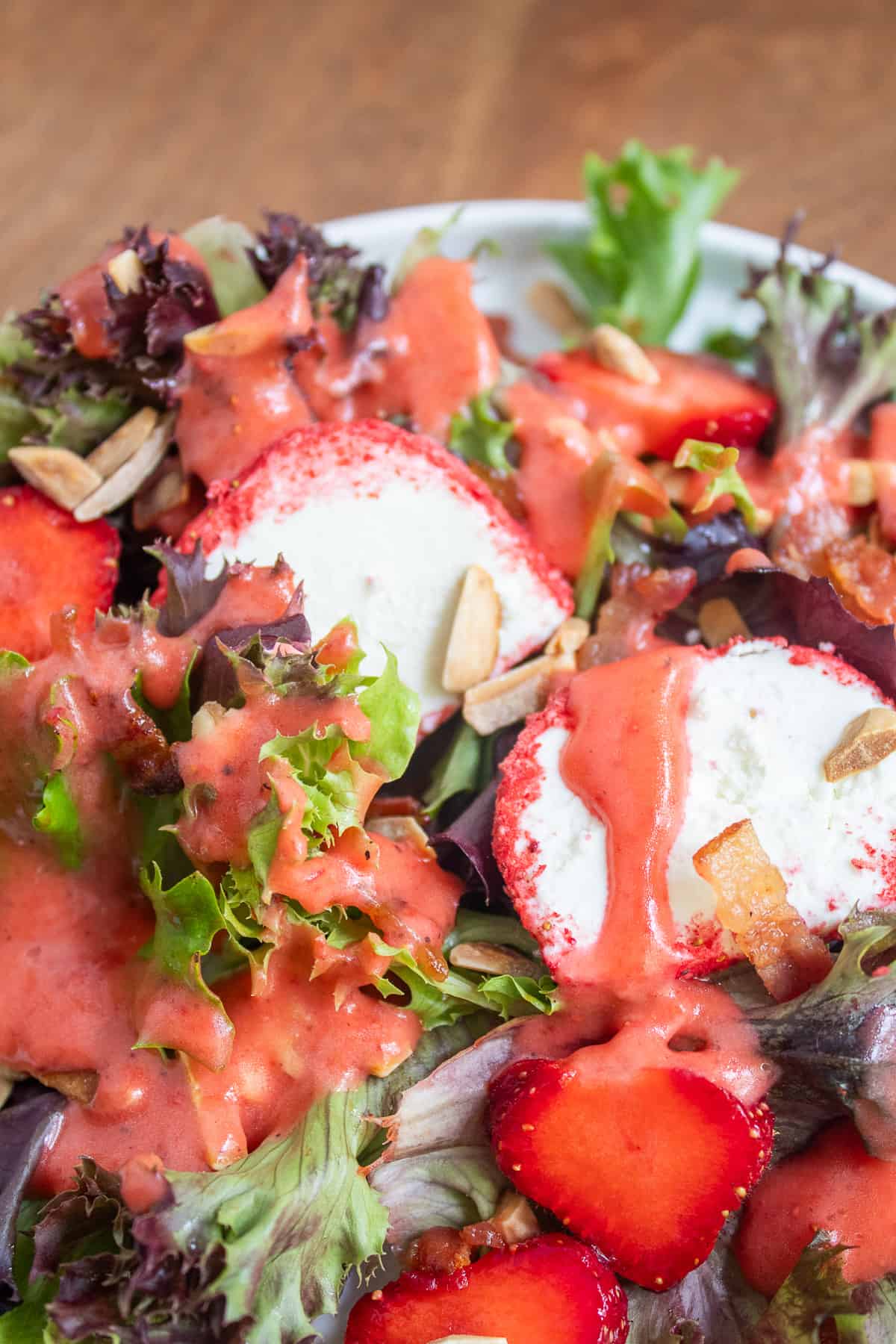 Top Tips
If you find the strawberry balsamic vinaigrette to be too sour, add honey to the dressing a teaspoon at a time to get to the desired level of sweetness.
Freezing the goat cheese for about 7-10 minutes before slicing it into rounds will help you keep the slices intact.
FAQ
How do I prepare the strawberries for the salad?
Rinse the strawberries under cool water, pat them dry, remove the stems, and slice them into thin slices.
Can I add additional ingredients to the salad?
Absolutely! You can customize your salad by adding ingredients like sliced avocado, red onions, cucumber, grilled chicken, or shrimp for extra flavor, protein, and texture.
What type of goat cheese works best for the salad?
Fresh and creamy sliced goat cheese rounds make for a beautiful presentation. Drier goat cheese crumbles can be dusted with the strawberry powder if you can't get a log of goat cheese to slice.
Related Recipes
This strawberry goat cheese salad is a great balance of sweet and savory. If you love to match a savory cheese like goat cheese, blue cheese, or feta with sweet flavors, check out some of these recipes:
Try It and Share
I hope you love this strawberry goat cheese salad with the tangy strawberry vinaigrette! Tag your photo with #planeatpostrepeat and mention me @planeatpostrepeat on Instagram or Facebook. I can give you a virtual high five and thank you for cooking one of my recipes! Comment below with any questions and please leave a review so others can find this recipe more easily.
Recipe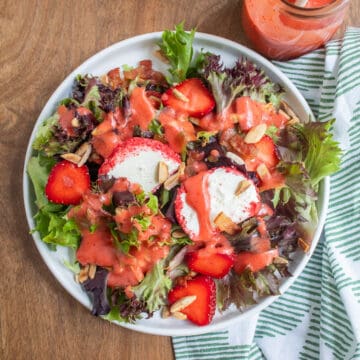 Strawberry Goat Cheese Salad with Strawberry Vinaigrette
This strawberry goat cheese salad is a strawberry explosion with fresh strawberries, strawberry coated goat cheese, and a strawberry balsamic vinaigrette.
Equipment
1 mini food processor

or an immersion blender
Ingredients
Strawberry Goat Cheese Salad
6

cup

mixed salad greens

⅓

cup

slivered almonds

4

oz.

goat cheese

4

oz.

strawberries

(sliced, about ⅔ cup)

4

slices

bacon

(cooked)

¼

oz.

freeze-dried strawberries
Strawberry Balsamic Vinaigrette
2

oz.

strawberries

(sliced, about ⅓ cup)

6

tablespoon

olive oil

2

tablespoon

white balsamic vinegar

½

teaspoon

kosher salt

¼

teaspoon

black pepper

(ground)
Instructions
Place the goat cheese in the freezer for about 10 minutes to aid in slicing.

Place ⅓ cup of strawberries, olive oil, vinegar, salt, and pepper in a mini processor. Process until the dressing is smooth. Transfer to a serving container and set aside.

Wash and pat dry the salad greens. Place them in the bottom of a large serving bowl. Scatter the remaining sliced strawberries over the greens.

Toast the almonds in a dry skillet for 2-3 minutes or until golden and fragrant. Transfer them to a plate to cool and then toss them over the salad greens.

Chop the cooked bacon and scatter the pieces over the strawberries and greens.

Place the freeze dried strawberries in a plastic zip bag. Crush them with a rolling pin or mallet. Transfer the strawberry powder to a plate or small bowl.

Remove the goat cheese from the freezer and carefully slice into rounds. Roll the edges of the cheese in the strawberry powder and place the cheese on the salad.

Drizzle the strawberry balsamic vinaigrette over the salad and serve immediately.
Nutrition facts are sometimes provided below and are calculated using an online calculator. With specific brands of ingredients and additions, omissions, or substitutions the nutrition facts may change. We encourage you to use your own nutrition facts caculator to obtain the most accurate nutrition facts for your meal.
Nutrition Facts
Calories:
442
kcal
Carbohydrates:
10
g
Protein:
11
g
Fat:
40
g
Saturated Fat:
10
g
Polyunsaturated Fat:
5
g
Monounsaturated Fat:
23
g
Trans Fat:
0.03
g
Cholesterol:
28
mg
Sodium:
559
mg
Potassium:
320
mg
Fiber:
2
g
Sugar:
5
g
Vitamin A:
988
IU
Vitamin C:
61
mg
Calcium:
83
mg
Iron:
2
mg