This recipe for a simple microwave hollandaise yields a tart, fresh lemon sauce that is perfect for steamed vegetables, eggs Benedict, or savory crepes. It will be your back pocket hollandaise recipe in no time!
Sometimes the sauce makes the meal. Try my Pomegranate and Red Pepper Dressing or Thai Peanut Sauce to liven up your dinners just like this bright hollandaise.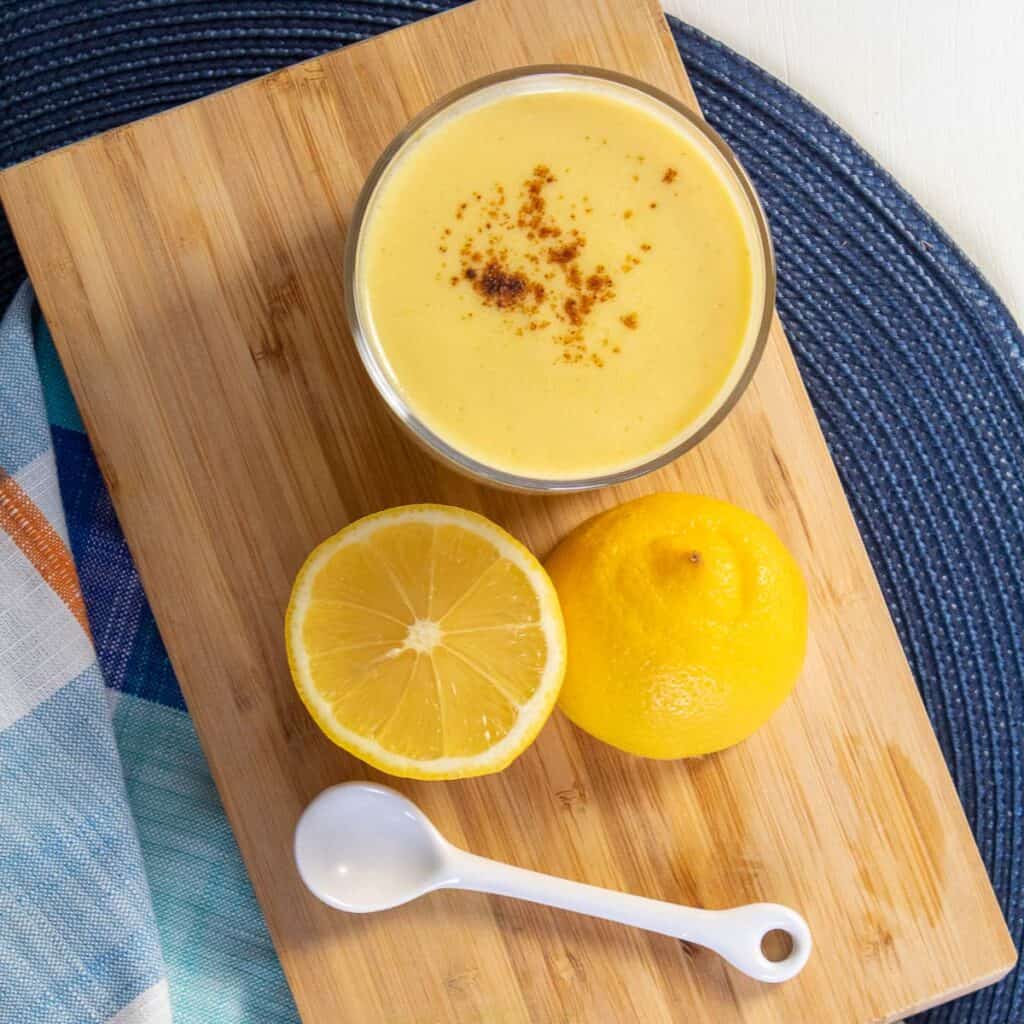 Do you have any favorite foods from your childhood that only taste "right" the way your mom made them? For me, one of these is hollandaise sauce. My mom's recipe is based on the Fannie Farmer cookbook, and our copy was old, worn, and spattered with butter on the pages holding the hollandaise sauce recipe.
The trick is, my mom only ever used that as a guide. She added loads more lemon juice and used a microwave to cook it. Each time, there was a little adjustment. I've finally settled on proportions that consistently work and give the flavor I remember from my childhood. Mom's Microwave Hollandaise Sauce is bursting with lemon flavor, zippy and in perfect balance with poached eggs.
Ingredients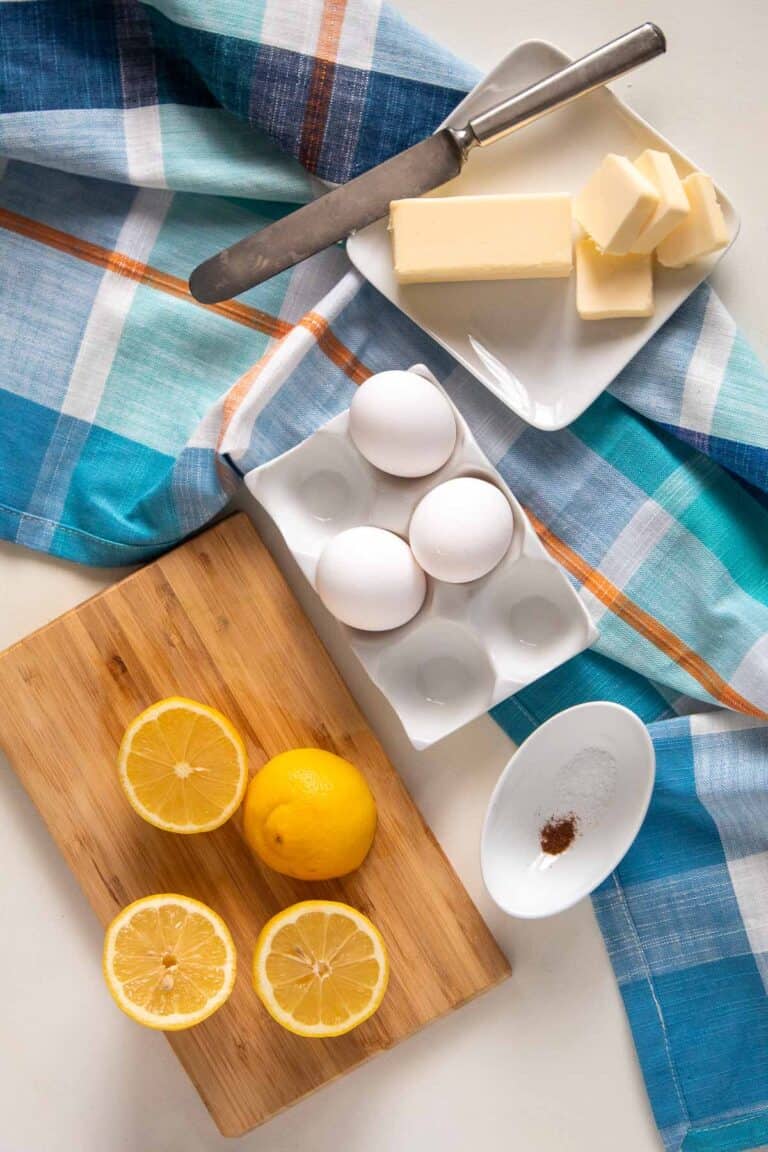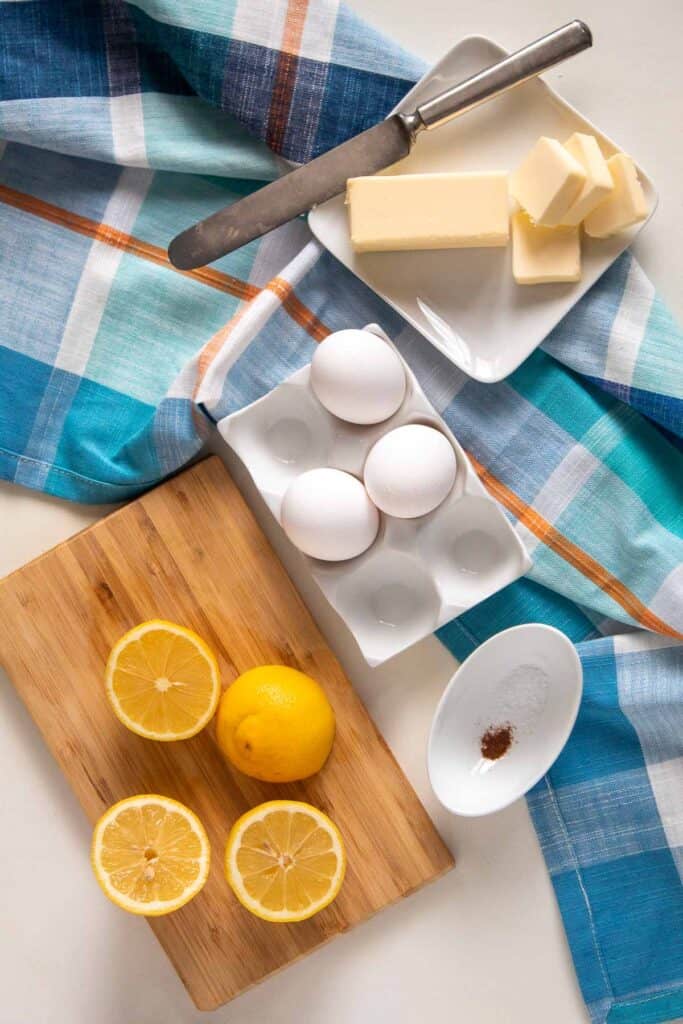 Ingredients for hollandaise are few. The real trick to the recipe is in the preparation of the sauce!
Butter: I use salted butter from Costco for most of my recipes, you may need to adjust the salt content to get your ideal flavor based on what butter you use.
Egg Yolks: I used large eggs when developing this recipe, you may need to adjust the amount of egg yolk if you use jumbo or other egg sizes.
Lemon Juice: Use fresh, please! Any time a recipe has only a few ingredients you have to use the best and freshest you can get your hands on.
Cayenne Pepper: I use just the smallest amount, but it adds an important spicy note to the rich sauce.
Hot Water: This helps to bring the emulsion together and get the ideal texture for your sauce.
Preparation of Microwave Hollandaise
To make the sauce, melt the butter completely in a medium microwave-safe bowl. Grab your whisk and prepare to use it... a lot! There's no blender required here, we are using old-fashioned hand power.
Whisk in the lemon juice and then the egg yolks, one at a time. If you keep the whisk moving the heat of the butter shouldn't cook your eggs too quickly. Put the sauce back into the microwave and cook for two 30-second bursts with whisking in between.
After the second round the sauce will appear a bit solid around the edges, and liquid in the center. Add in the water and cayenne and whisk to combine. Cook for two more 30-second bursts, whisking in between each. You know the sauce is done when you see the whisk marks in the sauce and they hold for 1-2 seconds after you stop mixing.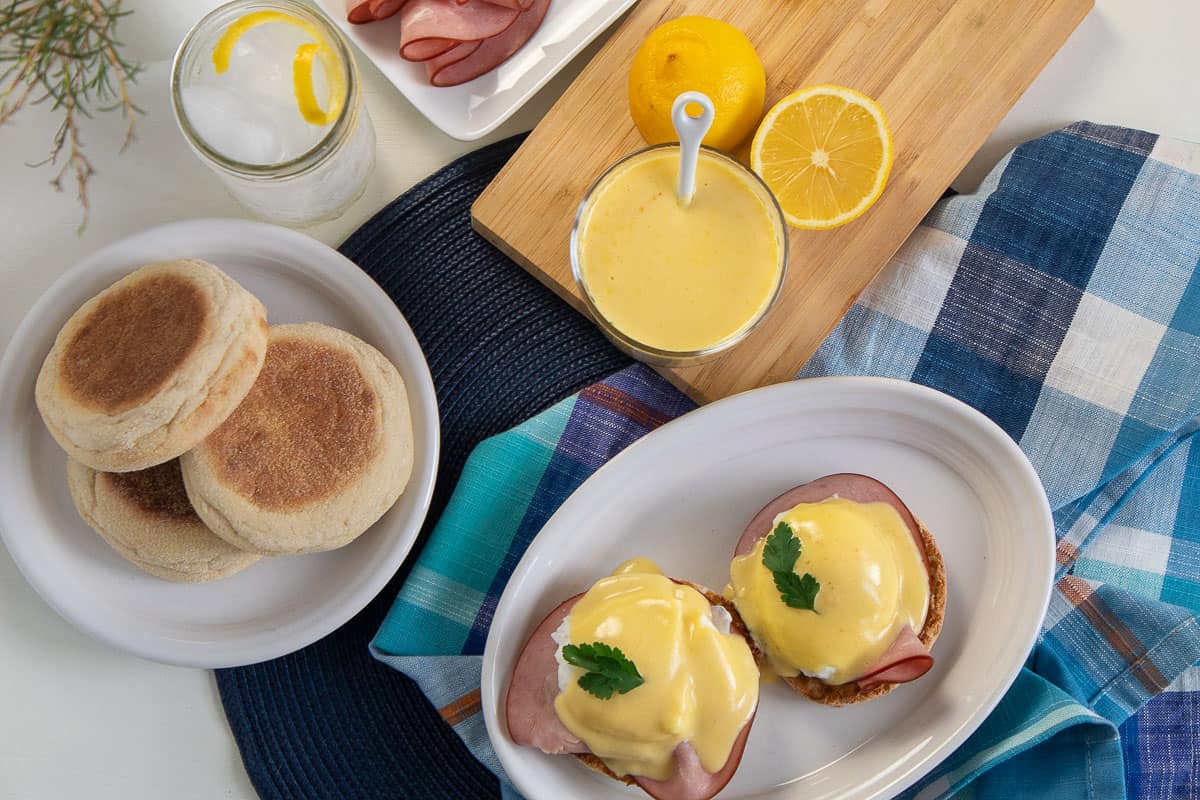 Microwaves vary a bunch, and it will make a difference in cooking times. This recipe was developed with a 1000-watt model. If your microwave has less power than that, change the number of cooking bursts before you change the amount of time for each one. You may have to cook for three rounds of 30 seconds each time, for example, instead of two. It's a lot easier to overcook the sauce when you cook for too long at one go.
FAQ for Mom's Microwave Hollandaise
What do you serve hollandaise sauce with?
Hollandaise sauce is a terrific accompaniment to steamed vegetables like broccoli or asparagus. It is the sauce that makes an Eggs Benedict shine, but it is also good with an English muffin topped with sliced fresh tomato, wilted spinach, and a poached egg. Also try this sauce on savory crepes!
How can you rescue a "broken" hollandaise?
A hollandaise can "break"(come out of emulsion) if it is heated too hot or too quickly. Often a teaspoon or two of hot water and vigorous whisking will bring the sauce back to emulsion. If that is unsuccessful, try adding an additional egg yolk with more whisking. If you have to add extra egg yolk, try to balance it with a teaspoon or two of lemon juice.
Can you store and reheat leftover hollandaise?
Yes. Store for no more that 2 days in the refrigerator in a tightly sealed container. To reheat, microwave 15-20 second bursts and stir well in between. If the hollandaise appears too thick, add a teaspoon or two of water and stir again.
Try It and Share
I hope you try Mom's Simple Microwave Hollandaise Sauce and share the recipe with family or friends. I want to see your results! Tag your photo with #planeatpostrepeat and mention me @planeatpostrepeat on Instagram or Facebook. I can give you a virtual high five and thank you for cooking one of my recipes! Comment below with any questions and please leave a review so others can find this recipe more easily.
Recipe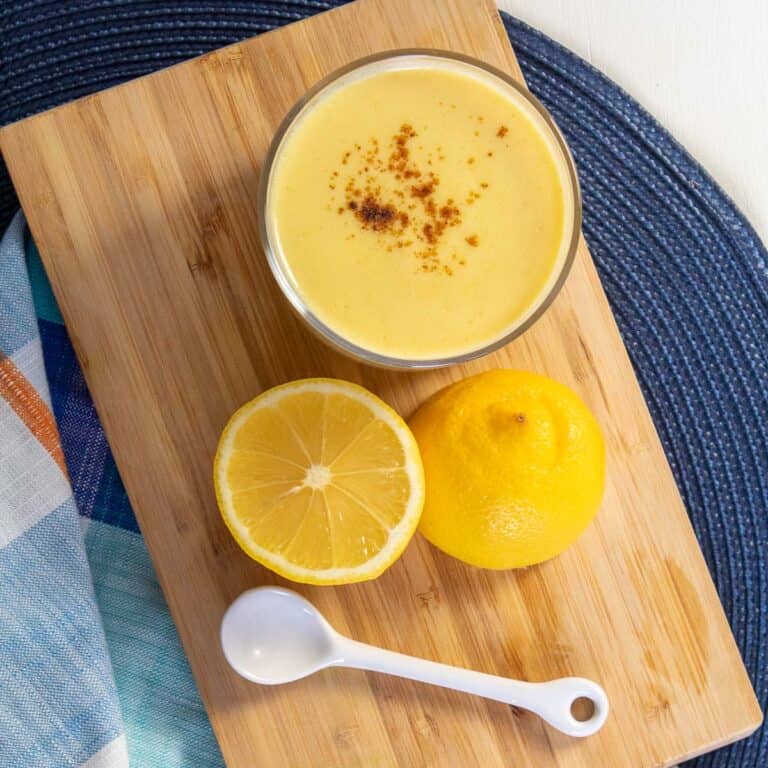 Mom's Simple Microwave Hollandaise Sauce (No Blender)
Bright and tart, Mom's Microwave Hollandaise has more lemon than the typical hollandaise and a foolproof microwave cooking method that requires no blender.
Ingredients
½

cup

butter, salted

3

tablespoon

fresh lemon juice

4

large

egg yolks

3

tablespoon

hot water

1

pinch

cayenne pepper

⅛

teaspoon

kosher salt

(as needed)
Instructions
In a medium microwaveable bowl, melt the butter completely.

Whisk in the lemon juice and then the eggs yolks one at a time.

Microwave in 30 second increments, whisking well after each 30 seconds. After 2 30-second bursts, add the water and cayenne pepper.

Microwave for two more 30-second bursts. The hollandaise should be thick enough for the whisk to leave marks in the sauce. Adjust the salt to taste.
Notes
This recipe was developed with a 1000W microwave.  Wattages will vary and cooking time may need to be adjusted for desired results.
Nutrition facts are sometimes provided below and are calculated using an online calculator. With specific brands of ingredients and additions, omissions, or substitutions the nutrition facts may change. We encourage you to use your own nutrition facts caculator to obtain the most accurate nutrition facts for your meal.