You may have noticed this, but I'm not a fan of tomato sauce. I avoid it in pasta dishes and pizzas, but I think it just makes me more creative with my toppings! Take this Caramelized Onion and Prosciutto Pizza, for example. No tomato sauce in sight, but the jammy caramelized onions more than make up for it. Add in some salty prosciutto and peppery arugula and you have a very fine combination. We usually make this pizza alongside a more kid-friendly option (cheese only!) for a Friday night dinner treat.
Ingredients
Prepared Pizza Dough: There are a bunch of options here. Use a ball of dough from your local grocery store (Trader Joe's has great options), use pita rounds, or even prepared naan bread. We've also made this pizza with prebaked shells and flatbreads. You may need to adjust bake times with any of the prebaked options, just keep an eye on the pizzas while they are cooking so that the crusts don't burn.
Olive Oil: I use an everyday grade of olive oil for these pizzas, but an extra fruity one is great for drizzling over the fresh arugula at the end.
Caramelized Onions: 8-12 ounces of onions will be enough to make one half cup of caramelized onions for the pizzas. Take a look at my French Onion Soup recipe if you want tips on caramelizing onions. I say if you are taking time to caramelize onions, make a big batch! You can freeze any extras and have them ready for another batch of pizzas (or Caramelized Onion Dip) another time.
Prosciutto: I love the salty and savory flavor on these pizzas and how it plays with the peppery arugula and sweet onions.
Arugula: This green adds a slightly bitter and peppery flavor to the pizzas. If it's not easy to find near you, fresh spinach is a great substitute.
Fresh Mozzarella: I like the light, fresh milk flavor of fresh mozzarella balls, but use shredded low-moisture mozzarella if that's what you prefer.
Black Pepper: Use fresh ground pepper to add spice and balance the salty prosciutto and creamy mozzarella.
Preparation
Caramelize the onions if you don't have any prepared. Start with a tablespoon of oil and slowly cook the sliced onions on medium-low heat until they are a dark golden color. Add a tablespoon or so of water if needed to loosen the onions from the bottom of the pan. It will take 30 minutes or more for this step. As I mentioned above, make a double or triple batch if you are taking the time to caramelize onions. They freeze well and you get the best out of your time investment babysitting the onions this way.
We either make one large pizza or 4 smaller ones, depending on mood and what we use for the pizza dough. Pitas or naan are the quickest options, and you get a crisp crust with these. In these photos I used a ball of refrigerated dough split into 4 pieces. Oil both the cooking pan and the dough for golden crusts. Then layer on the onions, arugula, prosciutto, and mozzarella. Finish with a sprinkle of black pepper and bake 8 to 10 minutes. I usually broil them for a quick minute at the end for extra bubbly cheese and lightly charred crust.
Serving Caramelized Onion and Prosciutto Pizza
The pizza is great as a main dish with a salad. If you slice a large pizza into small squares, it makes a nice appetizer too. We often make this along with a basic cheese or pepperoni pizza for the kids as they haven't warmed to arugula or caramelized onions yet. Too bad for them, I think they are missing out!
Try It and Share
I hope you try this Caramelized Onion and Prosciutto Pizza and share the recipe with family or friends. I want to see your results! Tag your photo with #planeatpostrepeat and mention me @planeatpostrepeat on Instagram or Facebook. I can give you a virtual high five and thank you for cooking one of my recipes! Comment below with any questions and please leave a review so others can find this recipe more easily.
Looking for another tasty tomato-free pizza to shake up pizza night? Try this Nectarine and Blue Cheese Pizza with Thyme!
Recipe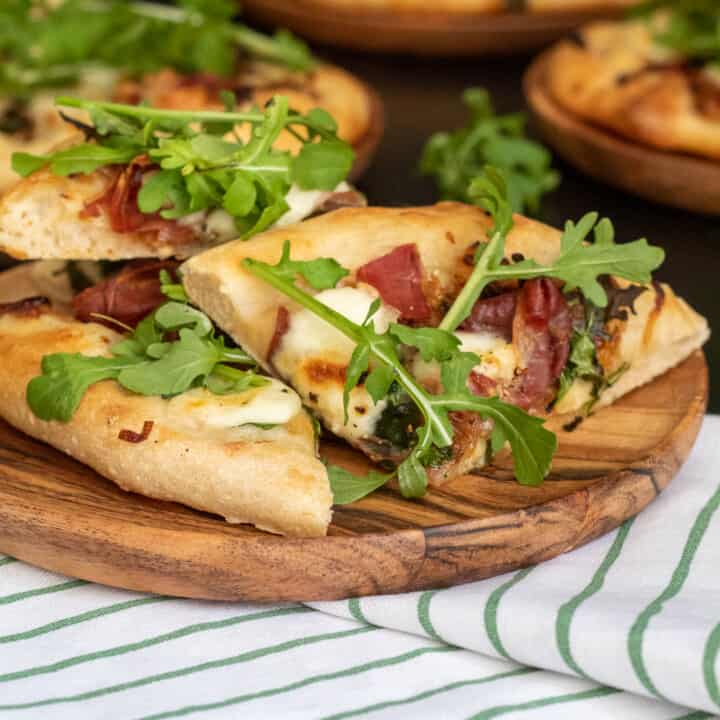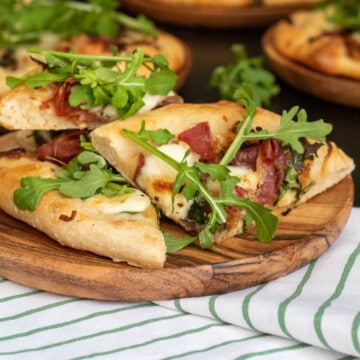 Caramelized Onion and Prosciutto Pizza
Caramelized Onion and Prosciutto Pizzas bring together salty prosciutto and sweet caramelized onions for a satisfying pizza combination.
Ingredients
1

ball

prepared pizza dough

(OR 4 whole pita rounds or prepared naan)

3-4

tablespoon

olive oil

8-12

oz

sweet onions, sliced into half moons

3

oz.

prosciutto

2

cups

arugula leaves

(plus extra for garnish)

8

oz.

fresh mozzarella balls

black pepper

(to taste)
Instructions
Caramelize onions by heating 1-2 tablespoons of oil in a heavy-bottomed pan or Dutch oven over medium-low heat. Heat, stirring often, for 30-40 minutes or until the onions are deeply caramelized. Add a tablespoon of water to the pan occasionally if the onions are sticking to the bottom.

Preheat the oven to 500°F. Grease a sheet pan with one tablespoon of olive oil.

If using pizza dough, stretch it into 4 small pizzas or one large pizza and place it on the oiled pan. Oil the crust with the remaining olive oil.

If using naan or pita bread, place them on the pan and spread the bread with the remaining oil.

Spread the caramelized onions over the dough or bread and sprinkle the onions with arugula.

Peel the sliced prosciutto from the package and arrange small bundles of it over the arugula.

Tear the mozzarella into small pieces and place over the pizzas. Sprinkle the pizzas with black pepper.

Bake the pizzas for about 10 minutes, checking after 8 minutes. Broil the pizzas if desired.

Sprinkle with additional arugula leaves and serve.
Nutrition facts are sometimes provided below and are calculated using an online calculator. With specific brands of ingredients and additions, omissions, or substitutions the nutrition facts may change. We encourage you to use your own nutrition facts caculator to obtain the most accurate nutrition facts for your meal.