There's probably nothing better than having a big batch of a simmer sauce at the ready for setting yourself up for meal planning success. Once the sauce is prepared, there are so many ways you can use it. For this Mole Sauce I usually start with slow cooking (or pressure cooking) some chicken thighs in the sauce and then shredding the meat for tacos, burritos, tostadas, and rice bowls. Extra sauce can be layered with tortillas, beans, green chiles, and jack cheese for some really special enchiladas. Simple roast chicken thighs (skin on is extra special) can be smothered with the sauce and served alongside beans and rice. I love to re-create an all-time favorite burrito from Papalote in San Francisco by grilling up some extra firm tofu and then putting it in a super burrito with the mole sauce, black beans, rice, jack cheese, sour cream, avocados, and their amazing salsa. Yes, I still mail order salsa from my old neighborhood burrito shop.
Much like the Chile Colorado, this Mole Sauce is deeply colored (thanks to the dried chiles) and richly flavored. For this sauce, however, you start with roasting the chiles in a dry skillet to enhance their flavor and make them more pliable for seeding and removing the stems. We remove all of the seeds to ensure the sauce is mild enough for the kids, but if your palate can take the heat you can totally leave some of the seeds and membranes intact. Do remember to wear gloves or wash your hands well after handling the chiles!
The chiles then get simmered with roasted pecans, plantain, aromatics, and spices. Towards the end of cooking you add unsweetened chocolate and a bit of brown sugar to balance the bitterness from the chocolate and chiles. The whole batch gets blended smooth and then you are ready for all the deliciousness you can handle. Take care to blend with a towel on top of your blender; there is a lot of heat in that mixture and if your blender lets any of the sauce escape, you'll have a scalding and very staining mess on your hands, and the counter, and your kitchen cabinets. I do add salt while cooking, but often find I need another teaspoon or so of salt once everything is blended up. Taste it to check for your preferred salt levels.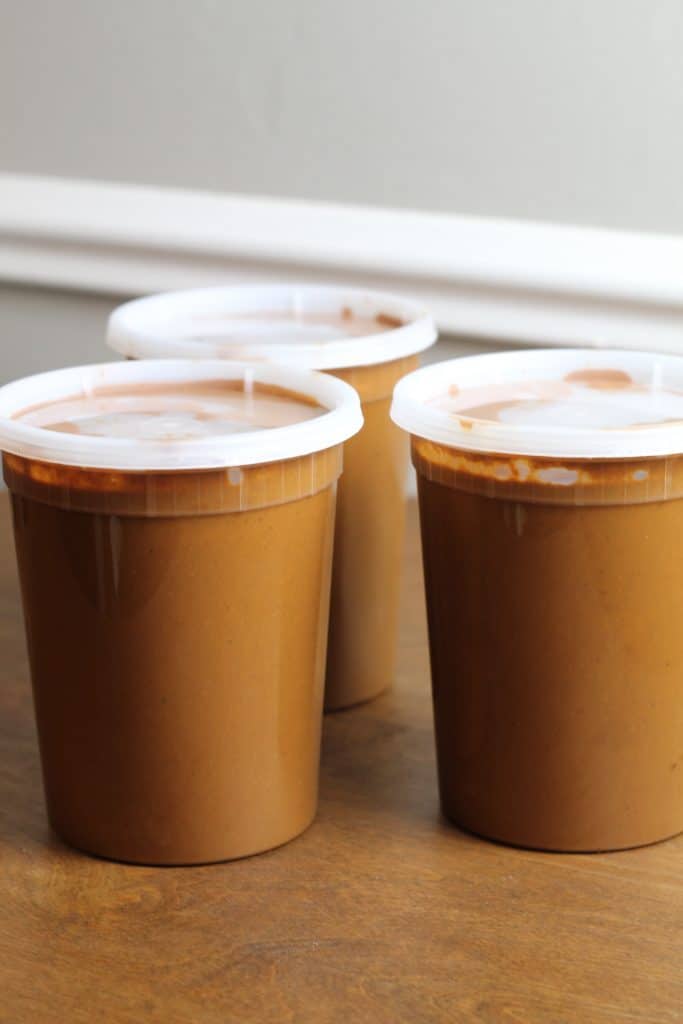 I made a double batch of the sauce when taking pictures for this post because I was delivering a dinner to a friend and I wanted to have enough leftover for preparing a frozen meal for a family with a new baby. Mole sauce for all!
This mole sauce would make a terrific sauce for this frozen burrito casserole (omit the sour cream in the burrito recipes for best results).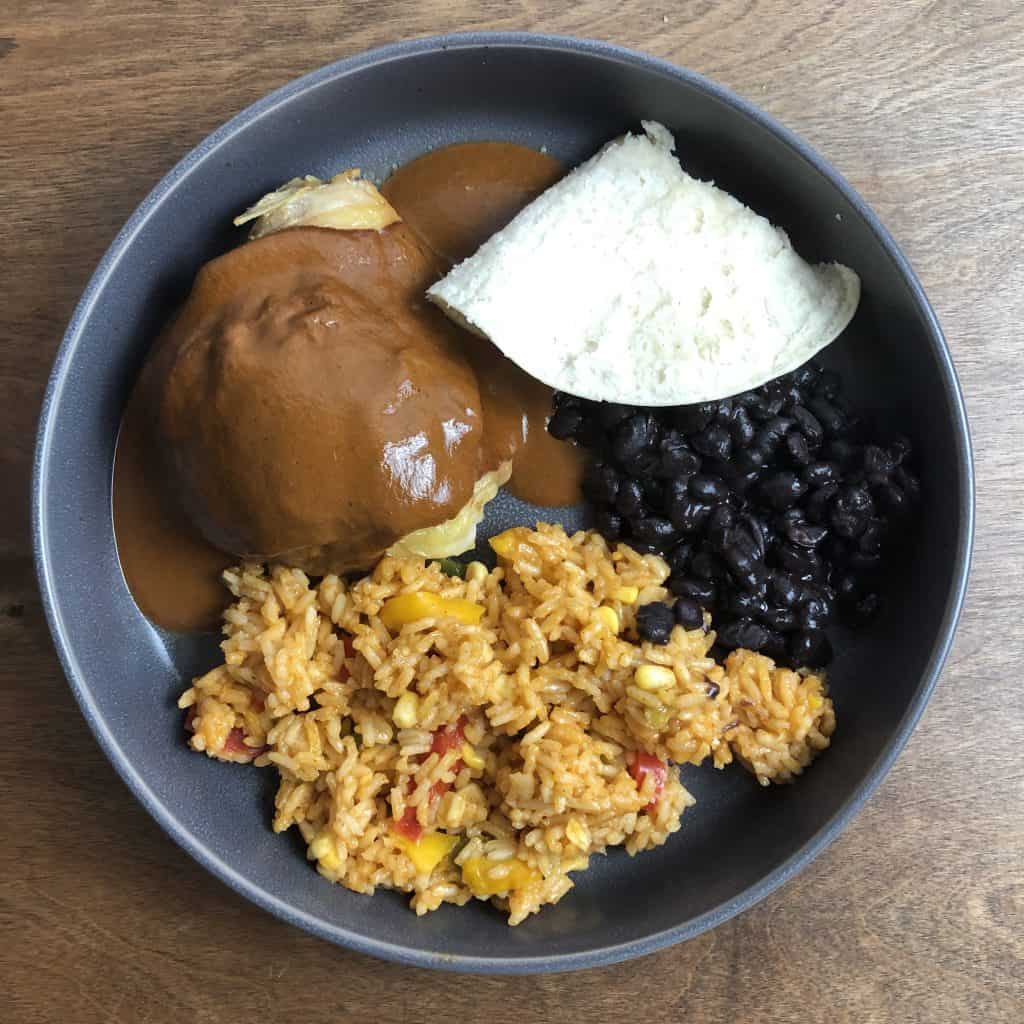 Mole can typically have several more ingredients than what you see here, and there are so many types of mole in Mexican cuisine. I'd love to try a green mole sauce soon. This recipe is a simpler version with ingredients I can find at my own supermarket so you'll certainly find more authentic versions elsewhere. I encourage you to try all the mole sauces you can get your hands on, but if you try this one let me know what you think by commenting below or tagging your photos with #planeatpostrepeat on Instagram.
Recipe
Mole Sauce
A simplified version of an authentic mole poblano with supermarket ingredients, this sauce is smoky, savory, and rich and will make chicken or baked tofu special for any meal.
Ingredients
5

ancho chiles

5

guajillo chiles

3

cloves

garlic, peeled

½

yellow onion, medium

(cut in quarters or large chunks)

5

cups

chicken or vegetable stock

(low sodium)

1

cup

sliced plantain (from about one yellow-to-black plantain)

½

cup

pecan halves or pieces

2

oz.

unsweetened baking chocolate

1

tbsp.

fresh oregano leaves

2

tbsp.

brown sugar

(add more to taste, depending on the sweetness of the plantains)

1

tsp.

ground cumin

kosher salt, to taste

(start with 1½ teaspoons)
Instructions
In a dry skillet or cast iron pan, toast the chiles until they are fragrant. Remove from pan into a bowl and cool, then remove stems and seeds (wear gloves or wash hands immediately after handling the chiles).

Use the same pan to toast the pecans until deeply browned.

In a large sauce pan, combine chiles, garlic, onion, stock, plantain, and pecans.

Bring the mixture to a boil, then reduce heat and simmer for 25 minutes.

Turn heat down to lowest setting and add chocolate, oregano, salt, sugar, and cumin. Stir frequently and cook for 10 minutes.

Remove from heat and transfer mixture to a blender and blend (taking care to allow stem to release) until smooth. Taste and adjust salt if needed.
Nutrition facts are sometimes provided below and are calculated using an online calculator. With specific brands of ingredients and additions, omissions, or substitutions the nutrition facts may change. We encourage you to use your own nutrition facts caculator to obtain the most accurate nutrition facts for your meal.