Sorry, that title's a mouthful. These bowls are just so packed with flavor and satisfy all of the fresh, umami, hearty, and healthy cravings you could have that I couldn't help myself.
Looking for other flavor-packed bowls the whole family will love? Try these Hoisin Pork Rice Bowls or Grilled Zucchini and Burrata Bowls!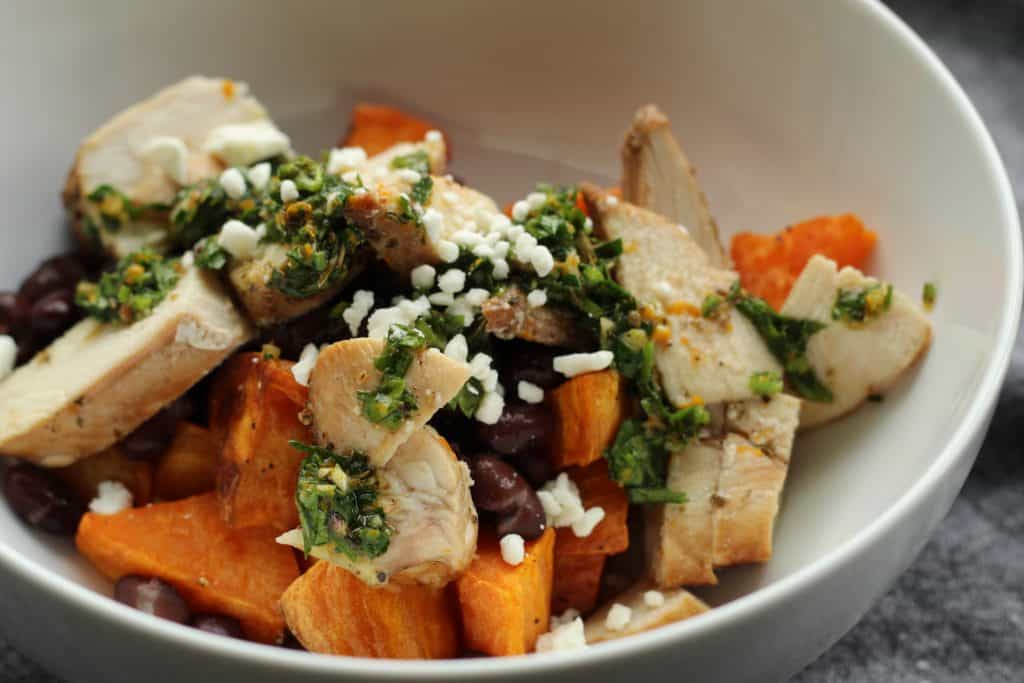 I made up the marinade for the chicken on the fly one afternoon and I was so pleased with it that I worked to replicate it. It's a cross between a marinade I've used for chicken drumsticks and a mojo-style chicken marinade. It makes for the most juicy chicken breasts, and I don't find that description all that common for a chicken breast (I am partial to thighs for this reason). I marinade for a few hours, or longer if I'm starting early in the day and will be baking it later for dinner (it's fine to stay chilled in the marinade for the work day). Baking it on a rack in the center of the oven replicates the outdoor grill effect, even if it's too cold out for that nonsense. I finish it off under the broiler for a little char.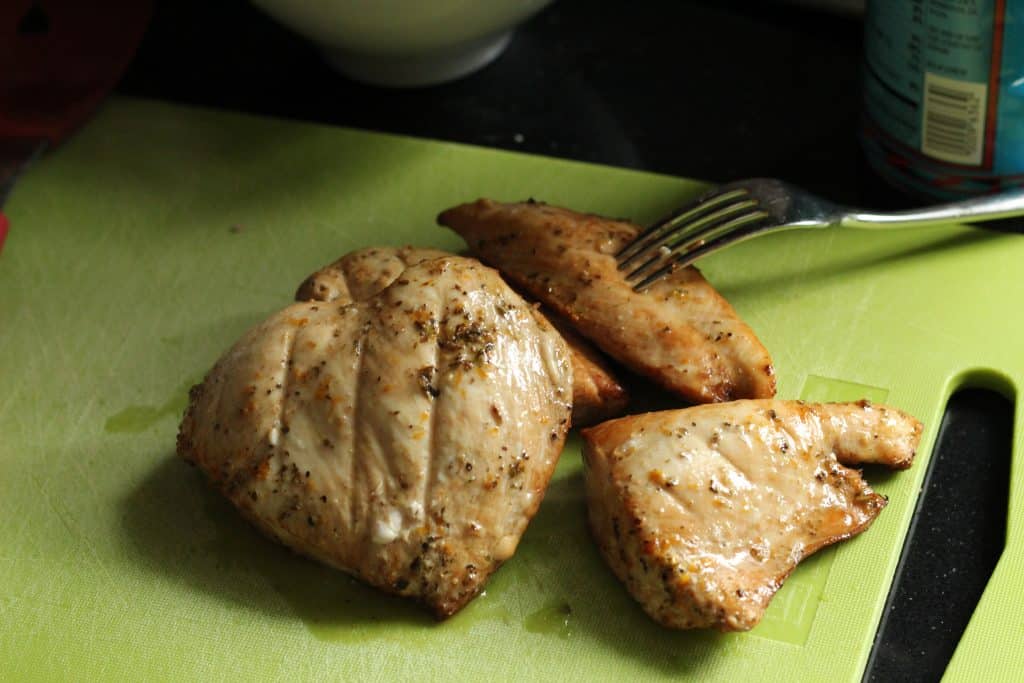 I bake the sweet potatoes at the same temperature at the very lowest rack of the oven, closest to the heat source. They take about 15-20 minutes longer than the chicken, but you can toss them around a bit when you put the chicken in. My kids will eat sweet potatoes prepared this way like they're going out of style. I mean, if my kids had any style (is mud-covered a style?).
The last thing to prepare is the sauce for the top. Don't skip it, and use fresh herbs wherever possible, it will be so worth it. I used dried oregano this time around, but I'd never substitute dried parsley or cilantro for the fresh. I don't know if it would follow the "rules", but if I could ask for sauces as my desert island food I would and sauces like this one would be at the top of the list. Fresh and garlicky and a little bittersweet with the orange zest, it's just perfect. It might make sand taste good.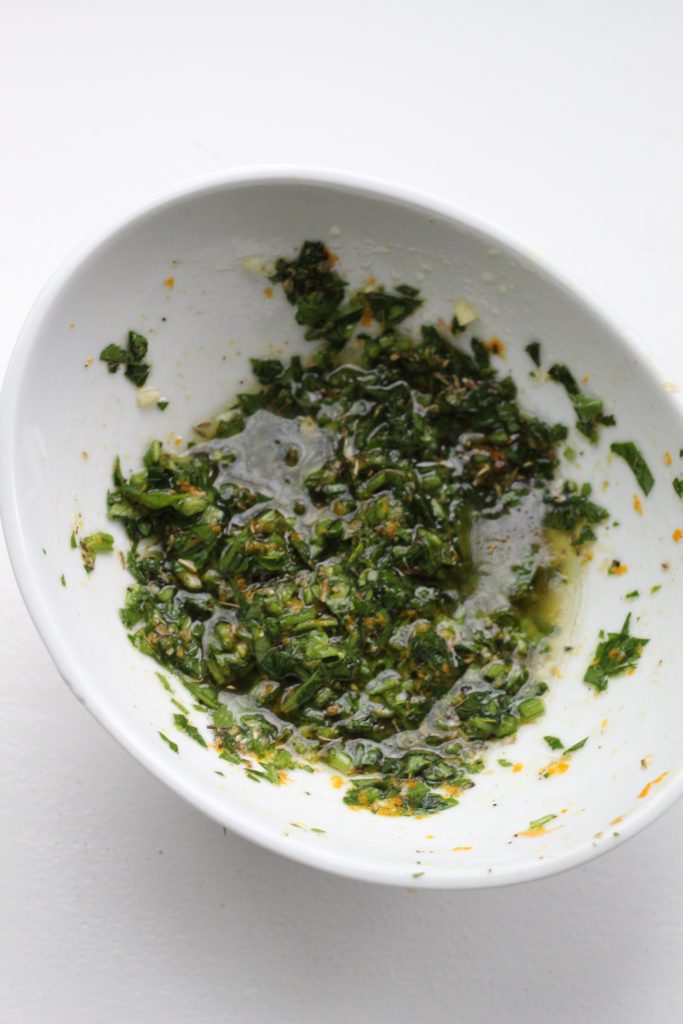 If you're lucky enough to have grilling weather today, get the chicken in the marinade and enjoy another layer of flavor in these bowls tonight! A quick note on the servings for this recipe: these quantities fed two hungry adults and two barely hungry kids, so I'd say that 2-3 servings is safe as an estimate for adults. You may be able to feed an infinite number of mildly interested children with the same quantity.
Recipe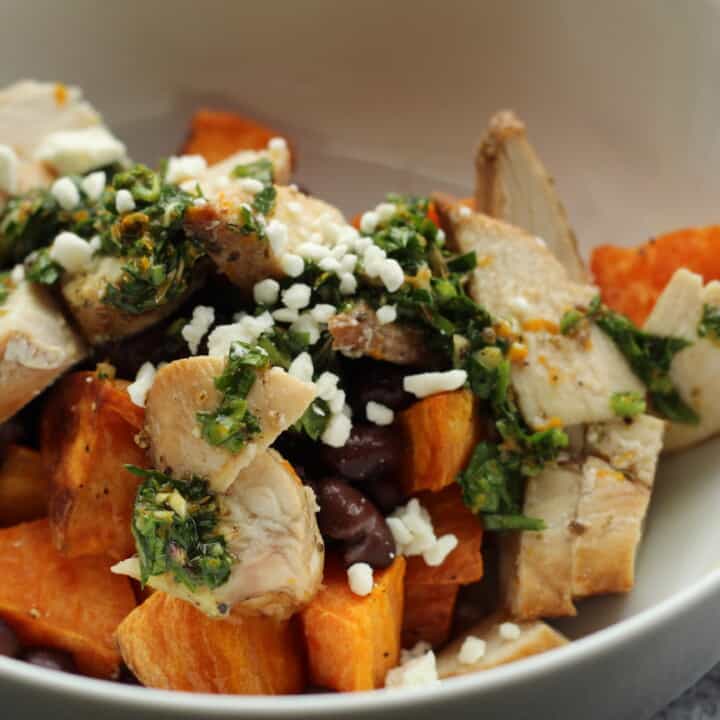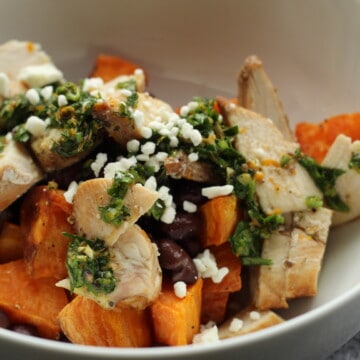 Sweet Potato and Black Bean Bowls with Chicken and Citrus Herb Sauce
This bowl of belly-filling sweet potatoes and black beans gets a hit with flavorful marinated chicken and a punchy herbed sauce.
Ingredients
Chicken Marinade
2

tablespoon

olive oil

2

tablespoon

low-sodium soy sauce

2

tablespoon

Worcestershire sauce

½

a large orange, zested and juiced

1

teaspoon

dried oregano

pepper, to taste
Citrus Herb Sauce
½

a large orange, zested and juiced

½

teaspoon

dried oregano

¼

cup

olive oil

1

clove

garlic, minced

½

cup

chopped parsley, cilantro, or a combination of both

salt and pepper, to taste
Bowl Components
2

large

chicken breasts, cut into 2 pieces each

3

large

sweet potatoes, peeled and cut into 2" pieces

¼

cup

olive oil

salt and pepper, to taste

1

15 oz. can

black beans, rinsed and drained

¼

cup

crumbled feta cheese
Instructions
Prepare the marinade by whisking together all ingredients in a bowl large enough to hold your chicken pieces. Add the chicken, turn to coat, then cover and marinade in the refrigerator for a few hours (up to 8 hours).

Prepare the citrus herb sauce by combining all ingredients in a small bowl. Cover and store in the refrigerator until about 1 hour before serving.

Preheat the oven to 400°F. Line a baking tray with parchment paper. Toss the sweet potatoes with ¼ cup olive oil on the tray and season with salt and pepper. Bake for 35 minutes on the bottom rack. Toss the sweet potatoes and keep them in the oven until chicken is done.

Line a baking tray with foil and place a cooling rack on top of the foil. Place the chicken pieces on the rack and bake for 10 minutes. Change the oven to broil. Flip the chicken over and broil for an additional 5 minutes, or until cooked through and charred slightly.

Allow the chicken to rest for 5 minutes, then slice. Assemble the bowls by adding sweet potatoes, chicken, and black beans to the bowls and then topping with the citrus herb sauce and cheese.
Nutrition facts are sometimes provided below and are calculated using an online calculator. With specific brands of ingredients and additions, omissions, or substitutions the nutrition facts may change. We encourage you to use your own nutrition facts caculator to obtain the most accurate nutrition facts for your meal.