Oh! Hey there, you lovely dish of cozy, stacked Sweet Potato and Black Bean Enchiladas! I love your crispy edges, your hearty filling, and your no-fuss prep. You are popular with kids and adults alike, gluten-free, and vegetarian. Am I talking to enchiladas? Yes, yes I am. I talk to all of my favorite things like this. I think my cats are a little better at responding, though. Once you try this recipe, I think you'll add these enchiladas to your favorite things list, too. They are perfect family dinner fare and easy to make ahead for busy weeknights. A stacked enchilada casserole is so much easier than individually rolled enchiladas, so these take only about 20 minutes to be oven-ready.
Serve these enchiladas up with a glass of Cucumber Jalapeno Lemonade for a sweet treat! Or try this frozen burrito casserole next time.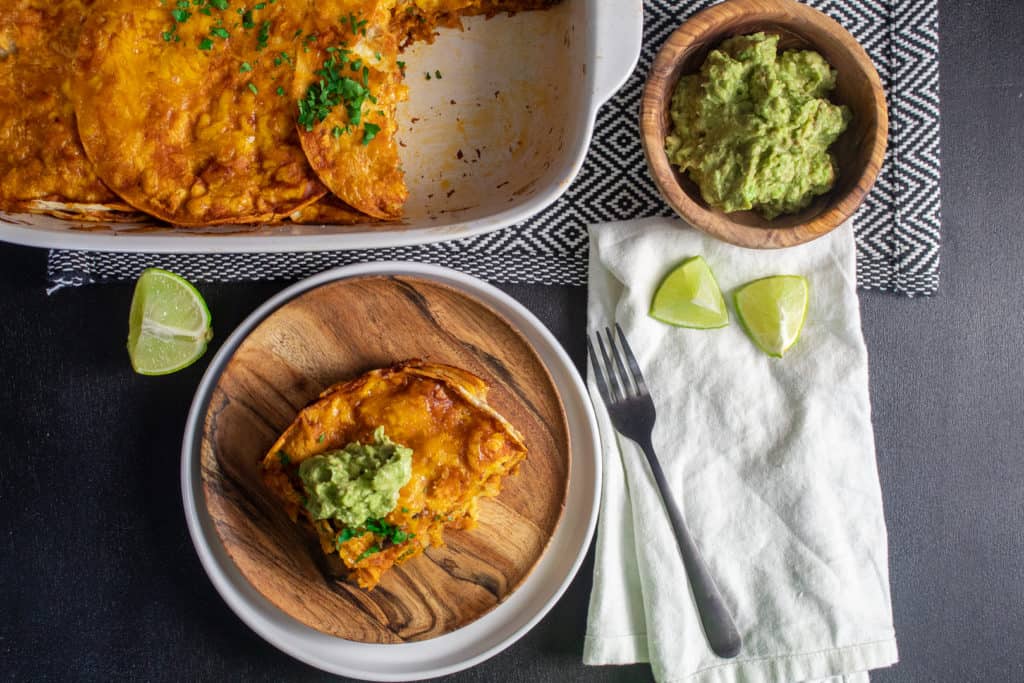 Ingredients for Sweet Potato and Black Bean Enchiladas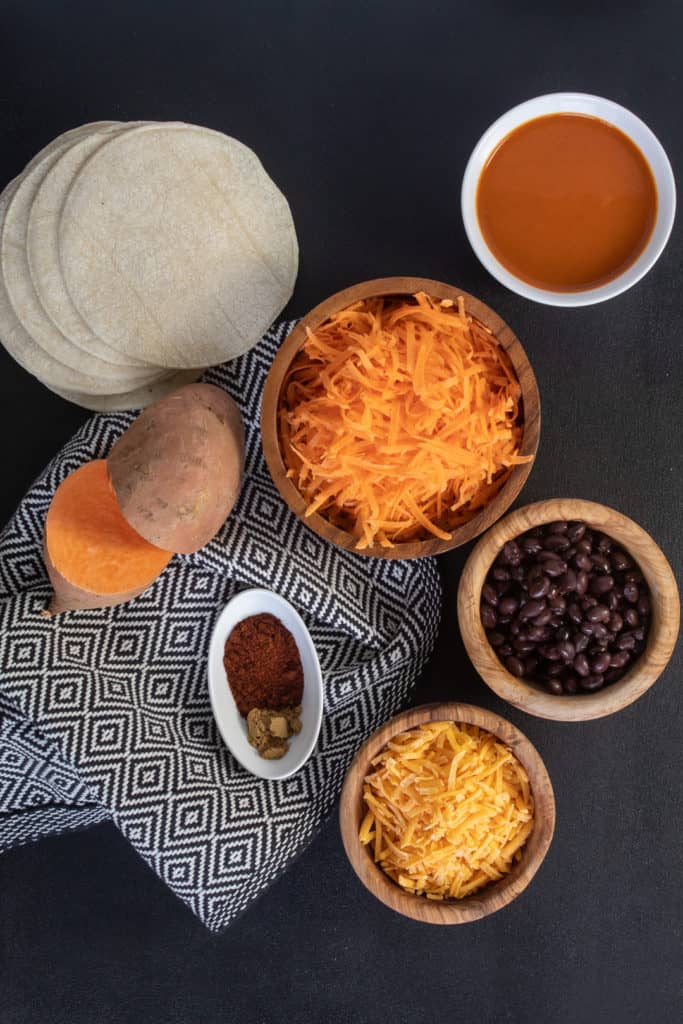 Sweet Potato: A medium potato is plenty for this recipe. You can peel it and shred it on the side of a box grater or with a food processor.
Black Beans: Here we are again with this family staple! Be sure to drain and rinse the beans before adding to the recipe.
Corn Tortillas: Use taco-sized tortillas, about 6" in diameter. They bake up soft and make the layers in these stacked enchiladas.
Enchilada Sauce: Choose a brand and spice level that suits your family's tastes. I find they have quite a range of spice, even with "mild" labels. My kids aren't very tolerant of spice, so once I identify a good one I tend to be brand loyal.
Shredded Cheese: I like sharp cheddar in these, but a Mexican blend, Monterey Jack, or Colby Jack will all be good substitutes.
Ground Cumin, Chili Powder, and Kosher Salt: These spices add a little extra flavor to the beans and sweet potato. See my Vegan Chili Mac recipe post for details on chili powder.
Guacamole, Sour Cream, Limes, and Cilantro: The garnish is half of the fun at our dinner table, so add anything you think will be good on top of your enchiladas. My kids are partial to a big scoop of guacamole.
Preparation
Prepare all of your fillings first and the rest of the assembly takes only minutes. I found in developing this recipe that the sweet potato, even when shredded, took so long to cook in the casserole that it needed a head start. I think the easiest way to get it cooked a bit but not turn it into a mush is to steam the shreds in the microwave for a few minutes with a tablespoon of water. Once it's steamed, you can toss the spices, salt, and beans in with the sweet potato to flavor everything at once.
Grease your 3-quart baking dish with cooking spray and start with a thin layer of enchilada sauce. Use 5 tortillas to line the bottom of the dish, tearing them as needed for good coverage. Then, add about a third of the bean mixture over the tortillas and a quarter of the cheese on top of the beans. Spoon about one quarter of the enchilada sauce over everything and you've completed one layer. Check it out, below.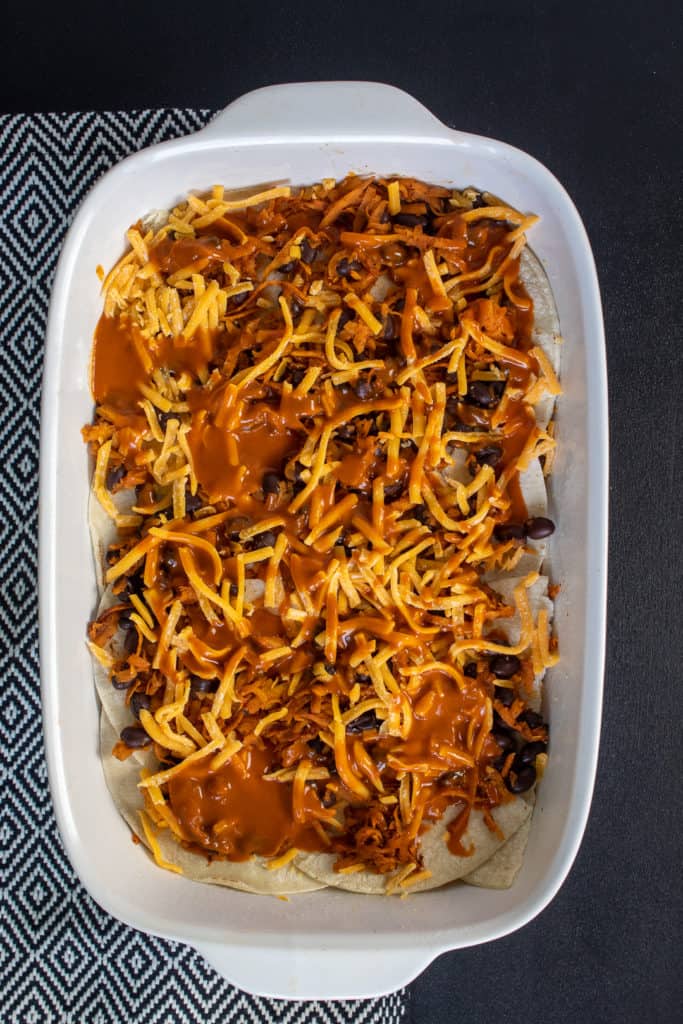 Repeat this layering 2 more times. At the end, cover with the last 5 tortillas, the remaining sauce, and the remaining cheese. Cover the casserole with a sheet of foil and bake it for 30 minutes. Pro tip: if you spray the foil before laying it over the enchiladas the cheese won't stick to the foil! Once the enchiladas have cooked for 30 minutes, remove the foil and cook 15 minutes more, until the cheese is golden and Sweet Potato and Black Bean Enchiladas are bubbly. Remove them from the oven and give them about 5 minutes to cool before slicing.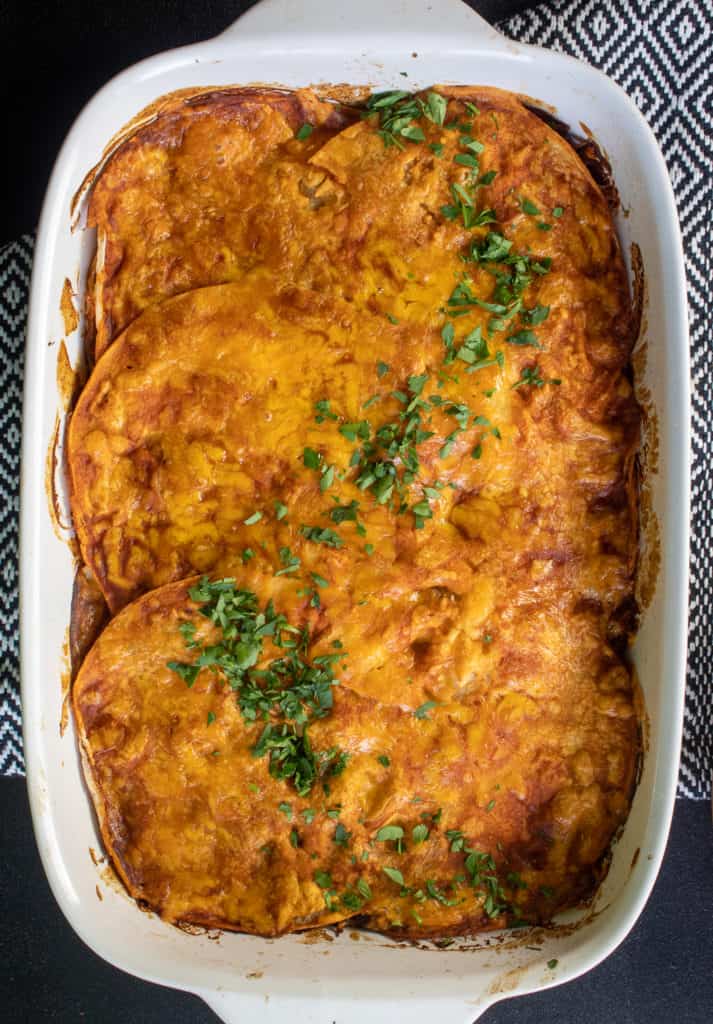 Serving Sweet Potato and Black Bean Enchiladas
We like to garnish the Sweet Potato and Black Bean Enchiladas with cilantro, sour cream, guacamole, or chopped cilantro. Everyone likes a different combination of toppings, so I tend to leave a variety of options out on the table for a little customization. The enchiladas are great for a make-ahead option. I have made them the night before and kept the dish covered in the refrigerator for baking the next day. I always leave the dish out on the counter to warm to room temp while the oven is heating so that the oven temperature doesn't shock the baking dish and cause breakage.
Leftovers can be stored for a couple of days and I find that the microwave is the best way to reheat them. These are actually really good for breakfast the next day if you cut them into small pieces and reheat them in a pan before scrambling a couple of eggs into the mix. It's sort of a cheater chilaquiles situation, and it's terrific.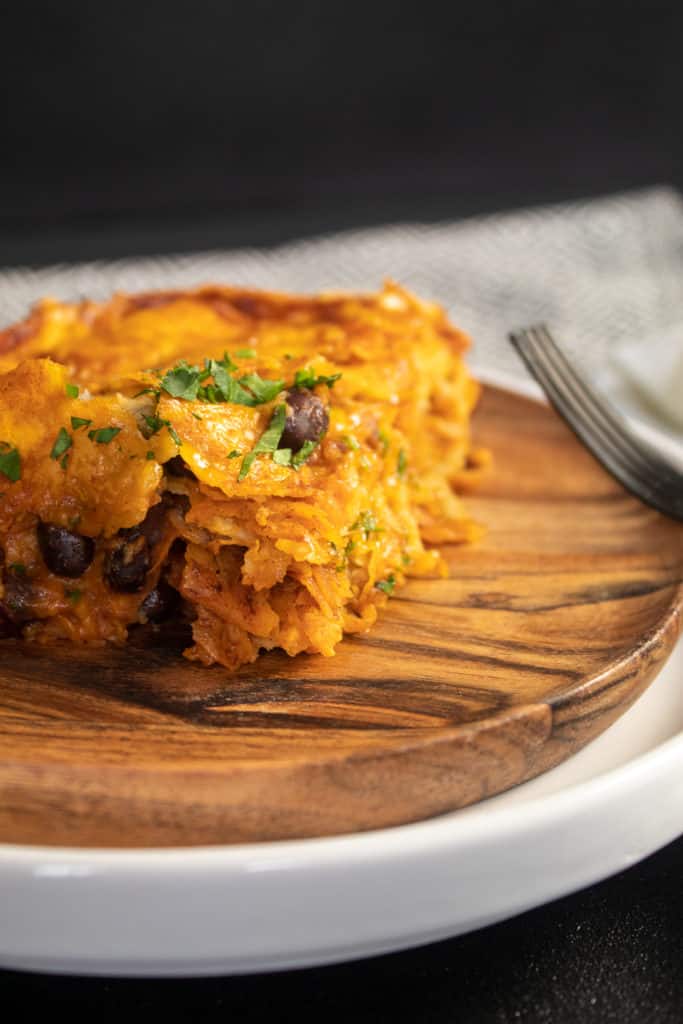 Try It and Share
I hope you try these Sweet Potato and Black Bean Enchiladas and share the recipe with family or friends. I want to see your results! Tag your photo with #planeatpostrepeat and mention me @planeatpostrepeat on Instagram or Facebook. I can give you a virtual high five and thank you for cooking one of my recipes! Comment below with any questions and please leave a review so others can find this recipe more easily.
I love the combination of sweet potato and beans in a hearty meal. If you're a fan too, try Sweet Potato and Black Bean Bowls with Chicken and Citrus Herb Sauce or Baked Sweet Potato and Soyrizo Tacos.
Recipe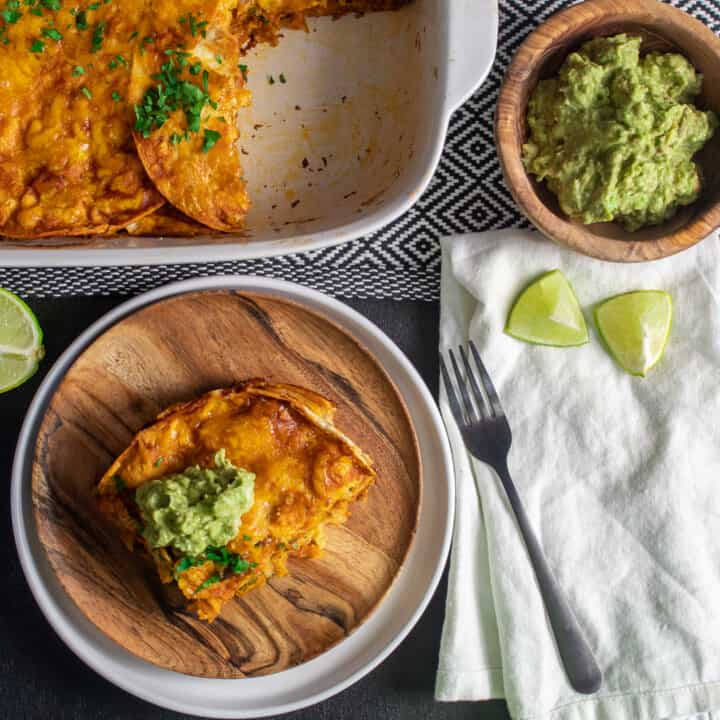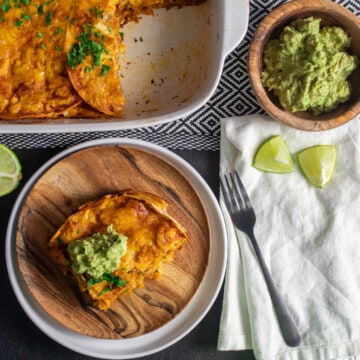 Sweet Potato and Black Bean Enchiladas
These hearty Sweet Potato and Black Bean Stacked Enchiladas are layered to save on prep time and packed with comfort food flavors.
Equipment
3-qt. baking dish or 9x13" casserole dish
Ingredients
1

medium

sweet potato, peeled and shredded

(~12 oz. of shredded potato)

1

15-oz. can

black beans, drained and rinsed

20

corn tortillas

20

oz.

red enchilada sauce

8

oz.

shredded sharp cheddar

1

teaspoon

ground cumin

1

tbsp.

chili powder

½

teaspoon

kosher salt

cilantro, lime wedges, sour cream, or guacamole for garnish

(optional)
Instructions
Preheat the oven to 375°F and grease a 3-qt. baking dish (or a 9x13x2" pan).

Steam the shredded sweet potato in a covered microwaveable bowl for 3 minutes.

Carefully remove the cover from the sweet potato and stir in the black beans, cumin, chili powder, and salt.

Add a small amount of sauce to the bottom of the baking dish and rotate the dish to cover the bottom with sauce.

Create a layer of 5 tortillas over the sauce, tearing the tortillas to get full coverage. Add ⅓ of the bean mixture, ¼ of the cheese, and ¼ of the remaining sauce over the tortillas.

Repeat the layer in step 5 two more times for a total of three layers.

Cover the enchiladas with the last 5 tortillas. Add the remaining sauce to the top and sprinkle with the remaining cheese.

Cover the dish with foil and bake for 30 minutes. Remove the foil and bake an additional 15 minutes, until golden and bubbly.

Cool the enchiladas for 5 minutes before slicing and serving. Garnish as desired with guacamole, sour cream, lime, and cilantro.
Nutrition facts are sometimes provided below and are calculated using an online calculator. With specific brands of ingredients and additions, omissions, or substitutions the nutrition facts may change. We encourage you to use your own nutrition facts caculator to obtain the most accurate nutrition facts for your meal.