Sample weekly meal plans are here to show you the way when it comes to planning dinners for your family that will accommodate all of those after-school activities. This collection of busy weeknight meal plan recipes uses the meal planning by category framework outlined in my Family Meal Planning Strategies post.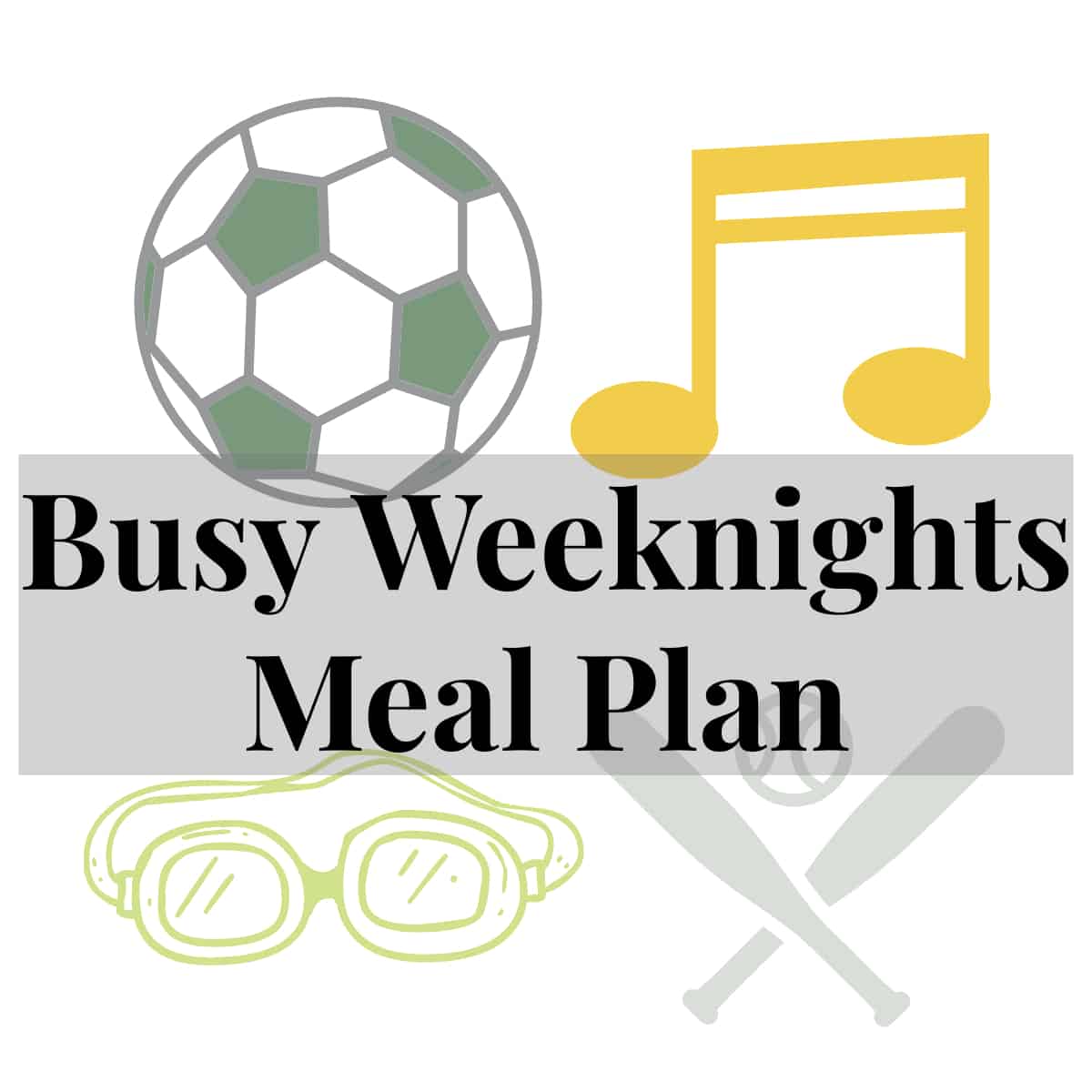 Busy weeknights are part of the territory for parents of active kiddos. If you're lucky enough to divide and conquer, you can have parts of the family heading in all directions each day! It's common that no one is eating at the same time any more.
Finding meals that can be halfway prepared the night before or can cook while you are away is key. As long as someone is around to push "start" dinner can be in progress!
Pressure Cooker and Slow Cooker Meals
There is a special joy in knowing that dinner is slowly bubbling away while you are at work. The slow cooker is a trusted tool that can make this a possibility for you. These Red Beans only need some cooked rice and dinner is ready! This will stay warm until the last family member walks in the door.
Chile Colorado yields a huge quantity of really flavorful pork that can be tucked into tortillas for burritos or tacos. Have some simple toppings like shredded cheese, black beans, lettuce, and salsa on hand too, and you'll have a delicious meal within minutes of walking in the door.
Pressure cookers are terrific for producing meals that taste like they've been simmering for hours but cook in a fraction of the time! This Chicken Gnocchi Soup can sit on warm and be ready the minute someone walks in the door.
This Curried Beef Tacos recipe gives you succulent, flavorful meat that can be folded into tortillas or sit atop a bowl of rice. The beef can hang out on the "warm" sitting until everyone gets home and has a chance to eat.
Sheet Pan Dinners
With these sheet pan dinners, the ingredients can be prepared the night before. Simply marinate the meat and double wrap it in foil. Season and wrap the vegetables separately and cook up any grains you want to serve with the meal.
When it's time to cook dinner, unwrap the packets and place them on a sheet pan to cook as directed. As long as one responsible party is home, these dinners can get started without you!
Try it and share!
I'd love to hear what dinners from this busy weeknight meal plan help reduce the chaos of your weeknight schedules. Leave your favorite sheet pan recipe in the comments, or tag me on Instagram or Facebook @planeatpostrepeat the next time you make a slow cooker dinner!