Instant Pot shredded beef makes a terrific taco filling and this recipe is packed with coconut milk and curry spices to pump up the flavor.  A mango cucumber salad brightens everything up and balances the rich beef filling in these dynamite tacos. Try this recipe ASAP!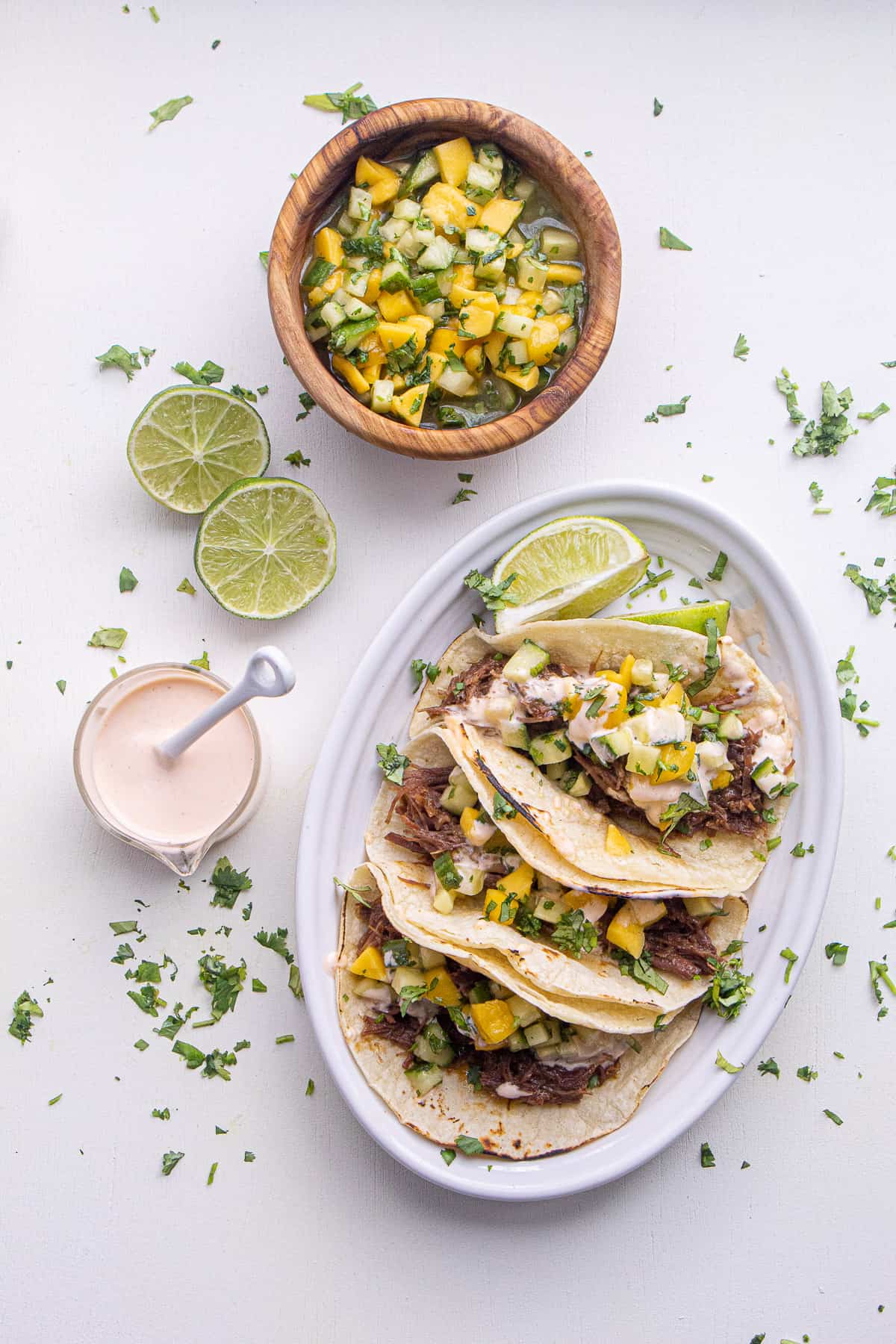 This versatile Instant Pot shredded beef is great for tacos, but you can also use it in rice bowls, as a topping for ramen, or tucked into flatbread for a sandwich.  It is packed with flavor from red curry paste, ginger, garlic, makrut lime leaves, and fish sauce for a Southeast Asian-inspired treat.
Enjoy these tacos with a refreshing glass of Cucumber Jalapeño Lemonade or Strawberry Jalapeño Margaritas!
Jump to:
Ingredients for the Shredded Beef
There are a lot of ingredients that help build the deep flavor in this recipe, but don't be intimidated by this long list!  Many of the ingredients can be found at your regular supermarket.
I include ingredient notes here when I think they'll be helpful, including ways to source, any preparation tips, or why I've chosen a particular ingredient. Be sure to check out the recipe card below for the full list of ingredients and their quantities!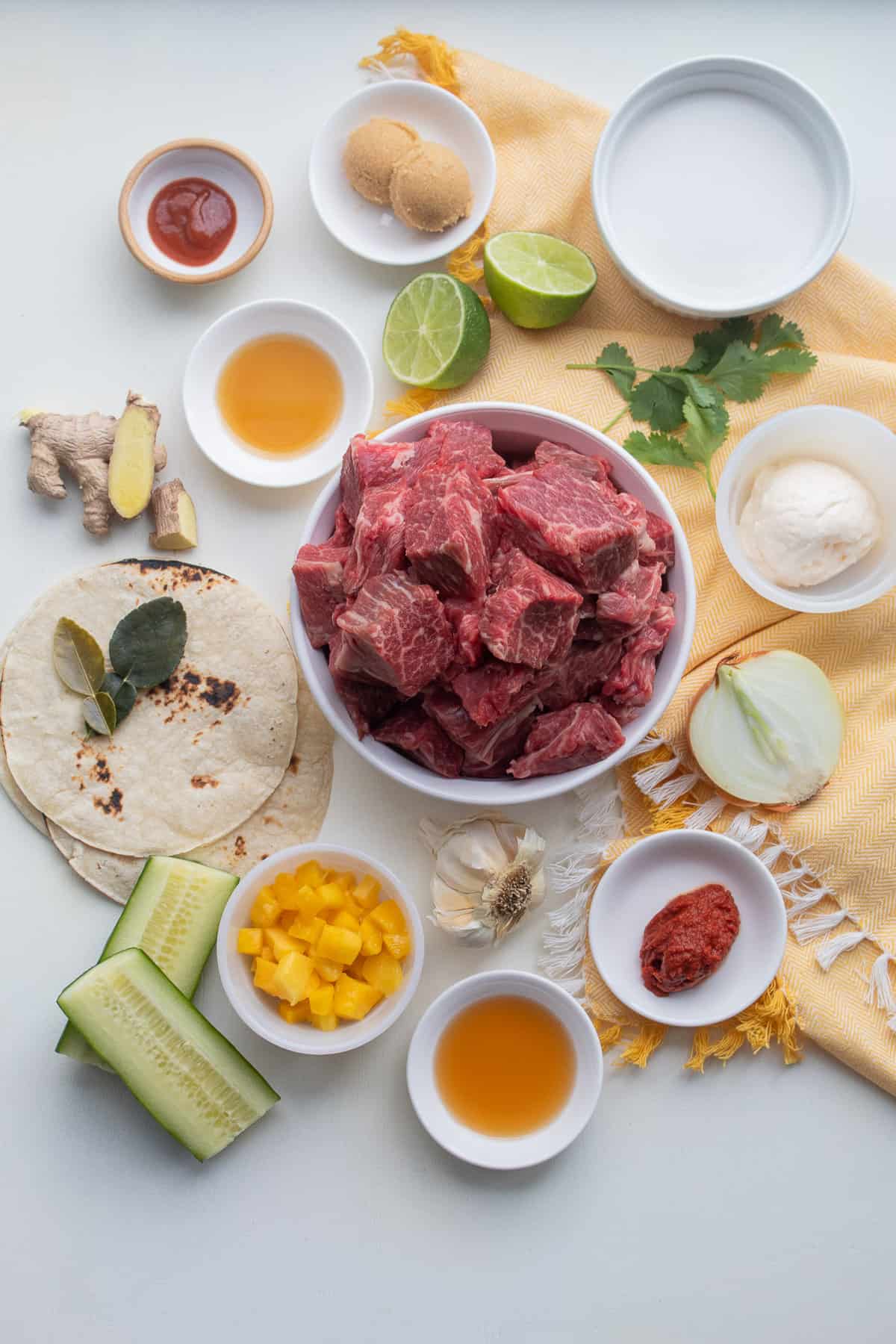 Chuck Roast - Chuck roast is perfect for the pressure cooker.  It is fairly lean, but still has enough fat to make for tender shredded beef.  You can use stew beef in place of chuck roast.
Aromatics - Onion, garlic, and ginger all help to build a base of flavor.  Feel free to use jarred, frozen, or fresh minced garlic or ginger.
Red Curry Paste - Every variety of red curry paste will have a slightly different balance of flavors and spice, so once you find a favorite stick with it.  We love the Thai Kitchen brand, it is mild but still has a deep flavor.
Coconut Milk - This is readily available at regular supermarkets these days.  Use a full-fat or light coconut milk interchangeably.
Fish Sauce - Don't sleep on this ingredient.  Fish sauce is packed with umami and complex salinity.  Buy a bottle and you can use it in this recipe as well as the Pad Kaprow, Tom Kha, and Thai Basil Beef recipes. Soy sauce will work in place of fish sauce in a pinch.
Makrut Lime Leaves - Our local Asian market keeps them in the freezer, and they are also referred to as kaffir lime leaves. Check out this article on how that nomenclature is changing.
Limes - Fresh lime perks up the flavor of the shredded beef, salad, and the final tacos; don't swap bottled lime juice for fresh.  Along with the lime, brown sugar and kosher salt balance the flavor of this dish.
Ingredients for the Mango Cucumber Salad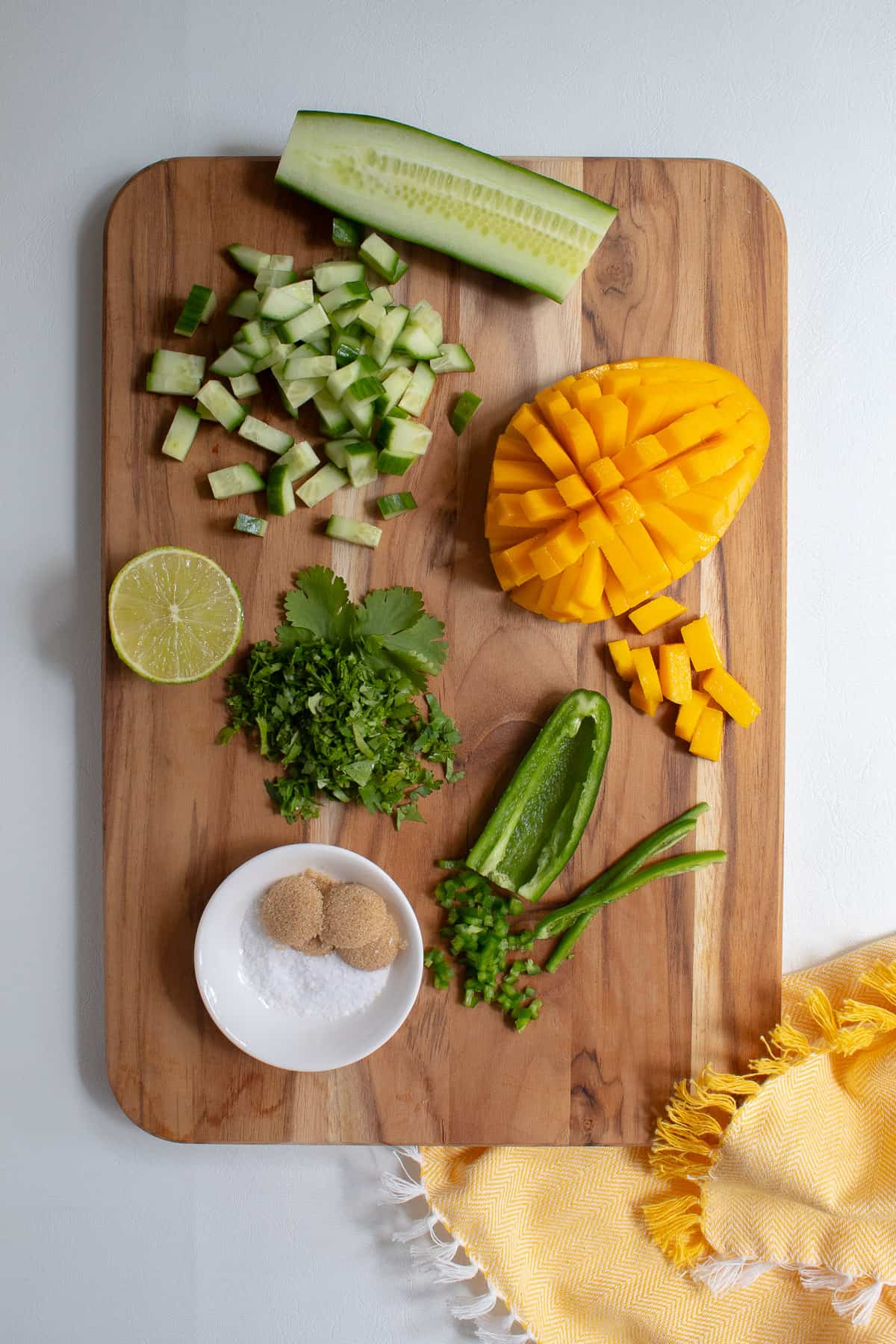 Cucumber - Cool cucumber adds crunch to the tacos and makes a nice pairing with the mango.  Use an English or hothouse cucumber for fewer seeds and a thinner skin.  If you have a standard garden cucumber on hand, slice it down the middle and remove the seeds with a spoon. 
Mango - Choose a soft and juicy ripe mango for the sweetest flavor.  Cut the mango from the pit and dice it into small cubes.  Use frozen mango chunks if fresh mangoes aren't available.
Cilantro - Cilantro is used both in the salad as well as a garnish for the tacos, so chop up a good handful.
Jalapeño - Fresh jalapeño is a delicious addition to the salad and once the seeds and white membranes are removed it's generally not too spicy to share with the kids.  Every once in a while there's a really spicy one, though, so proceed with caution and add half before testing the spice level in the finished salad.
Ingredients for Taco Assembly
Just a few more ingredients are needed to make a delicious sriracha mayo for drizzling over the tacos. Take some notes on the tortillas and you are ready to cook!
Mayonnaise - Just a bit of mayonnaise is used for the base of the sriracha mayo.  
Sesame Oil - Sesame oil adds a subtle nutty flavor to the mayo.  You can find this in the supermarket in the world cuisine aisle.
Sriracha - Sriracha is available at our supermarket these days, but I find a better price for it at the Asian market.  If sriracha is in low supply, use your favorite Asian hot sauce or chili-garlic sauce.
Corn Tortillas - These tacos are great with a charred corn tortilla, but swap them for flour tortillas or tortillas made with a mix of both flour and corn.
Preparation of the Shredded Beef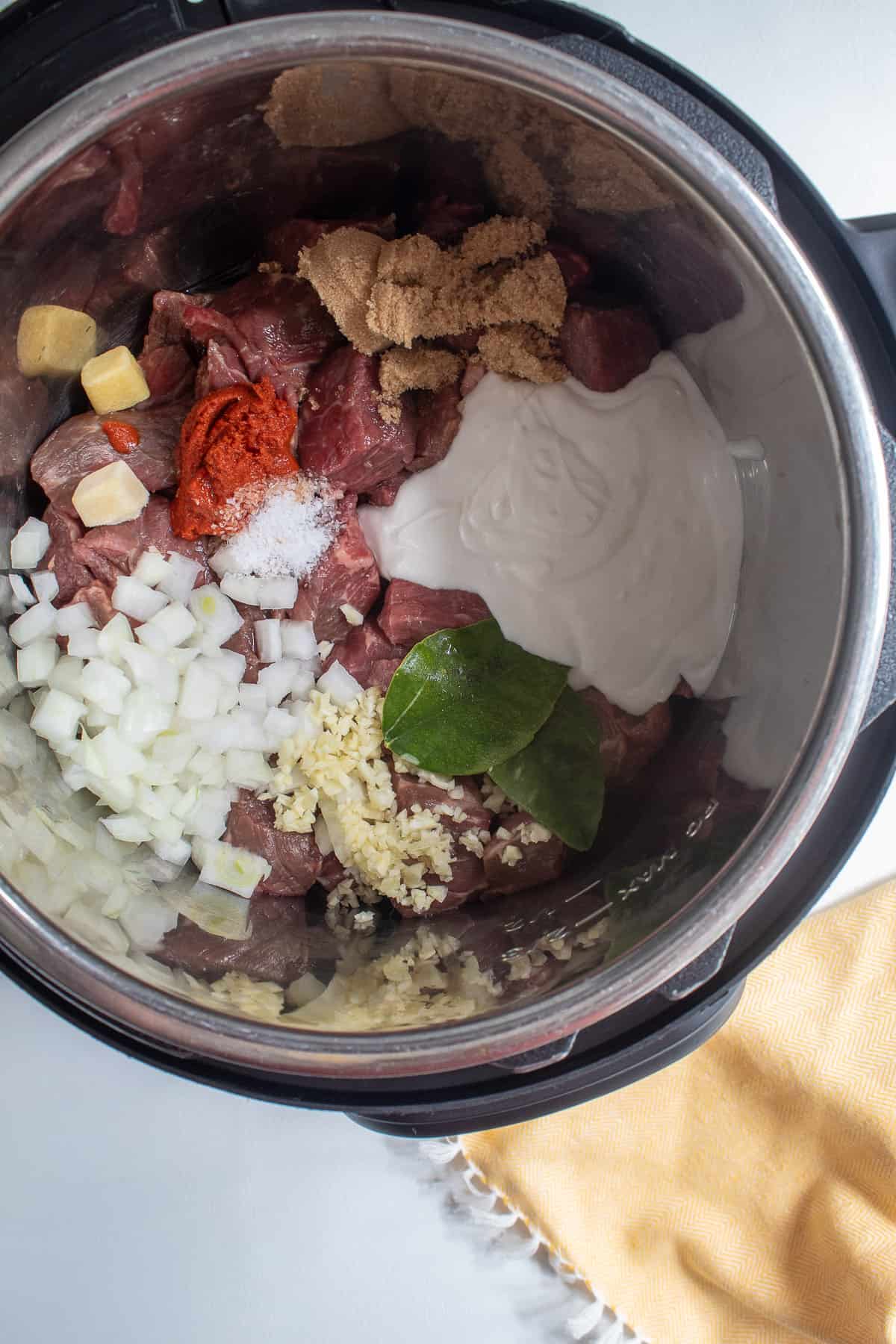 Combine the ingredients for the shredded beef in the insert of the instant pot.  Stir the mixture well to coat the beef with all of the ingredients.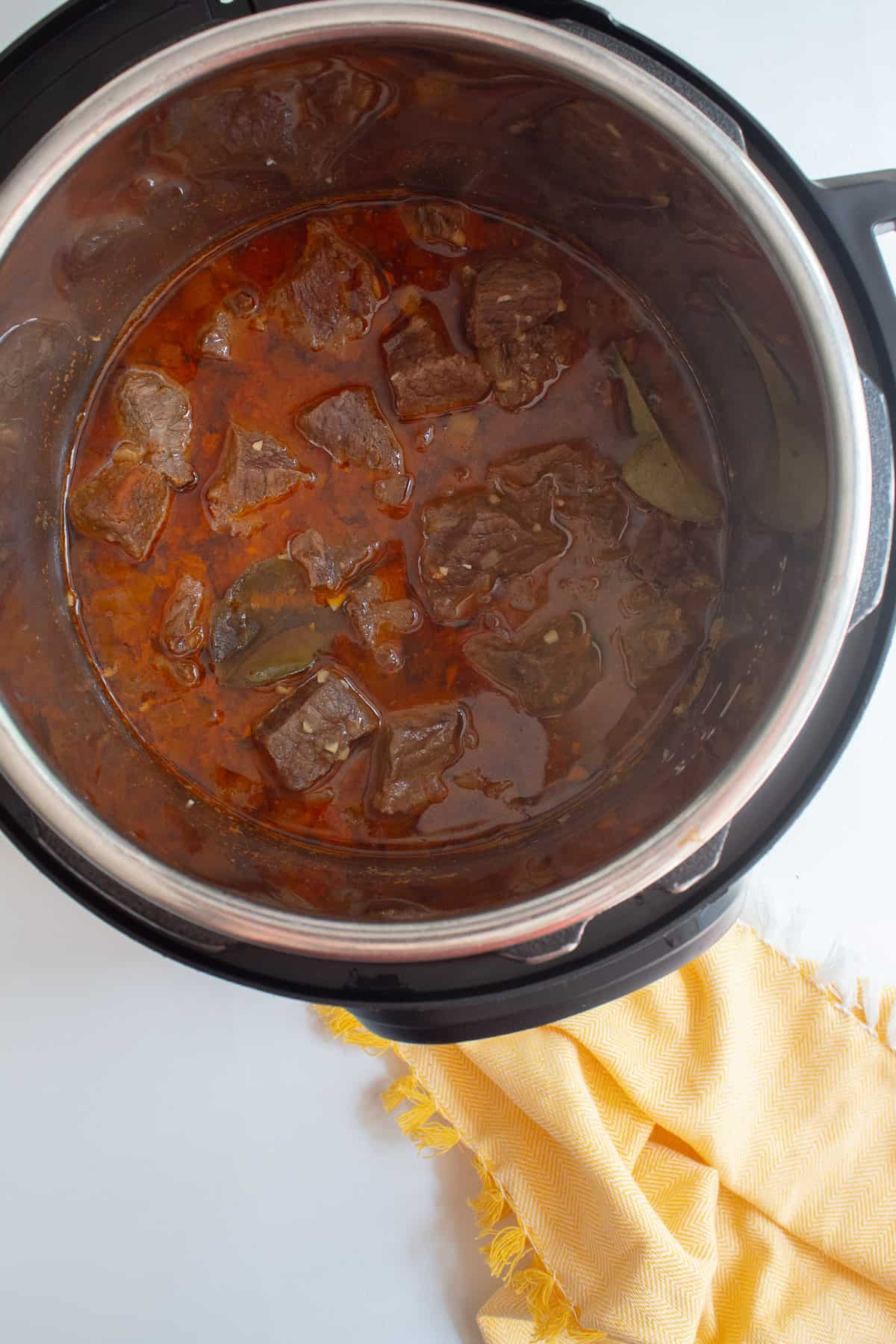 Cook for 45 minutes using manual high pressure and allow for a natural release.  The pot takes quite a while to come up to pressure and naturally release, almost 2 hours in all.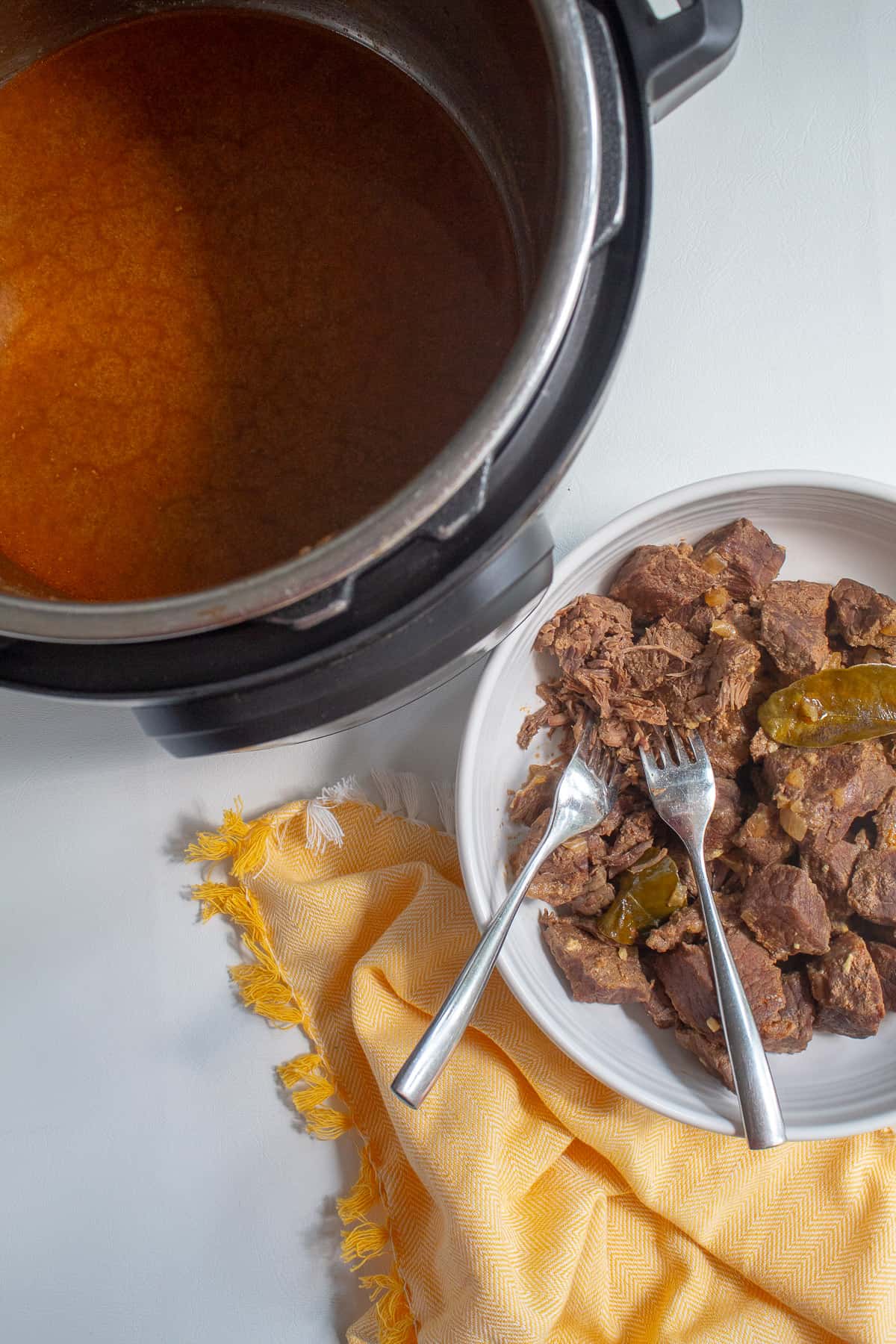 Separate the beef from the juices using a slotted spoon and set it aside.  Separate the fat from the juices (use a fat separator or skim it off with a wide spoon) and allow the juices to reduce using the simmer mode for 10 minutes, until there is about 1 cup of sauce remaining.
Shred the beef using two forks until it is in uniform pieces.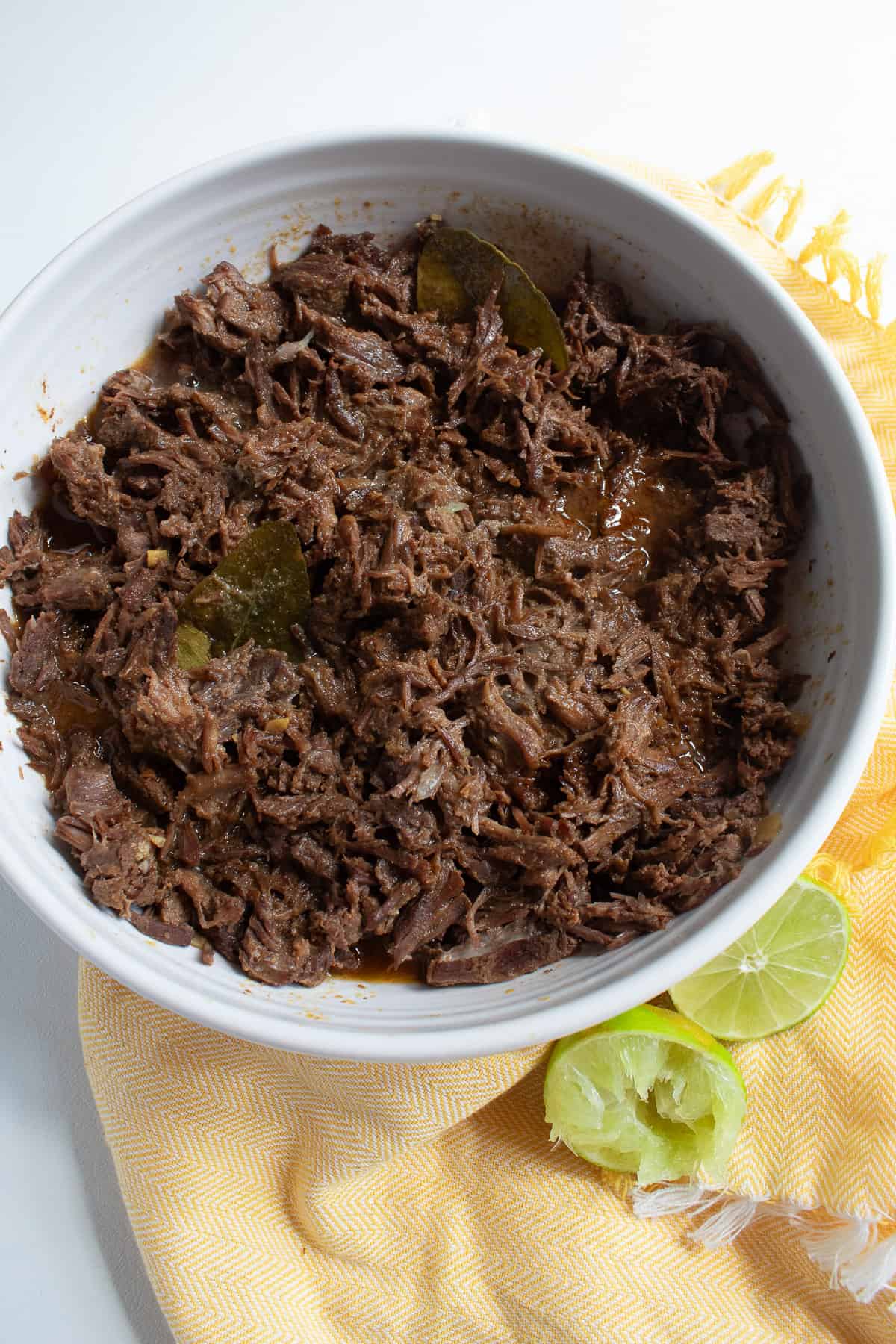 Add the reduced sauce back to the shredded beef. Squeeze over the juice of one lime before stirring the beef to mix in the sauce and lime juice.  Taste for seasoning and add salt or lime juice as needed to balance the flavors.
Hint: Wait until the shredded beef is mixed with the reduced sauce to taste and adjust the salt or lime juice amounts.
Preparation of the Mango Cucumber Salad
Dice the cucumber and mango into small cubes so that each bite of the salad has all of the flavor components. Whisk together the salt, sugar, and lime juice in the bottom of a medium bowl until the brown sugar is dissolved.
Add the diced mango, cucumber, jalapeño, and cilantro to the lime juice mixture and toss all ingredients together until well mixed.
Preparation of Sriracha Mayo and Taco Assembly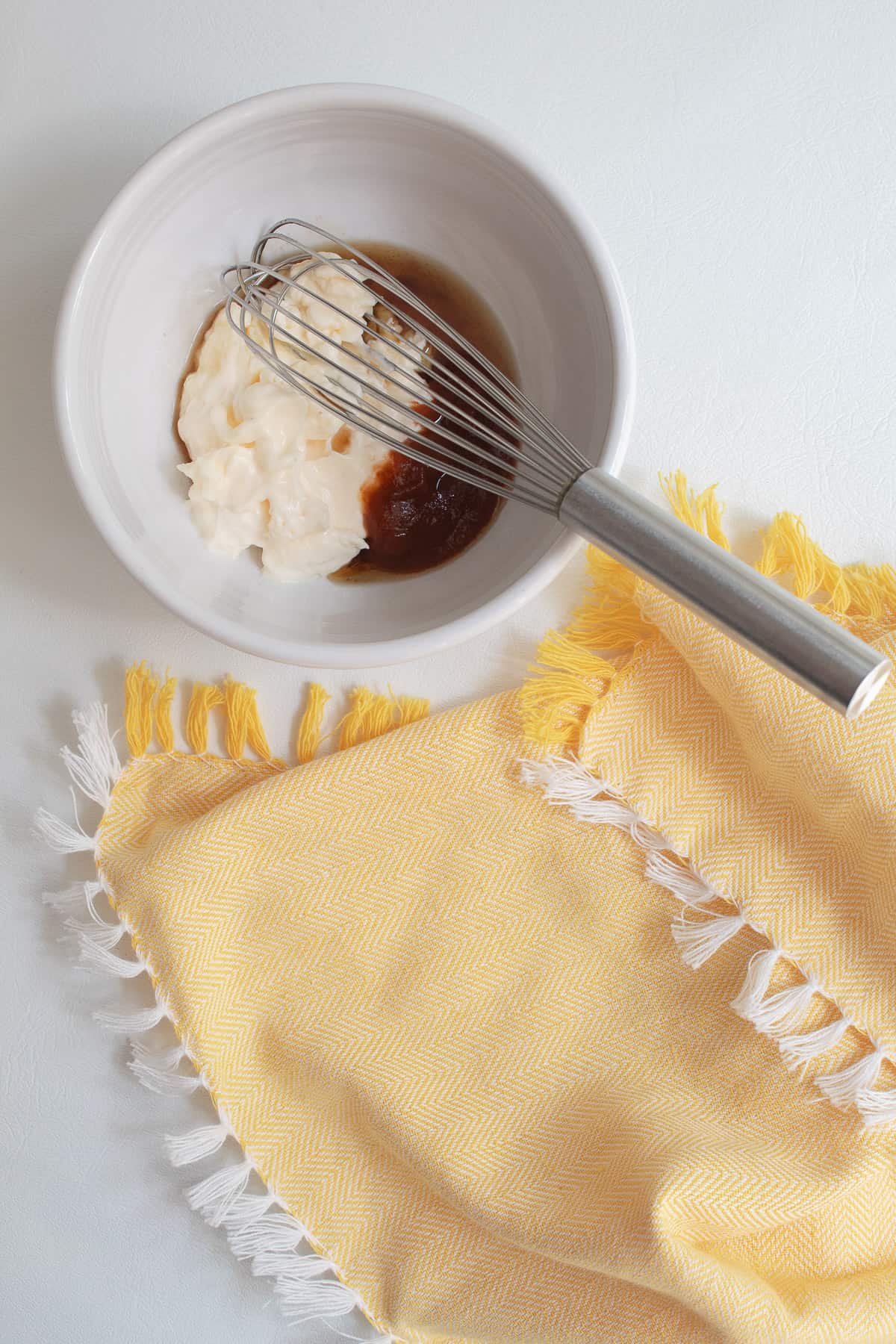 Add the mayonnaise, sesame oil, sriracha, and water to a small bowl.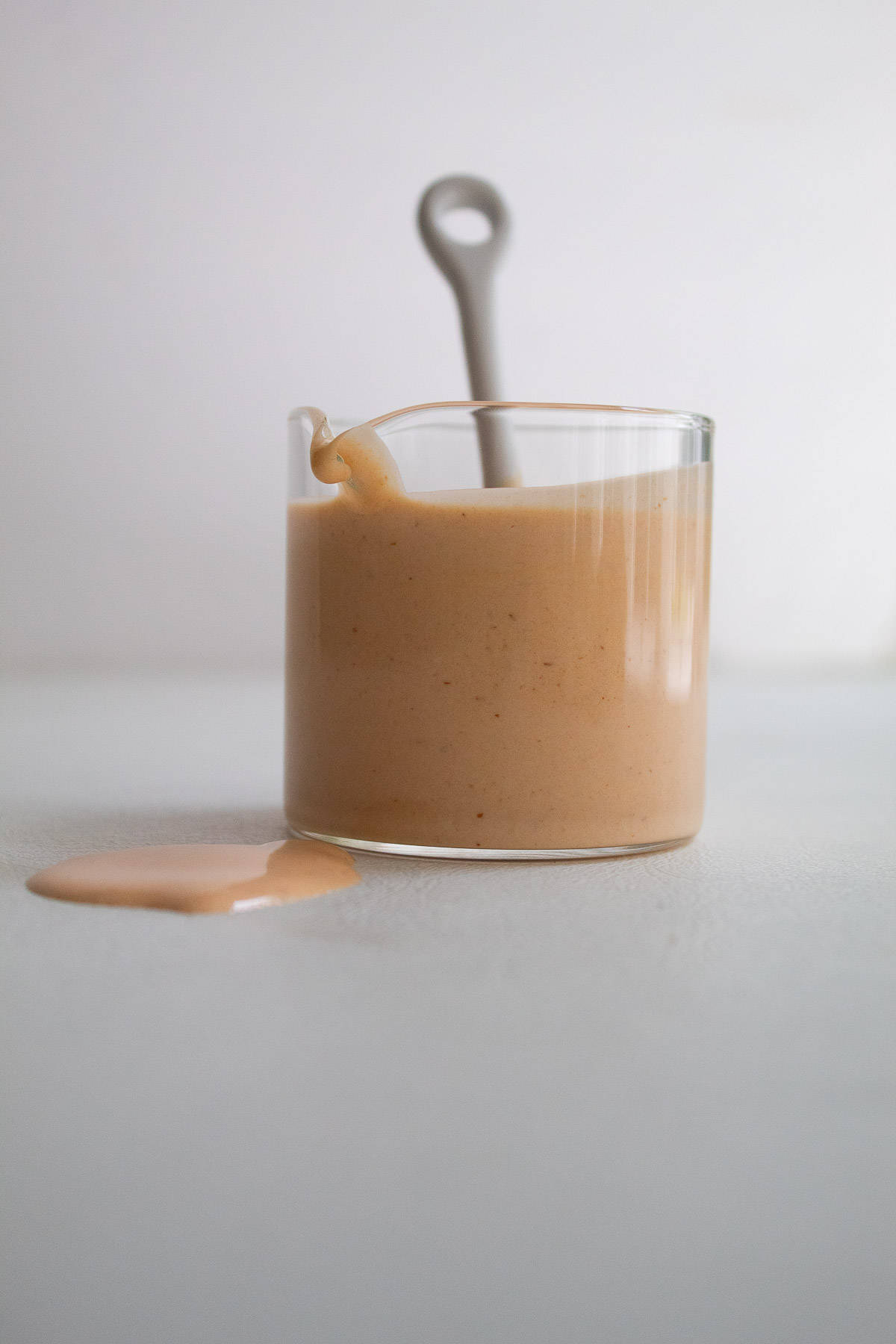 Whisk together the mayonnaise and transfer the sauce to a serving container.
Grill up the tortillas or warm them in the microwave.  Add a heaping spoonful of the shredded beef to each tortilla and then top that with a scoop of the mango cucumber salad.  Drizzle the tacos with the sriracha mayo and then garnish them with chopped cilantro and lime wedges before serving.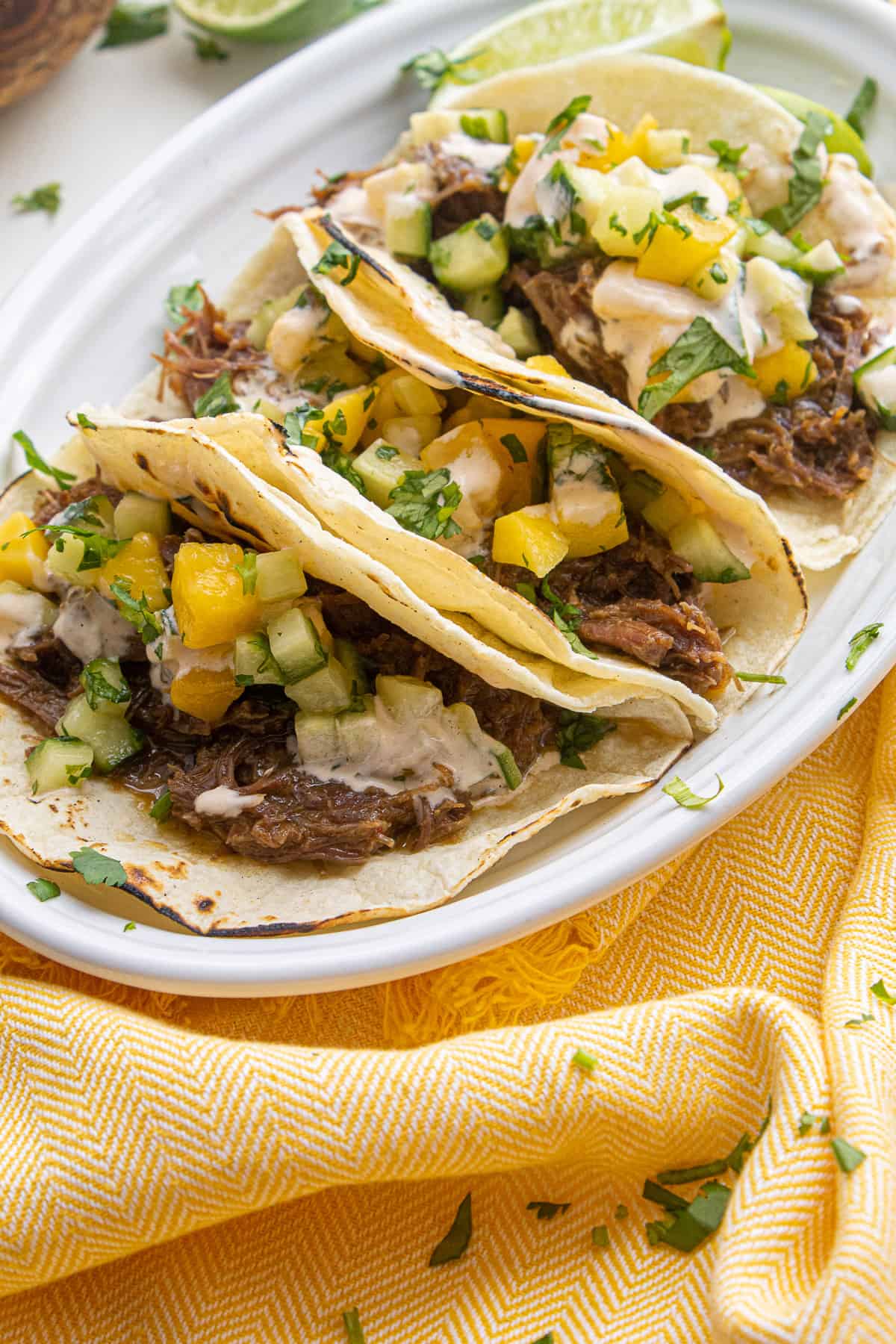 Variations
This shredded beef is terrific in tacos, but here are some other variations for serving the beef:
Shredded Beef Rice Bowls - Serve the beef over steamed jasmine rice along with the salad and stir-fried vegetables. Top the bowl with french fried onions, green onions, or fried shallots.
Prepare Beef Hand Pies - Place a scoop of the beef between two layers of puff pastry and crimp the edges before baking for rich and delicious hand pies.  Prepare a simple sauce of coconut milk and curry paste for dipping.
Add to Noodles or Ramen - A helping of this savory shredded beef would be delicious over a bowl of spicy garlic noodles, ramen, or peanut noodles.
Equipment
The Instant Pot is so convenient for this recipe because you can cook the beef and reduce the sauce in the same pot. I'd love to hear if you try this in a slow cooker, but I haven't yet tested this method.
Chuck roast works well in a slow cooker, so I have a lot of confidence that an 8-hour session on low would get the job done with great results. I would suggest reducing the sauce on the stove top for quicker preparation once the beef has cooked down in the slow cooker. Comment below if you try this!
Storage and Make-Ahead Options
The mango and cucumber salad will last one day in the refrigerator, so use it up quickly for leftovers.  To help speed up the prep at dinner time, chop and store the mango, jalapeño, cilantro, and cucumber separately to toss together right before serving.  
The sriracha mayo will last up to a week in the refrigerator if covered with plastic wrap or stored in an airtight container.
If you want to make this recipe ahead of time, prepare the beef and store it in the freezer for up to three months or in the refrigerator for up to three days.  The beef freezes and reheats beautifully. Simply thaw it overnight before warming it over the stovetop or in the microwave.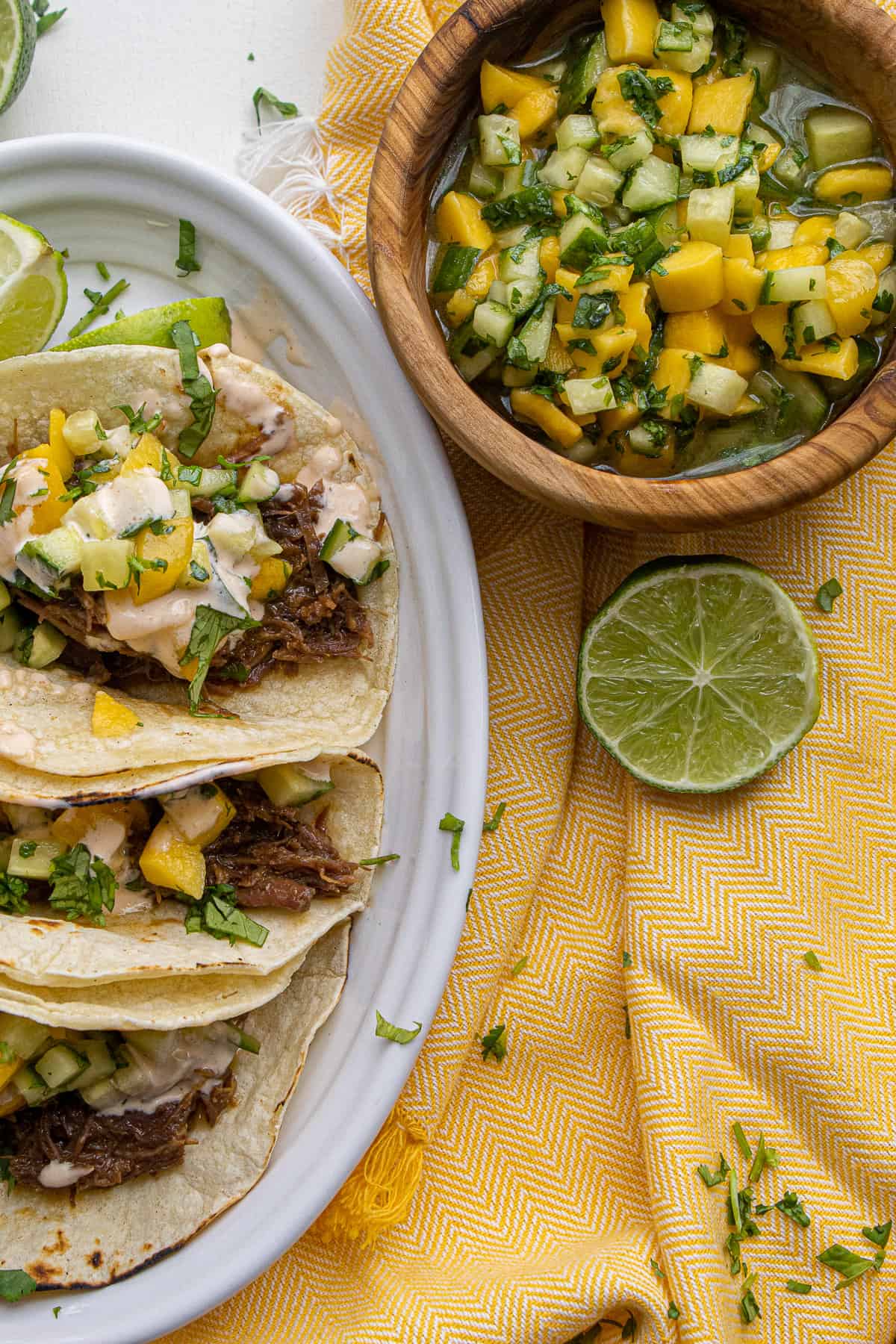 Make This Recipe Kid-Friendly
This recipe makes a mild shredded beef that many kids really enjoy.  Serve it with veggie sticks and a tortilla for rolling up their own DIY tacos or with a scoop of white rice.  You can also set aside some simple sliced mango and diced cucumber for pickier palates that won't enjoy the salad.
FAQ
What toppings are good for these shredded beef tacos?
Add avocado slices, jalapeño rings, finely chopped green onions, diced jicama, cilantro, or lime to top these tacos.

What are some good uses for Instant Pot shredded beef?
Use this shredded beef in tacos, burritos, rice bowls, over noodles, or in a sandwich.
How do you ensure the beef shreds well after cooking?
Cube the chuck roast in 2-inch pieces so that the shredded beef is in manageable pieces for eating and allow the pressure cooker to do a full natural release for adequate cooking time.
Our Favorite Taco Recipes
Looking for other taco recipes the whole family will love? Try these:
Even More Ways to Use Fish Sauce
Fish sauce may not be an ingredient in everyone's pantry, but it should be!  Here are some other great recipes that use fish sauce to bring big flavor:
Try It and Share
I hope you try these Shredded Beef Tacos and share the recipe with family or friends. I want to see your results! Tag your photo with #planeatpostrepeat and mention me @planeatpostrepeat on Instagram or Facebook. I can give you a virtual high five and thank you for cooking one of my recipes! Comment below with any questions and please leave a review so others can find this recipe more easily.
Recipe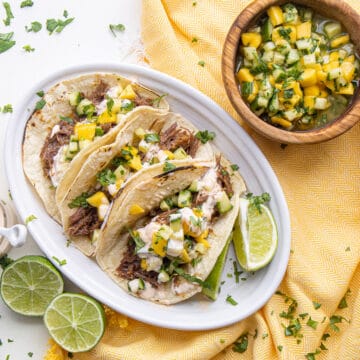 Instant Pot Shredded Beef Tacos with Mango Cucumber Salad
These Instant Pot shredded beef tacos combine chuck roast with coconut curry spices and a fresh mango cucumber salad for dynamite flavor.
Equipment
Pressure Cooker

i.e. Instant Pot
Ingredients
Curried Beef
2½

pounds

chuck roast

(trimmed of fat and cut into 2-inch chunks)

½

cup

onion

(diced)

2

cloves

garlic

(minced or pressed)

2

teaspoon

fresh ginger

(grated, or used frozen cubes of ginger)

1

tablespoon

red curry paste

(use Thai Kitchen brand for mild)

½

cup

coconut milk

2

tablespoon

fish sauce

2

tablespoon

brown sugar

½

teaspoon

kosher salt

2

makrut lime leaves

2

tablespoon

lime juice
Cucumber and Mango Salad
2

cups

cucumber

(diced)

1

cup

mango

(diced)

1

jalapeno

(finely diced, seeds removed)

¼

cup

cilantro

(chopped fine)

2

tablespoon

lime juice

1

teaspoon

kosher salt

2

teaspoon

brown sugar
Sriracha Mayo
¼

cup

mayonnaise

2

teaspoon

Sriracha

1

teaspoon

sesame oil

1

tablespoon

water
Tacos
25

small corn tortillas, grilled or warmed

additional cilantro and/or lime wedges

(for garnish)
Instructions
Pressure Cooker Preparation of Curried Beef
Add the beef, garlic, onion, ginger, curry paste, coconut milk, fish sauce, brown sugar, salt, and makrut lime leaves to the pot of your pressure cooker. Stir the mixture. Seal the pot and close the valve. Cook with manual high pressure for 45 minutes with a natural release.

Remove the beef from the sauce with a slotted spoon, place it in a bowl, and set it aside.

Separate the fat from the juices in the sauce and reduce the juices with the simmer function on the pressure cooker to about one cup.

Shred the beef with two forks until it is uniform in texture.

Add the shredded beef back to the reduced sauce along with the juice of one medium lime and stir to coat the beef. Keep warm until serving.
Cucumber and Mango Salad
Add the lime juice, brown sugar, and salt to a medium bowl and stir until the sugar is dissolved.

Add the remaining salad ingredients to the bowl. Cover the salad and keep it refrigerated until serving.
Sriracha Mayo
Combine all mayonnaise ingredients in a small bowl. Cover and keep refrigerated until serving.
Taco Assembly
Add the shredded beef to grilled or warmed tortillas and top with the cucumber and mango salsa. Drizzle with Sriracha mayo. Garnish with additional cilantro and lime wedges.
Nutrition facts are sometimes provided below and are calculated using an online calculator. With specific brands of ingredients and additions, omissions, or substitutions the nutrition facts may change. We encourage you to use your own nutrition facts caculator to obtain the most accurate nutrition facts for your meal.
Nutrition Facts
Calories:
555
kcal
Carbohydrates:
47
g
Protein:
33
g
Fat:
28
g
Saturated Fat:
11
g
Polyunsaturated Fat:
6
g
Monounsaturated Fat:
10
g
Trans Fat:
1
g
Cholesterol:
101
mg
Sodium:
1016
mg
Potassium:
785
mg
Fiber:
6
g
Sugar:
9
g
Vitamin A:
607
IU
Vitamin C:
13
mg
Calcium:
113
mg
Iron:
5
mg