Sample weekly meal plans are here to show you the way when it comes to planning dinners that will accommodate your entire family. This sample collection of kid favorites meal plan recipes will save the day when you find that you are in a dinner rut with picky kids refusing dinner every night.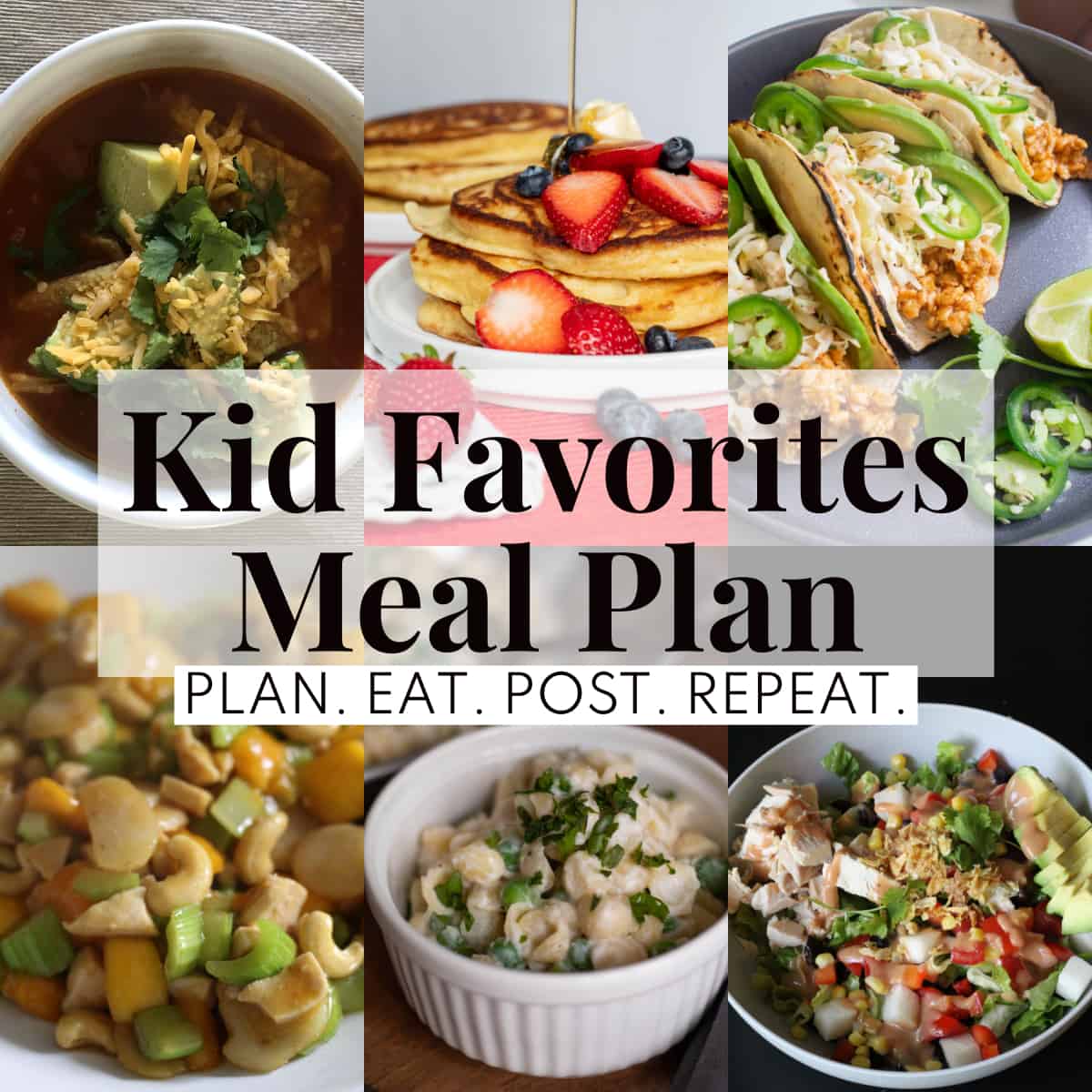 You will find loads more tips on meal planning in this Family Meal Planning Strategies post. Three frameworks for making a weekly plan will help in any situation! Also, check out this post on Keeping Peace with Picky Eaters at your Dinner Table for more strategies on feeding your toughest customers every night.
Dinnertime Battles are No Fun
We've all been there. You've prepared a meal that the kids have liked in the past only to have them flat out refuse it tonight. It's so frustrating! If you find that you are getting more and more of these nights in a row, it's time to shake things up.
When I find we are in a "I don't like this" rut, I know I need to reach for my three favorite ways of bringing my kids back from the brink: DIY dinners, unexpected entrees, and anchoring on a beloved ingredient.
When you choose dinners for the week's meal plan with these things in mind, you can build a meal plan that will bring some sanity back to the dinner table.
DIY dinners
When the kids get to build their dinner from a display of ingredients, I call this a DIY dinner. Sometimes the choices are just in the toppings, other times they can be the whole meal. Either way, it's best to keep the options simple to prep and full of choices that you feel good about providing.
The two recipes below are great examples. The Chicken Tortilla Soup has options of avocado, tortilla chips, shredded cheese, cilantro, or sour cream to add to a fragrant broth-based soup.
The Barbecue Chicken Chopped Salad is full of variety with black beans, chicken, tomatoes, peppers, jicama, avocado, corn, and more. Kids can build a plate with any 3-4 of these things and have a full meal.
Unexpected Entrees
When the going gets tough, the tough make... pancakes! Shake things up at dinnertime with a surprise meal. Making something completely unexpected for dinner can often bring some fun back into things.
Breakfast for dinner is a great way to do this. Diner Pancakes are a classic recipe and you can add fruit salad, eggs, and bacon for a big meal that the kids will be excited about.
Adding a sweet treat right to the dinner plate can help, too. Serve these Peanut Butter and Jelly Bars as part of a "lunchbox dinner". Pack fruit, veggie sticks, cheese cubes, and ham roll-ups into a paper sack and everyone can eat their food in any order they like.
Get crazy and have a picnic on a blanket on the floor of the living room! Kids aren't likely to refuse dinner from such an unexpected place.
Anchor Dinner on a Favorite Ingredient
My picky eaters still have some favorites foods that always tempt them. When we are in a tough run of refused dinners, I fall back to those ingredients.
Tacos in general are usually a safe bet, but these Ground Pork Tacos have a sweet corn topping and avocados, two foods my kids love. Does that mean that maybe they'll eat a tortilla full of just avocado and corn? Maybe, but at least they are eating!
Pasta is another sure thing at our house, but the sauce matters to my two kids. The Lemon Ricotta Shells have a light and lemony sauce and, most importantly to my youngest, we pile on the Parmesan cheese.
Finally, a little something sweet mixed in to dinner helps. Mango is perfect for walking the line between sweet and savory and this Cashew Nut Mango stir fry is a kid favorite
Reach Out!
I'd love to hear what dinners would bring your kids running to the dinner table. Leave your favorite DIY dinner in the comments, or tag me on Instagram or Facebook @planeatpostrepeat the next time you make breakfast for dinner!