Smoky lentils, spiced cauliflower, salty cheese, a rich roasted pepper dressing, and pops of jewel-like pomegranate... what more could you want? This crispy halloumi lentil salad is packed with contrasting flavors and textures and makes an impressive main dish.
I love a salad packed with a hearty base, cheese, fruit, veggies, and more. A dinner-worthy salad can break you out of a boring dinner rut in a flash! The combination of ingredients in this halloumi lentil salad is available all year round, but the bright colors and sweet-tart flavors feel right at home in spring.
You'll find lots of recipes on my site with this filling and delicious combination of grains, vegetables, and cheese. Try a Zucchini and Burrata Bowl or the Roasted Carrot and Chickpea Grain Bowls for two more ideas!
If you love a fruity addition to your salad, try this Strawberry Goat Cheese Salad with Strawberry Vinaigrette!
Jump to:
Ingredients
Gather up all of your ingredients (plus one supermarket shortcut item) to prep this delicious salad.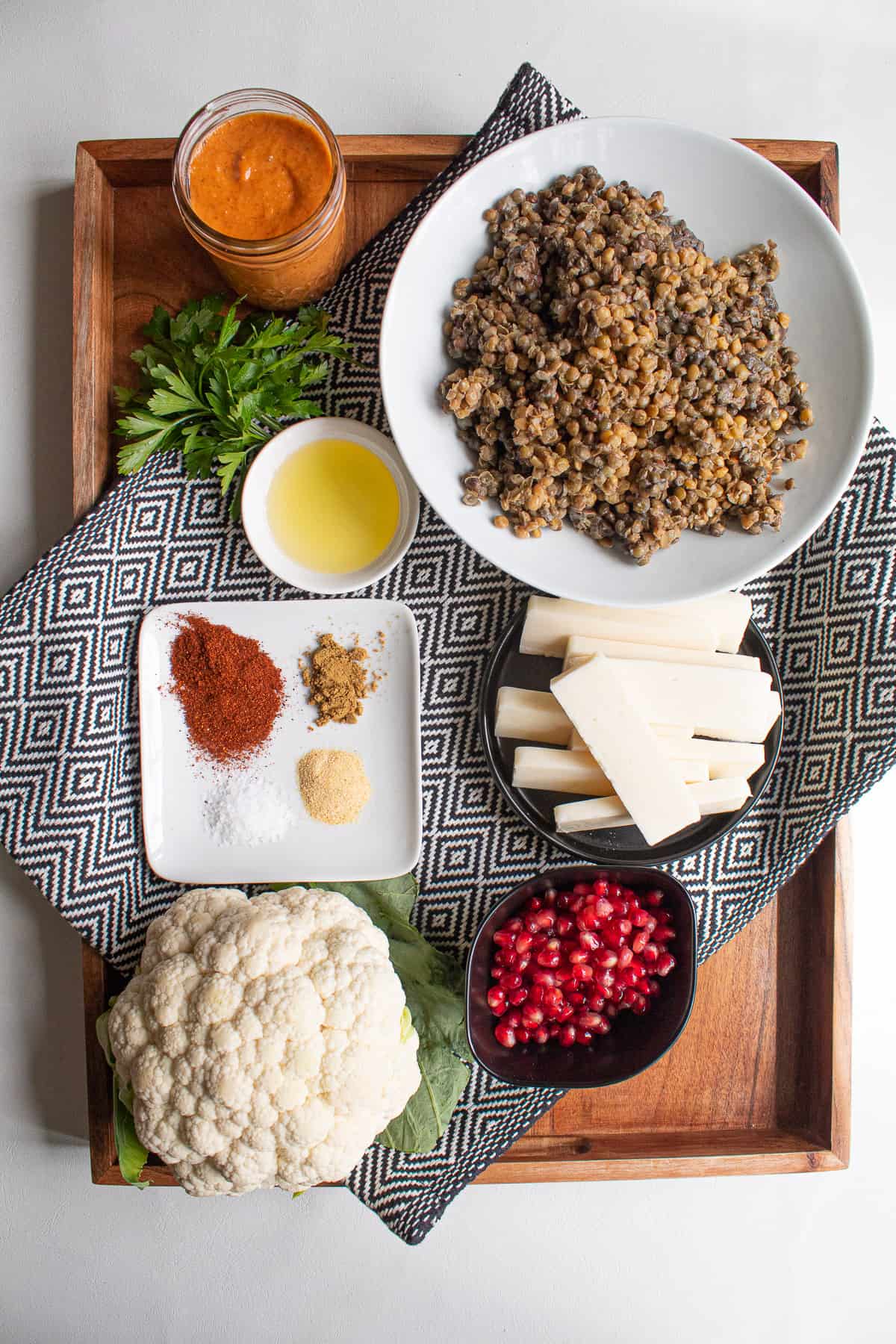 I include ingredient notes here when I think they'll be helpful, including ways to source, any preparation tips, or why I've chosen a particular ingredient. Be sure to check out the recipe card below for the full list of ingredients and their quantities!
Pomegranate and Roasted Red Pepper Salad Dressing - The salad dressing comes together in a matter of minutes in a small food processor or bullet blender.
Precooked Lentils - These are a great time saver! I find steamed lentils in vacuum-sealed packaging at Trader Joes, Target, and Melissa's brand in our supermarket in the produce aisle (often near the tofu). I use them in my Shortcut Mujadara recipe as well. Bring the lentils to room temperature before building the salad.
Cauliflower - I buy either a medium sized head of cauliflower and break it up into florets or a pre-chopped bag to save a bit of time. Chop the florets into manageable bite-sized pieces so that you can get all of the good ingredients on one perfect forkful!
Spices - A combination of chili powder and garlic powder add flavor to the cauliflower.
Halloumi Cheese - This is a cheese with a high melting point that you can grill or fry. I find it at our regular supermarket and also sometimes at Trader Joe's.
Pomegranate Arils - These juicy fruits are found on the inside of a pomegranate and luckily you can buy them already prepared in many supermarkets as well as Trader Joe's. You can absolutely harvest the arils from a whole pomegranate on your own. This guide is a good description of how I do it at home.
Roast the Cauliflower
Roasting the cauliflower takes the majority of the prep time for this salad, so start with this task first. Preheat your oven to 425F.
Combine the cauliflower florets, oil, chili powder, garlic powder, and salt and toss until well coated.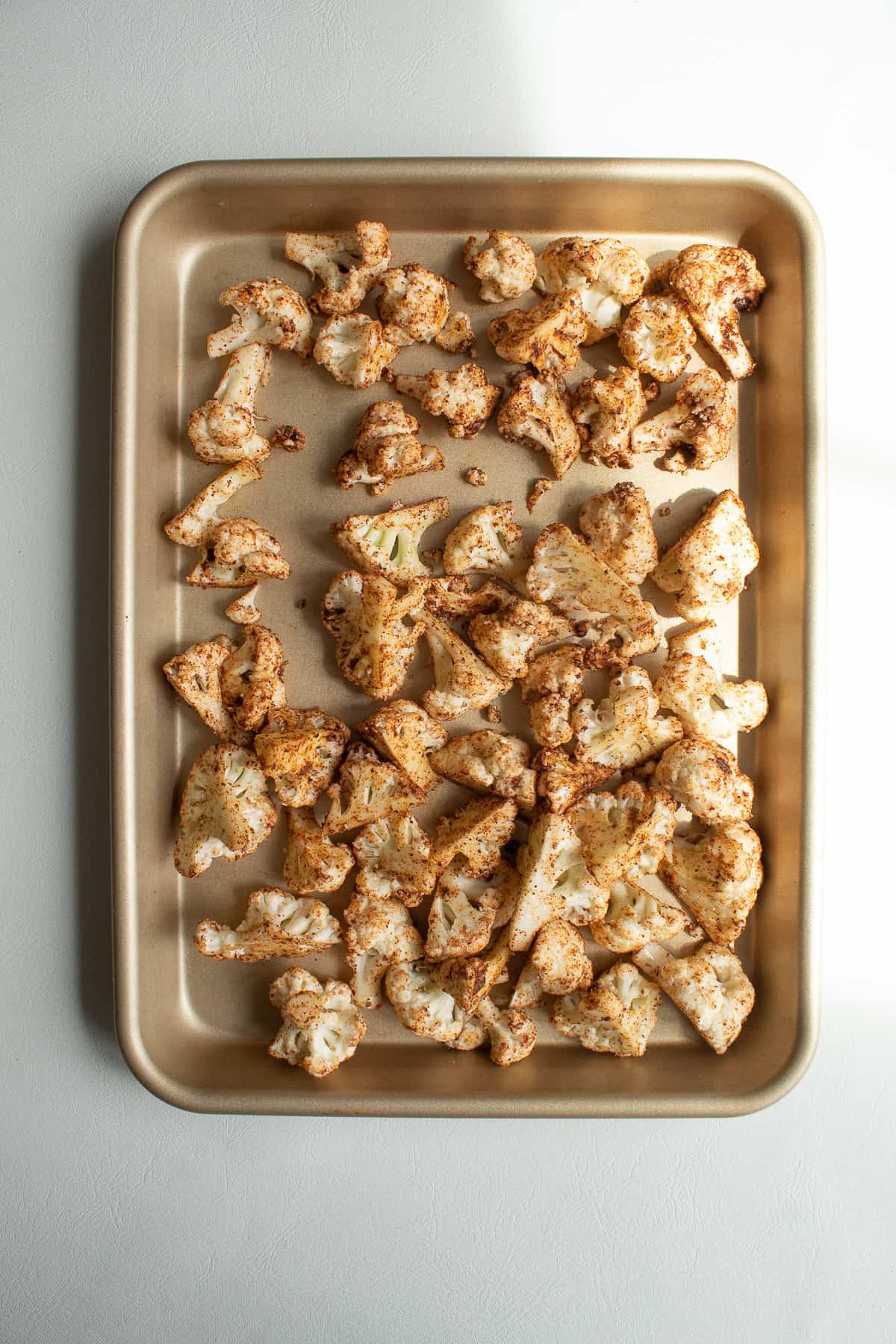 Spread the spiced cauliflower over a sheet pan and roast for 25 minutes, tossing the florets halfway through the roasting time for even browning.
The roasted cauliflower should be tender with some deeply browned spots. Set the cauliflower aside while you layer the rest of the ingredients.
Make the Salad Dressing
The salad dressing comes together easily in a small food processor. Add the drained roasted red peppers, toasted walnuts, lemon juice, olive oil, pomegranate molasses, salt, and pepper to the bowl of the processor. Blend until smooth and set aside.
Find the recipe and ingredients list here. Thin the dressing with water to your desired texture.
Prepare the Halloumi Cheese
Halloumi cheese can be grilled or fried to give it a crispy texture and beautifully melty interior. When pan frying the cheese, it's best to go low and slow for optimal golden color and melty-crispy texture.
Slice your halloumi into ½-inch planks. I like to cut these in half so you end up with 2-inch by 1-inch pieces.
Heat the skillet over medium-low heat. In batches so that you have room for flipping the cheese pieces, cook the pieces until they are golden brown on each side. This takes about 2-3 minutes per side. Drain on a paper towel or paper bag.
Build the Salad
You'll want to chop some parsley or cilantro for garnish. Then grab your room-temperature lentils and build the most gorgeous salad! You can build one giant salad on a platter or plate the salad individually on smaller plates.
Scatter the lentils on the platter for a hearty base.
Nestle in the pieces of crispy fried halloumi.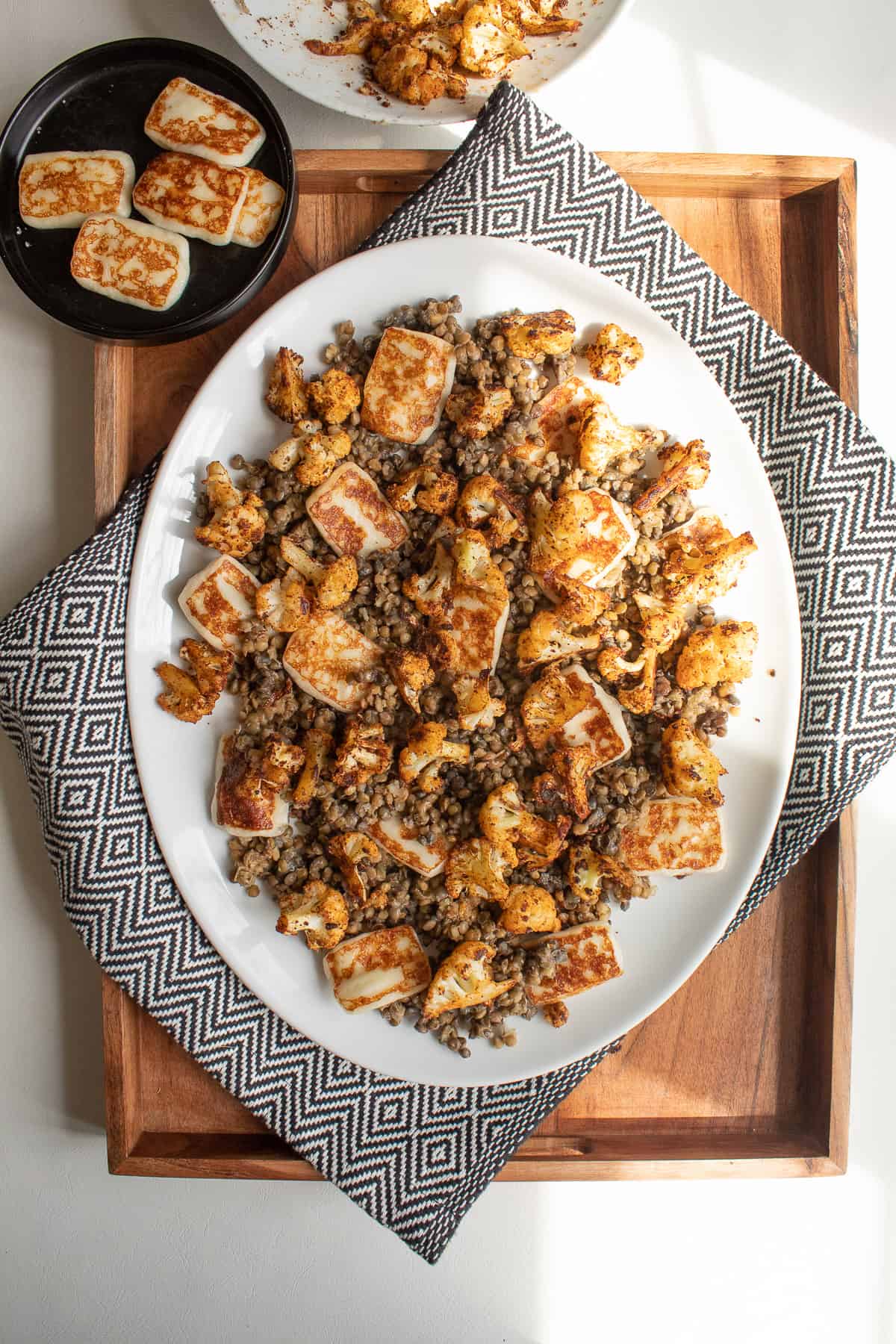 Add the spiced roasted cauliflower to the salad.
Drizzle the dressing over everything and then sprinkle the salad with the pomegranate arils and parsley or cilantro.
Variations and Substitutions
This recipe is gluten-free and vegetarian as is (though check out this article on cross contact with gluten in packaged lentils). Depending on your tastes, you may want to make some of the changes below:
Swap the Lentils - While I love the earthy flavor of the lentils in this dish, we have family that can't tolerate legumes so we swap out the lentils for quinoa, farro, or couscous.
Kid Friendly Changes - My kids don't love this as a big salad, but they will eat the pieces separately. Their plate would have a few of the halloumi pieces, a handful of cauliflower, and a pile of pomegranate arils. One will eat the lentils, one won't. We make it work.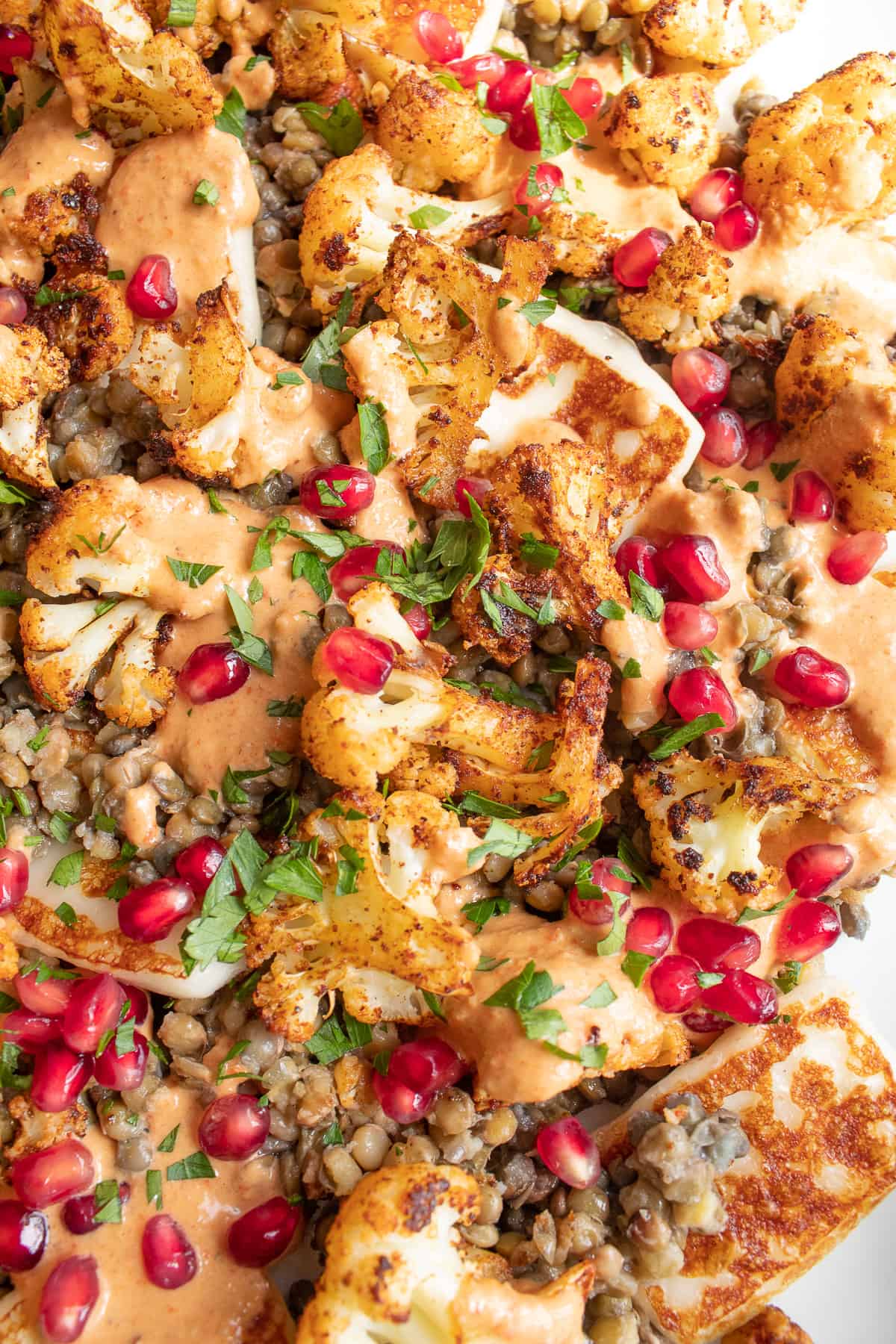 Storage
This salad really is best eaten immediately after preparation. The crisp texture on the halloumi and the cauliflower just don't hold up once everything is stored in the refrigerator.
If you have leftovers, the best option is to separate the cheese and cauliflower pieces so that they can be reheated in the microwave for a quick burst to bring them to room temperature. Then combine them with the rest of the salad and some extra dressing.
Pomegranate arils go bad very quickly even with refrigeration, so this salad is best eaten up within one day pf preparation.
FAQ
What is halloumi cheese?
Halloumi cheese is traditionally made form a combination of sheep's and goat's milk, though these days it is often made with cow's milk as well. Its origin is the island of Cyprus, and its high melting point makes it uniquely suitable for grilling or frying. The cheese can be "squeaky" like cheese curds!
At what temperature should the salad be served?
Serve the salad at room temperature with the cooked halloumi cheese and cauliflower still warm from the skillet and oven. This is the optimal temperature for crispy halloumi and cauliflower to contrast with the soft lentils.
How can you use leftover pomegranate and red pepper dressing?
So many ways! It is great as a dip for veggies, a spread for sandwiches, or a marinade for grilled chicken thighs.
Other Vegetarian Main Dishes
This salad makes a great vegetarian meal. Here are others you may want to try:
Try It and Share
I hope you love this crispy halloumi lentil salad with all the delicious toppings! Tag your photo with #planeatpostrepeat and mention me @planeatpostrepeat on Instagram or Facebook. I can give you a virtual high five and thank you for cooking one of my recipes! Comment below with any questions and please leave a review so others can find this recipe more easily.
Recipe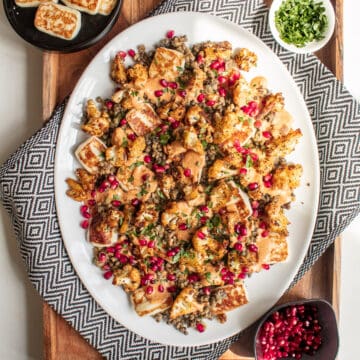 Crispy Halloumi Lentil Salad with Cauliflower & Pomegranate
A crispy halloumi lentil salad with spiced roasted cauliflower, pomegranate arils, and a bright, tangy dressing makes a hearty main dish.
Equipment
1 food processor or small blender
Ingredients
⅔

batch

Pomegranate and Roasted Red Pepper Salad Dressing

(thinned to desired consistency with water)

1

pound

precooked lentils

12

oz.

cauliflower florets

1

teaspoon

chili powder

½

teaspoon

cumin

½

teaspoon

kosher salt

½

teaspoon

garlic powder

1

tablespoon

olive oil

8

oz.

halloumi cheese

½

cup

pomegranate arils

¼

cup

parsley or cilantro

(chopped)
Instructions
Preheat the oven to 425°F. Spray a sheet pan with cooking spray. Open the lentils and allow them to come to room temperature.

Cut the cauliflower into bite-sized pieces. Toss them with the olive oil, chili powder, cumin, salt, and garlic powder until well coated.

Pour the seasoned cauliflower onto the sheet pan and roast for 20-25 minutes, tossing the florets halfway for even browning.

Prepare the salad dressing by adding all of the ingredients to a small food processor or bullet blender and processing until smooth.

Heat a frying pan over medium-low heat. Slice the halloumi into ½-inch slices and cut into 2-inch pieces. Fry in batches, giving plenty of space between the slices for turning, until both sides are golden brown and crispy. Remove to a towel to drain.

Build the salad on a platter or individual plates by layering the lentils, cauliflower, and cheese. Drizzle with the dressing and sprinkle with the parsley or cilantro and the pomegranate arils. Serve immediately.
Notes
See the linked recipe post above for the ingredients, quantities, and preparation of the salad dressing, but here is the quick run-down:
2 tablespoons pomegranate molasses
¼ cup olive oil
½ teaspoon kosher salt
1 ½ tablespoons lemon juice
1 jarred roasted red pepper
½ cup walnut halves and pieces, toasted
black pepper, to taste
Nutrition facts are sometimes provided below and are calculated using an online calculator. With specific brands of ingredients and additions, omissions, or substitutions the nutrition facts may change. We encourage you to use your own nutrition facts caculator to obtain the most accurate nutrition facts for your meal.
Nutrition Facts
Calories:
549
kcal
Carbohydrates:
38
g
Protein:
28
g
Fat:
34
g
Saturated Fat:
12
g
Polyunsaturated Fat:
7
g
Monounsaturated Fat:
13
g
Sodium:
1550
mg
Potassium:
656
mg
Fiber:
11
g
Sugar:
8
g
Vitamin A:
502
IU
Vitamin C:
52
mg
Calcium:
662
mg
Iron:
4
mg