When tomatoes are at their peak and the grill is the only way to cook, make this Grilled Bread Panzanella with White Beans! Ripe heirloom tomatoes and their juices help flavor and soften the grilled bread, while white beans, herbs, and mozzarella provide additional texture and flavor. It's so easy to make an impressive summer panzanella with this recipe!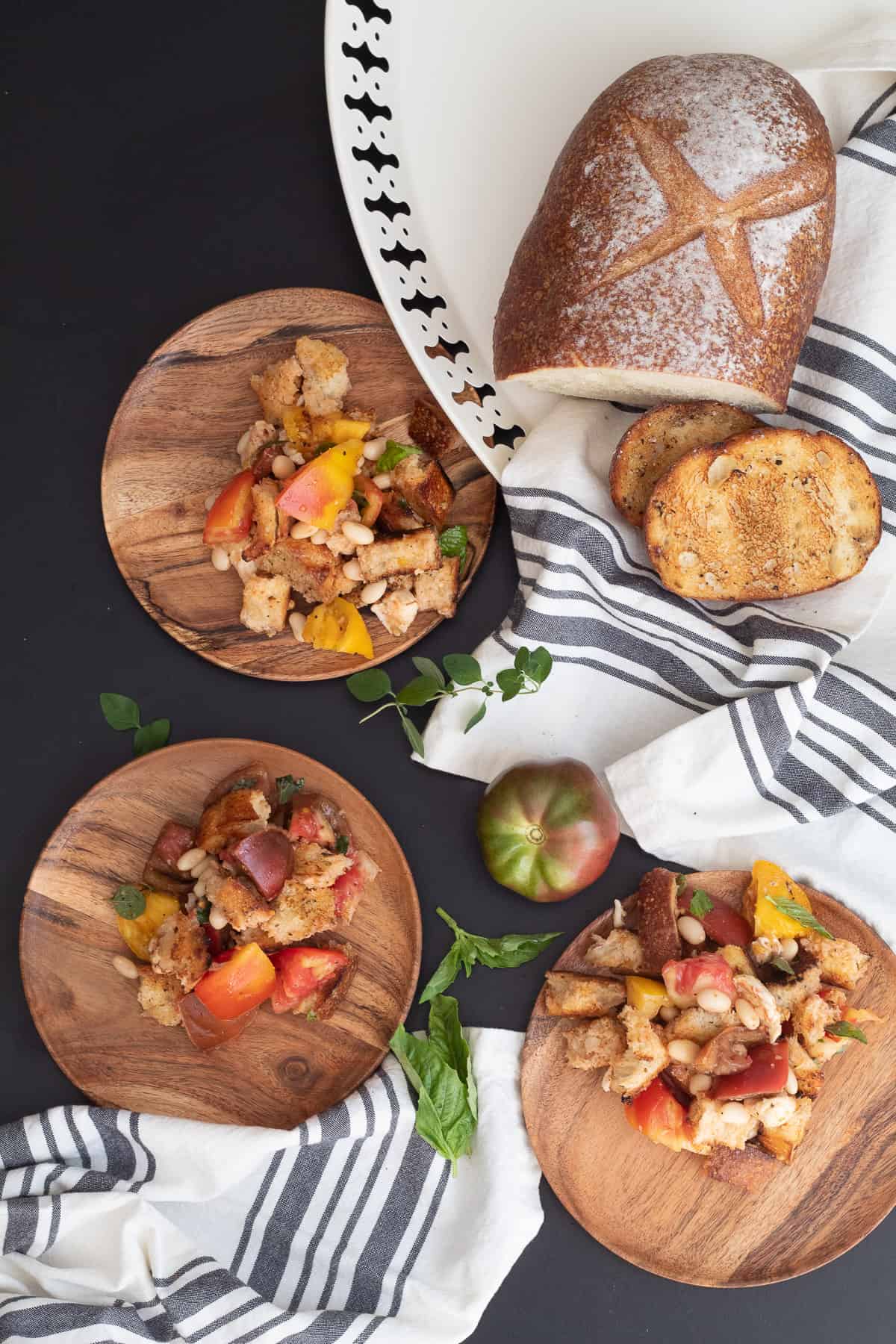 Panzanella is a dish from the Tuscan region of Italy and is traditionally thought of as a way to use up stale bread. The dried bread would soak up the juices of any available produce like tomatoes, cucumbers, or onion and some added salt and olive oil would help flavor the plain bread.
For this recipe we are using fresh bread, but grilling it to dry it out and add some additional flavor. The grilled bread is also rubbed with garlic to bring a delicious but not overpowering garlicky flavor to the summer panzanella.
Grilling in summer is the best. Check out my recipes for hearty Grilled Zucchini and Burrata Bowls and the stunning Grilled Peach and Zucchini Salad for more ideas. And finish this meal off with a delightful strawberry mousse with chocolate ganache for a special treat!
If you have an abundance of garden-fresh tomatoes, try this Cherry Tomato Confit next!
Jump to:
Ingredients
I include ingredient notes here when I think they'll be helpful, including ways to source, any preparation tips, or why I've chosen a particular ingredient. Be sure to check out the recipe card below for the full list of ingredients and their quantities!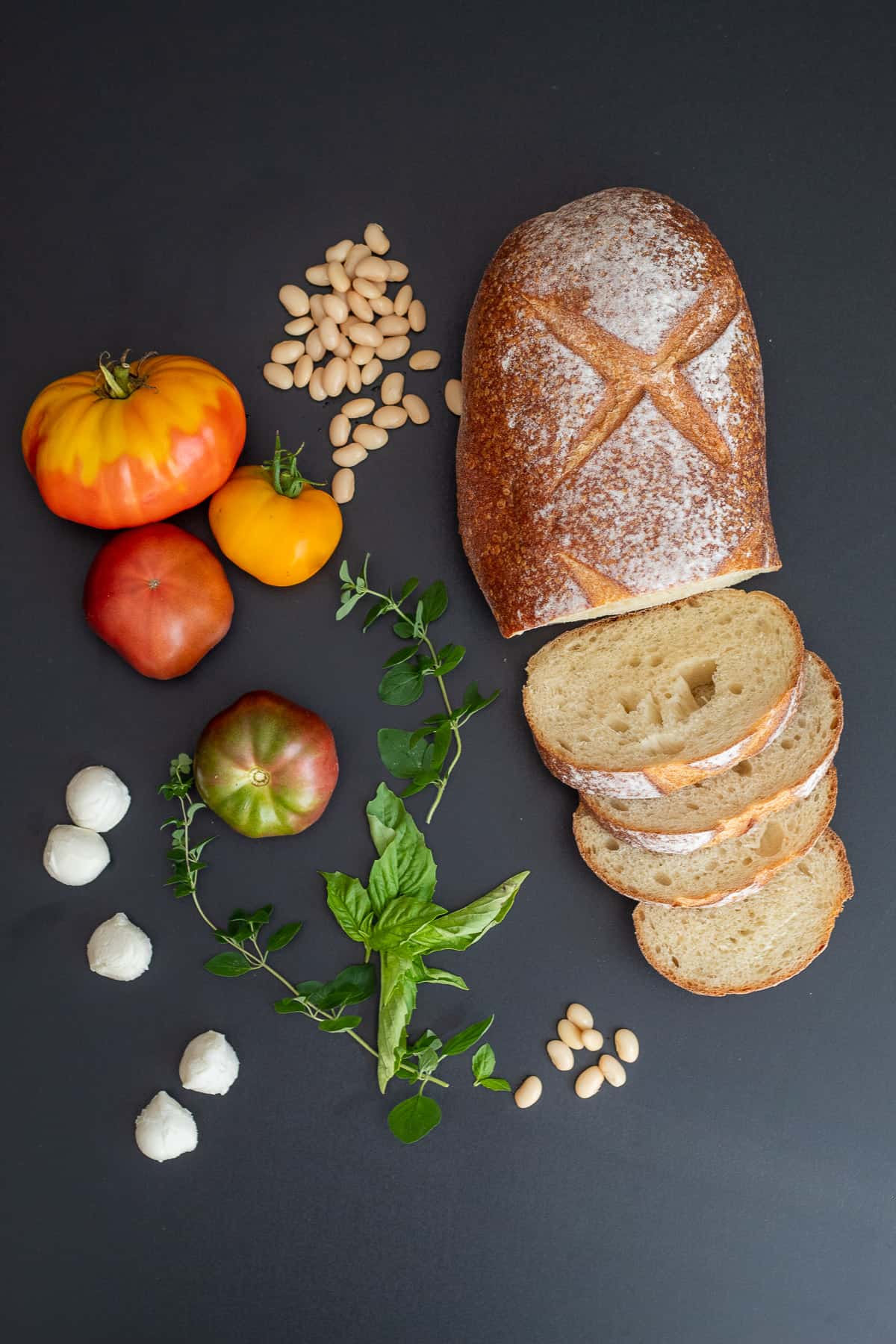 Heirloom Tomatoes - Buy them in season and locally, if possible, to ensure the best flavor. A summer panzanella isn't the same without juicy, ripe tomatoes.
Italian Bread - Find a loaf that is sturdy and dense with a good crust. It will hold up to grilling well but also have enough heft to absorb all of the delicious juices from the tomatoes. My favorite loaves for this recipe come from Costco.
White Beans - I use a few varieties of canned beans for this recipe: canellini, great northern, or navy beans all work well. Rinse and drain them before adding to the salad.
Fresh Mozzarella - I like to incorporate torn mozzarella into the salad for the right texture, so use either one large ball or smaller pieces that are sold stored in water or a brine solution. Burrata cheese is also really delicious in this salad, so try a burrata panzanella!
Basil and Oregano - Fresh herbs make such a difference in a salad, so find bright green leaves and only tear them into bite-sized pieces right before assembling the salad.
Garlic - Big cloves of garlic cut in half lengthwise are perfect for flavoring the bread right after it comes off of the grill.
Olive Oil - This recipe is a nice place to use extra virgin olive oil because that fruity rich flavor won't disappear behind other ingredients.
Preparation the Grilled Bread
Rather than using up stale bread, which is the classic ingredient in a panzanella, we are grilling the bread to add a layer of smoky charred flavor. Preheat the grill on high heat.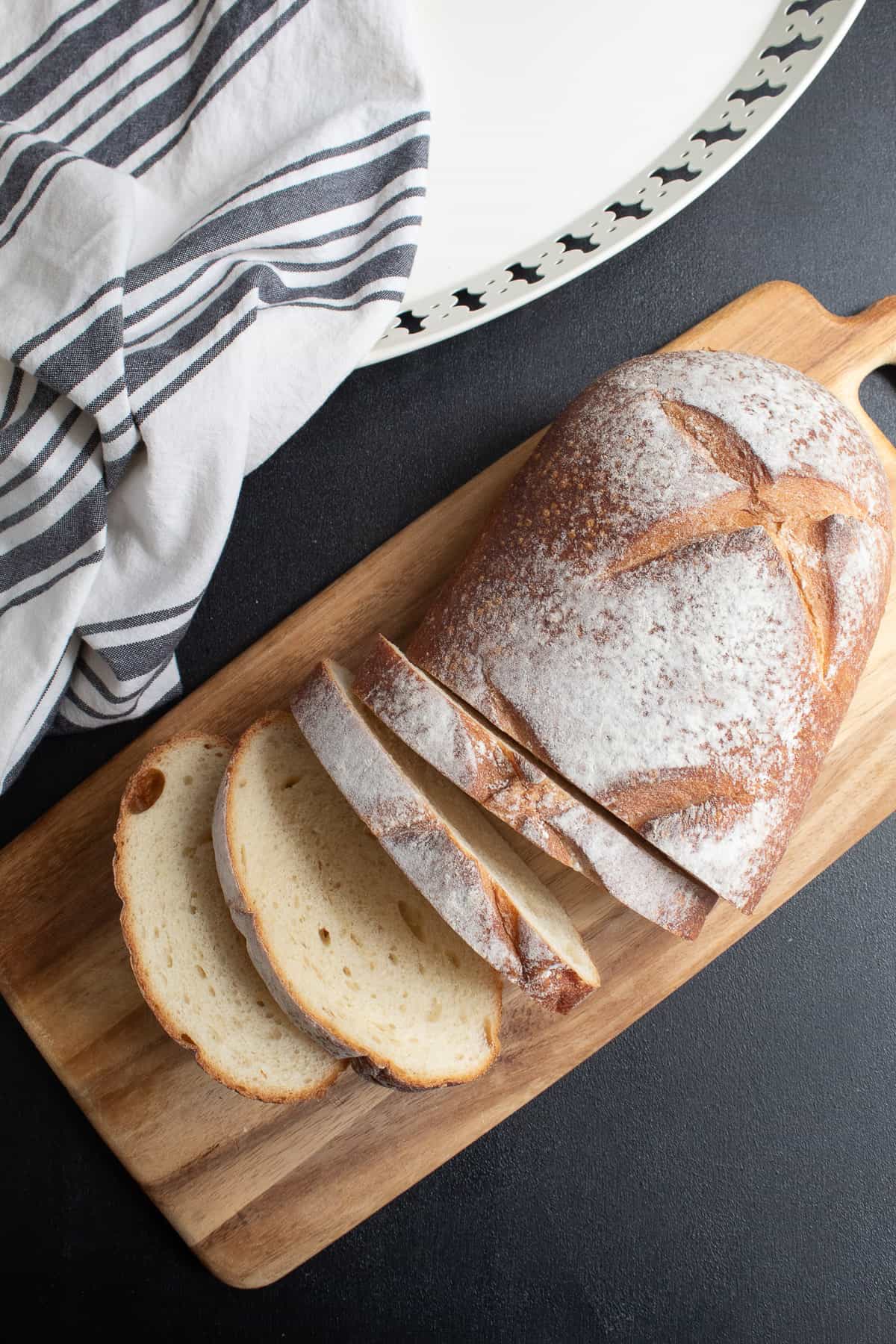 Slice the loaf into 1-inch slices.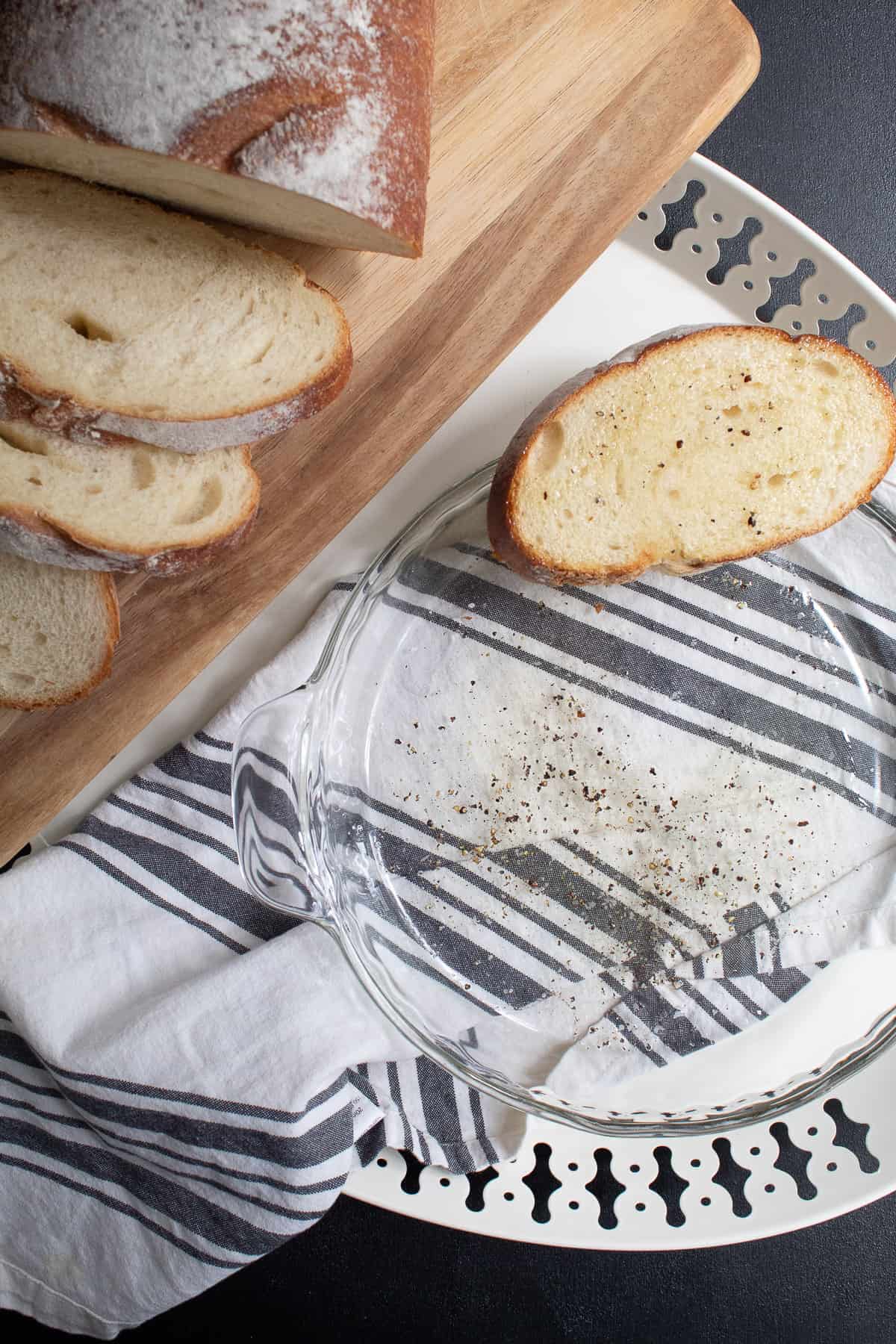 Add olive oil, salt, and pepper to the bottom of a plate (I use a pie dish). Rub both sides of each slice into the oil.
Grill the slices of bread for 1-2 minutes per side. The bread will toast and develop some charred spots.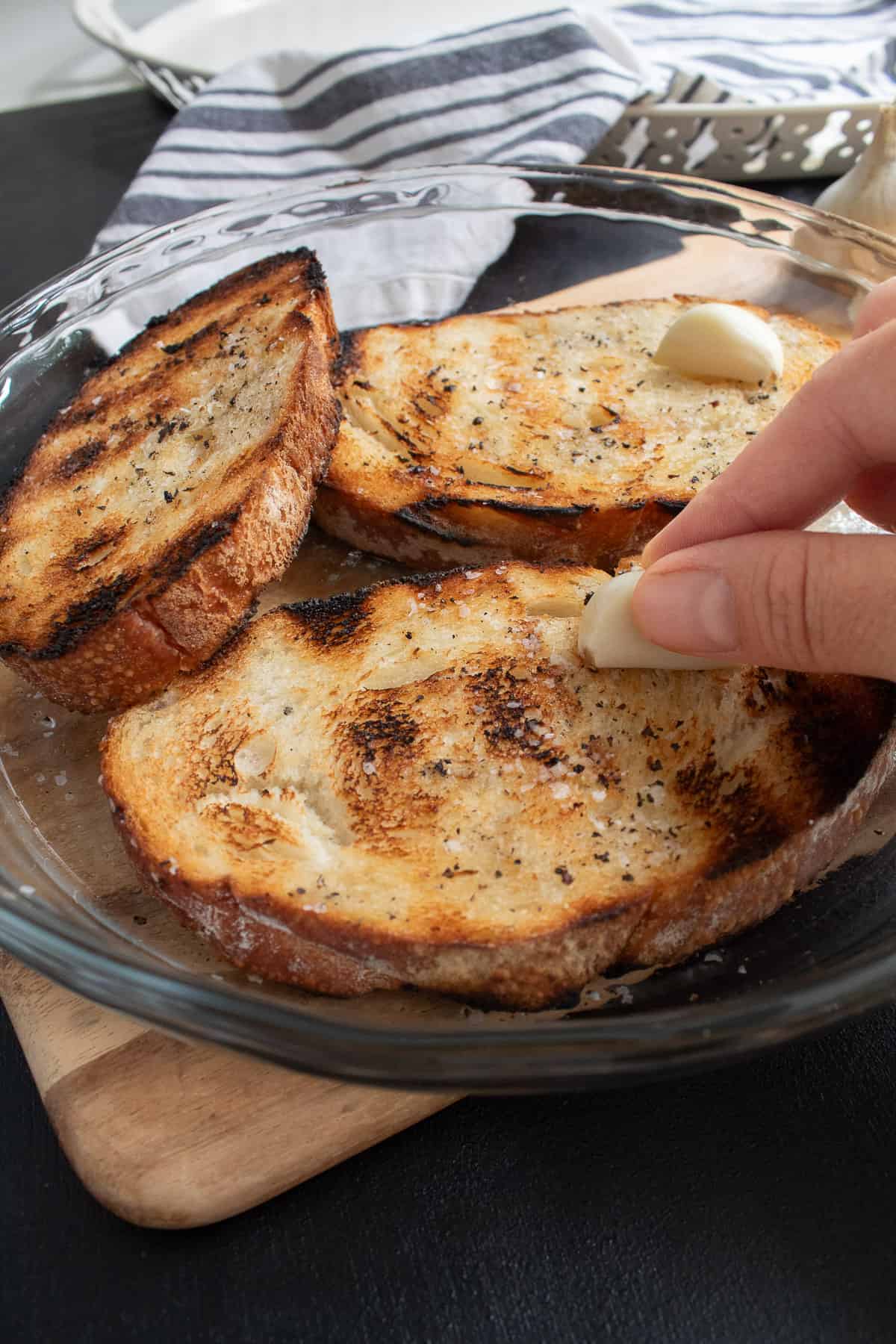 Slice the garlic cloves in half lengthwise. Rub the cut side along the surface of the bread on both sides. Set the grilled bread aside to cool.
Prepare the Panzanella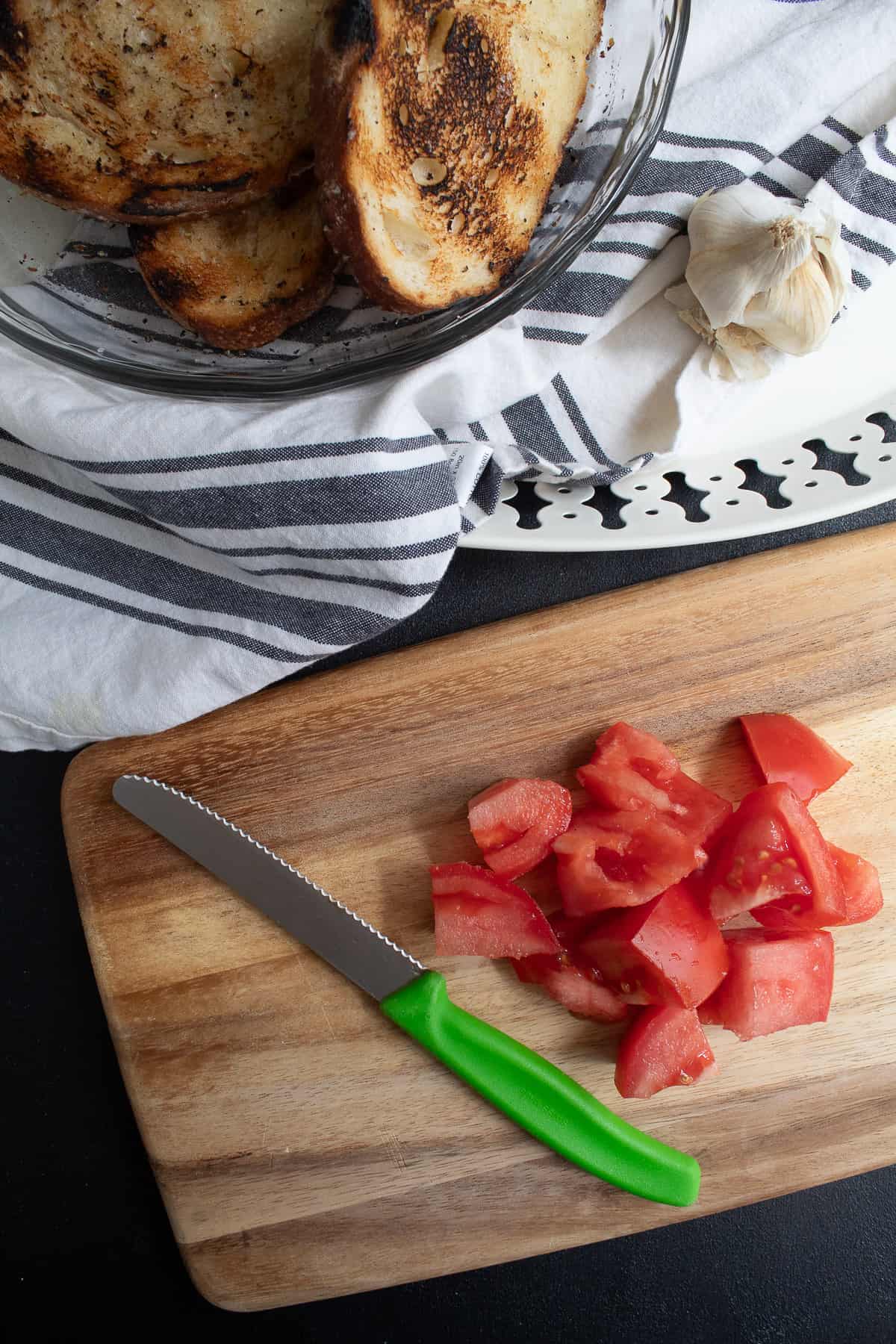 Chop the tomatoes, removing any tough core, in to 1-inch cubes. Reserve any juices that run from the tomatoes.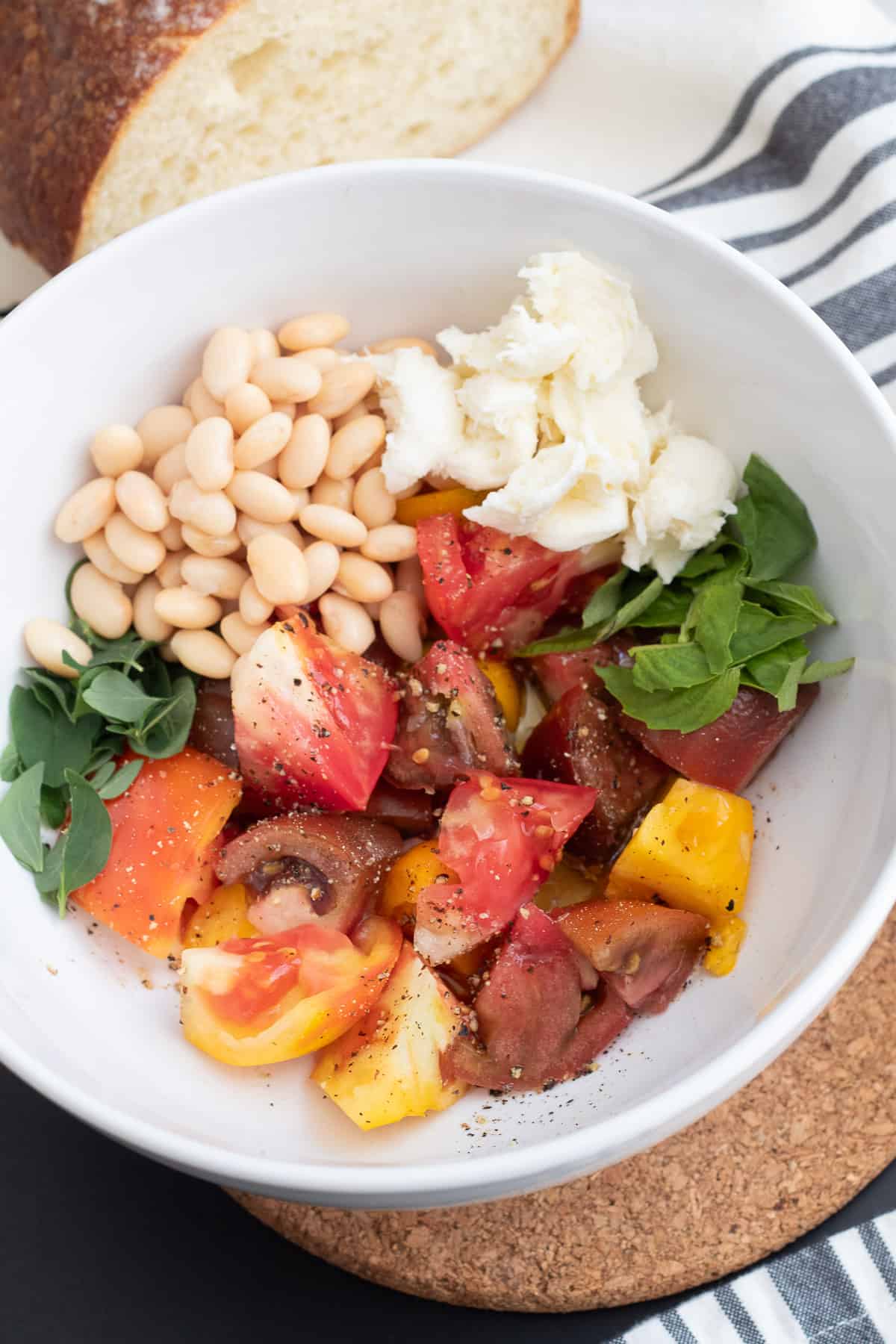 In the bottom of a large bowl, add olive oil, salt, pepper, torn basil and oregano, beans, and the tomatoes plus their juices. Stir this mixture well and allow it to sit for 10 minutes to allow the salt to draw more moisture from the tomatoes.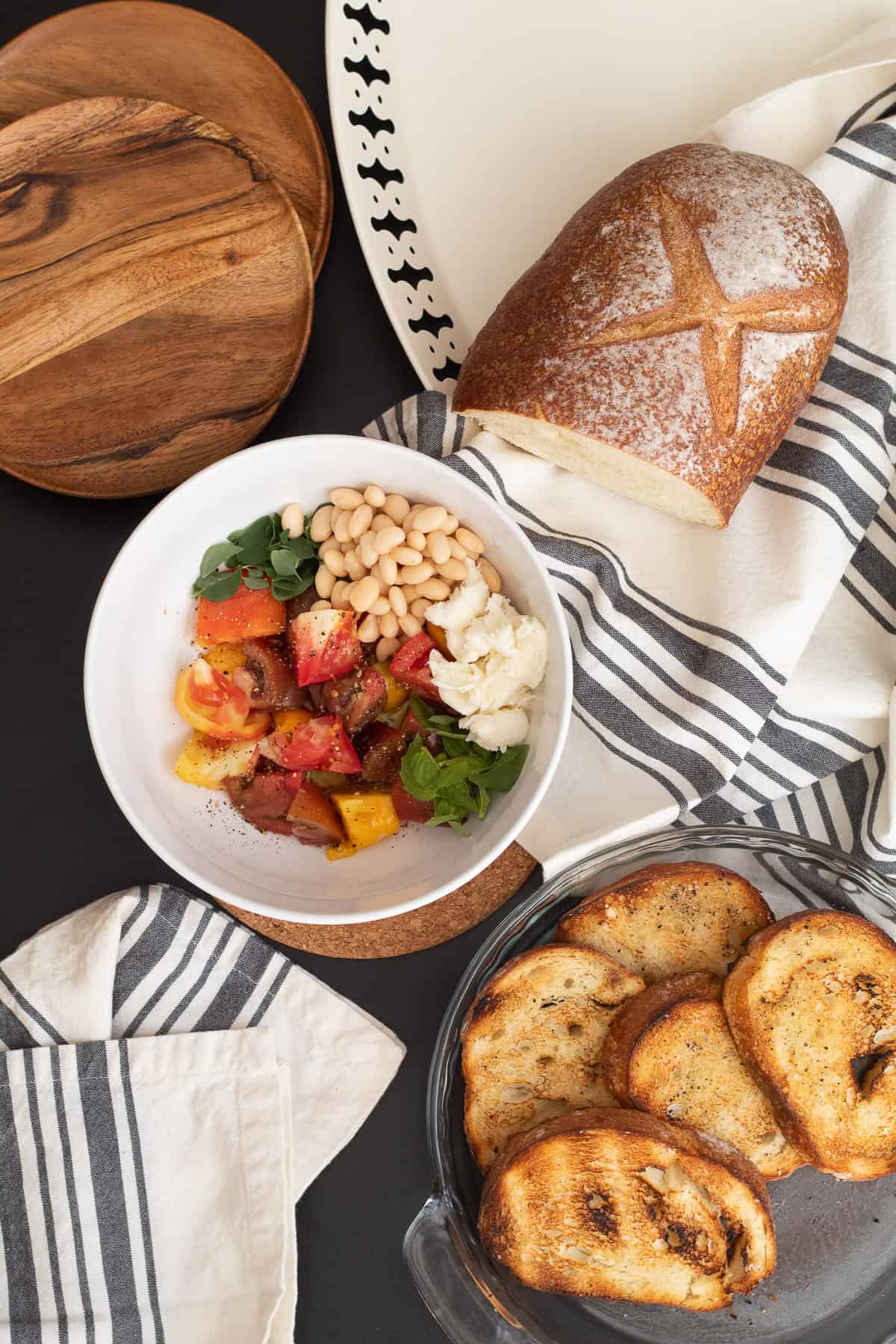 Tear the cooled bread into bite-sized pieces.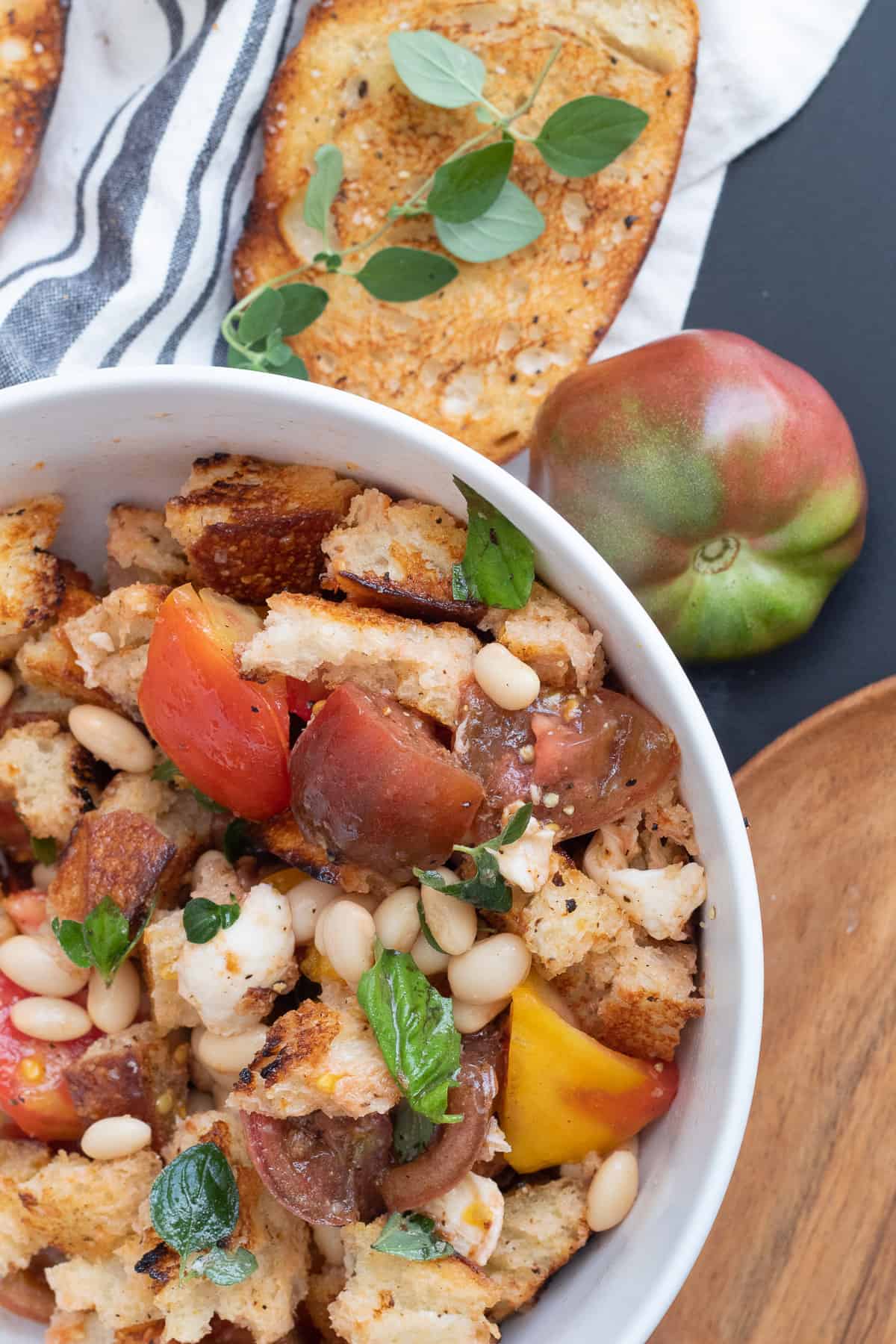 Add the bread to the salad bowl and stir well to combine all ingredients. Let the salad sit for an additional 15 minutes before serving to let the bread soak up all of the juices.
Variations and Substitutions
As written, this recipe is hearty enough to work as a main course, but also is a perfect side dish to accompany other summer main dishes. Here are some other additions or substitutions you can make to customize a summer panzanella:
Sliced Red Onion - A panzanella has traditionally included onion, so add some thinly sliced red onion for extra flavor.
Cucumbers - These will release a lot of water when salted, so your grilled bread panzanella will be perfectly moist and flavorful.
Capers - A briny pop of flavor would work well with the grilled bread and ripe tomatoes.
Swap the Bread - Use a loaf of sourdough bread or French bread in place of the Italian bread.
Add Herbs - Additional herbs like finely chopped rosemary or thyme leaves will add even more flavor to the finished panzanella.
Add Fruit - Make a peach panzanella salad by adding a sliced peach to the tomato mixture. I love the sweet and savory combination.
Equipment
If you don't have access to a grill, use a grill pan on your stovetop. Alternatively, you can broil the bread in the oven. Keep a close watch over the bread and try to get toasted slices with a little bit of char.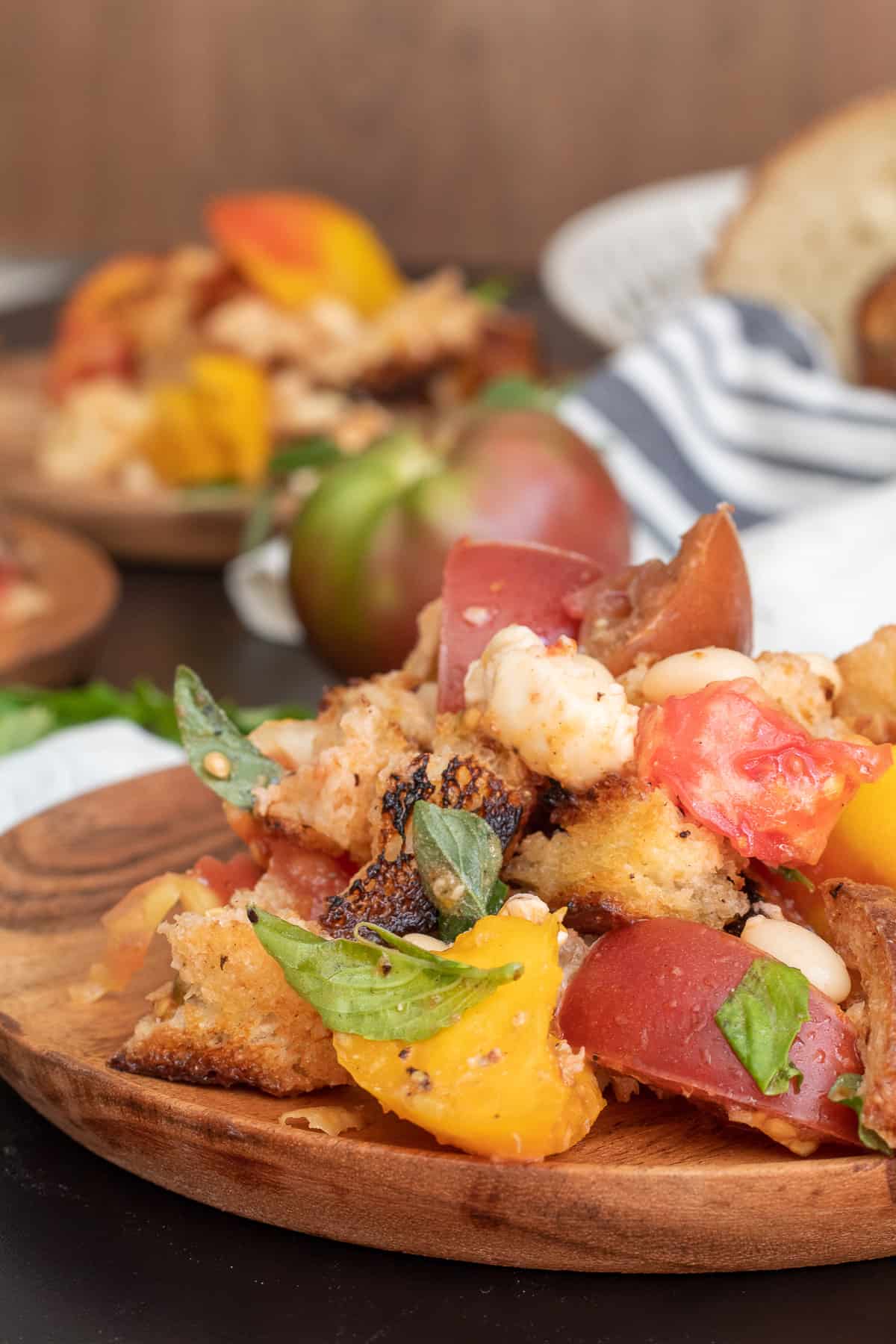 Serving and Storage
Serve the grilled panzanella salad as soon as the flavors have a chance to combine. Add a few leaves of fresh basil and a drizzle of olive oil right before bringing it to the table. This salad is best served on the day of preparation, but I don't think you'll have any leftovers to worry about.
FAQ
Can I prepare this salad without a grill?
Absolutely! If you have a grill pan, toast the bread in batches on the stove top. You can also toast the bread using the broiler function and your oven.
What do you serve with panzanella salad?
If you are serving a mixed crowd, this panzanella is hearty enough as a main dish for the vegetarians. Since the grill is already fired up, marinated chicken, steak, or shrimp makes a perfect main to go alongside this classic salad.
What else can you add to a panzanella salad?
We prefer our panzanella on the simple side, but some additions could include thinly sliced onions, diced cucumber, or capers. Since the grill is already on, grilled zucchini or bell peppers would add even more grilled flavor and pump up the veggie quotient. Did you know that tomatoes weren't even an ingredient in this Tuscan salad until the 20th century?
Related Recipes
Here are some other delicious salads that work well as a side dish or are hearty enough to be a main dish:
Pairing Suggestions
Add the delicious recipes below to your summer panzanella for a gorgeous dinner party menu. A batch cocktail frees you up for mingling; add an easy dip as an appetizer and you are off to a great start the night. Bake a mostly hands-off main dish and a make-ahead dessert for less stress and more fun!
Try It and Share!
I hope you give this Grilled Bread Panzanella with White Beans a try and that it is a hit with your family. Tag your photo with @planeatpostrepeat and mention me @planeatpostrepeat on Instagram or Facebook. I can give you a virtual high five and thank you for cooking one of my recipes! Comment below with any questions and please leave a review so others can find this recipe more easily.
Recipe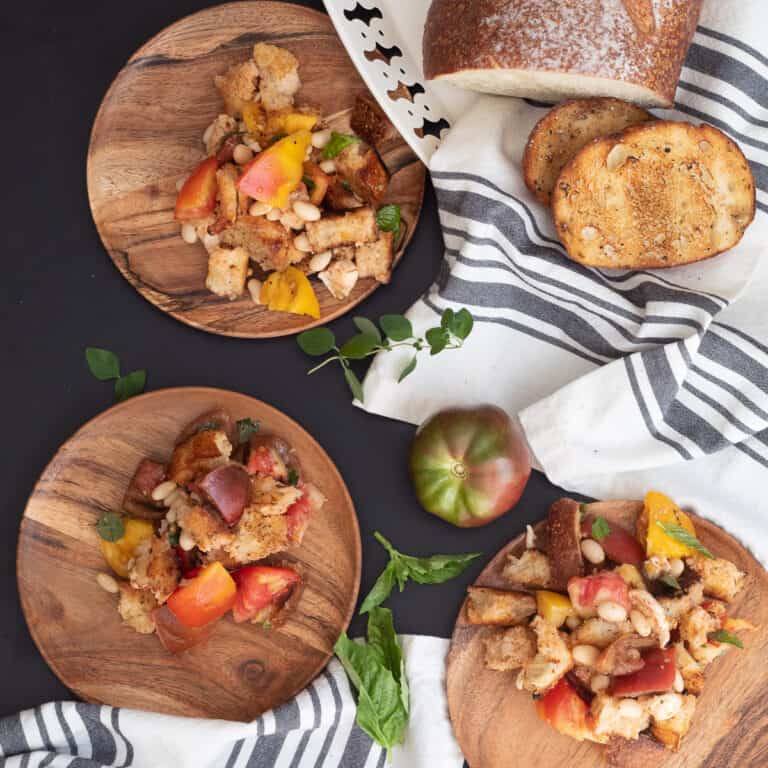 Grilled Bread Panzanella with White Beans
This summer panzanella highlights heirloom tomatoes with grilled bread, torn mozzarella, herbs, and hearty white beans for an easy side or main.
Equipment
pie plate

grill or grill pan
Ingredients
16

oz.

Italian bread

6

tablespoon

olive oil

(divided)

4

cloves

garlic

(halved lengthwise)

1

cup

white beans

(canellini, great northern, or navy beans)

12

leaves

basil

3

sprigs

oregano

20

oz.

heirloom tomatoes

(roughly chopped)

8

oz.

fresh mozzarella

(or burrata)

1

teaspoon

kosher salt

(plus more, to taste)

¼

teaspoon

black pepper

(to taste)
Instructions
Preheat your grill to high or place a grill pan over high heat on your stove.

Add 4 tablespoons of olive oil to a pie plate and sprinkle with salt and pepper.

Cut the bread into 1-1½" slices and lightly press both sides into the oil before placing them on the grill.

Grill for 1-2 minutes per side, toasting the bread and getting a bit of charred grill marks. Cook in batches when you are using a grill pan on the stovetop.

When the bread comes off of the grill, rub both sides with the cut side of a garlic clove and then let the bread cool down.

In a large bowl, combine the remining olive oil, 1 teaspoon salt and pepper to taste, torn basil and oregano, beans, mozzarella, and tomatoes with any accumulated juices. Stir this mixture and let it sit for about 10 minutes. If you are using burrata, don't add it until step 8.

Tear the bread into bite sized pieces and add to the salad. Stir again to get everything incorporated, taste for seasoning, and allow the salad to rest for 15 minutes.

Serve with additional basil and a drizzle of olive oil for a garnish. If you are using burrata, cut it in pieces and add to the top of the panzanella.
Notes
This salad feeds 4-6 as a main dish and more like 8 as a side dish.  
Nutrition facts are sometimes provided below and are calculated using an online calculator. With specific brands of ingredients and additions, omissions, or substitutions the nutrition facts may change. We encourage you to use your own nutrition facts caculator to obtain the most accurate nutrition facts for your meal.
Nutrition Facts
Calories:
543
kcal
Carbohydrates:
40
g
Protein:
14
g
Fat:
37
g
Saturated Fat:
16
g
Polyunsaturated Fat:
5
g
Monounsaturated Fat:
14
g
Trans Fat:
0.2
g
Cholesterol:
22
mg
Sodium:
684
mg
Potassium:
457
mg
Fiber:
5
g
Sugar:
20
g
Vitamin A:
835
IU
Vitamin C:
10
mg
Calcium:
187
mg
Iron:
3
mg