Mujadara is made up of so few ingredients but packs a major flavor punch with filling lentils, rice, and caramelized onions. This shortcut mujadara is meant for busy weeknights.
Quick and filling family-friendly meals with bold flavor are the best. Try my Mild Coconut Curry with Turkey and Potatoes or Garlic Paprika Shrimp Bowls with Paprika and Lemon to shake up the dinner rotation!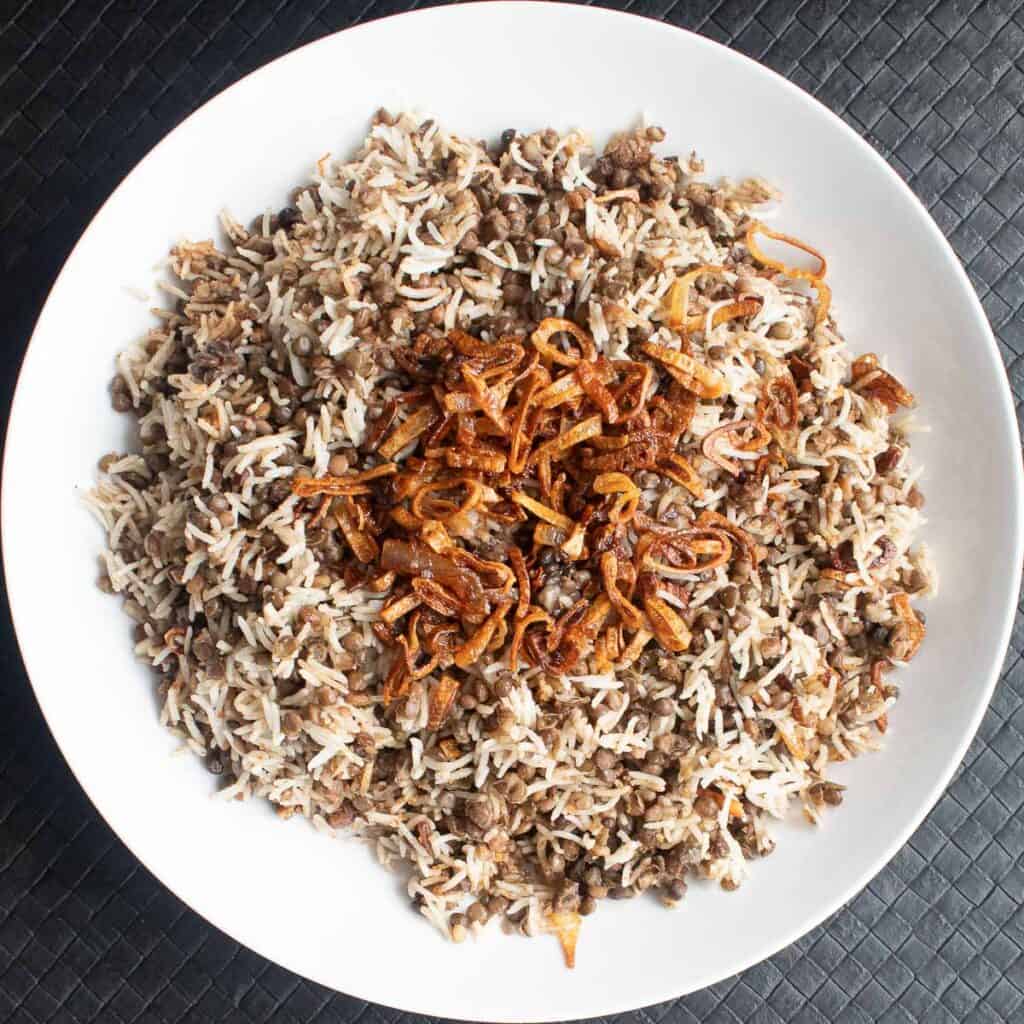 What is Mujadara?
Mujadara is "simply" a combination of rice, lentils, and caramelized onions. But don't let that fool you! There is definitely some magical kitchen synergy in the flavors of this dish. In arabic, mujadara means "pockmarked" and refers to the appearance of lentils in the dish. Mujadara recipes are found throughout the Eastern Mediterranean region and, depending on the country of origin, the spelling can vary from mujadara to mujadarra, majadara, mejadra, mujadarah, and more. Every recipe has a few tweaks to the basic formula: added spices or herbs, shallots instead of onions, and bulgur in place of rice as examples.
My shortcut mujadara is an attempt to recreate the flavors in the mujadara from a local restaurant, with warm spices and fluffy grains of rice. I opt for shallots instead of onions because I find them milder in flavor and they crisp up beautifully. This shortcut version with two time-saving steps makes this recipe weeknight friendly!
Ingredients
I include ingredient notes here when I think they'll be helpful, but be sure to check out the recipe card below for the full list of ingredients!
Basmati Rice: This version contains light, fluffy grains of rice, all made possible with a longer grain rice variety like basmati. Rinsing the rice before cooking is so important for this texture.
Precooked Lentils: These are a great time saver! I find steamed lentils in vacuum-sealed packaging at Trader Joes, Target, and Melissa's brand in our supermarket in the produce aisle (often near the tofu).
Shallots: I prefer shallots in this dish for their mild flavor. They cook up crispy, golden, and deliciously fragrant. You can substitute sweet onions in the dish, but I would cut them in half before slicing for even cooking.
Dried Spices: The smoky flavor of cumin pairs so well with the earthy lentils. I add coriander for a bright and almost citrusy aroma. Finally, cinnamon shines here as a traditionally sweet spice that mellows out in this savory dish. Most people can't identify it right off and they always ask what secret ingredient I've included.
Shortcut 1: Instant Pot Basmati Rice
Making basmati rice in the instant pot makes this step hands-off! While the rice cooks you can take care of all of the other preparation steps, making this a quick dinner.
Start by thoroughly rinsing your rise in a mesh strainer. I just let the water run over the strainer, agitating the rice grains with my fingers for 1-2 minutes or until the water runs clear.
Add the rinsed and drained rice to the insert of the pressure cooker and then add in 1 ⅓ cups water. Place the lid on top and lock it, making sure the valve is closed. Cook for 6 minutes at manual high pressure and then do a quick release.
Fry the Onions or Shallots
Peel the papery layer off of the shallots and then slice them in ¼-inch rings. Heat the olive oil in a deep skillet over medium heat. You want to fry the shallots without burning them, so adjust the heat if needed. Add the shallots to the hot oil and cook, stiffing frequently, for abut 7-10 minutes. Try to break up the rings as you stir them around.
Once the shallots are crispy and golden, remove them from the skillet using a slotted spoon and set them aside. That oil you have leftover is liquid gold! It's deeply flavored with caramelized shallots and will make the rice and lentils taste amazing.
Shortcut 2: Precooked Lentils
Using precooked lentils not only saves time, but the texture of the steamed lentils is perfect for this shortcut mujadara. I most often use the ones from Trader Joe's and these are steamed French brown lentils that retain their shape without getting too mushy when mixed with the rice.
Combine the Lentils, Rice, and Seasonings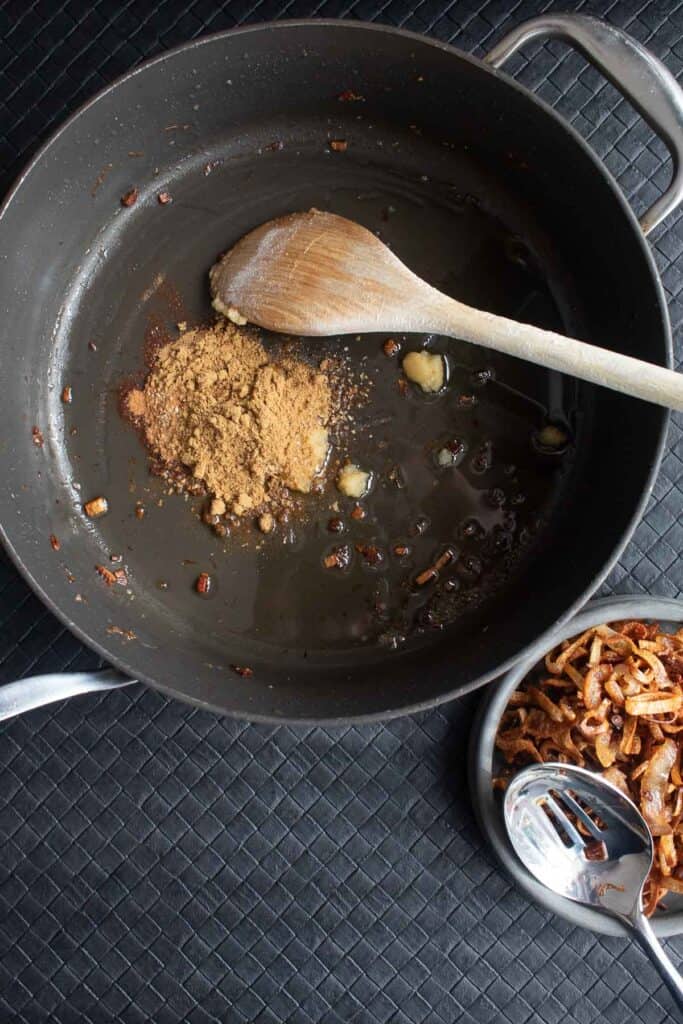 To the shallot-infused oil, add your spices and garlic and fry these for 1-2 minutes to bloom the flavors. The aroma is intoxicating and you'll likely get a visitor or two swing by and check out what's for dinner.
Add the lentils to the skillet and stir to coat them with the oil, garlic, and spices. Once they are heated through, add in the rice and half of the shallots. Continue to stir until the ingredients are evenly distributed. Taste to check the salt level, transfer the mujadara to a platter, and top it with the remaining shallots. Add freshly cracked pepper tableside.
What do you serve with Mujadara?
Mujadara is certainly hearty enough to be a complete meal on its own. It is commonly served topped with yogurt or labneh, but my favorite pairing is a cucumber and tomato salad with herbs. I slice up cucumbers, roughly chop a tomato, and then toss both with olive oil, white wine vinegar, and dill or parsley.
When I'm serving a larger group, I will often add grilled or broiled chicken or flank steak skewers. I season these simply with salt, pepper, cumin, and pomegranate molasses for a sweet-savory flavor.
If you'd like to keep the meal vegetarian, serve the mujadara with hummus, tahini, spiced yogurt, a salad, or any combination of these things!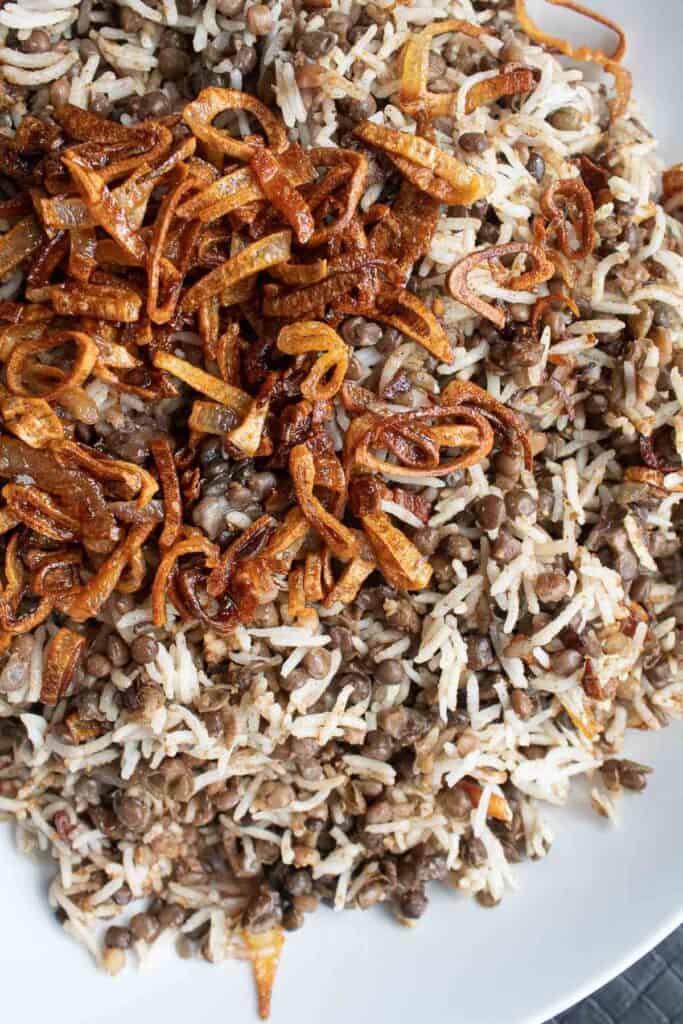 Make It Family Friendly
Both my kids will happily eat this dish with no modifications, but if you have picky kids I feel your pain. Leave the shallots off of the dish and pass them around separately for anyone who wants to stir them into their lentils and rice. Serve this with fruit or veggie sticks to keep some familiar favorites on their plate.
Storage Tips and Leftover Suggestions
Store the leftover mujadara in an airtight container in the refrigerator for up to 3 days. Mujadara makes a great leftover lunch simply reheated in the microwave! If you are looking for a lunch on the go, add some warmed mujadara to a pita pocket along with some sliced tomatoes, shredded lettuce, and tahini sauce. You can also serve leftover mujadara with a fried egg for breakfast.
Try It and Share
I hope you cook this Shortcut Mujadara with Instant Pot Rice and Precooked Lentils and share the recipe with family or friends. I want to see your results! Tag your photo with #planeatpostrepeat and mention me @planeatpostrepeat on Instagram or Facebook. I can give you a virtual high five and thank you for cooking one of my recipes! Comment below with any questions and please leave a review so others can find this recipe more easily.
Recipe
Shortcut Mujadara with Instant Pot Rice and Precooked Lentils
This shortcut mujadara is a warmly-spiced combination of instant pot rice, precooked lentils, and deeply caramelized crispy shallots.
Equipment
Pressure Cooker (optional)
Ingredients
1

cup

basmati rice

(basmati )

1

pound

pre-cooked packaged lentils

4

whole

shallots, sliced thinly

(substitute 2 small onions if needed)

¼

cup

olive oil, plus additional for finishing

1

teaspoon

kosher salt

(plus more, to taste)

1

tablespoon

ground cumin

1

teaspoon

ground coriander

½

teaspoon

ground cinnamon

2-3

garlic cloves, minced or pressed

fresh cracked black pepper

(to taste)
Instructions
Instant Pot Basmati Rice
Thoroughly rinse the rice using a mesh strainer. Add the drained rice and 1⅓ cups water to the pressure cooker insert and cook at manual high pressure for 6 minutes.

When the cooking time is finished, do a quick release of the pressure and fluff the rice. Keep it warm until you add it to the skillet in the steps below.
Cooking the Shallots
Heat oil and salt over medium heat in a deep skillet. Cook shallots or onions for 7-10 minutes, until deeply caramelized. Watch carefully towards the end to prevent burning.

Remove shallots or onions to a bowl using a slotted spoon and set them aside. Keep the oil in the skillet.
Combining the Lentils, Rice, Spices, and Shallots
To the oil, add garlic, coriander, cumin, and cinnamon and cook 1-2 minutes or until fragrant and garlic is softened.

Add the lentils and stir to distribute the spices evenly. Cook until heated through, then add the rice and half the caramelized shallots or onions. Mix and taste for salt and pepper; adjust as needed.

Transfer mujadara to a serving dish, top with remaining shallots or onions, and drizzle with olive oil if desired.
Nutrition facts are sometimes provided below and are calculated using an online calculator. With specific brands of ingredients and additions, omissions, or substitutions the nutrition facts may change. We encourage you to use your own nutrition facts caculator to obtain the most accurate nutrition facts for your meal.
Nutrition Facts
Calories:
435
kcal
Carbohydrates:
63
g
Protein:
15
g
Fat:
15
g
Saturated Fat:
2
g
Polyunsaturated Fat:
2
g
Monounsaturated Fat:
10
g
Sodium:
848
mg
Potassium:
355
mg
Fiber:
8
g
Sugar:
0.2
g
Vitamin A:
20
IU
Vitamin C:
1
mg
Calcium:
88
mg
Iron:
4
mg
This post was originally published in March of 2020. It was updated with cooking techniques and other information and republished in February 2023.