The familiar combination of broccoli, chicken, and cheddar gets an upgrade with a savory curry sauce in this Baked Broccoli and Chicken Divan with Curry recipe! This is a great way to use up shredded rotisserie chicken or leftover turkey.
If you have leftover turkey or chicken you'd like to use, try these Leftover Turkey Turnovers with Simple Potato Curry Filling, a Mild Coconut Curry with Turkey and Potatoes, or this Creamy Chicken or Turkey Pot Pie with Puff Pastry Crust next time!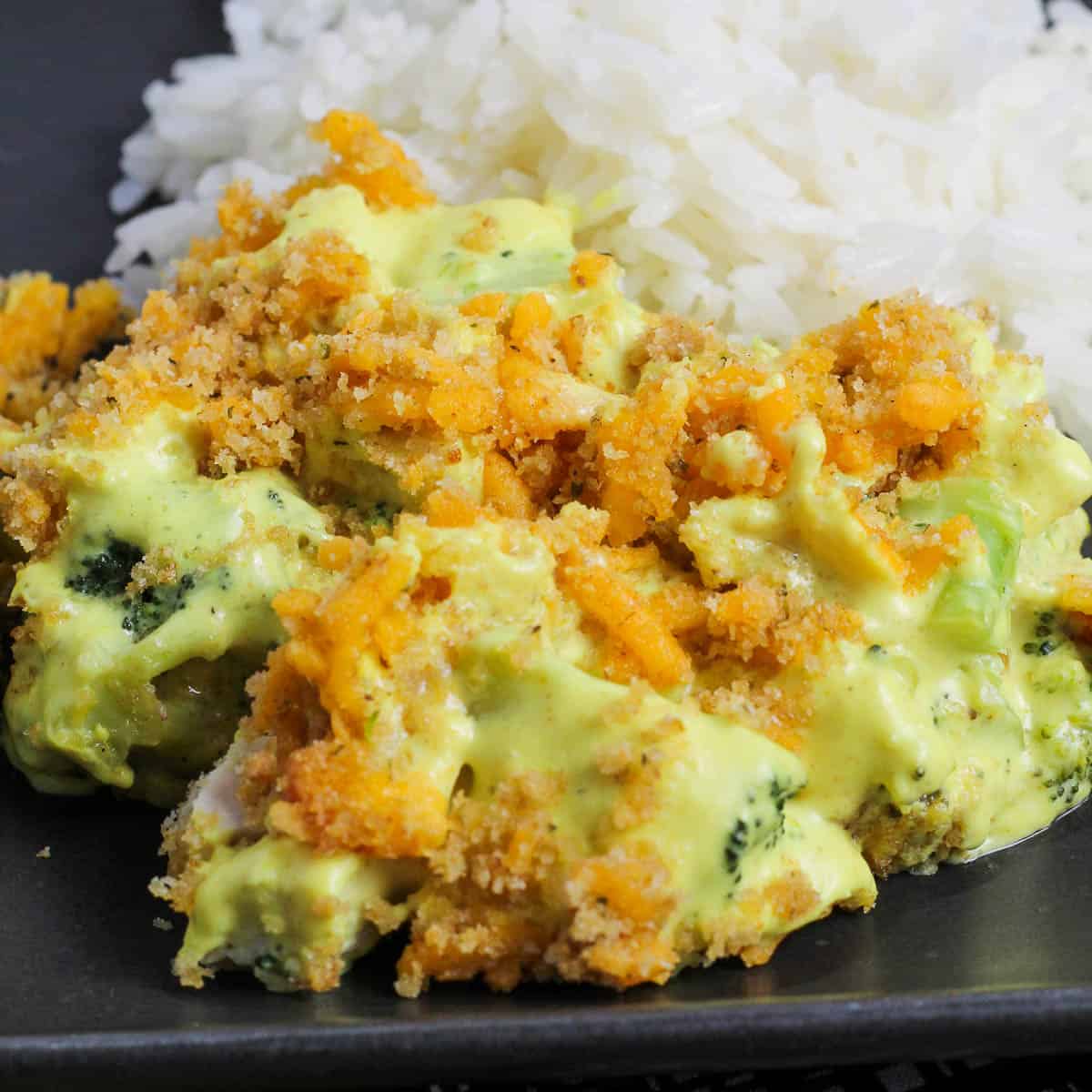 The cooler months mean you can warm up the kitchen with tasty oven goodies for dinner. Enter the humble casserole! It's nothing fancy but casseroles are family dinner workhorses. They often can be prepared ahead of time, everything is in one dish, and they usually involve cheese. What's not to like?
Ingredients
The curry sauce comes together quickly on the stovetop. I've changed up the classic curry chicken divan recipe a bit over the years to remove the canned cream of chicken soup and I've moved to using light cream cheese almost every time. I've also increased the curry powder amount, but I think the changes all preserve the classic nature of the dish.
Cream Cheese: Use either classic cream cheese, light cream cheese, or Neufchatel cheese.
Curry Powder: This is a blend of spices and will vary from brand to brand. Once you find one you enjoy, stick with it!
Butter: We use a bit of butter to make a roux which makes a stable creamy sauce for the casserole.
Flour: All-purpose flour is the second component of the roux and helps thicken the curry sauce.
Chicken Stock or Bouillon Paste: I am a big fan of the bouillon paste for the concentrated flavor. Feel free to use canned or boxed stock or broth as well.
The creamy sauce surrounds chicken and broccoli morsels for the bulk of the casserole.
Broccoli: Use thawed frozen broccoli for ease of preparation. If you have fresh broccoli, steam it in the microwave or a saucepan until slightly tender before assembling the casserole.
Chicken: Use shredded or cubed chicken breast or thigh. Turkey works really well in this recipe, too!
The cheesy breadcrumb topping is possibly my favorite part of this casserole! It adds a bit of texture to the final dish and browns up beautifully in the oven.
Cheddar Cheese: I love sharp cheddar for this recipe. Take a shortcut and use pre-shredded cheese! You can substitute mild cheddar cheese as well.
Italian Breadcrumbs: These add a little bit of seasoning, but they are a nostalgic favorite too!
Butter: A bit of melted butter helps bring the breadcrumb topping together.
Preparation
Melt the butter in a medium sauce pan over medium heat. Add the flour, curry powder, and salt and cook for 30 seconds or so to bloom the flavor of the curry powder and cook the flour. Whisk in the chicken stock slowly to remove lumps and bring the sauce to a boil.
Remove it from the heat and stir in the cream cheese. If you taste the sauce at this point, you're going to wonder if it's too salty or too strongly flavored, but remember that you are seasoning a good amount of plain broccoli and chicken with it. Spread about a quarter of the sauce on the bottom of a 9x13" pan that has been prepared with cooking spray.
Next up, gather the chicken and the broccoli. Shred or dice the chicken or turkey. Thaw the broccoli (if frozen) or steam the fresh broccoli and cut it into bite-sized pieces. Layer the chicken and broccoli over the curry sauce.
Pour the remaining curry sauce over the top of the broccoli and chicken. Finally, stir together the cheese, breadcrumbs, and melted butter for the topping. I have to make sure I make the topping right before I add it to the casserole or I'll snack on it the whole time I'm preparing the other parts!
Sprinkle the entire casserole with the breadcrumb topping. Bake at 375F for 20-25 minutes, until the sauce is bubbling and the breadcrumbs are golden.
Serving Broccoli and Chicken Divan
Allow the casserole to cool for about 5 minutes before serving. We serve it with brown or white rice, but I think it would be terrific over mashed potatoes as well. This is also a great topping for baked potatoes as a leftover meal.
Make-Ahead Options
If you'd like to prepare this ahead of time, you can pause after the casserole is layered, cover it with plastic wrap, and refrigerate until you are ready to bake. I always put the dish directly from the fridge into a cold oven (remove that plastic wrap!) and preheat with it in place. The baking time should be the same. I've never had any issues with the glass (this one pictured below is a Pyrex brand), but use your own kitchen sense with the dish you have.
Variations and Substitutions
Make it a Vegetarian meal! Omit the chicken or turkey and use two cans of drained and rinsed chickpeas instead. Prepare the curry sauce with a vegetable stock. This is a hearty vegetarian dinner that my kids really enjoy.
Convert this recipe to a broccoli side dish. Double the broccoli amount and omit the chicken for a great side dish to serve with roasted meats.
Try It and Share
Call the family to the table and spoon some of this creamy cheesy goodness over rice or potatoes. I want to see your results! Tag your photo with #planeatpostrepeat and mention me @planeatpostrepeat on Instagram or Facebook. I can give you a virtual high five and thank you for cooking one of my recipes! Comment below with any questions and please leave a review so others can find this recipe more easily.
Recipe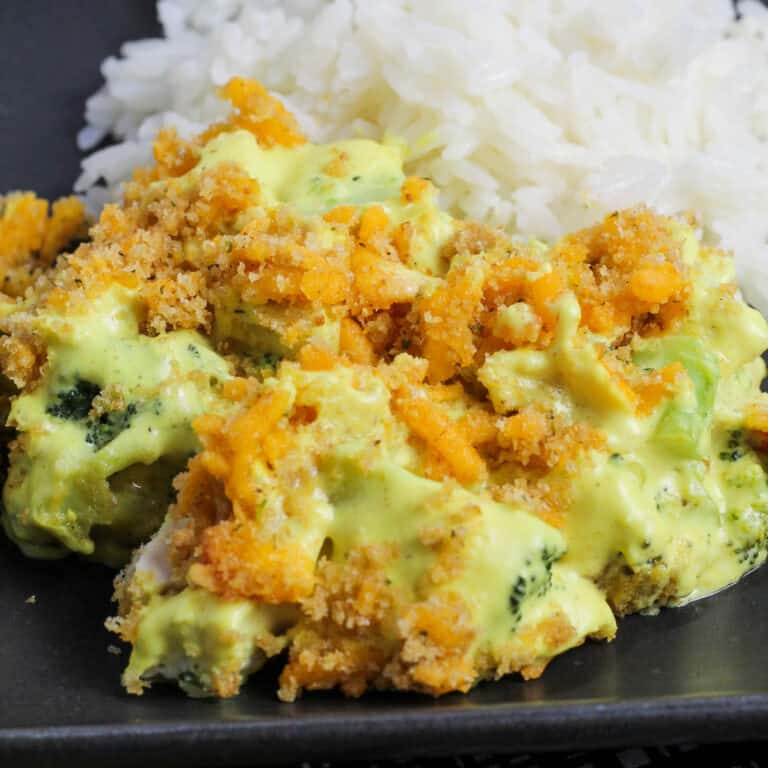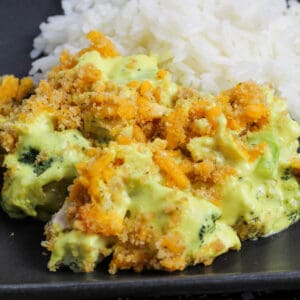 Baked Broccoli and Chicken Divan with Curry
An old-school favorite with broccoli, chicken, curry sauce, and a breadcrumb topping, this bakes up into a warm and comforting casserole everyone cheers for.
Ingredients
Curry Sauce
2

tablespoon

butter

2

tablespoon

all-purpose flour

½

teaspoon

kosher salt

1

tablespoon

curry powder

1½

cup

chicken stock or broth

8

oz.

cream cheese (regular or light)
Casserole Layers
3

cups

shredded or diced cooked chicken or turkey

16

oz.

chopped and steamed broccoli
Casserole Topping
1

cup

shredded sharp cheddar cheese

½

cup

Italian-style breadcrumbs

2

tablespoon

butter, melted
Instructions
Preheat the oven to 375°F.
Prepare the Curry Sauce
In a medium sauce pan, melt butter on medium heat.

When butter is fully melted, add flour, curry powder, and salt and cook for 1 minute.

Add in the chicken stock slowly while whisking to remove lumps. Cook until bubbling and thickened.

Stir in the cream cheese until melted and set the sauce aside.
Prepare the Cheese and Breadcrumb Topping
Stir together melted butter, breadcrumbs, and shredded cheese until everything is coated with butter.
Layer the Casserole
Spray your 9"x13" pan with cooking spray and put a thin layer of the curry sauce on the bottom of the pan.

Spread the broccoli in a layer on top of the curry sauce evenly.

Sprinkle the chicken over the broccoli.

Spread the remaining curry sauce over the chicken in an even layer, making sure all of the layers beneath are covered.

Sprinkle the cheese and breadcrumb topping evenly over the casserole.
Baking
Bake the casserole, uncovered, at 375°F for 20-25 minutes, until it is bubbling and the breadcrumbs are toasted.
Nutrition facts are sometimes provided below and are calculated using an online calculator. With specific brands of ingredients and additions, omissions, or substitutions the nutrition facts may change. We encourage you to use your own nutrition facts caculator to obtain the most accurate nutrition facts for your meal.
This recipe was updated on November 17, 2022 from an original post dated September 22, 2020.