Cherry tomato confit is a terrific way to preserve ripe and sweet cherry tomatoes for bruschetta, grazing boards, tomato confit pasta, and more. The tender garlic and deeply flavored olive oil can also be used in sautés, salads, and side dishes, so make a double batch!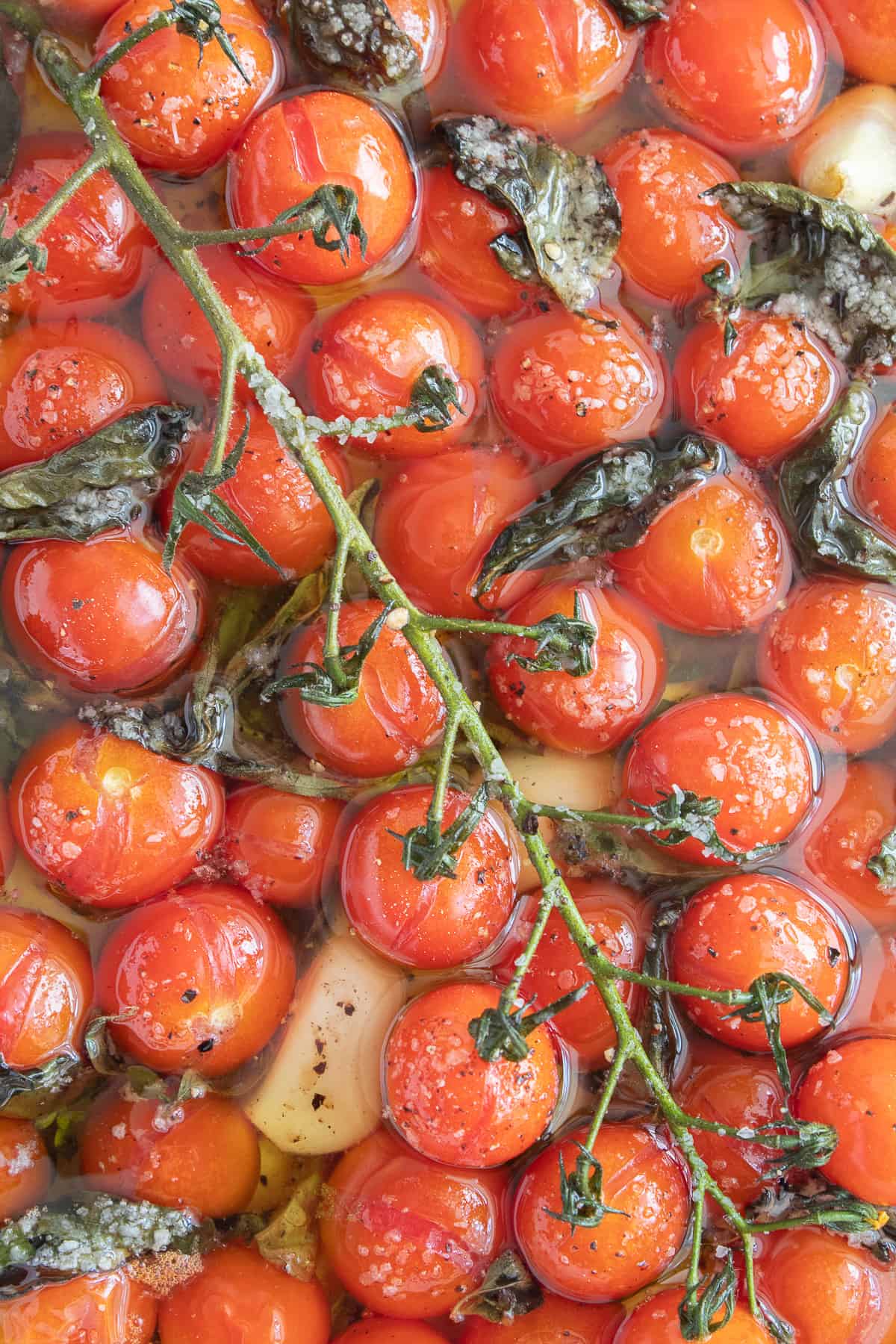 I keep lots of little jars of goodies in my refrigerator, but having a jar of this cherry tomato confit on hand is a kitchen hack that I come back to over and over again.
Preserving ripe and juicy cherry tomatoes at their peak is a worthy goal. Confit is a preservation method (confit derives from a French word meaning "to preserve") that involves slowly cooking something in oil or even sugar syrup.
This recipe will leave you with juicy tomatoes, tender and mild garlic cloves, and a herb-tomato-garlic infused olive oil. It's a 3 for 1! You'll find so many uses for all of these in your kitchen. If you love the combination of tomatoes and basil, try this Caprese Focaccia recipe next!
Jump to:
Ingredients
This is a recipe that relies on very few ingredients. Preserve ripe tomatoes, blemish-free garlic, and bright and fresh herbs for the best flavor.
Cherry Tomatoes - Use whatever ripe and sweet small tomatoes you can get your hands on. Grape tomatoes or even small plum tomatoes will work in this recipe as well. There's no need for them to be on the vine still, and if you can find local tomatoes use them. If you are lucky enough to have a backyard garden full of small tomatoes in fall, this is a great way to preserve them.
Olive Oil - I don't use a special extra-virgin olive oil for this recipe, a blend will do. The oil will be flavored by the garlic, tomatoes, and herbs and you use a good quantity for this recipe so extra-virgin olive oil would be a splurge.
Garlic - Use firm, blemish-free cloves of garlic and peel them before adding them to the recipe. You can also smash the cloves with the flat side of a knife to infuse more garlic flavor.
Herbs - I use a combination of basil and oregano for this recipe. See the suggested variations below for other ideas!
I include ingredient notes here when I think they'll be helpful, including ways to source, any preparation tips, or why I've chosen a particular ingredient. Be sure to check out the recipe card below for the full list of ingredients and their quantities!
Oven Instructions
Preheat the oven to 350°F and find a baking dish that will hold all of your tomatoes snugly so that they are submerged in oil while cooking. I find a deep pie dish to be perfect.
Add the tomatoes, garlic, herbs, salt, and pepper to the baking dish. Pour the oil over the top and make sure that the garlic cloves and tomatoes are submerged as well as possible.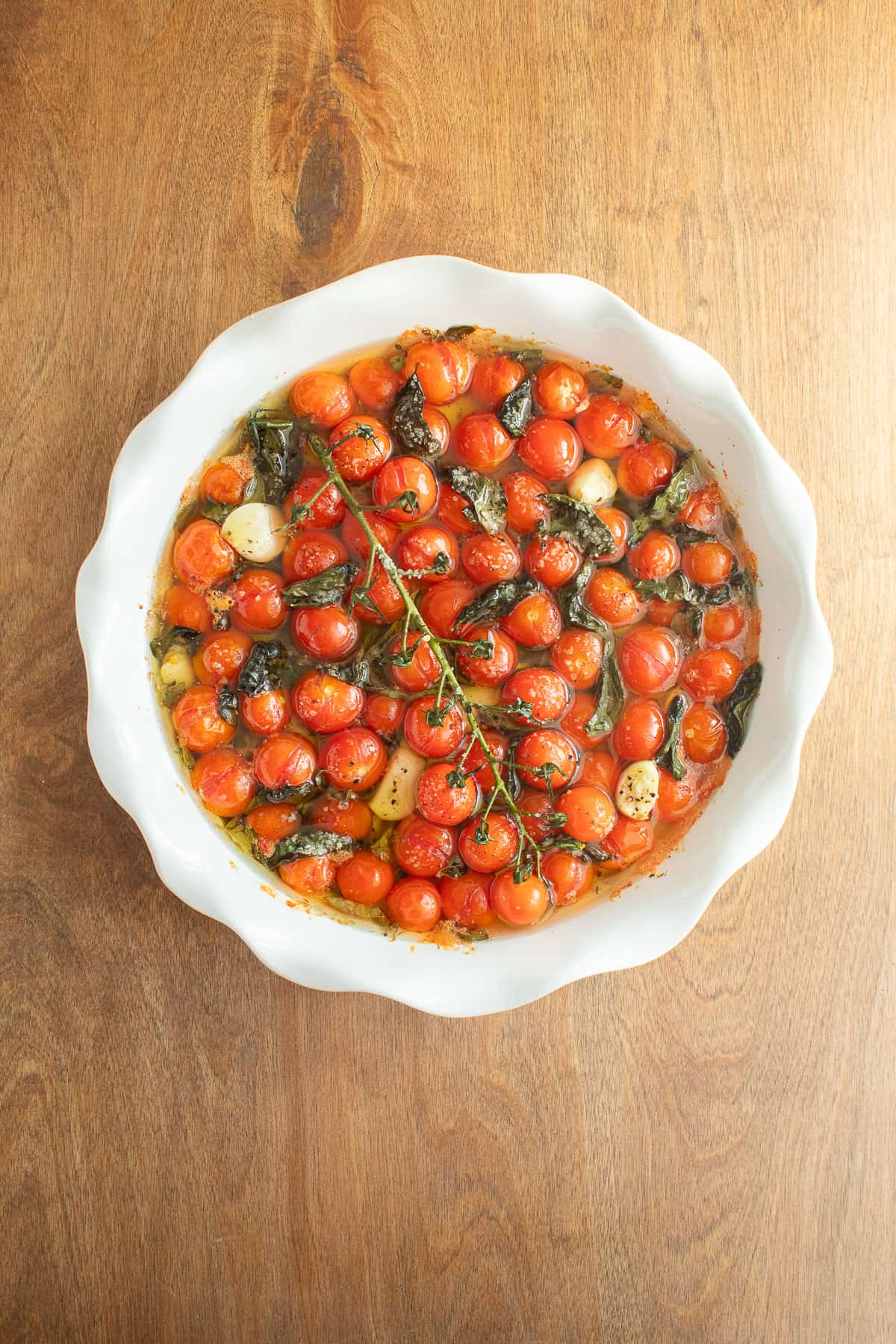 Bake the tomatoes for 30 minutes. They will be juicy and some will burst. Remove the dish from the oven carefully, you don't want to splash hot oil on yourself.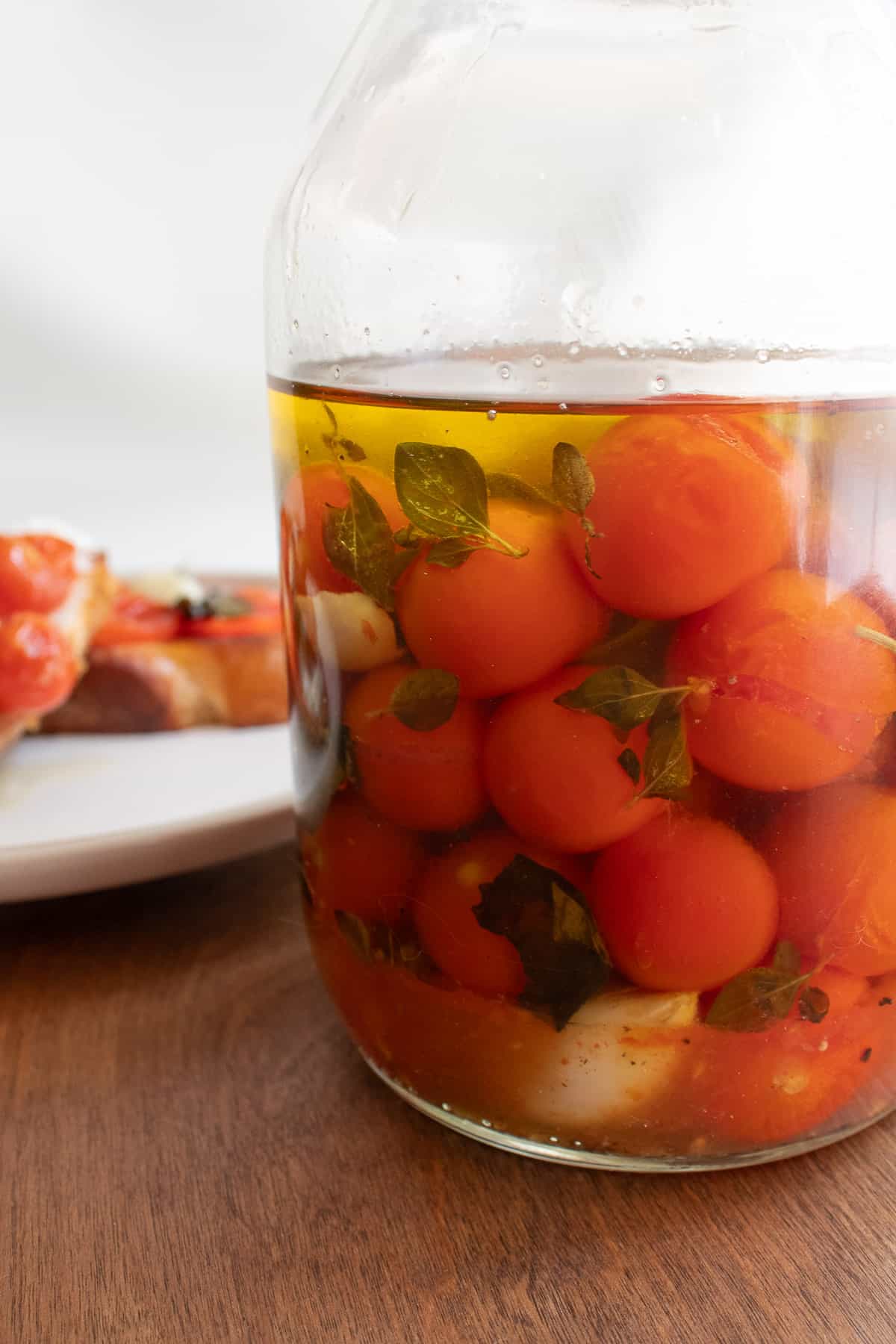 Allow the cherry tomato confit to cool for about 30 minutes. Transfer the tomatoes, herbs, garlic, and oil to a jar with a tight-fitting lid and refrigerate.
Stovetop Instructions
Combine the tomatoes, oil, garlic, herbs, salt, and pepper in a medium sauce pan. Bring the mixture to a low simmer over medium-high heat. Reduce the heat to a bare minimum so that the tomatoes are gently heated. Cook this for 30 minutes, or until the garlic is tender. Allow the mixture to cool before transferring to a jar to store.
Variations
This recipe is very flexible and can tolerate some substitutions. Here are some ways you can change up the flavor for your cherry tomato confit:
Swap or add herbs - I make this recipe most often with basil and oregano, but use any combination of thyme, rosemary, tarragon, marjoram, basil, or oregano that you like.
Add spice - To add some spice, use ½ teaspoon of dried red chili flakes and add them along with all of the other ingredients at the start of roasting or cooking on the stovetop.
Use another allium - Leeks, chives, shallots, or pearl onions can be added to the recipe in place of the garlic. Cut or chop any ingredients in pieces roughly the size of the tomatoes so that they cook through.
Prepare Tomato Confit Pasta
Having a batch of cherry tomato confit means you can have a simple pasta dish on the table in the amount of time it takes to boil the pasta.
To prepare tomato confit pasta, boil 8 ounces of pasta (most any shape works) in salted water. Reserve about ¼ cup of the starchy pasta water. Meanwhile, drain some tomato confit so that you have about 1 cup of tomatoes and garlic and ¼ cup flavored oil.
In a separate skillet, heat the oil, tomatoes, and garlic over medium heat, mashing the tomatoes and garlic cloves with the back of your wooden spoon. The cherry tomato confit will reduce to a thick and glossy sauce. Cook for 3-4 minutes and then add the al dente pasta and the reserved pasta water and stir well to coat the pasta with the sauce.
Serve the pasta with a drift of Parmesan cheese and fresh basil leaves. This pasta dish is a big hit with my kids.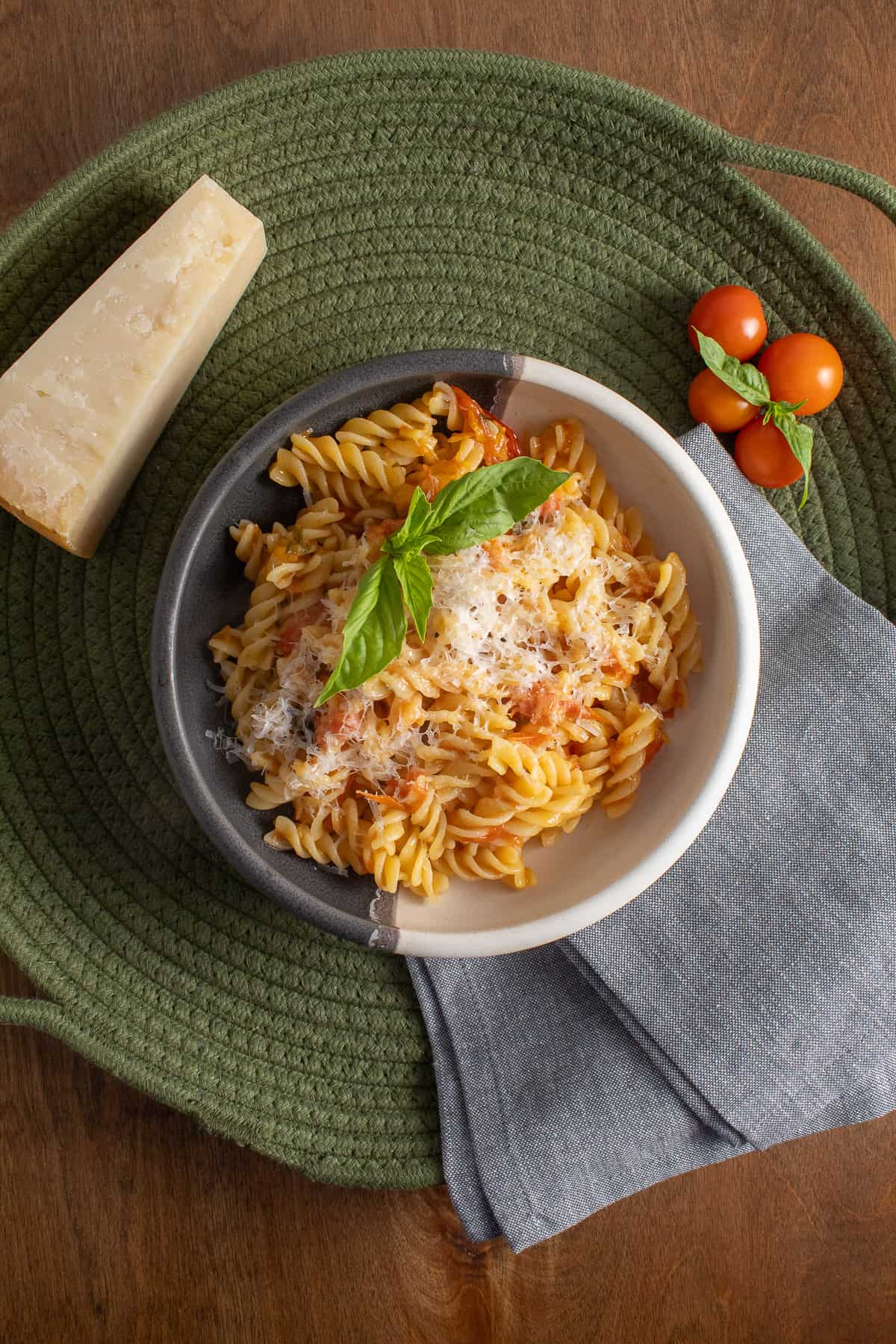 Make Delicious Appetizers
These preserved tomatoes are so versatile for appetizers. Here are a few ideas:
For bruschetta, add a layer of goat cheese or burrata cheese to toasted slices of bread. Spoon the tomatoes, garlic, and a bit of oil over the top. Sprinkle with salt and pepper.
Add a small bowl of the tomatoes to a grazing board along with olives, cheeses, and charcuterie.
Serve the cherry tomato confit warm with crusty bread and a splash of balsamic vinegar for a bread dipping sauce.
Make marinated feta by pouring the cherry tomato confit over sliced feta cheese and allowing it to flavors to combine for a few hours before serving.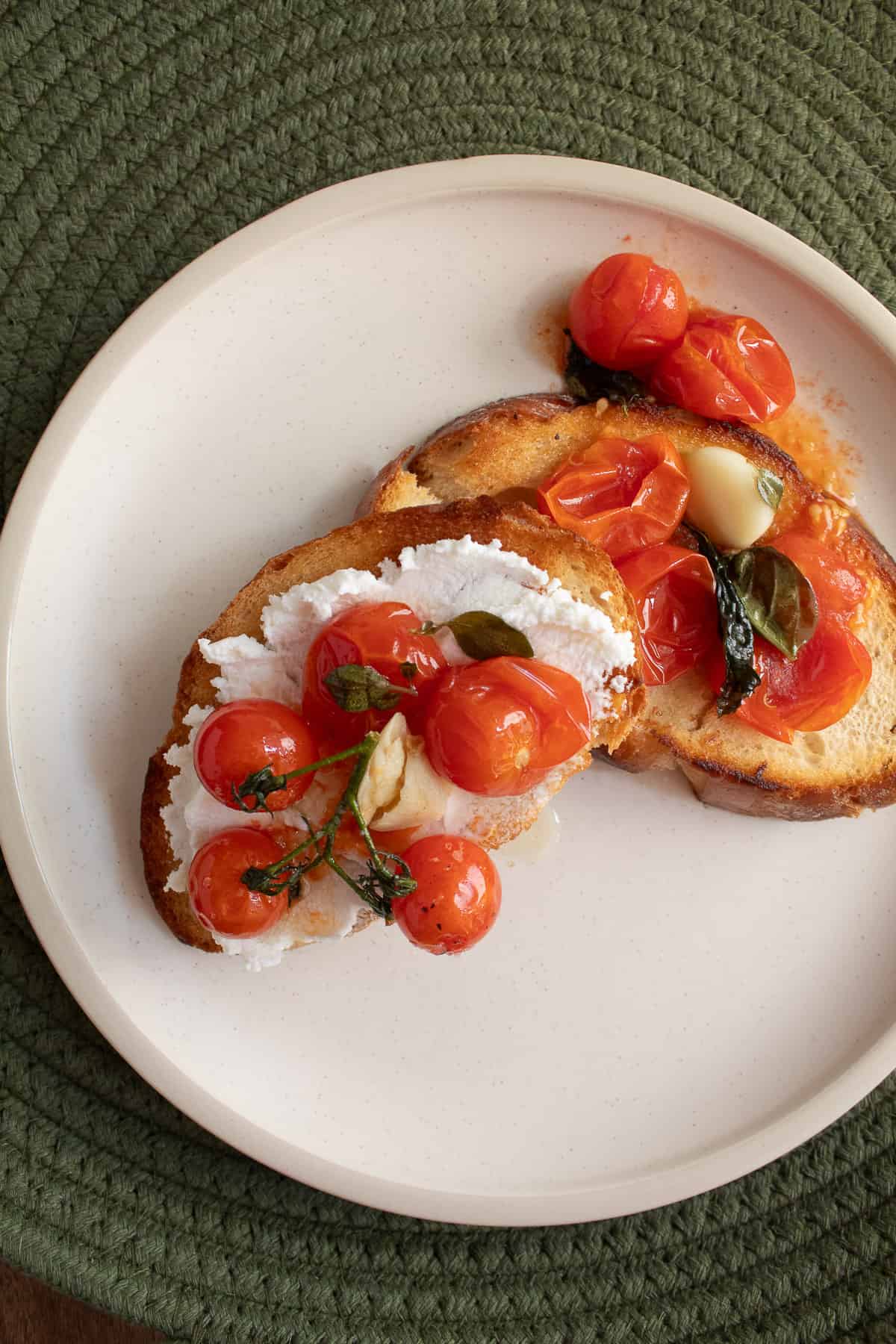 Using the Flavored Oil
The leftover tomato, herb, and garlic infused oil is liquid gold! You can use it to add flavor to so many things. Here are some suggestions:
Sauté beef, chicken, or shrimp in the remaining oil to add a layer of flavor to any quick skillet meal.
Brush the oil over vegetables like eggplant, peppers, squash, or asparagus before grilling.
Make a vinaigrette with the oil and red wine vinegar to turn a plain green salad into something special.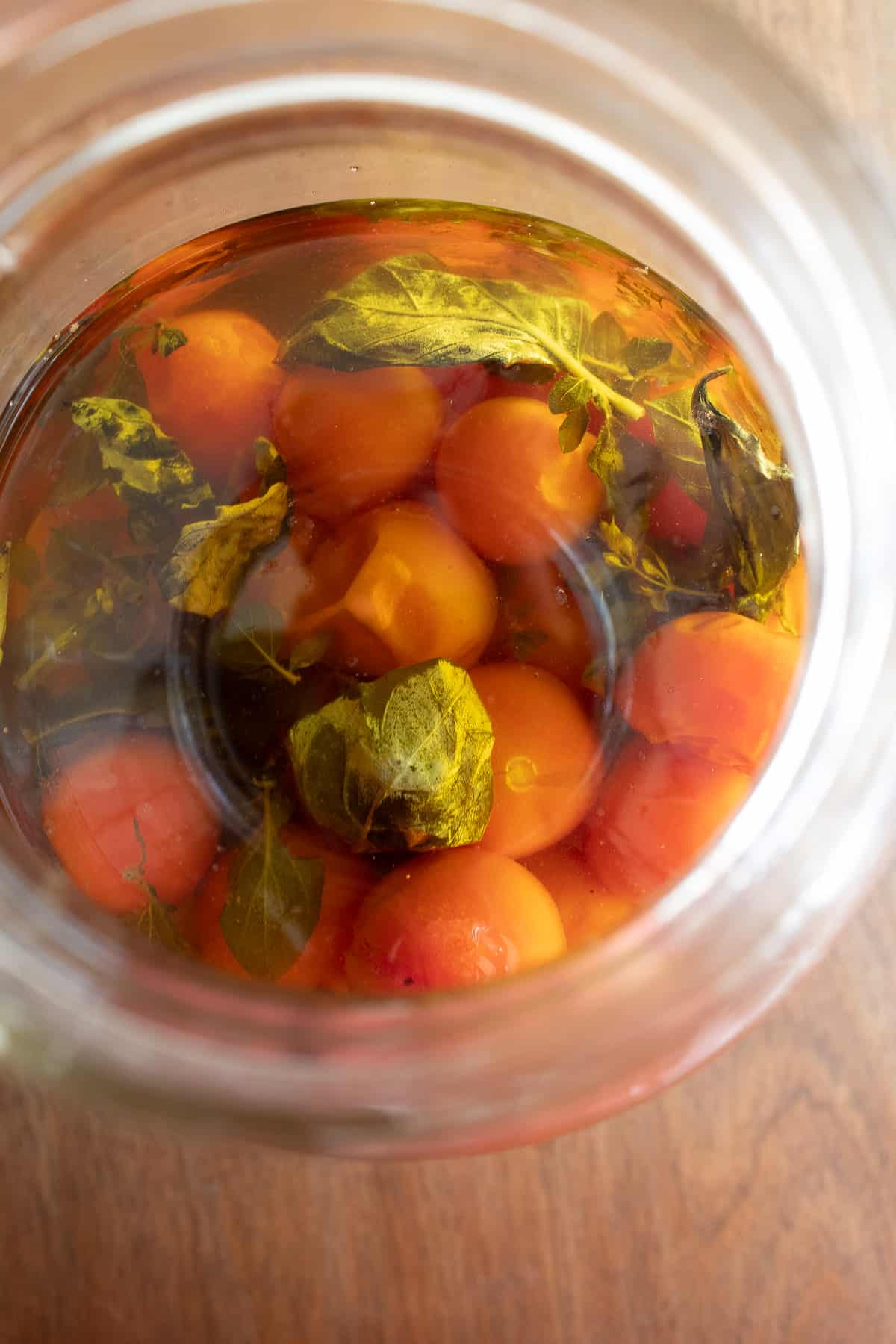 Storage
The tomatoes will keep in the refrigerator for up to three weeks as long as they are covered with a layer of oil. Beyond that, it's best to store the cherry tomato confit in the freezer.
FAQ
Do you need to remove the skins from the cherry tomatoes?
No, the tomato skins can stay on the tomatoes. This makes for a quick preparation!
Can you use dried herbs in this recipe?
Absolutely, but remember that dried herbs are more potent or concentrated than their fresh counterparts. Generally you need about ⅓ as much dried herbs as fresh.
What are other ways to use cherry tomato confit?
In addition to making a tomato confit pasta or serving them as an appetizer, you can stir the tomatoes into risotto, use them as a base for a pizza, spoon them over grilled chicken or steak, or add them to sandwiches.
Can you freeze cherry tomato confit?
Yes you can. Add it to a freezer-safe air tight container and freeze it for up to three months.
More Tomato Recipes
When tomatoes are in season and at their peak of deliciousness, we want to put them in every recipe. Here are some great ones to try:
Pairing
Add some delicious cherry tomatoes as a side dish with any of these recipes:
Try It and Share
Make this Cherry Tomato Confit and show us how you enjoy it! Tag your photo with #planeatpostrepeat and mention me @planeatpostrepeat on Instagram or Facebook. I can give you a virtual high five and thank you for cooking one of my recipes! Comment below with any questions and please leave a review so others can find this recipe more easily.
Recipe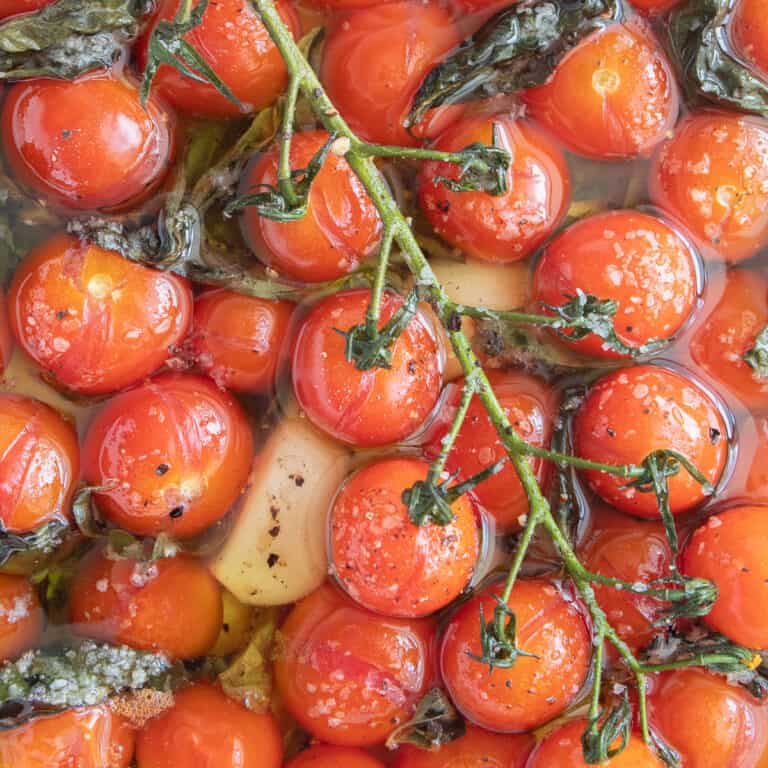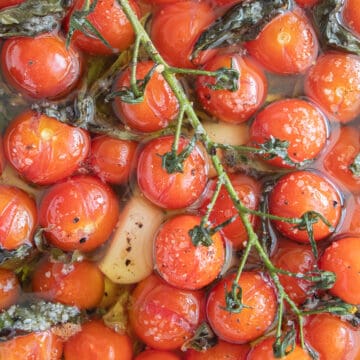 Cherry Tomato Confit with Garlic and Herbs
Preserve your sweet cherry tomatoes with this cherry tomato confit method and be rewarded with tender tomatoes and flavored oil.
Ingredients
1

pound

cherry tomatoes

1

cup

olive oil

6

cloves

garlic

¼

cup

basil leaves

2

tablespoon

oregano leaves

1

teaspoon

kosher salt

¼

teaspoon

black pepper
Instructions
Oven Directions
Preheat the oven to 350°F.

Add all ingredients to a baking dish (a pie pan works well).

Bake for 30 minutes. Remove carefully from the oven and allow to cool.

Transfer the tomatoes, garlic, herbs, and oil to a jar. Top with a lid and store in the refrigerator.
Stovetop Instructions
Combine all ingredients in a medium saucepan.

Bring the oil to a low simmer over medium-high heat. Reduce the heat to maintain a bare simmer.

Simmer for 30 minutes. Remove from the heat and allow to cool.

Transfer the tomatoes, garlic, herbs, and oil to a jar. Top with a lid and store in the refrigerator.
Nutrition facts are sometimes provided below and are calculated using an online calculator. With specific brands of ingredients and additions, omissions, or substitutions the nutrition facts may change. We encourage you to use your own nutrition facts caculator to obtain the most accurate nutrition facts for your meal.
Nutrition Facts
Calories:
256
kcal
Carbohydrates:
4
g
Protein:
1
g
Fat:
27
g
Saturated Fat:
4
g
Polyunsaturated Fat:
3
g
Monounsaturated Fat:
20
g
Sodium:
298
mg
Potassium:
152
mg
Fiber:
1
g
Sugar:
1
g
Vitamin A:
339
IU
Vitamin C:
14
mg
Calcium:
32
mg
Iron:
1
mg