Homemade Macadamia Dukkah is a combination of seeds, nuts, and coarsely ground spices and is so versatile in your kitchen. Dukkah originates in Egyptian cuisine, but I was first introduced to this fragrant spice blend in Australia, where they often use macadamia nuts instead of pistachio, almond, or walnuts.
Pair this easy appetizer with Muhammara and Hummus for a enviable party spread!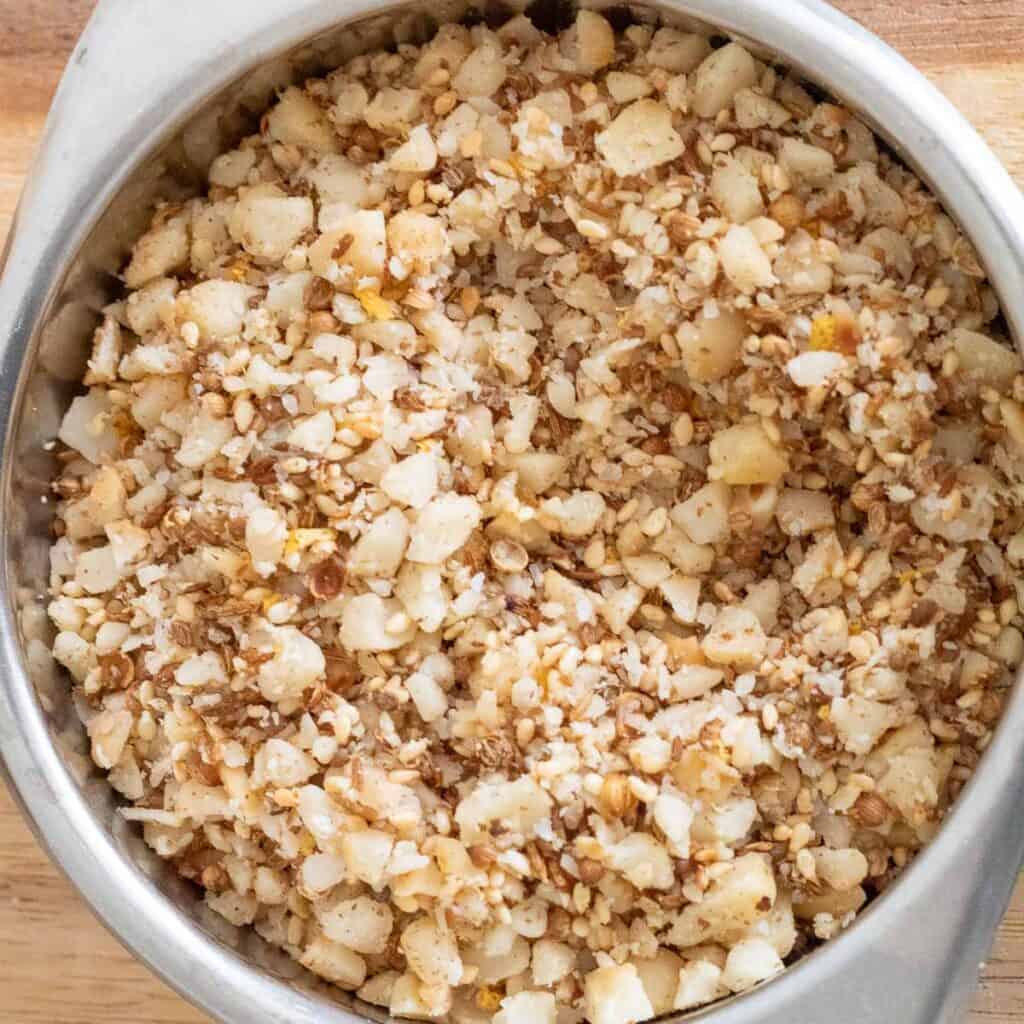 There are many recipes out there for dukkah, and each uses a slightly different combination of ingredients. This recipe is influenced by the setting of my first taste of dukkah while on our epic honeymoon in Australia. We were toasting glasses of champagne at sunset while watching the color show flash over Uluru and our tour guide whipped out the macadamia dukkah, a baguette, and olive oil. She showed us how to dip our bread into olive oil and then the spice mixture to get a good coating and I was sold.
Making homemade dukkah is ideal since the flavor of the nuts, seeds, and spices can change over time. You never know how fresh these ingredients are when you purchase a ready-made blend at the store! Make sure you test your own ingredients before making the dukkah, macadamia nuts can quickly go rancid. I store mine in the freezer to slow this process down!
Ingredients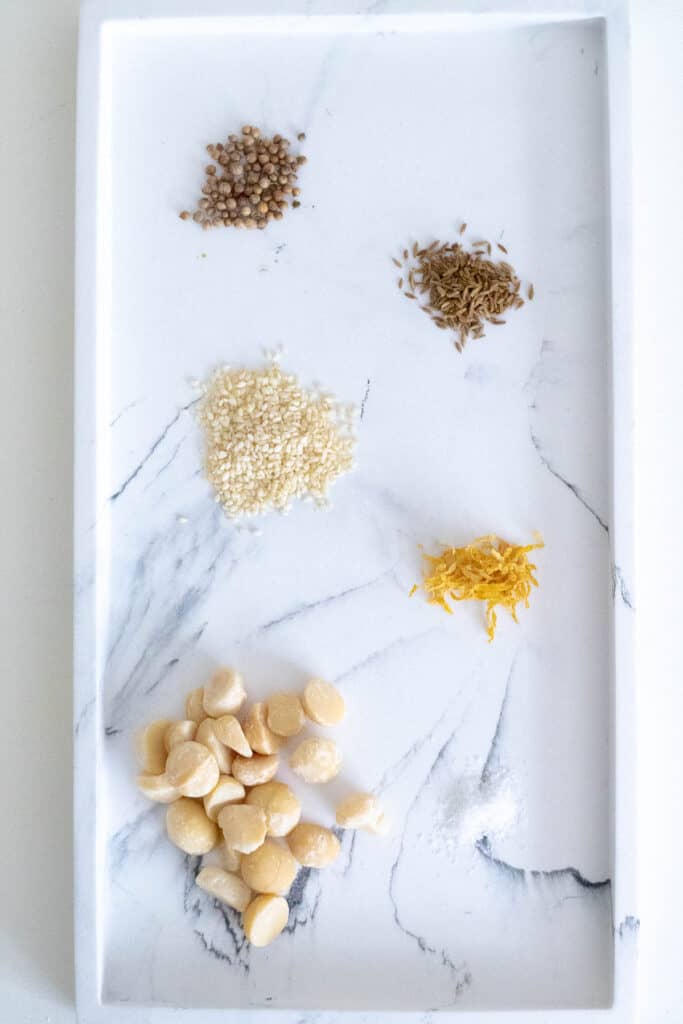 Macadamia Nuts: This is an Australian twist on the typical nuts found in dukkah. Find raw, unsalted nuts if possible, or adjust the salt you add if you can only source salted macadamias.
Sesame Seeds: I like to buy these (and the whole spices) at the Asian or Indian grocer where you can often find bulk quantities at better prices than the traditional supermarket.
Lemon Zest: The Australian version of dukkah contains lemon myrtle, a citrusy plant native to Australia. Lemon myrtle leaves aren't easy for me to find locally, so I've substituted dried lemon zest to get this citrusy note in my blend.
Cumin: Buy whole cumin seeds and roast and grind them yourself.
Coriander: Just like the cumin, find whole seeds if you can. Coriander also has some citrus notes and brightens the flavors in the mixture.
Salt: As always, I use kosher salt (and usually Morton brand). Adjust the salt as desired.
Roast and Grind your Ingredients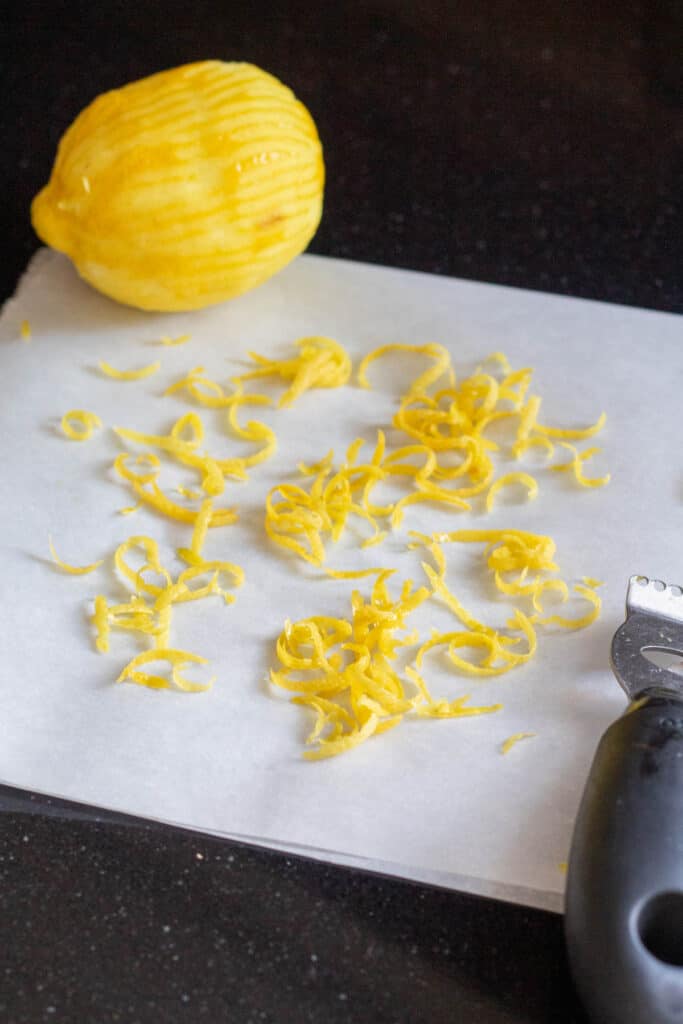 Preheat your oven to 200F and line a sheet pan with parchment paper. Zest your lemon over the parchment paper and then bake the zest for 30-40 minutes until dried. Set it aside to cool.
While the zest is drying, toast each of the nuts, seeds, and spices separately in a small frying pan over medium-high heat. Toasting is key to developing deep flavors! I roast each component separately because each one needs a different amount of time and you definitely don't want anything to burn. Simply transfer them to a plate to cool as you finish toasting them.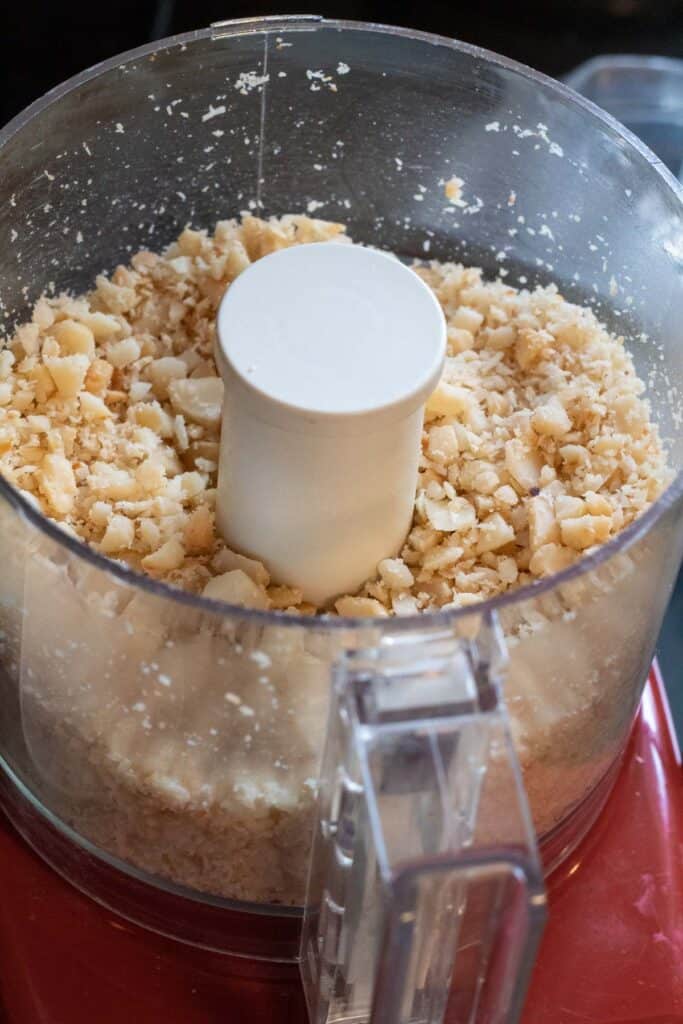 I process the seeds and nuts in much the same way, because each one needs a different amount of time to prevent over-processing. I like the macadamia nuts to be pulsed just until the biggest pieces are small pebbles, for example. The coriander seeds are pretty tough, so they need more time in the processor and the sesame seeds don't need to be processed at all.
See the recipe card below for the best order of processing to get the textures you see above. Mix all of the components in a medium bowl and then make sure to store whatever portion you don't use in the freezer. Macadamia nuts will go rancid so quickly and the freezer keeps this mix fresh for a month or so.
Serving Macadamia Dukkah
Dukkah can be used in plenty of ways. It's a perfect make-ahead appetizer with olive oil and bread, just as we enjoyed it my first time and how you'll see it in photos here. Use Macadamia Dukkah in place of the ubiquitous everything bagel seasoning and put it on avocado toast, a bowl of cottage cheese, or as a coating for bagels and other breads. Dukkah will elevate a simple log of goat cheese of you roll it in the blend before putting it on your cheese board. Finally, dukkah works as a perfect spice crust on chicken, fish, or beef. I bet you can find some other uses!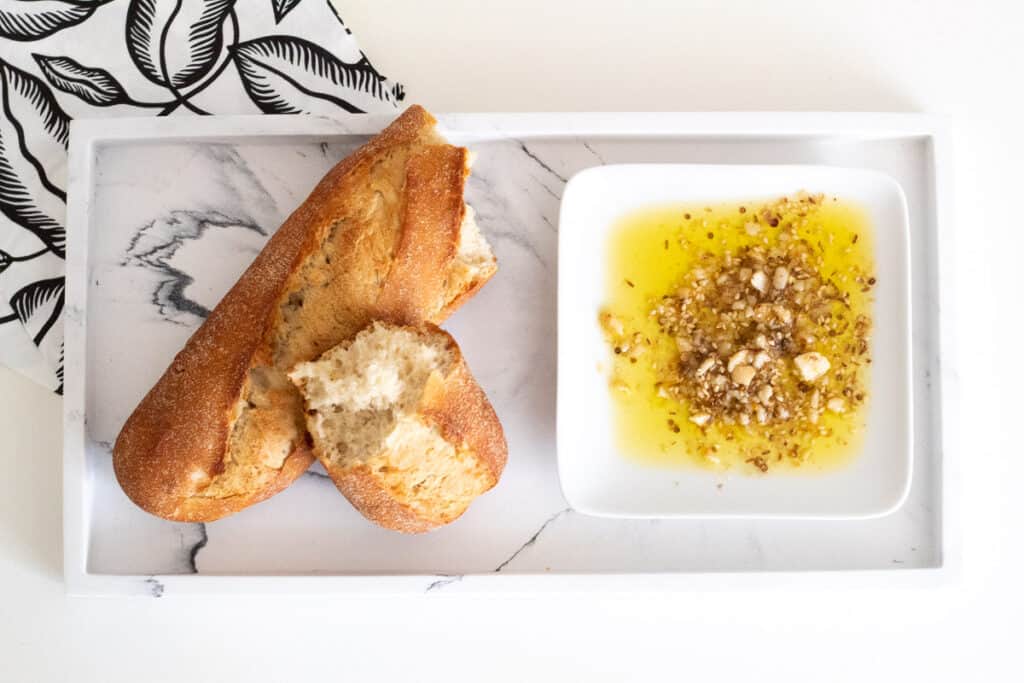 FAQ
Can you substitute the macadamia nuts?
You can substitute the macadamia nits for walnuts, pistachios, almonds, or hazelnuts. It won't be macadamia dukkah anymore, of course, but it will still be delicious.
Can you make the dukkah ahead of time?
Yes! Simply store the mixture in the freezer in a air-tight bag and bring it to room temperature before serving.
Try It and Share
I hope you give this Homemade Macadamia Dukkah a try and that it's a new favorite. I want to see your results! Tag your photo with #planeatpostrepeat and mention me @planeatpostrepeat on Instagram so that I can give you a virtual high five and thank you for cooking one of my recipes. Comment below with any questions and please leave a review so others can find this recipe more easily!
Recipe
Macadamia Dukkah
This blend of spices, seeds, and nuts is an Australian twist on an Egyptian recipe and can be used in a variety of ways.
Ingredients
zest of one lemon

1

cup

macadamia nuts

((150 grams))

2

tablespoon

cumin seeds

((10 grams))

2 ½

tablespoon

coriander seeds

((10 grams))

¼

cup

sesame seeds

((25 grams))

2

teaspoon

kosher salt
Instructions
Preheat the oven to 200°F. Zest the lemon and spread out the zest over a piece of parchment paper on a baking tray. Bake for 30-40 minutes, until the zest is completely dried.

While the zest is drying, heat a small saute pan over medium-high heat. Toast the macadamia nuts until golden, then remove to a plate to cool.

Repeat the toasting step with the cumin seeds, coriander seeds, and sesame seeds, toasting each separately.

In the bowl of a food processor, pulse the macadamia nuts until the largest pieces are the size of pebbles. Remove to a medium bowl.

Next, process the coriander seeds with several pulses until they are cracked and broken down a bit. Add in the cumin seeds and dried zest and pulse about 5 more times. You still want crunchy bits of spices, but no whole seeds. Remove to the bowl with the nuts

Add the sesame seeds and the salt to the bowl. Mix together until well blended.

Store the mixture in the freezer for up to one month.
Nutrition facts are sometimes provided below and are calculated using an online calculator. With specific brands of ingredients and additions, omissions, or substitutions the nutrition facts may change. We encourage you to use your own nutrition facts caculator to obtain the most accurate nutrition facts for your meal.
This post was originally published on March 12, 2021.