Charcuterie skewers are a fun twist on the presentation of charcuterie for guests. They can be part of a beautiful and unique charcuterie board for appetizers or even add to a simple kid-friendly dinner that the whole family will enjoy!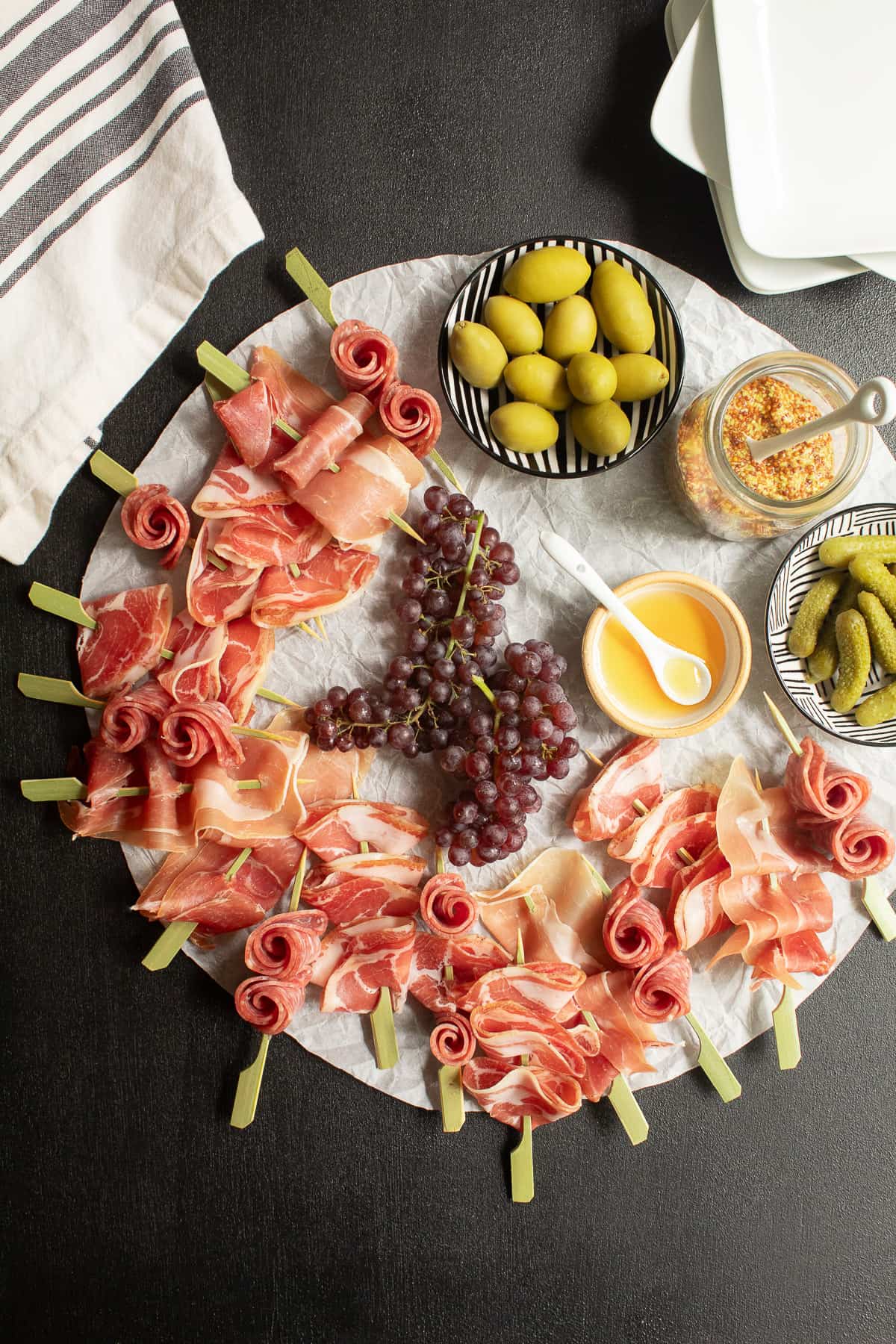 Entertaining at the holidays and at the impromptu Friday happy hour is easy with these pretty charcuterie skewers! They can help build a Thanksgiving snack platter or a Christmas Eve charcuterie wreath and make it easy for guests to grab a snack while enjoying the festivities.
These charcuterie skewers make a great pairing with this Caprese Focaccia! And, much like this Macadamia Dukkah, you can prepare these skewers for a snack to nibble on with wine or a cocktail. Serve these skewers with a pitcher of Basil Lemonade for a refreshing pairing.
Jump to:
Ingredients
I include ingredient notes here when I think they'll be helpful, including ways to source, any preparation tips, or why I've chosen a particular ingredient. Be sure to check out the recipe card below for the full list of ingredients and their quantities!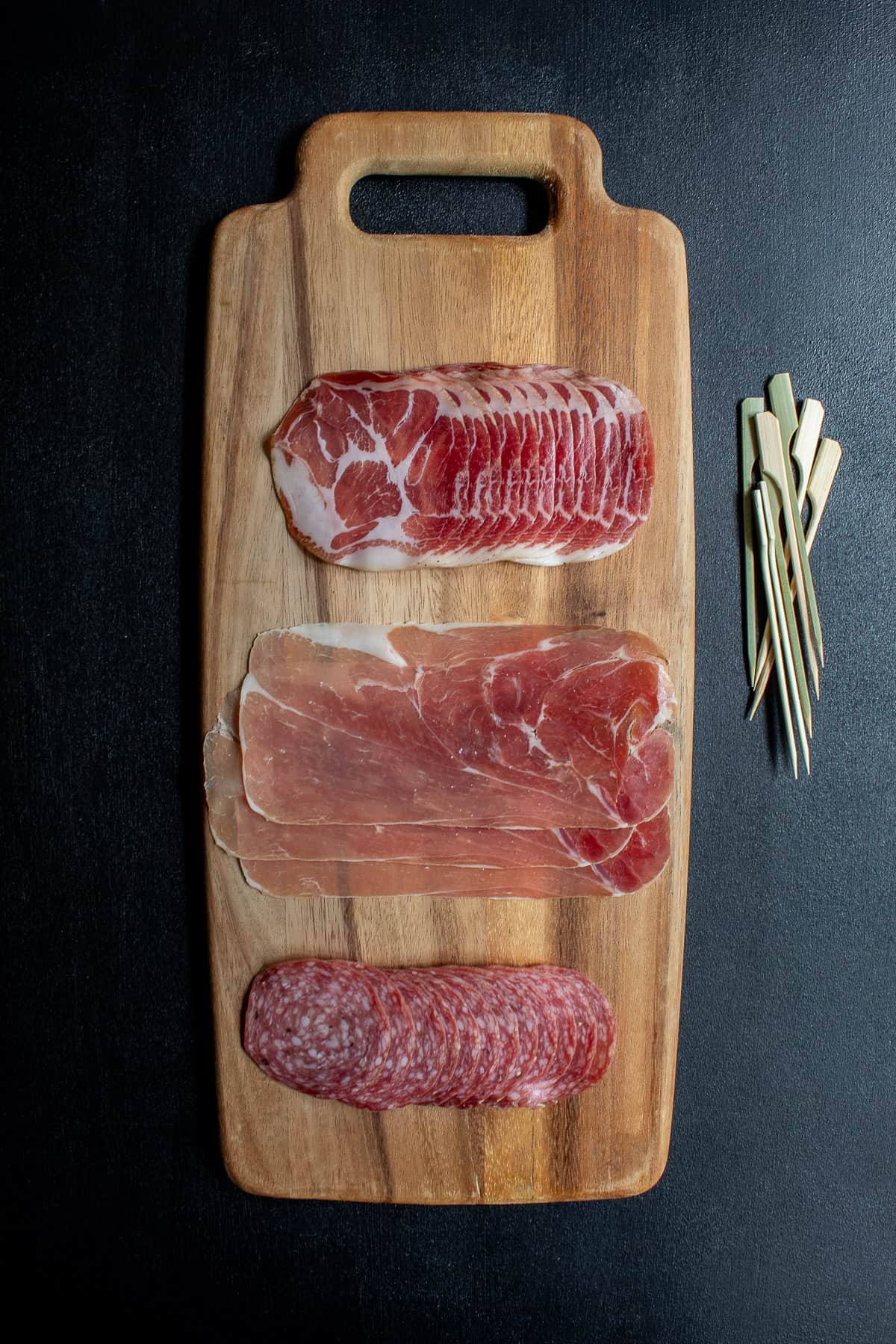 Salumi is an umbrella term that encompasses a variety of different Italian meats (typically pork) that are cured for preservation. These charcuterie skewers are made from three different examples of salumi:
Coppa or Capicola - Coppa is made from large cuts of pork like the pork shoulder, dry cured, and cut very thin. It is packed in a casing to cure, giving it a round shape.
Prosciutto - Made from pork leg, this dry-cured ham is sliced paper thin and slices are often packed in between parchment or plastic sheets to aid in separating them without tearing the meat.
Salami - Salami (or salame) is fermented and air-dried sausage that is cured with salt and packed in casing giving it a round shape.
I purchase the salumi already sliced (Costco makes a great variety pack). If you find a whole salami still in the casing you'll need to remove the casing before slicing it and preparing the charcuterie skewers.
Salami Rose Instructions
A salami rose is much simpler than it looks! In contrast to a large centerpiece rose you might find on a typical board, these skewers can be eaten in easy bites.
Start by separating the slices of salami. You'll need two slices per rose and I like two roses per skewer. Fold each slice in half. Lay one folded slice in top of another, matching up the folded sides.
Stagger the slices by about ½ inch. Roll the salami along the folded edge until you have a tube and then poke the skewer through the bottom (folded end) of the rose. These will sit flat easily on your charcuterie board.
Prosciutto Ribbon Instructions
You'll need one slice of prosciutto per skewer for a prosciutto ribbon. Fold the slice along the long side, leaving about ½ inch of the bottom layer exposed. I like the texture this gives to the ribbon. I find it easier to fold the fatty side of the slice over the leaner side.
Pierce the bottom of the folded prosciutto with the skewer and then alternate in an over-under pattern to weave the meat on to the skewer. Spread the wavy ribbon out along the skewer.
Coppa Fan (Quarter Fold) Instructions
Two or three slices of coppa make a nice presentation on each skewer. Fold each slice in half. Then fold it in half again along the first fold. Skewer the resulting fan or quarter fold on the pointed edge and repeat the process to layer on a second fan.
Once you get the hang of each method, preparing a batch of charcuterie skewers takes only a few minutes. The variety in texture and color with the marbling of the meat is really highlighted when the salumi are presented this way.
Flavors that Compliment Charcuterie
When I am thinking of flavors that will compliment the charcuterie skewers and help build a unique charcuterie board, I keep in mind three things:
Sweet - The addition of honey, jams, fruit, or sweet chutneys to a charcuterie board is a perfect balance for the salty cured meat.
Acid - Pickled vegetables like gherkins for cornichon, radishes, onions, peppers or olives bring a briny acidity that cuts through the richness of the meat for a great compliment.
Heat - A little spice goes a long way in pairing with charcuterie. Grainy mustard, harissa, Calabrian chili spread, or a chili oil will be great additions to your charcuterie platter.
Building a Charcuterie Wreath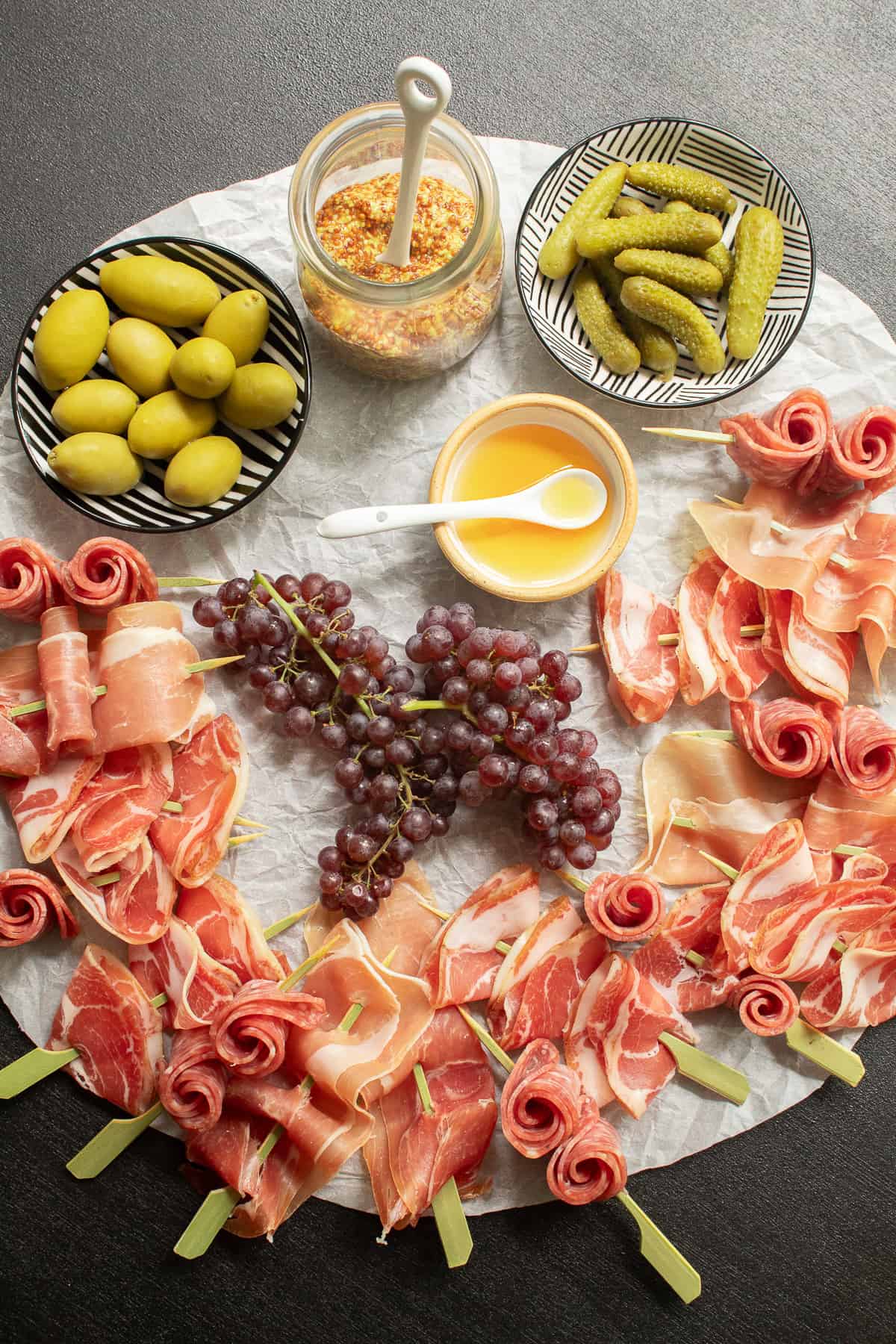 A charcuterie wreath is great for serving a crowd! If you have a large round platter this is a great time to pull it out. Arrange the skewers all around the edge of the platter and use sprigs of rosemary, basil, oregano, or thyme to add some greenery. Add your fruits, pickles, and spreads to the center of the wreath.
Or, keep things extra simple and use a circle of parchment paper on a large cutting board or even right on your countertop! You can build a charcuterie wreath as large as you need to feed a crowd. You can really wow your guests with a unique charcuterie board when you create an impressively-sized one right on the counter. We've done this at our annual Christmas party and it's so fun.
Add Charcuterie Skewers to a Grazing Board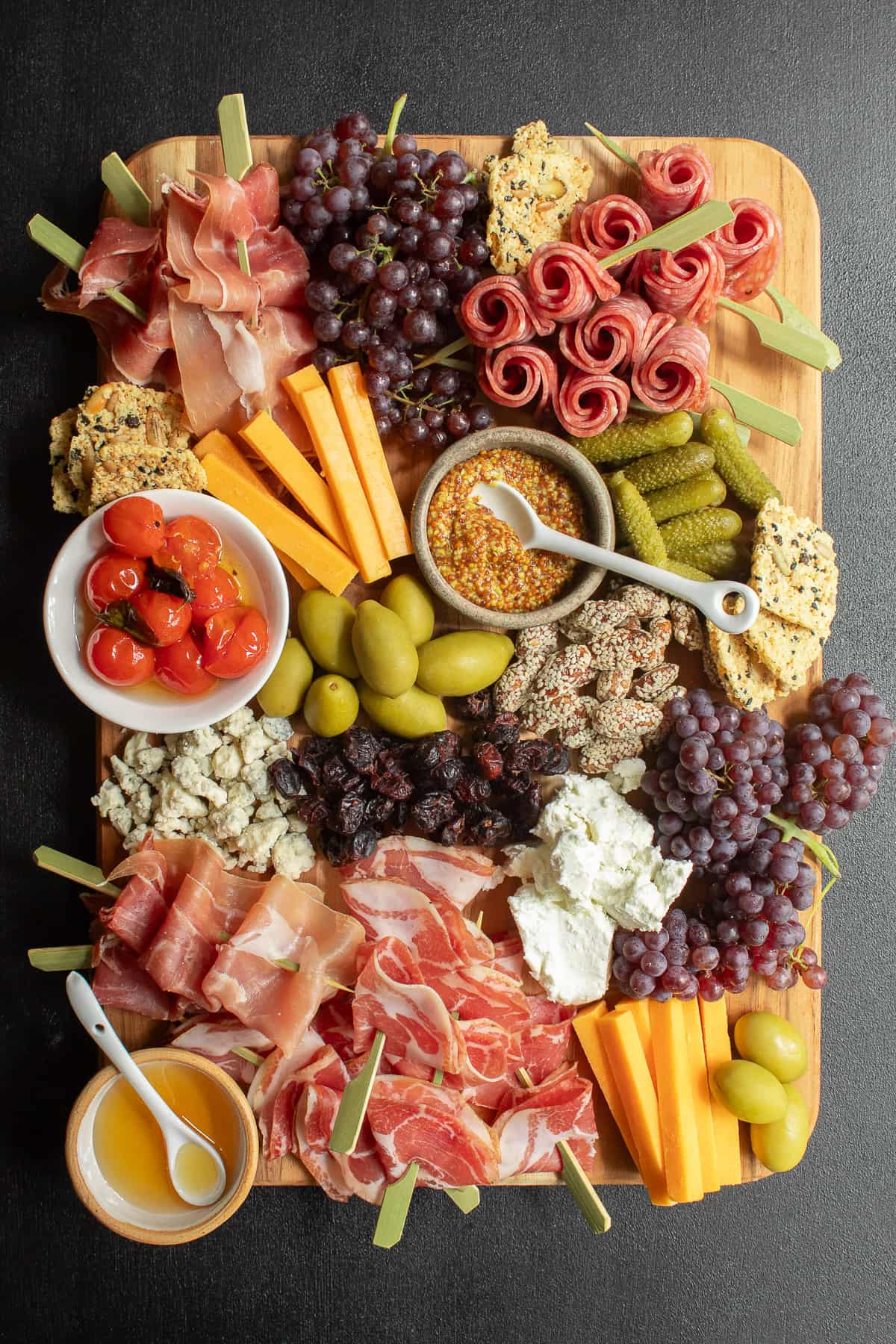 A grazing board or snacking platter is a great way to serve your charcuterie skewers. Remember that anything you add to the board should be easy to serve! Add small knives, spoons, or toothpicks so that guests can grab one small nibble at a time.
Vary textures, colors, and flavors and you can build a beautiful grazing board. Pair the skewers with the typical complimentary flavors and add any of the following:
Cheeses - I like to add a soft cheese, a hard cheese, and a blue cheese to balance out flavors and textures but feel free to add what your crowd enjoys!
Fruits - Fresh grapes, persimmons, apples, pears, or berries are pretty additions to a snack platter. Dried fruits like raisins, cranberries, apricots, dates, or cherries are also great options.
Crackers or Bread - You can add crackers, breadsticks, or small slices of bread to the board or to a basket or platter nearby.
Nuts - Roasted nuts like cashews, almonds, pistachios, pecans, or walnuts are great options. Leave a small empty dish nearby to hold any shells.
Vegetables - Slice vegetables in spears or wheels for grab-and-munch ease. Trimmed pea pods, baby zucchini, or blanched asparagus spears can be served whole. Add this Cherry Tomato Confit to your platter in a small bowl.
Herbs - Add sprigs of basil, rosemary, oregano, parsley, or chives to add pops of green for visual interest on your snack board.
Top tip
Display your skewers with the handle facing out towards your guests so that they can grab one easily without touching the charcuterie directly.
Equipment
A 6-inch skewer is most versatile for displaying a variety of charcuterie. I like the bamboo ones you see in several photos in this post, with their wide end that is easy for grabbing.
Choose a shorter skewer and you can make each one a one-bite serving. Skewers are often made of bamboo, but you can find stainless steel skewers or cute holiday-themed picks, too!
Choose a board or platter that is generously sized for the crowd you are serving. Round platters, rectangular trays (with low profile edges), cutting boards, or even sheet pans can be a good base for your charcuterie board. You can wrap a flat piece of cardboard in foil or parchment to use in a pinch!
Make It Kid Friendly
My kids come running if they know a snack board or grazing platter is on the dinner table. They love to eat little bits and pieces of a variety of foods at dinner. Add in skewers and they are even happier! Swapping sharp skewers for short stainless steel straws is a great option for younger kids.
Kid-friendly charcuterie skewers can be composed of sliced deli turkey (turn them into roses or ribbons). A mild salami can absolutely be a kid friendly option. You can skewer cubes of cheese along with ham and grapes for a fun alternative to the grownup version.
Storage
It is safest to toss any leftovers after the charcuterie skewers have been out at room temperature when serving guests. With potential cross-contamination of cheeses, fruits, vegetables, and meats, nothing on a snack board is worth saving in the refrigerator.
Make Ahead Options
You can absolutely prepare charcuterie skewers ahead of time for a party or celebration. Keep the skewers separate from any other things you might add to the board. Wrap them in plastic wrap or store them in zip bags to keep the meat from drying out. Return the skewers to the refrigerator and pull then out about 20 minutes before serving for best flavor.
FAQ
What pairs well with charcuterie?
Pickled vegetables, sweet spreads like honey or jam, fruits, briny olives, and spicy elements like mustard, chili paste, or horseradish are all good options to pair with charcuterie.
What is the difference between a charcuterie board and a grazing board?
A charcuterie board places all of the emphasis on the meat, with a few elements that will compliment the rich and salty flavors. A grazing board can have charcuterie, cheeses, fruits, vegetables, spreads, dips, and more.
How much charcuterie should you plan for each person as an appetizer?
Somewhere between 1-2 ounces per person is a good range as an appetizer or snack at a gathering.
Pairing for a Party Spread
If you are having a party and want to put out a spread of delicious appetizers and dips alongside your charcuterie skewers, there are some great options below. Add a variety of chips, crackers, and breads for unlimited snacking!
Try It and Share
Charcuterie skewers are a fun way to entertain and feed a crowd. I want to see how yours turn out! Tag your photo with #planeatpostrepeat and mention me @planeatpostrepeat on Instagram or Facebook so that I can give you a virtual high five and thank you for preparing one of my recipes. Comment below with any questions and please leave a review so others can find this recipe more easily!
Recipe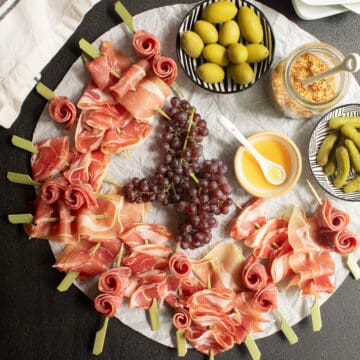 Charcuterie Skewers for a Unique Charcuterie Board
To add flair to your unique charcuterie board, make these charcuterie skewers that simplify serving and dress up your appetizer spread.
Ingredients
3

oz.

salami

(sliced thin)

3

oz.

coppa ham

(capicola, sliced thin)

3

oz.

prosciutto

(sliced thin)
Optional Garnishes
1

cup

cornichon

(or other pickles)

15

green olives

2

tablespoon

whole grain mustard

¼

pound

champagne grapes

2

tablespoon

honey
Instructions
Salami Rose
Fold two slices of salami in half. Place one on top of the other, staggered by about ½ an inch along the flat fold. Roll the salami pieces up together, forming a rose shape. Place on a skewer to keep the rose shape.
Prosciutto Ribbons
Fold one slice of prosciutto lengthwise. Poke the skewer through the center of the bottom of the slice and then weave it through the rest of the prosciutto, over and under the meat, until you have a ribbon of meat along the length of the skewer.
Coppa Fan (Quarter Fold)
Fold a slice of the coppa in half and then in half again along the fold. Place the point of the quarter fold on the skewer to help keep the shape.
Prepare the Charcuterie Board
Place the skewers along the edge of your serving platter or board with the handles facing out. Add any desired garnishes, including small spoons for the honey and the mustard. Serve at room temperature.
Nutrition facts are sometimes provided below and are calculated using an online calculator. With specific brands of ingredients and additions, omissions, or substitutions the nutrition facts may change. We encourage you to use your own nutrition facts caculator to obtain the most accurate nutrition facts for your meal.
Nutrition Facts
Calories:
212
kcal
Carbohydrates:
11
g
Protein:
9
g
Fat:
16
g
Saturated Fat:
5
g
Polyunsaturated Fat:
2
g
Monounsaturated Fat:
8
g
Trans Fat:
0.02
g
Cholesterol:
33
mg
Sodium:
1237
mg
Potassium:
139
mg
Fiber:
1
g
Sugar:
9
g
Vitamin A:
110
IU
Vitamin C:
1
mg
Calcium:
13
mg
Iron:
1
mg
Food safety
Charcuterie and cheese should not sit at room temperature for more than two hours. This article on charcuterie boards and food safety is an excellent resource for preparing and serving all sorts of boards safely.