Orange-scented, rich with molasses, and studded with tart cranberries... are you excited yet? This Tender Cranberry Orange Snacking Cake with Molasses is for you! This recipe is perfect for an afternoon snack, after dinner dessert, or even a breakfast treat. It is freezer-friendly, (almost) one bowl prep, and smells amazing when you bring it out of the oven.
Check out these other delicious recipes using cranberries! This Cranberry Herb Goat Cheese Ball is perfect for an appetizer and these Cranberry Braised Short Ribs are a special occasion dinner everyone will rave about. These Cranberry Cheesecake Bars are delicious, too!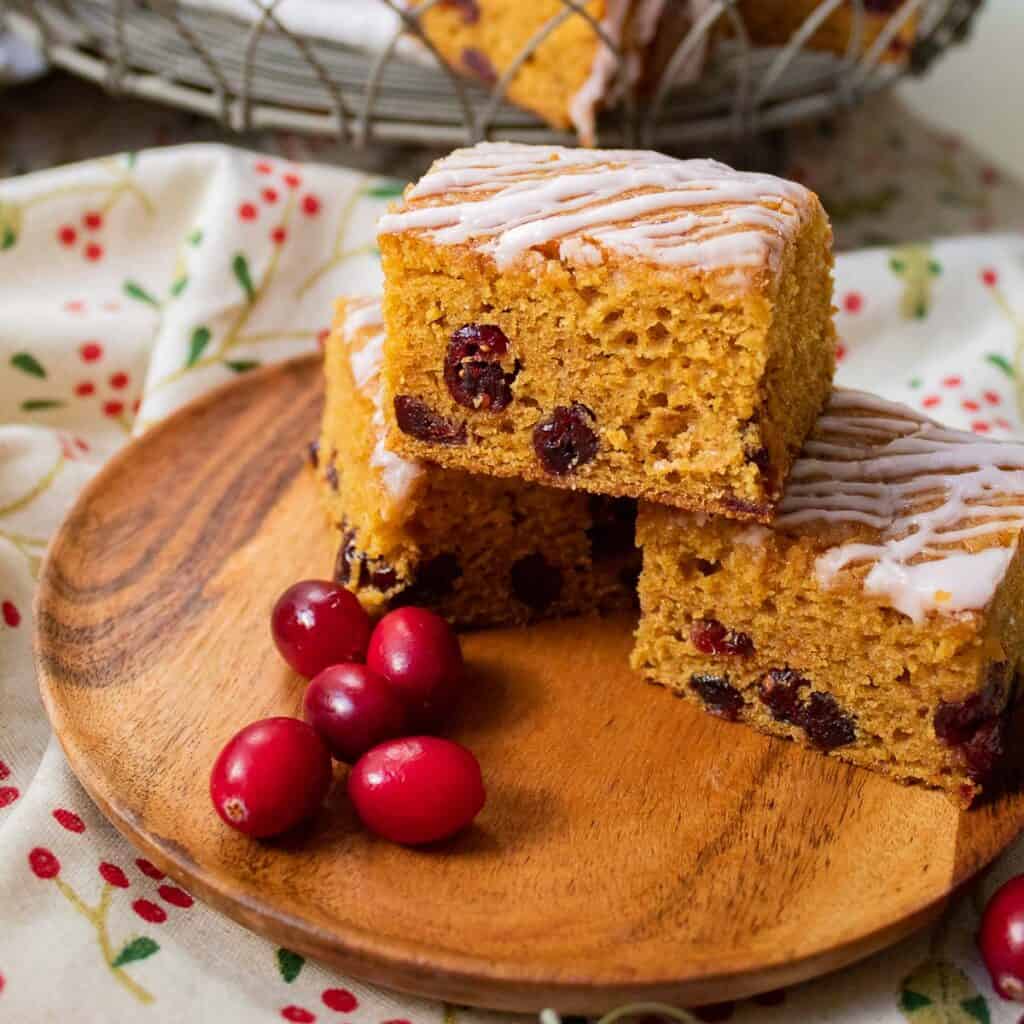 Ingredients
Orange Zest: Rubbing the zest into the sugar before adding it to the cake mix ensures that the aroma and flavor are represented throughout the cake. Bonus, this step is kitchen aromatherapy.
Granulated and Brown Sugars: I use a mixture of both here to deepen the flavor as well as keep the cake moist. If you are out of brown sugar, use all granulated sugar and increase the molasses amount by one teaspoon.
Eggs: Large eggs help to build the structure of the cake. I haven't tested the recipe with any egg replacements. If you do, please let me know how it goes in the comments!
Molasses: I really love the deep caramel and slightly bittersweet flavors in molasses and this cake lets them shine without being overpowered by a lot of ground spices.
Vegetable Oil: Using oil instead of butter gives this snacking cake a moist interior that will keep its texture for a few days. Use canola or corn oil as a substitute.
Milk: Use whole milk or 2% milk here. I'd love to hear if you have success with using a non-dairy milk in this recipe!
Vanilla: Just a bit of vanilla extract helps build the overall flavor profile of the cake.
All Purpose Flour: This workhorse flour makes a tender snacking cake with enough structure to hold the cranberries.
Baking Powder: In this recipe, we are getting our lift from baking powder, which is a combination of baking soda and cream of tartar.
Cranberries: Dried cranberries are sweet and delicious in oatmeal, granola, cookies, and other baked goods. We always have a bag of them in the pantry.
Powdered Sugar: To make the glaze for the top of the cake we mix powdered sugar and a bit of cranberry juice. This glaze will dry after a bit of time, making it easy to pack slices of the snacking cake to deliver to friends!
Cranberry Juice: You only need a little bit of juice to make the glaze, but if cranberry juice isn't something you have around the house all of the time feel free to make a substitution here. Pulp-free orange juice or water will work just as well.
Preparing the Batter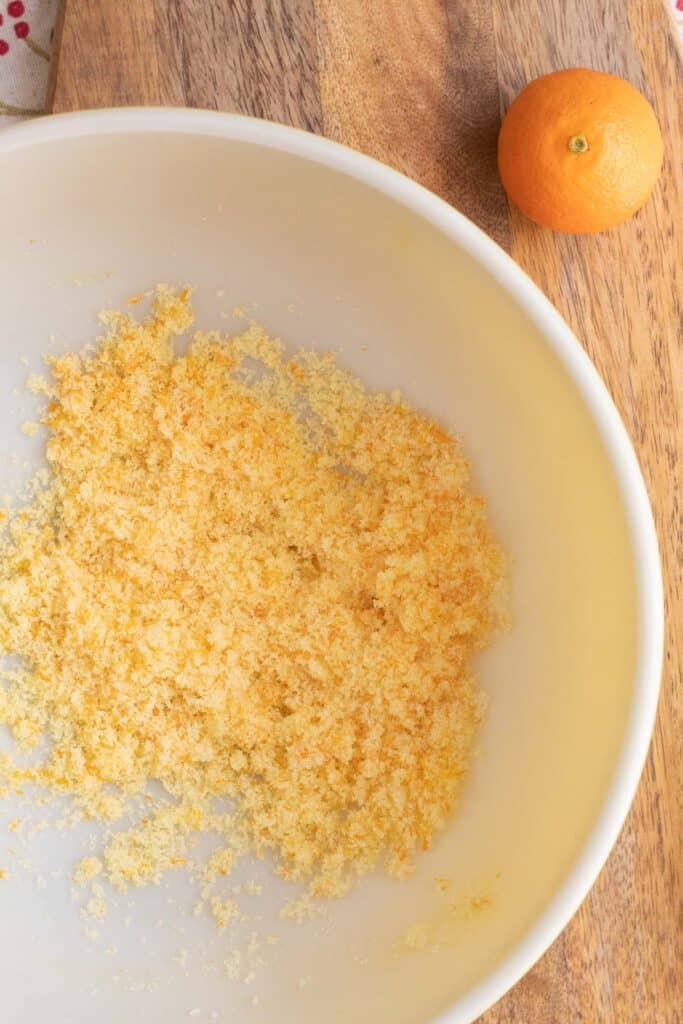 This cranberry orange snacking cake comes together easily. Gather up your oranges and sugars and start by rubbing the zest together with the sugars until a fragrant mixture is formed. This is where the cake gets its orange flavor and we are extracting the most out of that zest. I think maybe you could sell this stuff all on its own, it's so heavenly. But continue, the cake is worth it!
Stir in the eggs, molasses, oil, milk, and vanilla and lean over the bowl for another dose of aromatherapy. So good!
To make this a mostly one-bowl situation (my favorite), sprinkle the flour, baking powder, and salt right over the wet ingredients. Don't tell any pastry chefs I told you so, but it will totally be ok. Stir everything together, but don't over mix. It's ok if there are some white flour streaks in the batter at this point.
Put the dried cranberries in a bowl (ok, so this is a two-bowl recipe) and add about one tablespoon of flour to coat the cranberries with the flour. This will prevent them from sinking to the bottom of the cake. Toss them into the batter and stir 3-4 more times until the berries are distributed evenly. Err on the side of under-mixing rather than over-mixing to keep the cake tender. The batter is now ready for baking!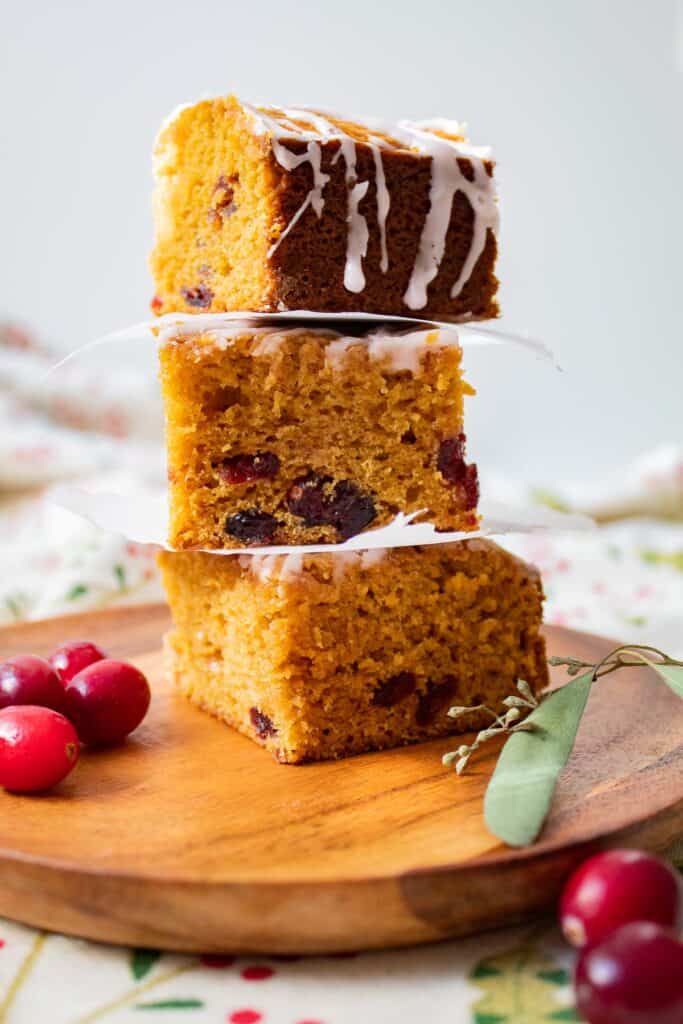 Bake, Cool, and Glaze the Cake
Prepare a 9-inch square baking pan by spraying with cooking spray, then draping a sheet of parchment paper over the pan, leaving two sides longer so that you have "handles" to remove the cake later. I call this a parchment sling, and it's great for any loaf pan or square pan to make slicing easier once the cake has cooled.
Bake the cake until a toothpick inserted in the middle comes out clean. Cool the cake in the pan for about 10 minutes before removing it from the pan and cooling completely on a wire rack. It has to be completely cool before drizzling over the icing or you won't get those pretty streaks.
Mix up the cranberry juice and the powdered sugar and drizzle it over the cake. Allow the glaze to set until it hardens.
Serving Cranberry Orange Snacking Cake
Slice the cake into 16 pieces using a serrated knife (a bread knife is perfect) to create clean squares. I love this as an afternoon snack with a big mug of tea, but my kiddos will happily take a slice for breakfast or after school. The cake will keep for a few days at room temperature if covered in an airtight container.
Freezer Storage
You can also bake this Cranberry Orange Snacking Cake and then freeze it once cooled. Wrap the cake well in two layers of plastic wrap and freeze it flat. To thaw it, just leave it on the counter overnight. Add the cranberry icing the next day and you'll have it ready with almost zero effort!
Try it and Share
I hope you try this Tender Cranberry and Orange Snacking Cake with Molasses and share it with friends. I want to see your results! Tag your photo with #planeatpostrepeat and mention me @planeatpostrepeat on Instagram or Facebook. I can give you a virtual high five and thank you for cooking one of my recipes! Comment below with any questions and please leave a review so others can find this recipe more easily.
Recipe
Tender Cranberry Orange Snacking Cake with Molasses
This festive Tender Cranberry Orange Snacking Cake with Molasses is full of flavor, tangy cranberries, and has a simple glaze on top.
Ingredients
Snacking Cake
1

tablespoon

orange zest

½

cup

granulated sugar

½

cup

light brown sugar, packed

2

large

eggs

¼

cup

molasses

⅔

cup

vegetable oil

¾

cup

milk

2

teaspoon

vanilla extract

2

cups

all-purpose flour

(plus 1 tbsp. for dusting cranberries)

2

teaspoon

baking powder

1

teaspoon

kosher salt

1

cup

dried cranberries
Cranberry Glaze
¾

cup

powdered sugar

1

tablespoon

cranberry juice
Instructions
Preheat the oven to 350°F and spray a 9-inch square pan with cooking spray. Follow with a parchment sling.

Add the orange zest and sugars to a large mixing bowl and use your fingers to rub the zest into the sugar until it is evenly distributed and fragrant.

Whisk in eggs, oil, milk, molasses, and vanilla until well combined.

Sprinkle the flour, baking powder, and salt over the top of the wet ingredients. Mix only until loosely combined (white flour streaks will still be present).

Add the cranberries to a small bowl and dust with one tablespoon of flour. Transfer the cranberries to the batter and fold them in. Mix 2-3 more times and then transfer the batter to the prepared pan.

Bake for 40-45 minutes, until a toothpick inserted in the center of the cake comes out clean.

Allow the cake to cool for 10 minutes, then flip the cake out onto a wire rack to completely cool.

Mix up the cranberry glaze and drizzle it over the cooled cake. Slice with a serrated knife for serving.
Nutrition facts are sometimes provided below and are calculated using an online calculator. With specific brands of ingredients and additions, omissions, or substitutions the nutrition facts may change. We encourage you to use your own nutrition facts caculator to obtain the most accurate nutrition facts for your meal.