These sweet peach biscuits capture fresh, ripe peach flavor at its peak. Based off a breakfast biscuit recipe, they are light, fluffy, and topped with a perfect almond glaze. They will be a treat split in half at breakfast or at dessert as part of a peach shortcake.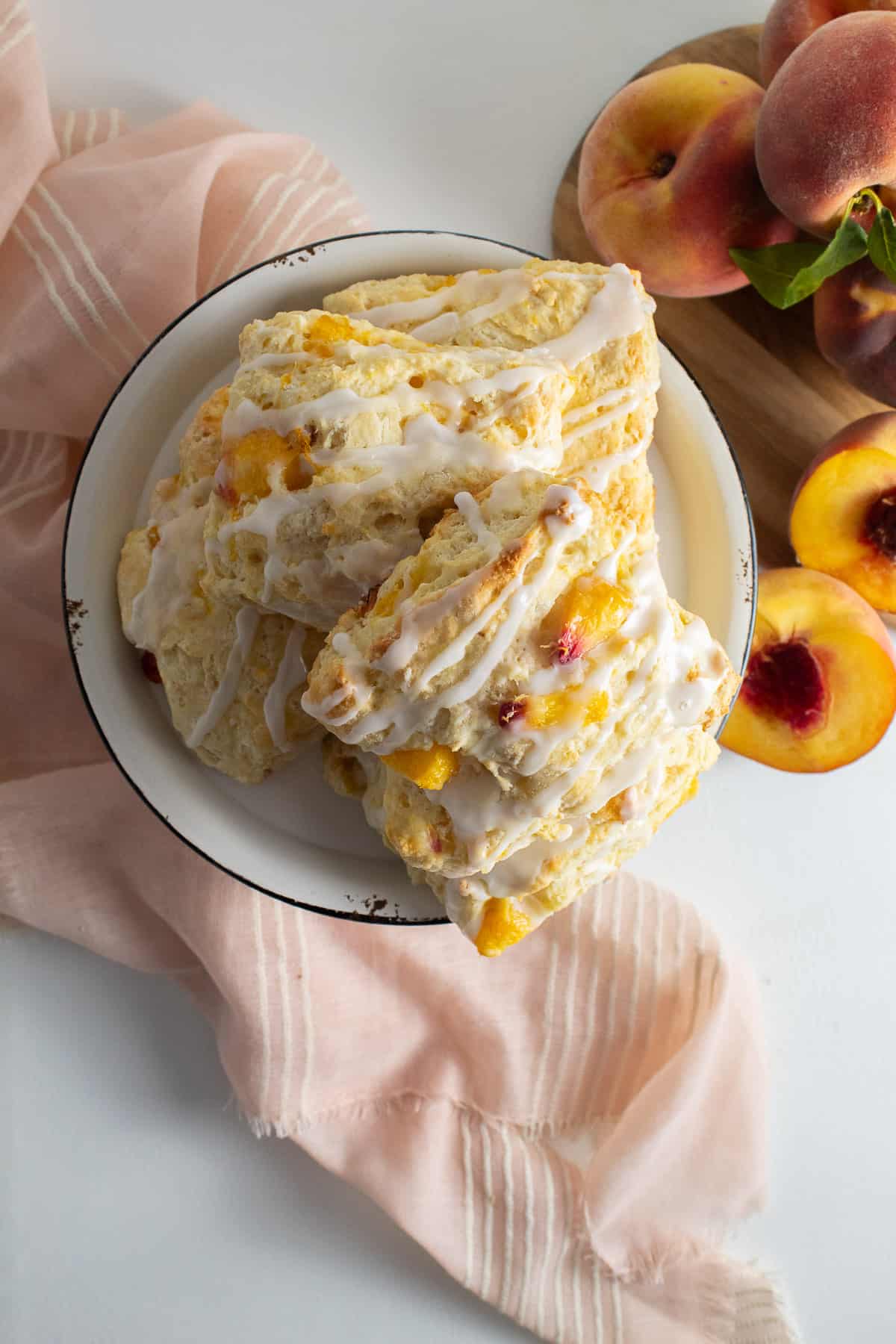 Peach season is worth celebrating! Outside of eating a fresh, juicy peach right out of hand (and probably while leaning over the kitchen sink), I can't think of a better way to enjoy peaches than in these peach biscuits. They have fresh peaches baked right in and the almond glaze is a perfect, sweet compliment.
Making biscuits is a process that requires some attention to detail to get a final texture that is light and airy. No hockey puck biscuits here! There are lots of steps to making a great biscuit dough, and I've tried to capture them all below so that you can make exceptional biscuits at home.
If you'd like to enjoy fresh peach flavor in a dessert with a little less hands-on time, try this recipe for this Fresh Peach Trifle next!
Jump to:
Ingredients
I include ingredient notes here when I think they'll be helpful, including ways to source, any preparation tips, or why I've chosen a particular ingredient. Be sure to check out the recipe card below for the full list of ingredients and their quantities!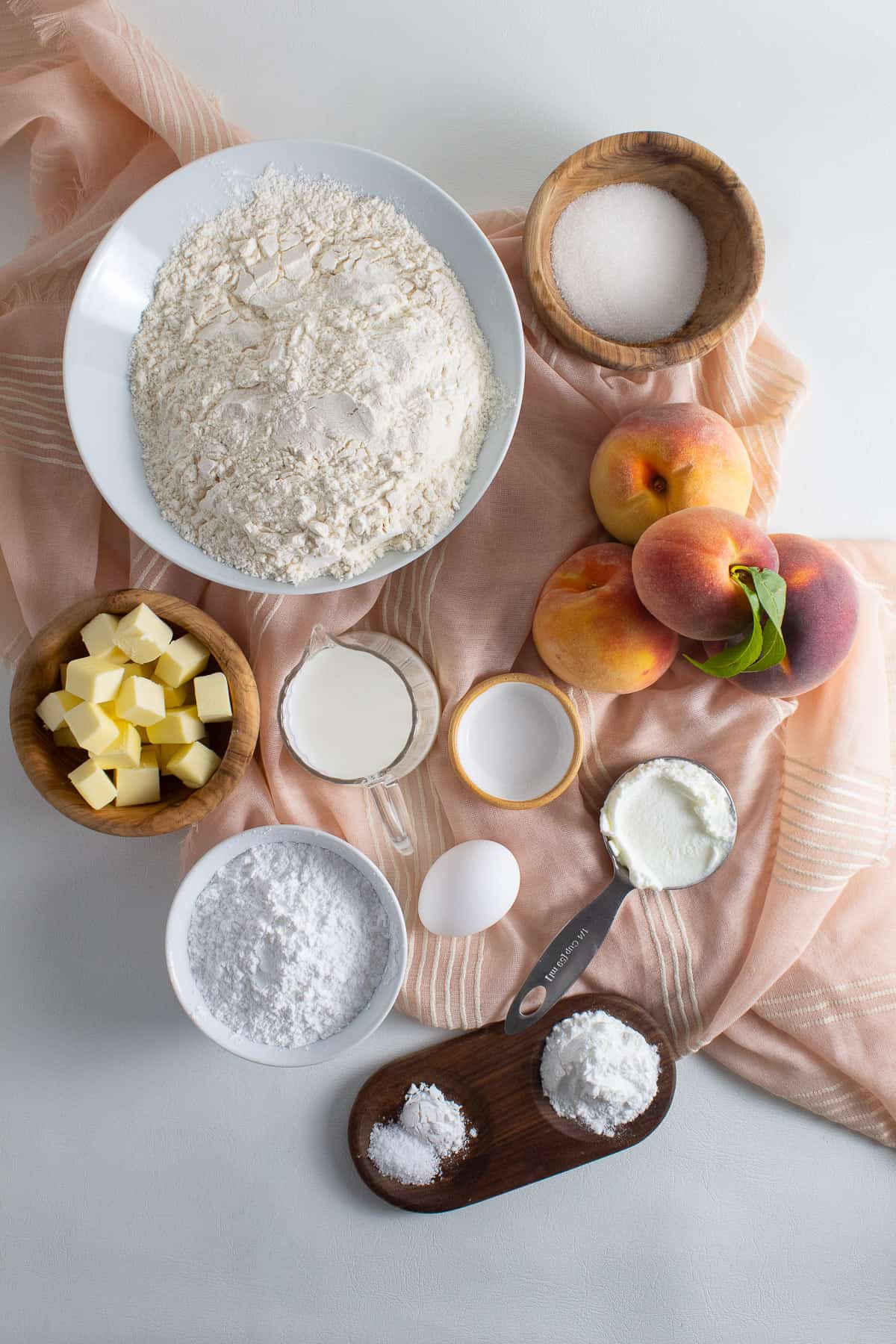 All-Purpose Flour - Regular all-purpose flour provides a good balance of strength to support those fresh peach bits and tender texture for light biscuits.
Granulated Sugar - Adding just a bit of sugar sweetens the biscuits but doesn't overpower the peaches.
Baking Powder and Cream of Tartar - Baking powder contains baking soda and cream of tartar (and sometimes cornstarch) and is often enough leavening to provide lift to breakfast biscuits. Additional cream of tartar, or tartaric acid, ensures that there is enough acidity in the recipe for optimal texture.
Fresh Peaches - Slice and peel your best peaches for this recipe. The skins should peel off without too much effort if they are ripe. Dice the peaches into small pieces.
Salted Butter - I always reach for salted butter from Costco in my recipe development. If you only have unsalted butter on hand, add ¼ teaspoon of additional salt to the dry ingredients. Cube the butter and keep it cold in the refrigerator until right before you use it.
Large Egg - One large egg is used to help bind the ingredients.
Greek Yogurt - Biscuits are often made with buttermilk, but it's not an ingredient I keep on hand very often. I've developed the recipe with Greek yogurt instead because that's a staple in our refrigerator.
Milk - Use anything from skim milk to whole milk in this recipe.
Almond Extract - Just a bit of almond extract goes a long way. The recipe contains extract in the biscuit dough and the glaze for subtle but complimentary almond flavor.
Powdered Sugar - Sift the powdered sugar before whisking it into the glaze to avoid any lumps.
Prepare the Dough
Before starting on the peach biscuit dough, line a sheet pan with parchment paper and preheat your oven to 425°F.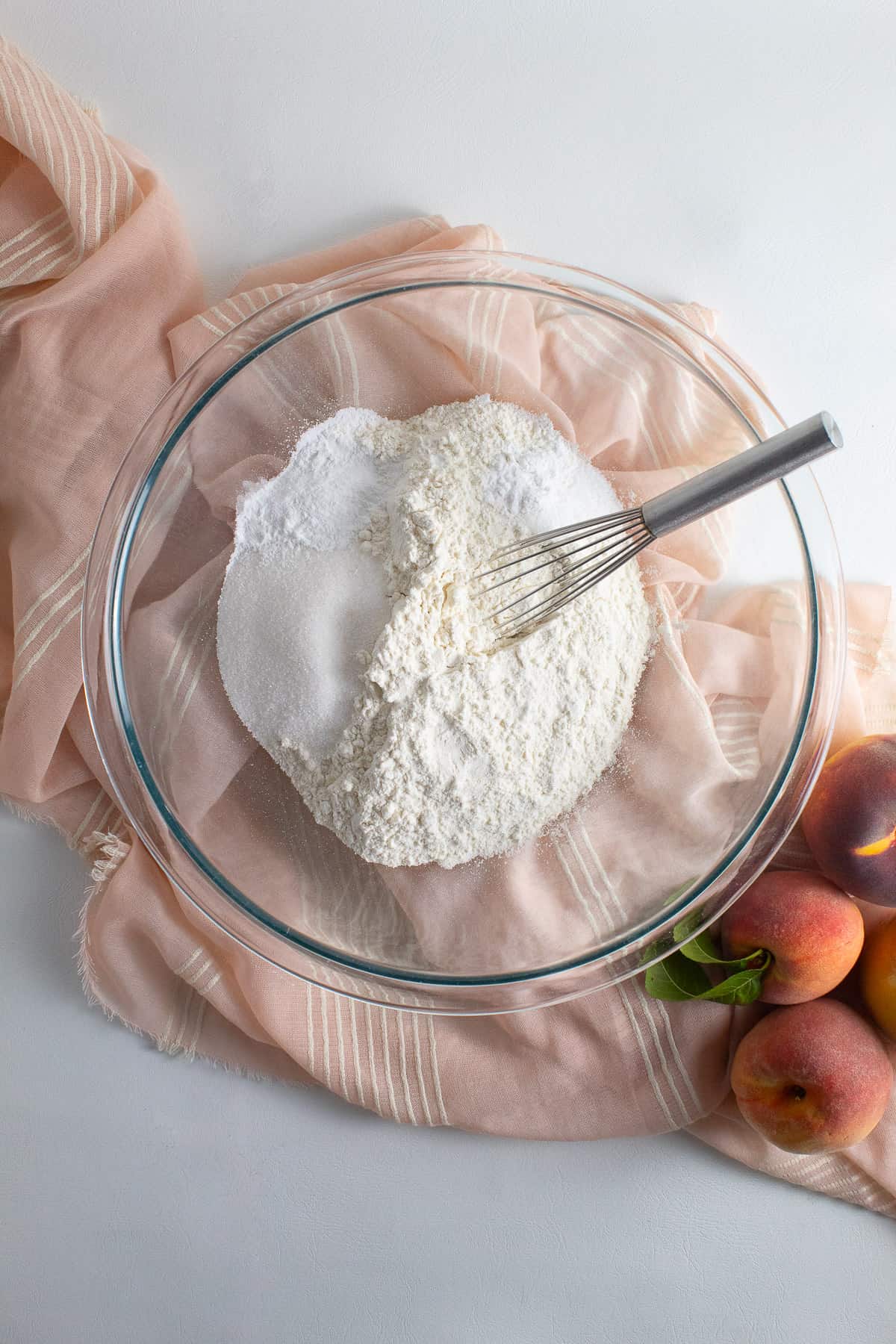 Add the flour, sugar, baking powder, cream of tartar, and salt to a large bowl and whisk the dry ingredients together.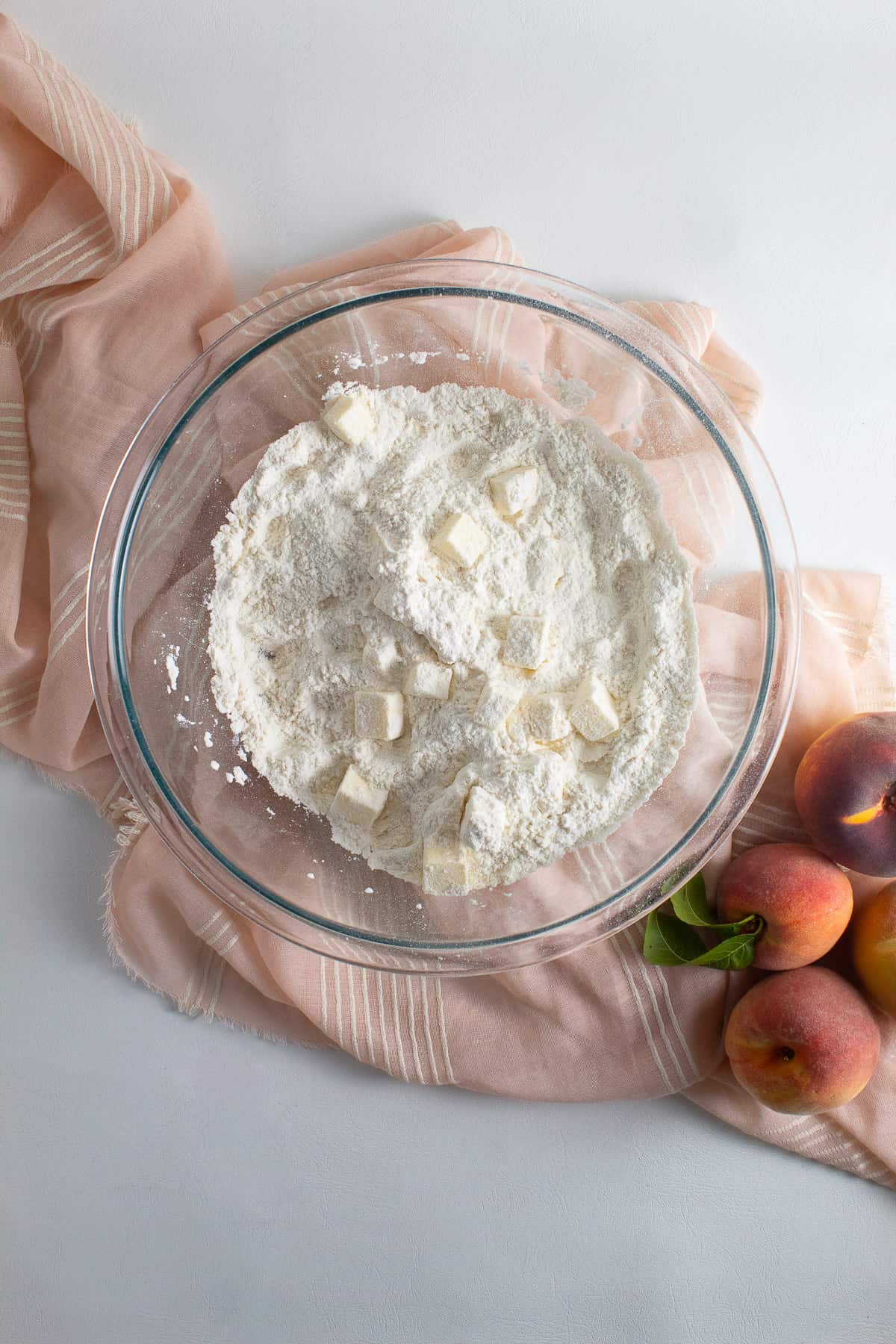 Add the cold cubes of butter and toss them to coat with the flour mixture.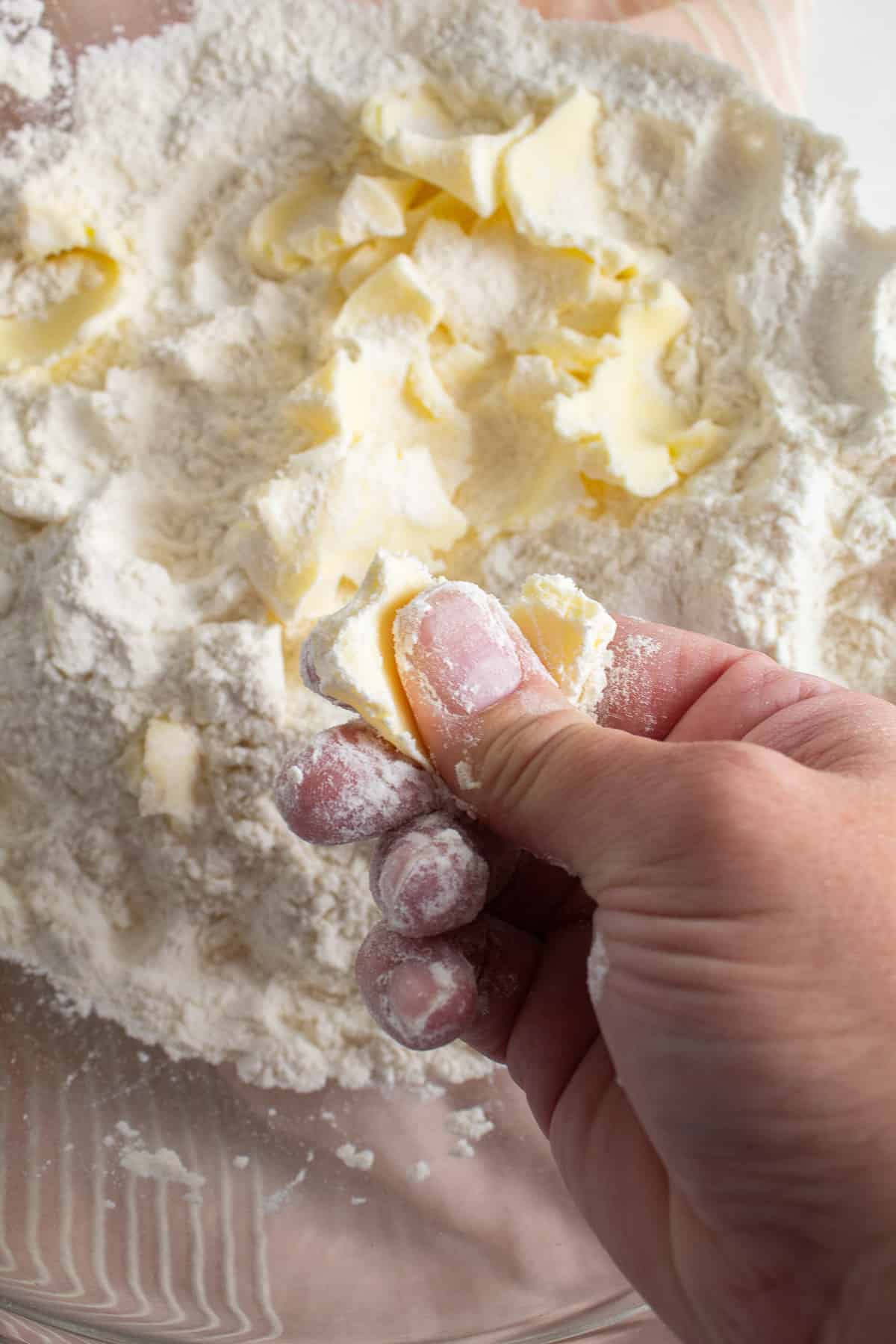 Pick up each cube of butter and press it between your thumb and fingers to form a flat disc.
Toss all of the discs of butter with the flour mixture and mix with your fingers until the butter is well incorporated and each piece is coated in flour again. Break up any large pieces until the butter is in pieces no bigger than a dime.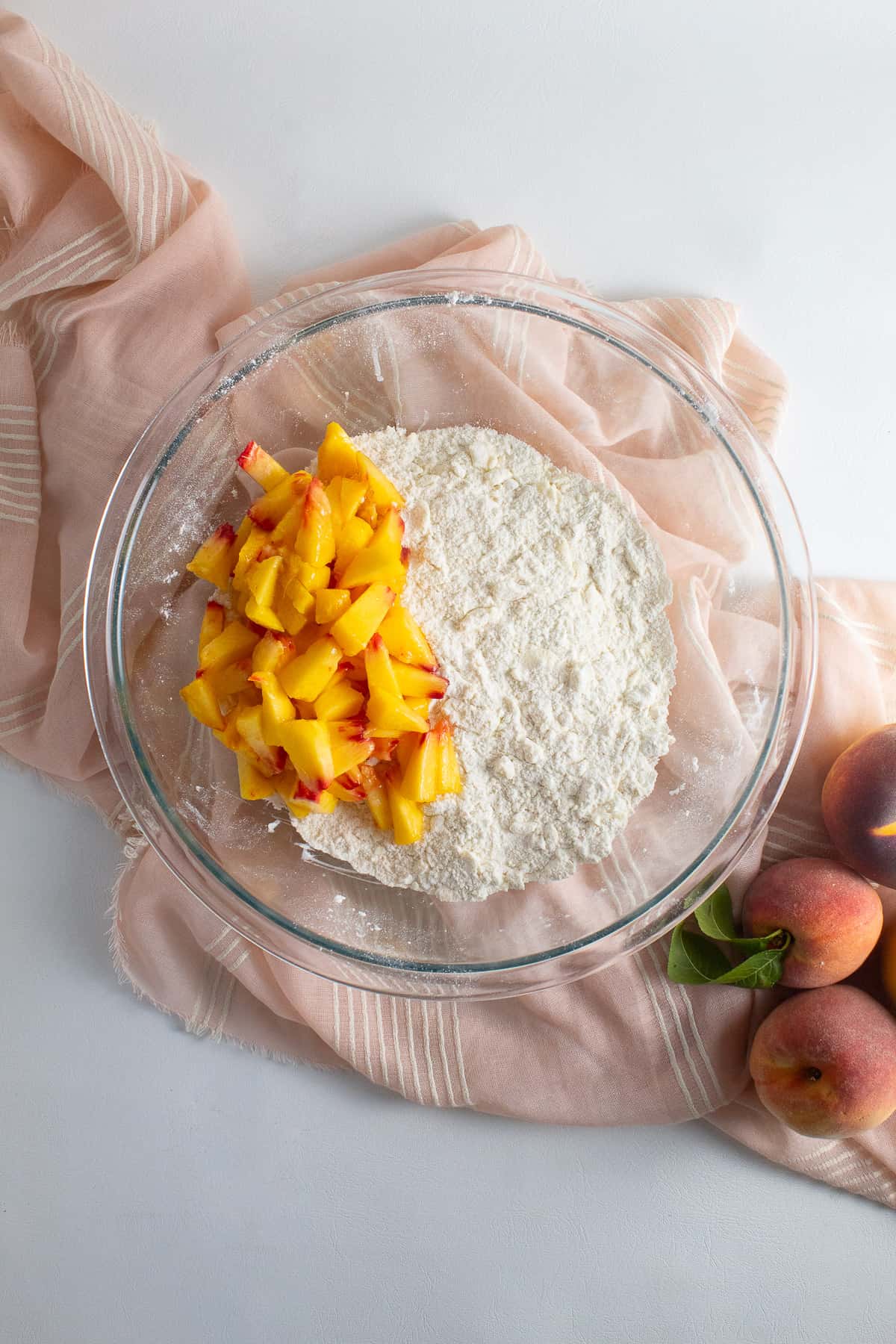 Add the diced peaches to the bowl and toss them until they are coated with flour.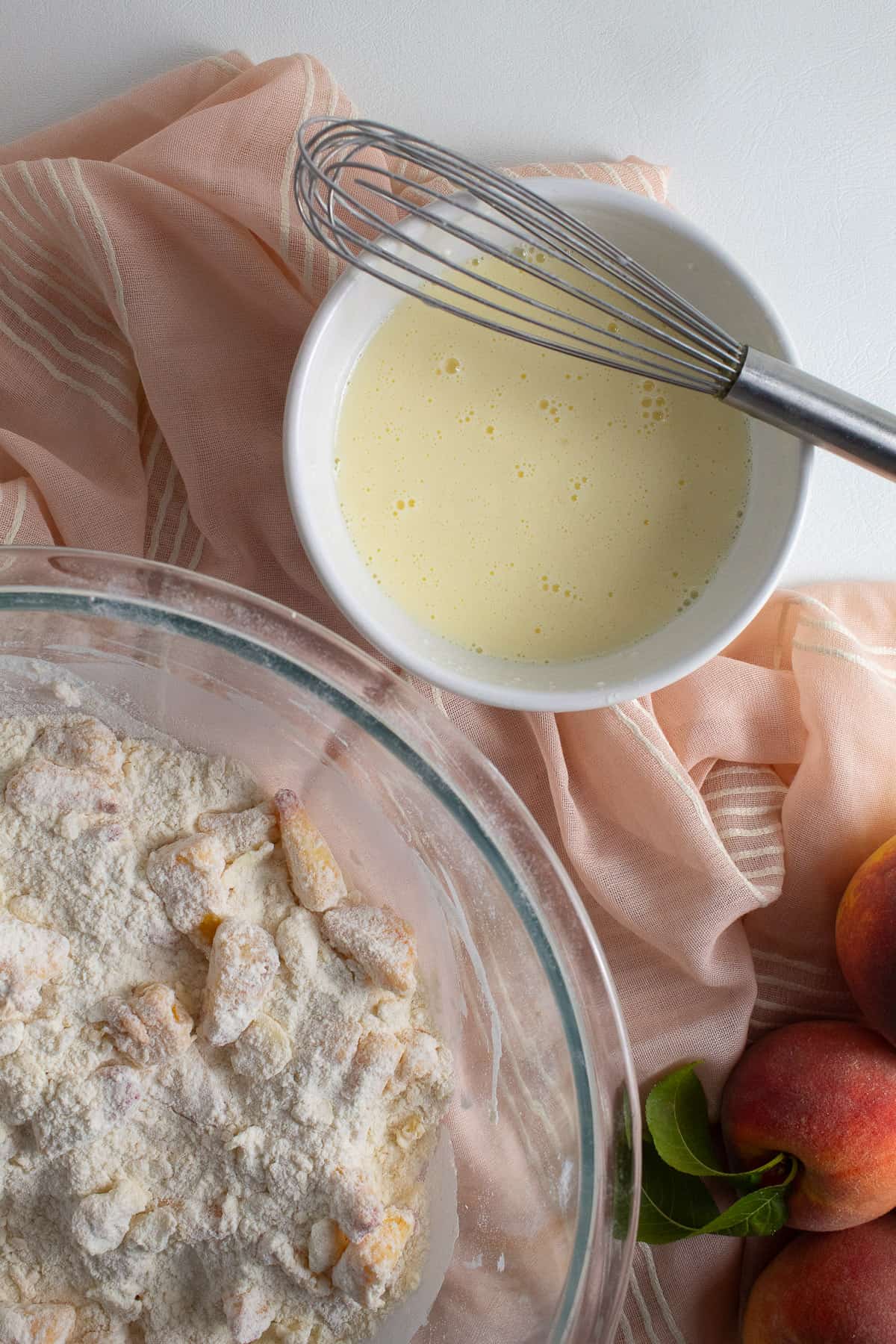 In a medium bowl, whisk together the egg, almond extract, yogurt, and milk until it is smooth.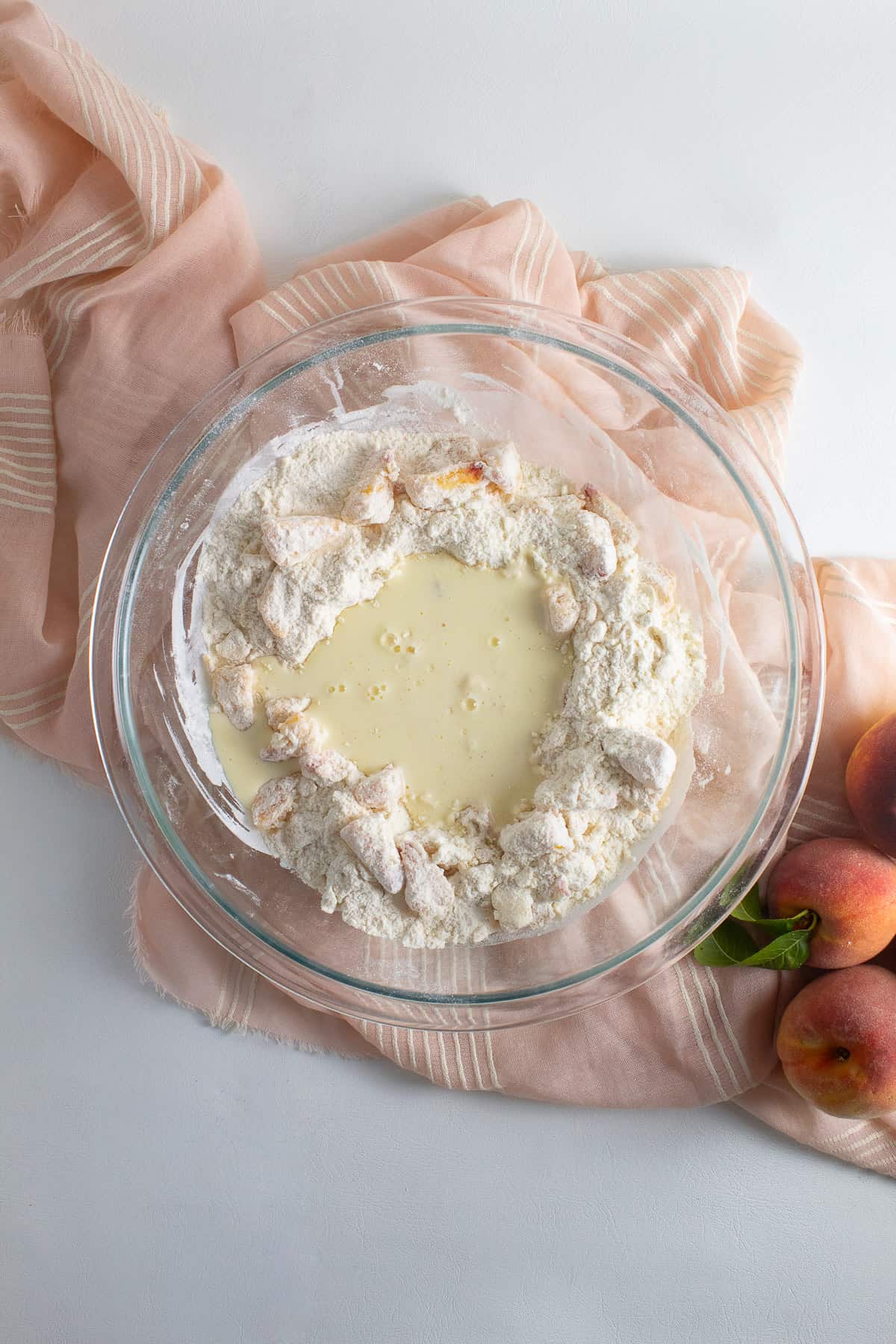 Make a well in the dry ingredients and pour the wet ingredients into the center.
Mix the dough until all of the flour is hydrated, folding carefully to keep the peach pieces mostly intact.
Shape the Biscuits and Bake
Dump the biscuit dough out on to a floured work surface. Dust your hands with flour as needed to work with the dough and prevent it from sticking to your hands.
Press the dough together, gathering all of the wet and dry bits, and form a rough square.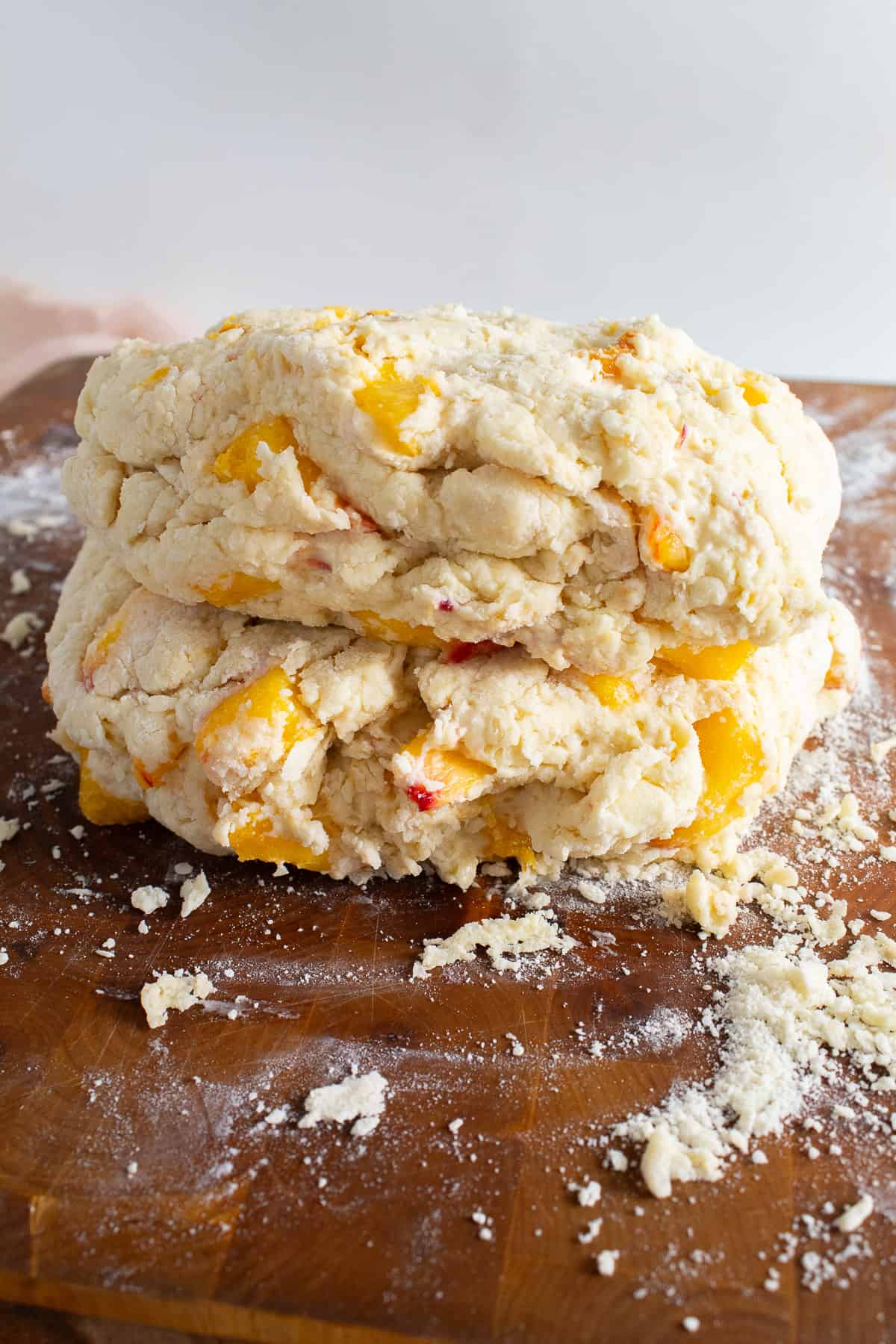 Use a bench scraper to help you fold the square of dough over itself. Repeat the process of pressing the dough into a square and folding two more times for a total of three folds. This helps build flaky layers in your biscuits.
Press the dough into a rectangle that is 6 inches by 12 inches. Use the bench scraper or a knife to cut the biscuit dough into 8 square biscuits.
If your dough becomes sticky while forming the biscuits, dust it with up to an additional ¼ cup of flour to make it easier to work with. Variations in how juicy the peaches are and how humid it is in your kitchen will mean you have to adjust the flour a bit. It will be different every time you bake the biscuits!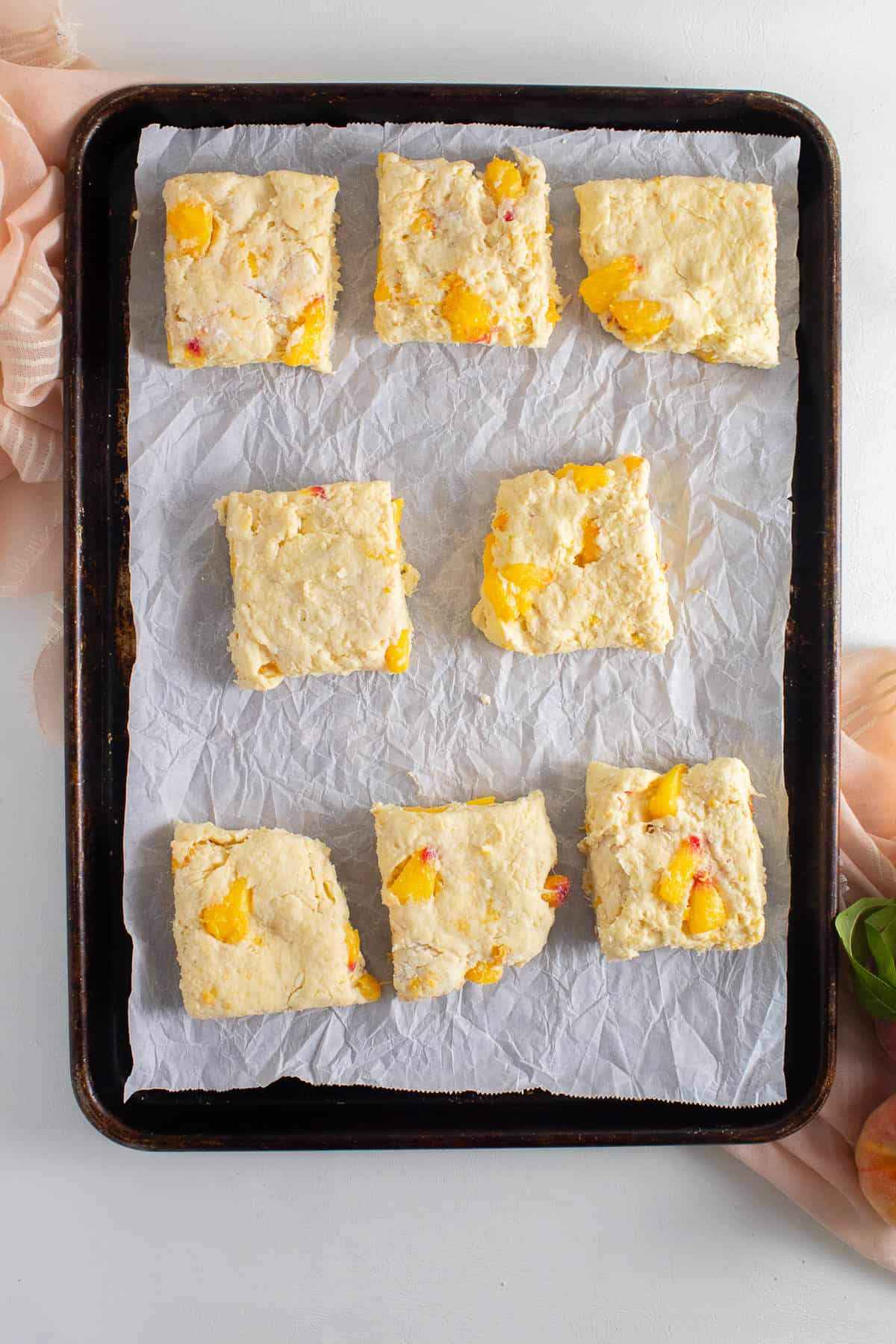 Use the bench scraper or a spatula to transfer the biscuits to your prepared sheet pan.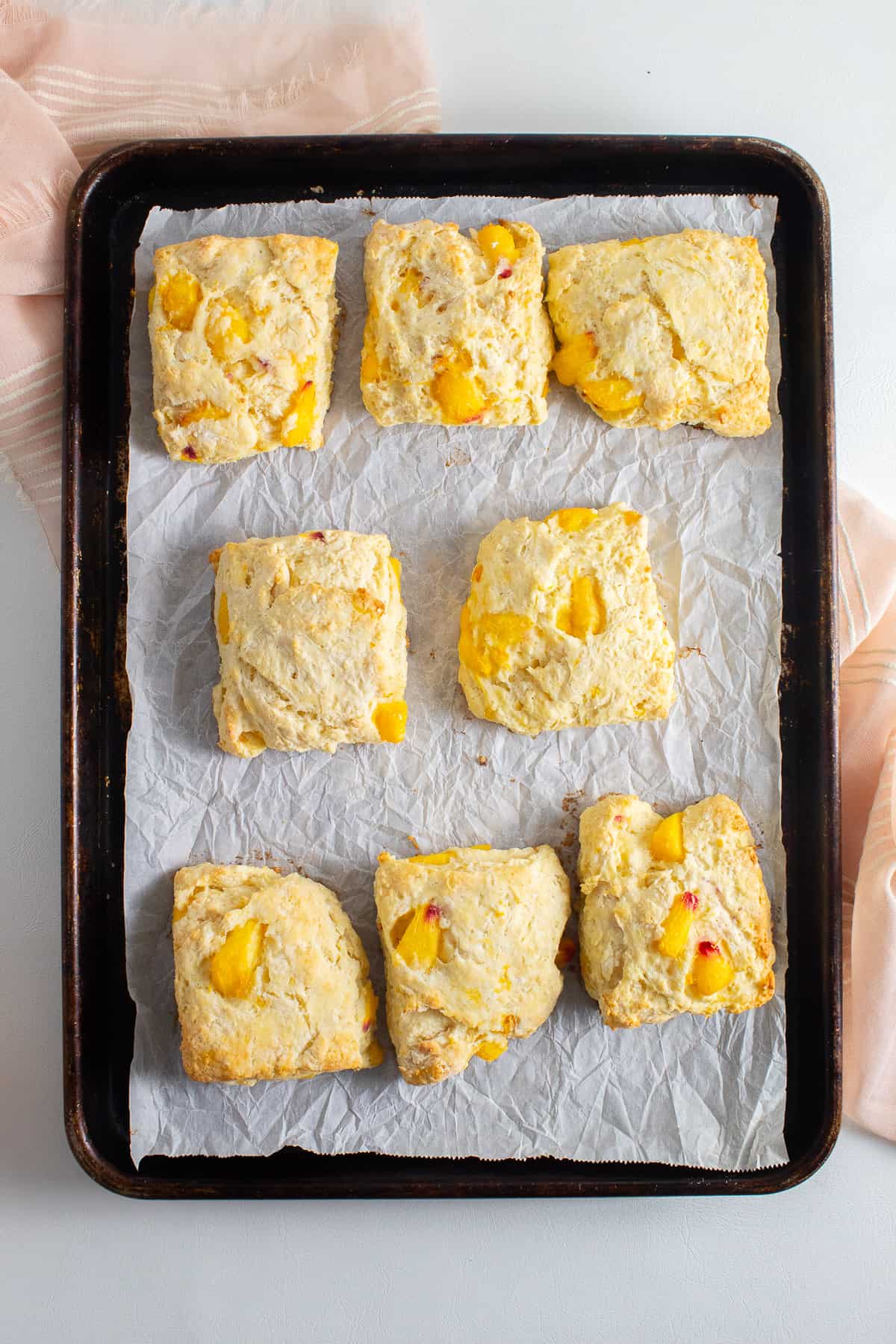 Bake for 14-16 minutes, until the biscuits have puffed up and are golden on the edges and bottom. Transfer them carefully to a wire rack to cool for at least 10 minutes.
Prepare the Almond Glaze
Combine the powdered sugar, almond extract, and all but one teaspoon of the milk in a small bowl and whisk it together. Add the last teaspoon of milk if needed, but the glaze should be thick enough to fall from the whisk in a rope and not a sheet.
Drizzle the almond glaze over the biscuits. Allow the glaze to harden before storing the biscuits, but otherwise serve them once the glaze has had a chance to partially set, about 10 minutes.
Pile up those biscuits and be prepared for oohs and aahs as your bring them to the table!
Top tip
Use cold butter, eggs, milk, and yogurt when preparing the biscuit dough. Adding cold biscuits to the hot oven allows the butter to melt inside the dough. The trapped moisture in the butter steams, creating lift and flaky layers in your biscuits.
Substitutions
The substitutions listed below have been tested in this recipe and work well. If you successfully make any other ingredient substitutions, let us know in the comments!
Use Buttermilk - Add ¾ cup of buttermilk in place of the milk and Greek yogurt listed in the recipe.
Use Shortening - Use standard or butter-flavored shortening in place of the butter in the recipe. Chill the cubes of shortening before adding them to the flour mixture.
Variations
Try these changes to the recipe to create different flavor combinations:
Skip the Glaze - Brush unbaked biscuits with an egg wash (an egg whisked with a tablespoon of water) before baking and skip the sweet almond glaze.
Swap Vanilla for Almond - Add vanilla extract or vanilla bean paste in place of the almond extract for vanilla peach biscuits.
Use Nectarines or Plums- Other stone fruit like plums or nectarines can be used in place of the peaches.
Equipment
A bench scraper is a thin, somewhat flexible piece of stainless steel or plastic that fits easily in your hand and is used to clean off your work surface, scrape all of the ingredients from a bowl, or slice through dough. It's a great tool to have in your kitchen! It is valuable in this recipe to help gather up the shaggy dough and to slice the biscuits.
Peach Breakfast Biscuits
Serve these peach biscuits at breakfast! Split them in half and butter the soft interior. Or, serve them with peach butter for a delicious peach breakfast treat.
Peach Shortcake
Slice up additional ripe peaches and whip up some sweetened cream for a dessert treat. These peach biscuits are perfectly sweet for peach shortcake. Split a biscuit in half, layer on sliced peaches, and dollop some whipped cream over the top. Place the top of the biscuit over everything and garnish with mint leaves.
Storage
Completely cool the biscuits and let the almond glaze harden before storing them. Keep the biscuits in an airtight container at room temperature for up to two days. They will last a bit longer when stored in the refrigerator (up to 3 days). Bring the biscuits to room temperature before enjoying them.
FAQ
Can you make round biscuits instead of square ones?
When cutting round biscuits, use a floured cutter and press down into the dough without twisting the cutter. Square biscuits are preferred, however, as there is no cutting waste and biscuits tend to get tough after re-shaping the extra dough and cutting additional biscuits.
Can you freeze peach biscuits?
Freezing baked biscuits can make them dry, however you can freeze unbaked biscuits for baking later. Once they are cut, place them on a sheet pan and directly into the freezer until they are frozen solid. Transfer them to a zip top bag and store in the freezer for up to 3 months. To bake them, follow the recipe directions and bake directly from the freezer, adding 4-6 more minutes to the baking time.
Do you have to peel the peaches before adding them to peach biscuits?
Technically, no. I found that the skins tend to slide off when folding and handling the dough, however, leading to random peach skins in the final biscuits. If that doesn't bother you then feel free to keep the skins on.
Sweet and Savory Stone Fruit Recipes
Stone fruit is delicious in desserts, but we love it in savory dishes and beverages as well! Check out some additional recipes that use peaches, nectarines, and other stone fruits:
Try It and Share
I hope you give this Sweet Peach Biscuit recipe a try and that it's a hit at your table. I want to see your results! Tag your photo with #planeatpostrepeat and mention me @planeatpostrepeat on Instagram or Facebook so that I can give you a virtual high five and thank you for cooking one of my recipes. Comment below with any questions and please leave a review so others can find this recipe more easily!
Recipe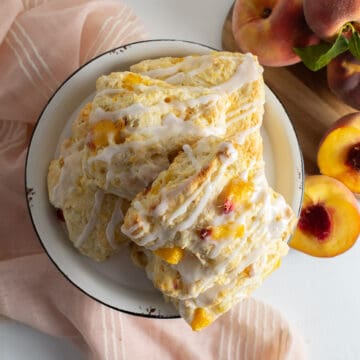 Sweet Peach Biscuits with Almond Glaze
Classic breakfast biscuits are lightly sweetened, filled with juicy peaches, and topped with an almond glaze in this peach biscuits recipe.
Ingredients
Peach Biscuits
3¼

cups

all-purpose flour

(plus extra for dusting hands and work surface)

¼

cup

granulated sugar

4

teaspoon

baking powder

¾

teaspoon

cream of tartar

½

teaspoon

kosher salt

1½

cups

diced peaches

½

cup

salted butter

1

large

egg

¼

teaspoon

almond extract

¼

cup

Greek yogurt

½

cup

2% milk
Almond Glaze
1

cup

powdered sugar

(sifted)

¼

teaspoon

almond extract

4

teaspoon

2% milk
Instructions
Prepare the Peach Biscuits
Preheat the oven to 425°F. Line a baking sheet with parchment paper.

Whisk together the flour, sugar, baking powder, cream of tartar, and salt.

Dice the cold butter into 1-inch cubes. Toss with the flour to coat each cube. Use your fingers to press each cube into a flat disc and then continue to mix the butter and dry ingredients until the butter is well incorporated and each piece is coated in flour.

Toss the peaches with the flour mixture.

Add the egg, almond extract, yogurt, and milk to a medium bowl and whisk it together.

Make a well in your flour mixture and pour in the wet ingredients. Mix with a spoon until the flour is moistened.

Transfer the dough to a floured surface. Dust hands with flour. Press the dough together with your hands into a rough square and then fold it over itself. Repeat this process two more times, adding additinal flour if the dough is sticky.

Press the dough into a rectangle that is 12 inches by 6 inches. Cut it into 8 3-inch square biscuits.

Place the biscuits on the baking pan and bake for 14-16 minutes, until golden on the bottom.

Remove from the oven and allow the biscuits to cool on a wire rack for 10 minutes while you prepare the almond glaze.
Prepare the Almond Glaze
Mix the powdered sugar, almond extract, and milk with a whisk. Adjust the consistency with additional milk or powdered sugar to get a glaze that is thick enough to fall in a cord rather than a sheet when dropped from a spoon.

Drizzle the glaze over the cooled biscuits before serving. If storing the biscuits, allow the glaze to harden for 25-30 minutes before adding to an airtight container.
Nutrition facts are sometimes provided below and are calculated using an online calculator. With specific brands of ingredients and additions, omissions, or substitutions the nutrition facts may change. We encourage you to use your own nutrition facts caculator to obtain the most accurate nutrition facts for your meal.
Nutrition Facts
Calories:
405
kcal
Carbohydrates:
65
g
Protein:
8
g
Fat:
13
g
Saturated Fat:
8
g
Polyunsaturated Fat:
1
g
Monounsaturated Fat:
3
g
Trans Fat:
0.5
g
Cholesterol:
55
mg
Sodium:
473
mg
Potassium:
181
mg
Fiber:
2
g
Sugar:
25
g
Vitamin A:
500
IU
Vitamin C:
1
mg
Calcium:
160
mg
Iron:
3
mg