This Instant Pot chicken spaghetti combines a creamy pesto sauce, shredded chicken, cheese, and pops of sundried tomatoes for a one-pot meal. It is done in 30 minutes, start-to-finish, so it's perfect for busy weeknights.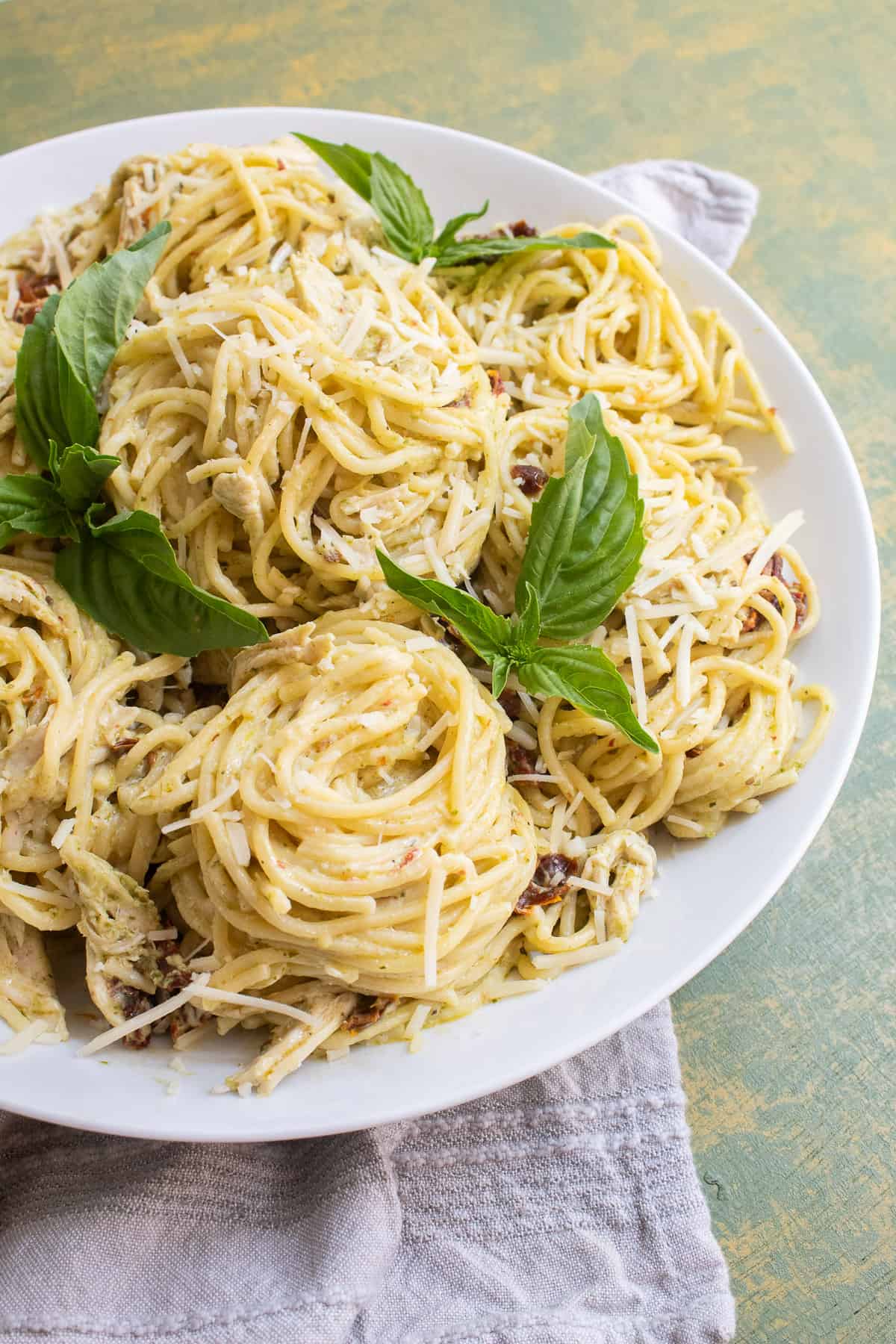 A good basil pesto makes for simple dinners because it is bursting with herbal flavor from the basil, umami-rich Parmesan, and fragrant olive oil and garlic. Having a jar of it on hand at all times is a solid kitchen strategy for easy meals.
I love to add jarred pesto to salads, pastas, and grilling marinades. You'll find it in my Grilled Peach and Burrata Salad as part of a simple pesto salad dressing. If you are looking for a twist on classic basil pesto, try my Thai Basil Pesto recipe!
Jump to:
Ingredients
There's almost no chopping involved in this recipe and we are relying on a variety of prepared and packaged ingredients to get this dinner to the table in under 30 minutes.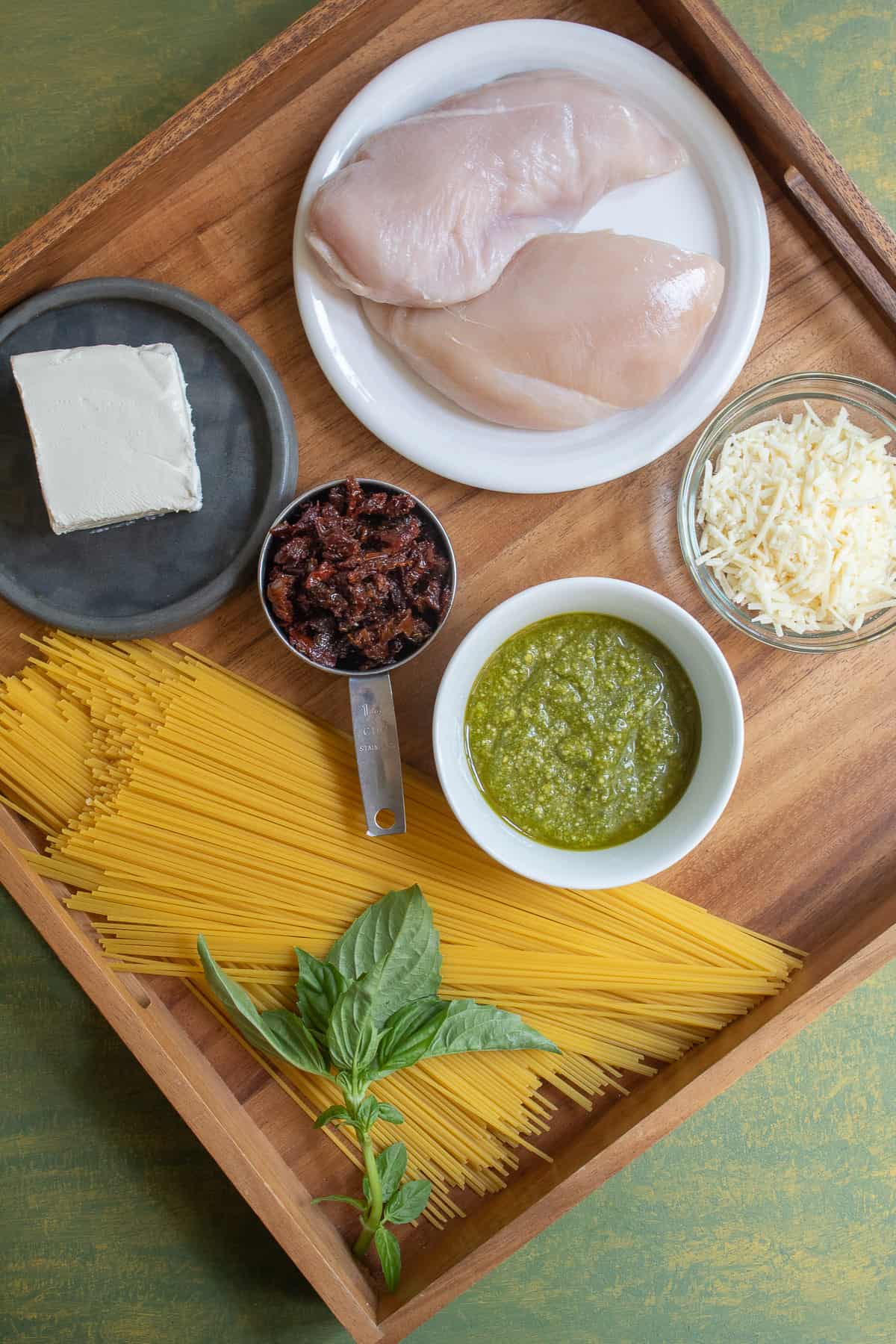 Spaghetti - We will be breaking the long strands of pasta in half to fit them into the pot insert. I know that this is practically a sin in Italian cooking, but the pasta will not cook evenly otherwise.
Chicken Breasts - I normally favor chicken thighs, but chicken breasts are perfect here because they cook up evenly and shred well. This makes it easier to twirl your spaghetti and get some shredded chicken in every bite.
Pesto - We are using a basil pesto, which you may see labeled as pesto genovese. You'll find many options on your supermarket shelf, but I like De Lallo pesto or the Costco version.
Cream Cheese - Just four ounces of cream cheese make this a creamy pesto sauce that just melts into the pasta.
Sun Dried Tomatoes - I use sun dried tomatoes that are stored in olive oil with other herbs and spices. Drain the tomatoes well (save that oil, it's so flavorful) and chop them before adding to the pasta.
Parmesan Cheese - Use freshly grated or shredded Parmesan cheese or an Italian blend of shredded cheeses. In these photos I used a Romano-Parmesan blend.
Fresh Basil - Adding fresh leaves of basil as garnish gives a visual cue for the flavors in the dish. It's also great to get a pop of basil flavor when you are eating the pasta.
I include ingredient notes here when I think they'll be helpful, including ways to source, any preparation tips, or why I've chosen a particular ingredient. Be sure to check out the recipe card below for the full list of ingredients and their quantities!
Instructions
The entire pasta dish will cook in the Instant Pot insert, chicken, pasta, sauce, and all. This concentrates the starches in the pasta and makes a silky sauce. Don't change the order of ingredients or the way they are added to the pot, the correct order ensures that the pasta and chicken cook completely.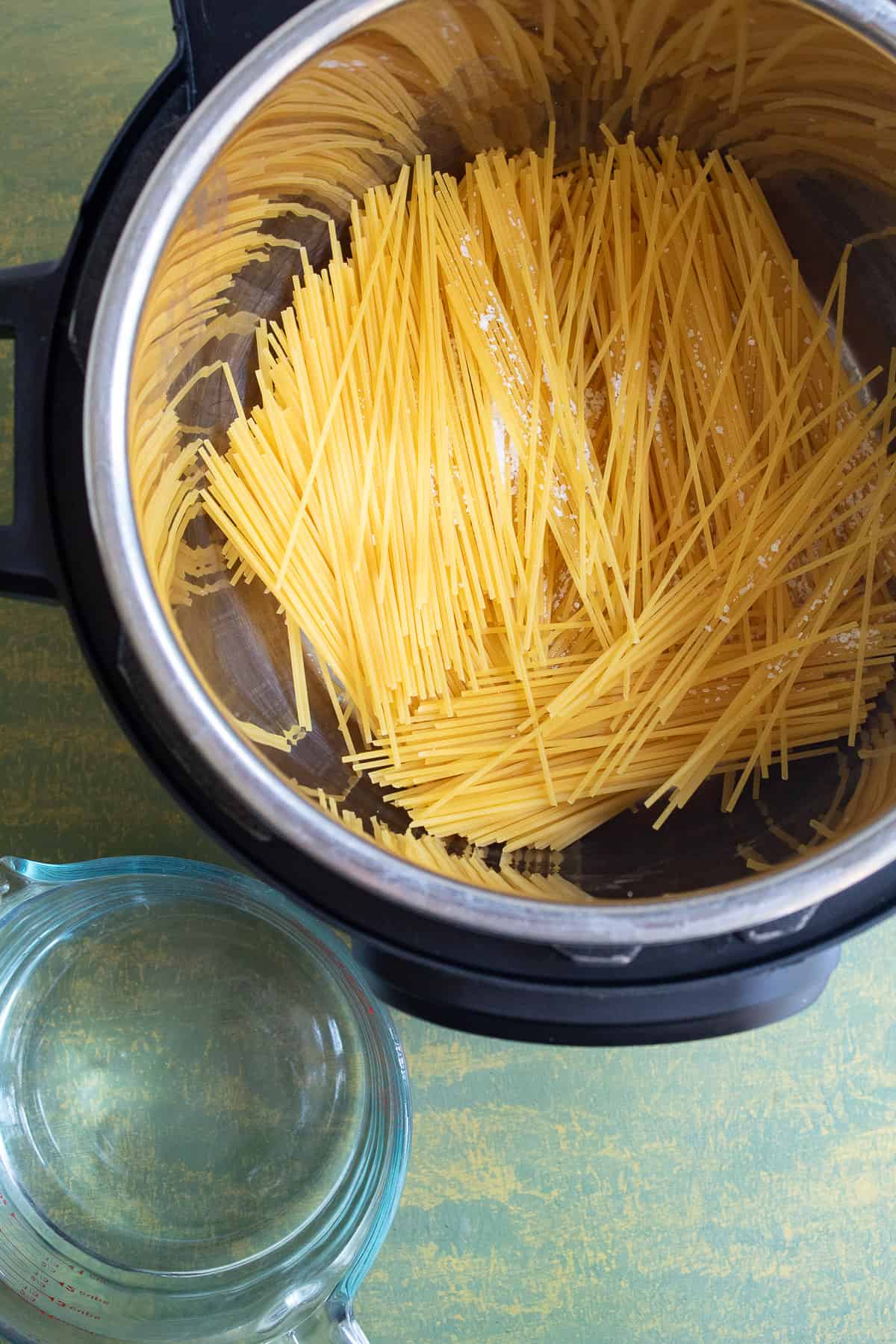 Break the spaghetti in half and fan it along the bottom of the Instant Pot insert. Sprinkle the pasta with salt. Pour the water over the spaghetti.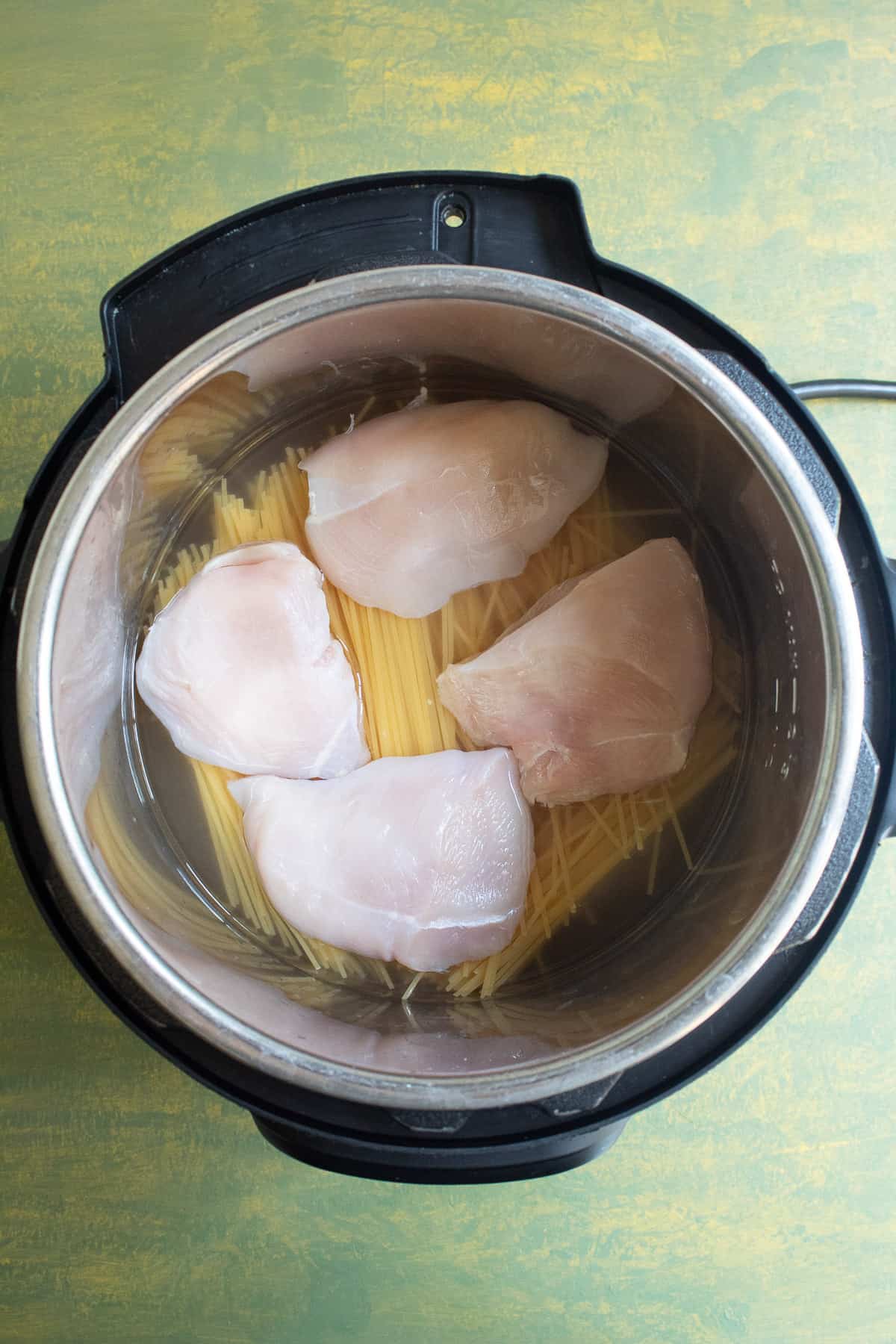 Cut the chicken breasts in half. Place the chicken breast pieces over the spaghetti. Close the top, seal the valve, and cook for 6 minutes under manual high pressure.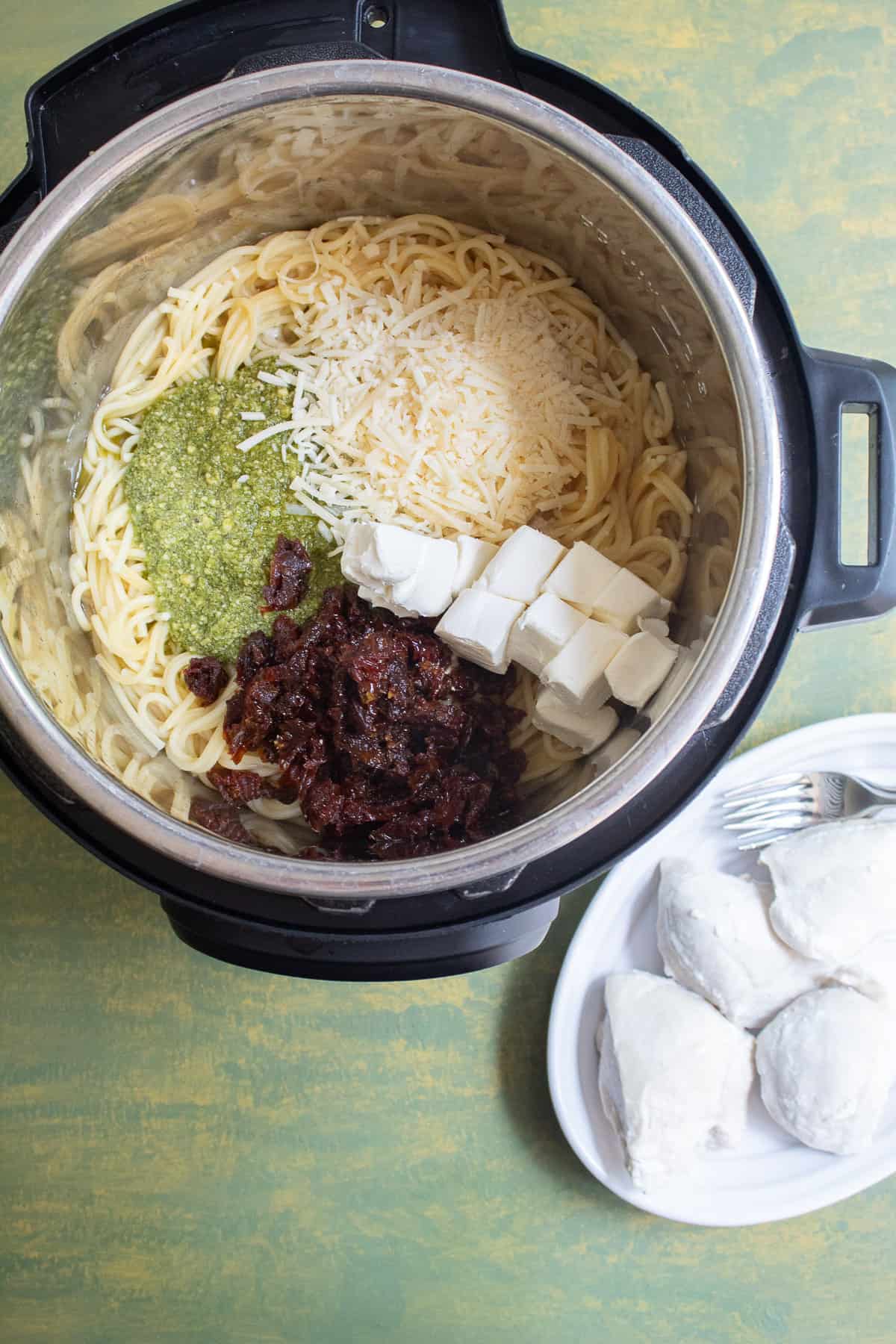 When the cooking time is up, cover the valve loosely with a towel and perform a quick release of the pressure. Remove the chicken pieces to a plate. Stir the pasta to break up any clumps and add the cream cheese, tomatoes, pesto, and Parmesan. Stir well and place the lid back on with the valve open.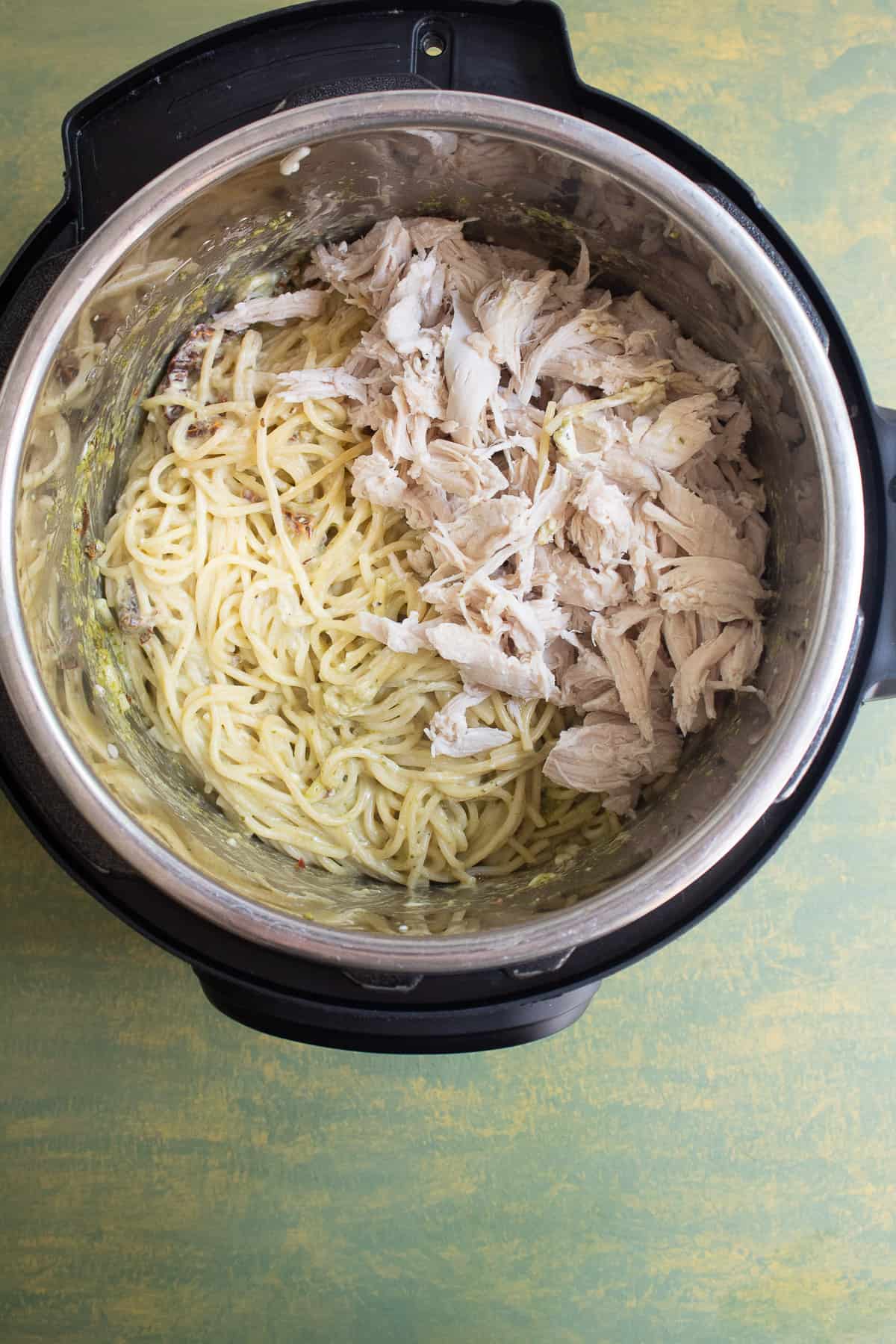 While the other ingredients are warming in the Instant Pot, shred the chicken with two forks. Open the lid and add the shredded chicken. Stir the pasta well to distribute the ingredients. Add a bit of additional water if the sauce is too thick.
Transfer the pasta to a serving plate, if desired. Sprinkle it with additional cheese and garnish with basil leaves.
Hint: Placing a towel over the valve when releasing the pressure will prevent any of the starchy pasta water from splattering all over your kitchen. Take care to avoid the steam escaping from the pot as it will burn you.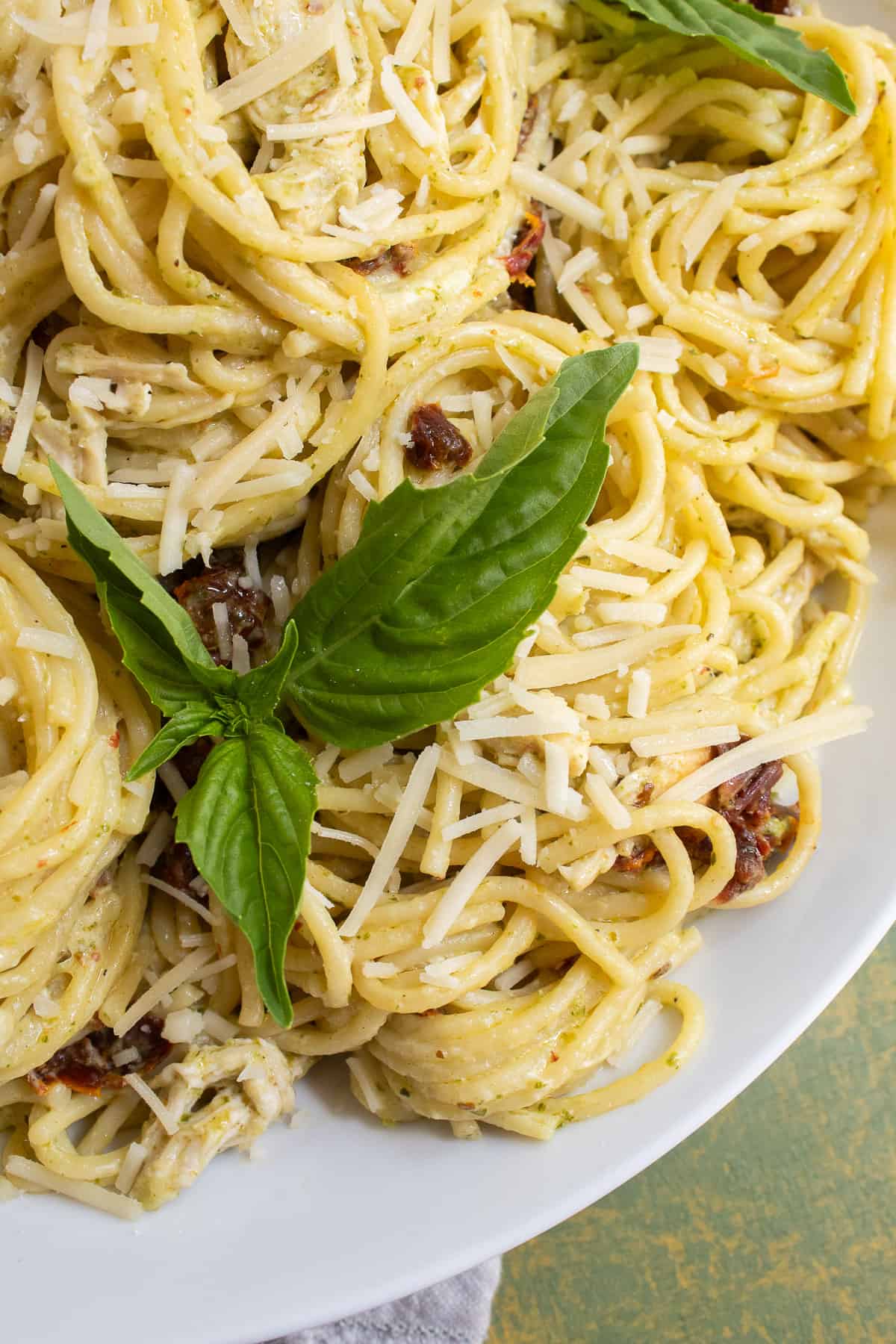 Substitutions
Here are a few substitutions you may choose in making this Instant Pot chicken spaghetti.
Use Rotisserie Chicken - If you have leftover shredded chicken or turkey, omit the chicken breasts and add the shredded meat in to the pasta along with the pesto, cream cheese, and tomatoes to warm everything through before serving.
Swap the Pasta Shapes - I've made this with penne and cavatappi pasta as well, just make sure that the pasta is completely submerged before you start cooking.
Use a Homemade Pesto - If your garden is providing you with oodles of basil for homemade pesto, take advantage of it and use it!
Variations
There are lots of ways you can make this recipe your own. Try any of these suggestions:
Make a Vegetarian Version - Choose a vegetarian-friendly cheese and pesto and omit the chicken altogether.
Add Extra Vegetables - Baby spinach, chopped artichoke hearts, black olives, and more can all be added to the pasta and warmed along with the cream cheese and pesto.
Swap Sun Dried Tomatoes for Fresh Tomatoes - Remove the seeds from a few plum tomatoes and dice them up to add to the pasta in place of the sundried tomatoes.
Make It Kid Friendly
In our house, shredded chicken is a tough sell. We will often make the dish as described, but only add in the chicken once I've set aside a portion for the kids. I find that my kids will eat a lot of pasta if I give them the freedom to add their own cheese on the top! I try to do it with small servings of pasta at a time or my youngest will eat all of the cheese off of the top and ask for more.
Equipment
If you do not have a pressure cooker, you can still make this recipe. Simply boil the pasta according to the package directions and stir in the pesto, tomatoes, cheeses, and shredded rotisserie chicken to the drained pasta. Save a bit of pasta cooking water to thin the sauce to the desired texture.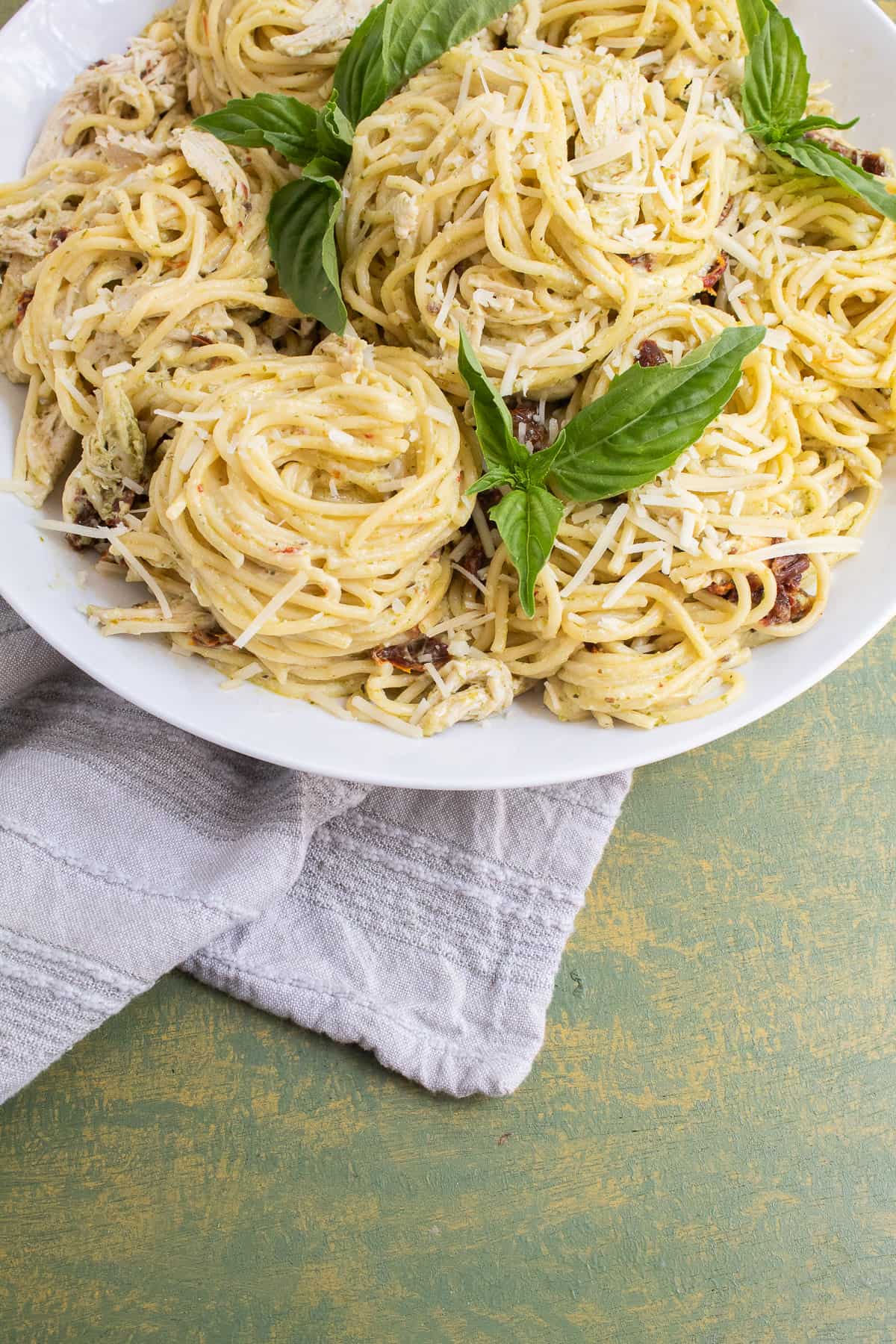 Storage
Store any leftovers in single portions in airtight containers in the refrigerator for up to three days. This pasta reheats well in the microwave!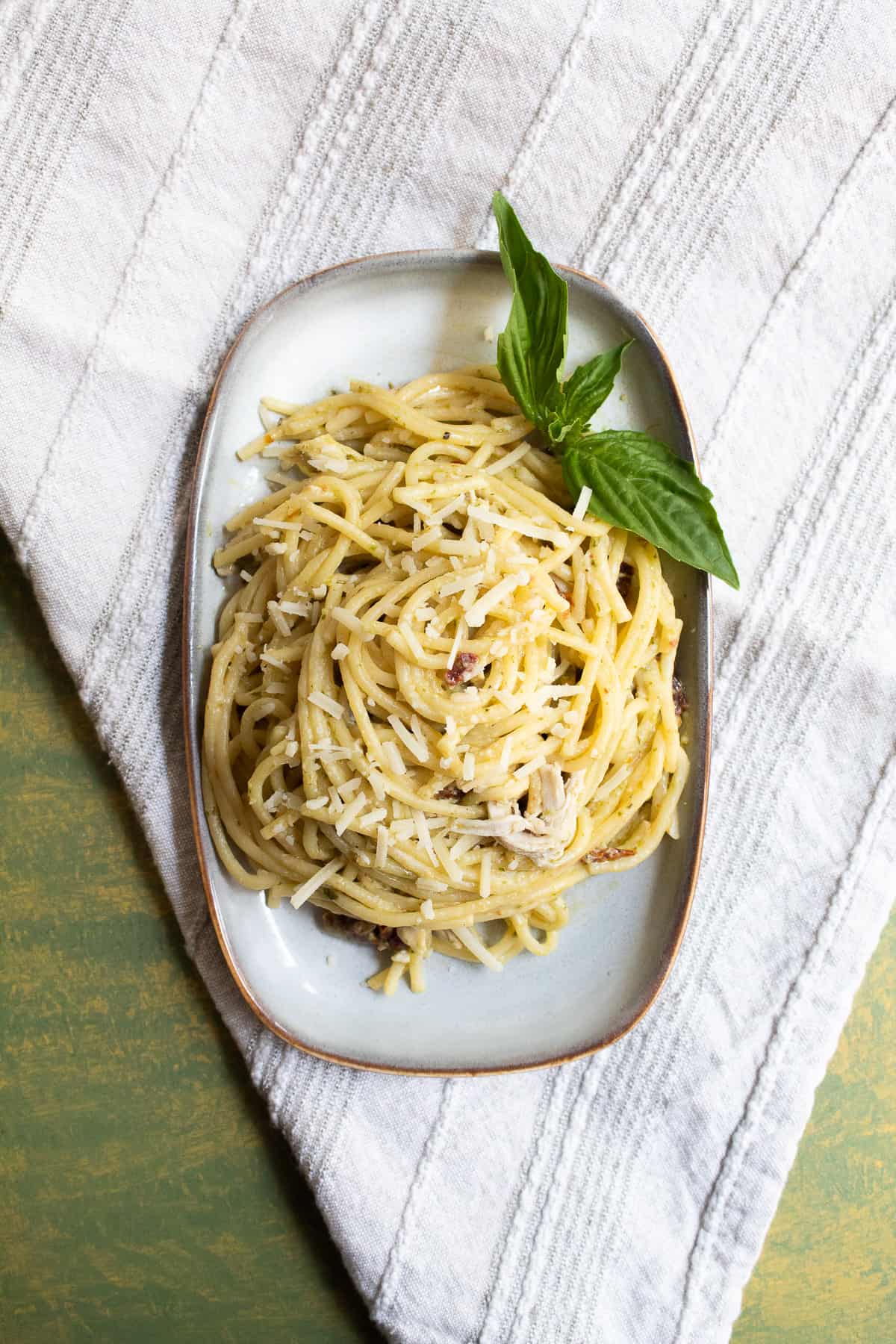 FAQ
What size of pressure cooker do you need for this recipe?
You need a pot that is at least a 6-quart capacity to cook this recipe.
Does the chicken need to be submerged in order to cook to a safe temperature?
No, the water that is in the pot will help steam the chicken. If your chicken breasts are thicker than two inches, slice them lengthwise into thinner pieces so that they cook all the way through.
Can you add all of the ingredients to the pot at once to cook together?
It's best to cook this dish in stages. The pesto needs only to be warmed up and overcooking it can actually decrease the flavor. You also don't want to pressure cook the cheeses as the texture of the final dish will be affected.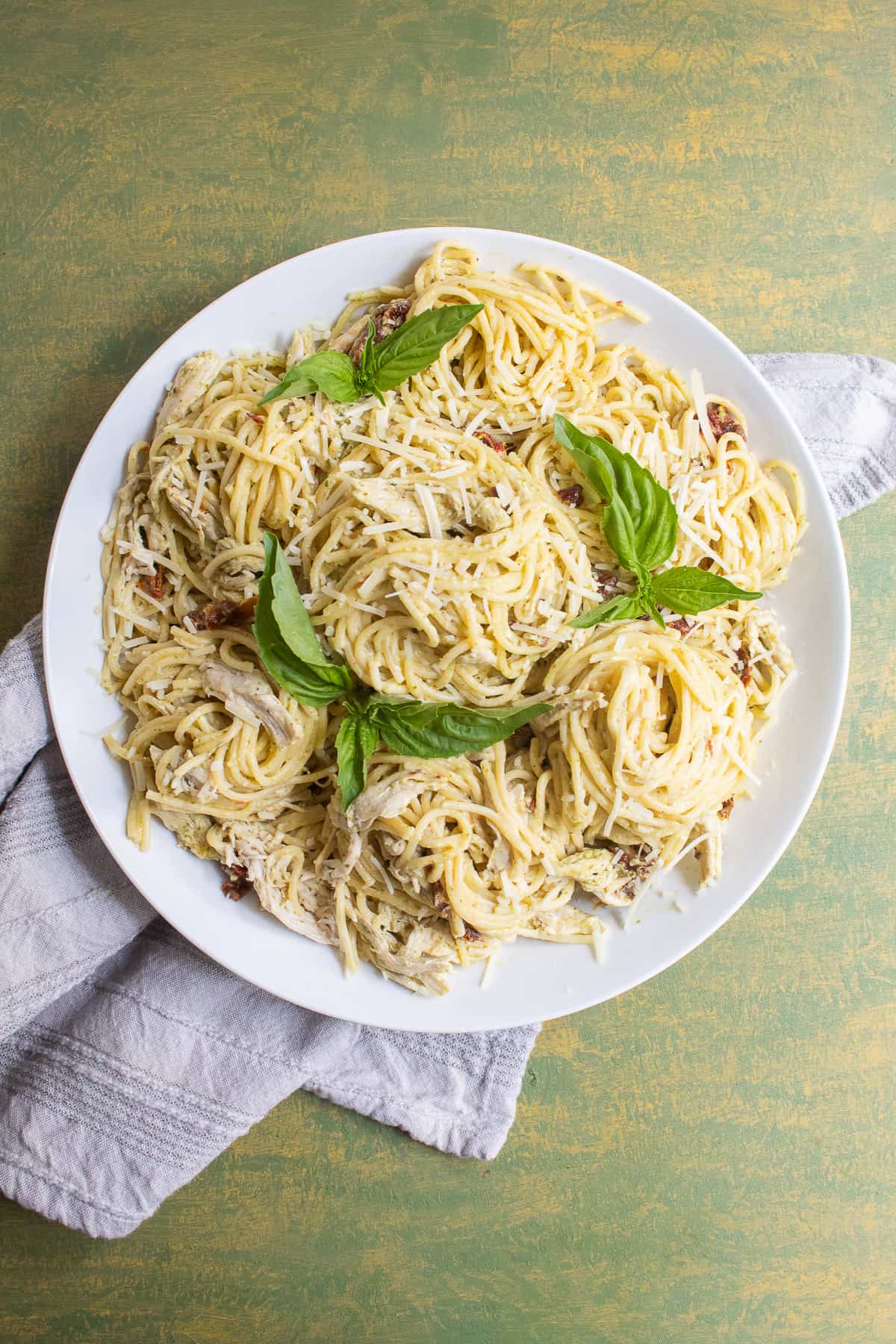 Other Pressure Cooker Recipes
We love our Instant Pot for quick prep on weeknights. Try these other pressure cooker recipes:
Pairing
These are my favorite salads to serve with Instant Pot Creamy Pesto Chicken Spaghetti:
Try It and Share
I hope you make this Instant Pot Chicken Spaghetti with Creamy Pesto and share the recipe with family or friends. I want to see your results! Tag your photo with #planeatpostrepeat and mention me @planeatpostrepeat on Instagram or Facebook. I can give you a virtual high five and thank you for cooking one of my recipes! Comment below with any questions and please leave a review so others can find this recipe more easily.
Recipe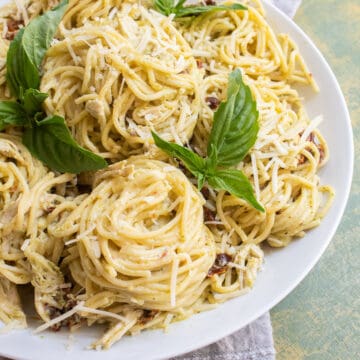 Instant Pot Creamy Pesto Chicken Spaghetti
A simple prep in the Instant Pot yields tender spaghetti slicked with a creamy pesto sauce, shredded chicken, and pops of sundried tomatoes.
Equipment
1 Pressure Cooker

e.g. Instant Pot
Ingredients
1

pound

spaghetti

1

pound

chicken breasts

1

teaspoon

kosher salt

4

cups

water

¾

cup

pesto

(6 ounces)

4

oz.

cream cheese

(cubed)

½

cup

sun dried tomatoes in oil

(drained and roughly chopped)

½

cup

Parmesan cheese

(grated, plus extra for serving (or use an Italian cheese blend))

basil leaves

(for garnish)
Instructions
Break the spaghetti in half and fan it out over the bottom of the pressure cooker insert. Sprinkle with salt and pour the water over the top. Use a fork to move the spaghetti around so that it isn't clumped together or stuck to the bottom.

Cut the chicken breasts in half and lay the pieces over the spaghetti.

Place the cover over the top and lock it into place. Cook with manual high pressure for 6 minutes.

Once the cooking time is done, do a quick release and remove the top. Use a towel to lightly cover the valve so that it doesn't splatter liquid.

Remove the chicken to a separate plate and add the cream cheese, pesto, Parmesan, and sundried tomatoes to the remaining pasta. Stir and replace the lid for 5 minutes.

While the pasta is finishing, shred the chicken using two forks. Open the lid and stir in the shredded chicken.

Serve with Parmesan sprinkled over the top and garnish with chopped basil.
Nutrition facts are sometimes provided below and are calculated using an online calculator. With specific brands of ingredients and additions, omissions, or substitutions the nutrition facts may change. We encourage you to use your own nutrition facts caculator to obtain the most accurate nutrition facts for your meal.
Nutrition Facts
Calories:
454
kcal
Carbohydrates:
47
g
Protein:
24
g
Fat:
18
g
Saturated Fat:
6
g
Polyunsaturated Fat:
1
g
Monounsaturated Fat:
3
g
Trans Fat:
0.01
g
Cholesterol:
57
mg
Sodium:
746
mg
Potassium:
468
mg
Fiber:
3
g
Sugar:
3
g
Vitamin A:
813
IU
Vitamin C:
8
mg
Calcium:
147
mg
Iron:
1
mg