If nectarines are in season, this is one of the simplest and most flavorful ways you can give them a savory twist! This Nectarine and Blue Cheese Pizza with Thyme balances salty and savory blue cheese with sweet and juicy nectarines. The sweet and sour balsamic glaze plays so well with the herbal and grassy thyme. You can add chicken or choose to keep them vegetarian. Do it your way, but give these a go as soon as possible. Before I forget... peaches make a perfectly good swap for the nectarines if that's what is ripe and delicious where you are.
Ingredients and Preparation
You don't need a ton of ingredients for these Nectarine and Blue Cheese Pizzas with Thyme, but each ingredient is a heavy-hitter. Let's start with the dough. I happily use a store-bought dough for these all the time (thanks Trader Joe's!), but this is my favorite dough to make from scratch. The simplest option? Use whole pita rounds! I love this weeknight-friendly option because the pita rounds are the perfect size and they crisp up so well in the oven. If you use the pita, you will likely need to shorten the cooking time a bit and rely on the broiler for a larger portion of the cooking. Whichever crust journey you are on, oil the crust with olive oil before layering on the rest of the ingredients.
I find balsamic glaze at Trader Joe's and I've seen it at our local chain grocery store as well. If you can't find it, the glaze is so easy to make from balsamic vinegar at home. You can add it to a small saucepan and heat over medium-high until the volume is reduced by half. Set it aside and as it cools it will thicken. Make extra if you have the time! I love balsamic glaze over steaks, salads, and on ripe tomatoes.
This pizza is a great use of leftover shredded chicken, so I generally toss a handful on to the pizzas as I'm layering ingredients. Feel free to omit it and keep these as a vegetarian meal. Don't leave out the blue cheese, though! It's such a great combination with the nectarines. Same goes with the thyme. It adds a great layer of flavor that plays nice with the vinegar and the nectarines.
You can make this as one large pizza or as four smaller ones. I prefer the smaller ones for maximum crispiness on the crusts. Either way you do it, start with the mozzarella as a base for the pizza toppings. Then layer on nectarines, blue cheese, chicken, and thyme. Bake the pizzas for 12-15 minutes until everything is golden brown and bubbly. I like to run the pizzas under the broiler for the last few minutes to get some extra-crispy and browned edges.
Serving Nectarine and Blue Cheese Pizza with Thyme
Once the pizzas are baked, drizzle them with the balsamic glaze and slice them up. Since the Nectarine and Blue Cheese Pizza with Thyme works as well as an appetizer as it does a main dish, slice them accordingly. For appetizer portions, cut into very thin wedges or into squares. Serve them while they are hot! If you need to reheat slices later, I think the best method is to put them into a dry skillet and heat over medium-high heat until crisp and warm.
Try it and Share
I hope you try these Nectarine and Blue Cheese Pizzas with Thyme! I want to see your results! Tag your photo with #planeatpostrepeat and mention me @planeatpostrepeat on Instagram. I can give you a virtual high five and thank you for cooking one of my recipes! Comment below with any questions and please leave a review so others can find this recipe more easily.
Are you looking for a few more 30-minute meals to break the monotony of the weeknight dinner? Try my Cashew Nut Mango, Barbecue Chicken Chopped Salad, or Lemon Ricotta Shells. All of these recipes are quick, kid-approved, and full of flavor!
Recipe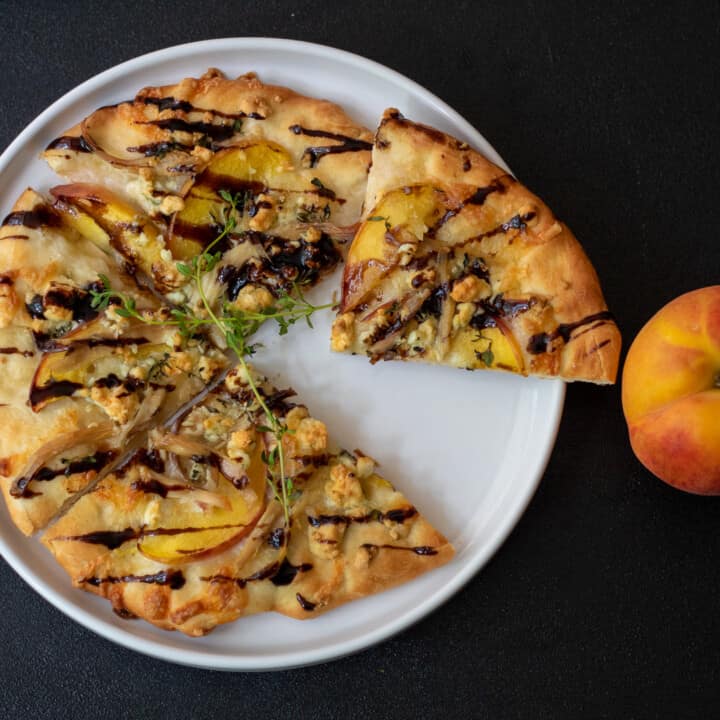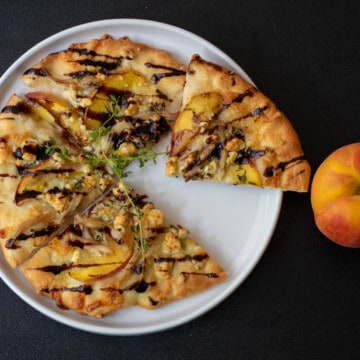 Nectarine and Blue Cheese Pizza with Thyme
Sweet and salty, herbal and savory, this Nectarine and Blue Cheese Pizza with Thyme is flavorful and easy to throw together with pre-made dough or pita bread.
Ingredients
3

tablespoon

balsamic glaze

(or 6 tablespoon balsamic vinegar)

1

ball of prepared pizza dough

(or 4 large pita bread rounds)

2

medium ripe nectarines, sliced

½

cup

blue cheese, crumbled

½

cup

shredded cooked chicken

5

sprigs

fresh thyme, leaves stripped

(plus extra for garnish)

1

cup

shredded mozzarella

olive oil

(for pan and drizzling crust)
Instructions
Prepare Balsamic Glaze
Add the six tablespoons of balsamic vinegar to a small saucepan. Heat over medium-high heat until the volume is reduced by half. Set aside to cool
Prepare the Pizzas
Preheat the oven to 450°F. Oil a sheet pan (or pans) with the olive oil.

Divide the pizza dough into four equal pieces and stretch the dough into four rounds. Lay directly on the oiled pan(s). If using the pita rounds, lay them out on the oiled sheet pans.

Drizzle the crusts with olive oil.

Layer over each crust the mozzarella, nectarine slices, chicken, blue cheese, and thyme leaves.

Bake the pizzas for 12-14 minutes, until golden. If desired, switch the oven to broil and cook the pizzas a couple of minutes more.

Drizzle the pizzas with balsamic glaze and garnish with additional thyme. Serve.
Nutrition facts are sometimes provided below and are calculated using an online calculator. With specific brands of ingredients and additions, omissions, or substitutions the nutrition facts may change. We encourage you to use your own nutrition facts caculator to obtain the most accurate nutrition facts for your meal.