I have been making these Roasted Carrot and Chickpea Grain Bowls in one form or another for years. On first glance the recipe is long and fussy, but I promise you the steps are efficient and easy to follow. And the best part? These grain bowls are crazy delicious. Nutty grains and warmly-spiced roast chickpeas provide hearty belly-filling protein. The sweet roasted carrots are so good the kids call them veggie candy. Salty feta and creamy yogurt sauce provide good contrast and the whole bowl gets a sprinkle of maple candied pepitas. Salty, crunchy, sweet, smoky, creamy... all of the good stuff is in this recipe!
Check out this Garlic Paprika Shrimp Bowls with Chickpeas and Lemon recipe for another hearty dinner bowl recipe. If you love the flavor of roasted vegetables, try these maple balsamic brussel sprouts or roasted delicata with honey ancho vinaigrette.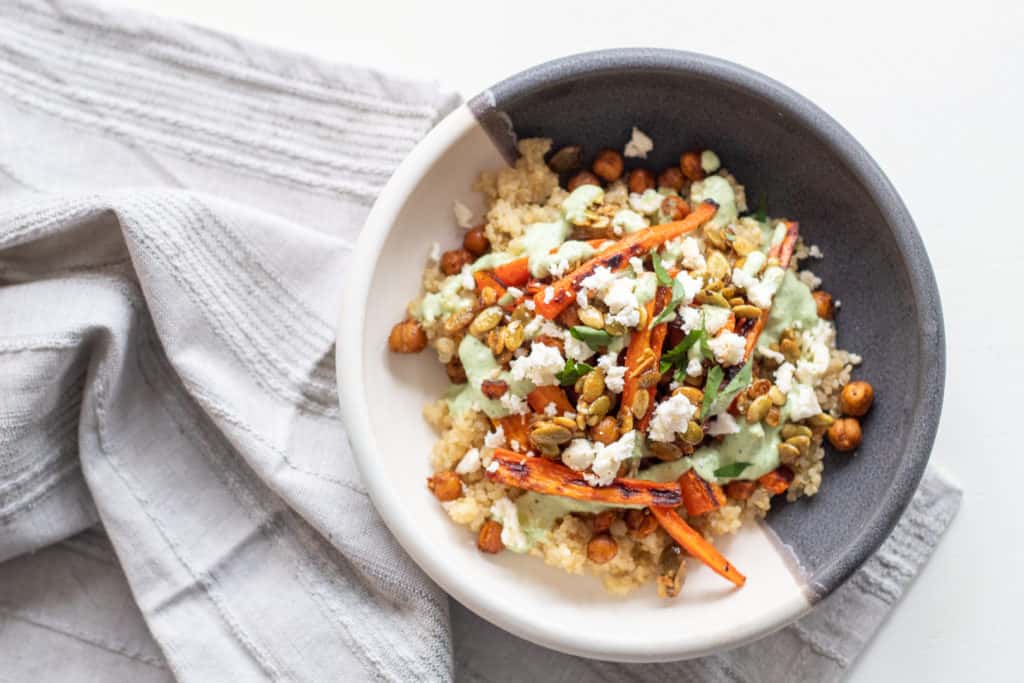 Ingredients and Preparation
Most of the ingredients for this recipe are things we have on hand in the pantry all the time. Canned garbanzo beans, maple syrup, pepitas, and spices like cumin and chili powder are just things we use all of the time. Carrots, yogurt, and parsley are also staples that are very likely to be in our refrigerator. This makes this recipe such a winner for a night when there's "nothing" left from the grocery run to cook for dinner. You can substitute cotija cheese for the feta, it has a similar salty flavor and crumbly texture. I've also used sour cream in place of the Greek yogurt on occasion with good results.
Choose a grain base that is easiest for you, I've made this with all sorts of options: farro, quinoa, and barley are the most common in my kitchen. Cook that according to package directions and set the grain aside, keeping it warm. Once you have your base, get the oven going for the carrots and chickpeas. I like to use one big bowl twice (save dishes whenever possible!) to coat everything with seasonings.
Carrots are coated with salt, pepper, and olive oil and placed on one sheet pan. Use the same bowl and toss the chickpeas with the cumin, garlic powder, salt, pepper, and olive oil and place them on their own sheet pan. Roast everything for 30 minutes or so and switch the position of the two pans halfway through the roasting.
While all of that is cooking, process the yogurt sauce ingredients and make the maple candied pepitas. I'll warn you; stay close to the pan while cooking the pepitas! That mixture will definitely burn if you walk away and unload the dishwasher while it is cooking. Or maybe you are guilty of trying to swap the laundry loads? Either way, don't be me and try to multi-task while cooking the pepitas. They are so good and you don't want them burned!
Serving Roasted Carrot and Chickpea Grain Bowls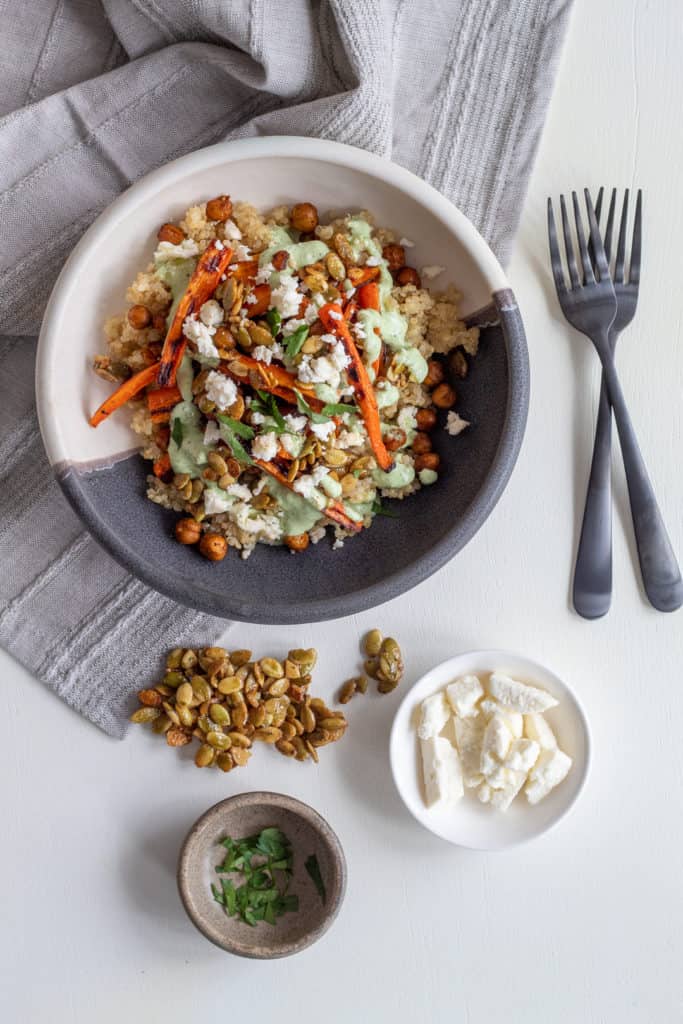 First, can you get over the beautiful shallow bowl I used for these photos? We are lucky to get access to these beautiful pieces at out local farmer's market from Tiny Giant Pottery, and I just love the look of this bowl. It makes this Roasted Carrot and Chickpea Grain Bowl look as good as it tastes!
For serving, I like to bring all of the grain bowl components to the table so everyone can build their bowl just the way they like it. I start with the layer of grains and then add the carrots and chickpeas over the top. Everything gets a generous drizzle of the yogurt sauce before garnishing with feta, parsley, and those yummy pepitas. There is usually a dinner-table battle over the pepitas, so feel free to double that part of the recipe if you think your family will like them like mine does.
These Roasted Carrot and Chickpea Grain Bowls are really great for meal prep. Simply keep the components separate in airtight containers and build your bowl each day for lunch later on. If I'm taking a grain bowl for lunch on the go, I put the grains, carrots, and chickpeas in one microwaveable container and the other ingredients in another container. This way I can have a warm base with crispy and cool toppings.
Try it and share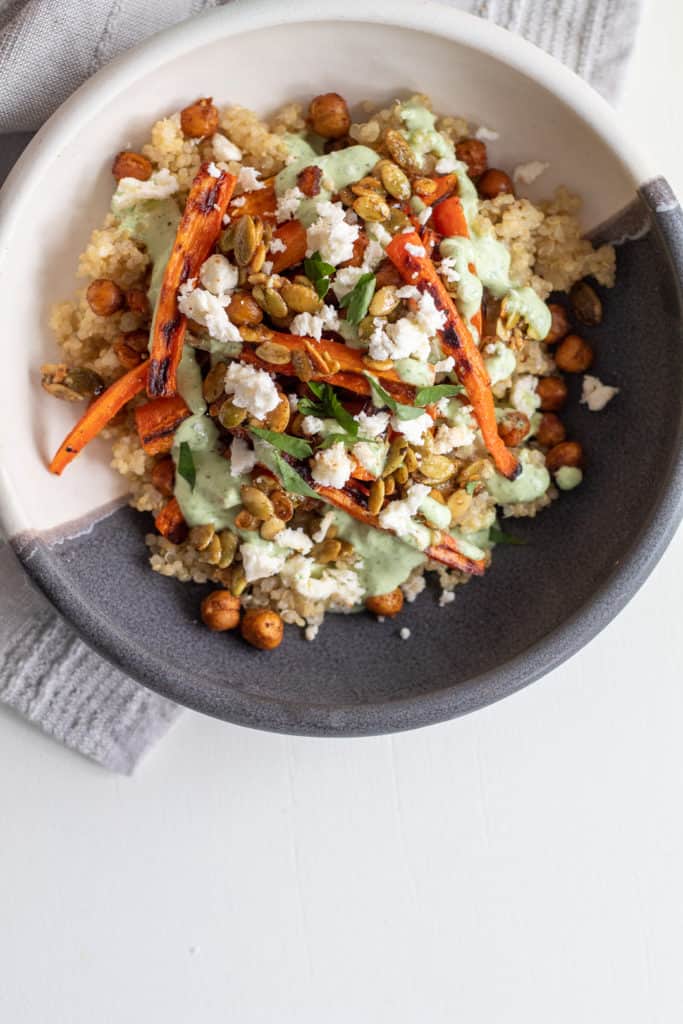 I hope you try these Roasted Carrot and Chickpea Grain Bowls and share the recipe with family or friends. I want to see your results! Tag your photo with #planeatpostrepeat and mention me @planeatpostrepeat on Instagram or Facebook. I can give you a virtual high five and thank you for cooking one of my recipes! Comment below with any questions and please leave a review so others can find this recipe more easily.
Are you looking for more meal prep friendly recipes? Try these Sweet Potato and Black Bean Bowls with Chicken and Citrus Herb Sauce or Sheet Pan Peanut Chicken for meals that can be made on the weekend for lunches or dinners throughout the week.
Recipe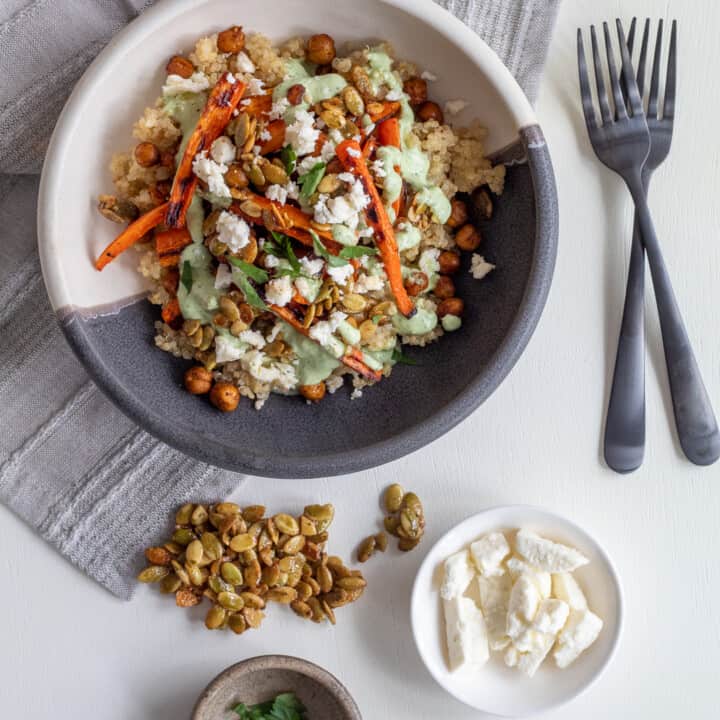 Roasted Carrot and Chickpea Grain Bowls
These Roasted Carrot and Chickpea Grain Bowls are a hearty vegetarian meal with sweet, tangy, salty, and nutty flavors everyone will enjoy.
Ingredients
4

cups

cooked grains

(farro, barley, or quinoa are all good options)

⅓

cup

feta, crumbled

(or use crumbled cotija cheese)
Yogurt Sauce
⅓

cup

Greek yogurt

1

tablespoon

mayonnaise

¼

cup

parsley, leaves and stems (roughly chopped)

(plus more for topping the bowls)

1

tablespoon

olive oil

¼

teaspoon

kosher salt

black pepper, to taste

2

tablespoon

water
Chickpeas
1

15oz. can

chickpeas, drained and rinsed

1

tablespoon

olive oil

1

teaspoon

chili powder

½

teaspoon

garlic powder

¼

teaspoon

kosher salt
Roasted Carrots
12-16

ounces

carrots, sliced into ½-inch sticks

1

tablespoon

olive oil

½

teaspoon

kosher salt

black pepper, to taste
Maple Candied Pepitas
⅓

cup

pepitas, raw

1

teaspoon

olive oil

2

teaspoon

maple syrup

½

teaspoon

cumin, ground

¼

teaspoon

kosher salt
Instructions
Roasting the Carrots and Chickpeas
Preheat the oven to 400°F. Line two sheet pans with parchment paper.

Start with the carrots. In a large bowl, add the oil, salt and pepper and toss the carrots to coat them evenly. Spread the carrot sticks over one of the sheet pans, leaving room in between each piece.

In the same bowl, add the chickpeas plus the oil, salt, garlic powder, and chili powder. Toss well to coat and spread out over the second sheet pan.

Cook the carrots and chickpeas for 25-30 minutes, switching pan positions and tossing the ingredients halfway through the cooking time for even cooking and browning.
Maple Candied Pepitas
While everything is roasting, add all of the pepita ingredients to a medium frying pan. Cook over medium heat with frequent stirring until the pepitas are taking on a golden color and begin to pop.

Remove the pepitas to a square of parchment paper on the countertop to cool. Break the pepitas up into small pieces.
Yogurt Sauce
Add all of the sauce ingredients to a mini food processor or the jar of a stick blender. Blend until creamy and smooth.
Bowl Assembly
Make a base of your cooked grains in a shallow bowl. Add the carrots and chickpeas over the top, dividing between the four servings. Drizzle the bowl with the yogurt sauce and top with the pepitas, additional parsley, and crumbled feta.
Nutrition facts are sometimes provided below and are calculated using an online calculator. With specific brands of ingredients and additions, omissions, or substitutions the nutrition facts may change. We encourage you to use your own nutrition facts caculator to obtain the most accurate nutrition facts for your meal.