Maple Balsamic Brussel Sprouts get a simple but special treatment in this recipe with a sweet and sour glaze of maple syrup and balsamic vinegar. You end up with crispy caramelized leaves and tender sprouts that the whole family will enjoy.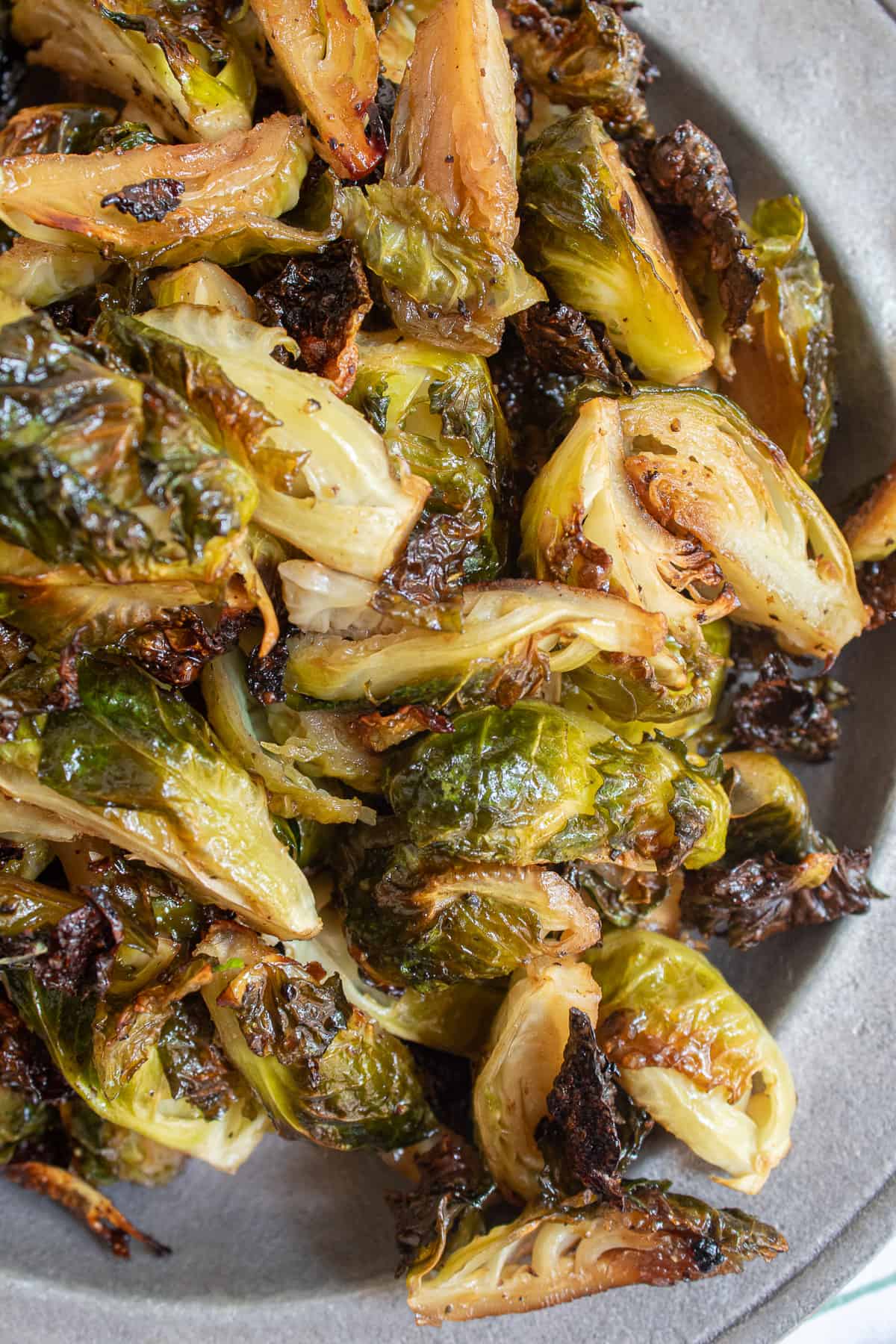 I used to reserve brussel sprouts as fall or winter sides, but these days you can find them fresh all year round. This maple and balsamic treatment is perfect for roast chicken or grilled meats so you can enjoy them whenever the mood strikes!
I love to roast vegetables to help them caramelize and bring out sweet flavors that compliment so many dishes. These roasted carrot and chickpea grain bowls and roasted delicata recipes really showcase the transformation that veggies go through with a high-temperature roast.
Brussel Sprouts, Brussels Sprouts: what's the deal?
The correct name for this cruciferous vegetable is Brussels sprouts, as they were cultivated near Brussels, Belgium in the 13th century. So many call them "brussel" sprouts, however, that I've used the name interchangeably here so no one misses out on this great recipe!
Brussels sprouts are grouped with other brassicas like kale, cabbage, broccoli, and cauliflower. They have historically had a bad reputation for being bitter and smelly, and often prepared overcooked and mushy. Cross-breeding in the 1990s reduced the amount of the bitter compounds in the sprouts, making them so much more popular, and better techniques like high-temperature roasting give them the perfect texture.
Jump to:
Ingredients
Only four main ingredients (plus salt and pepper) are needed for this side dish!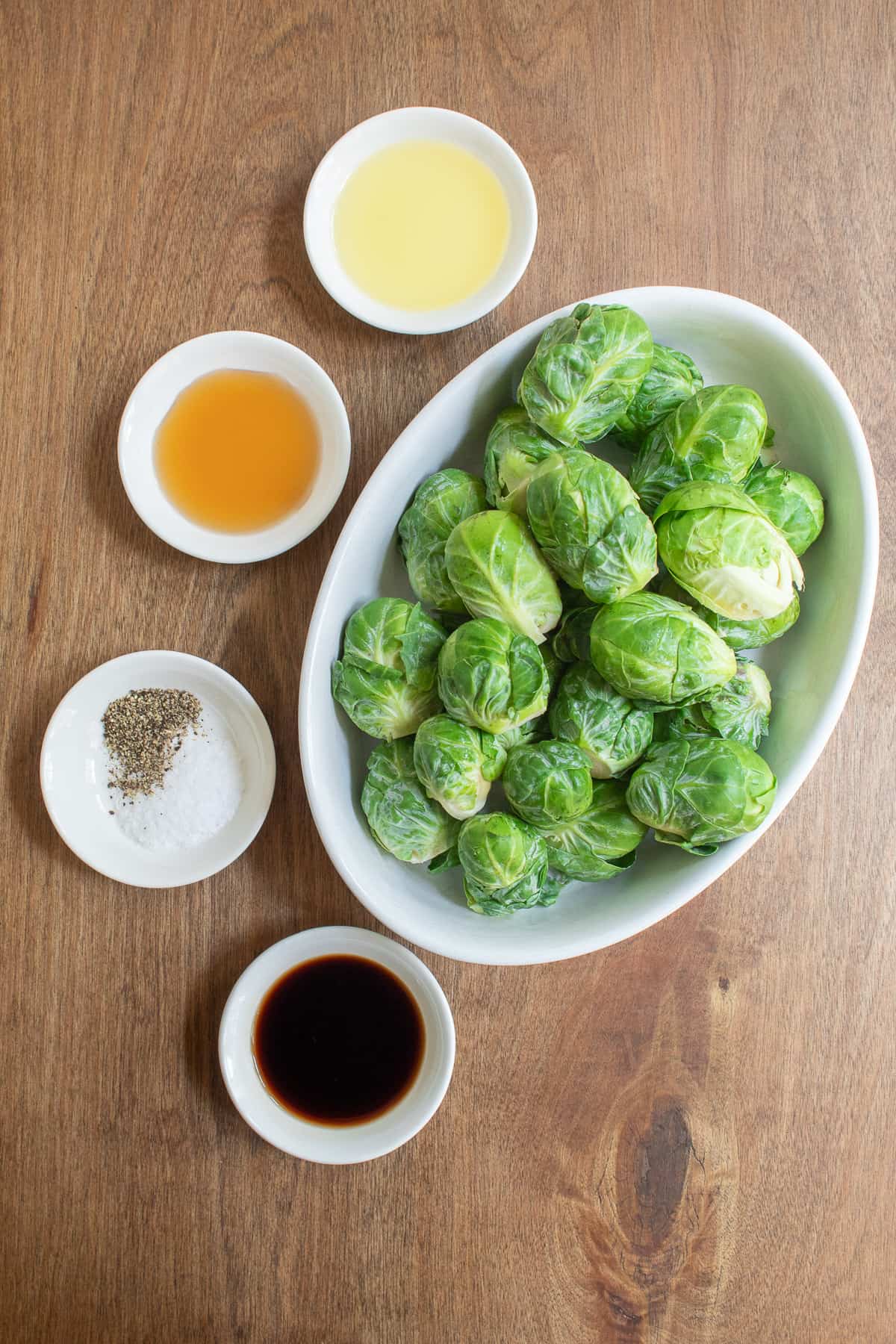 I include ingredient notes here when I think they'll be helpful, including ways to source, any preparation tips, or why I've chosen a particular ingredient. Be sure to check out the recipe card below for the full list of ingredients and their quantities!
Brussels Sprouts - Choose fresh sprouts with tightly-packed leaves that are unblemished. I buy them in bags in the produce section. Near Thanksgiving I often see the sprouts sold on the stalk, which is a fun way to introduce this vegetable to kids.
Maple Syrup - Use a pure maple syrup for this recipe, not a maple-flavored syrup, and you'll be rewarded with a more complex sweetness in the glaze.
Balsamic Vinegar - Dark and sweet balsamic vinegar helps to cut any bitterness remaining in the brussel sprouts and gives a great depth of flavor to the glaze.
Olive Oil - There's no need to use an extra virgin olive oil in this recipe, a blend will work just as well. Save the good stuff, it won't hold up to this preparation.
Instructions
This recipe uses a vinaigrette-like glaze to season the brussel sprouts before roasting as well as to toss over the sprouts after cooking. Preheat the oven to 400°F and line a sheet pan with parchment paper.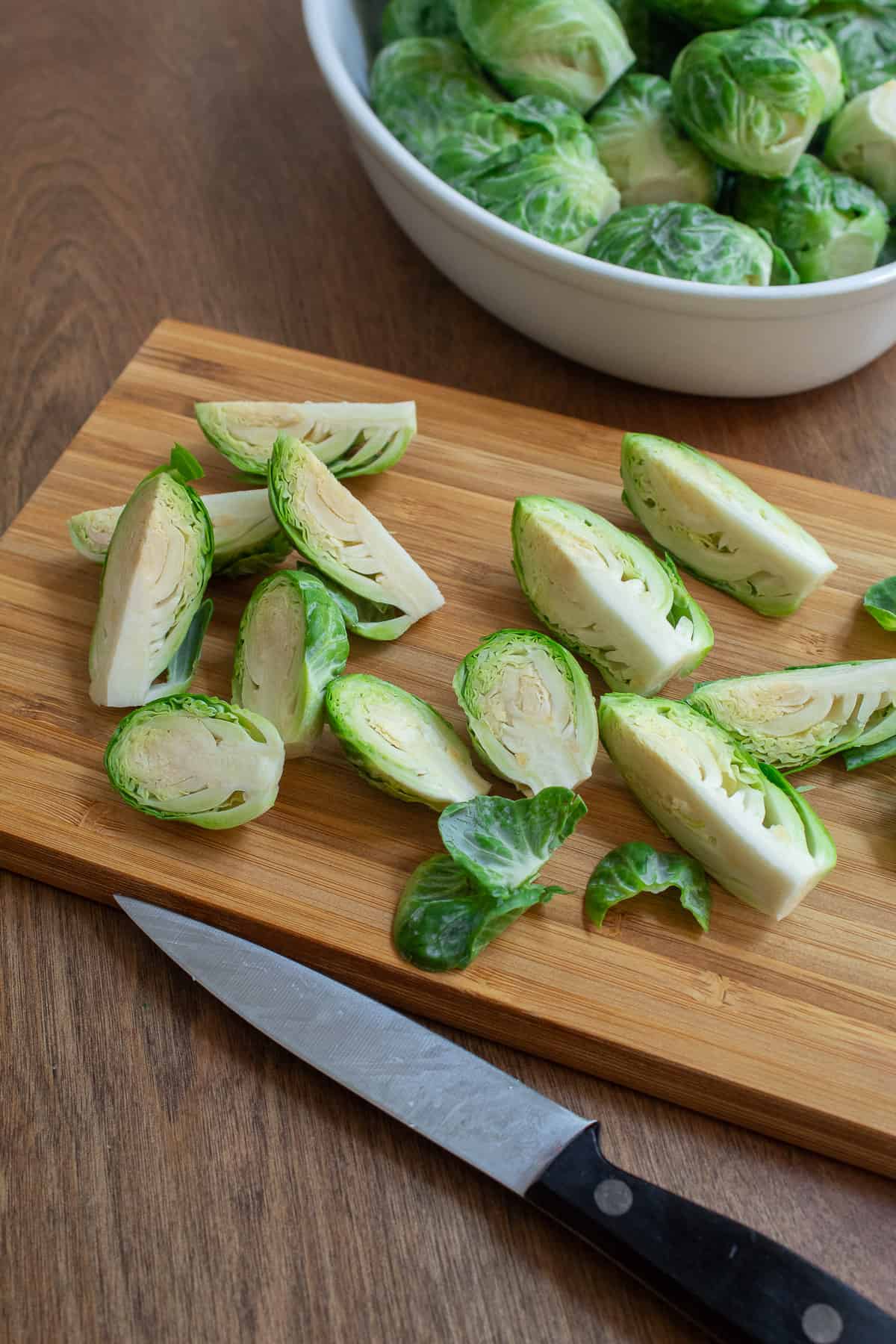 Trim the Brussels sprouts at the base and then cut them into halves or quarters, depending on size. Try to make them uniform in size so that they roast evenly. Save any leaves that get trimmed off of the sprouts.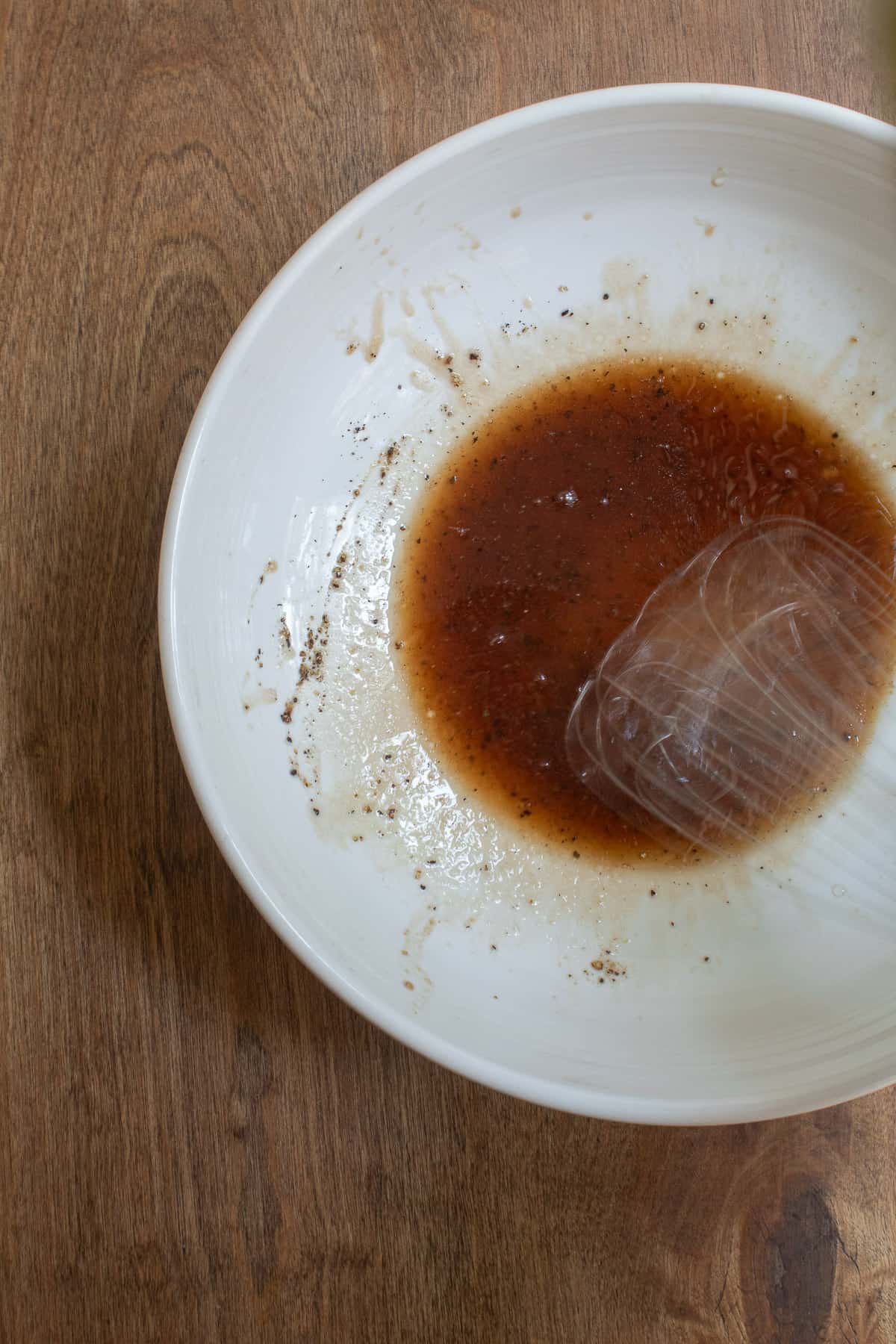 Whisk together the balsamic vinegar, maple syrup, olive oil, salt and pepper in the bottom of a large bowl.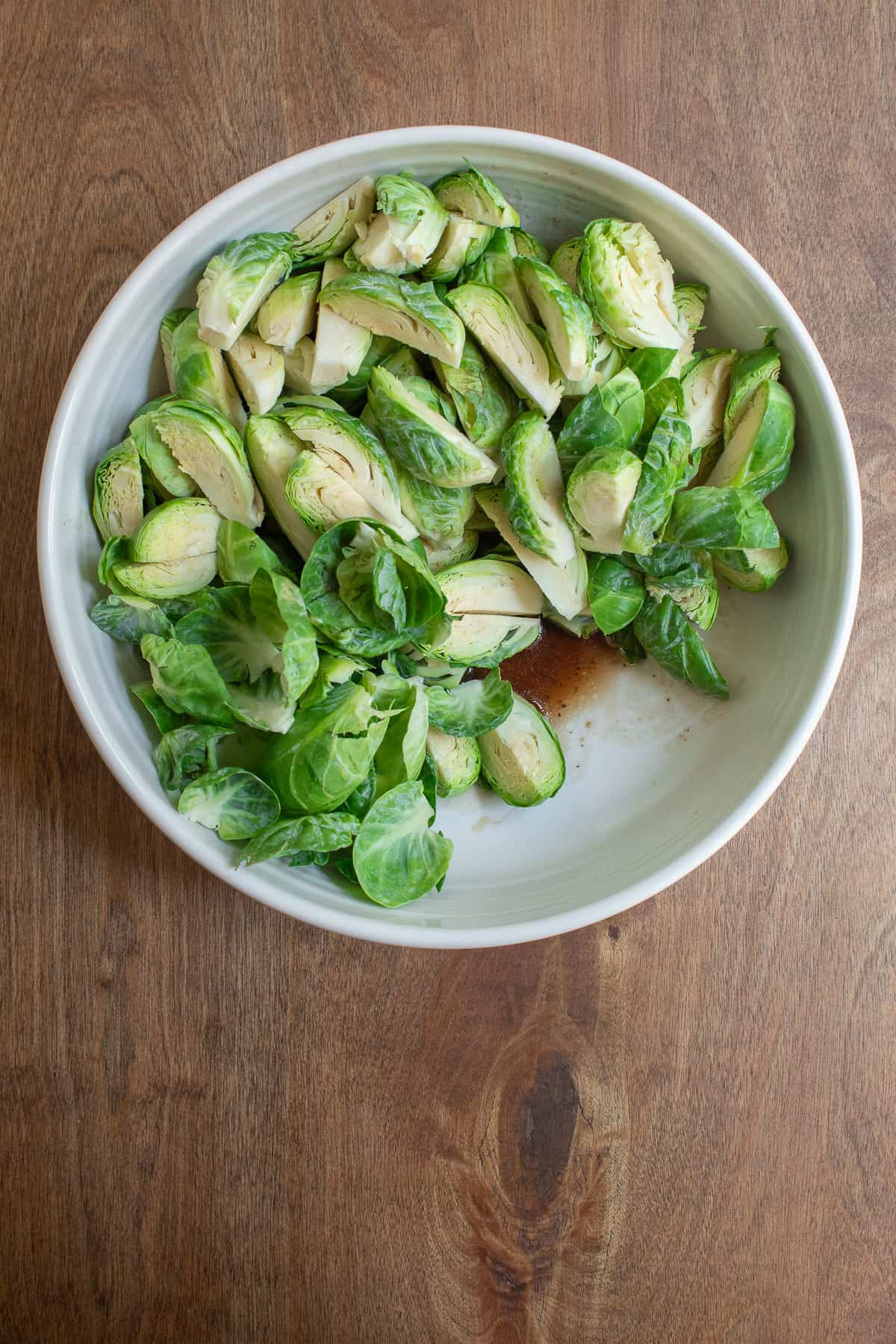 Toss the sprouts pieces and leaves with the glaze.
Arrange the brussel sprouts on a parchment-lined sheet pan with the leaves at the center. This will protect them from burning before the other pieces are cooked through.
Reserve the extra glaze in the bottom of the bowl.
Roast the sprouts for 30-35 minutes, tossing the sprouts after 20 minutes. They will be tender and deeply caramelized.
Toss the brussel sprouts with the reserved glaze and serve them immediately while they are hot and crispy.
Hint: Keep an eye on the leaves in the center of the pan. I love them deeply caramelized and crisp, but if you cross the line into burned they can be bitter. Remove them from the pan once you feel they are at the ideal level of caramelization. Place them in the bowl with the reserved glaze until the rest of the sprouts are cooked.
Variations
As is, this recipe is vegan and gluten-free, making it a good choice for feeding all of your guests. If you don't have any special diets to consider at your dinner table, here are some suggested additions to the maple balsamic brussel sprouts:
Add Chili Oil - Prepare the recipe as directed, but add about a teaspoon (or more if you're feeling extra spicy!) to the glaze before tossing the cooked Brussels sprouts and serving.
Add Nuts - A little bit of buttery crunch is a great addition to this side dish. Toast about ¼ to ⅓ cup of chopped walnuts, pecans, or pine nuts in a dry skillet and toss them with the cooked sprouts and glaze.
Sprinkle on the Cheese - Crumble a handful of feta or sprinkle Parmesan over the finished sprouts. If you are a fan, blue cheese crumbles are delicious over these sprouts, too!
Storage
I think these maple balsamic brussel sprouts are best fresh and hot from the oven when there are crisp leaves and tender sprouts. If you have leftovers, they can be stored in an airtight container in the refrigerator for up to three days.
For the best texture, reheat the Brussels sprouts in a skillet with a bit of olive oil until warmed through.
FAQ
Can you use frozen Brussels sprouts for this recipe?
I have had some success using frozen sprouts. The ones I get from Trader Joe's are smaller and more uniform in size than fresh sprouts and I think this contributes to good results if you use frozen. Do not completely thaw the sprouts before preparation, get them thawed only enough to cut them in half and then proceed with the recipe as written in the card below.
Can I prepare the Brussels sprouts ahead of time?
The sprouts are best served straight from the oven, but you can trim and cut them and prepare the glaze the night before cooking to save time. Simply store the prepared sprouts and glaze in separate airtight containers.
How can you get crispy and caramelized Brussels sprouts?
Arrange the sprouts so that the cut edge is touching the pan for maximum caramelization and crispy texture. When you toss them midway in the roasting process, make sure the cut edges remain face-down for the remainder of the roasting time.
Pairing
If you are turning the oven on to make this side dish, choose a main that cooks at the same time! These are my favorite dishes to serve with maple balsamic brussel sprouts:
Try Them and Share
These maple balsamic brussel sprouts are such a great side, so I hope you try them soon and share the recipe with family or friends. I want to see your results! Tag your photo with #planeatpostrepeat and mention me @planeatpostrepeat on Instagram or Facebook. I can give you a virtual high five and thank you for cooking one of my recipes! Comment below with any questions and please leave a review so others can find this recipe more easily.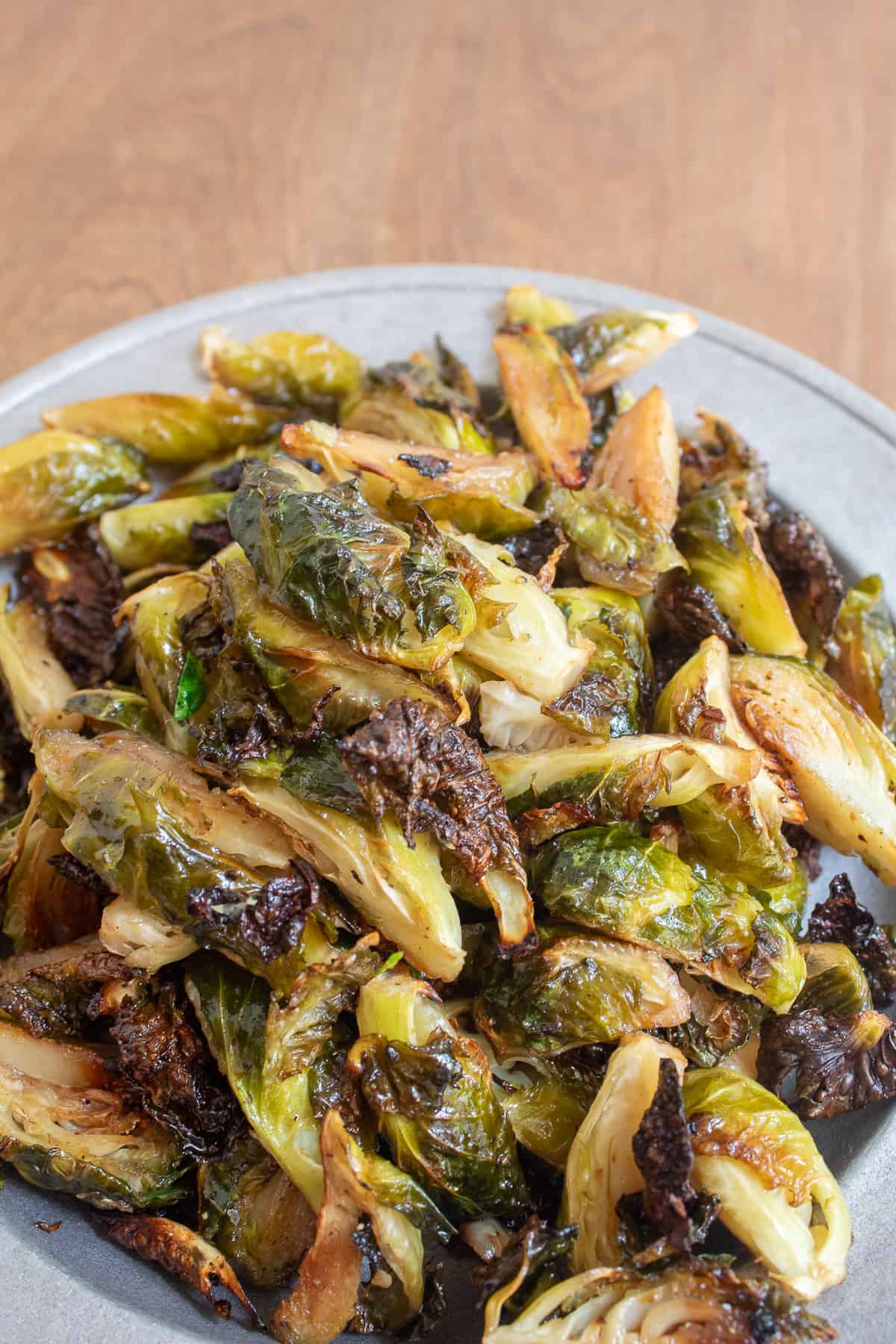 Recipe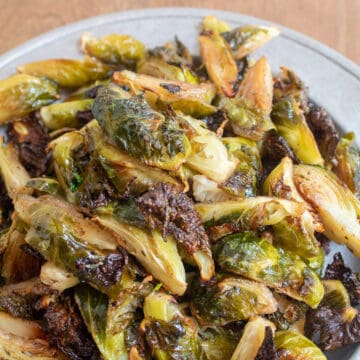 Crave-Worthy Roasted Maple Balsamic Brussel Sprouts
Roasted maple balsamic brussel sprouts are a crispy, tangy, and subtly sweet side dish perfect for roasted chicken or pork.
Ingredients
1

pound

brussels sprouts

1

tablespoon

olive oil

2

tablespoon

maple syrup

1

tablespoon

balsamic vinegar

1

teaspoon

kosher salt

½

teaspoon

black pepper
Instructions
Preheat the oven to 400°F and line a sheet pan with parchment paper.

Cut off the ends of the sprouts and separate any freed leaves. Cut the sprouts in half or quarters, depending on size.

In a large bowl whisk together the oil, maple syrup, vinegar, salt, and pepper.

Toss the mixture with the cut brussel sprouts and leaves.

Place the sprouts, cut side down, on the parchment and arrange the leaves in the center of the sheet pan. Reserve the extra maple syrup mixture in the bowl.

Roast for 30-35 minutes in the hottest part of the oven, tossing after 20 minutes.

Toss the cooked brussel sprouts and leaves with the remaining maple syrup mixture and then transfer them to a serving dish. Serve hot.
Nutrition facts are sometimes provided below and are calculated using an online calculator. With specific brands of ingredients and additions, omissions, or substitutions the nutrition facts may change. We encourage you to use your own nutrition facts caculator to obtain the most accurate nutrition facts for your meal.
Nutrition Facts
Calories:
111
kcal
Carbohydrates:
18
g
Protein:
4
g
Fat:
4
g
Saturated Fat:
1
g
Polyunsaturated Fat:
1
g
Monounsaturated Fat:
3
g
Sodium:
612
mg
Potassium:
472
mg
Fiber:
4
g
Sugar:
9
g
Vitamin A:
856
IU
Vitamin C:
96
mg
Calcium:
61
mg
Iron:
2
mg