There are lots of reasons to love a roast turkey (or chicken) dinner, but my favorite is the leftovers. Add these Leftover Turkey Turnovers to the list of greatest leftover hits: turkey and wild rice soup, turkey enchiladas, turkey salad sandwiches. They might all be better than the original dinner!
Are you looking for a few more ways to use that leftover turkey or some rotisserie chicken? Try this Chicken and Cabbage Salad with Hoisin Vinaigrette, Chicken Pecan Salad, or the family-favorite Curried Broccoli, Chicken, and Cheddar Casserole.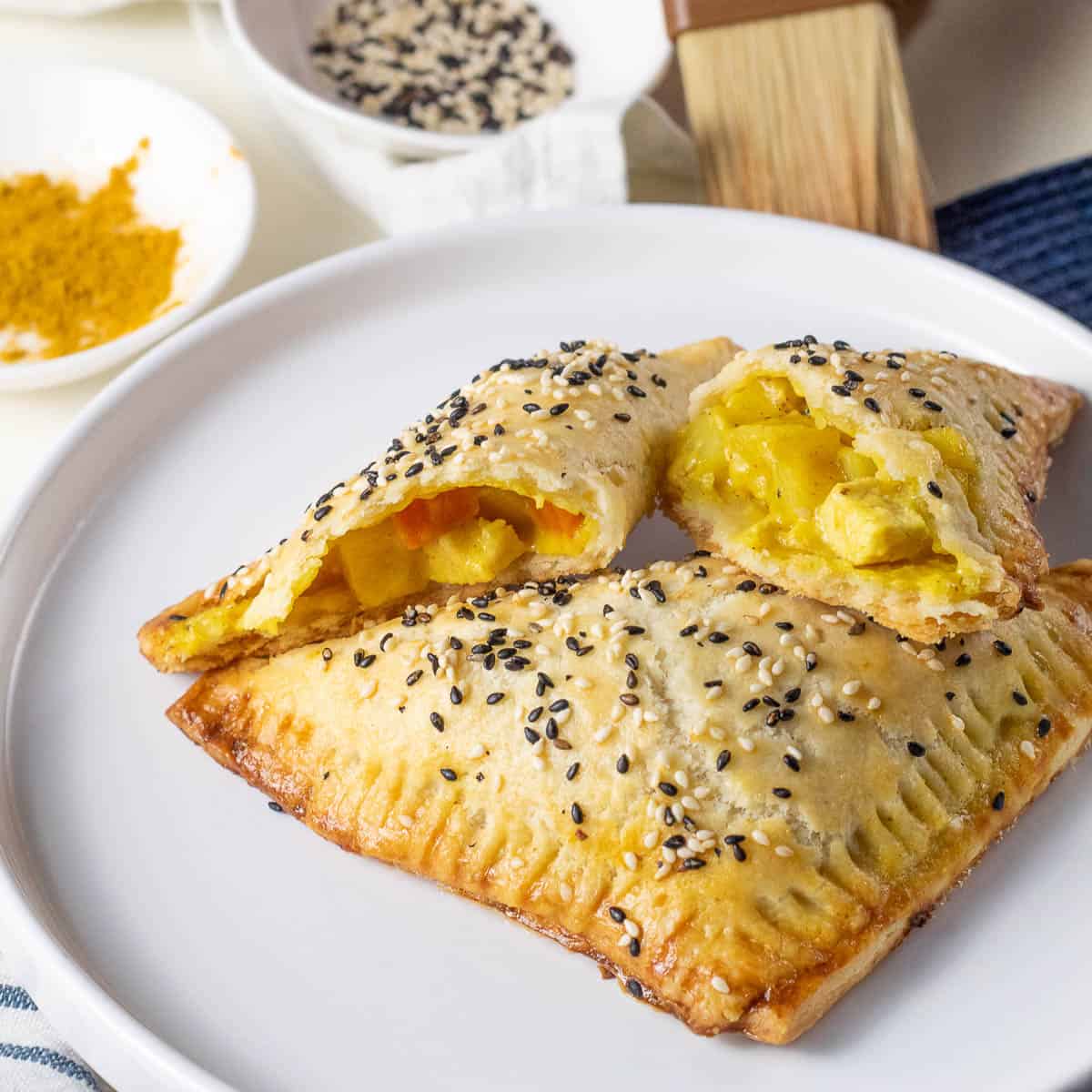 These savory pastries can be made with either light or dark meat and bring a whole new flavor profile to the turkey. The rich curry sauce will make dry breast meat soft and tender again as well as mask the more intense flavor of dark meat. The pastry is buttery and light, but easy to put together. The turnovers make a great portable pocket meal!
Ingredients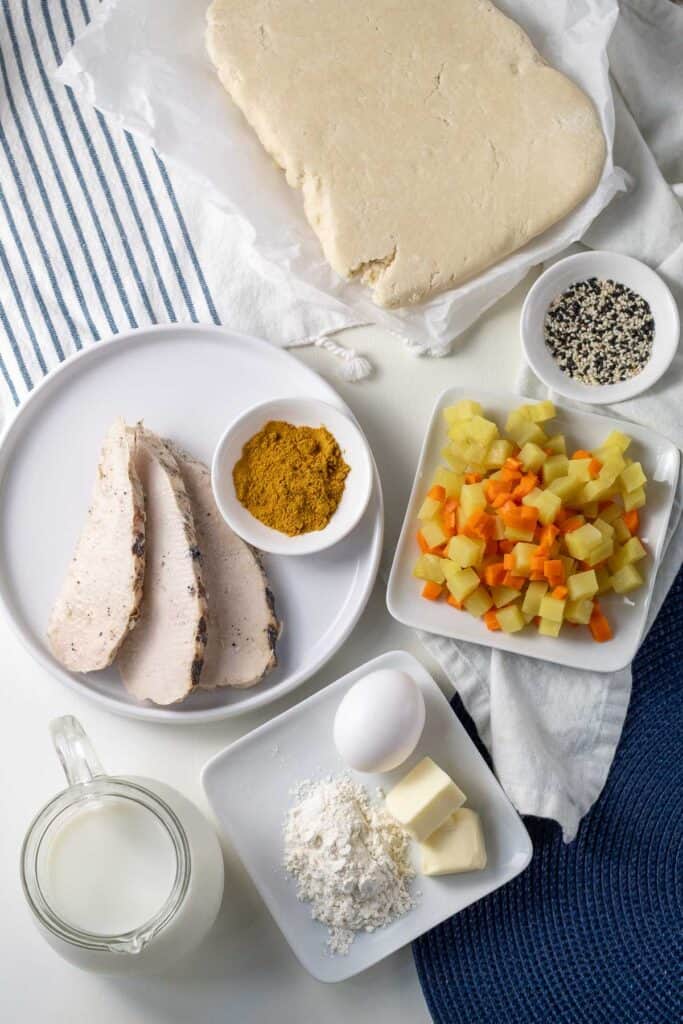 All-Purpose Flour: This is used in both the pastry and for thickening the curry sauce that coats the filling.
Butter: Butter helps to make a flaky and light pastry and is part of the roux for the curry sauce.
Milk: I use 2% milk to make a creamy curry sauce that isn't too heavy.
Curry Powder: Depending on what brand of curry powder you buy the ingredients can vary quite a bit. Once you find a brand you like the flavor of, stick with it! Curry powder is a blend of spices and commonly found on grocery shelves in the United States. It shouldn't be confused with ingredients you might use for an Indian or other Asian curry.
Diced Leftover Turkey: Use either breast meat or dark meat for this recipe, both work equally well.
Carrots: Just a bit of diced carrot adds vibrant color to the filling.
Potatoes: Use a waxy potato for the filling so that it doesn't get too mushy in the turkey turnovers.
Brown Sugar: Just a tiny bit of the brown sugar adds a slight hint of sweetness that compliments the curry spices.
Egg: Use one egg for a wash on the turnovers before baking to give them a glossy finish.
Sesame Seeds: These are a nice contrast on the turnovers!
Prepare the Turkey and Potato Curry Filling
I steam my carrots and potatoes in a large microwave-safe bowl for a few minutes in the microwave before moving on to the curry sauce. This is a quick way to make them just tender enough to finish cooking in the oven.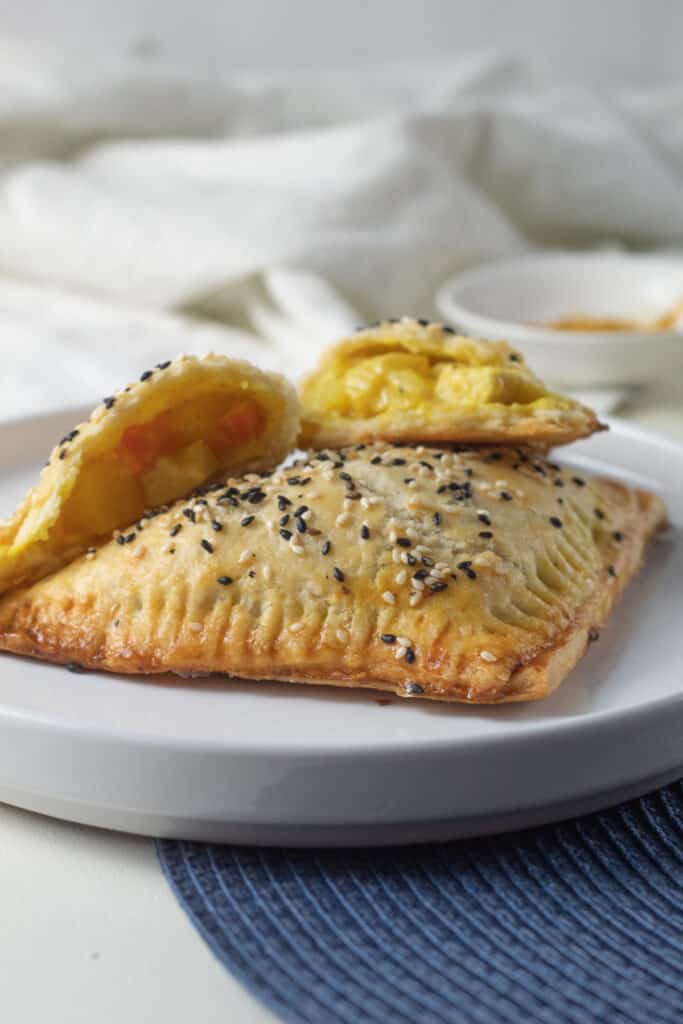 In a medium saucepan, melt the butter and curry powder over medium heat. Whisk in the flour and cook for a couple of minutes. Then slowly whisk in the milk until the sauce is smooth. Cook until the sauce bubbles, then transfer the sauce to the bowl of potatoes and carrots. Stir in the turkey and your filling is ready. Allow it to cool while you prepare the dough.
Prepare the Turnover Pastry Dough
The pastry dough is the same recipe I use for my Broccoli and Cheddar Quiche, and it is equally easy to put together whether you have a food processor or do it by hand.
Start by chopping up the butter into cubes straight from the refrigerator. Add the flour and butter to the food processor and pulse several times until the butter is mostly incorporated. Then, while the processor is running, stream in the ice-cold water. Keep running the processor until the dough starts to come together.
Dump it out onto the clean counter or a large sheet of parchment paper and use your hands to press it into a disk. All set!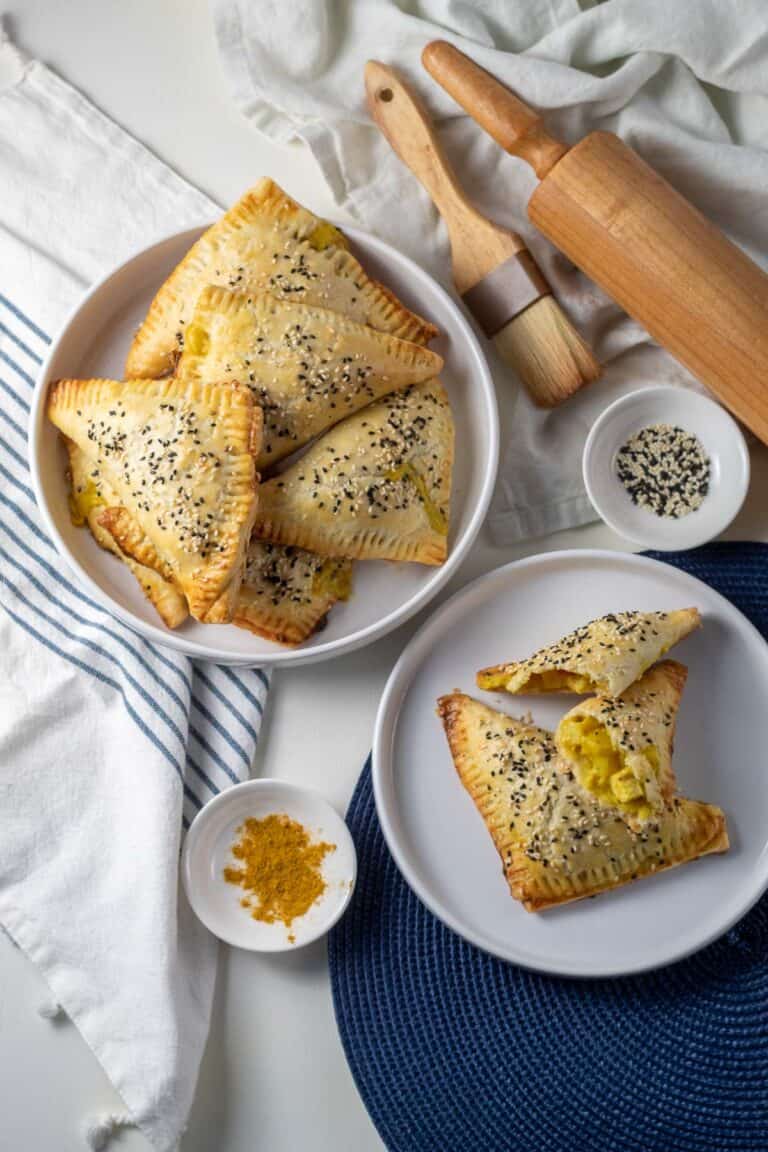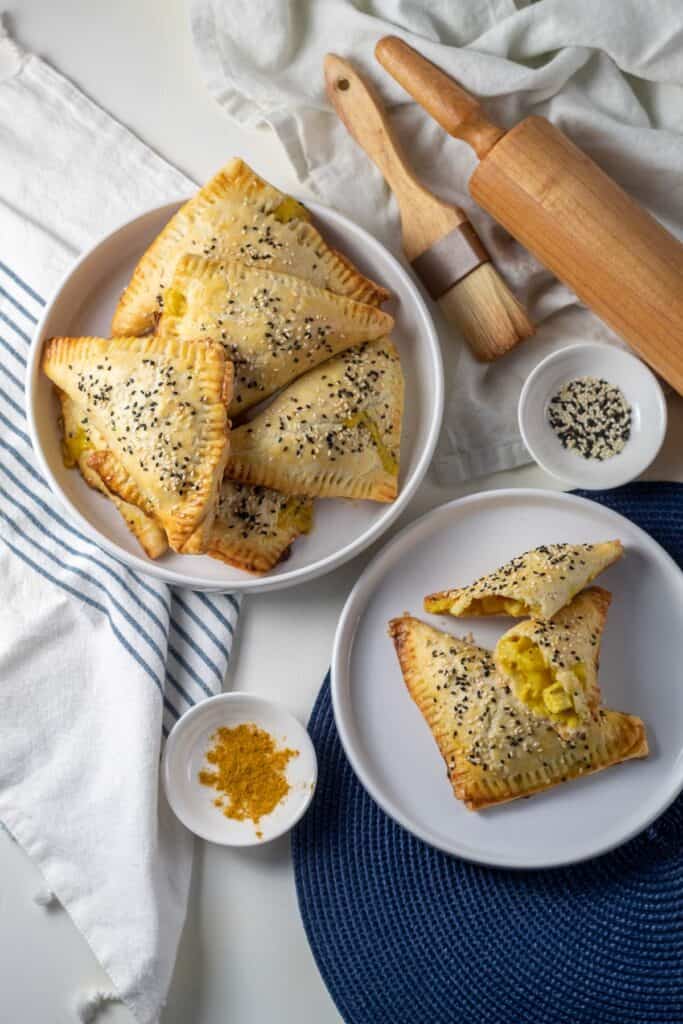 If you want to make the dough without a food processor, coat the butter cubes in flour by tossing them gently with your hands in a large bowl. Then press each cube between your thumb and fingers to create flat butter disks. Toss these again with the flour and continue to break the butter pieces into smaller bits until they are the size of peas.
Drizzle in the water a bit at a time and stir the dough with your hands until it sticks together in a shaggy mixture. Press the dough to make one disk in the bottom of the bowl and then transfer to a clean counter or a large sheet of parchment paper.
Assemble the Turnovers and Bake
Split the dough into two pieces and then roll each piece into a 12-inch square. You may need to dust it with additional flour to roll it easily. You can also roll the dough between two large sheets of parchment paper. Cut the dough square into four 6-inch squares, then repeat with the second piece of dough. Refrigerate these pastry squares until your filling is completely cool.
To assemble the turnovers, add 2 generous tablespoons of filling to the bottom corner of a dough square, fold the dough over the filling to form a triangle, and press the edges closed with a fork.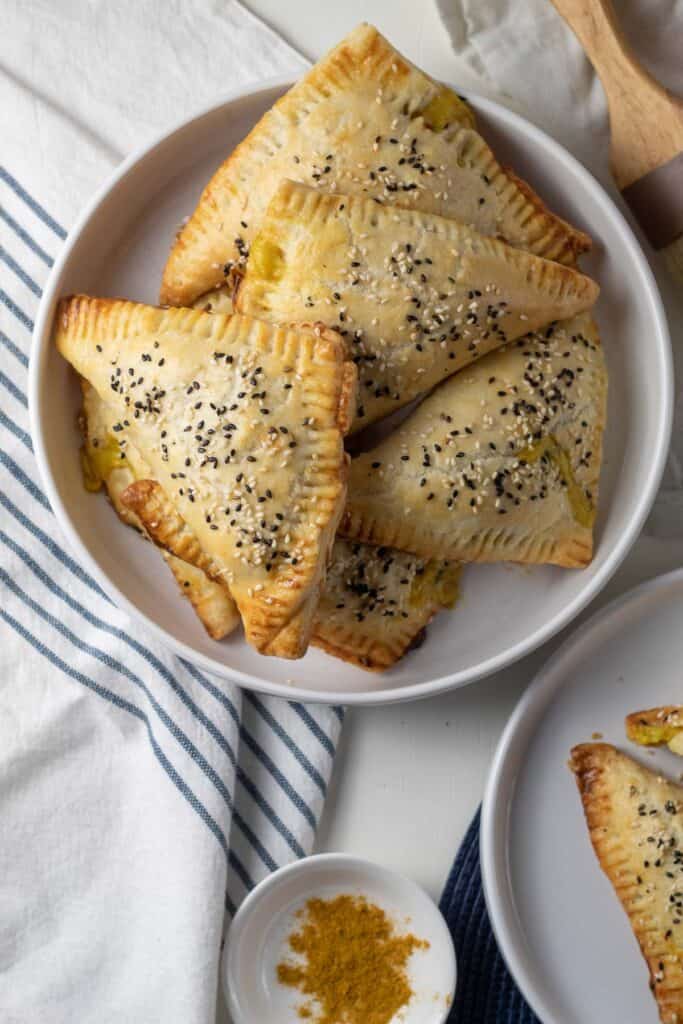 Transfer the turnovers to a baking sheet lined with parchment and then brush with the egg wash. Sprinkle with sesame seeds and bake at 425F for 17-20 minutes, until golden and beautiful.
Serving Turkey Curry Turnovers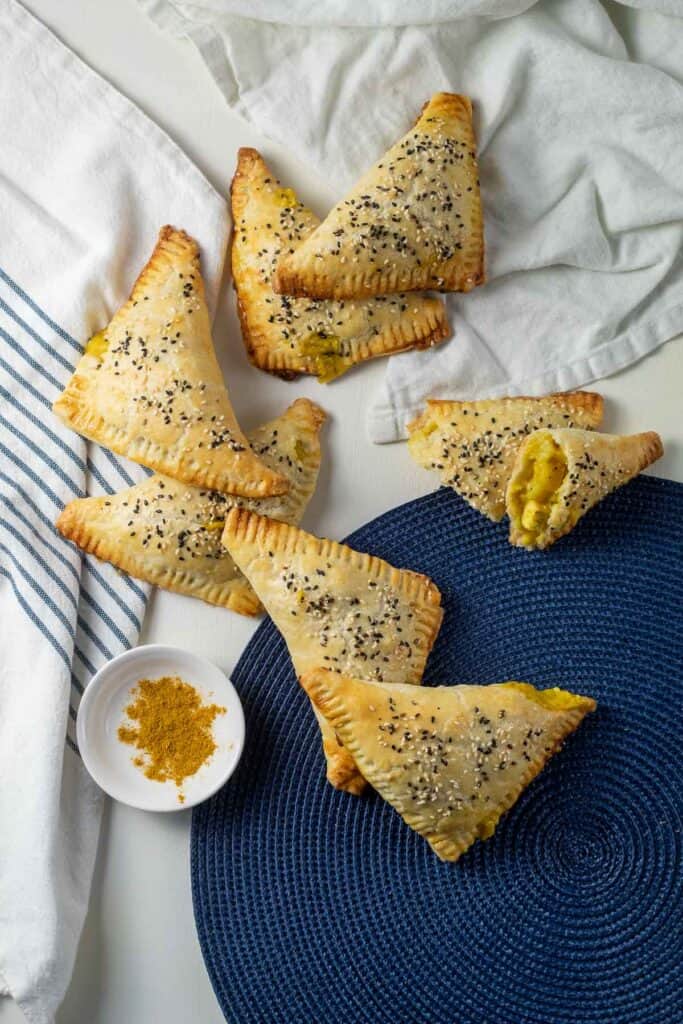 These turnovers make easy lunches and taste great piping hot right out of the oven. Serve them with a salad for a light meal after doing some holiday shopping. You can also pack them up to eat on the go if you wrap them individually in parchment and then foil. They are perfect handheld meals!
You can prepare the turnovers in advance and freeze them after you've crimped the edges. Freeze them flat and then transfer them to a airtight bag for storage. Place them on a parchment-lined baking sheet and brush them with the egg wash and add the sesame seeds. Cook as directed, adding about 5 minutes to the cook time.
Substitutions and Family-Friendly Variations
Feel free to substitute chicken for the turkey. This is a great use for rotisserie chicken meat. Turkey turnovers can easily be chicken turnovers!
If you have an egg allergy, use heavy cream to brush over the turnovers before baking.
For a shortcut, use store-bought puff pastry to form the turnovers. You'll need two sheets (each rolled to 12-inch squares) to accommodate the filling. Bake them according to the pastry package directions.
If you think that picky kids won't try the curry filling, you can omit the curry powder and instead add ½ teaspoon of poultry seasoning.
If you'd like to switch things up a bit, this recipe can be made into an appetizer. Cut the pastry dough into 2-inch squares and then press each square into a mini muffin tin spot (the dough will wrap over the side of each slot). Give the dough an egg wash and sprinkle with the sesame seeds. Bake for 12-15 minutes, until the crust is golden, then add a spoonful of filling to each and bake again for 5-7 minutes, until the filling is heated through.
Try it and Share
I hope you try these Leftover Turkey Turnovers with Simple Potato Curry Filling and the whole family enjoys them. I want to see your results! Tag your photo with #planeatpostrepeat and mention me @planeatpostrepeat on Instagram or Facebook. I can give you a virtual high five and thank you for cooking one of my recipes! Comment below with any questions and please leave a review so others can find this recipe more easily.
Recipe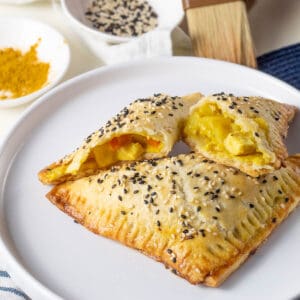 Leftover Turkey Turnovers with Simple Potato Curry Filling
This recipe for Turkey Curry Turnovers takes your leftover turkey (or chicken) and turns it into a savory craveable pocket meal.
Ingredients
Pie Crust Dough
2½

cups

all-purpose flour

1

cup

salted butter

⅓

cup

ice-cold water
Filling
1

cup

waxy potato, diced

(about ½" cubes)

⅓

cup

carrots, diced

(about ½" cubes)

1½

cup

turkey or chicken meat

(shredded or diced in ½" cubes)

2

tablespoon

salted butter

2

tablespoon

all-purpose flour

2

teaspoon

curry powder

½

teaspoon

kosher salt

1

cup

milk

1

teaspoon

brown sugar

1

large egg

2

tablespoon

sesame seeds
Instructions
Preheat the oven to 425°F and line a sheet pan with parchment paper.
Prepare the Potato Curry Filling
Microwave the carrots and potatoes in a covered microwave-safe bowl for about 3 minutes or until tender. Set aside.

In a saucepan over medium heat, add the 2 tablespoons butter and the curry powder and heat until the butter is melted. Stir in the flour and cook for 2 minutes.

Slowly stir in the milk and keep stirring to remove all lumps. Cook until bubbling and thick and then remove from heat. Stir in the salt and sugar, then pour the sauce over the potatoes and carrots and stir in the cooked turkey. Allow this mixture to cool while you prepare the pie crust dough.
Prepare the Pastry Dough
For the dough, add the flour and butter pieces for the pie crust to the bowl of your food processor. Pulse 3-4 times or until butter is in pea-sized pieces.

While the processor is running, add the cold water slowly. Continue to process until the dough begins to pull away from the sides of the processor and starts to form a ball.

Dump the contents of the processor on to a sheet of parchment paper. Press the crumbs together until one big ball of dough is formed.
Shape and Bake the Turnovers
Split the dough into two equal pieces. Roll each piece to a 12-inch square, dusting the work surface as needed with additional flour.

Cut each square into 4 equal pieces, each about 6 inches square. Refrigerate dough squares while filling cools.

For each square of pastry, add about 2 generous tablespoons of filling to the bottom corner. Fold the corners together, forming a triangle over the filling. Crimp the two edges closed with a fork and transfer the turnover to the prepared sheet pan.

Whisk the egg with a dash of water and brush to tops of each turnover. Sprinkle with sesame seeds and bake for 17-20 minutes, or until golden brown. Cool slightly before serving.
Nutrition facts are sometimes provided below and are calculated using an online calculator. With specific brands of ingredients and additions, omissions, or substitutions the nutrition facts may change. We encourage you to use your own nutrition facts caculator to obtain the most accurate nutrition facts for your meal.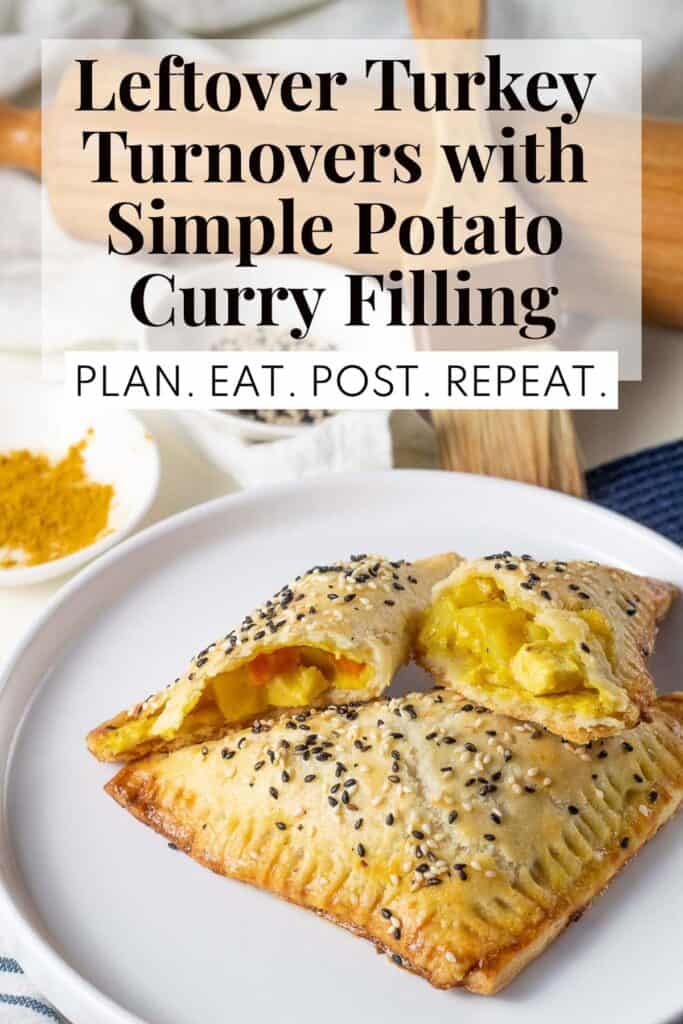 This recipe was republished on November 9, 2022 from an original post dated November 23, 2021.