Having finally figured out that our raised garden bed is in full sun most of the day (sorry, last year's broccoli and lettuce!), we have been really enjoying our Italian basil, tomatoes, peppers, oregano, thyme, and Thai basil plants. They love it in our garden! Before now, having Thai basil around meant a trip to the Asian grocery store (not something I dread at all, I swear) or just making do with Italian basil from the regular grocery store. These days, I'm making Pad Kaprow on the regular, adding a little Thai basil to my leftover lunches, and making my new favorite sauce, Thai basil pesto.
Thai basil pesto builds off of my version of pesto genovese, and I've just basically swapped each ingredient for a more Asian-style version. Thai basil stands in for the Italian basil, peanuts are used instead of pine nuts, lemongrass gets added to the classic garlic, fish sauce brings the salty-umami quality that the Parmesan cheese is usually responsible for, and canola oil works instead of olive oil to bring a flavorless base to the pesto. If you only have salted peanuts, cut back on the fish sauce a bit. The pesto can get too salty pretty quickly. If you have more than one fish sauce in your pantry (bravo, you!), use your best bottle here.
I'm using this potent mix of some of my favorite things in all sorts of ways. Last night, I used it as a marinade for chicken and zucchini skewers and they were a family-wide success. We served them with quinoa and a Thai basil pesto aioli, and my first grader was caught dipping her finger in the sauce! I've added the pesto to raw zoodles and topped them with leftover chicken for a pretty spectacular bowl of food that solved the late summer too-much-zucchini problem handily. I think the pesto will make a great salad dressing with some lime juice and a little more oil to loosen it up. I'm sure I'll find plenty of ways to use this as the basil crop continues to provide.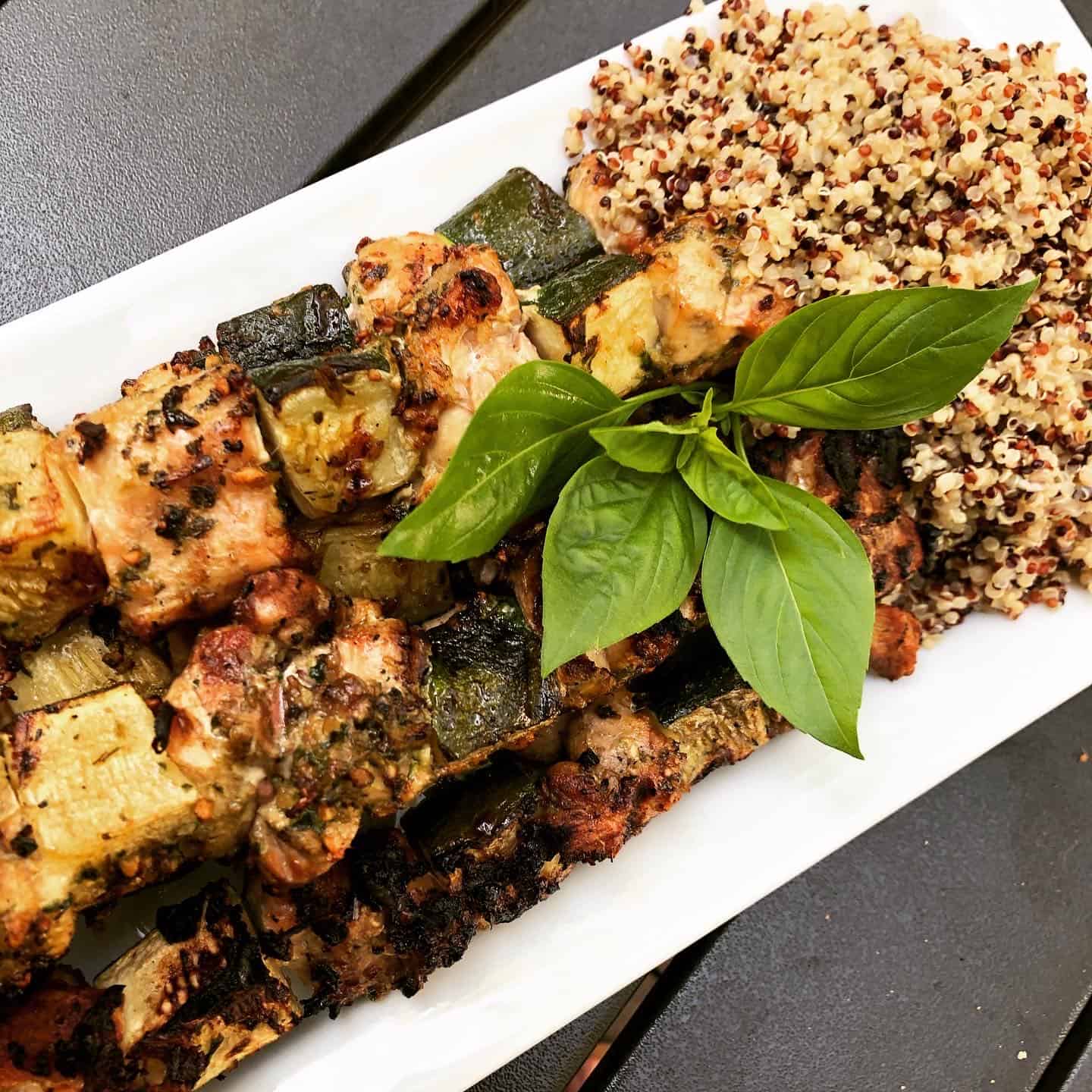 This pesto is potent, folks. A little goes a long way! Here are my favorite ideas for how to use up your first batch:
To marinate chicken, beef, tofu, or vegetables: make the pesto as below and brush or rub on the meat or veggies.
To prepare a Thai basil pesto aioli: stir 2 tablespoons of the pesto into ¼ cup of mayonnaise and allow to chill for flavors to blend.
For a salad dressing: add one tablespoon lime juice and two additional tablespoons of canola or vegetable oil to the pesto.
As always, I encourage you to play with the ingredients a bit and let me know what you come up with!
Thai Basil Pesto
A potent take on classic pesto genovese with and Asian twist.
Print
Pin
Rate
Ingredients
1.5 oz.

bunch

Thai basil leaves

about 1 cup of leaves

¼

cup

unsalted peanuts

1

tbsp.

fish sauce

1

clove

garlic, peeled

¼

cup

canola or vegetable oil

2

tsp.

lemongrass paste OR 3" stalk of fresh lemongrass, chopped in ¼-inch pieces
Instructions
Combine all ingredients in the bowl of a food processor. Process until mostly smooth, scraping down the processor bowl occasionally to fully incorporate ingredients
Share on Facebook