This salad dressing with pomegranate molasses, walnuts, and roasted red pepper is bright, sweet-tart, full of flavor, and so versatile. Use it as a salad dressing, dip for crudités, a sandwich spread, and more!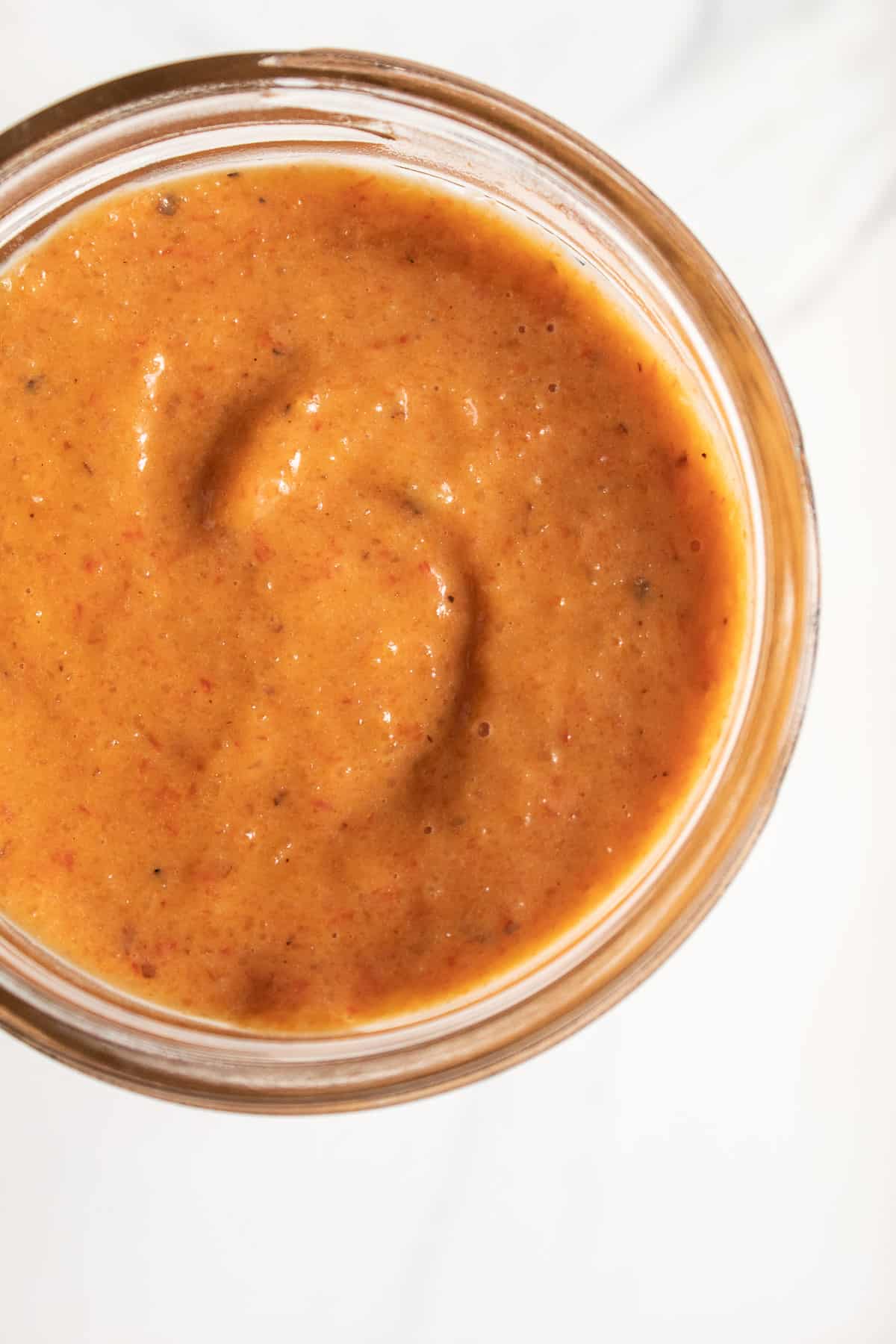 The tangy and bright flavors in this salad dressing are perfect all year round. In spring and summer the vibrant color is a beautiful addition to a platter of seasonal veggies for snacking. In cooler months, the sweet salad dressing with pomegranate molasses will compliment earthy grain or lentil bowls perfectly.
Adding a flavorful vinaigrette to a salad elevates simple combinations of greens, grains, vegetables, and cheese. Try this Melon Salad with Mojito Vinaigrette, Chicken and Cabbage Salad, or Beet and Avocado Salad, for more delicious vinaigrette dressings!
Jump to:
Ingredients
This salad dressing is basically a kicked-up vinaigrette based on the flavors of Muhammara, a Mediterranean red pepper and pomegranate molasses dip.
Roasted Red Peppers - I find these at any grocery store and love keeping them on hand for salads, dips, and sauces. Be sure to drain the red pepper well and even dry it off with a paper towel to get rid of all the excess moisture. Want more info on roasted red peppers? Check out the FAQ section of this roasted red pepper chicken recipe.
Pomegranate Molasses - Pomegranate molasses is pomegranate juice that has been reduced to a thick and sticky syrup. It is sweet and tart and can be used on its own for a glaze with chicken or beef. I find mine at our local Indian market, but it is also available via Amazon or in the world foods section of bigger supermarkets.
Walnuts - The slightly tannic bitterness of walnuts balances out the sweet and sour flavors in the dressing. Because we are blending everything up here, there's no need for perfect walnut halves, packaged walnut pieces will be fine. Walnuts benefit so much from toasting in a skillet before adding to the recipe, so don't skip that step!
Fresh Lemon Juice - Use fresh here, there aren't a load of ingredients in this salad dressing and you'll taste the difference!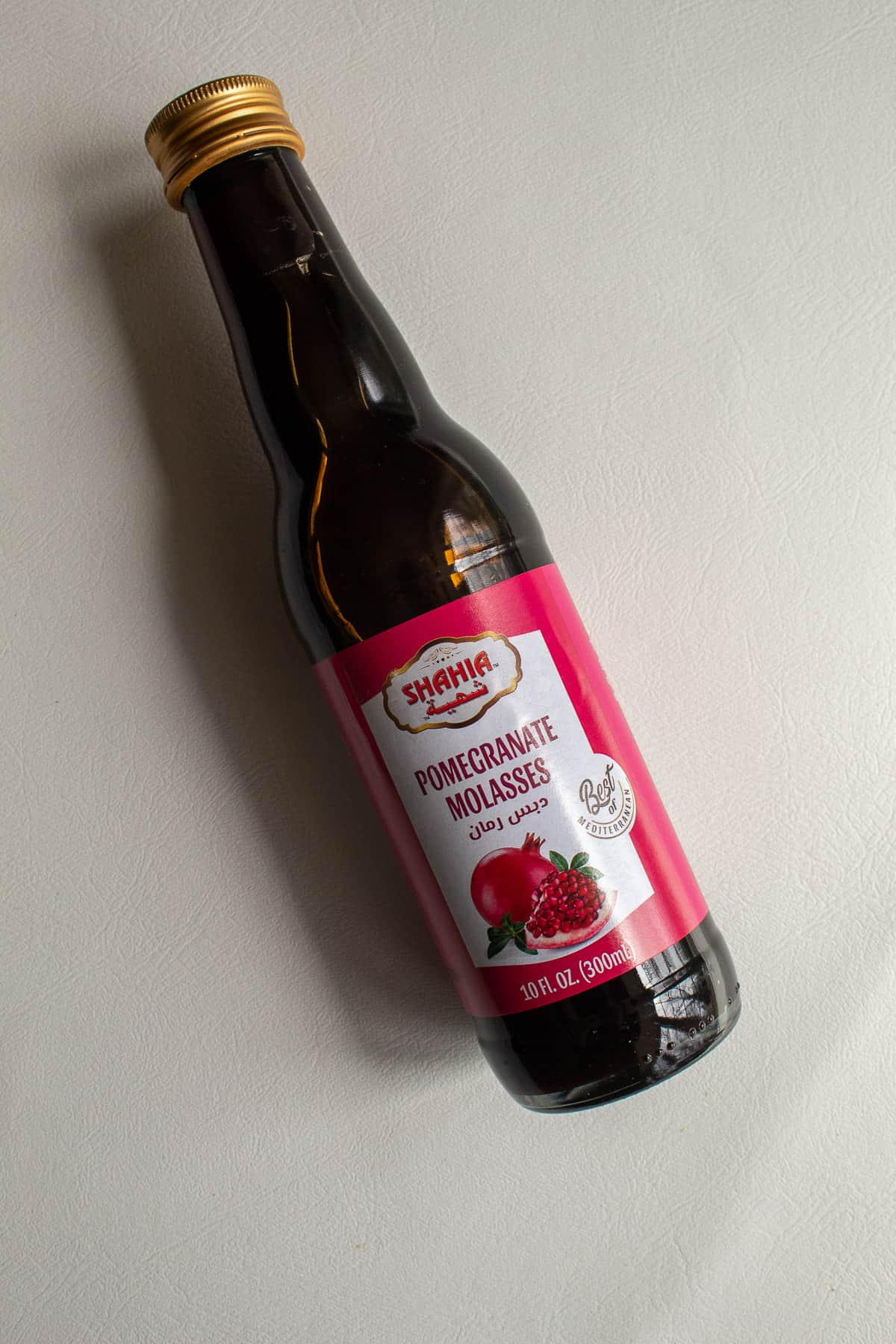 I include ingredient notes here when I think they'll be helpful, including ways to source, any preparation tips, or why I've chosen a particular ingredient. Be sure to check out the recipe card below for the full list of ingredients and their quantities!
Preparation
Toast the walnuts in a dry skillet over medium heat until golden and fragrant.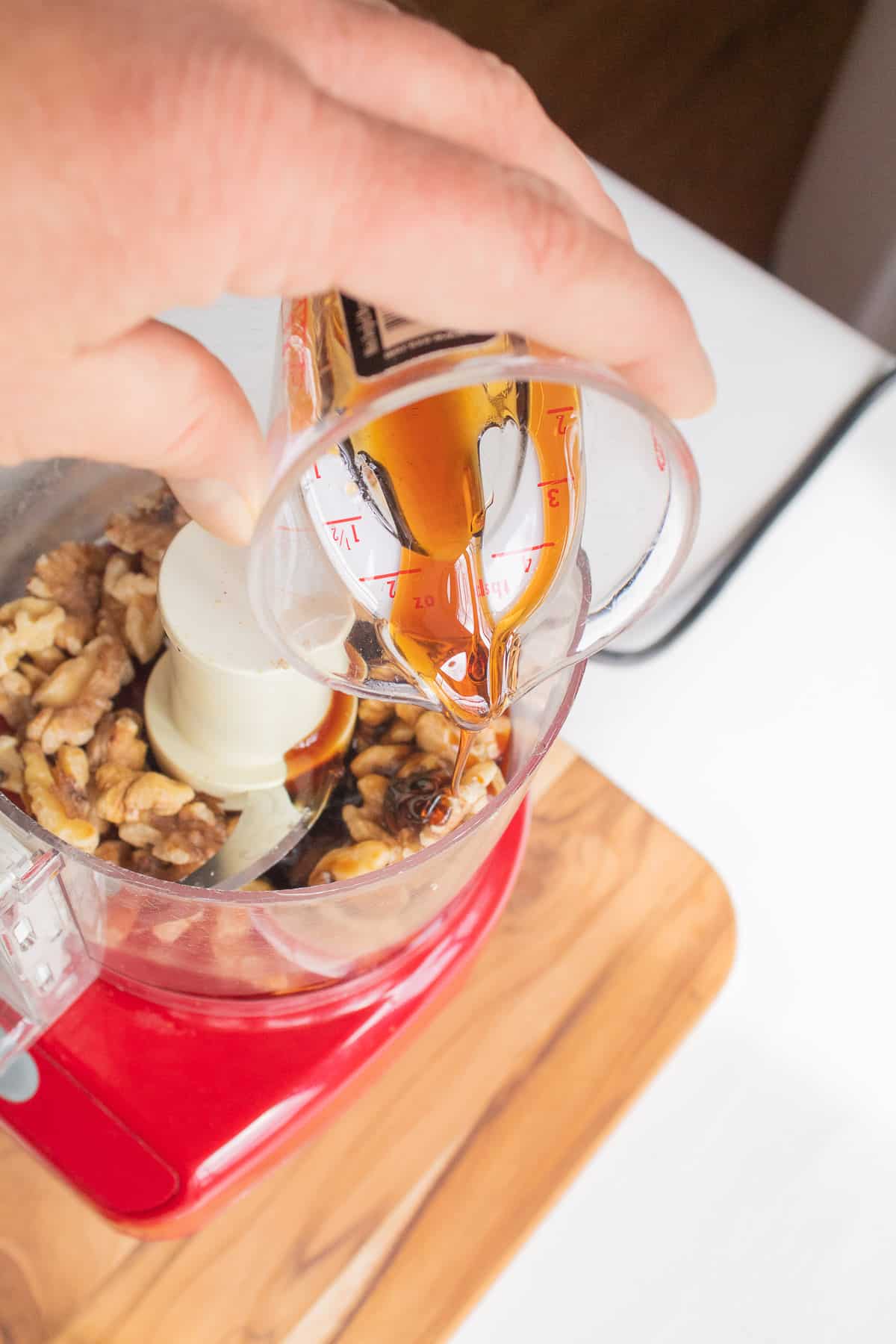 Add the red pepper, salt, pepper, lemon juice, and walnuts to the food processor or blender. If you measure your olive oil first and then your pomegranate molasses, the molasses will slide out into the food processor better without sticking to the measuring cup!
Process or blend to combine.
The finished sauce should be smooth, with small specks of red and black pepper.
Storage
My favorite way to store this dressing is in a 8-ounce glass jar with a screw-on lid. The recipe yields about one cup, so it fits perfectly! You can store this in the refrigerator for about one week.
Dressing, Spread, or Dip - You Choose!
This combination of pomegranate molasses and roasted red peppers works well as a salad dressing, sandwich spread, or dip. It's all a matter of the final texture you desire. As written, the recipe is thicker and perfect for a spread or dip. Thin it out a bit with some water (start with 1-2 tablespoons) to make the perfect salad dressing.
Swipe a layer of this dressing on Caprese Focaccia bread for a flavor-packed sandwich spread.
It is a stellar addition to the hefty dinner salads I like for summer dining. I usually combine a grain (farro, bulgur, or pearl couscous) with some veggies and cheese and this dressing brings it all together. Try this Crispy Halloumi and Lentil Salad which uses this pomegranate and roasted red pepper dressing as a perfect contrast to the smoky lentils.
Top Tip
Walnuts can quickly go rancid when they sit in your pantry. Buy only the quantity you need for the recipe and use them up right away. Alternatively, buy larger quantities but store them in the freezer for maximum freshness. Always test one before bothering to toast the rest and add them to your recipe. Rancid walnuts will ruin your salad dressing!
FAQ
Can you use a blender to make this dressing?
Yes, though a small one works best given the volume of the dressing in this recipe. Using a bullet blender makes a very smooth dressing with a deliciously creamy mouthfeel.
Can the balance of sweet and tart flavors be adjusted in this dressing?
To dial up the sweetness of the recipe, add in a bit more pomegranate molasses. If you prefer a more tart vinaigrette, add extra lemon juice.
Can I make the dressing ahead of time?
Yes! The dressing keeps well in the refrigerator for up to a week. It may thicken when chilled, so let it come to room temperature and add a bit of water (one tablespoon at a time) until it is the desired texture.
Other Salads and Dressings to Try
Try It and Share
Tell me all of the ways you use this salad dressing with pomegranate and roasted red pepper! Tag your photo with #planeatpostrepeat and mention me @planeatpostrepeat on Instagram or Facebook. I can give you a virtual high five and thank you for cooking one of my recipes! Comment below with any questions and please leave a review so others can find this recipe more easily.
Recipe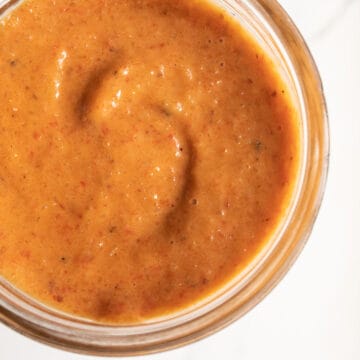 Pomegranate and Roasted Red Pepper Salad Dressing
Big flavors from pomegranate molasses, walnuts, and roasted red peppers combine for this pomegranate and roasted red pepper salad dressing.
Ingredients
2

tablespoon

pomegranate molasses

¼

cup

olive oil

½

teaspoon

kosher salt

1½

tablespoon

lemon juice

1

jarred roasted red pepper

½

cup

walnut halves and pieces, toasted

black pepper, to taste
Instructions
Toast the walnuts in a dry skillet over medium heat until they are fragrant and golden.

Combine all ingredients in a food processor or mini blender. Blend until smooth. Taste and adjust salt and pepper as needed. Add water to thin to desired texture.
Notes
Yield is approximately 1 cup.
Nutrition facts are sometimes provided below and are calculated using an online calculator. With specific brands of ingredients and additions, omissions, or substitutions the nutrition facts may change. We encourage you to use your own nutrition facts caculator to obtain the most accurate nutrition facts for your meal.
Nutrition Facts
Calories:
159
kcal
Carbohydrates:
5
g
Protein:
2
g
Fat:
15
g
Saturated Fat:
2
g
Polyunsaturated Fat:
6
g
Monounsaturated Fat:
7
g
Sodium:
279
mg
Potassium:
56
mg
Fiber:
1
g
Sugar:
3
g
Vitamin A:
34
IU
Vitamin C:
4
mg
Calcium:
13
mg
Iron:
0.4
mg