As far as adult beverages go, a subtly spicy and sweet-tart strawberry jalapeño margarita ranks among my favorites. With freshly muddled jalapeño you get a verdant note that plays so well with the strawberries and lime.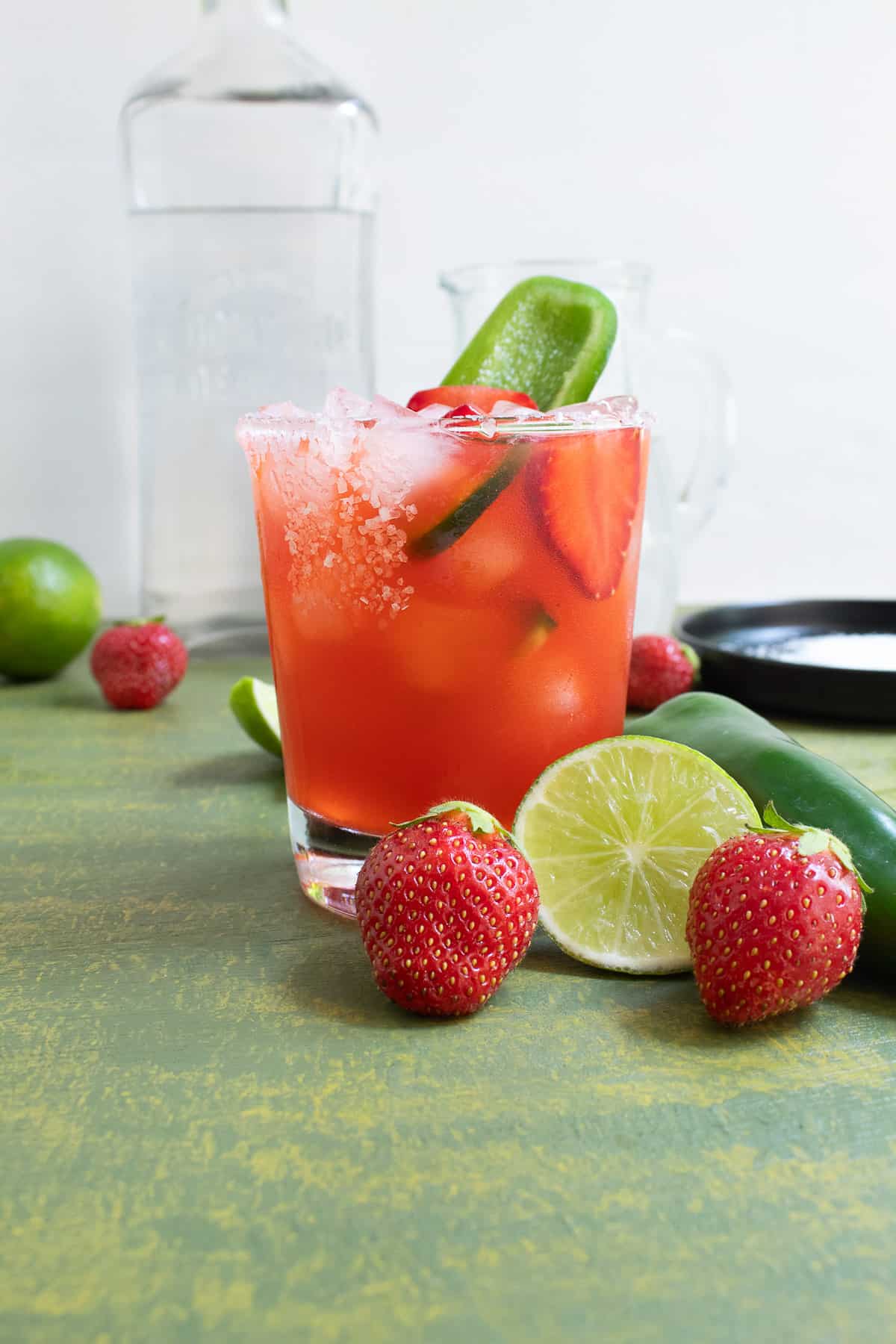 I love this combination of sweet, tart, and spicy all summer long, but with frozen strawberries this can be a year-round treat.
When strawberries are in season I use them in every way possible. Try a batch of strawberry lemon bars or a strawberry goat cheese salad with strawberry balsamic vinaigrette next if you get your hands on a batch of fresh strawberries.
Simple syrups make flavoring beverages with interesting herbs or fruits easy. Try a Basil Simple Syrup next!
Jump to:
Ingredients
I like to use fresh ingredients wherever possible when making cocktails. It makes a big difference in the quality of the drink, and when entertaining I want to serve my guests the best flavors!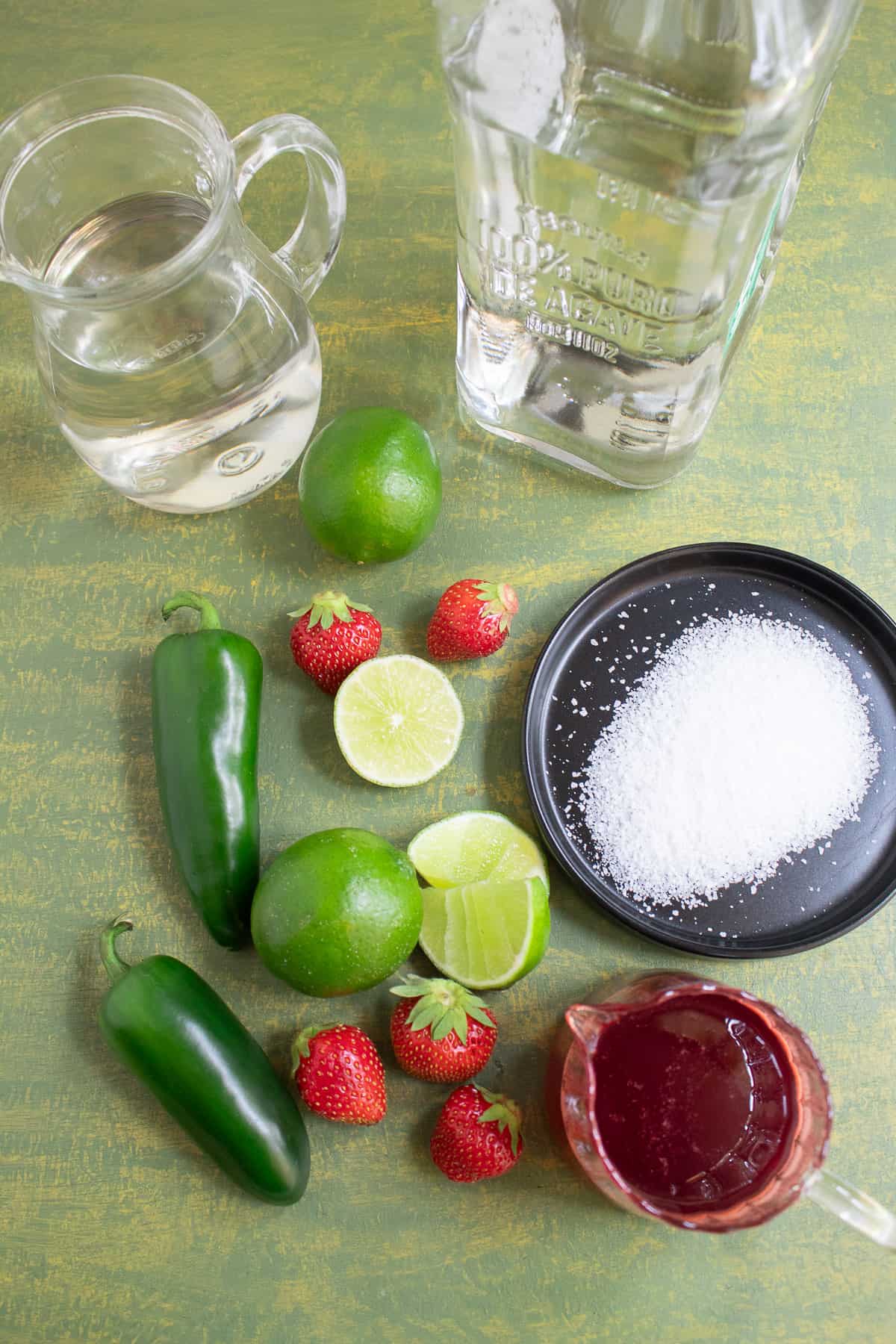 Strawberry Simple Syrup - Make a batch of strawberry syrup using just two ingredients (strawberries and sugar) and you'll have enough for up to 8 cocktails!
Limes - Use firm and bright green limes for juicing as well as slicing into wheels or wedges for garnish.
Tequila Blanco - This tequila style is not aged (or is aged for a very short time in stainless steel) and has a bright flavor that won't overpower the strawberries and jalapeño. You may also see this labeled as plata, or silver tequila.
Jalapeños - Use firm jalapeños with smooth skin. Slice the jalapeños in rings for muddling and in rings or lengthwise for garnish. Wash your hands well after handling the membranes and seeds! Jalapeños will vary a bit in their level of spice from one to another. Sometimes you'll get a pretty spicy one!
Fresh Strawberries - I love a few slices of strawberry as garnish.
I include ingredient notes here when I think they'll be helpful, including ways to source, any preparation tips, or why I've chosen a particular ingredient. Be sure to check out the recipe card below for the full list of ingredients and their quantities!
Prepare the Strawberry Simple Syrup
Check out this strawberry simple syrup recipe for all the details, but making this flavored syrup is easy! Combine 1 pound of fresh strawberries that have been rinsed, hulled, and halved with 1 cup of granulated sugar. Bring the mixture to a rolling boil for 3 minutes. Remove from the heat and strain the syrup with a mesh strainer.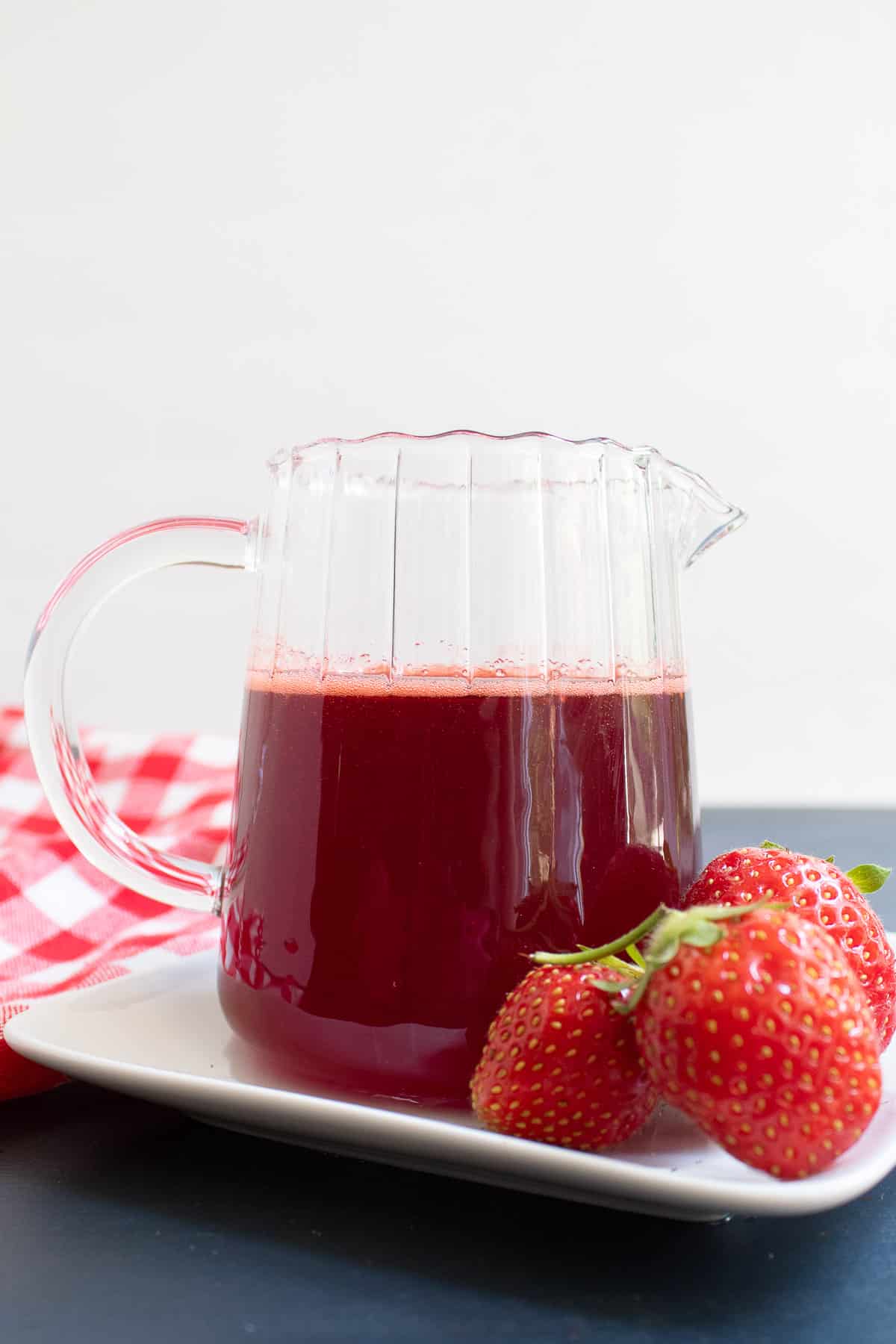 Prepare the Margarita
Once you have your syrup, you are minutes away from your cocktail!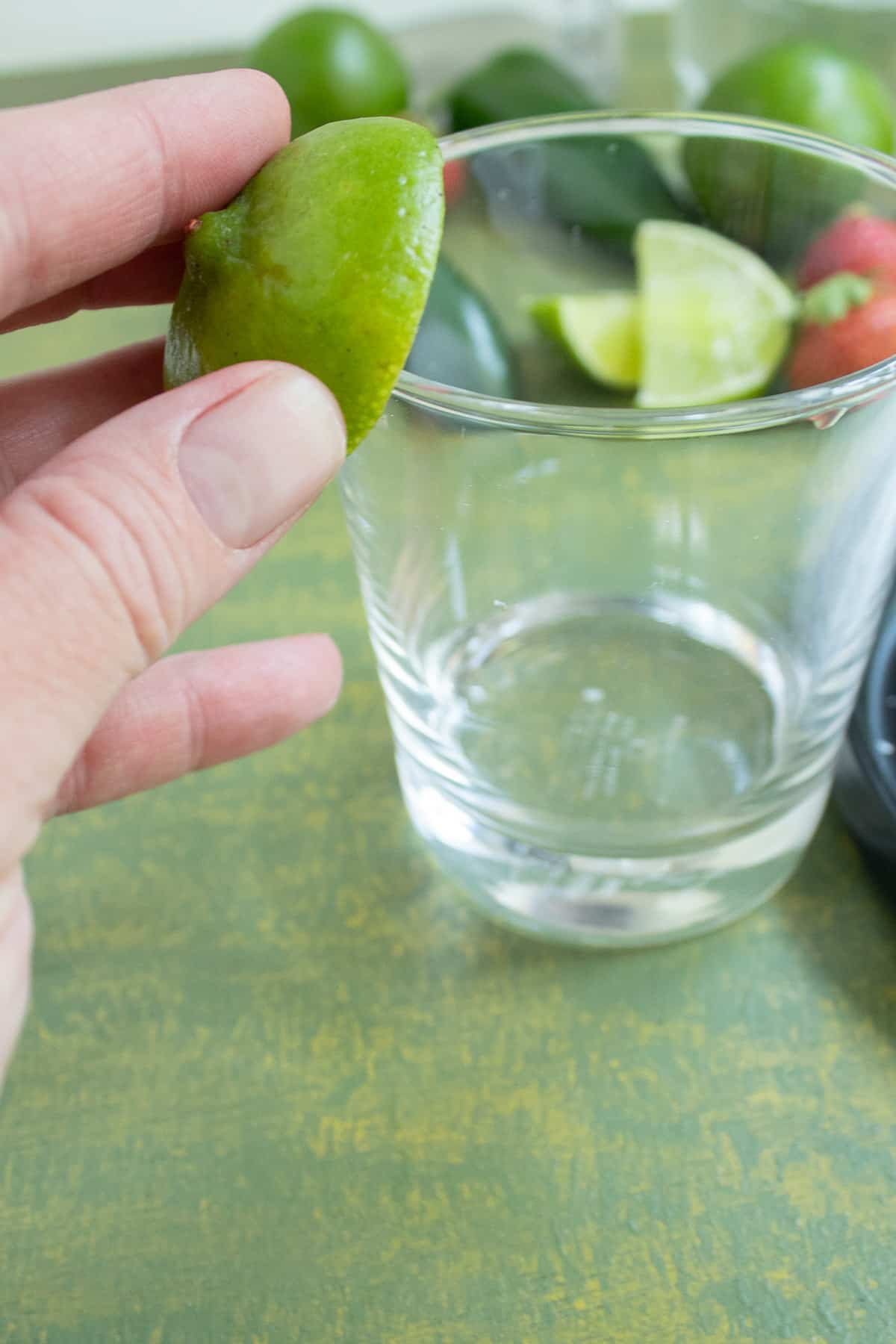 Grab a rocks glass and a sliced lime and wet the rim of the glass (or even down one side) with the cut lime. The lime juice will help the kosher salt stick to the rim.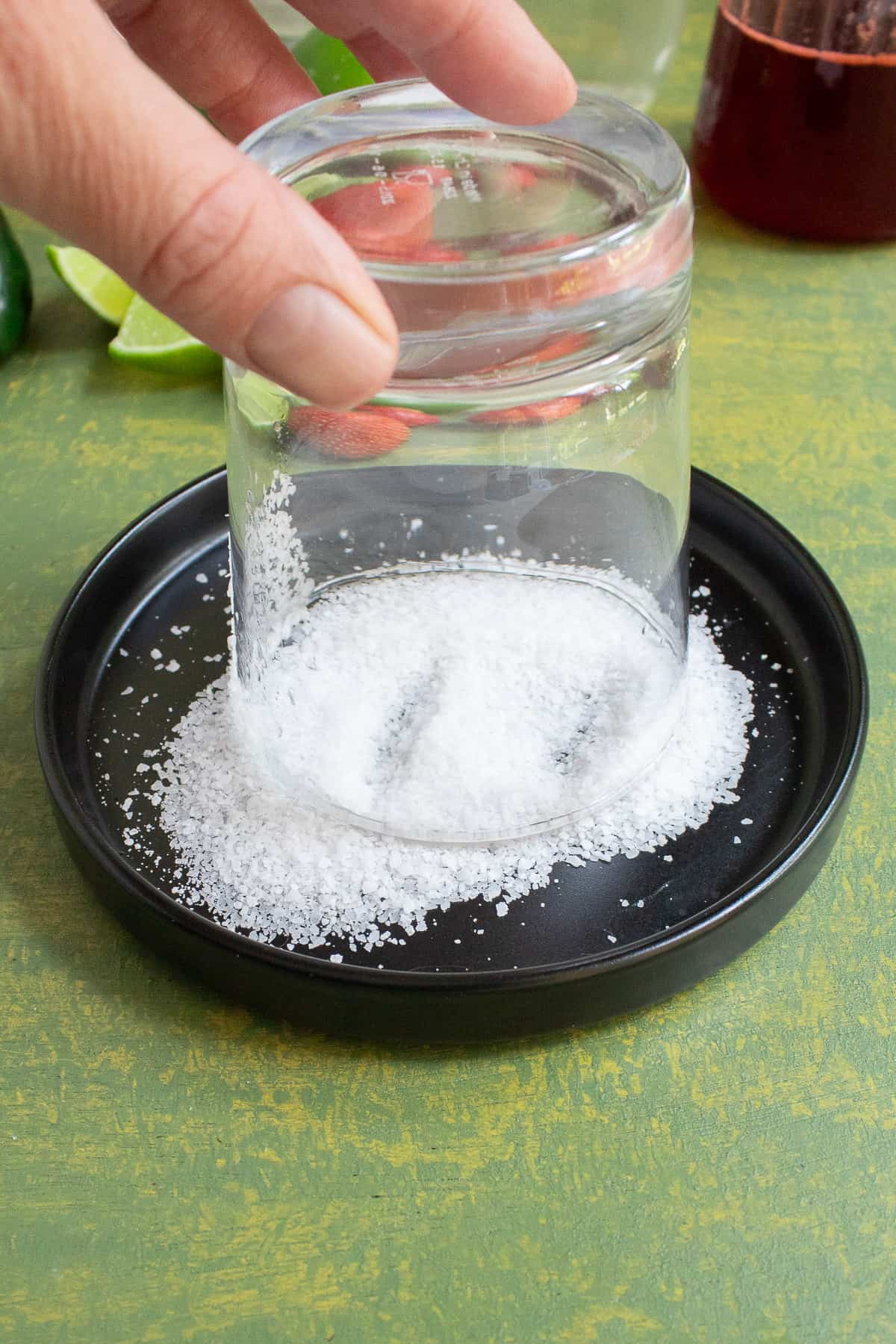 Spread a few tablespoons of kosher salt over a small plate or dish and tap or turn the rim of the glass into the salt. Salting the rim is entirely optional, but I enjoy the little punch of salinity with tequila. Fill the glass about ⅔ full with ice cubes or crushed ice.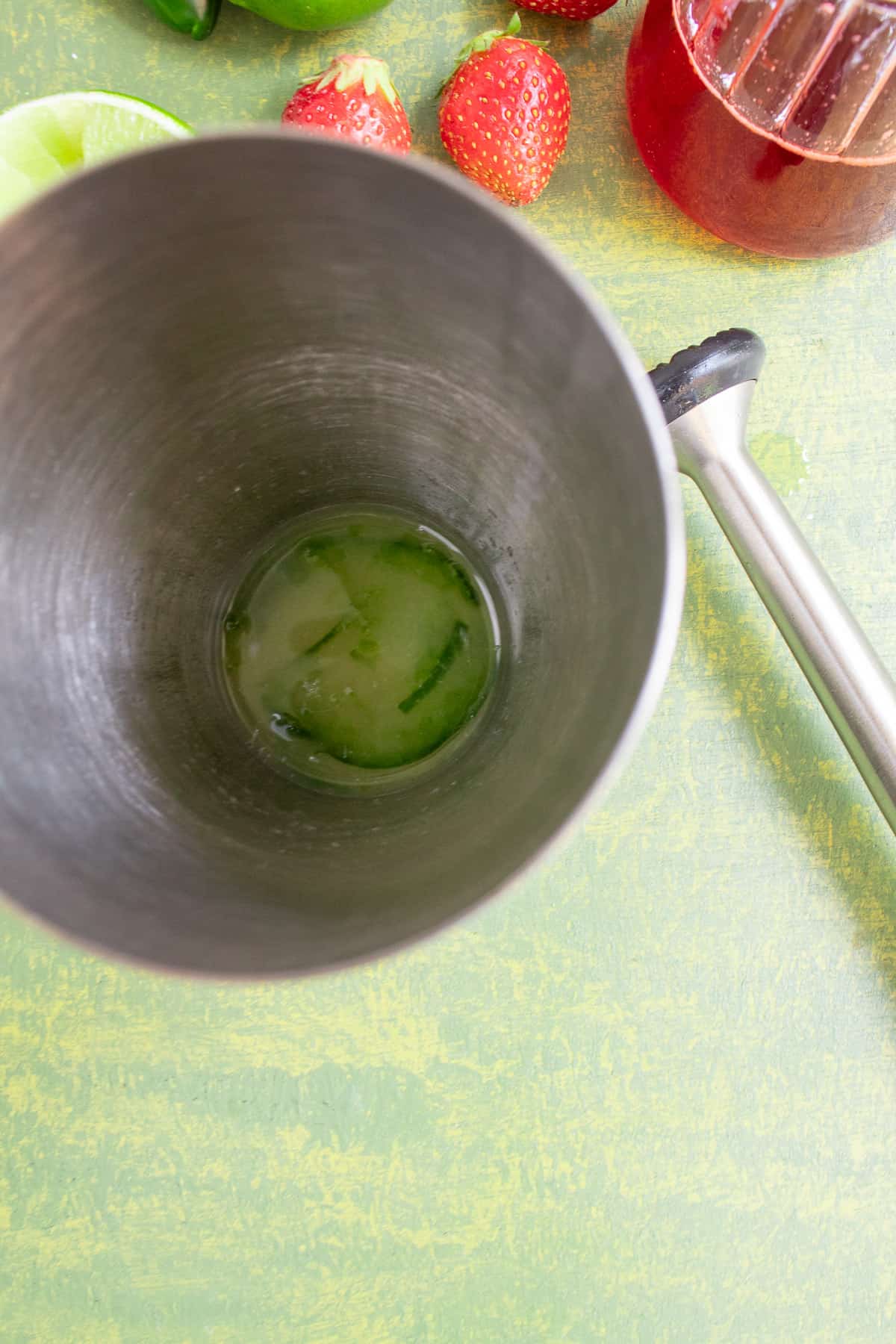 Add 3-4 jalapeño rings and 1 ounce of lime juice to the bottom of a cocktail shaker. Muddle the jalapeño (smashing and breaking it up) until it is soft and in smaller pieces.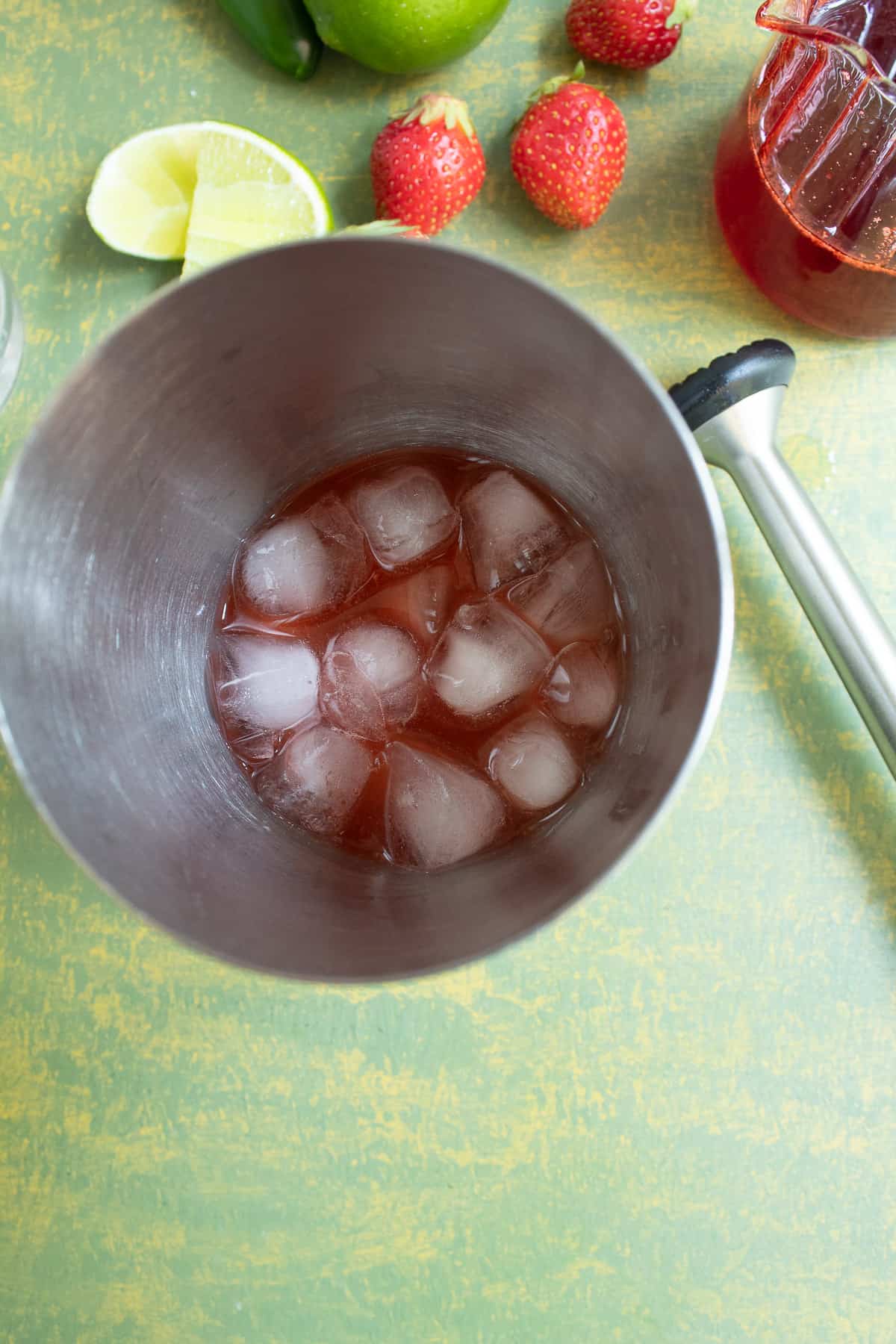 Add in 1 ounce of strawberry syrup and 2 ounces of tequila along with 1 cup of ice cubes. Cover the shaker and shake vigorously for 30 seconds.
Strain the cocktail over the fresh ice in the prepared rocks glass. Garnish with fresh jalapeño, sliced strawberries, and a lime wedge.
Hint: Shaking a cocktail is a very important step in chilling and properly diluting the drink. Don't skip it!
Make it your own
Cocktail recipes are pretty subjective and everyone likes theirs just so, keeping the ingredients the same but adjusting the ratio of each component. This strawberry jalapeño margarita is no different! Make these modifications to adjust the recipe to your liking:
Need it sweeter? - Add more strawberry syrup a teaspoon at a time.
Want more spice? - Muddle a few more jalapeño rings along with the lime juice.
Enjoy an extra-tart margarita? - Add more lime juice one teaspoon at a time?
Want a slow-sipping session cocktail? - Pour the shaken cocktail into a large pint glass and top it off with bubbly water.
Want a blended margarita? - Add the ingredients for the cocktail plus one cup of ice to a blender and blend until smooth.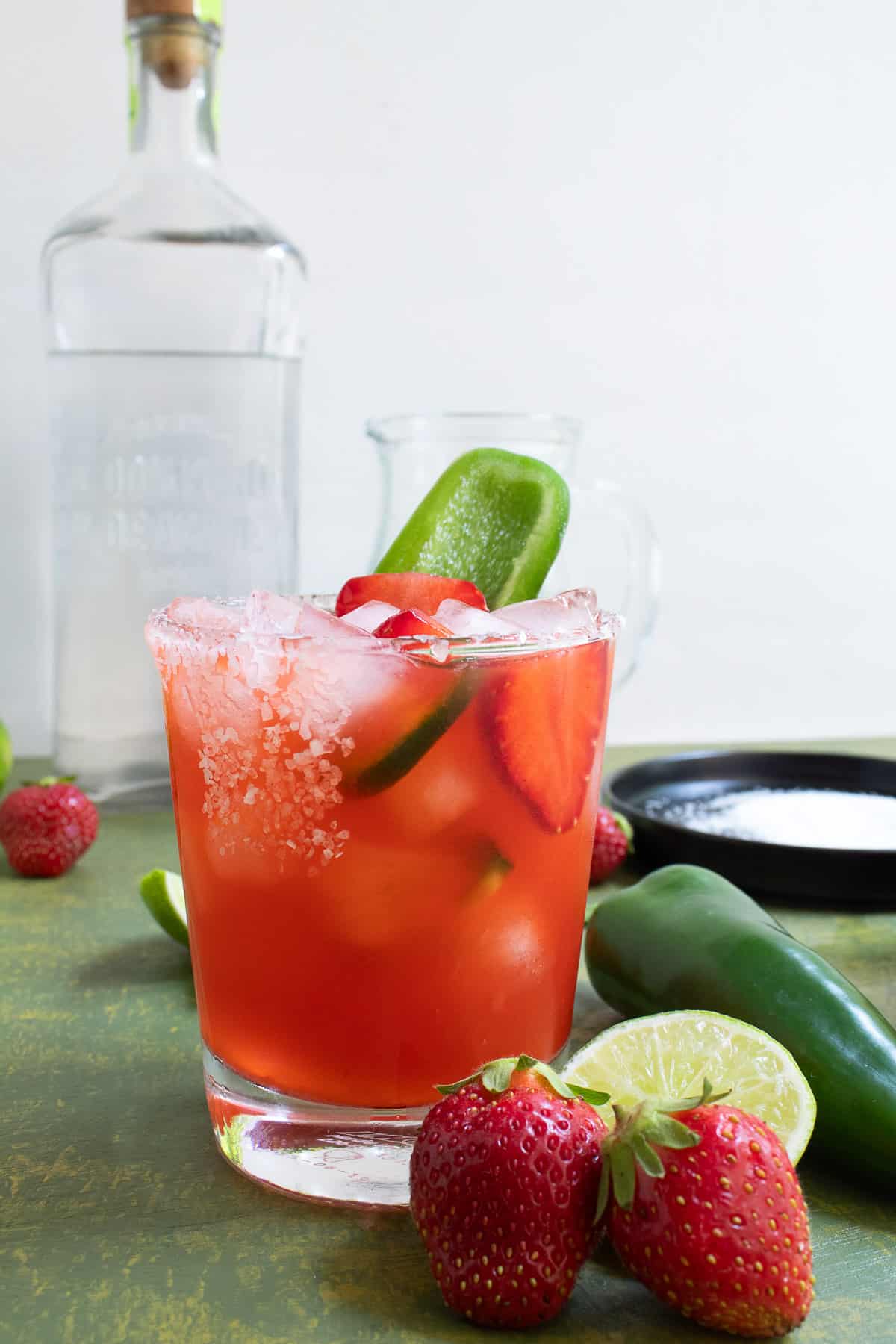 Prepare a Party Pitcher of Margaritas
This recipe is so easy to multiply for a party. A pitcher or batch cocktail is great for gatherings because the host is free to mingle without mixing cocktails one at a time all party long.
For a batch that serves 8, muddle the jalapeño and lime in the bottom of a tall pitcher. Fill the pitcher with ice and add the remaining ingredients (see quantities below). Stir everything together well with a long wooden spoon for a couple minutes to dilute the cocktail and chill it. Provide salted glasses with extra ice and a platter of garnishes for each guest to customize their drink.
8 ounces strawberry syrup
8 ounces lime juice
16 ounces tequila blanco
1 jalapeño, sliced into rings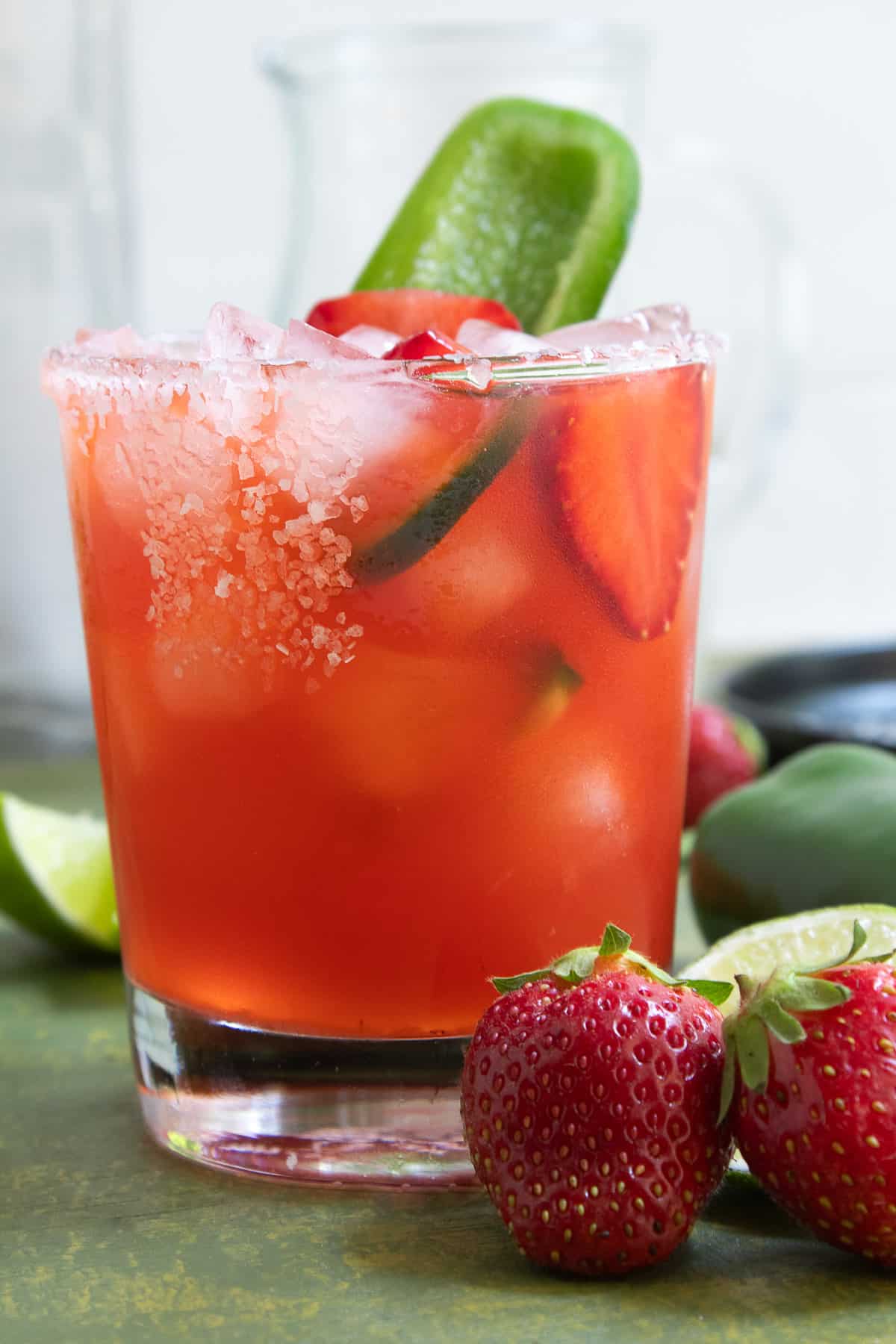 Equipment
Cocktail Shaker - I use a 3-piece shaker at home. It has a tall can that holds the ingredients, a strainer top, and a cap. There are also Boston shakers and French shakers. Check out this article on using a cocktail shaker.
Muddler - This is a wood, plastic, or metal tool used to mash ingredients together. It often has a textured end to help break down herbs or citrus and is tall enough to reach the bottom of a shaker or tall glass.
FAQ
How do you change the spice level of the margarita?
It's easy to change up the level of spice in the margarita, just use fewer or more jalapeño rings when muddling them with the lime juice. You can also omit the jalapeño altogether!
Can you rim the glass with sugar instead of salt?
Absolutely! Simply add coarse sugar to a small plate or dish and use it just like you would the kosher salt.
Can you make a non-alcoholic version of this cocktail?
Of course. Substitute water or bubbly water in place of the tequila in order to make a non-alcoholic mocktail. Strawberry jalapeño limeade is delicious and a fun twist to regular limeade for a more festive feel.
Margaritas and Tacos: A match made in heaven!
If you are looking to make a fun night of entertaining, pair these strawberry jalapeño margaritas with tacos! Here are some options:
Try It and Share
Prep a batch of strawberry jalapeño margaritas and share the recipe with family or friends. I want to see your results! Tag your photo with #planeatpostrepeat and mention me @planeatpostrepeat on Instagram or Facebook. I can give you a virtual high five and thank you for cooking one of my recipes! Comment below with any questions and please leave a review so others can find this recipe more easily.
Recipe
Strawberry jalapeño Margaritas
These strawberry jalapeño margaritas are sweet and refreshing with a pop of fresh spice and are perfect for entertaining all summer long.
Ingredients
1

oz.

strawberry simple syrup

1

oz.

lime juice

(freshly squeezed)

2

oz.

tequila blanco

1

jalapeño

(sliced into rings)

kosher salt, lime wedges, strawberry halves, jalapeño slices

(for garnish)
Instructions
Prepare the strawberry simple syrup.

If desired, salt the rim of your glass: Use a lime wedge to moisten the rim of a rocks glass. Pour kosher salt onto a shallow plate and dip the rim of the glass into the salt.

Add ice to the rocks glass to about ⅔ full.

In a cocktail shaker, muddle 3-4 jalapeño rings with the lime juice until well broken down.

Add in the strawberry syrup, the tequila, and 1 cup of ice cubes.

Shake the cocktail well for 30 seconds.

Strain the cocktail over fresh ice in the prepared rocks glass.

Garnish with lime, strawberry, and jalapeño slices and serve immediately.
Notes
For the strawberry syrup you'll need:
16 oz. strawberries
1 cup granulated sugar
Combine the ingredients in a 2 ½ quart saucepan and bring the mixture to a rolling boil.  Allow it to boil for 3 minutes, remove from the heat, and strain the syrup with a mesh strainer over a large bowl.  Check out the Strawberry Simple Syrup recipe post for more details and for other ways you can use the syrup.
Nutrition facts are sometimes provided below and are calculated using an online calculator. With specific brands of ingredients and additions, omissions, or substitutions the nutrition facts may change. We encourage you to use your own nutrition facts caculator to obtain the most accurate nutrition facts for your meal.
Nutrition Facts
Calories:
256
kcal
Carbohydrates:
32
g
Protein:
1
g
Fat:
0.4
g
Saturated Fat:
0.02
g
Polyunsaturated Fat:
0.1
g
Monounsaturated Fat:
0.03
g
Sodium:
3
mg
Potassium:
156
mg
Fiber:
2
g
Sugar:
29
g
Vitamin A:
172
IU
Vitamin C:
58
mg
Calcium:
15
mg
Iron:
0.3
mg