This gorgeous strawberry simple syrup is loaded with fresh strawberry flavor and has a naturally vibrant red hue. It will add flavor to beverages, desserts, and breakfasts and is great to have on hand during summer months!
Simple syrups are excellent at concentrating flavors and this strawberry simple syrup is no exception. Use the best strawberries you can find and you'll be rewarded with a deeply flavored and aromatic syrup.
Strawberries are a favorite at our house. If you love them too, try this Strawberry Goat Cheese Salad or these Strawberry Lemon Bars with Shortbread Crust.
Jump to:
Ingredients
There are only two ingredients here! Check out those gorgeous Michigan strawberries that the kids picked: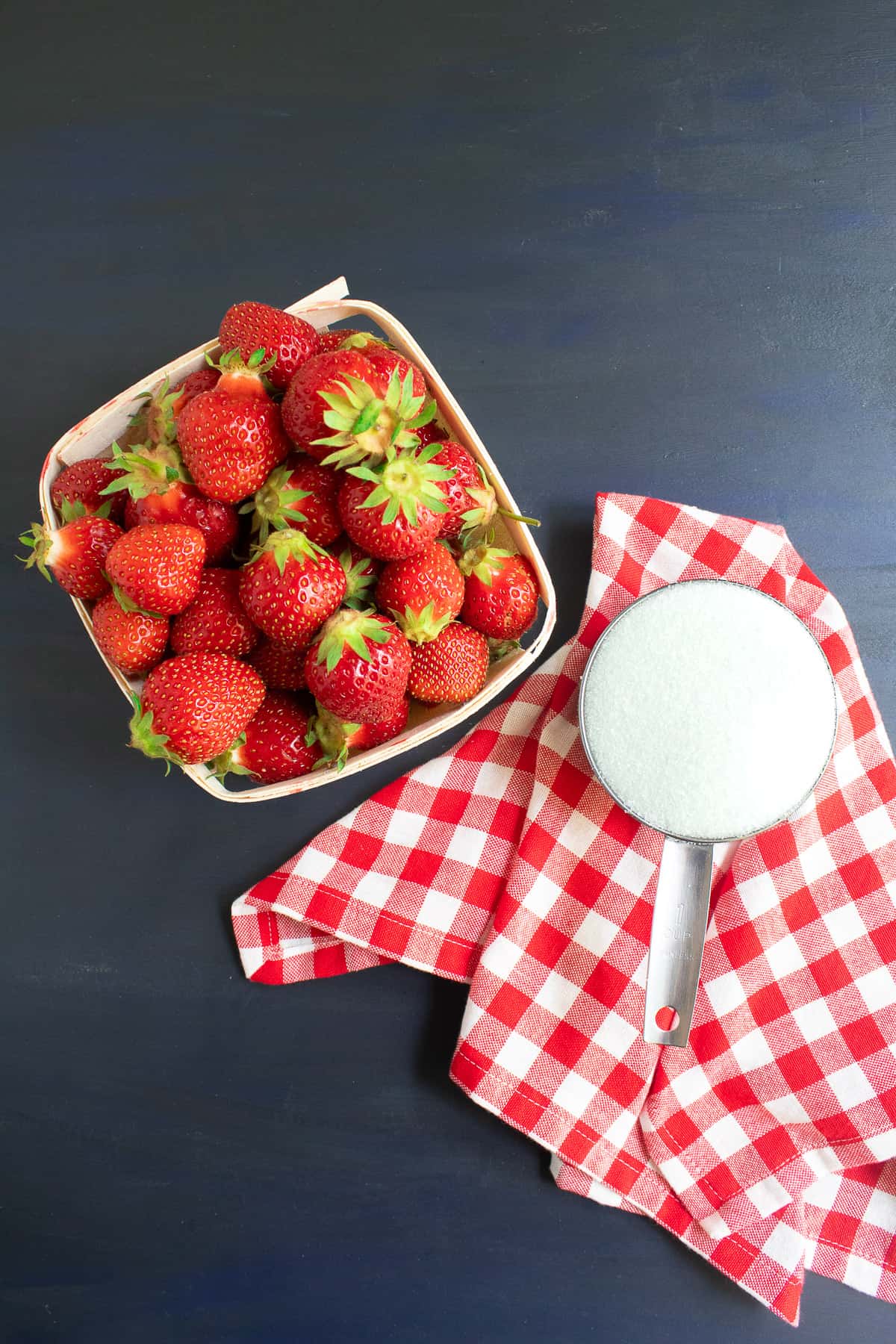 I include ingredient notes here when I think they'll be helpful, including ways to source, any preparation tips, or why I've chosen a particular ingredient. Be sure to check out the recipe card below for the full list of ingredients and their quantities!
Strawberries - I love to make this syrup when the tiny but wildly fragrant and delicious local Michigan strawberries are in season, but frozen strawberries will absolutely work in this recipe. Wash and hull fresh strawberries and slice them in halves or quarters. Use frozen strawberries directly from the bag.
Granulated Sugar - Granulated sugar is used to sweeten the syrup, of course, but it also helps in thickening the juices for a syrupy consistency.
Preparation
The strawberries are cooked on the stovetop to create the syrup. If you have a wider saucepan, more water will evaporate from the mixture making a more concentrated strawberry simple syrup. Make sure to choose a saucepan that has at least a 2 ½ quart capacity.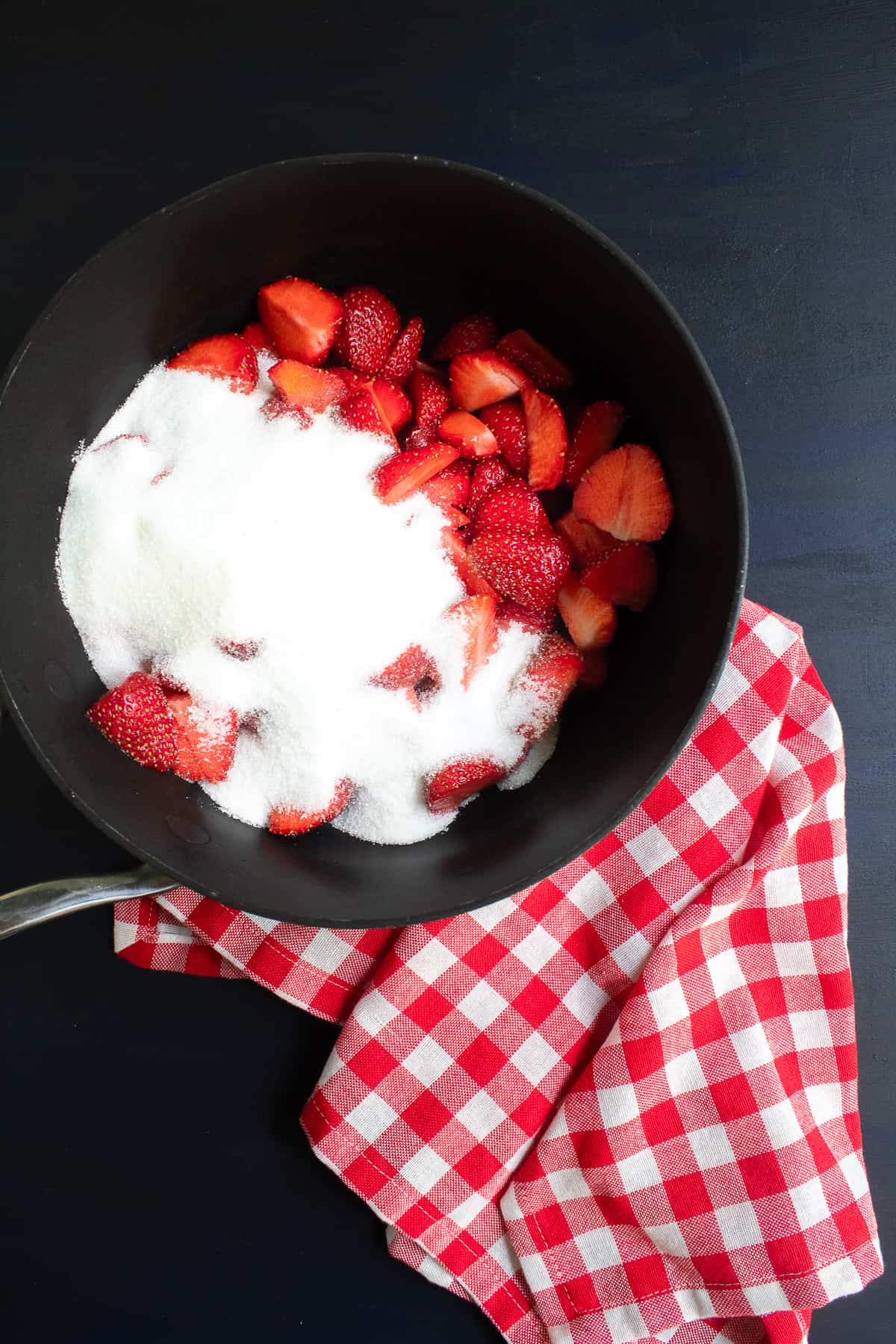 Add the strawberries and sugar to the saucepan and stir the berries to coat them with sugar.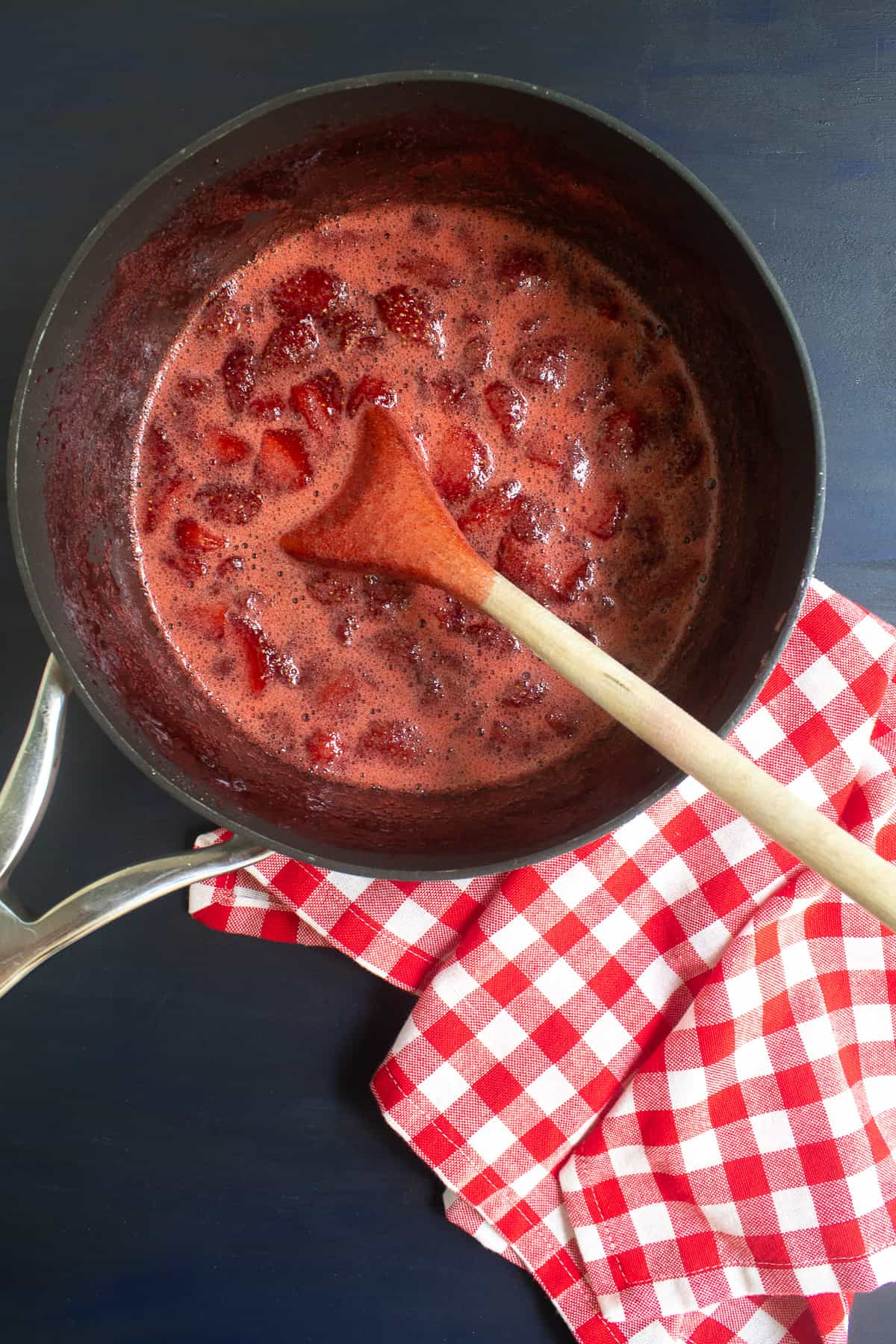 Cook the strawberries over high heat, stirring often until they boil. Cook them for 3 minutes at a rolling boil but don't walk away while cooking the syrup, the mixture can boil over!
Remove the strawberry mixture from the heat. Strain the syrup over a large bowl with a mesh strainer. Stir the berries to help the syrup strain, but don't mash them too much or you'll get a lot of small seeds in your syrup.
Transfer the syrup to a small pitcher or mason jar.
Don't toss the leftover strawberries! They make a great addition to smoothies, yogurt, oatmeal, or on toast as a quick jam.
Add This Syrup to Beverages
There are so many places to add your syrup, but beverages are the easiest and most versatile.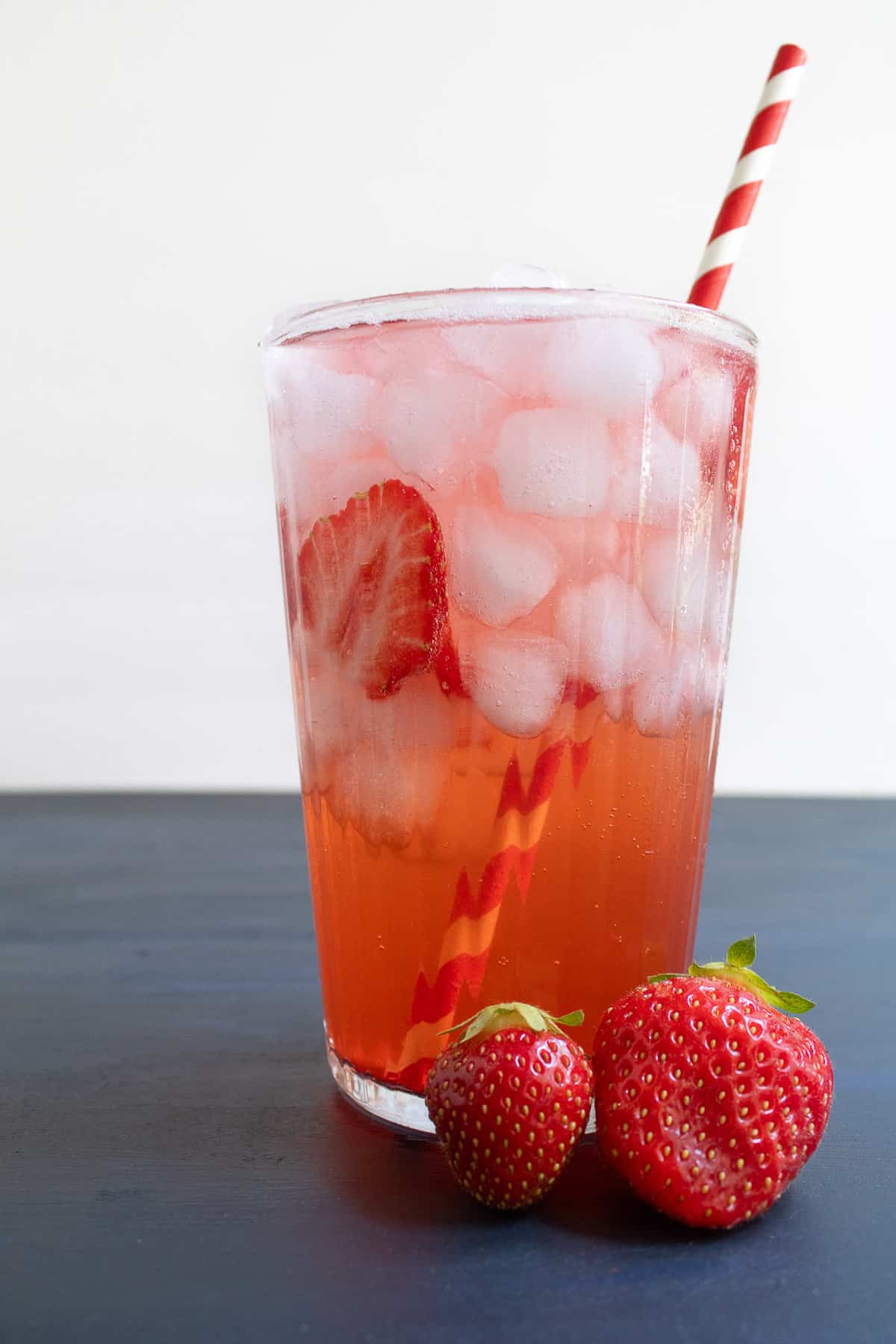 Just like with the Blueberry Simple Syrup, you can make a strawberry soda by adding 1 ounce of the syrup to a glass filled with ice cubes. Top it off with bubbly water and add a few slices of fresh strawberry for a real treat.
Strawberry limeade is a delicious and refreshing drink for summer. Add 1 ounce of strawberry simple syrup to a glass with 1 ounce of fresh lime juice and 6 ounces of water. Stir and add ice plus a wedge of lime for a garnish.
Here are some other great ways to add the syrup to beverages:
Make Strawberry Milk - Add an ounce of the syrup to any milk of your choice and stir until blended.
Make Strawberry Jalapeno Margaritas - These are practically a house cocktail around here. Muddled jalapeno, tequila blanco, lime juice, and strawberry simple syrup get shaken together for a terrific adult beverage.
Strawberry Matcha Latte - Add a couple of tablespoons of water and a teaspoon of matcha powder to the bottom of a tall glass. Whisk well to dissolve the tea powder. Fill the glass with ice and cold milk for a iced latte and then top it with an ounce of strawberry syrup.
Use It at Breakfast
Make breakfast extra special by adding some strawberry simple syrup to breakfast favorites like pancakes, oatmeal, smoothies, and yogurt.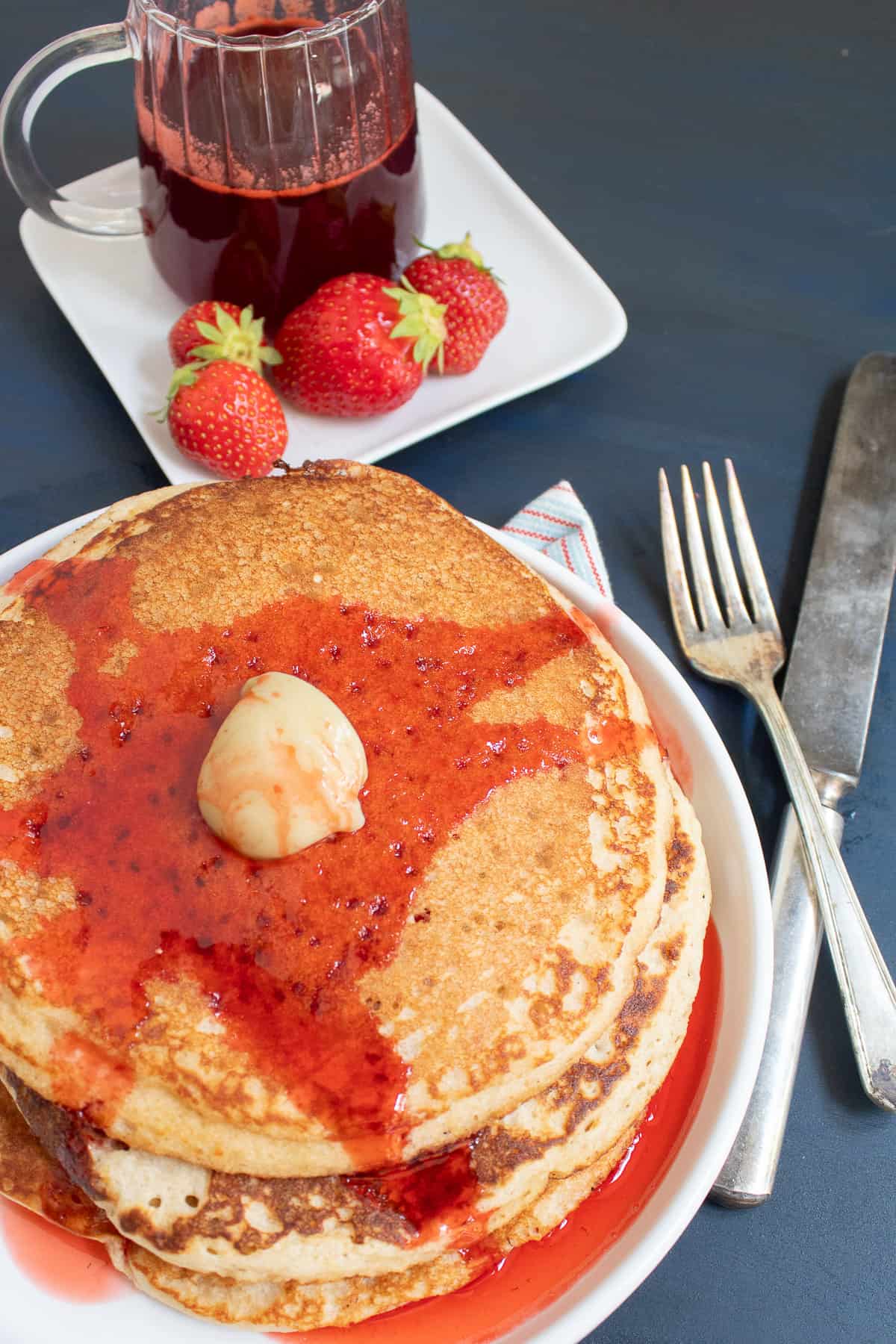 Make some Diner Pancakes and top them off with a river of strawberry syrup and softened butter.
Swirl some strawberry simple syrup into a bowl of Greek yogurt and top it with fresh berries, granola, a spoonful of nut butter, and anything else that strikes your fancy!
Enhance your Favorite Desserts
Strawberry Shortcake - Slice fresh strawberries and toss them with a couple of ounces of strawberry syrup before spooning the mixture over shortbread and topping the dessert with whipped cream. Add a bit more syrup over the top to maximize the strawberry goodness.
Ice Cream Topping - Strawberry syrup is a delicious topping for a sundae bar and it is out of this world delicious on my Sweet Corn Ice Cream.
Strawberry Milkshakes - Drizzle the strawberry syrup inside of your milkshake glass before pouring in the blended ice cream, berries, milk, and syrup for a pretty accent to a milkshake treat.
Substitutions
Feel free to use fresh or frozen strawberries in this recipe. Fresh strawberries can be added to the recipe right after washing, while frozen berries can be added directly to the saucepan with the sugar.
Variations
There are delicious ways to accent the strawberry flavor of this simple syrup. Try one of these ideas:
Add herbs - Add washed fresh herbs to the strawberries and sugar when cooking the syrup to make strawberry-rosemary simple syrup or strawberry-basil simple syrup.
Add citrus - Add lemon or orange zest to the strawberries and sugar when cooking the syrup to add citrus flavor. Be sure to avoid any white pith or the syrup may have a bitter taste.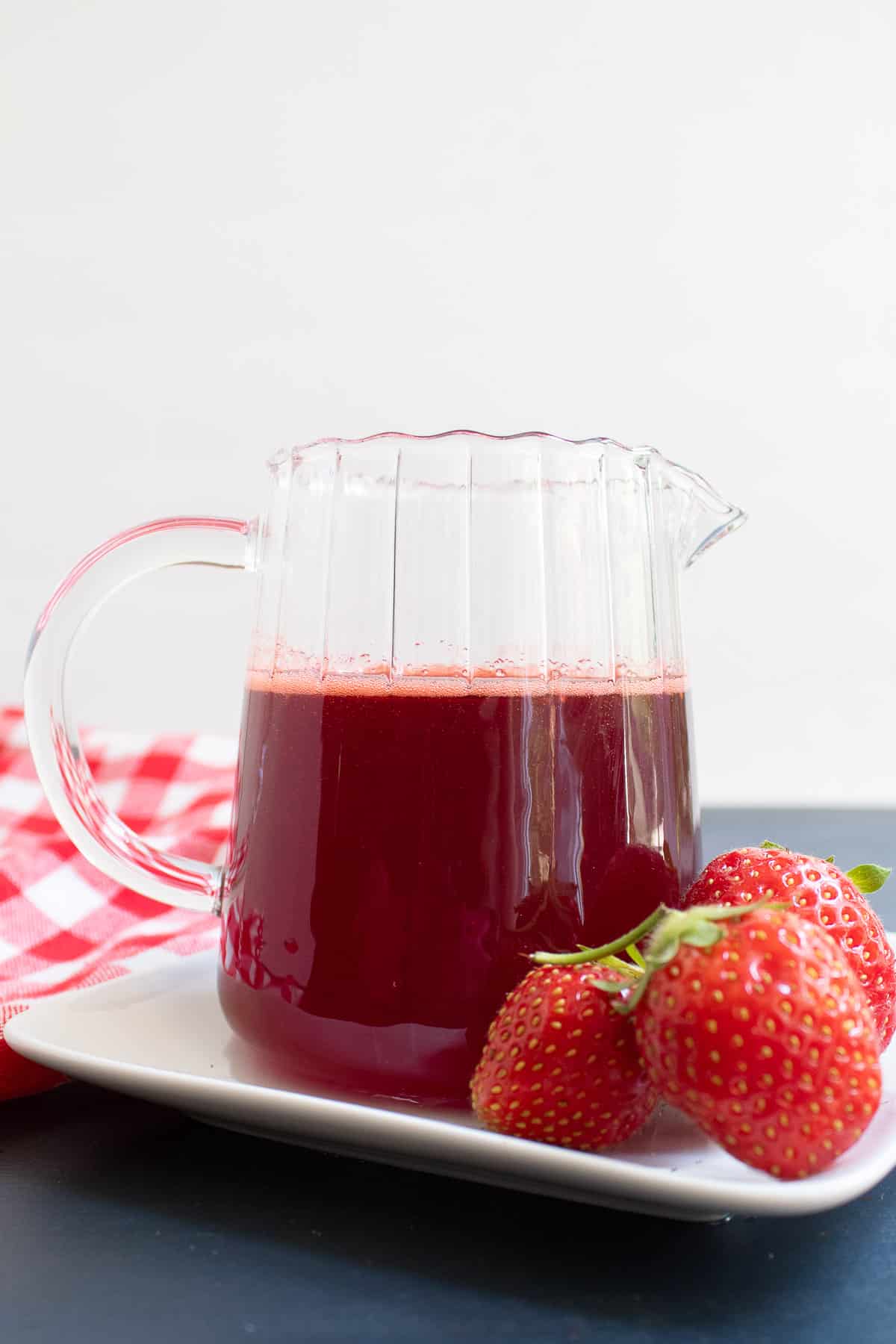 Storage
Store the cooled syrup in a mason jar with a tight-fitting lid in the refrigerator. It will keep for up to a month, but I bet you find enough ways to use it all up before then.
FAQ
What is a rolling boil?
When the mixture is at a rolling boil, the boiling will not subside when it is stirred.
Can the amount of sugar in the recipe be reduced?
You can reduce the sugar, however the texture will be affected and the syrup will be thinner.
Can I make a double or half batch of strawberry simple syrup?
Absolutely! Change the size of your saucepan accordingly (use a 1 ½ quart capacity) so that you don't over cook a half batch. Increase the size of the saucepan when preparing a double batch so that the mixture doesn't boil over.
Related Recipes
We love to use fruit at the peak of season for both sweet and savory dishes. Here are some great recipes to try:
Try It and Share
Make this strawberry simple syrup and show us how you use it! Tag your photo with #planeatpostrepeat and mention me @planeatpostrepeat on Instagram or Facebook. I can give you a virtual high five and thank you for cooking one of my recipes! Comment below with any questions and please leave a review so others can find this recipe more easily.
Recipe
2-Ingredient Homemade Strawberry Simple Syrup
Bursting with strawberry flavor and a vibrant red hue, strawberry simple syrup is a versatile ingredient for drinks, desserts, and breakfast.
Ingredients
16

oz.

strawberries

(hulled and halved or quartered)

1

cup

granulated sugar
Instructions
Bring the strawberries and sugar to a rolling boil over high heat. Stirring often, cook for 3 minutes.

Remove the strawberries from the heat. Strain the mixture with a mesh strainer over a bowl. Transfer the syrup to a jar or other airtight container and refrigerate.
Nutrition facts are sometimes provided below and are calculated using an online calculator. With specific brands of ingredients and additions, omissions, or substitutions the nutrition facts may change. We encourage you to use your own nutrition facts caculator to obtain the most accurate nutrition facts for your meal.
Nutrition Facts
Calories:
114
kcal
Carbohydrates:
29
g
Protein:
0.4
g
Fat:
0.3
g
Saturated Fat:
0.01
g
Polyunsaturated Fat:
0.1
g
Monounsaturated Fat:
0.03
g
Sodium:
1
mg
Potassium:
87
mg
Fiber:
1
g
Sugar:
28
g
Vitamin A:
7
IU
Vitamin C:
33
mg
Calcium:
9
mg
Iron:
0.2
mg