Sweet, juicy, ripe summer peaches deserve the royal treatment! This recipe for Fresh Peach Trifle with Angel Food Croutons and Rosemary Syrup delivers. Whipped vanilla cream, buttery toasted Angel Food cake cubes, and herbal rosemary syrup all compliment the peaches for the best in summer dessert.
If you get your hands on some perfectly ripe peaches, try my recipe for Grilled Peach and Zucchini Salad or Stone Fruit Sangria next! Looking for another sweet treat for perfectly in-season produce? Try this Simple 3-Ingredient Sweet Corn Ice Cream or Blueberry Ice Cream!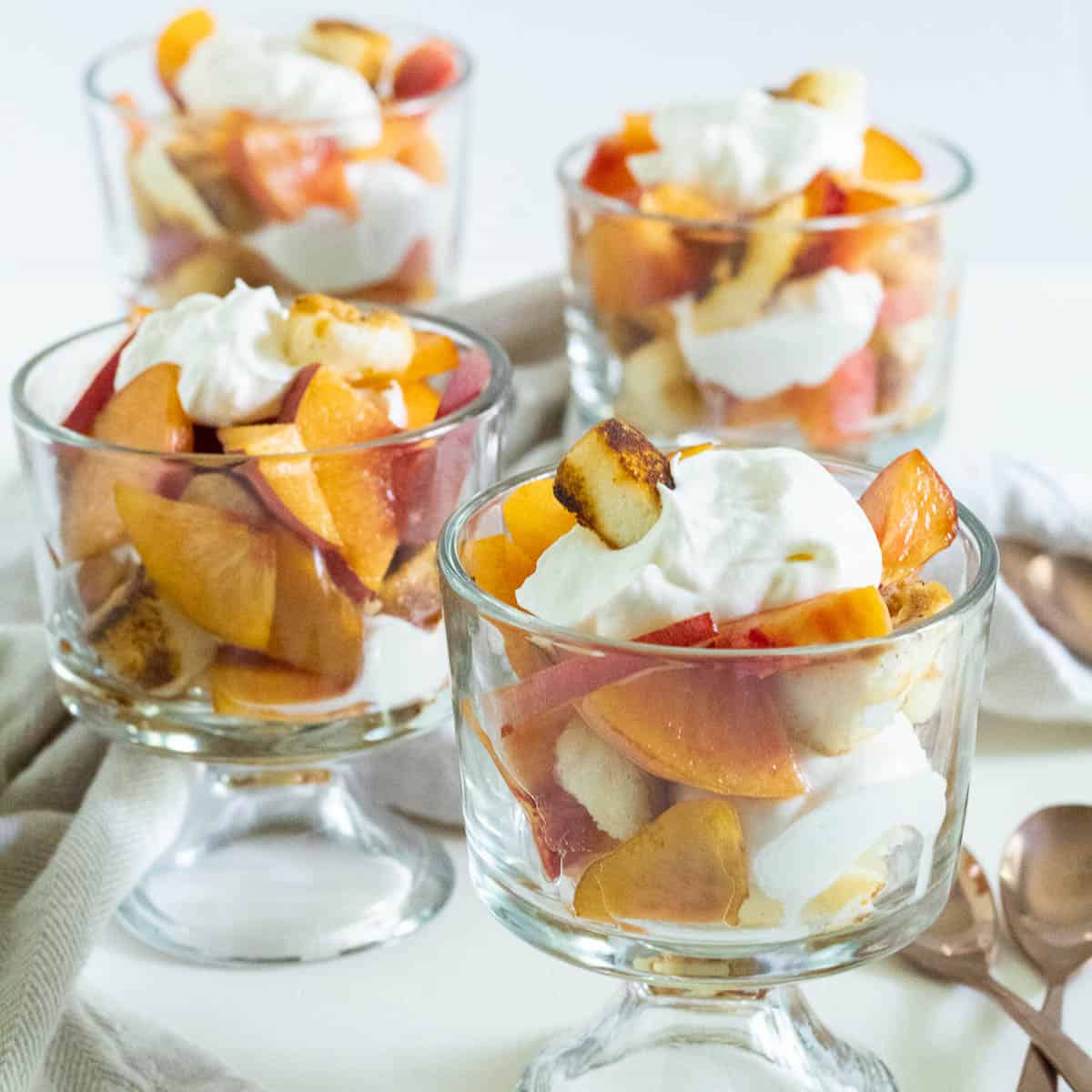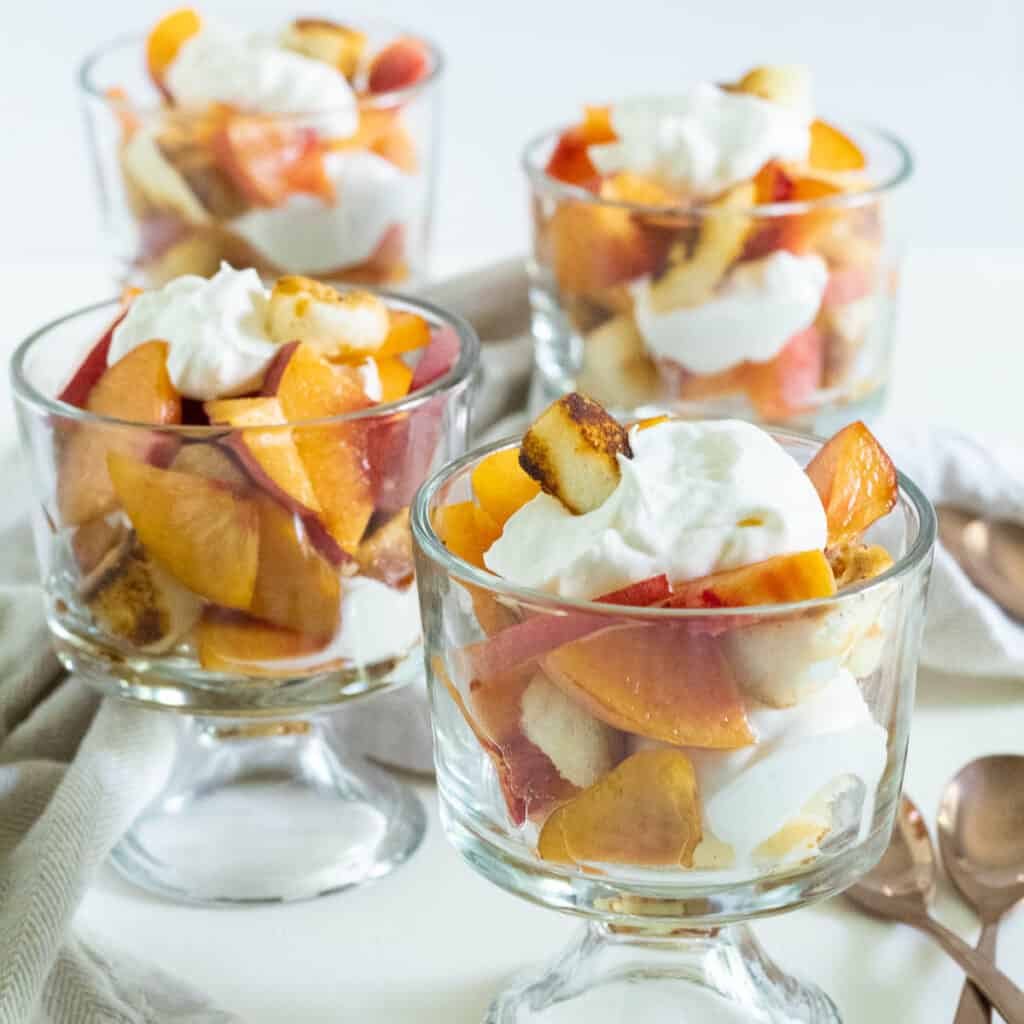 Ingredients
Peaches: 3 medium peaches should be enough for 4 servings.
Rosemary: Find nice stalks about 4 inches long and make sure they are clean and dry before you start.
Sugar: Granulated sugar is what I used in making the simple syrup and sweetening the whipped cream..
Heavy Whipping Cream: Keep your cream cold until right before you whip it to build volume quickly.
Vanilla Extract: Just a touch of vanilla flavors the cream and adds fragrance to the trifle.
Angel Food Cake: Store bought is more than fine.
Butter: This is the ideal fat for toasting the Angel Food cake cubes and I like to use salted butter for a little bit of salty flavor.
Preparation of the Rosemary Syrup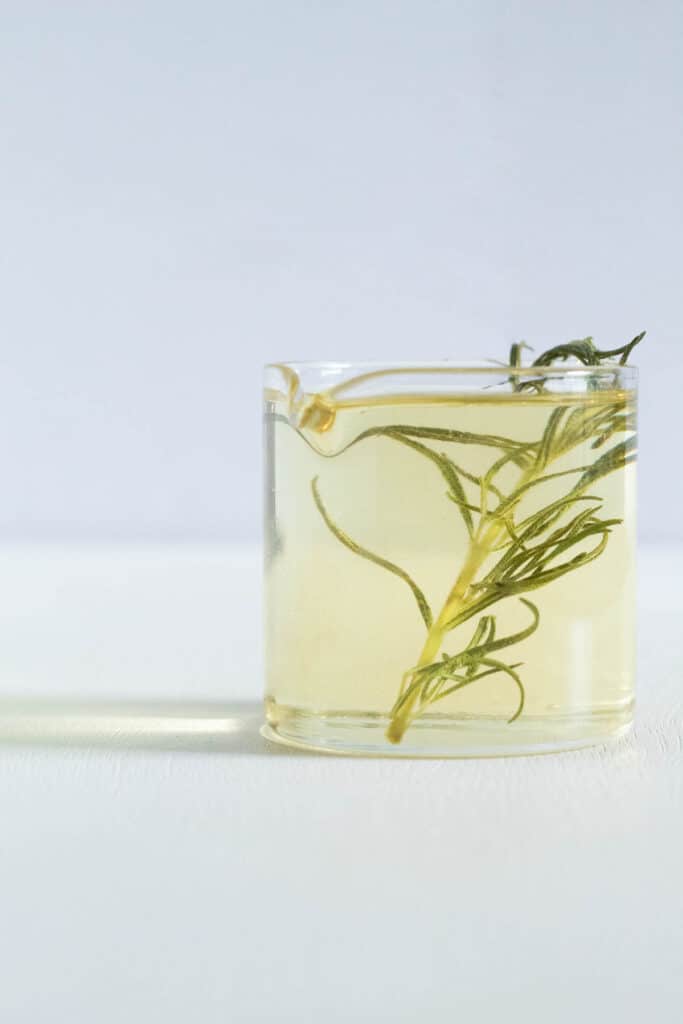 To make a rosemary-infused simple syrup, simply add the sugar, water, and rosemary stalks to a small saucepan. Bring the syrup to a boil over high heat and allow it to cook for 2 minutes. Remove the pan from the heat and let the syrup steep for 1 hour. Remove the rosemary and pour the syrup into an airtight container and store it in the refrigerator.
That rosemary doesn't have to go to waste! Once it has been boiled in the simple syrup and cooled, cut it into 2-inch pieces and toss with a bit of extra granulated sugar. Allow it to dry on a wire rack. This makes a pretty garnish for this trifle or a fancy addition to a cocktail!
Simple syrups are a great way to add flavor to desserts and beverages. Try this Strawberry Simple Syrup next!
Preparation of Angel Food Croutons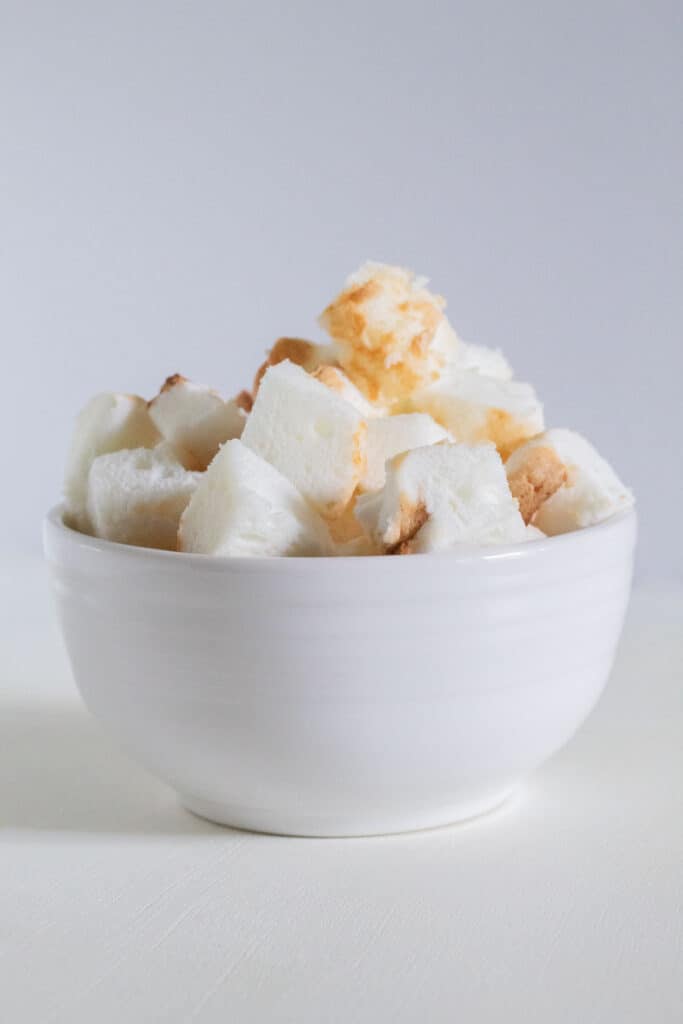 Cut the Angel Food cake into 1-inch cubes. The recipe calls for 9 ounces of cake, but if you have snacking thieves running around your kitchen you should dice up the whole cake. Seriously, they just disappear!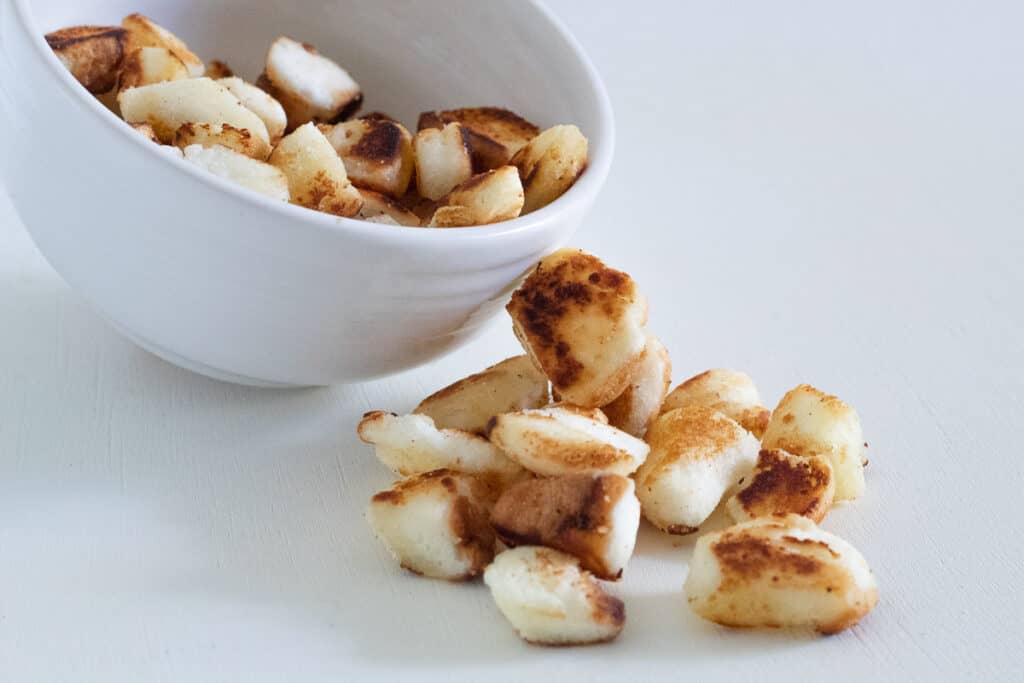 Melt the butter over medium heat in a large skillet. Add the cubed Angel Food cake and toss to coat with butter. Toast the cubes until they are golden on all sides, shaking the pan to move them around. Transfer them to a plate to cool and then store in an air-tight container. Snack on one, but protect the remaining croutons with your life.
Whip the Cream and Assemble the Trifle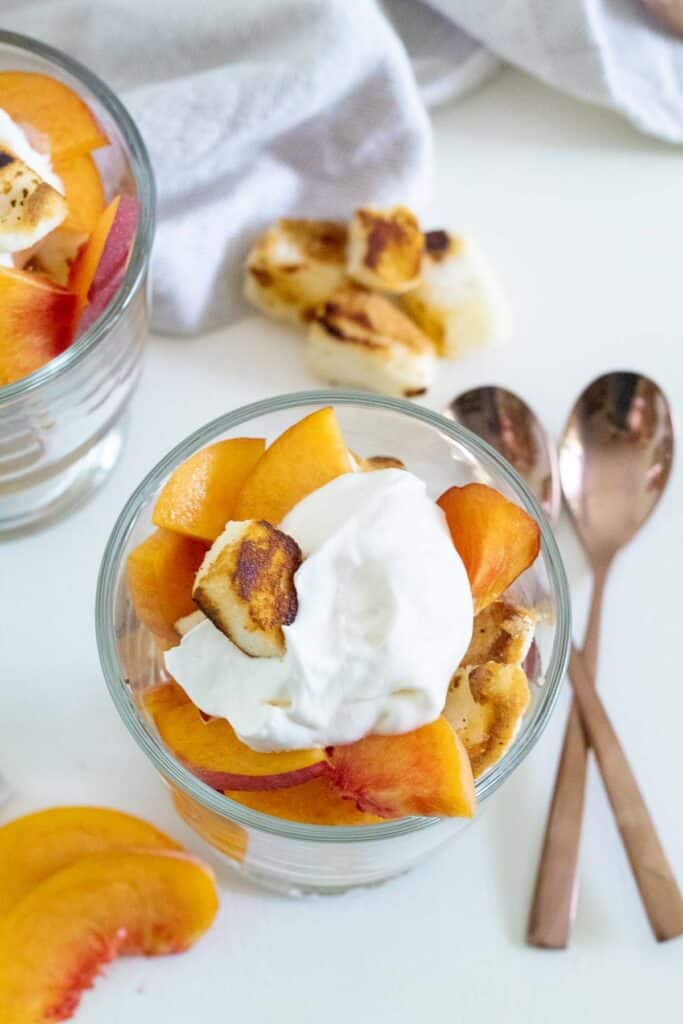 Whip the cream with the vanilla extract and a tablespoon of sugar until very soft peaks form. I do this right ahead of assembling the trifle to keep it light and airy. Slice the fresh peaches into bite-sized pieces. Assemble the trifle by layering Angel Food croutons, peaches, rosemary syrup, and whipped cream. Repeat that layer for a total of two layers.
Serving the Peach Trifle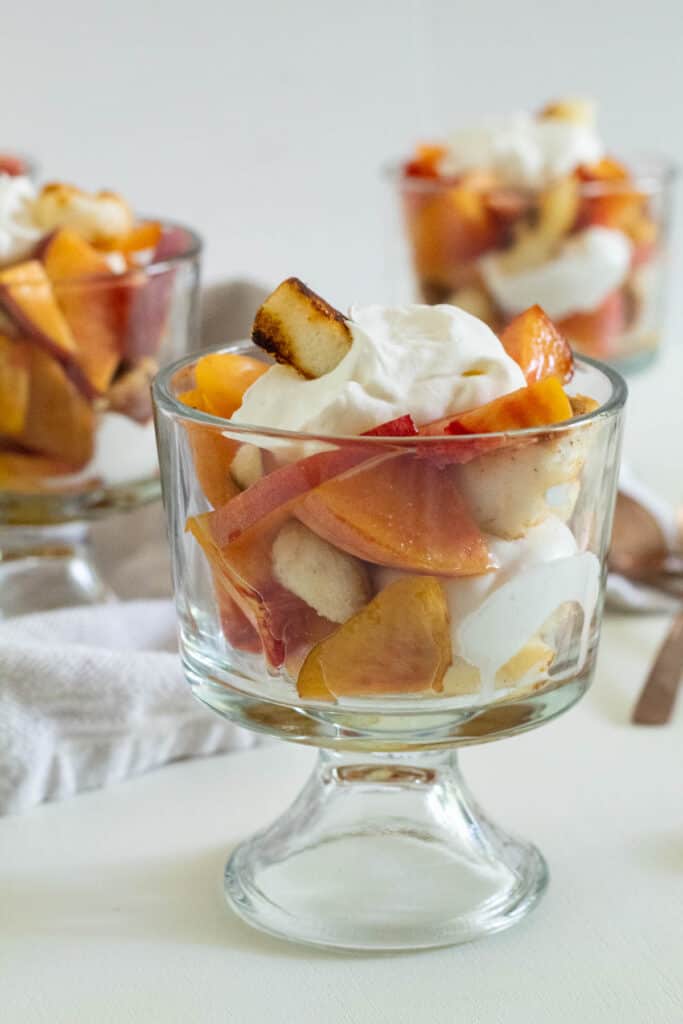 The trifle can be made in either one large bowl or in individual cups. I love the individual servings best because they look so pretty! If you have it, this is a great time for a clear serving bowl (or trifle dish!) so that all those pretty layers are on display. Any cup or tall glass will do for individual servings. Garnish with some additional rosemary and bring out the extra rosemary syrup for anyone that wants to add to their serving.
FAQ
Can the trifle be prepared in advance?
It's best to assemble the trifle right before serving to maintain the different textures, but the rosemary syrup, Angel Food croutons, and peach slices can all be done in advance if stored properly.
Are there any other herbs that can be a substitute for rosemary?
Thyme is another herb that I feel swings both sweet and savory. It's terrific with both peaches and nectarines and you can prepare a thyme syrup following the same process as the rosemary syrup.
What is a good substitute for peaches?
Many other ripe and juicy stone fruits would work in the place of the peaches. Nectarines, plums, or even pitted cherries would be delicious with the rosemary syrup.
Try It and Share
I hope you give this Fresh Peach Trifle with Angel Food Croutons and Rosemary Syrup a try and that everyone loves it. I want to see your results! Tag your photo with #planeatpostrepeat and mention me @planeatpostrepeat on Instagram so that I can give you a virtual high five and thank you for cooking one of my recipes. Comment below with any questions and please leave a review so others can find this recipe more easily!
Recipe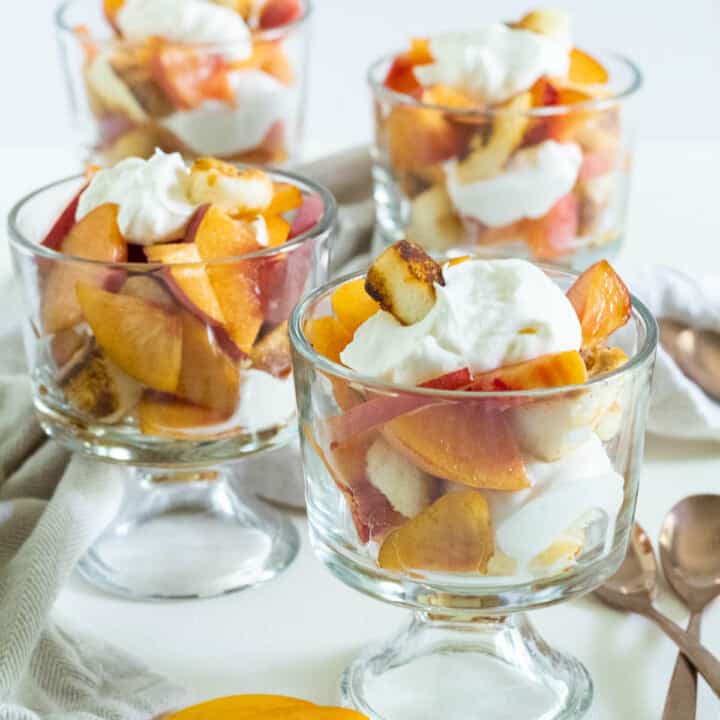 Fresh Peach Trifle with Angel Food Croutons and Rosemary Syrup
The best summer peaches deserve the royal treatment. Combine them with rosemary syrup and angel food croutons for a trifle treat!
Equipment
1 mesh strainer

1 large skillet

1 electric mixer

optional
Ingredients
Rosemary Syrup
3-4

sprigs

rosemary

½

cup

granulated sugar
Angel Food Croutons
9

oz.

prepared Angel Food cake

3

tablespoon

salted butter
Whipped Cream
½

cup

heavy whipping cream

1

tablespoon

granulated sugar

¼

teaspoon

vanilla extract
Instructions
Prepare the Rosemary Syrup
Start by preparing the rosemary syrup. Add the rosemary, sugar, and ½ cup of water in a small saucepan.

Bring the sugar mixture to a boil and allow it to boil for two minutes.

Remove the saucepan from the heat and allow it to cool and steep for one hour.

Strain the syrup into a jar or bottle, seal, and store in the refrigerator
Prepare the Angel Food Croutons
Cut the Angel Food cake into 1-inch cubes. A serrated knife is the best tool for the job.

Melt the butter in a large skillet over medium heat.

Add the Angel Food cubes and toss to coat in the butter. Continue to cook until the croutons are golden on all sides.

Remove the croutons to a plate to cool.
Prepare the Whipped Cream
Combine the chilled cream, sugar, and vanilla in a medium bowl.

Whip by hand or with an electric mixer until soft peaks form.
Assemble the Trifle
Start with a layer of Angel Food croutons, then place peach slices over the top. Spoon a generous amount of rosemary syrup over the peaches. Top with a layer of whipped cream.

Repeat the layering once more. Finish with whipped cream and rosemary garnish, if desired.

Serve immediately with extra rosemary syrup.
Notes
You may have some rosemary syrup left over.  It is great for flavoring cocktails, lemonade, or fresh fruit!
Nutrition facts are sometimes provided below and are calculated using an online calculator. With specific brands of ingredients and additions, omissions, or substitutions the nutrition facts may change. We encourage you to use your own nutrition facts caculator to obtain the most accurate nutrition facts for your meal.