This blueberry ice cream is the most summery thing you can make with only 3 ingredients. It has rich texture, bursts with blueberry flavor, and that COLOR! No eggs and no food coloring required to get this creamy and easily scoopable dream of a dessert in your belly!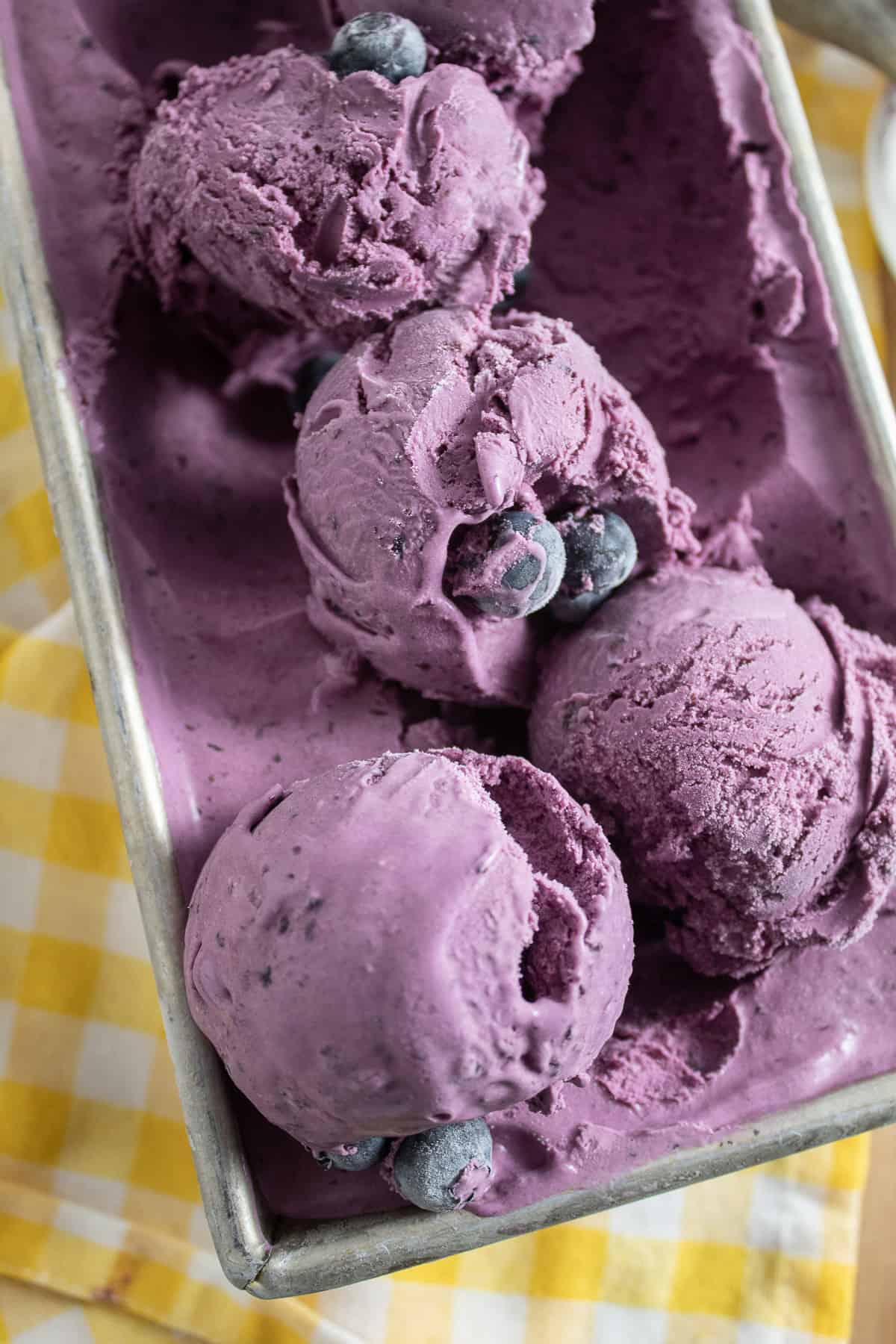 We are lucky enough to have blueberry patches all around and can pick pounds and pounds of berries for desserts and snacking all summer long. Don't despair if you aren't in the same luck! This recipe works just as well with frozen berries.
This is another delicious 3 ingredient ice cream, like this simple sweet corn ice cream recipe. They both rely on sweetened condensed milk for creamy, smooth sweet flavor. Both of these ice creams are absolutely dreamy when drizzled with Blueberry Simple Syrup!
Jump to:
Ingredients
I include ingredient notes here when I think they'll be helpful, including ways to source, any preparation tips, or why I've chosen a particular ingredient. Be sure to check out the recipe card below for the full list of ingredients and their quantities!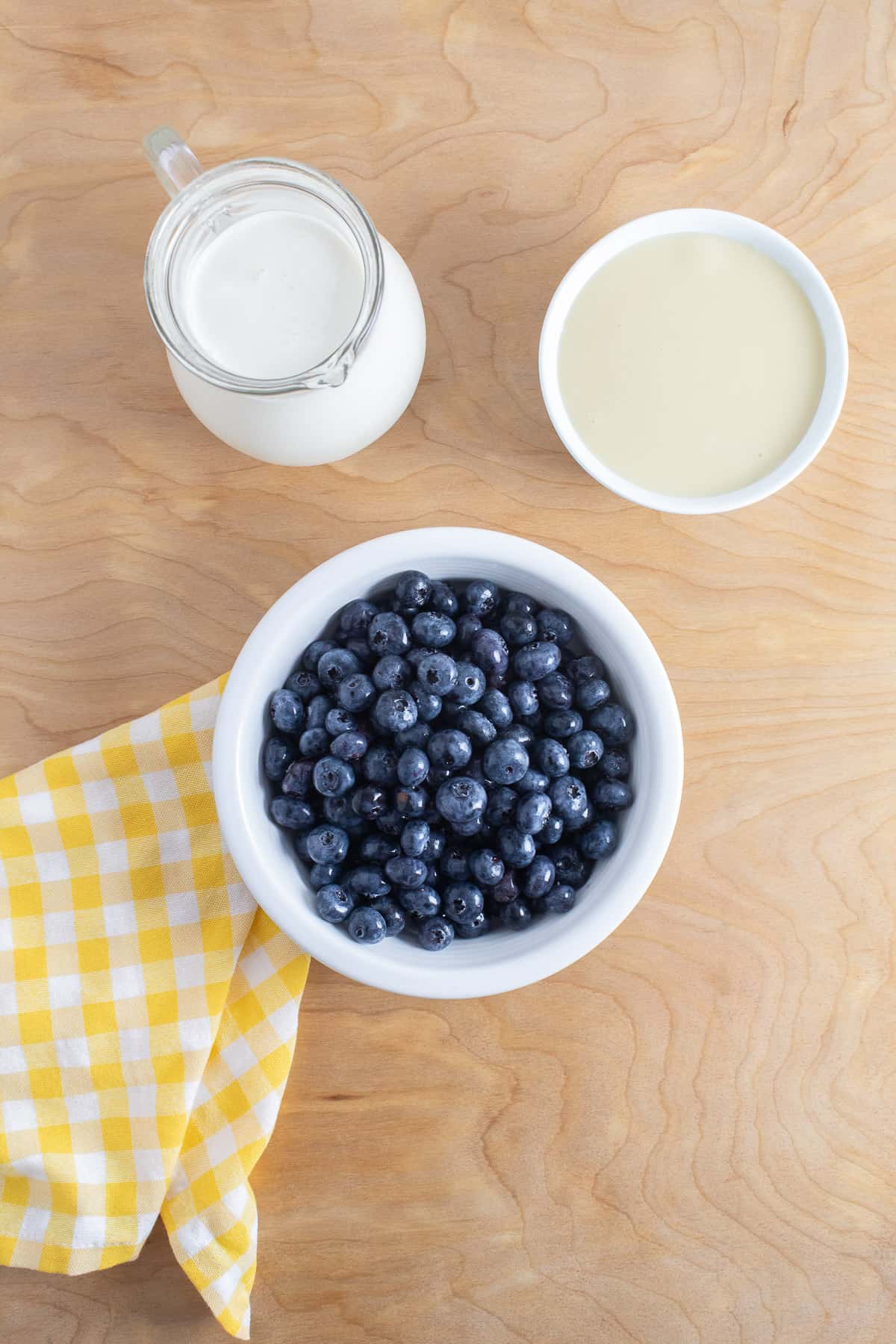 Blueberries - Fresh berries were used in this batch of ice cream, but use frozen berries (thaw them before blending) as a simple swap.
Heavy Cream - Heavy cream or heavy whipping cream has a higher fat content than half and half or whipping cream (in the US it contains at least 36% fat) and is used to a rich creaminess to the recipe.
Sweetened Condensed Milk - This thick and sweet canned milk works to sweeten the ice cream but also to help it have a soft texture that makes it easy to scoop once frozen.
Vanilla Extract (optional) - Vanilla will add another subtle layer of flavor to the ice cream.
Instructions
Before you start with the ice cream, you'll need to freeze your ice cream maker's insert. Follow your manufacturer's directions, but mine needs a good 24 hours to get truly chilled. A little planning ahead will ensure the best results!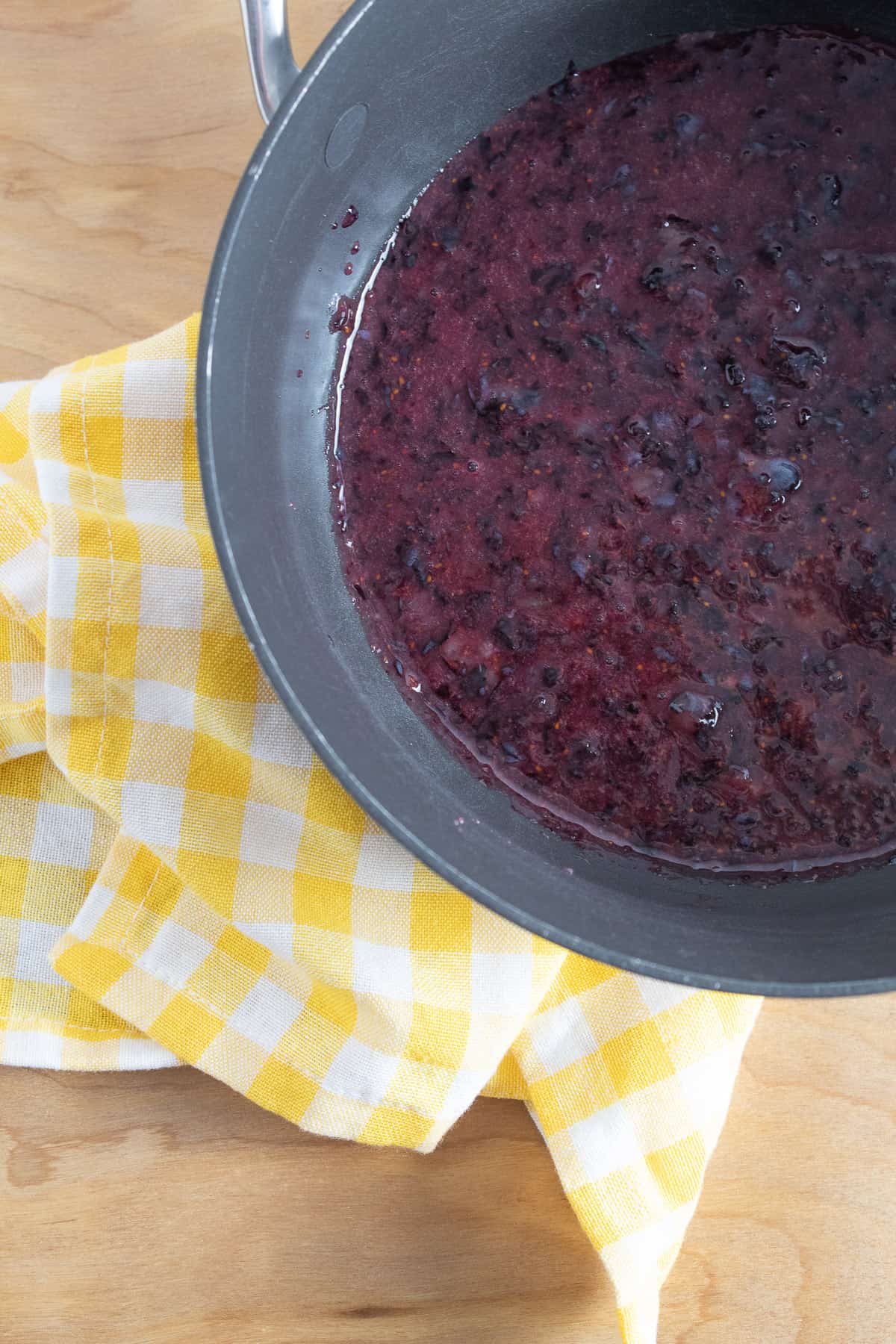 Blend the berries in a blender or food processor, leaving some small bits and pour the berries into a medium sauce pan.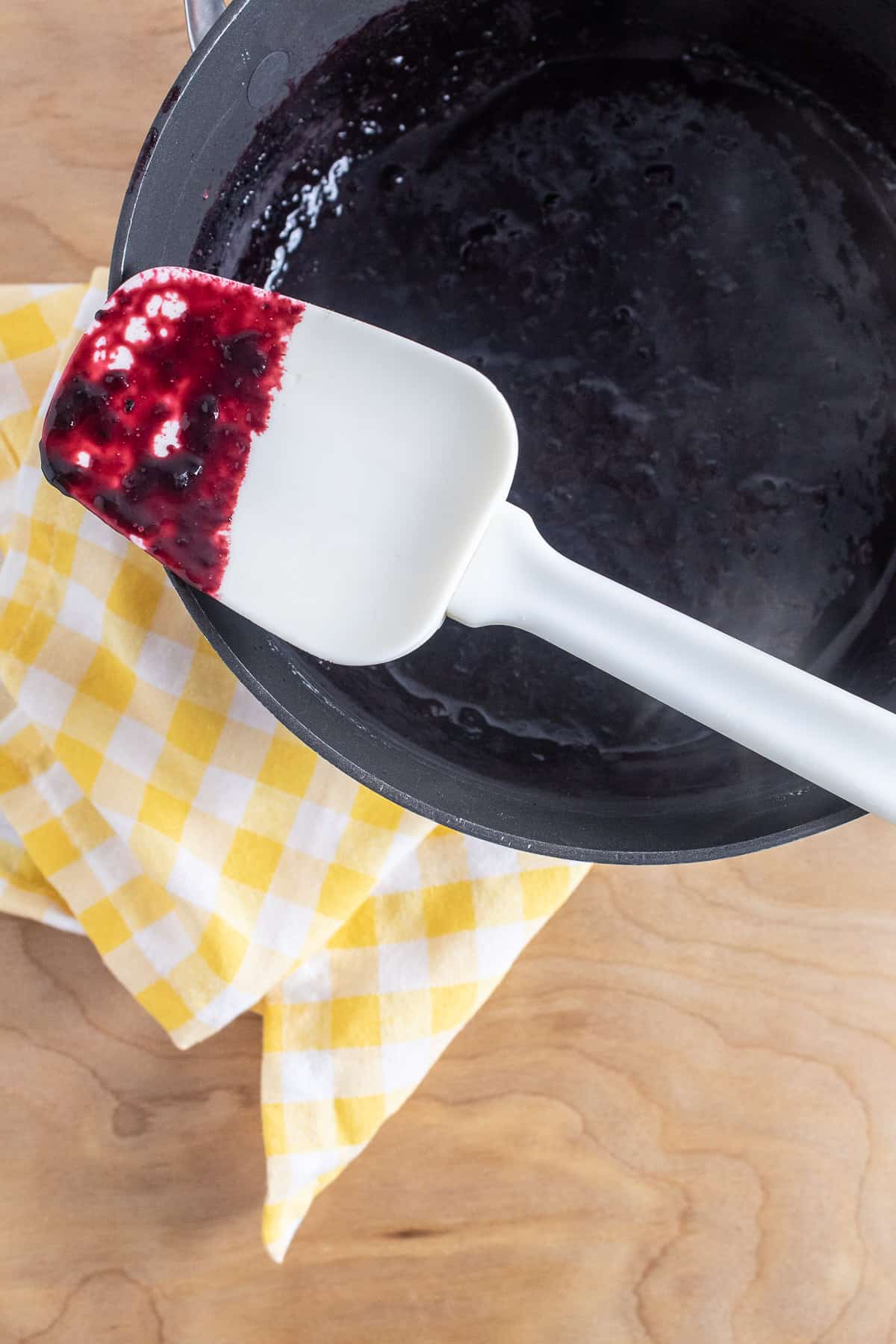 Cook the berries over medium-high heat for 5 minutes. Remove the berries from the heat and stir in the optional vanilla extract.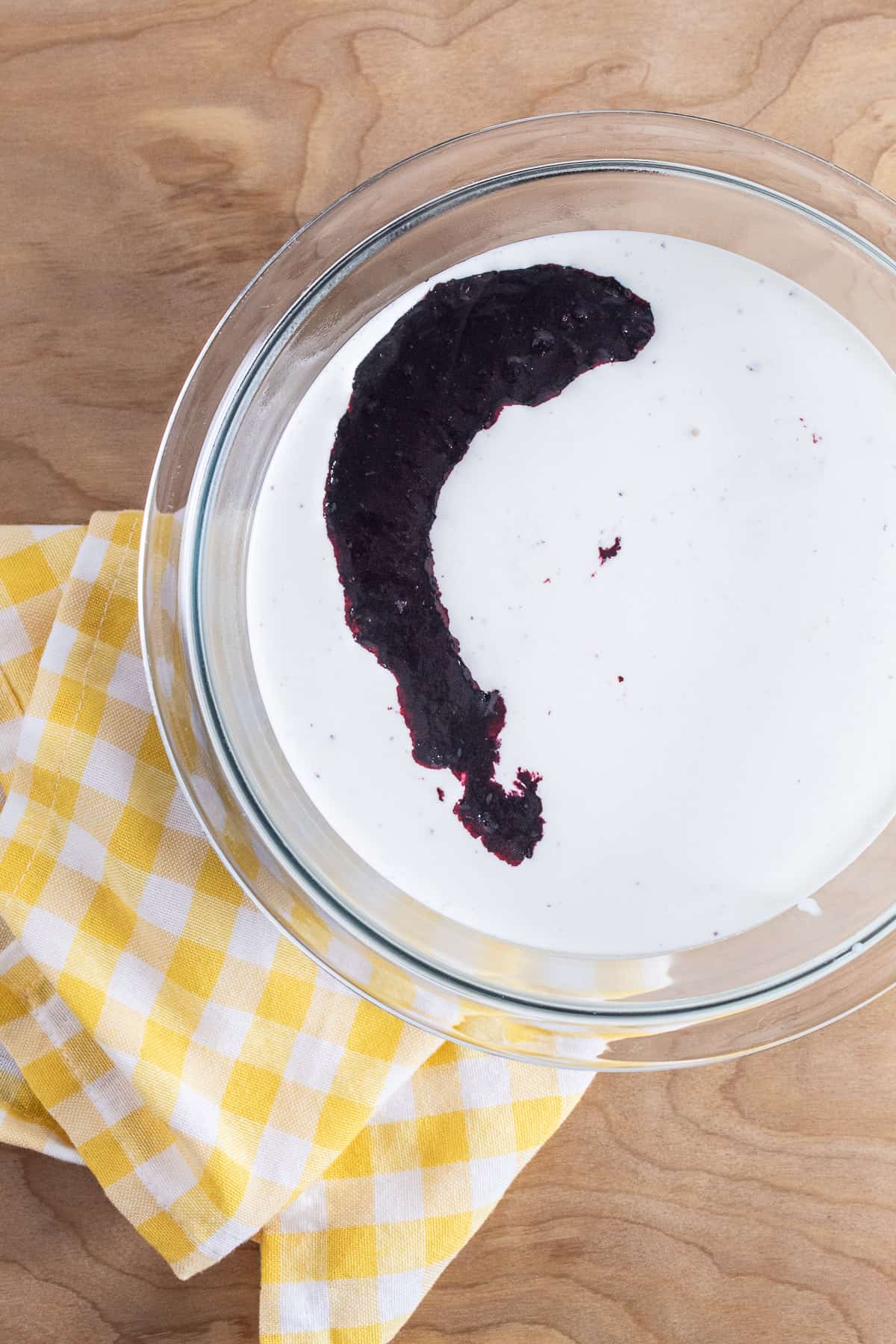 Combine the cooked berries, heavy cream, and sweetened condensed milk in a bowl.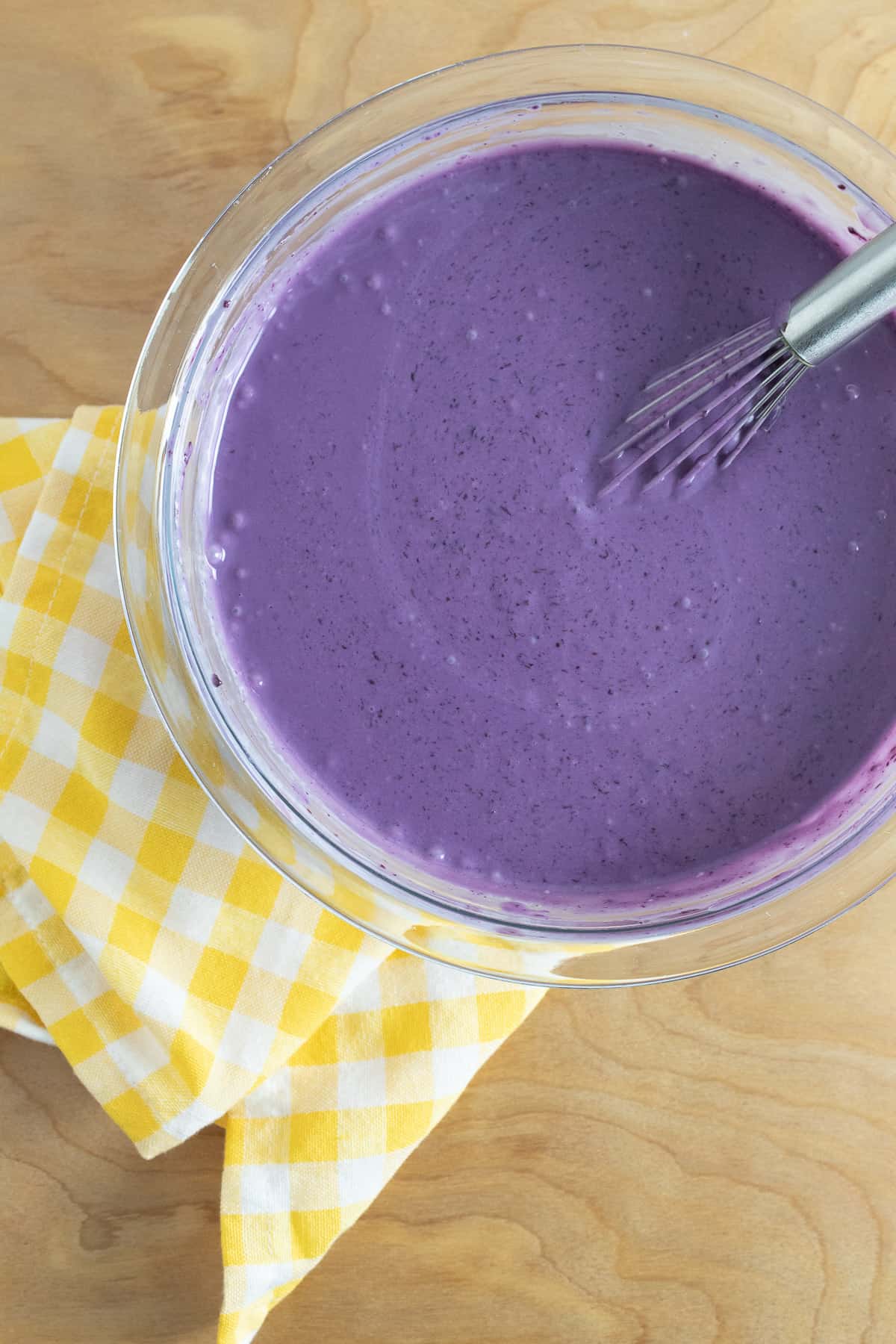 Whisk the mixture to combine the ingredients well (and marvel at that color).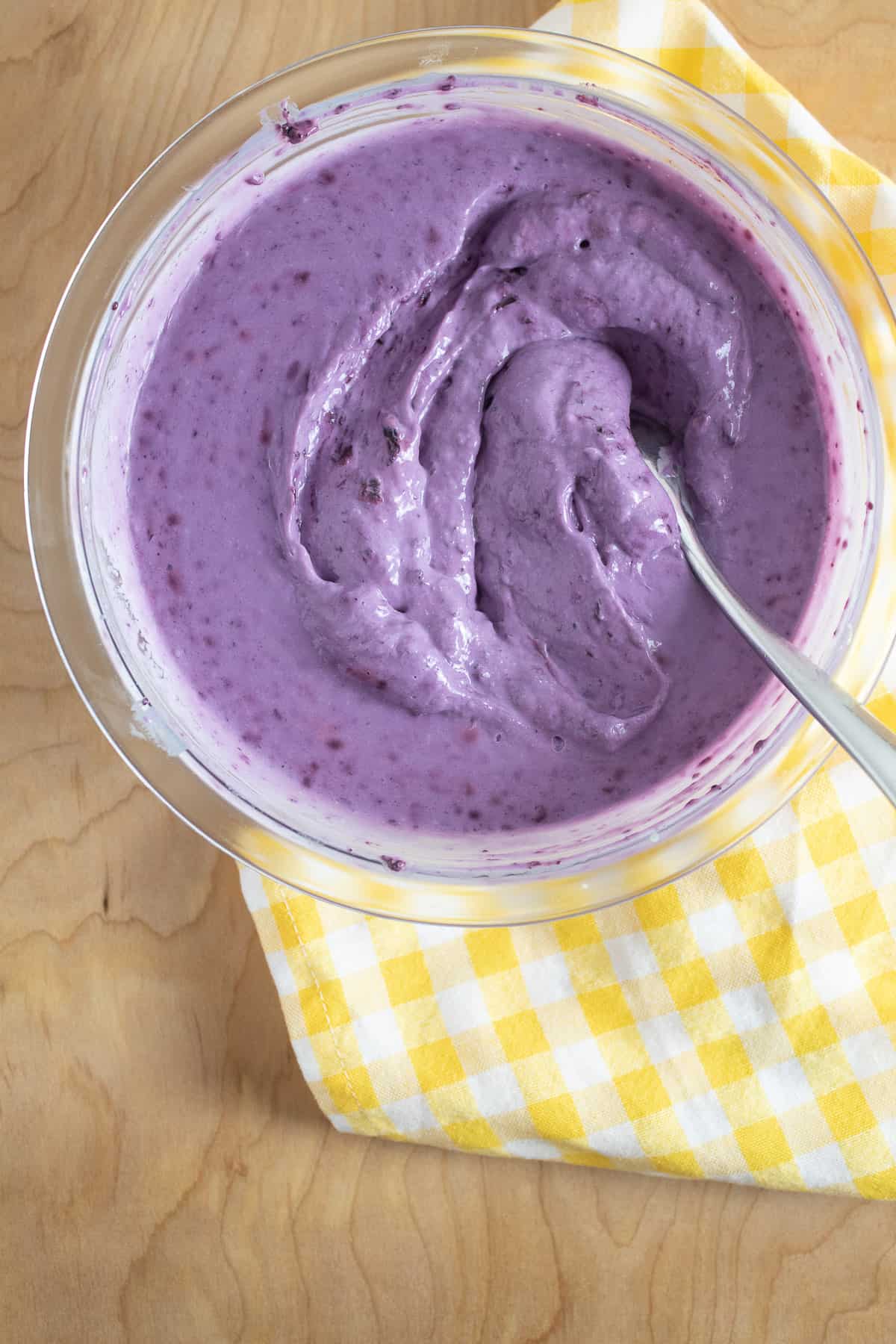 Cover the bowl and chill the mixture for 4 hours in the refrigerator or 1 hour in the freezer. Stir the mixture again before churning. Don't skip this chilling step or your ice cream won't churn properly!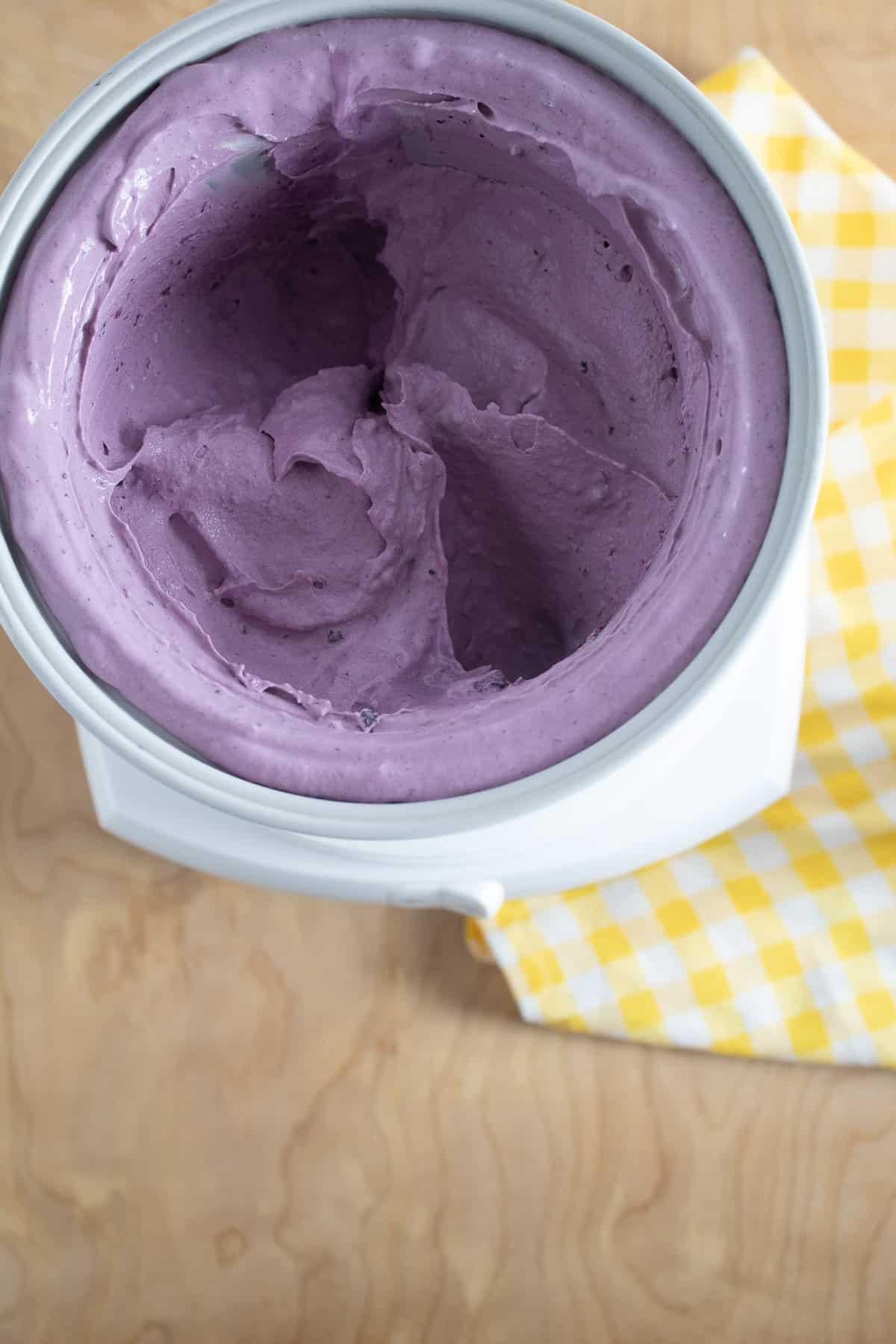 Churn the ice cream according to your ice cream maker's directions, until it is lightened in texture and a soft-serve consistency.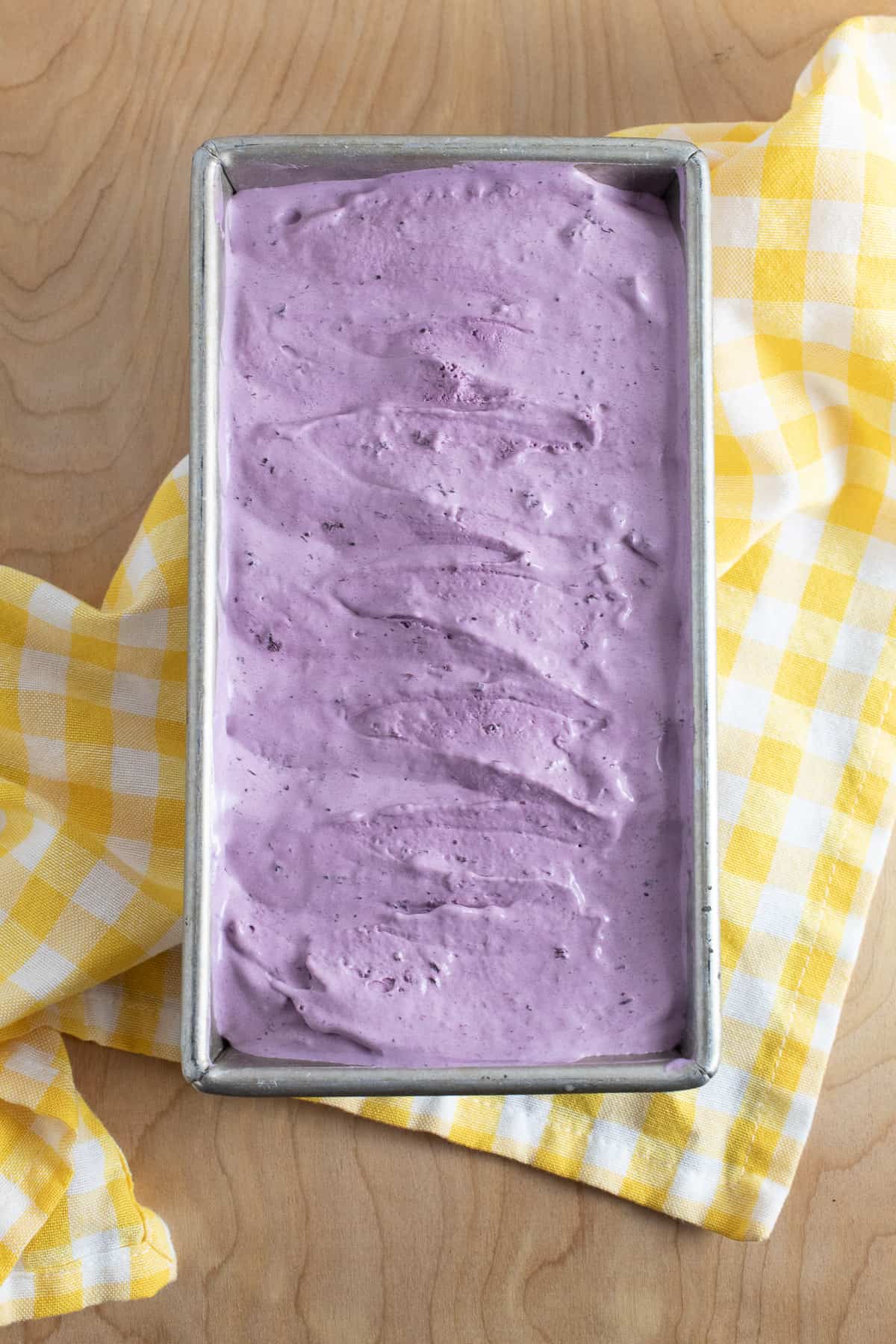 You can serve the ice cream right away if you prefer a soft-serve texture. For scoop-worthy blueberry ice cream, transfer the contents of the ice cream maker to a loaf pan and freeze it 8 hours or overnight. Feel free to top the ice cream with a few extra fresh berries!
If you'd like to add any optional mix-ins, layer them with the blueberry ice cream in the loaf pan before freezing.
Variations
You can add so many fun mix-ins to customize this blueberry ice cream. Try any of the options below:
Granola - Sprinkle granola chunks between layers of the ice cream before freezing for a blueberry crumble ice cream.
Chocolate - Layer the ice cream with chocolate fudge sauce or chocolate chunks for a chocolate-covered blueberry variation.
Blueberry Syrup - Go all-in on blueberry flavor by drizzling some blueberry simple syrup over the scooped ice cream or layer it in between the ice cream before freezing.
Lemon Curd - Lemon and blueberry is such a classic combination and thick ribbons of Mom's lemon curd would be amazing in this blueberry ice cream!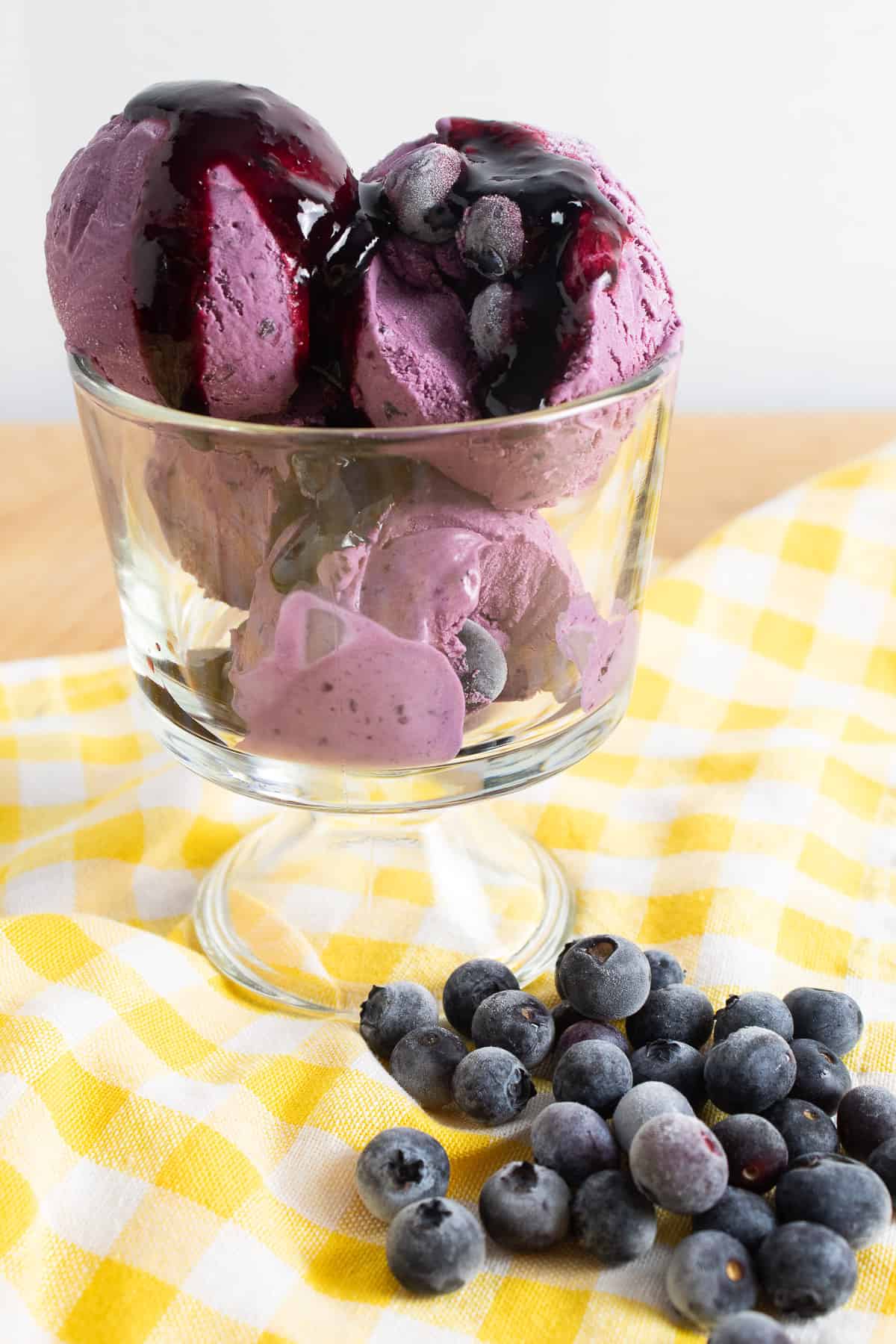 Equipment
I use a 1.5-quart capacity ice cream maker for this recipe. As you can see in the photos above, this recipe needs every bit of that volume!
A 9-inch loaf pan holds the frozen blueberry ice cream well, but for longer term storage an airtight and freezer-safe container will help preserve the flavor better.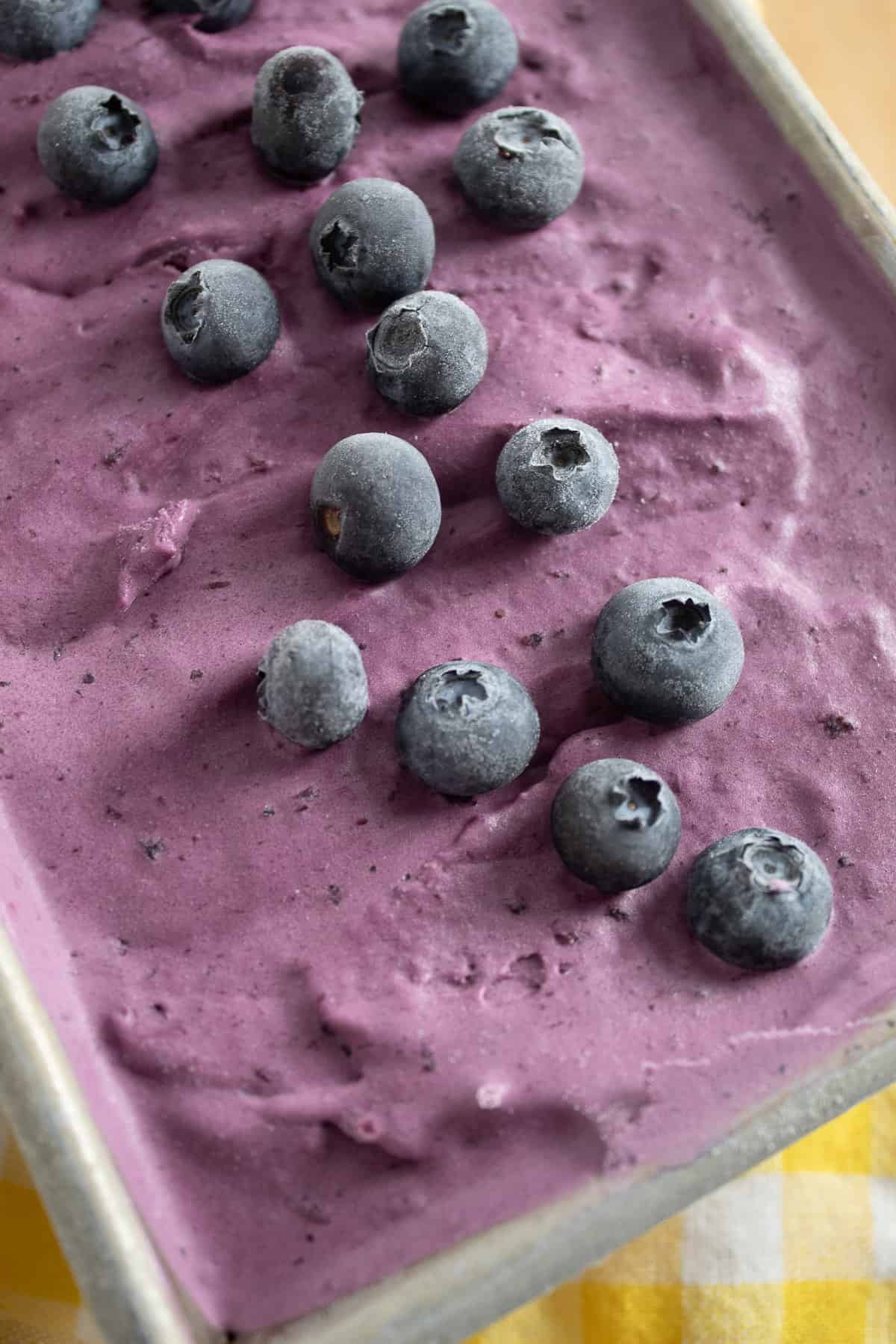 Top tip
Don't rush the churning step in the preparation of this 3 ingredient ice cream. Proper churning incorporates air and improves the texture of the final ice cream.
FAQ
How do you prevent ice crystals from forming in the ice cream?
Two things will help prevent your ice cream from turning icy: proper churning and storage. Make sure the ice cream is soft-serve texture before transferring it to the freezer so that it is well blended and light in texture form incorporated air. Store it in an airtight container to prevent freezer burn and don't let the ice cream melt between dishing it up and placing it back in the freezer.
How long can you store blueberry ice cream?
Store the ice cream in an airtight container in the freezer for up to one month for best flavor quality.
How long does it take to make blueberry ice cream?
Preparing the berries and gathering the other ingredients is done in less than 10 minutes. The majority of the time for making the ice cream is spent in chilling the mix and freezing the ice cream, about 12 hours in all. Don't forget to account for any time needed to pre-freeze your ice cream maker insert!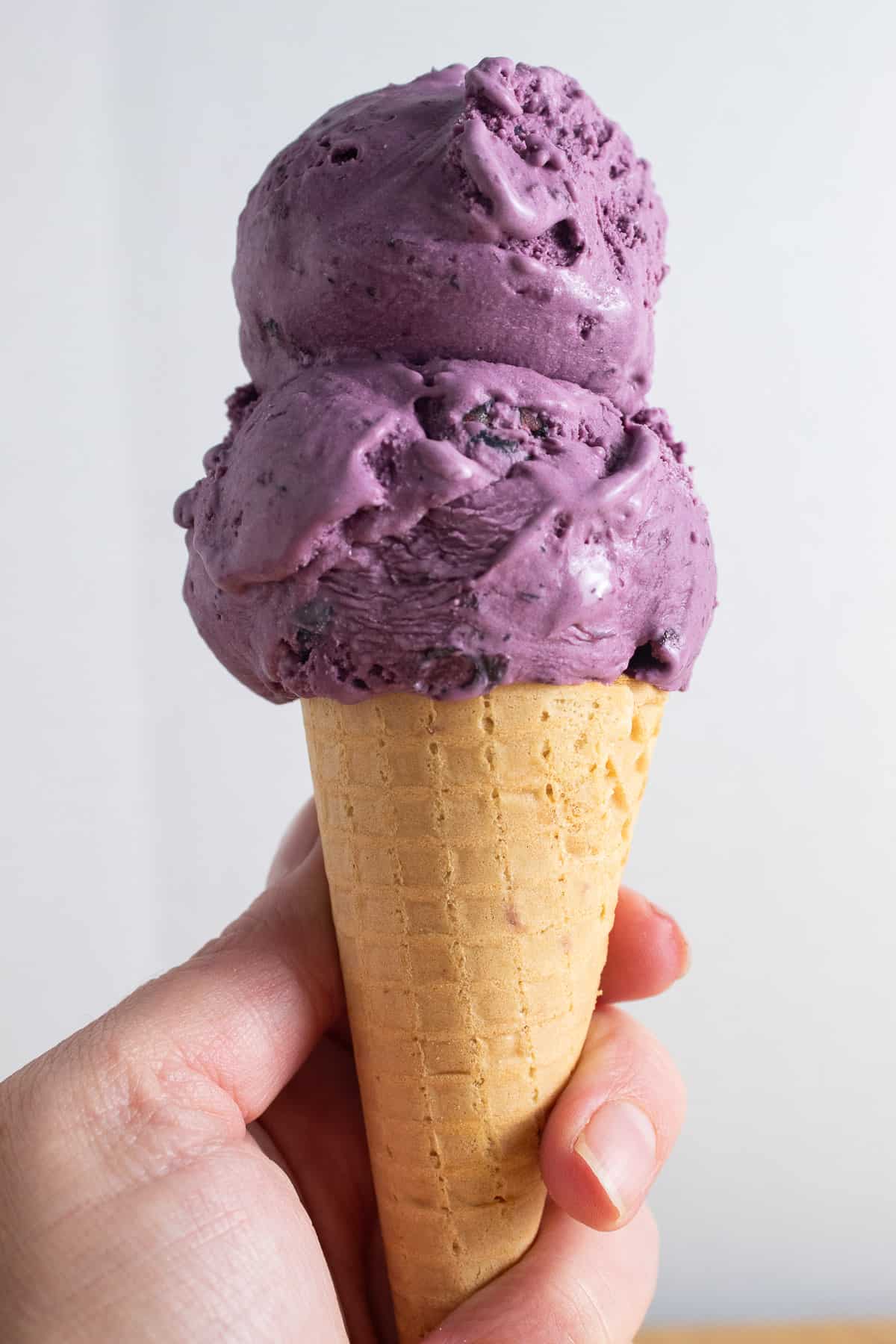 Related Recipes
For other delicious berry-focused recipes, try one of these options:
Pairing
Pair this blueberry ice cream with the recipes below for a delicious dinner party packed with fresh and seasonal fruits and vegetables:
Try It and Share
Make this blueberry ice cream and share the recipe with family or friends after an ice cream social. I want to see your results! Tag your photo with #planeatpostrepeat and mention me @planeatpostrepeat on Instagram or Facebook. I can give you a virtual high five and thank you for cooking one of my recipes! Comment below with any questions and please leave a review so others can find this recipe more easily.
Recipe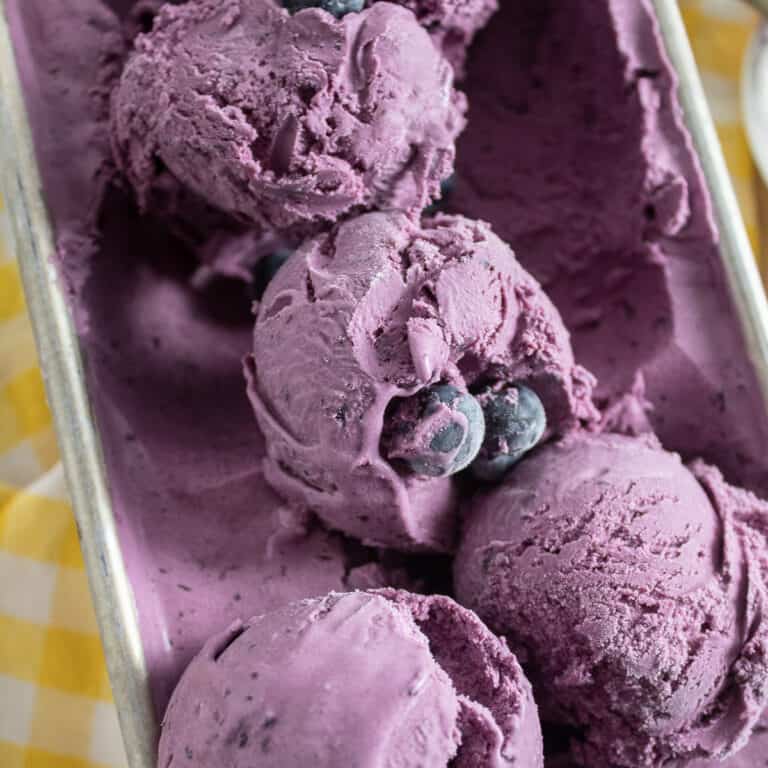 The Best 3 Ingredient Blueberry Ice Cream
With just 3 ingredients you can make a blueberry ice cream with gorgeous color and rich blueberry flavor.
Equipment
1 ice cream maker

1.5-qt capacity
Ingredients
2

cups

blueberries

(about 12 ounces)

2

cups

heavy whipping cream

14

oz.

sweetened condensed milk

1

teaspoon

vanilla extract

(optional)
Instructions
Make sure your ice cream churning insert is frozen for at least 12 hours before starting the recipe.

Blend the blueberries in a blender or food processor, pulsing so that they are not completely smooth, but chopped in small pieces.

Transfer all of the blueberries to a saucepan and heat them over medium-high heat. Cook, stirring occasionally, for 5 minutes. Remove the blueberries from the heat and stir in the optional vanilla extract.

Transfer the cooked blueberries to a medium bowl. Stir in the heavy cream and the sweetened condensed milk.

Cover the mixture with plastic wrap, pressing it lightly to the surface of the mixture to prevent a dried layer forming on top.

Refrigerate the mixture for 4 hours in the refrigerator or 1 hour in the freezer.

Churn according to your ice cream maker's directions. Transfer the ice cream to a loaf pan and freeze for an additional 8 hours or overnight.
Nutrition facts are sometimes provided below and are calculated using an online calculator. With specific brands of ingredients and additions, omissions, or substitutions the nutrition facts may change. We encourage you to use your own nutrition facts caculator to obtain the most accurate nutrition facts for your meal.
Nutrition Facts
Calories:
384
kcal
Carbohydrates:
34
g
Protein:
6
g
Fat:
26
g
Saturated Fat:
16
g
Polyunsaturated Fat:
1
g
Monounsaturated Fat:
7
g
Cholesterol:
84
mg
Sodium:
79
mg
Potassium:
270
mg
Fiber:
1
g
Sugar:
32
g
Vitamin A:
1027
IU
Vitamin C:
5
mg
Calcium:
182
mg
Iron:
0.3
mg