This stunner of a salad combines juicy peaches, creamy burrata, peppery arugula, grilled zucchini, and a simple pesto salad dressing for a perfect side dish. Make this grilled peach and burrata salad at the peak of summer!
There is about a month in the middle of summer where all of these ingredients are available at our local farmer's market, and you'd better believe I take advantage! The combination of flavors here is just off-the-charts delicious.
When peaches are in season, I like to use them in every way possible. Try Fresh Peach Trifle with Angel Food Croutons and Rosemary Syrup for a delicious dessert! And if you want to start with happy hour drinks, make a batch of Stone Fruit Sangria.
Jump to:
Ingredients
These ingredients will be easy to find at your supermarket, but take advantage if you have a local farmers market and buy the best in-season produce for an extra special salad.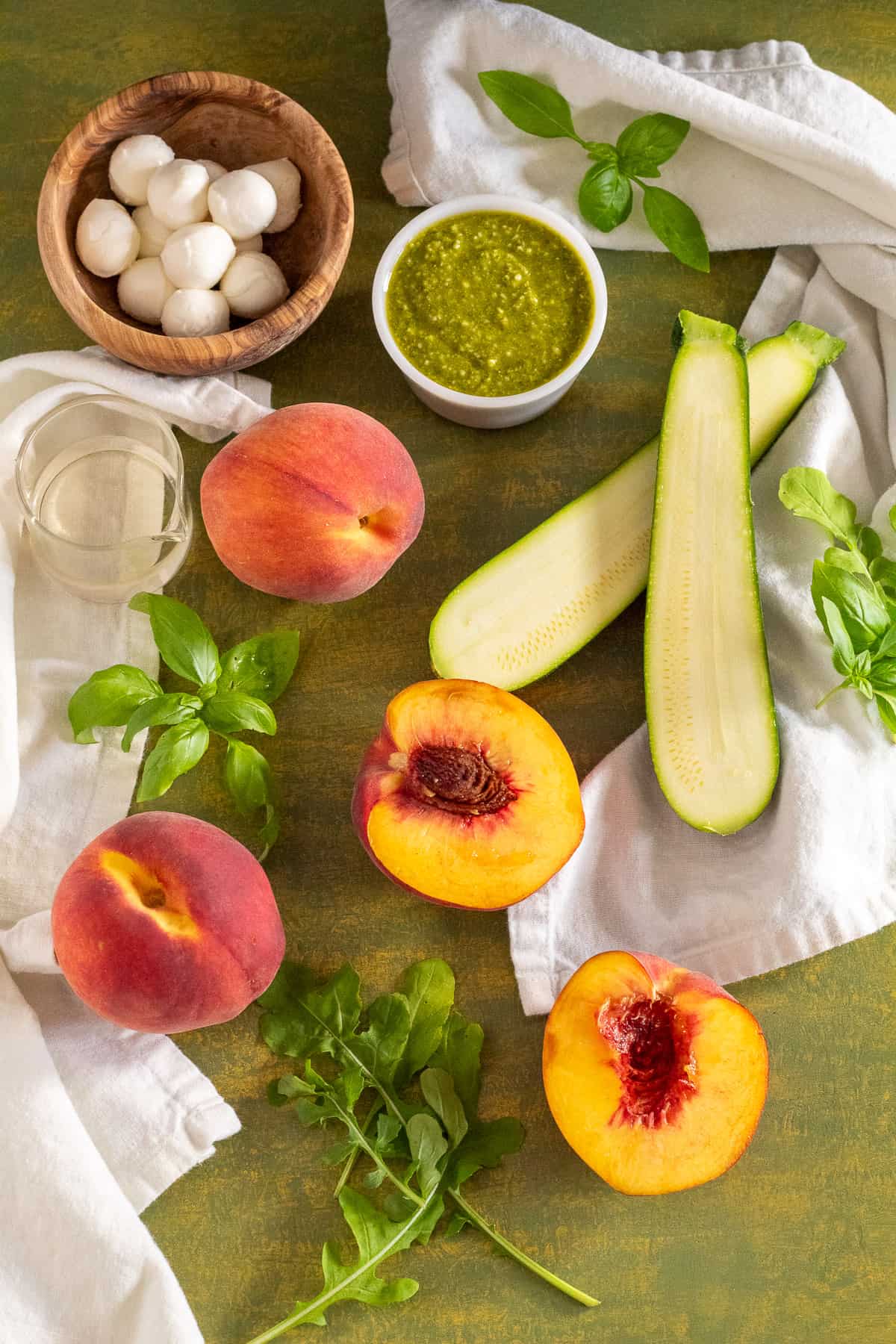 I include ingredient notes here when I think they'll be helpful, including ways to source, any preparation tips, or why I've chosen a particular ingredient. Be sure to check out the recipe card below for the full list of ingredients and their quantities!
Peaches - Choose peaches or nectarines for this salad that are just shy of ripe so that they grill up juicy and sweet but aren't too soft and mushy when cooked.
Zucchini - Once mid-summer hits, there is no doubt a neighbor is trying to give up a bit of their zucchini abundance. My advice? Take it! Paired with the other ingredients, that zucchini will get a big flavor boost. Invite that neighbor over for dinner and enjoy it together!
Burrata Cheese - Burrata is a mozzarella shell that surrounds a mixture of soft pieces of mozzarella and cream and has a mild and fresh milky flavor. Fresh mozzarella balls can also be used in place of the burrata.
Arugula - This peppery green is a great compliment to the fresh burrata and sweet grilled peaches. Trim any long stems (they can be tough) and give it a good rinse and dry before building the salad.
Fresh Basil - Adding some torn leaves of fresh basil will give a welcome burst of basil flavor to the salad. Store your fresh basil in a jar with water on your countertop like you would fresh flowers.
Prepared Pesto - You can most certainly make your own fresh basil pesto for this recipe, but I find a good quality jarred pesto to be a great time saver. I love the one form Costco and the Trader Joe's option is great, too.
White Balsamic Vinegar - The sweetness of this vinegar is perfect to match the salty pesto. Choose a white balsamic (available at Trader Joe's) to keep the pesto salad dressing a bright green color.
Grill the Peaches and Zucchini
The peaches and zucchini need to be cut up in wedges to maximize surface area for grilling, but make sure you keep them big enough that they don't fall through the grates.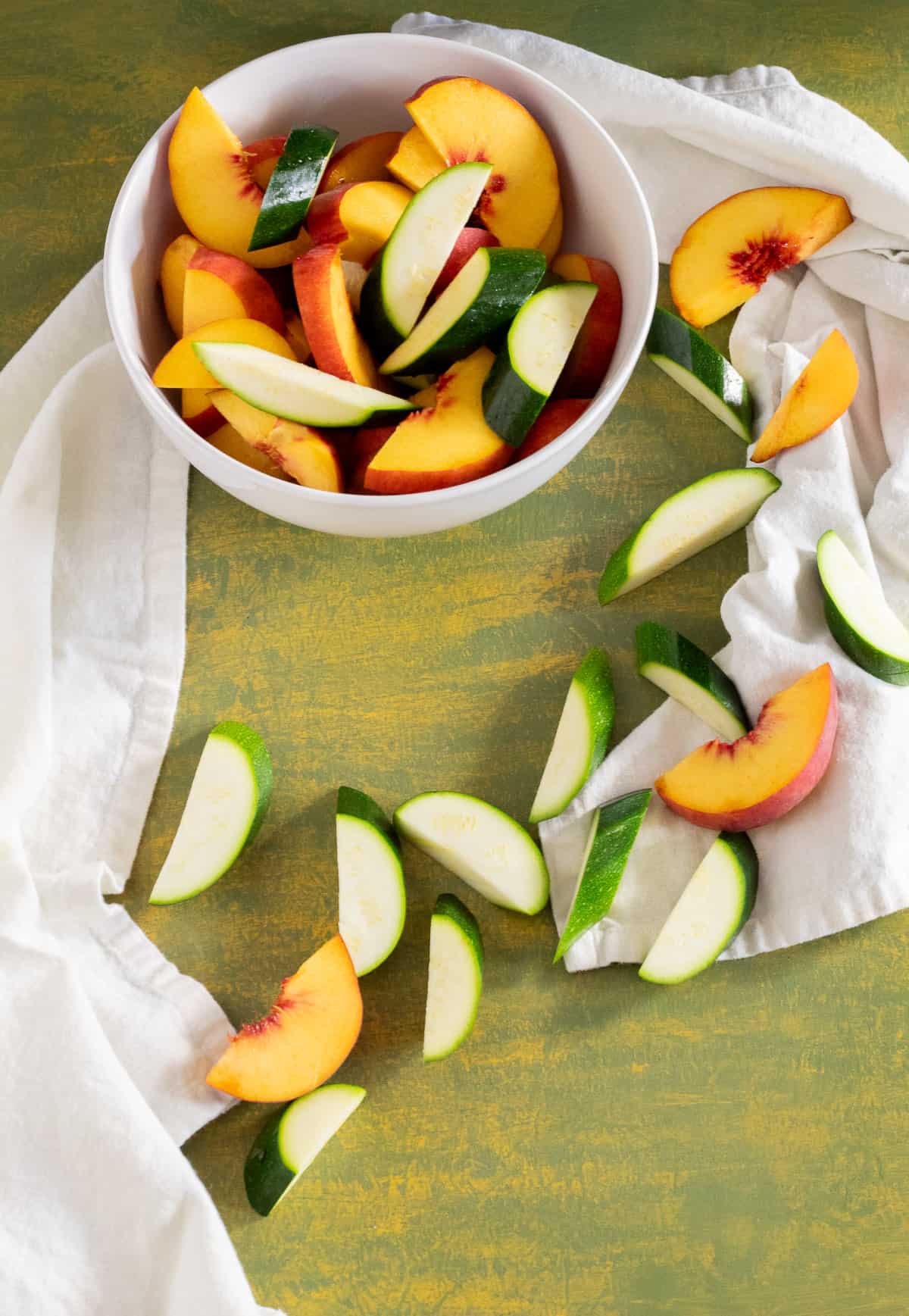 Preheat your grill on high heat. Toss the peach and zucchini slices with the olive oil and season them with salt and pepper. Grill for 3 minutes per side and then transfer them to a bowl to cool a bit before arranging the salad.
Prepare the Pesto Salad Dressing
This is the easiest step! Simply whisk together the prepared pesto with the balsamic vinegar. Adjust the flavors as desired by adding more vinegar, salt, pepper, or olive oil.
Assemble the Salad
This is a composed salad, built in layers but not tossed together before serving. Choose whether you want to build the salad on a large platter for family-style presentation or on individual plates.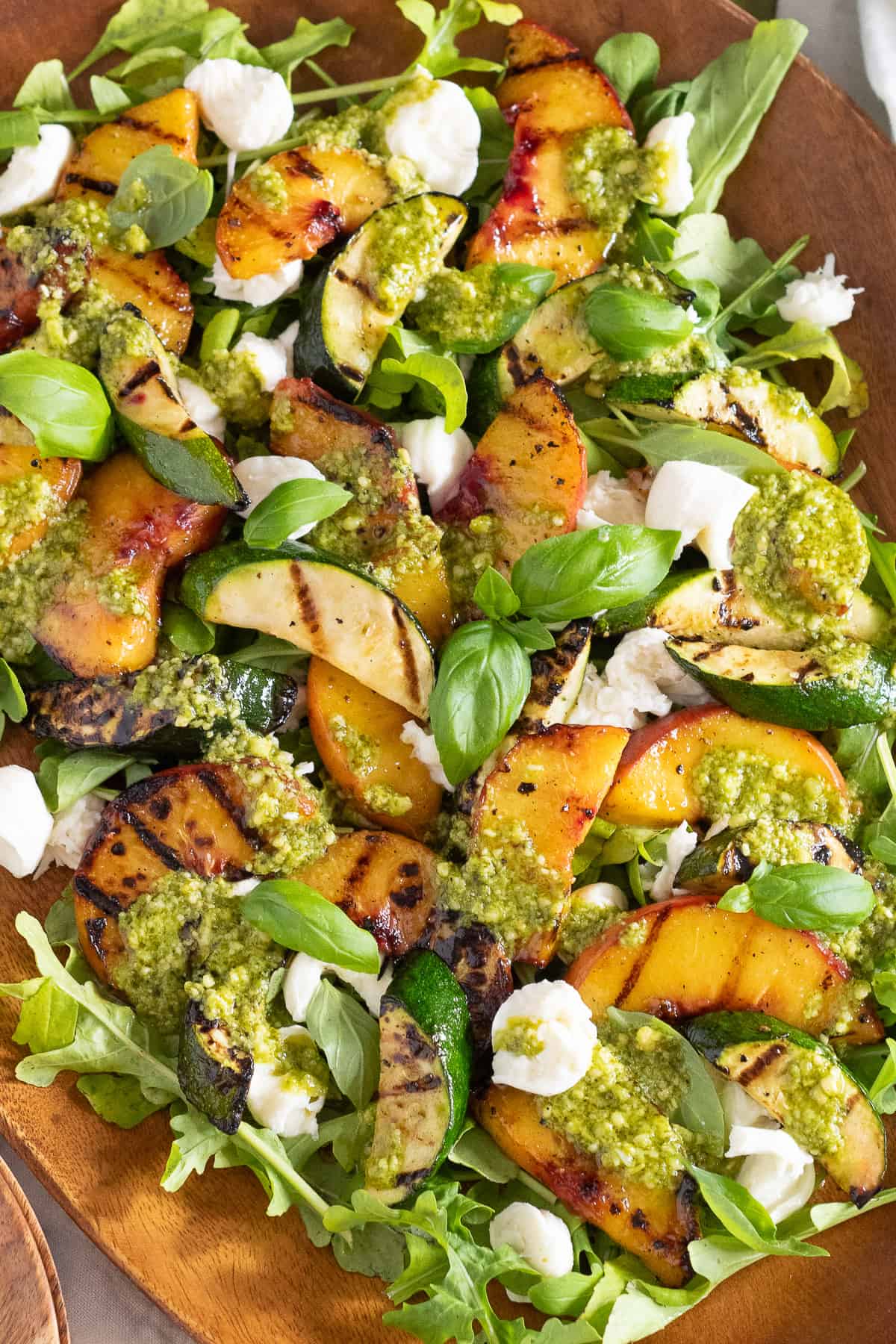 Lay a bed of the arugula on your serving platter or plate. Open up the ball of burrata and tear away sections of the firm mozzarella shell and the soft creamy center. Nestle them in the arugula.
For the salad pictured here, I used balls of fresh mozzarella and broke them up into bite-sized pieces.
Distribute the grilled peaches and zucchini evenly around the platter or plates. Spoon the pesto salad dressing over the salad and top with fresh basil leaves.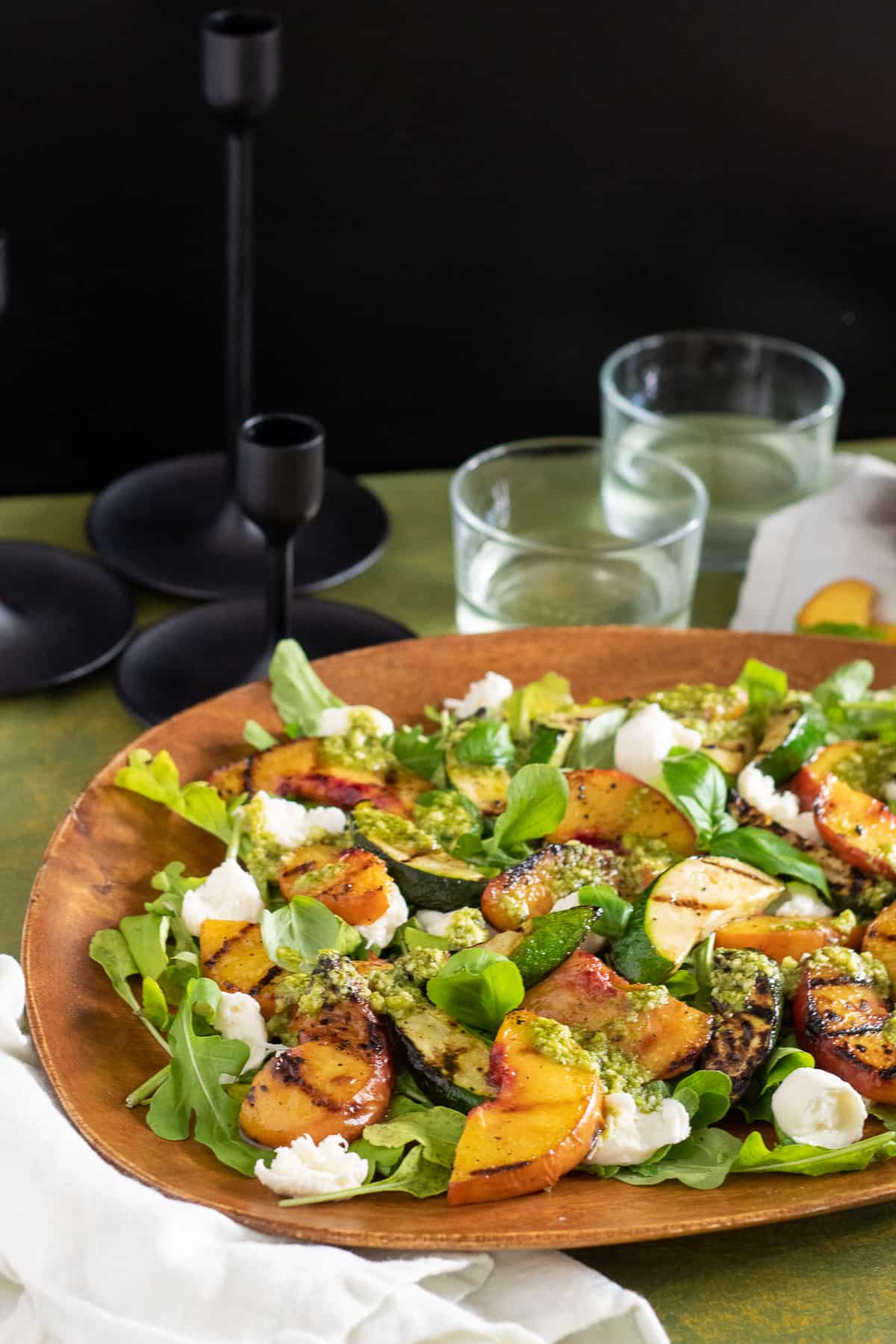 Substitutions and Variations
This salad is made so much better with in-season produce, so make some substitutions if peaches and arugula aren't available. Feel free to add ingredients, too! I like to say that if they are being offered at the farmers market at the same time, they probably go together.
Add grilled corn or toasted nuts - Grilled corn or toasted nuts (buttery pine nuts would be amazing) will add a delicious crunch and extra layer of flavor to this salad.
Swap the cheese - Instead of burrata or mozzarella, use goat cheese, feta, or grilled halloumi cheese.
Change the greens - Choose another green or lettuce that can hold up to the warm grilled peaches and zucchini like spinach, romaine, or radicchio.
Add grains - To bulk up the salad and make it a main dish, add cooked and cooled quinoa, couscous, or farro.
Serving Suggestions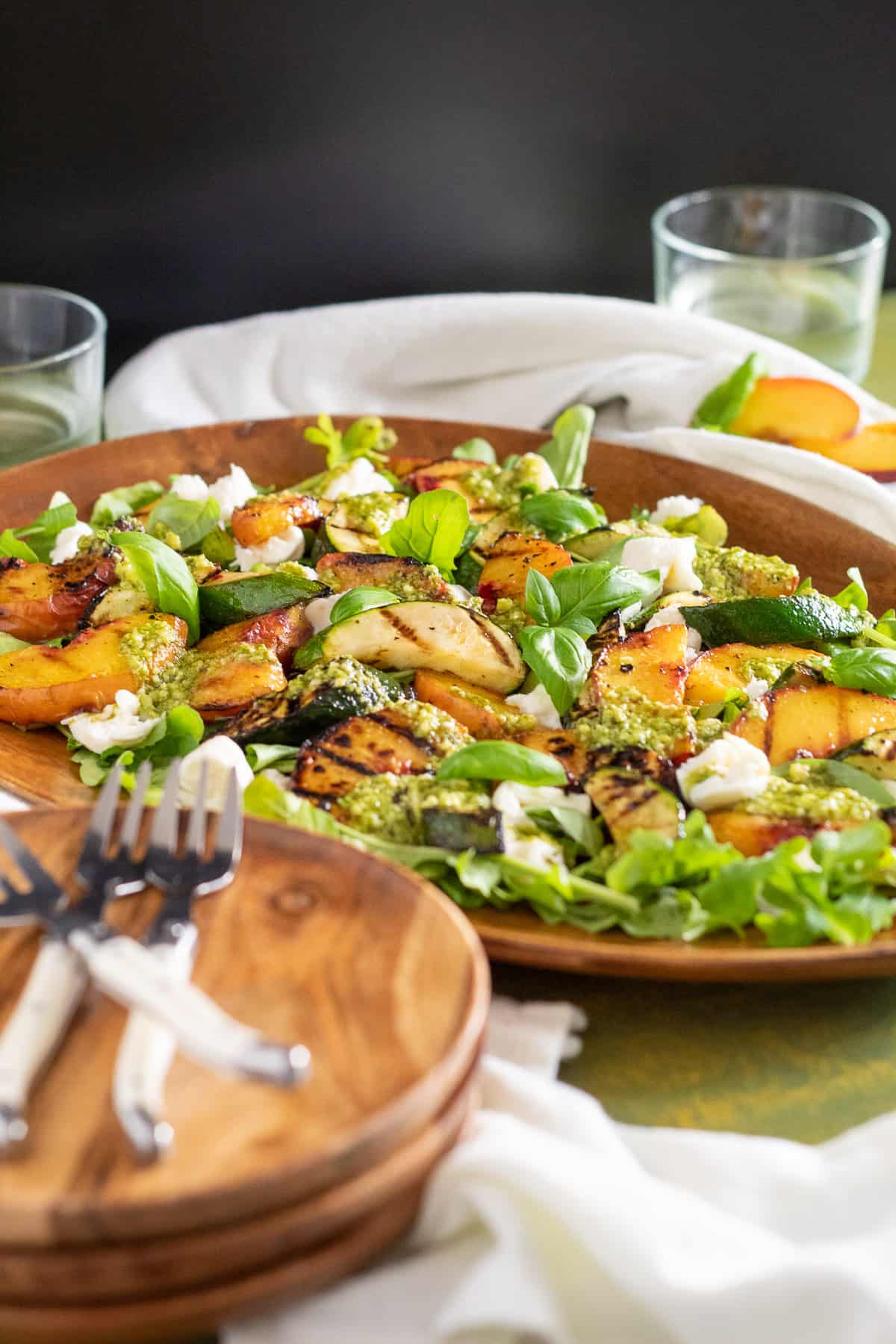 This Grilled Peach and Burrata Salad can totally work as a main dish with some grilled bread to swipe through the pesto salad dressing. I've added some bundles of prosciutto to the salad to round it out, and I always get lots of compliments with that version.
I also like it as a side with grilled chicken, steak, or shrimp. You are not gonna go wrong here. The peaches are sweet and smoky, the zucchini plays well with the pesto, it's just summer perfection.
Make-Ahead Options
This salad is best enjoyed right after preparation. If you'd like to get some prep out of the way, make the dressing, wash and dry the greens, and slice the peaches and zucchini the night before and store everything in the refrigerator.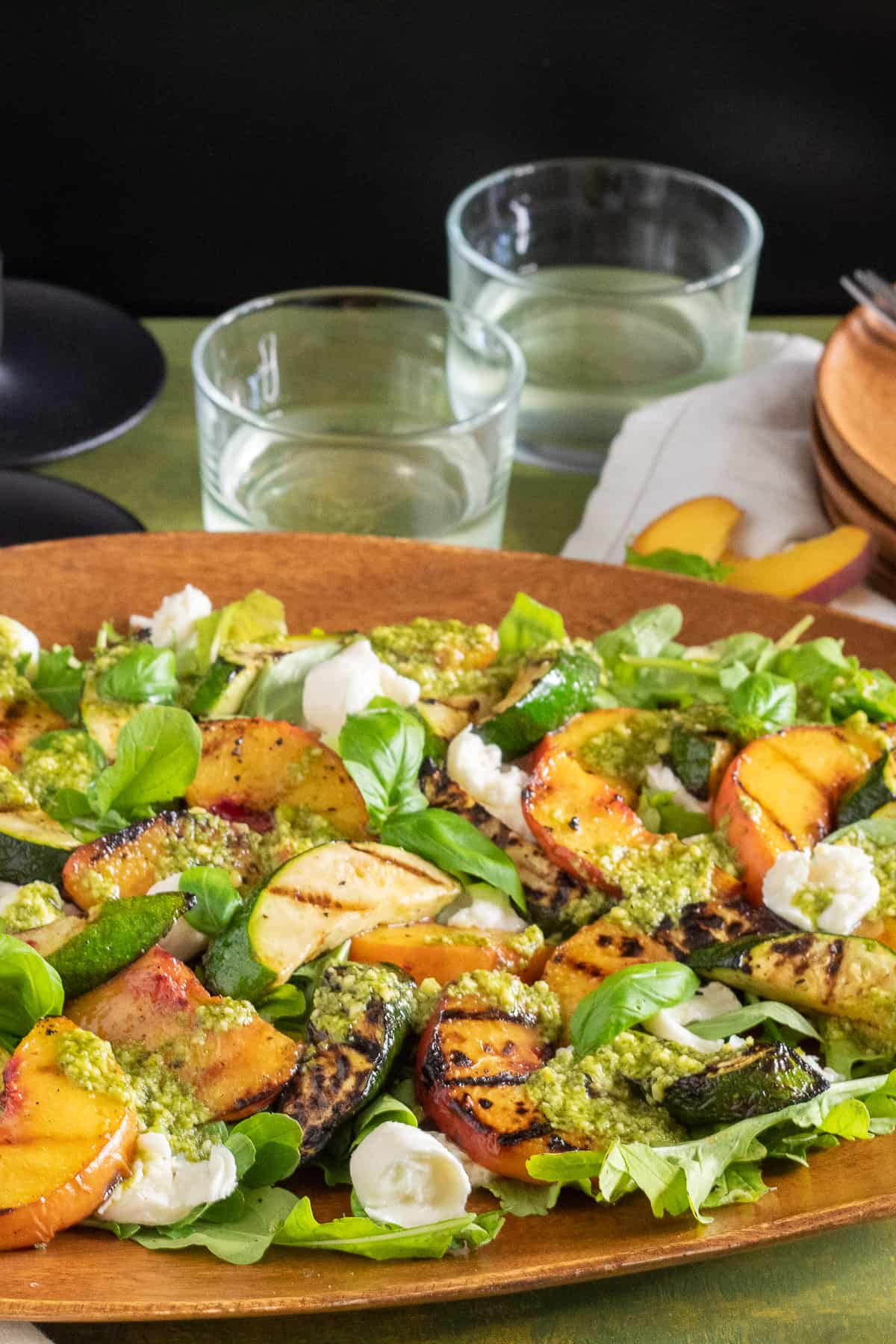 FAQ
How do you avoid mushy peaches when grilling them?
Choose peaches that are just under-ripe with a bit of give when you press on the flesh with a finger.
What proteins can you add to the salad to make it a complete meal?
Choose a hearty grain like quinoa, add in grilled chicken or shrimp, or plate the salad with prosciutto slices to add heft to the salad and make it more filling.
Can you grill the peaches and zucchini ahead of time?
The salad is best prepared straight off the grill, when the warm peaches and zucchini can contrast with the cool burrata or mozzarella.
Related Recipes
Try any of these recipes that highlight fresh in-season produce:
Try it and Share
I hope you try and *love* this Grilled Peach and Burrata Salad! I want to see your results! Tag your photo with #planeatpostrepeat and mention me @planeatpostrepeat on Instagram or Facebook. I can give you a virtual high five and thank you for cooking one of my recipes! Comment below with any questions and please leave a review so others can find this recipe more easily.
Recipe
Grilled Peach and Burrata Salad with Pesto Salad Dressing
Grilled peaches and zucchini pair up with creamy burrata and arugula for a peak summer salad accented with a simple pesto salad dressing.
Ingredients
Grilled Peach and Burrata Salad
1½

pounds

peaches

(just under ripe)

1

pound

zucchini

2

tablespoon

olive oil

½

teaspoon

kosher salt

¼

teaspoon

black pepper

4

cups

arugula

8

oz

burrata cheese

(or fresh mozzarella)

10

basil leaves

(for garnish)
Pesto Salad Dressing
6

tablespoon

prepared basil pesto

2

tablespoon

white balsamic vinegar
Instructions
Slice the peaches and zucchini into wedges large enough to not fall through the grates of your grill.

Preheat the grill on high heat for 5 minutes.

Toss the peach and zucchini slices with olive oil, salt, and pepper.

Grill the peaches and zucchini for 2-3 minutes per side.

Mix the basil pesto and balsamic vinegar in a small bowl. Tear the burrata or mozzarella into smaller bite-sized pieces.

On a large platter, lay a bed of arugula. Nestle the torn burrata or mozzarella into the arugula. Arrange the peach and zucchini pieces over the top. Dollop the pesto dressing over everything. Garnish with basil leaves and add salt and pepper as desired. Serve immediately.
Nutrition facts are sometimes provided below and are calculated using an online calculator. With specific brands of ingredients and additions, omissions, or substitutions the nutrition facts may change. We encourage you to use your own nutrition facts caculator to obtain the most accurate nutrition facts for your meal.
Nutrition Facts
Calories:
394
kcal
Carbohydrates:
25
g
Protein:
14
g
Fat:
30
g
Saturated Fat:
10
g
Polyunsaturated Fat:
1
g
Monounsaturated Fat:
5
g
Cholesterol:
42
mg
Sodium:
540
mg
Potassium:
591
mg
Fiber:
4
g
Sugar:
19
g
Vitamin A:
2160
IU
Vitamin C:
30
mg
Calcium:
398
mg
Iron:
2
mg