This Indonesian-inspired mild coconut curry has chunks of turkey (or chicken!) and potatoes, a deeply flavorful combination of spices, and a creamy coconut milk base. Using already cooked turkey means this dish is a great use of leftovers and comes together in a flash.
There are lots of flavorful ways to use up cooked turkey or chicken! Try this Chicken and Cabbage Salad with Hoisin Vinaigrette or a Quick Green Chile Chicken Soup with Beans for your next meal!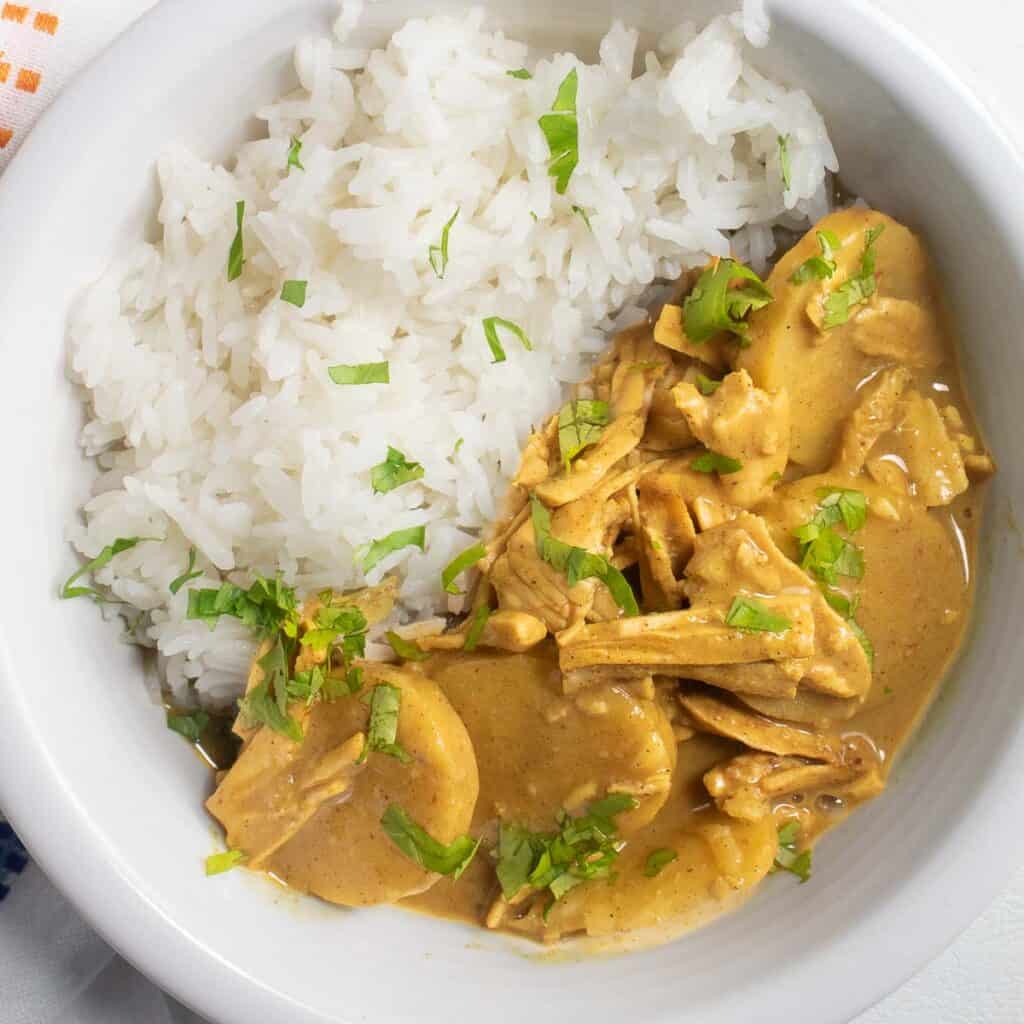 This curry recipe was born out of cravings for an Indonesian restaurant meal we used to enjoy when we lived in San Francisco. We would get a roti prata (also called roti canai) and dip it in this intensely fragrant, slightly sweet curry sauce and it was heaven. The roti was flaky but tender and the layers would soak up the curry in the best way. It took me many (many!) iterations to get the blend of spices to taste as close to that memory as possible, while keeping it to ingredients we can easily source.
Ingredients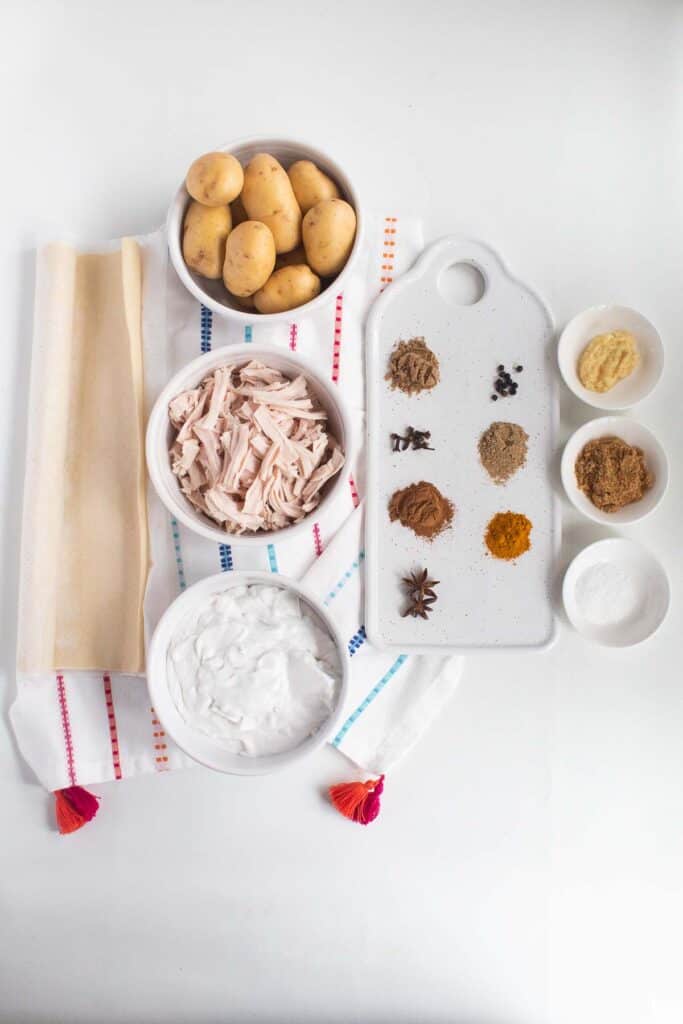 Ground and Whole Spices: A blend of coriander, cloves, cinnamon, star anise, peppercorn, cardamom, and turmeric combine for the aromatic curry powder.
Ginger and Garlic: Use either fresh ginger and garlic, grated on a microplane, or find a ginger-garlic paste at your local Asian market. Use four teaspoons of the ginger-garlic paste total if you can source it.
Neutral Oil: I use a vegetable oil for this recipe, but canola oil or corn oil will work as well.
Brown Sugar: This curry has a sweetness that works so well with the cinnamon, anise, and ginger. Brown sugar is my favorite option as it is closest to coconut or palm sugars that would typically be used in these curries.
Chicken Stock or Broth: Just a bit of stock will help blend the spices, salt, and sugar together.
Coconut Milk: Use a full-fat coconut milk for the best texture and flavor.
Waxy Potatoes: Use fingerling, Dutch yellow, or red potatoes so that they don't turn mushy in the curry.
Shredded Turkey or Chicken: Using leftover turkey is a shortcut of convenience and makes a great use of bland turkey breast meat. The curry keeps it moist!
Puff Pastry or Rice: You can serve this curry over rice or along with a puff pastry crust baked right on top. The puff pastry isn't at all like the roti texture, but it's still delicious dipped in the curry sauce.
Prepare the Mild Curry Powder
Most of these spices are found at any regular supermarket, but look for them at your local Asian market as well. I have a small coffee grinder that is dedicated to spice grinding. You'd have some odd tasting coffee if you used your grinder for both coffee and spices!
Add all of the spices to the grinder (even the ground ones) and grind until everything is a smooth and a fine powder. Use a pastry brush to help transfer the curry powder to a small bowl.
Cook the Curry
Start by heating the oil over medium-low heat in a Dutch oven or a skillet with high sides. We are keeping the heat low for now so that we don't burn the spices.
Add the curry powder and cook, stirring constantly, for 30 seconds. This will toast the spices and let their flavors bloom. Add the ginger, garlic, stock or broth, salt, and brown sugar. Cook for another minute or so until everything is dissolved and the curry paste is fragrant.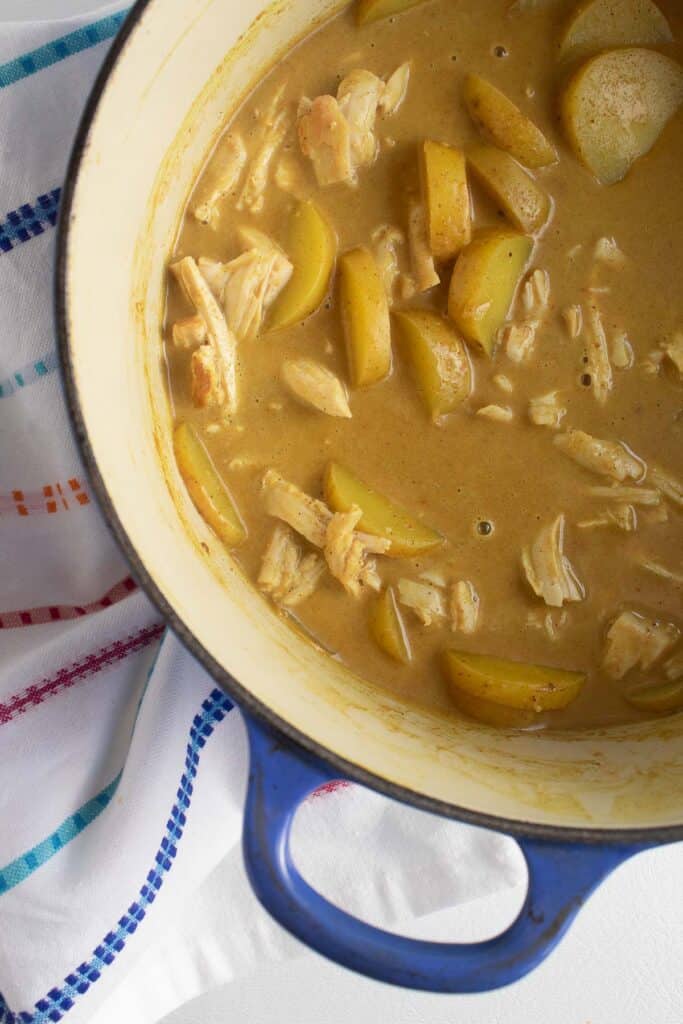 Add in the potatoes and the coconut milk. Bring the mixture to a boil and then reduce the heat to a slow simmer. Cook the curry and potatoes for 7-10 minutes, until the potatoes are tender. Stir in the turkey meat and heat it through.
Serving the Curry Over Rice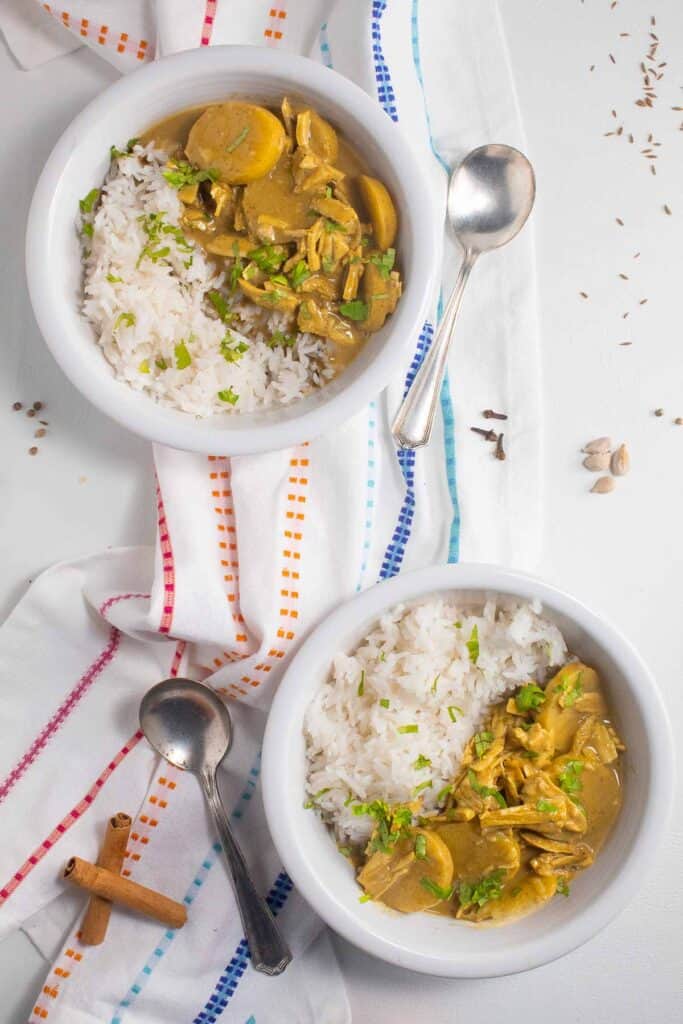 For the speediest meal, serve the curry over rice with some cilantro sprinkled over the top. You can store any additional leftovers for another day, but remember that you started with leftover turkey to begin with, so the shelf life is significantly reduced.
Serving the Curry with Puff Pastry
To come a little closer to that restaurant experience we were trying to replicate, I've served this curry with a layer of puff pastry over the top. If you'd like to try it, preheat your oven to 425F. Thaw a sheet of puff pastry and cut it into four rectangles. Ladle the curry into ovenproof bowls and drape a rectangle of puff pastry over each one. Move the bowls to a sheet pan for easy transfer in and out of the oven. Bake for 20-25 minutes, until the pastry is golden brown.
Serve these and encourage your diners to tear off a piece of the crust and dip it in the mild coconut curry sauce. It's nothing like a roti prata, but it's still delicious!
Try It and Share
I hope you try this Mild Coconut Curry with Turkey and Potatoes and share the recipe with family or friends. I want to see your results! Tag your photo with #planeatpostrepeat and mention me @planeatpostrepeat on Instagram or Facebook. I can give you a virtual high five and thank you for cooking one of my recipes! Comment below with any questions and please leave a review so others can find this recipe more easily.
Recipe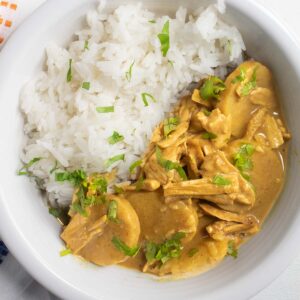 Mild Coconut Curry with Turkey and Potatoes
This Indonesian-inspired mild coconut curry with chunks of turkey and potatoes is boldly flavored yet mild enough for picky eaters to enjoy.
Ingredients
Curry Powder
1

teaspoon

coriander, ground

1

teaspoon

cinnamon, ground

½

teaspoon

cardamom, ground

½

teaspoon

turmeric, ground

8

whole

cloves

2

whole

star anise

12

whole

peppercorn
Curry
2

tablespoon

neutral oil

(corn, vegetable, or canola)

2

teaspoon

grated garlic

2

teaspoon

grated ginger

½

cup

chicken stock or water

¾

teaspoon

kosher salt

1

tablespoon

brown sugar

1

14-oz. can

coconut milk

12

oz.

waxy potatoes, sliced in ¼-inch rounds

2

cup

shredded turkey or chicken

cooked rice or 9 oz. puff pastry

(for serving)

cilantro leaves, chopped

(for garnish)
Instructions
Grind the spices for the curry powder together in a small spice grinder.

Heat the oil over medium-low heat in a Dutch oven or a large skillet with raised sides.

Add the curry powder and toast for 30 seconds, stirring constantly.

Add in the ginger, garlic, stock, salt, and sugar. Stir to combine and cook for another minute.

Add in the coconut milk and the potatoes. Bring the mixture to a boil and then reduce the heat to maintain a low simmer. Cook for 7-10 minutes, until the potatoes are tender.

Stir in the turkey or chicken, warming through.

Serve alongside rice with a sprinkling of fresh cilantro.

If you'd like to serve the curry with puff pastry, ladle it into individual serving bowls and cover it with a quarter sheet of puff pastry. Bake at 425°F for 20-25 minutes, or until golden brown.
Nutrition facts are sometimes provided below and are calculated using an online calculator. With specific brands of ingredients and additions, omissions, or substitutions the nutrition facts may change. We encourage you to use your own nutrition facts caculator to obtain the most accurate nutrition facts for your meal.