Big flavor gets to the table quickly with this delicious roasted red pepper chicken skillet dinner. Tender chunks of chicken are bathed in a vibrant and rich roasted red pepper sauce and placed on a bed of pearl couscous. Sprinkle over some cucumber, olives, feta, and parsley and a gorgeous meal is ready!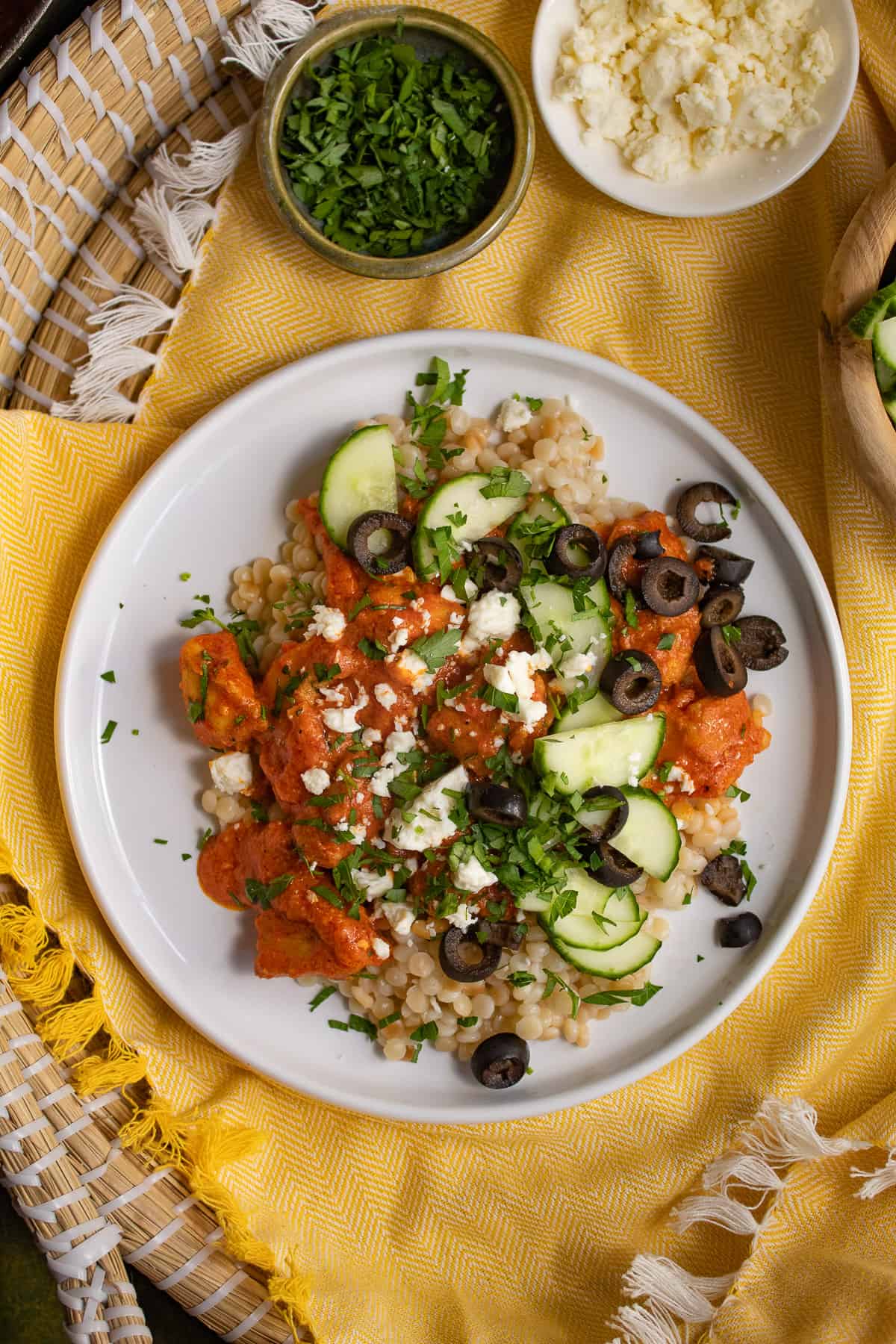 A sauté of tender chicken thighs is a great base for a quick dinner, but defaulting to chicken most nights can get boring really quickly. That's where this roasted red pepper sauce comes in. It is loaded with peppers, feta cheese, and smoked paprika to really turn up the flavor on those basic chicken thighs.
Adding a flavorful sauce is a great tip for turning chicken from so-so to something special. This Sheet Pan Peanut Chicken has a peanut sauce packed with curry and aromatics; add it to your rotation soon! For another skillet meal with a flavor-boosting sauce, try this Cashew Nut Mango or this Chicken Pomodoro next!
Jump to:
Ingredients
Gather up the ingredients below and get started on this quick-prep meal!
I include ingredient notes here when I think they'll be helpful, including ways to source, any preparation tips, or why I've chosen a particular ingredient. Be sure to check out the recipe card below for the full list of ingredients and their quantities!
Pearl Couscous - Also known as Israeli couscous, these small spheres are actually a type of pasta. The couscous can be toasted before cooking to give it a nutty flavor. I find mine at Trader Joe's as well as our regular supermarket. Different varieties have different cooking instructions, so follow the cooking directions on whichever brand you purchase.
Chicken Thighs - I'll always opt for thighs over chicken breast. The little bit of extra fat in there ensures you have tender chunks of chicken and nothing dries out. Trim off the visible fat from the thighs before cutting them up into bite-sized chunks.
Roasted Red Peppers - I keep these on hand for a variety of recipes. They are simply roasted red bell peppers with the blistered skin removed. They are not spicy and give a bright and smoky flavor to the dish. The quantity in the recipe card below is the drained weight of the peppers, so check the jar to ensure you are using the correct amount.
Feta Cheese - This cheese is packed with a tangy and bright flavor. You can purchase feta cheese in blocks or crumbled in tubs. Feta cheese is also sold packed in brine.
Smoked Paprika - This spice is smoked and dried red bell peppers that are ground to a powder. It is loaded with strong smoky flavor but very mild spice. We are big fans in this household, but if you are using it for the first time start with half the quantity to make sure it's not too strong for your tastes.
Preparing the Sauce
First things first: cook your couscous according to package directions and set it to the side. Keep it covered to stay warm while you cook the rest of the recipe. The sauce comes next and it whips up easily in a mini food processor or a blender.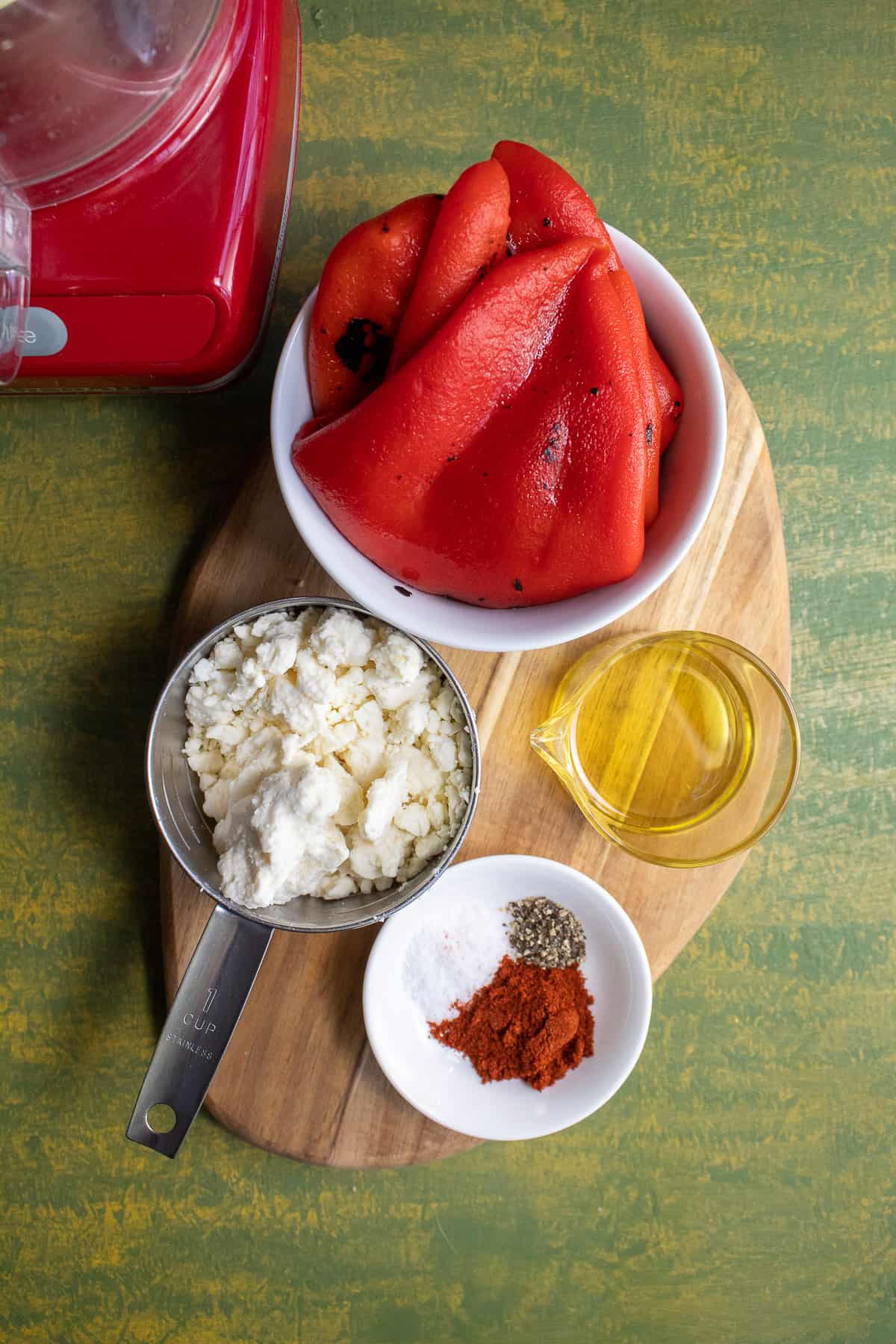 Gather the roasted red peppers, ¾ of the feta, one tablespoon of olive oil, half of the smoked paprika, salt, and pepper.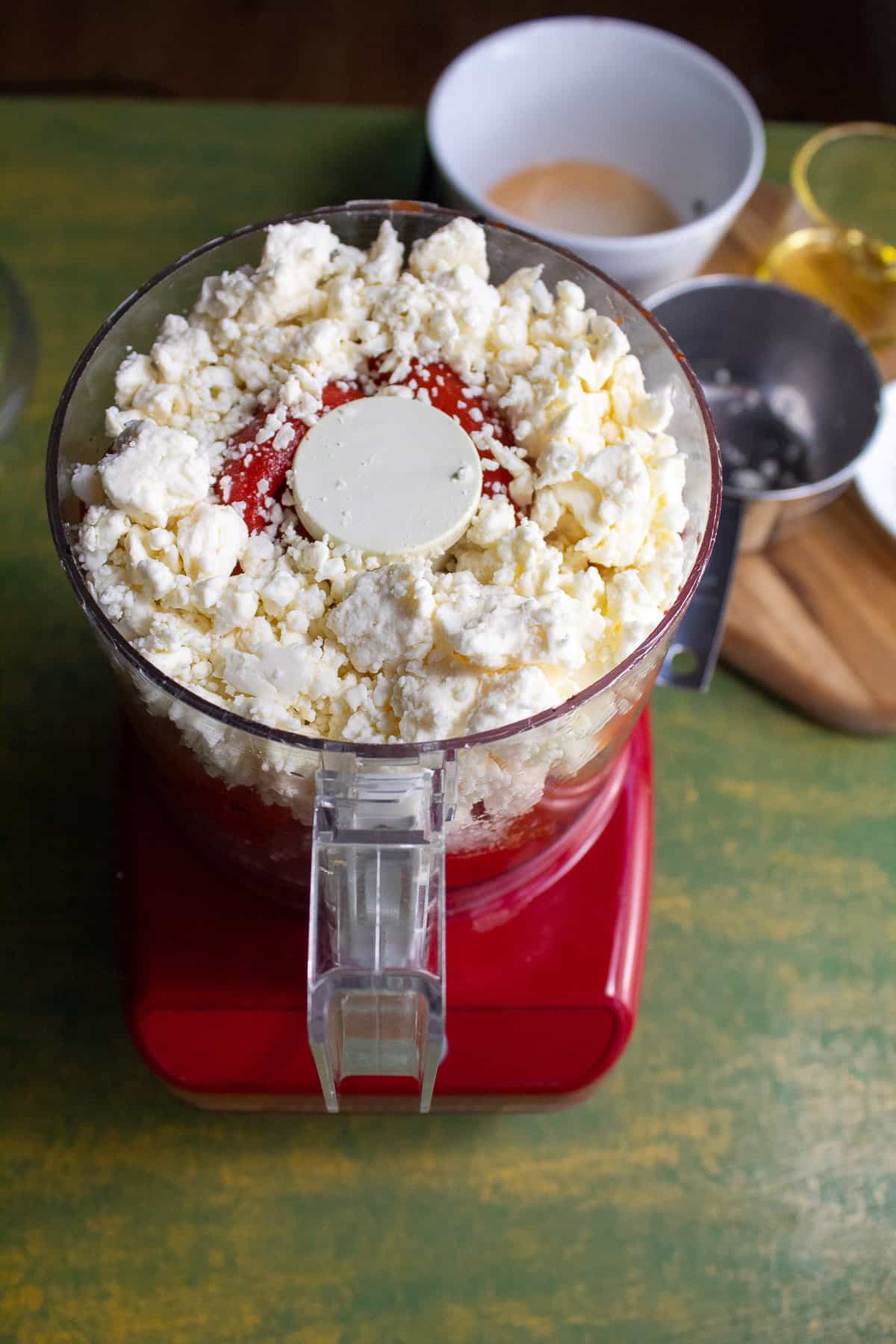 Add everything to the bowl of the food processor or the blender pitcher and blend until smooth.
The sauce is ready, just like that! It is mostly smooth, with small bits of peppers and feta cheese scattered throughout. I wouldn't blame you if you just stopped here and ate this with crackers.
If you love the taste of roasted red peppers, you should try this hefty vegetarian Crispy Halloumi Lentil Salad next. Roasted red peppers are featured in the dressing and it's a delicious way to use up extra jarred peppers.
Cook the Chicken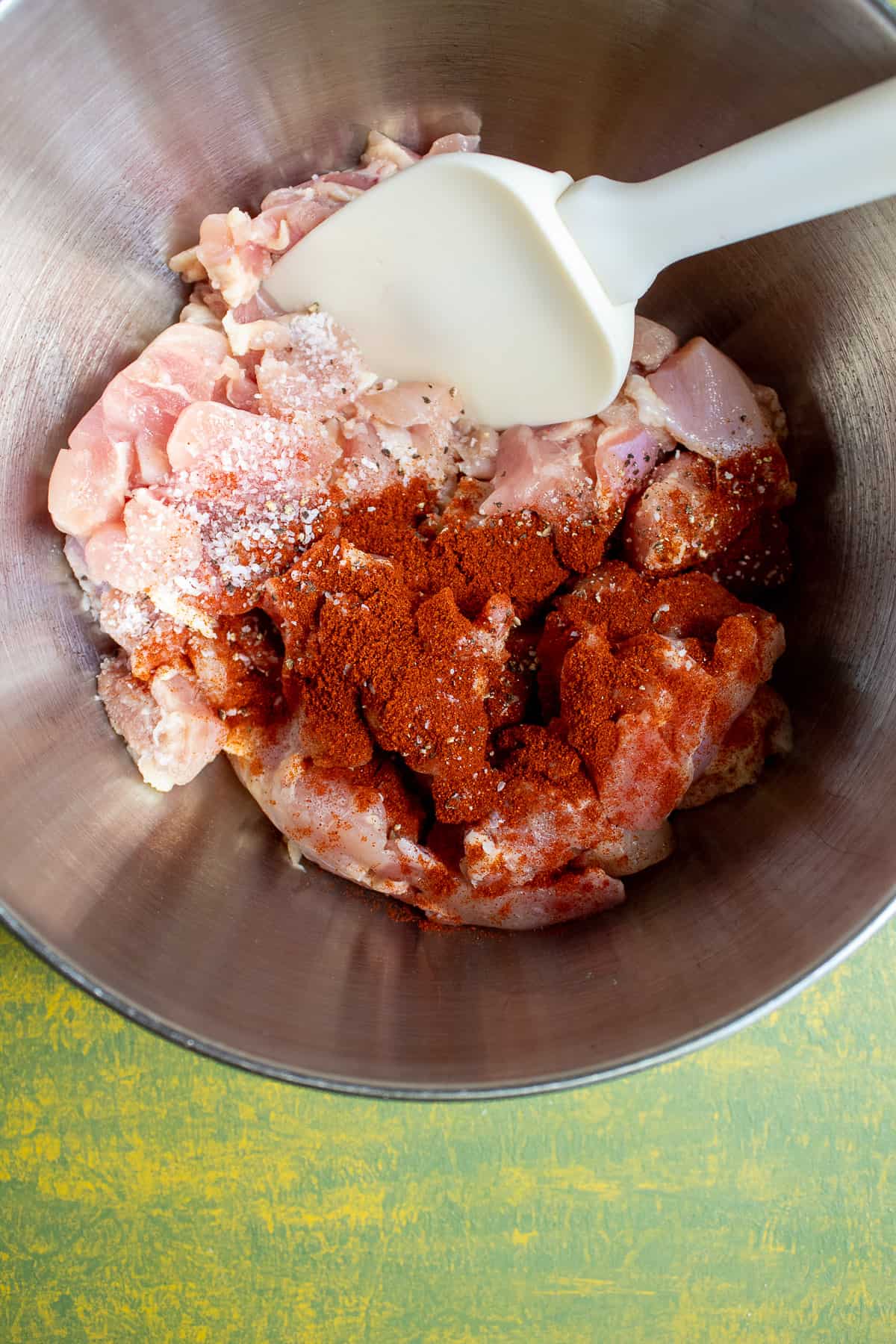 Combine the remaining paprika, salt, and pepper and sprinkle it over the chicken in a mixing bowl. Toss to coat the chicken with the mixture.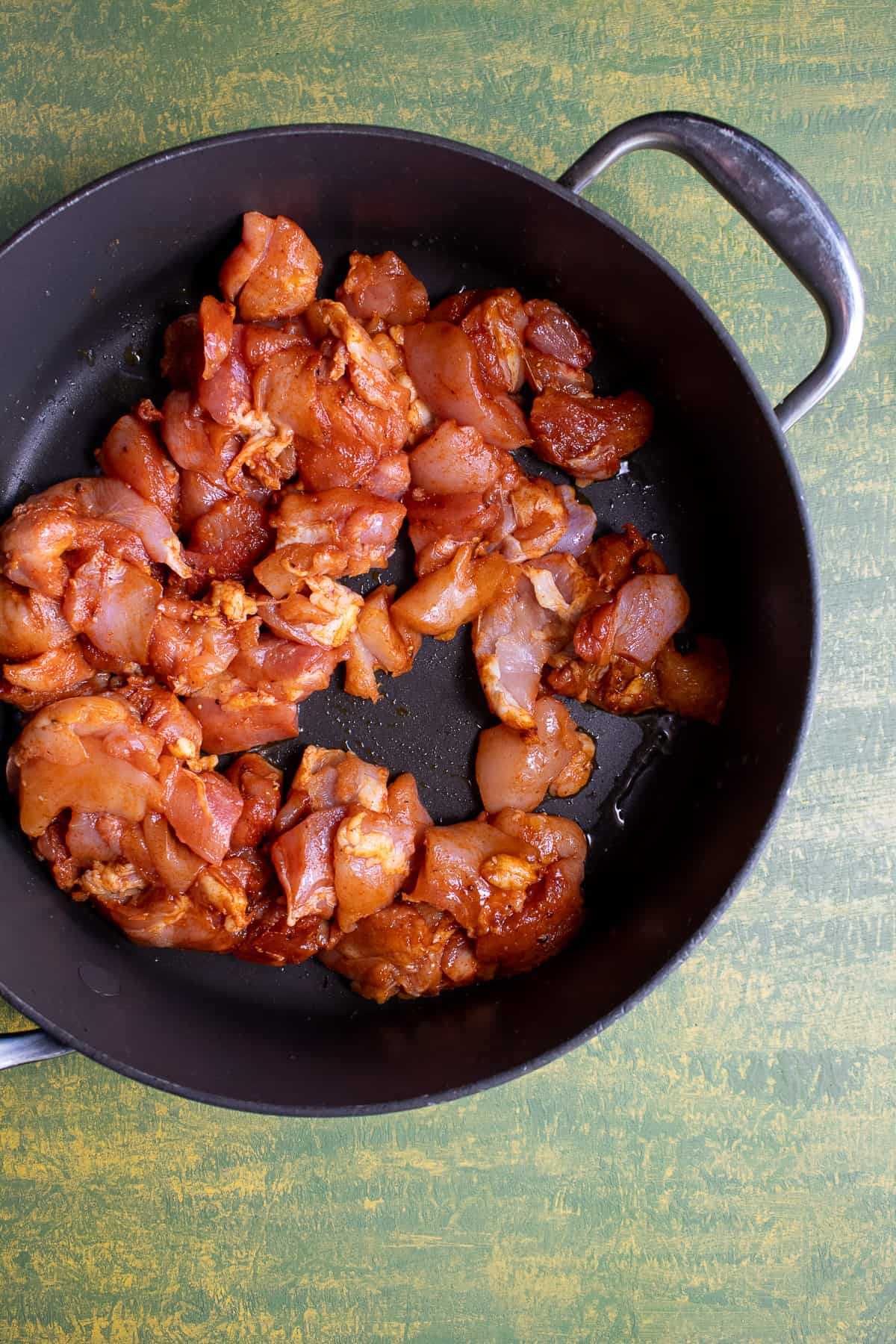 Heat your skillet over high heat and add one tablespoon of oil. Cook the chicken for 4-5 minutes, until browned and cooked through.
If you have kiddos that don't like sauce, pull a serving of chicken out of the skillet at this point. It still has great flavor with the smoked paprika!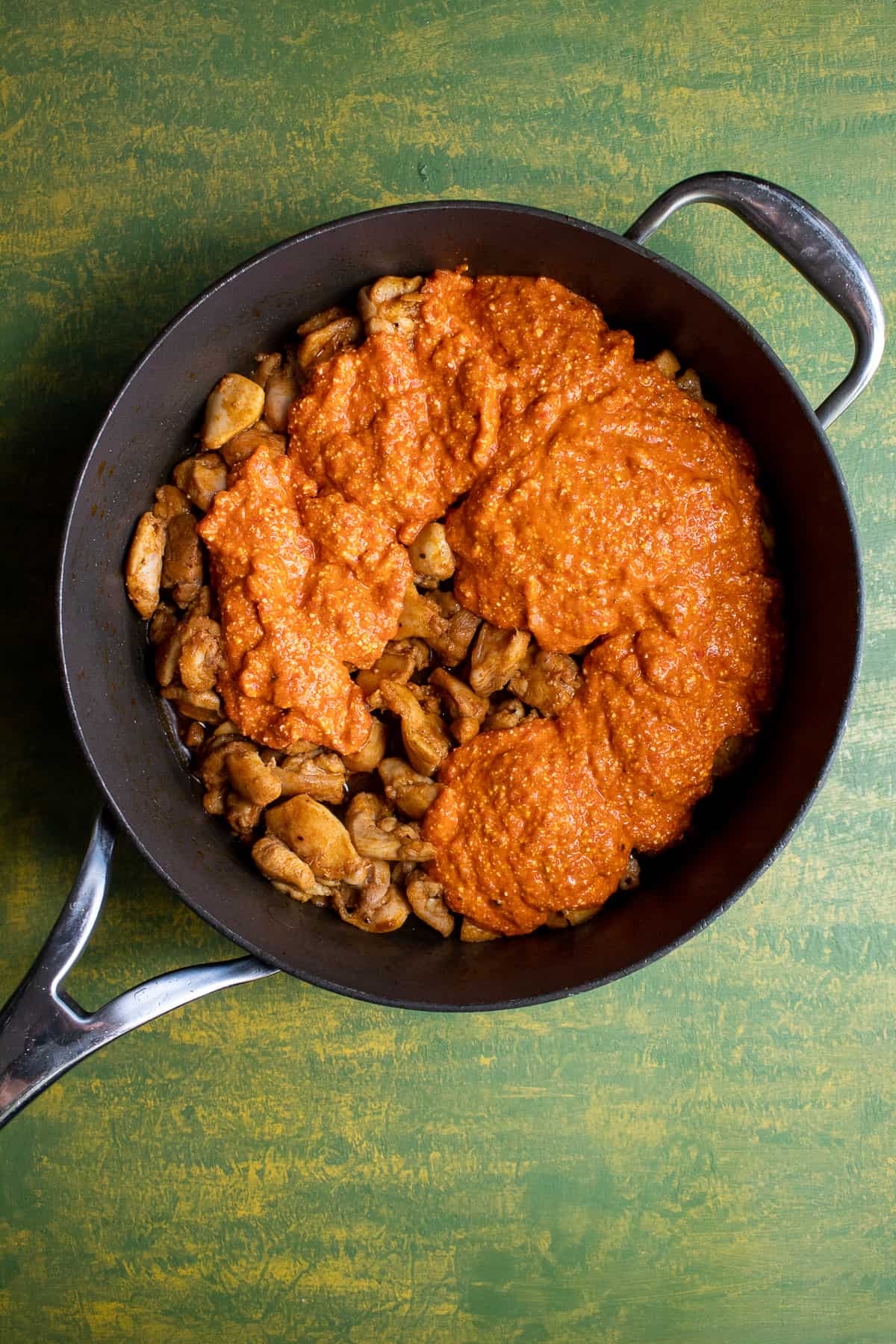 Add in the prepared sauce and reduce the heat to medium. Simmer the sauce with the chicken for about 5 minutes.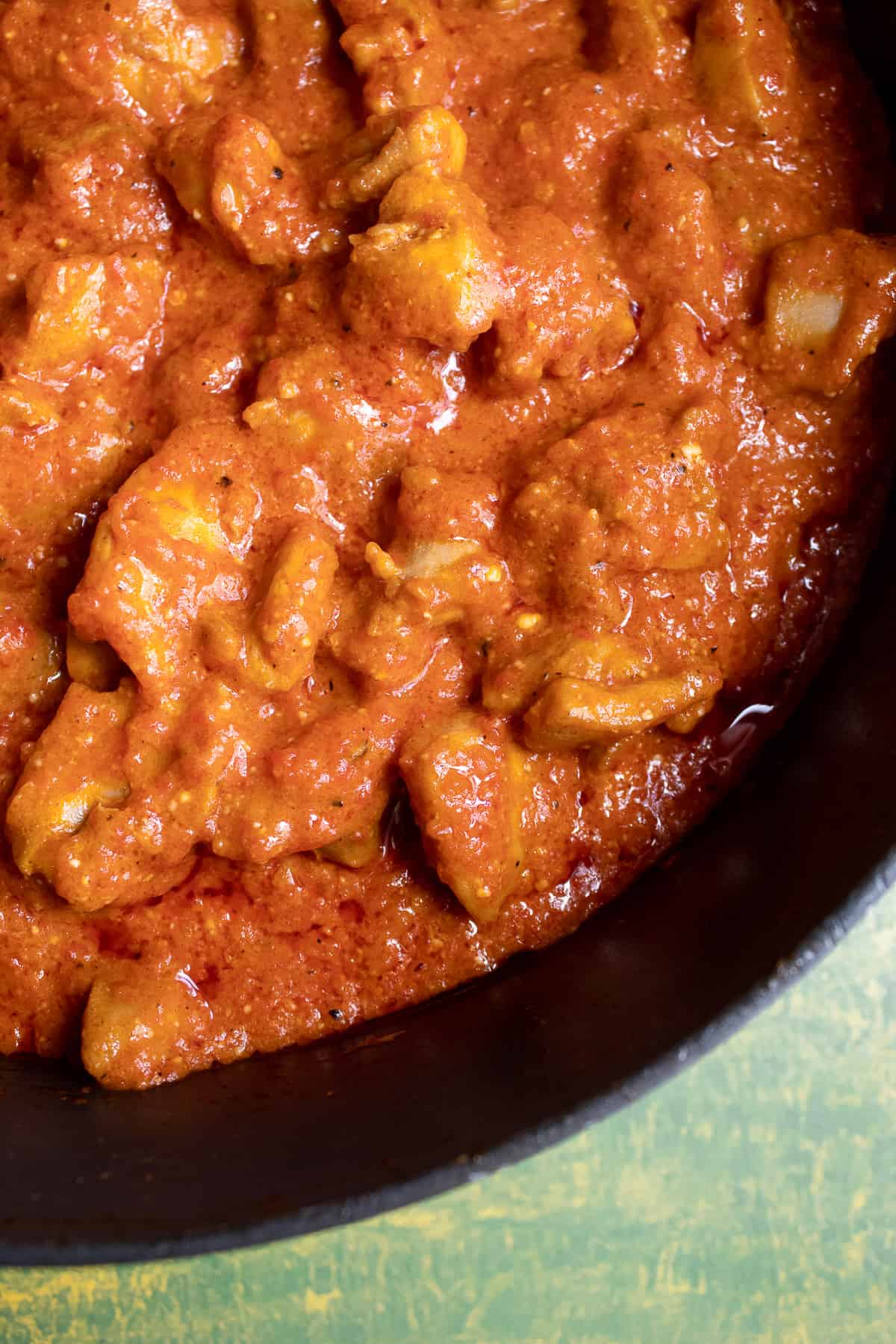 The feta cheese has melted into the finished sauce as it thickens and the glossy sauce coats the chunks of chicken.
Plate Up the Meal
We haven't even discussed the toppings yet! Add a layer of the cooked couscous to your plate and spoon over the chicken with plenty of sauce. Sprinkle the reserved feta cheese over the top. Then add chopped parsley, cucumber, and sliced olives.
This plate of food is so beautiful. You won't want to wait to dig in!
Substitutions and Variations
Try any of the swaps below for a twist on this recipe.
Change the Base - Instead of couscous, use polenta, millet, or quinoa for a gluten-free base that will soak up that red pepper sauce.
Make it Vegetarian - Use two cans of drained chickpeas in place of the chicken thighs for a vegetarian option. They can be spiced the same way as the chicken and added to the skillet along with the sauce. The 5 minutes of simmering time will heat them up perfectly.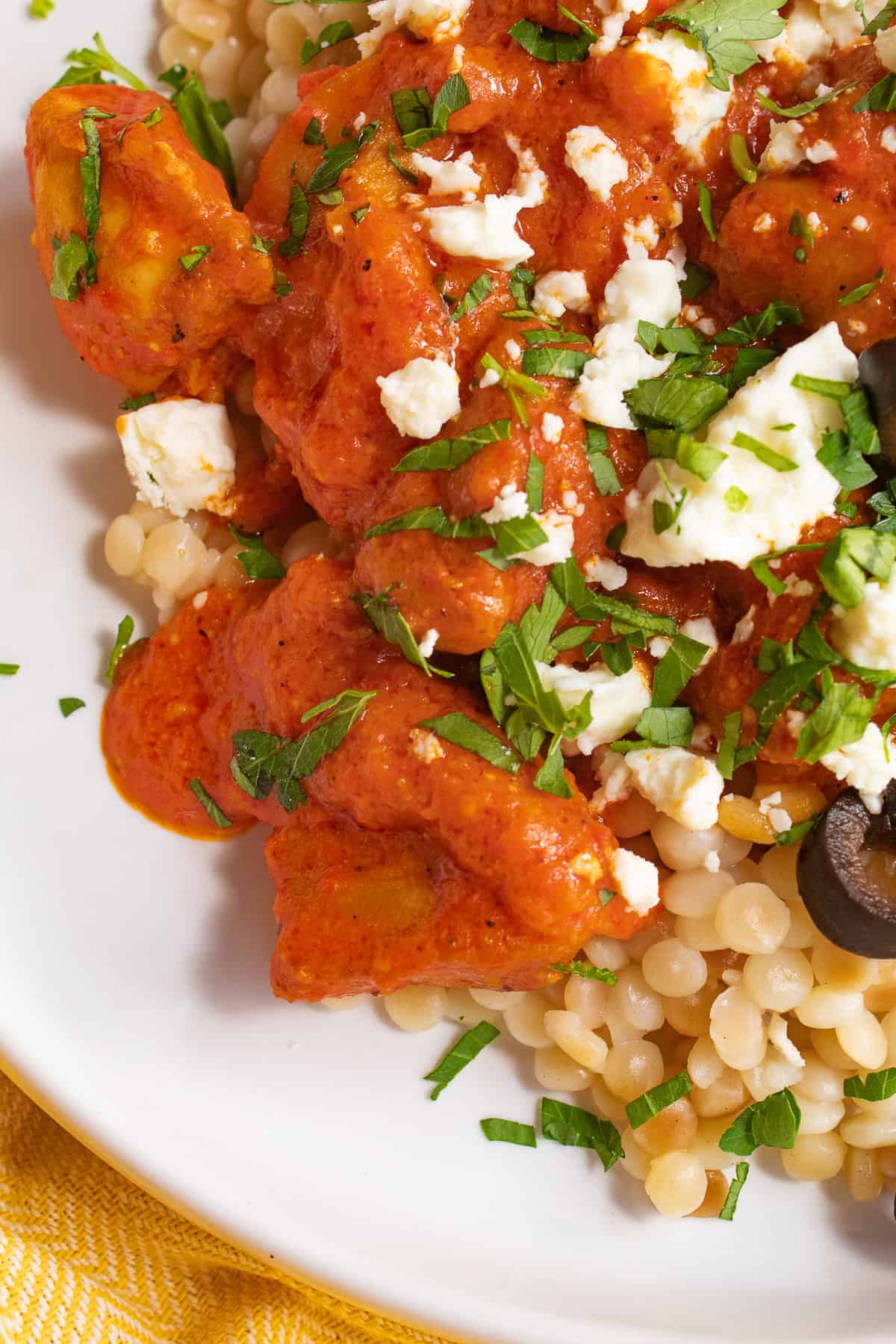 Make It Kid Friendly!
Making this dish kid friendly is different for every home, but here are changes that work for us:
Keep the Sauce on the Side - Either pull some chicken out from the skillet before adding the sauce as I mention above or cook the chicken and sauce separately in two pans. The sauce can simmer in a saucepan for about 5 minutes and be brought to the table in its own dish.
Segregate the Components - Add small piles of the couscous, chicken, sauce, veggies, and cheese to the plate and let your kids mix and match their bites to their liking.
Use the Vegetarian Option - One of mine is not a fan of chicken but loves chickpeas, so we opt for a half-half preparation to keep everyone happy.
If you have kids that are tough customers at your dinner table each night, check out this post on Keeping Peace with Picky Eaters at Your Dinner Table for some great ideas!
Storage
I pack up any leftovers in two separate containers. Portion out the couscous and chicken in one container for easy reheating in the microwave. Add the feta, cucumbers, parsley, and olives to a small container to sprinkle over the top of the heated dish.
Leftovers will keep for about 2-3 days.
Top tip
Use smoked paprika that hasn't been sitting around in your pantry for (gasp!) years. The flavor is a big part of this dish and old, dusty smoked paprika just won't work.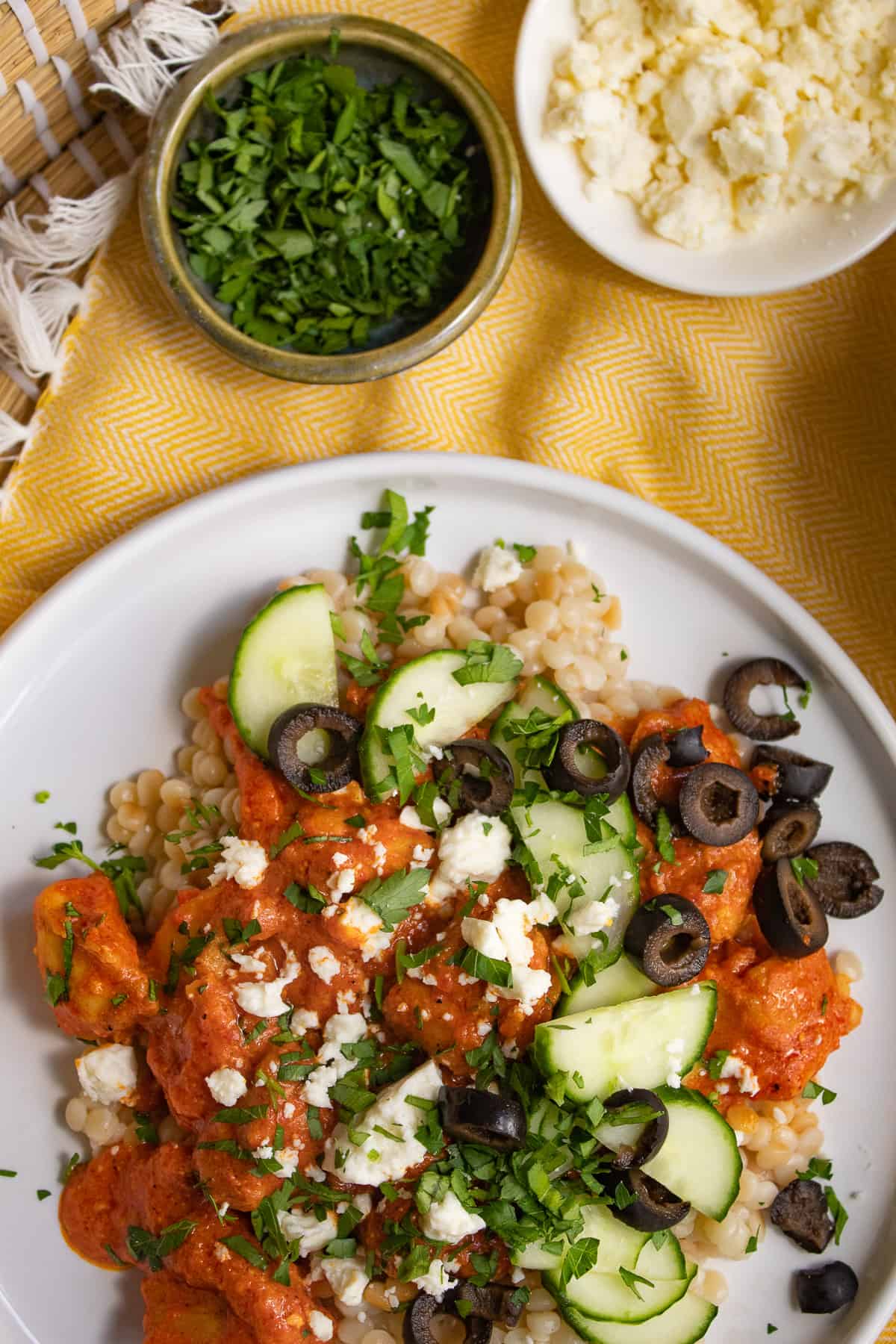 FAQ
Are roasted red peppers the same as bell peppers?
Roasted red peppers start out as red bell peppers. Because they are cooked over a flame (or broiler), they are softer and have a sweeter flavor than a raw bell pepper would have. They will also blend up to a smoother sauce than a raw pepper.
Can I substitute bell peppers for the roasted red peppers in this dish?
Do not substitute raw bell peppers. They will not cook up to a silky sauce in this short of a time and the skins will add an unpleasant texture.
How do you make roasted red peppers from scratch?
Rinse your bell peppers and either cook them over an open flame on your grill or gas stovetop or set them under the broiler in your oven. Cook them until they are uniformly blackened, turning often with tongs. Place them in a sealed plastic bag to cool and then peel off the blackened skin and remove the stem and seeds.
More Stovetop Recipes
Looking for other stovetop meals like this? Add one of the recipes below to your next meal plan.
Try It and Share
I would love to hear that this roasted red pepper chicken makes it into your family's dinner rotation. I want to see your results! Tag your photo with #planeatpostrepeat and mention me @planeatpostrepeat on Instagram or Facebook. I can give you a virtual high five and thank you for cooking one of my recipes! Comment below with any questions and please leave a review so others can find this recipe more easily.
Recipe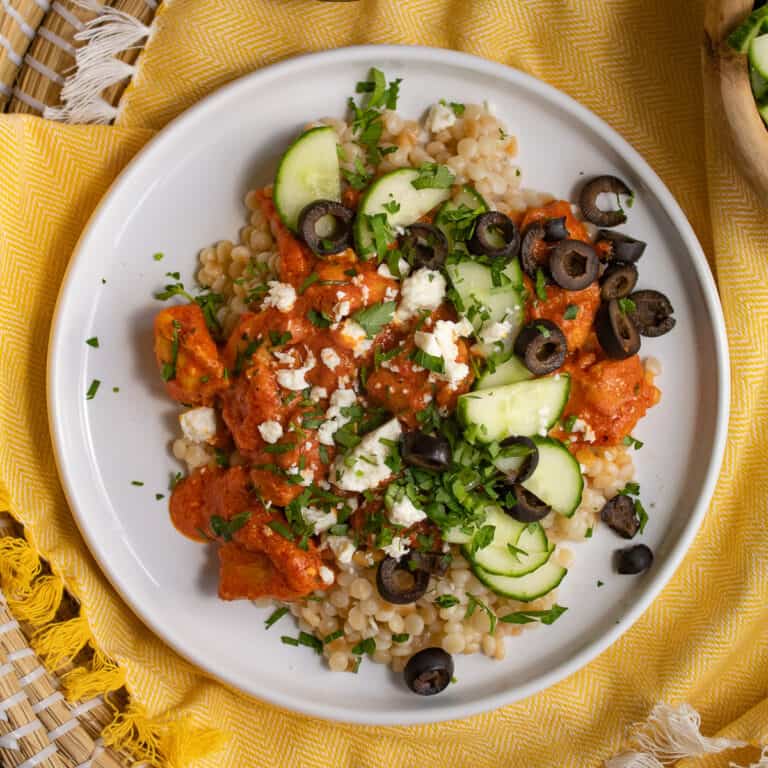 30 Minute Roasted Red Pepper Chicken with Pearl Couscous
With a speedy preparation and loads of flavor, this roasted red pepper chicken with pearl couscous will quickly become a weeknight favorite.
Ingredients
8

oz

pearl couscous

12

oz

jarred roasted red peppers

((drained weight))

1

cup

crumbled feta cheese, divided

2

tablespoon

olive oil, divided

½

teaspoon

ground pepper, divided

1

teaspoon

kosher salt, divided

2

teaspoon

smoked paprika, divided

24

oz

boneless, skinless chicken thighs

(cut into bite-sized pieces)

1½

cups

cucumber, diced

¼

cup

parsley, chopped

½

cup

black olives, sliced

(about 2 ounces, drained)
Instructions
Cook the couscous according to package directions

In a mini food processor or blender, combine the drained peppers, ¾ cup feta, 1 tablespoon olive oil, ¼ teaspoon black pepper, ½ teaspoon salt, and 1 teaspoon smoked paprika. Blend until smooth.

Season the diced chicken with ½ teaspoon salt, 1 teaspoon smoked paprika, and ¼ teaspoon pepper.

Heat a large skillet over high heat. Add in the oil and then add in the seasoned chicken. Cook until the moisture evaporates and the chicken is browned, about 5 minutes.

Pour the blended sauce over the chicken. Reduce the heat to medium and simmer for 5 minutes until sauce is thickened and glossy.

Serve the chicken and sauce over the prepared couscous and top with the remaining feta, cucumber, parsley, and olives.
Nutrition facts are sometimes provided below and are calculated using an online calculator. With specific brands of ingredients and additions, omissions, or substitutions the nutrition facts may change. We encourage you to use your own nutrition facts caculator to obtain the most accurate nutrition facts for your meal.
Nutrition Facts
Calories:
627
kcal
Carbohydrates:
52
g
Protein:
47
g
Fat:
25
g
Saturated Fat:
8
g
Polyunsaturated Fat:
3
g
Monounsaturated Fat:
11
g
Trans Fat:
0.03
g
Cholesterol:
195
mg
Sodium:
2597
mg
Potassium:
770
mg
Fiber:
5
g
Sugar:
1
g
Vitamin A:
1558
IU
Vitamin C:
46
mg
Calcium:
273
mg
Iron:
4
mg