Welcome! You've found the best spot to start meal planning for your busy family. Whether you have crazy schedules, want to use your food budget more effectively, or need to feed kids with picky palates, there's something here for you. I've got loads of family meal planning strategies to share, so let's dive in!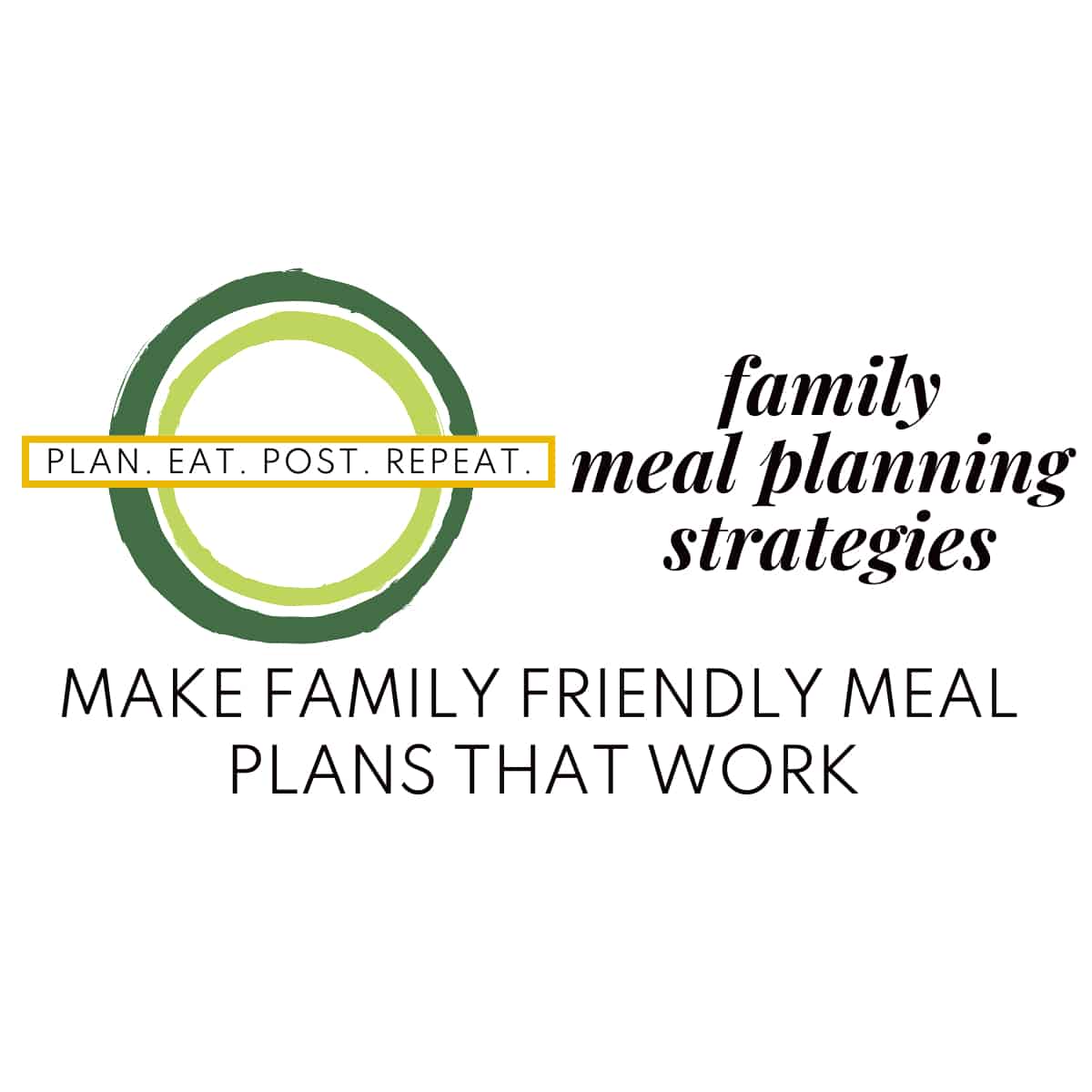 Why should you meal plan?
Meal planning for your family every week takes some work, so why do it? I have loads of reasons, but here are my four best arguments:
Meal planning is more cost-effective. When you prepare ahead of time you don't need that last-minute stop through the drive-thru line. Shopping with a grocery list helps reduce impulse buys at the store.
Meal planning will help you stay sane. That may be a bit of hyperbole, but avoiding the 5pm scramble to answer the "what's for dinner" question is huge for my weeknight peace of mind. When you use the family meal planning strategies here you know what you're making and you've even had a chance to prep ahead of time!
Meal planning reduces food waste. How many times have you found that bag of greens wilted and slimy in the vegetable bin? What portion of your pantry is dusty ingredients you purchased months ago and haven't used since? How often do you throw away leftovers from the fridge that no one wanted to eat? Meal planning can help you solve all of these issues.
Meal planning helps you eat more seasonally. Making a weekly or monthly meal plan forces you to slow down and add variety into your dinner rotation. Instead of popping over to the grocery store and cooking something familiar off the top of your head, you can try new recipes and take advantage of seasonal ingredients. Check out my quarterly collection of recipes here on the blog that you can use to really kick your seasonal meal planning into gear!
Three Meal Planning Frameworks
I've honed three different ways of constructing a weekly meal plan over the years. These different "frameworks" are my main family meal planning strategies. They make building the meal plan so much easier. The framework of any house dictates where to create rooms, add utilities, and place materials for a functioning home. In the same way, each of these frameworks dictate which meals you need, when you make them, and what you buy to make the week a success.
You can build your family meal plan by your calendar, by kitchen inventory, or by meal category. You can, of course, combine all three or use just framework one in any given week!
Weekly Meal Planning by Calendar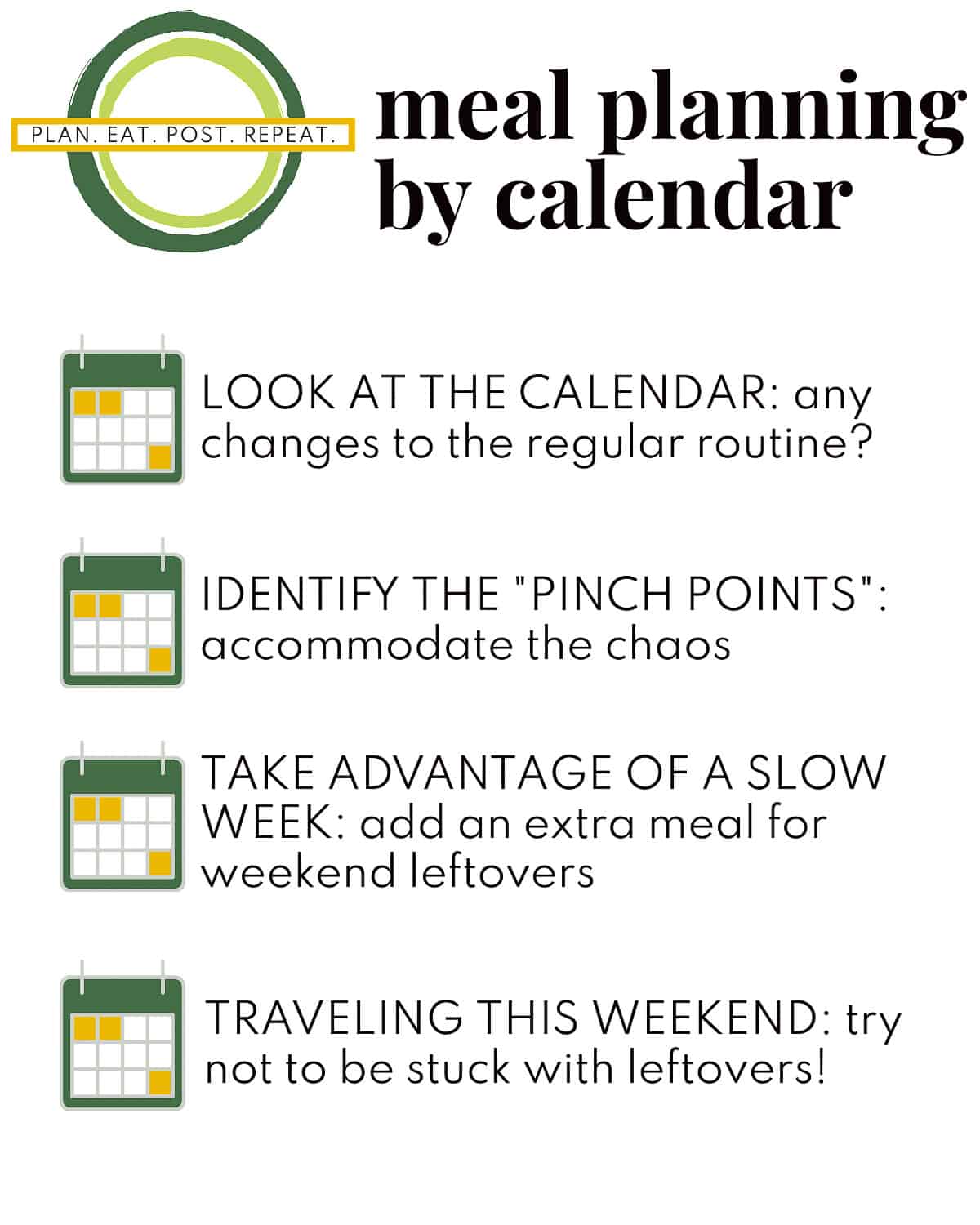 I typically do my shopping on Monday mornings, so I sit with our family calendar on Sundays to make a meal plan for the week. If you shop on the weekend, schedule some time on Thursday evening to make your meal plan.
I first make note of any special after-school activities, sanity nights out (hello, book club and mom's night out!), or guests/travel for the week.
Now look at what I call the "pinch points". What nights would you normally throw up your hands and just order a pizza? Plan something dead simple for this night! A bagged salad with a ready-made protein and some good bread can be thrown together in 10 minutes. Accommodate the chaos of after-school activities with a slow cooker meal that is ready the minute you walk in the door.
Is there a rare night with no after school activities or perhaps a quiet weekend where you can take advantage of leftovers? Let's cook a family favorite that takes a bit more time or add a dinner to the meal plan to make extra leftovers for weekend lunch.
Are you visiting friends and family on the weekend? Plan something to share and eliminate an extra meal during the week so that you can use up any leftovers before you travel. You get the idea here, use the calendar as the framework to decide how many meals to make and what type will fit the schedule.
Weekly Meal Planning by Kitchen Inventory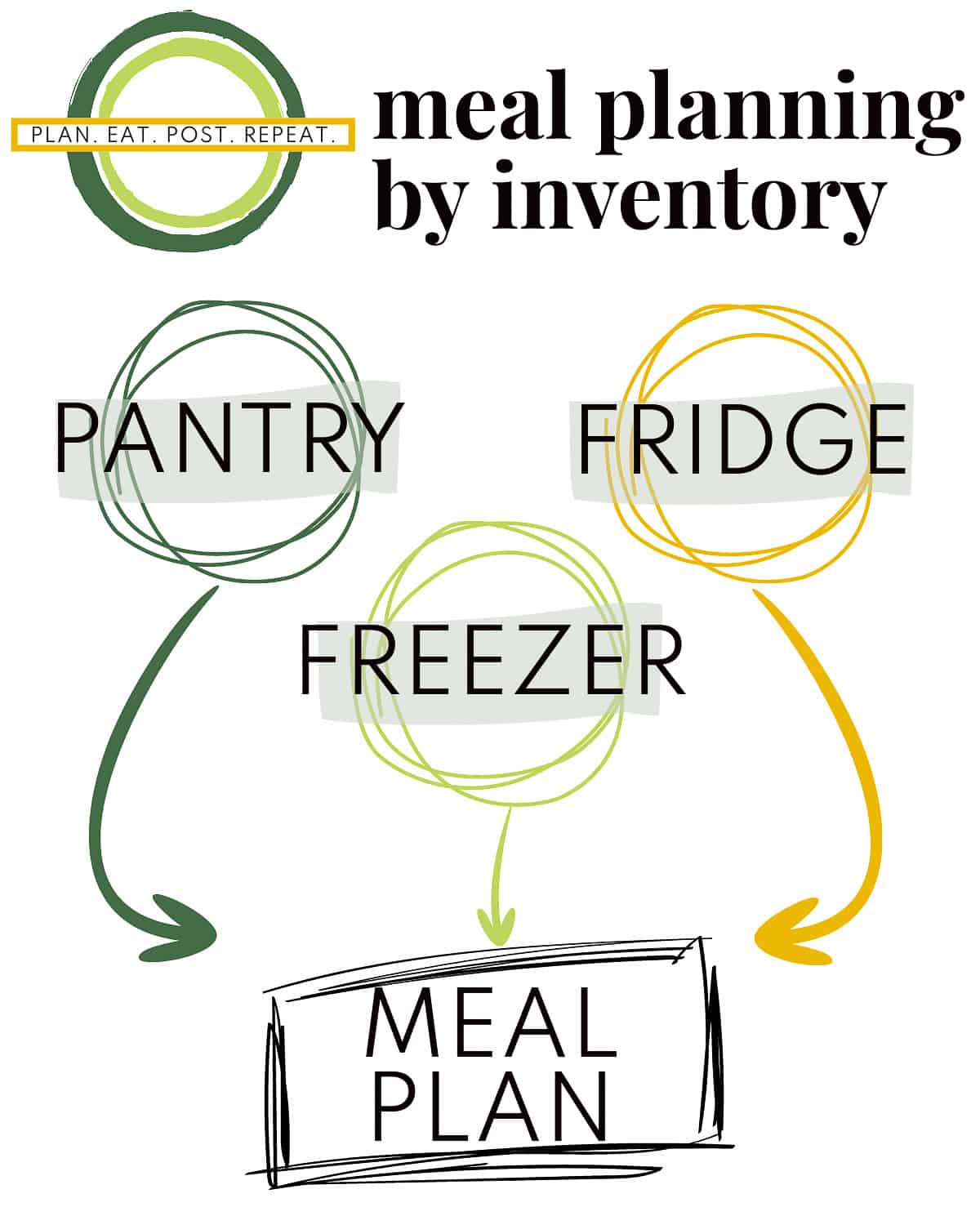 This framework relies on using what you have on hand to jumpstart your meal plan for the week. It takes a bit more legwork, but if you get creative this meal planning strategy can save you a lot of money on the grocery bill and reduce food waste.
First, take a look at the pantry and see if there is a surplus of one ingredient that you can use to build a meal. Load of canned beans? Let's make a chili. Pasta in every conceivable shape? A baked pasta casserole is on order. Wondering why you have a random box of couscous in there? Make a veggie bowl and use that as a base.
Take a trip to the fridge next. Are there some sad looking carrots in the veggie bin along with half a pepper? A stir fry is in order. Seven random chunks of cheese? Macaroni and cheese night!
Visit the freezer last. Is there a package of chicken breasts hanging out in the freezer? Plan on fajitas. Did you have best intentions of using those chicken bones up for a soup? Pull them out and plan on it for next week.
Weekly Meal Planning by Meal Category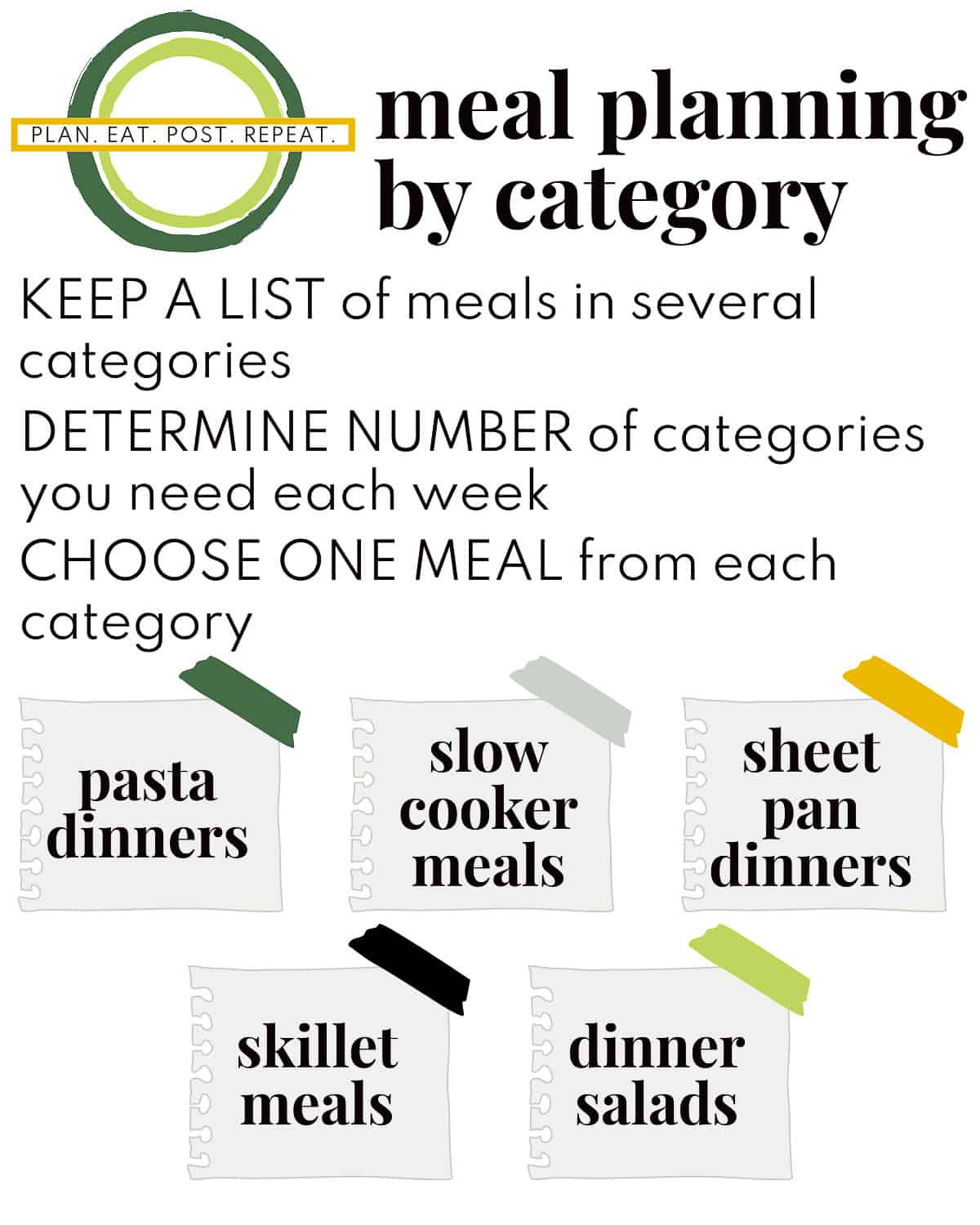 When I really need an auto-pilot version of a meal plan, I rely on meal categories. Think of general categories of meals your family enjoys. These can include soups, slow cooker/pressure cooker meals, dinner salads, casseroles or sheet pan meals, family favorites, batches of proteins to pair with veggies and grains, simple skillet meals, and more.
Now, have a set number of meals you know your family enjoys within each of those categories. Three or four meals per category will do! When it comes to the weekly meal plan, simply rotate through as many categories as you need dinners that week and choose one meal per category. The plan is set for the week, and it's easy to make several weeks of plans at once using this framework!
Make It Fancy or Keep it Simple
I generally make my meal plan using a notes app. It syncs to multiple devices and I have access to my grocery list while out and about. I've used Evernote for years, but there are lots to choose from. Do you need an app or even a virtual list option? Nope. Write out your plan on a random envelope or the back of a receipt. Just make the plan!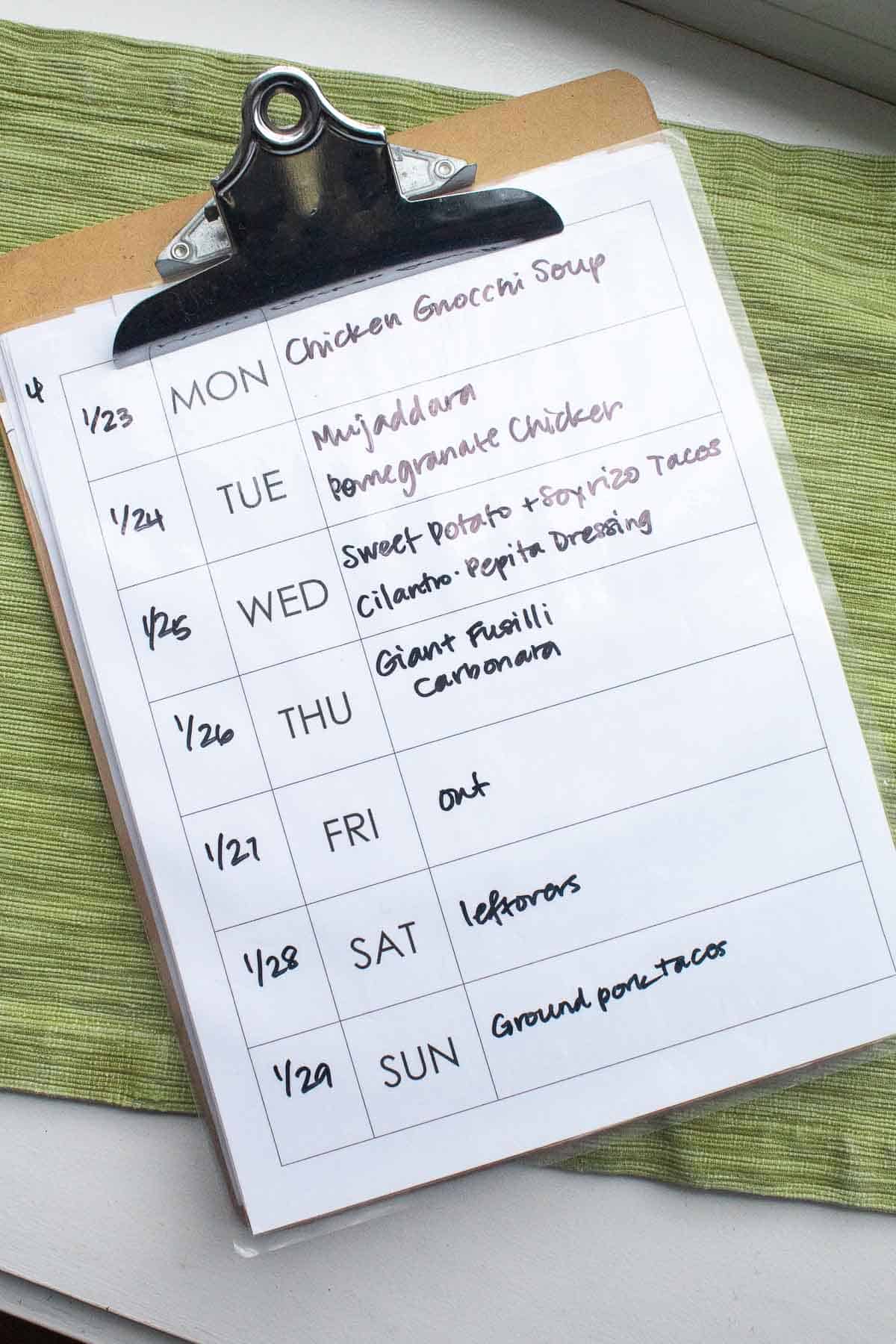 I like to post the meal plan where everyone in the family can see it. I write up the week's meals on a simple table that I've laminated so that I can use a wet-erase marker on it every week. You can use a white board or a chalkboard too! The first grader likes to look at the menu and cheer or sneer based on what's planned each night, so that's a fun bonus of posting it on the inside of the pantry door. Check out the download link below if you want your own copy!
Use your new meal plan to construct your grocery list and you are all set for the week!
Get the Whole Family Involved
Anyone who follows me on Instagram knows that my kids are not the best eaters. And they have opinions! One of the ways I generate a bit more excitement for dinner is to involve them in the meal planning. Kid friendly meal plans come when the kids get some choices! So build a kids' choice dinner into the plan, pick favorite sides for a main dish, or have them plan a dessert.
If feeding picky kids night after night feels like a real struggle, check out this post on Keeping Peace with Picky Eaters at Your Dinner Table! It's loaded with my best strategies for less stress at the dinner table.
Check Out these Sample Meal Plans
Stay Flexible and Give Grace
Do I perfectly follow every meal plan I make? Not at all! Enter the backup meal. This is for when there's a snow day, practices go late, traffic is a nightmare, I burn dinner, or we are just too pooped to make the plan work. It happens all the time. Having a backup meal that is dead simple is the solution.
At our house, these meals include bean and cheese quesadillas, boxed macaroni and cheese, fish sticks, cereal (no joke), scrambled eggs, and more. Simple no-brainer dinners to save the day!
Follow me on Social Media
Find me @planeatpostrepeat on Instagram or Facebook for more family meal planning strategies and to see how my weekly plans play out. You'll see new family-friendly recipes, hear the honest reviews of my kids, and get more meal planning tips.