Tacos that are long on flavor and short on prep time are a weeknight gift. These quick ground pork tacos have a spiced, orange juice-spiked filling plus a crunchy, cool corn and cabbage slaw to make your family want every day to be taco Tuesday!
Tacos are a no-brainer for family meals. Try these Curried Beef Tacos, Broccoli Tacos, or freezer-friendly Baked Sweet Potato and Soyrizo Tacos for your next taco night! If you love pork as a main dish staple like we do, try Crispy Breaded Pork Cutlets with Apple Cider Gravy, too!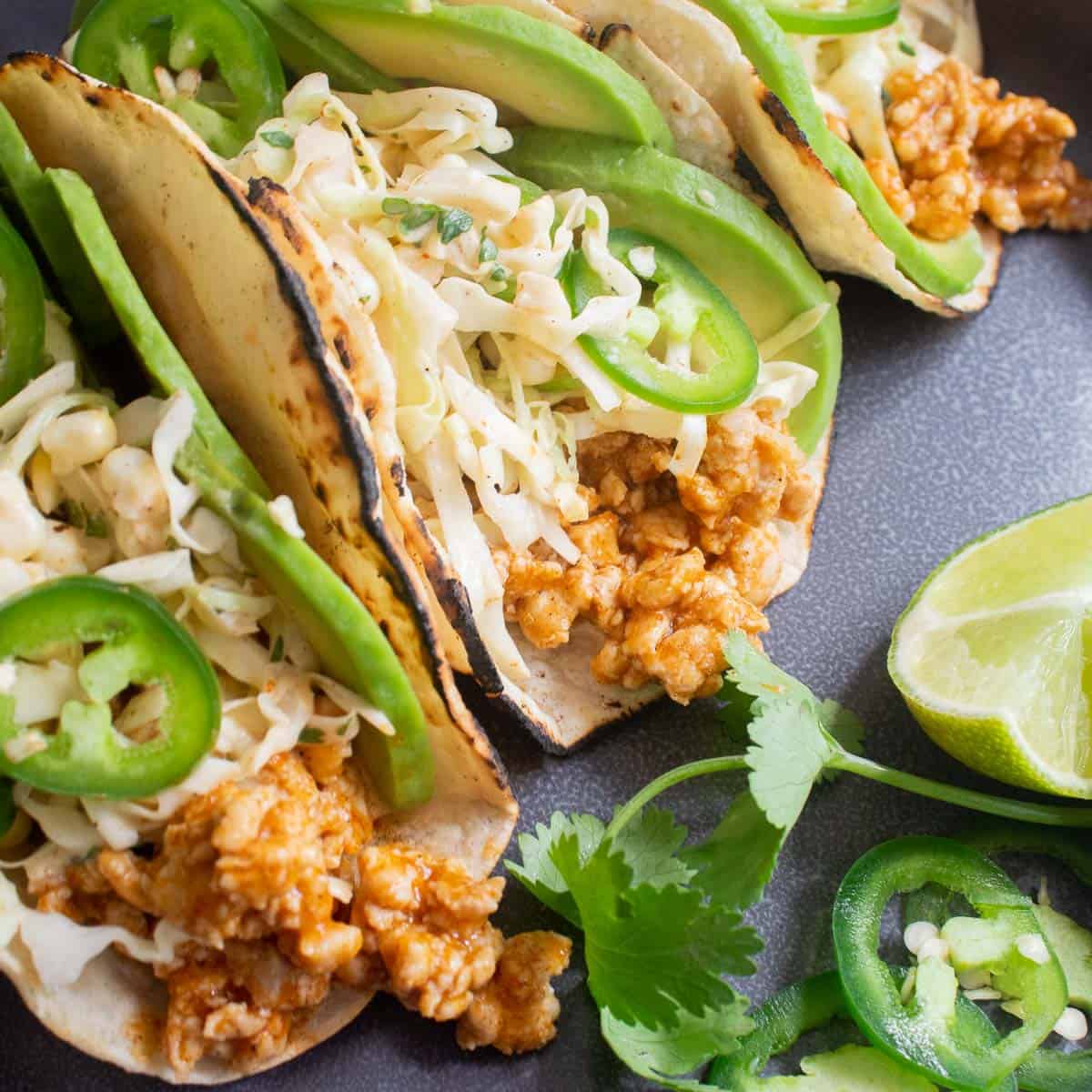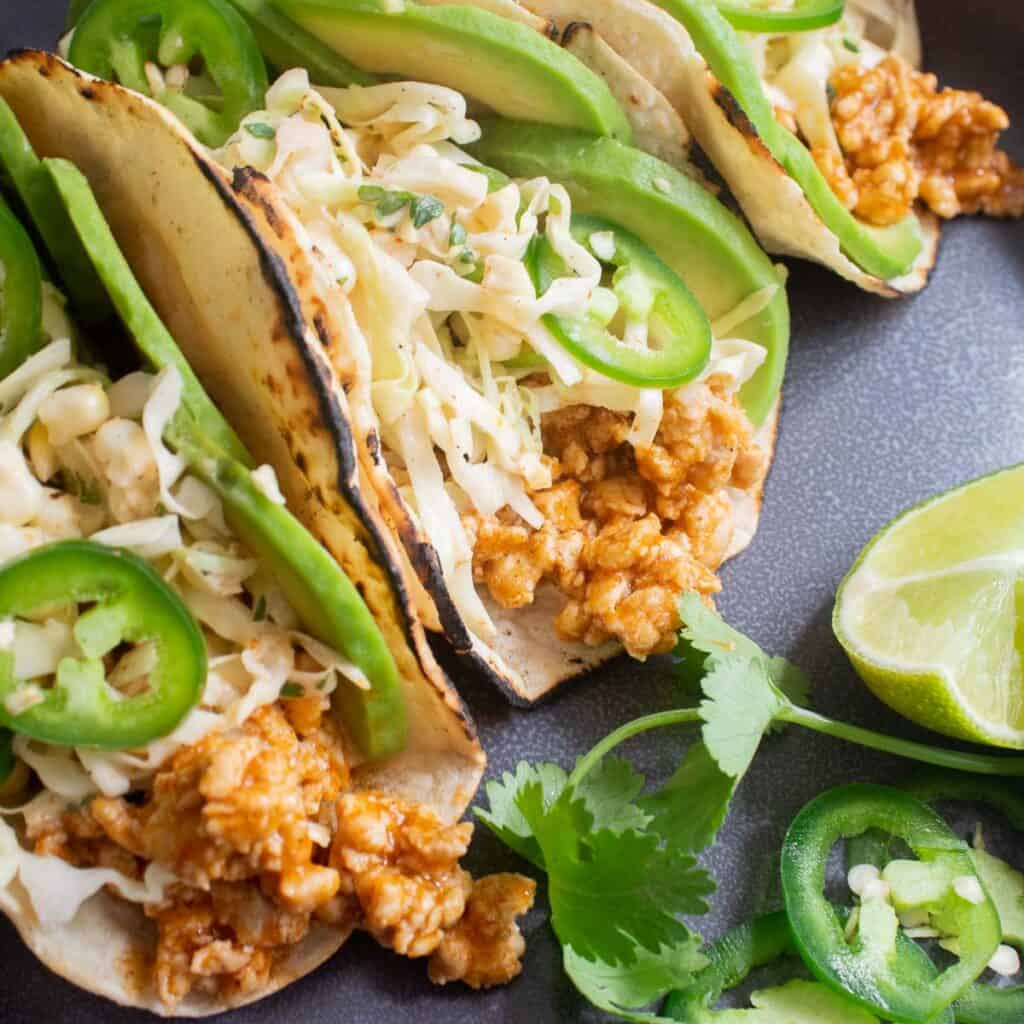 These tacos are inspired by a couple of my favorite Mexican foods, tacos al pastor and esquites. Obviously, I didn't try to mimic the texture or preparation of pork al pastor. That's a labor of love for a weekend project! I did, however, incorporate the chiles and citrus in the speedy weeknight version. I added the flavors of esquites to the slaw with chili powder, cilantro, lime juice, and fresh corn cut right from the cob.
Gather Your Ingredients
Ground Pork: You will find ground pork in any regular supermarket, just make sure you aren't accidentally buying seasoned pork, i.e. sausage! For the best price, I buy large cuts of lean pork loin and grind it myself.
Ground Spices: I use ground spices like garlic, onion powder, chili powder, and coriander to make the prep really speedy. It's so much easier than dicing up onion or mincing garlic but the flavors are still represented.
Orange Juice: Pork and citrus are a natural pairing so I use the juice to help deglaze the pan and make a sauce that keeps the pork moist and well-seasoned.
Cornstarch: I wanted the orange juice and the spices to cling to the ground pork, so I added cornstarch to the recipe to give the pork filling a saucy texture. Cornstarch is a great thickener, but only add the dried powder to cold liquids or you will get thick clumps in your final mixture.
Shredded Cabbage: Slice the cabbage as thinly as you can, if you have a mandoline this is an easy process. I just cut mine with a sharp knife. I used basic green cabbage here, but purple cabbage would be a pretty contrast!
Corn: When sweet corn is in season, you can cut it right off the cob and use it in the slaw without cooking it. Otherwise, thaw some frozen corn or drain a can of corn and use the kernels.
Lime Juice: Please use fresh juice! It makes a big difference in the final flavor of the dish, plus you'll want some extra limes on hand for garnishing the tacos.
Mayonnaise: Just a bit of mayonnaise makes the slaw come together without being too heavy. Miracle Whip is not the same thing, it's not even up for debate.
Cilantro: I will always tell you to use both the leaves and the stems of fresh cilantro because there's so much flavor in those stems! If cilantro is not for you, I'd suggest leaving it out and maybe adding some finely sliced red onion.
Corn or Flour Tortillas: My preference is corn tortillas (or the ones with a blend of both flours), but use whichever you prefer. Steam them or heat them directly over the flame of your gas burner to make them pliable enough for folding into tacos without cracking.
Additional Taco Toppings: I love these tacos with some avocado, extra lime, and thinly sliced jalapeno rings. You could also add pickled red onion if you're a fan.
Prepare the Corn and Cabbage Slaw
Shred the cabbage and break up any layers by tossing it around with a set of tongs. Slice the corn kernels right off the cob or thaw/drain the corn kernels from the freezer or can. Chop up the cilantro leaves and stems. While you have the knife out, thinly slice a jalapeno for the garnish and slice or mash the avocado. Congrats, that's all of the knife work you'll need for this recipe!
In a medium bowl, combine the lime juice, mayonnaise, salt, pepper, and chili powder. Whisk this until the mixture is smooth and then toss it with the cabbage, corn, and cilantro. Set the slaw aside.
Cook the Ground Pork Filling
Add the orange juice and water to a small bowl or (my favorite method) to a jelly jar with a tight-fitting lid. Add the cornstarch and then whisk the mixture or shake it until the cornstarch is well combined. Set the cornstarch slurry aside and start the pork in a skillet on medium-high.
Brown the pork, breaking up any clumps with a spoon. Add the dried spices and salt and let those toast for about thirty seconds. Then pour in the cornstarch-orange juice slurry and stir to combine everything. Cook for about two minutes and you'll have this silky, well-seasoned pork filling all ready to go!
Assemble the Tacos
Warm your tortillas by grilling them directly over the burner or steaming them in a clean, damp towel in the microwave. Assemble the tacos by adding avocado first to one half of the tortilla, then spooning the ground pork mixture down the center. Top the pork with the corn and cabbage slaw. Then add the jalapenos and serve with lime wedges for extra tang.
Make It Kid Friendly!
There isn't a kid in this house that likes spice yet, so the jalapenos are very optional. The pork mixture isn't spicy at all, so I let my kids choose alternate toppings for their tacos. Shredded cheese, mild salsa, lettuce, and sour cream are all great toppings for ground pork tacos! Some kiddos will like the slaw, the natural sweetness of the corn goes a long way. I add a small serving on the side of the tacos to let them have a taste with no pressure.
For another kid-friendly recipe that's quick and delicious, try these Cheeseburger Subs!
Make-Ahead Options
This recipe is super quick, but if you want to save even more time the ground pork mixture can be made up to two days in advance and stored in an airtight container in the fridge. The corn and cabbage slaw holds its texture pretty well for a day, so you can make this in the morning, toss it in the fridge, and then serve it at dinner time. Simply reheat the meat in a saucepan or the microwave and serve with steamed tortillas and the slaw. Dinner could be on the table in 10 minutes with some planning ahead! If you store the components separately, these tacos are great as leftovers, too.
Try It and Share
I hope you try these Quick Ground Pork Tacos with Corn and Cabbage Slaw and share the recipe with family or friends. I want to see your results! Tag your photo with #planeatpostrepeat and mention me @planeatpostrepeat on Instagram or Facebook. I can give you a virtual high five and thank you for cooking one of my recipes! Comment below with any questions and please leave a review so others can find this recipe more easily.
Recipe
Quick Ground Pork Tacos with Corn and Cabbage Slaw
Savory ground pork cooks up in minutes with pantry spices and an orange juice slurry for a delicious filling topped with crunchy corn and cabbage slaw.
Ingredients
Ground Pork Filling
1

lb.

ground pork

1

teaspoon

garlic powder

1

teaspoon

onion powder

2

teaspoon

chili powder

½

teaspoon

ground coriander

¾

teaspoon

kosher salt

½

cup

orange juice

2

teaspoon

cornstarch

¼

cup

water
Corn and Cabbage Slaw
2

tablespoon

fresh lime juice

¼

cup

mayonnaise

½

teaspoon

kosher salt

¼

teaspoon

ground black pepper

½

teaspoon

chili powder

2

cups

finely shredded cabbage

½

cup

corn kernels

(from frozen, fresh off the cob, or drained canned corn)

¼

cup

finely chopped cilantro stems and leaves
Additional Taco Fixings
8

corn or flour taco-sized tortillas

1

avocado, sliced or mashed

1

jalapeno, sliced into rings
Instructions
Prepare the Slaw
Finely shred the cabbage with a sharp knife. Cut the corn from the cob or thaw and drain the corn. Chop the cilantro leaves and stems.

In a medium bowl, combine the mayonnaise, lime juice, salt, pepper, and chili powder using a small whisk.

Add the cabbage, corn, and cilantro to the dressing mixture and toss to coat.

Set aside until assembling the tacos.
Prepare the Pork Filling
Heat a frying pan over medium-high heat. Add the ground pork and cook until no longer pink, breaking up the chunks with a spatula.

Add the garlic powder, onion powder, chili powder, coriander, and salt and sauté with the pork for 30-60 seconds to toast the spices.

Combine the orange juice, cornstarch, and ¼ cup water in a small bowl or jelly jar and stir or shake to dissolve the cornstarch.

Add the orange juice slurry to the pork and stir to deglaze the pan and combine the ingredients.

Cook for 2 minutes, until the sauce is thickened and coats the pork. Remove from the heat.
Assemble the Tacos
Char the tortillas, if desired, or simply warm them with a clean, damp kitchen towel in the microwave for 30-60 seconds.

Fill each tortilla with avocado, a scoop of the pork filling, and a pile of the slaw. Top with jalapeno rings.
Nutrition facts are sometimes provided below and are calculated using an online calculator. With specific brands of ingredients and additions, omissions, or substitutions the nutrition facts may change. We encourage you to use your own nutrition facts caculator to obtain the most accurate nutrition facts for your meal.