Pan fry a batch of these Crispy Breaded Pork Cutlets and pair them with Apple Cider Gravy for the best sweet-savory combination.  This main dish is the epitome of a cozy meal.  Get ready to graciously accept all of the compliments coming your way!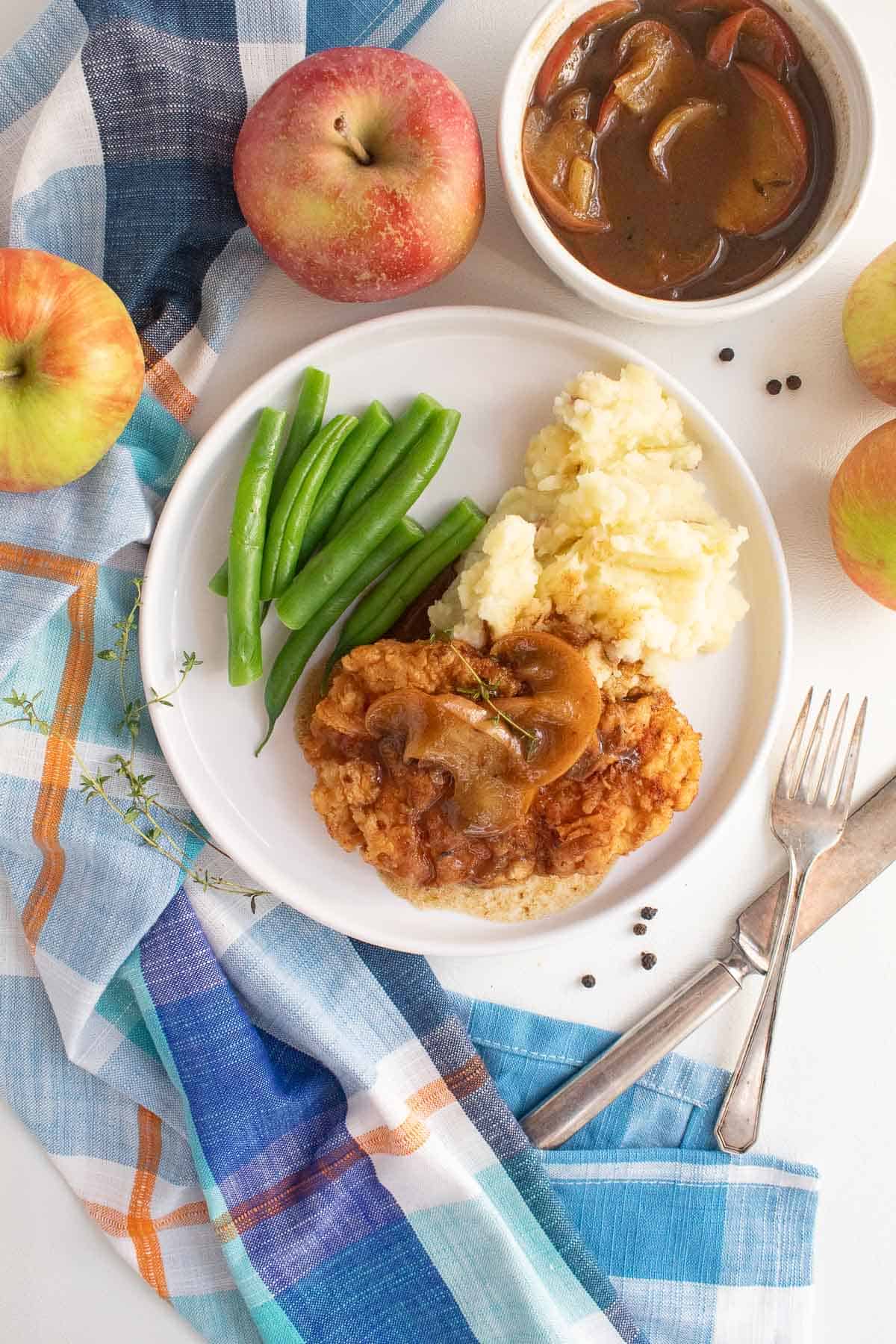 These breaded pork cutlets are a hit with kids and adults alike, with the combination of black and white pepper for a warm spiced kick of flavor. The apple cider gravy distills the best of fall apple flavors into a rich and glossy pan sauce. Thyme and simmered apples are the perfect compliment to the crispy pork.
Are you in the mood for another special meal idea for chilly nights? Try these Cranberry Braised Short Ribs! They are rich and balanced with a sweet-savory sauce.
Jump to:
Ingredients
I include ingredient notes here when I think they'll be helpful, including ways to source, any preparation tips, or why I've chosen a particular ingredient. Be sure to check out the recipe card below for the full list of ingredients and their quantities!
The list isn't long, but this combination of ingredients yields a deeply flavorful sauce and tender fried cutlets. It's a perfect meal to use up cider and apples if you are lucky enough to be able to pick them locally.
Boneless Pork Chops: Either buy a whole pork loin and slice off chops yourself or buy chops that are about 1-inch thick. This is the ideal thickness to pound into a cutlet for breading.
All-Purpose Flour and an Egg: We'll use these to bread our pounded cutlets for a crisp coating and tender pork.
White and Black Pepper: If you've never tried white pepper, you're in for a treat. It's bright and fruity and compliments the sweet cider gravy so well. I find it in the regular supermarket as well as at my local Asian market. If you can't find it, substitute it with black pepper.
Vegetable Oil: This is my preferred frying oil, but if you have a favorite you like to use then by all means work with that.
Apple Cider: Lucky us, we have a cider mill nearby that we can take advantage of in the fall. Fresh cider is key to a pan gravy that isn't too sweet. For this reason, I'd avoid substituting apple juice.
Apples: Use an apple variety that you'd bake with to avoid apple slices that break down too much in the pan sauce.
Thyme: I really love the way thyme pairs so well with both sweet and savory flavors and it's a perfect herb in this dish.
Beef Stock or Broth: Just a cup of broth makes a rich gravy with good savory depth.
Prepare the Breaded Pork Cutlets
Before you start, preheat your oven to 200°F and place a sheet pan with a wire rack in it in the oven to warm. This will be the spot for the cutlets to stay warm and crisp as they come out of the frying pan.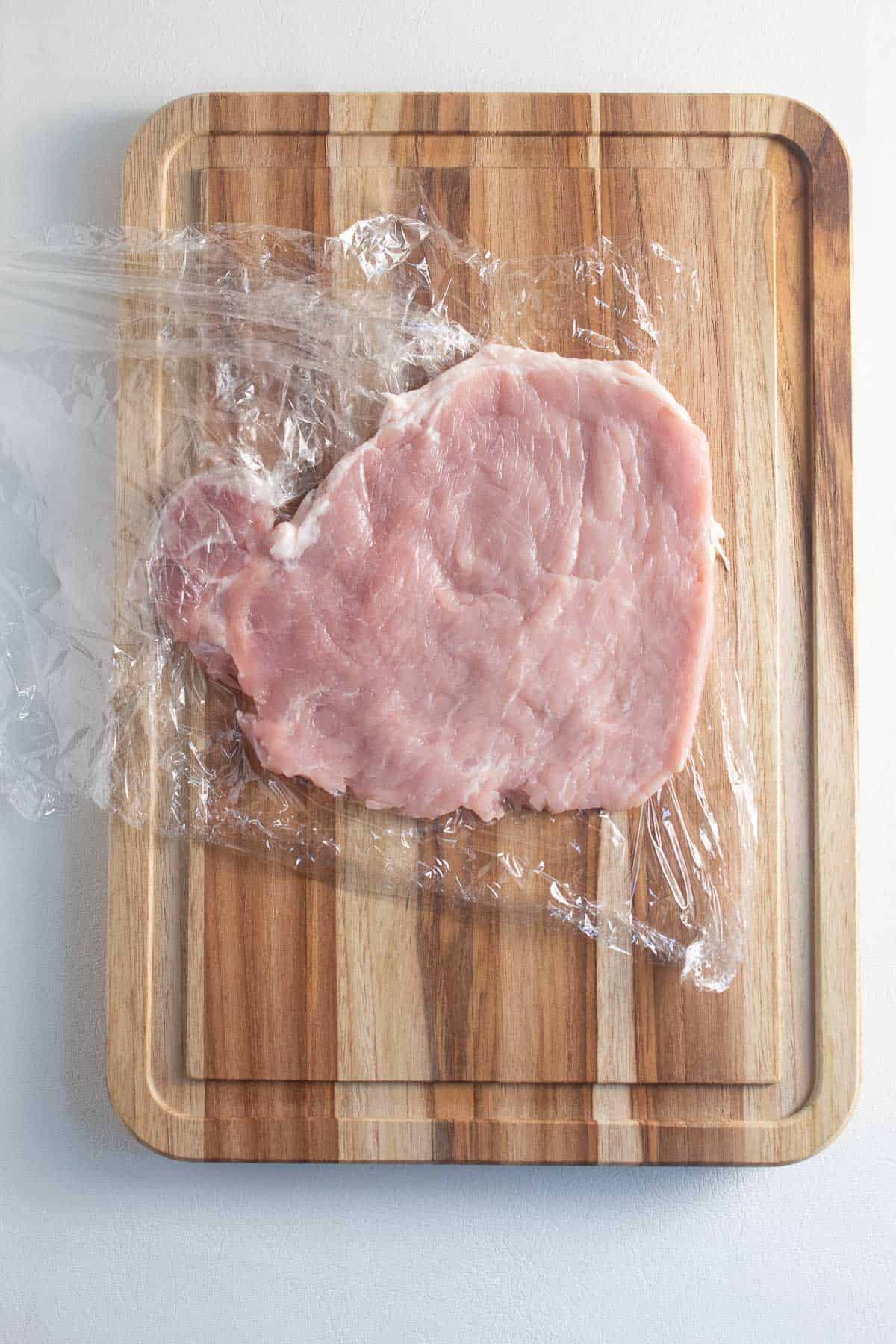 Place one pork chop in between two sheets of plastic wrap. Pound the chop thin using the smooth side of a meat mallet, aiming for a cutlet that is about ½-inch thick. Remove the cutlet from the plastic wrap and season with salt and pepper. Slice the cutlet in half for easier frying and serving.
Set up a breading station with the seasoned cutlets, egg wash, and the seasoned flour. Using a paper sack reduces the sticky fingers and makes cleanup a little easier. Add the flour, peppers, and salt to the bag and shake to mix. Whisk two tablespoons of water into the egg for the egg wash.
Add one cutlet to the paper bag, twist the top to close it, and then give it a shake. Remove the flour-coated cutlet and then drop both sides into the egg wash. Allow any excess to drip off before returning the cutlet to the paper bag for another layer of flour.  Repeat for all of the pork pieces.
Heat about ½-inch of vegetable oil in a heavy skillet over medium heat. A cast iron pan is perfect for shallow frying. When the oil is shimmering, add the cutlets by gently laying them in the oil away from you (this way any splashes won't come back and burn you). Fry for about 5-6 minutes per side, until golden brown.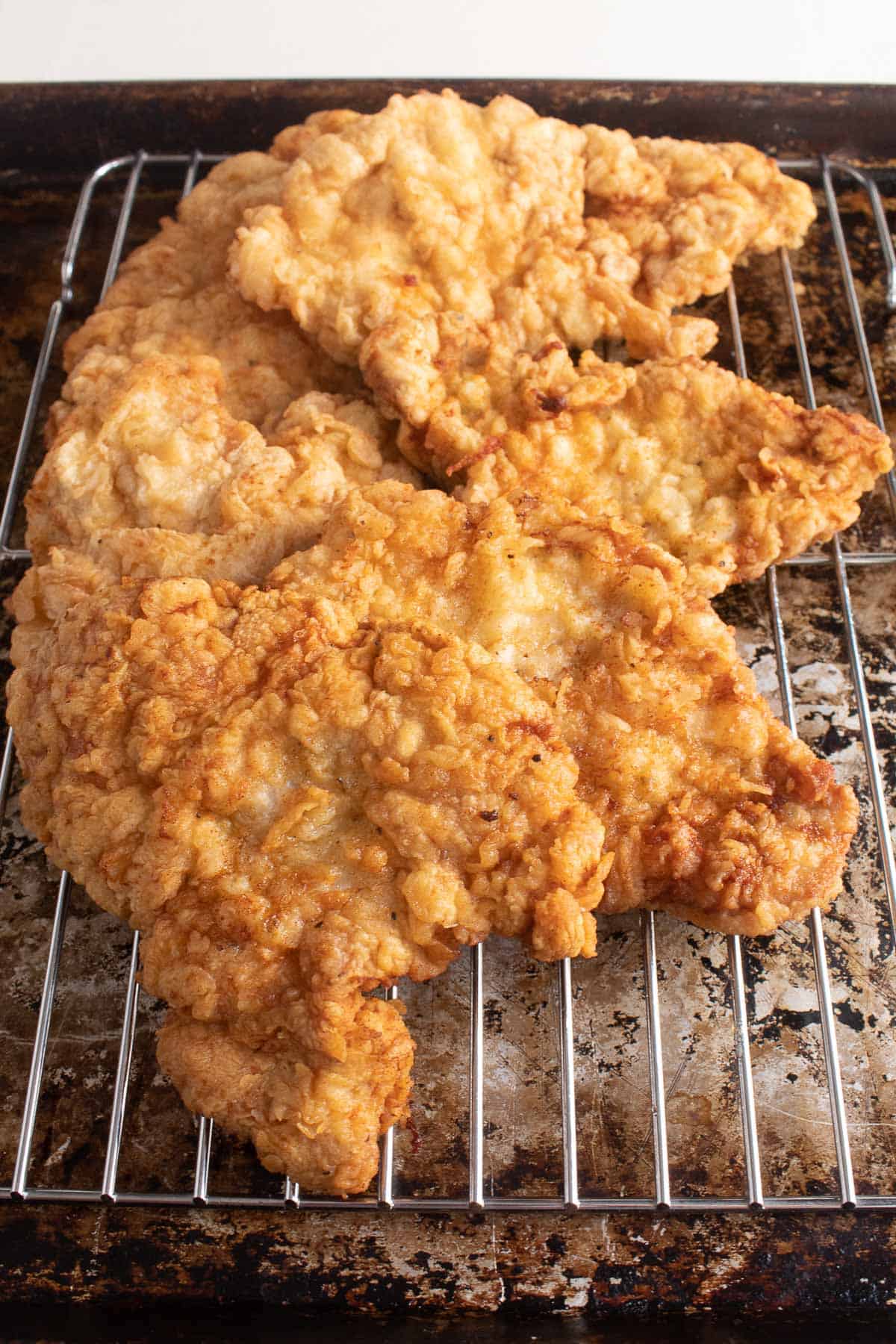 As the cutlets come out of the oil, drain them well and then place them on the rack in the oven to keep warm. Try to space them out better than I did in this photo so that the steam from each cutlet doesn't soften the breading.
These tender cutlets are cooked to perfection, still moist inside with a flavorful and crisp breaded coating.
Prepare the Apple Cider Gravy
Drain all but about one tablespoon of the oil from the pan. I pour mine into an empty soup can. You are left with toasted flour that is a great beginning of a roux that will help thicken and flavor the pan sauce or gravy. There are also little brown bits from the pork and breading that will add extra flavor.
Add in the cider and increase the heat to medium-high. Deglaze the pan by scraping all those brown bits and flour with a wooden spoon and cook the cider for about 5 minutes, until it is thickened and glossy.  Add in the apples, thyme, and beef stock or broth. Cook, stirring occasionally, on medium-high for 10-15 more minutes. The apple cider gravy will continue to reduce and the apples will soften.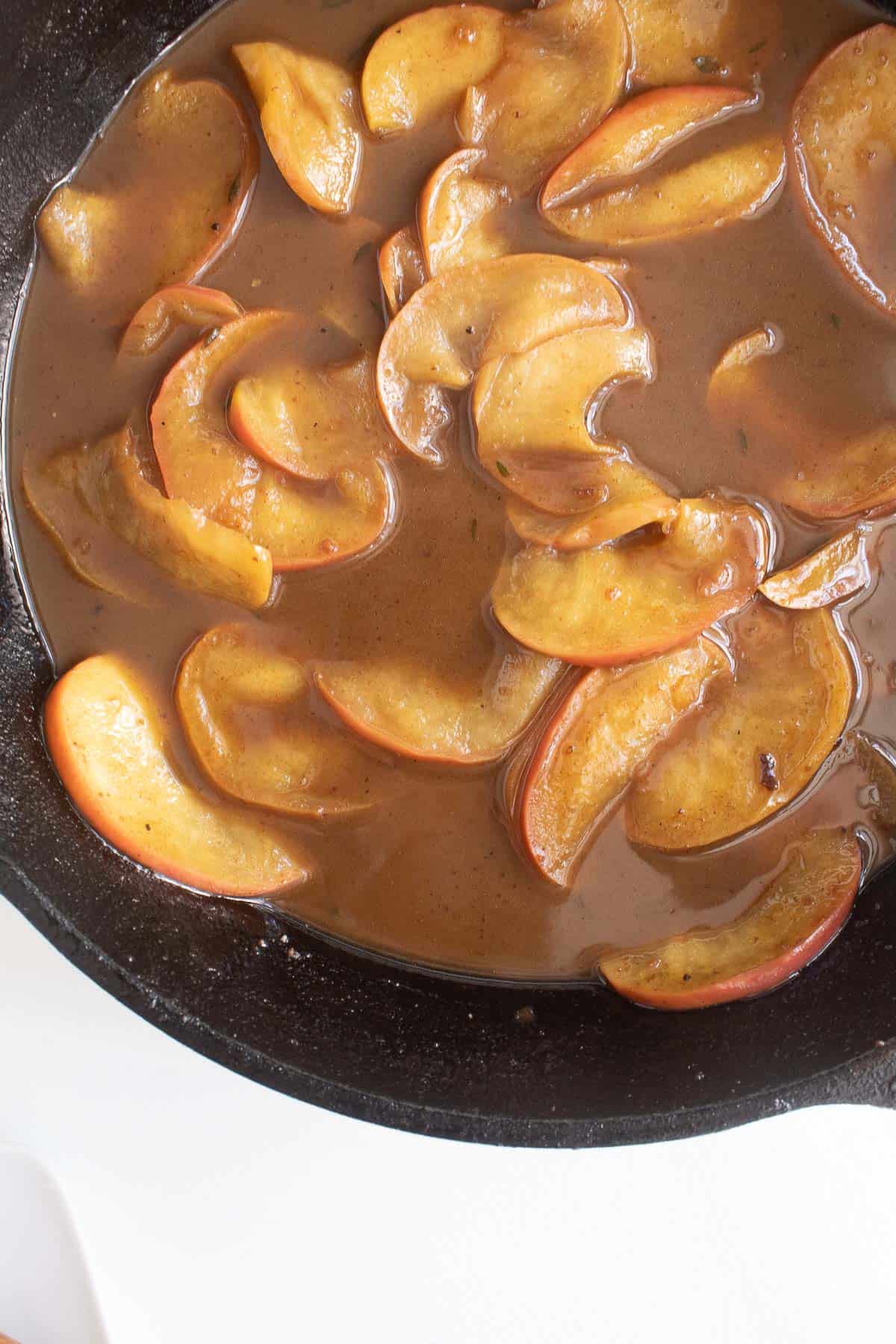 Your apple cider gravy is ready when it is silky smooth, glossy, and thickened. There will be about a cup of sauce plus the softened apples. Remove the thyme stems and you are ready to serve.
Equipment
My favorite pan for shallow frying and keeping a consistent oil temperature is a cast iron skillet.  I use a 10-inch skillet and feel that's a good balance between capacity and manageable weight.
What to Serve with Breaded Pork Cutlets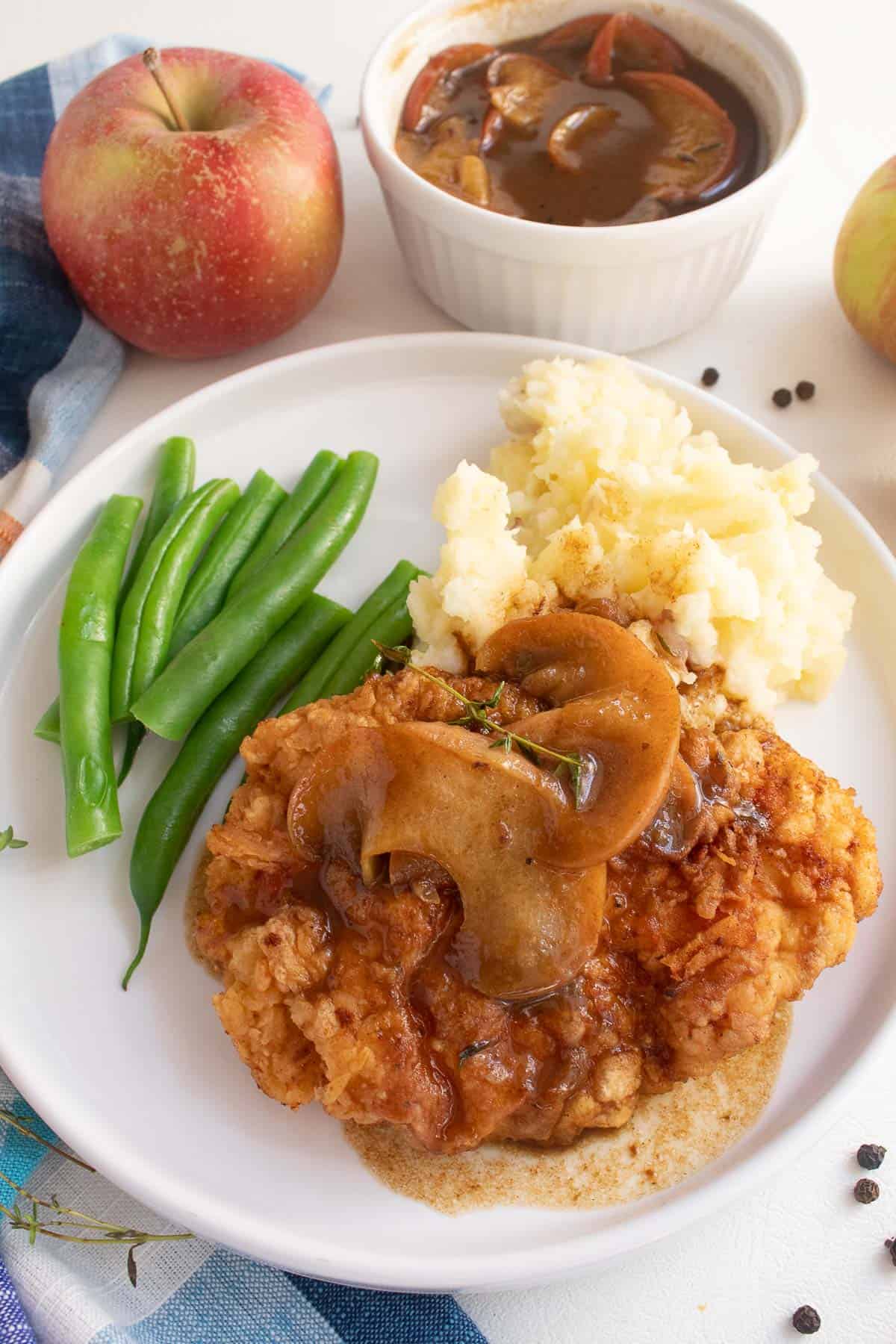 My favorite things to serve alongside these pork cutlets are mashed potatoes and simple steamed and buttered green beans. Make those sides shine with my Twice Baked Mashed Potatoes! Add a cutlet to each plate and ladle over some gravy with the apples. Serve additional apple cider gravy on the side.
Make This Recipe Kid Friendly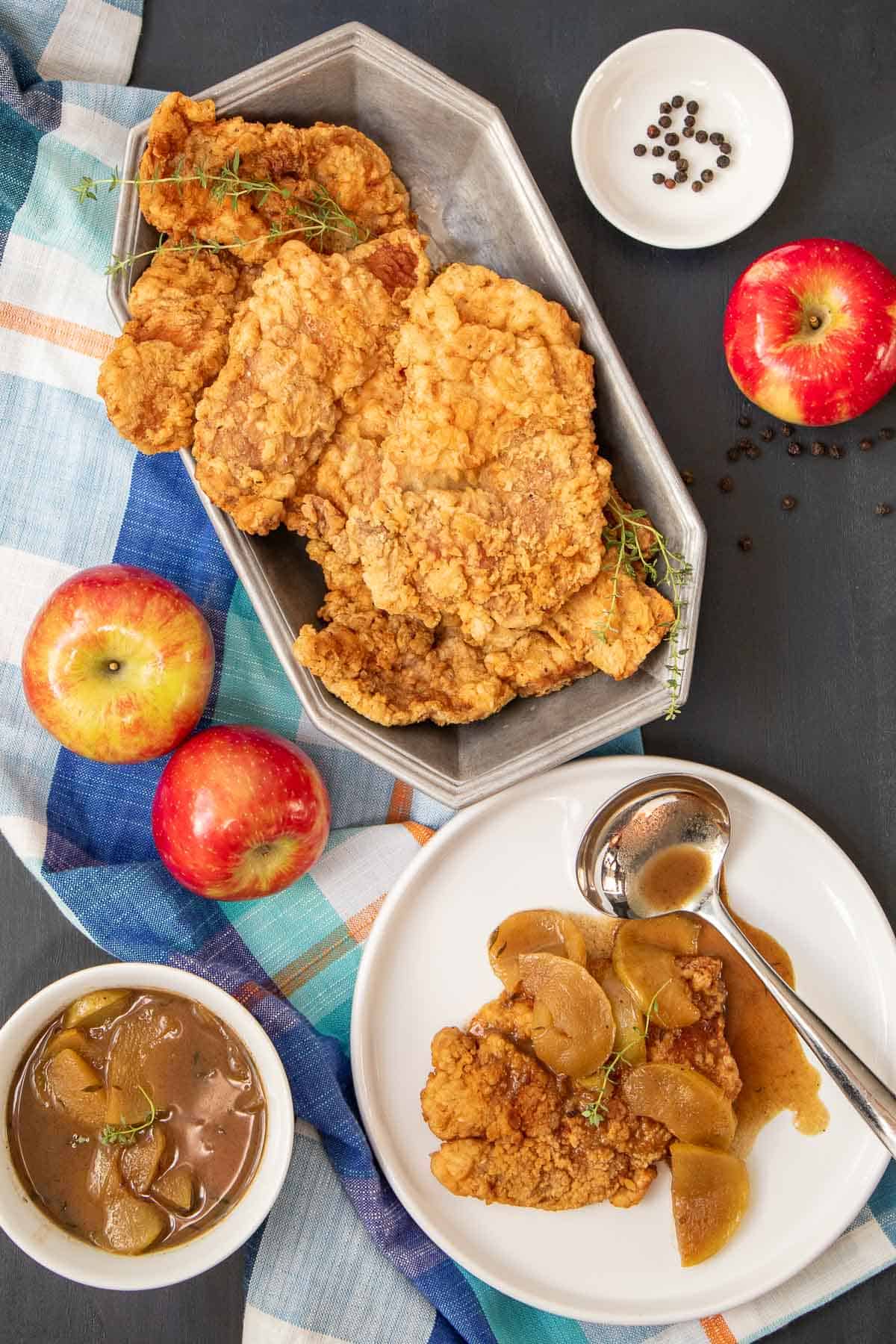 The sweet Apple Cider Gravy goes a long way in enticing the kids to give this dish a try. I find that one of my kiddos objects to the texture of the apples so it's easy to scoop only the sauce and leave them off. If the gravy is a no-go altogether, these pork cutlets will taste a lot like a chicken nugget to most kids. Simply serve them up with their favorite sauce!
Storage
Store the cutlets and gravy separately in airtight containers for up to three days.  Allow the cutlets to cool completely before storing so that any heat and moisture remaining won't make the breading soggy.
Make-Ahead Options
This meal does surprisingly well if you make it in advance. Once the cutlets come out of the frying pan, drain them and allow them to cool. Wrap them in foil and refrigerate until you are ready to reheat them.
Preheat the oven to 375°F and use the same rack over a sheet pan. Place the cutlets over the rack and heat for about 20 minutes to re-crisp them and heat them through.
Move the apple cider gravy to a microwaveable bowl and cover with plastic wrap. Before serving, heat in the microwave for 2-3 minutes, pausing halfway to stir the gravy.
Top Tip
Cook the breaded pork cutlets to a final temperature of 145°F to ensure food safety.
Can I add different herbs to the apple cider gravy?
Yes, in addition to thyme, both rosemary and sage are good herbs to pair with the cider for the gravy.  All three will compliment the pork well.
What other dishes can I pair apple cider gravy with?
Apple cider gravy will pair perfectly with roast chicken or turkey and is delicious drizzled over stuffing or dressing.
What is the difference between pork cutlets and pork chops?
Cutlets are typically thinner and from boneless pork loin while pork chops are thicker and may or may not be bone-in.  Cutlets are cooked quickly to avoid drying them out, while pork chops can benefit from slower cooking methods.
More Cozy Recipes
This recipe is hearty, cozy, and perfect for chilly nights.  Try these other meals to warm you up after a winter day!
Suggested Side Dishes
Choose any of these delicious sides to serve with the breaded pork cutlets:
Try It and Share
These Crispy Breaded Pork Cutlets with Apple Cider Gravy are sure to be a hit with your family. I want to see your results! Tag your photo with #planeatpostrepeat and mention me @planeatpostrepeat on Instagram or Facebook. I can give you a virtual high five and thank you for cooking one of my recipes! Comment below with any questions and please leave a review so others can find this recipe more easily.
Recipe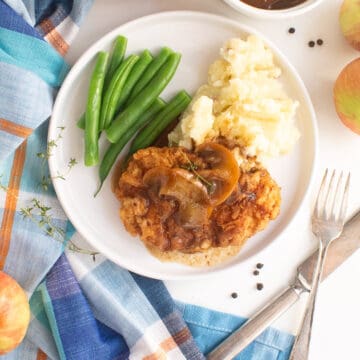 Crispy Breaded Pork Cutlets with Apple Cider Gravy
Crispy breaded pork cutlets get the royal treatment with a sweet and savory thyme-scented apple cider gravy. Serve with mashed potatoes and your favorite veggie for a delicious meal!
Ingredients
1½

pounds

pork chops

(boneless, about 1-inch thick)

1

cup

all-purpose flour

1

teaspoon

kosher salt

(plus extra for seasoning pork)

¾

teaspoon

ground white pepper

½

teaspoon

ground black pepper

(plus extra for seasoning pork)

1

large

egg

vegetable oil

(for frying, approximately 1 cup)

1½

cups

apple cider

1

medium

apple

(cored and sliced)

3

sprigs

thyme

1

cup

beef stock

(or broth)
Instructions
Breaded Crispy Pork Cutlets
Preheat the oven to 200°F and place a rack over a sheet pan.

Pound pork chops to about ½" thin between two pieces of plastic wrap with a meat mallet. Slice into two pieces if desired.

Season both sides of the pork with salt and black pepper and set aside.

Whisk the egg with two tablespoons of water and pour into a plate. Fill a paper lunch bag with the flour, kosher salt, white and black peppers. Twist the bag closed and shake to combine.

Preheat the vegetable oil in a heavy skillet over medium heat. You need about a half inch of oil.

One cutlet at a time, shake the cutlet into the flour mixture, coat in egg, then shake in the flour again.

Fry in batches of 2-3 for about six minutes per side, until golden brown.

Transfer the cooked cutlets to the rack and place in the oven to keep them warm while you cook the rest and make the sauce.
Apple Cider Gravy
Remove all but one tablespoon of oil from the frying pan, leaving the browned flour. Increase the heat to medium-high.

Deglaze the pan with the cider. Scrape up all of the browned bits from the pan and bring the sauce back to a boil. Cook for 5 minutes to reduce the cider.

Add in the thyme, apples, and beef stock. Cook for 10-15 minutes, until the gravy has reduced to about one cup. Remove the thyme stems, taste for seasoning, and serve the gravy with the cutlets.
Notes
Oil used for frying is not included in the calculation for nutrition facts.
Nutrition facts are sometimes provided below and are calculated using an online calculator. With specific brands of ingredients and additions, omissions, or substitutions the nutrition facts may change. We encourage you to use your own nutrition facts caculator to obtain the most accurate nutrition facts for your meal.
Nutrition Facts
Calories:
470
kcal
Carbohydrates:
42
g
Protein:
43
g
Fat:
14
g
Saturated Fat:
5
g
Polyunsaturated Fat:
2
g
Monounsaturated Fat:
6
g
Trans Fat:
0.1
g
Cholesterol:
160
mg
Sodium:
804
mg
Potassium:
943
mg
Fiber:
2
g
Sugar:
14
g
Vitamin A:
137
IU
Vitamin C:
4
mg
Calcium:
44
mg
Iron:
3
mg