Paella is a beautiful thing. It's an instant celebration! I've enjoyed a few memorable paella dinners in my life: one in Barcelona with my then-boyfriend and now-husband when we ate at a very American (and un-Spanish) dinner time of 9pm in an entirely empty restaurant, one as newlyweds when we created our very own *just* right recipe in our San Francisco apartment, and a pair of dinners with friends who made their own excellent versions with huge paella pans over charcoals using bricks to prop the pan up at just the correct height and served with copious quantities of delicious wine. This paella is not any of those versions. This is a weeknight version that still builds layers of flavor, can be made vegetarian, with sausage, with shrimp, or both, and pleases kid palates as well as the tastes of the adults responsible for the kids. That's a win, all around.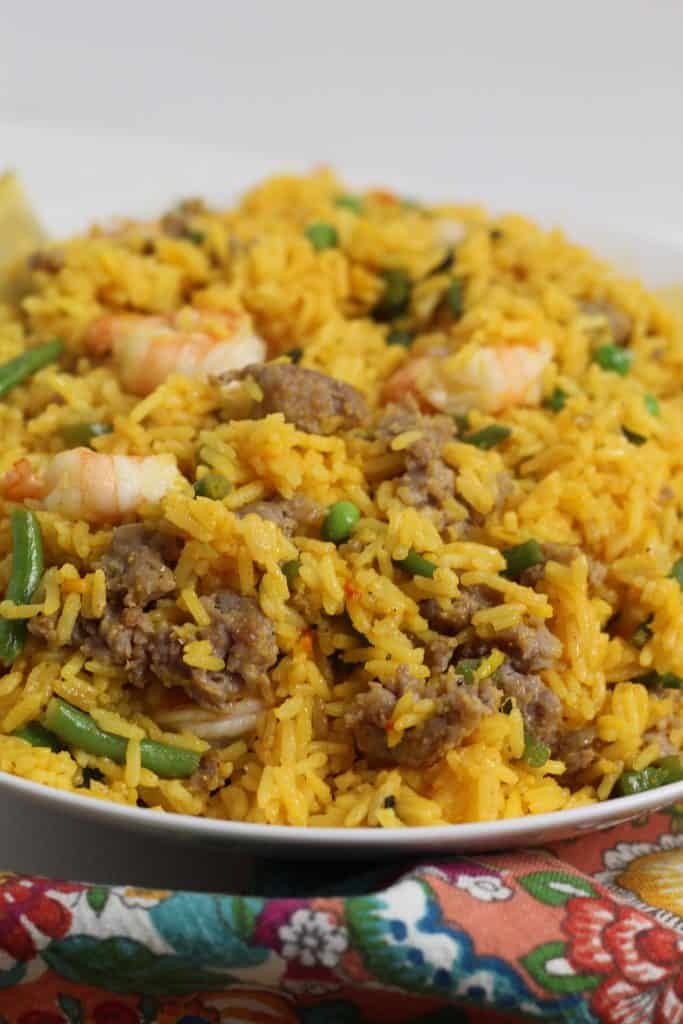 I make this using my Instant Pot for the rice portion, but you can use a stove top method to make the rice just as well. The rice is cooked up with saffron and smoked paprika and it comes out with a rich yellow hue. While the rice cooks, you get the proteins of choice ready and chop and saute the vegetables, garlic, and oregano. At the end, you combine all of the components along with a hearty amount of lemon juice and zest. There are trade-offs with this Tuesday night version of paella. You don't get that wonderful caramelized and toasted rice at the bottom of the pan called socorrat with this method, but you do get to have many of the other flavors of paella almost any time you'd like.
As I said above, you can make this with extra veggies, sausage, shrimp, or any combination. For this round, I used 8 ounces each of sweet Italian sausage and shrimp. Merguez sausage or andouille sausage would be terrific in here as well if you enjoy the heat.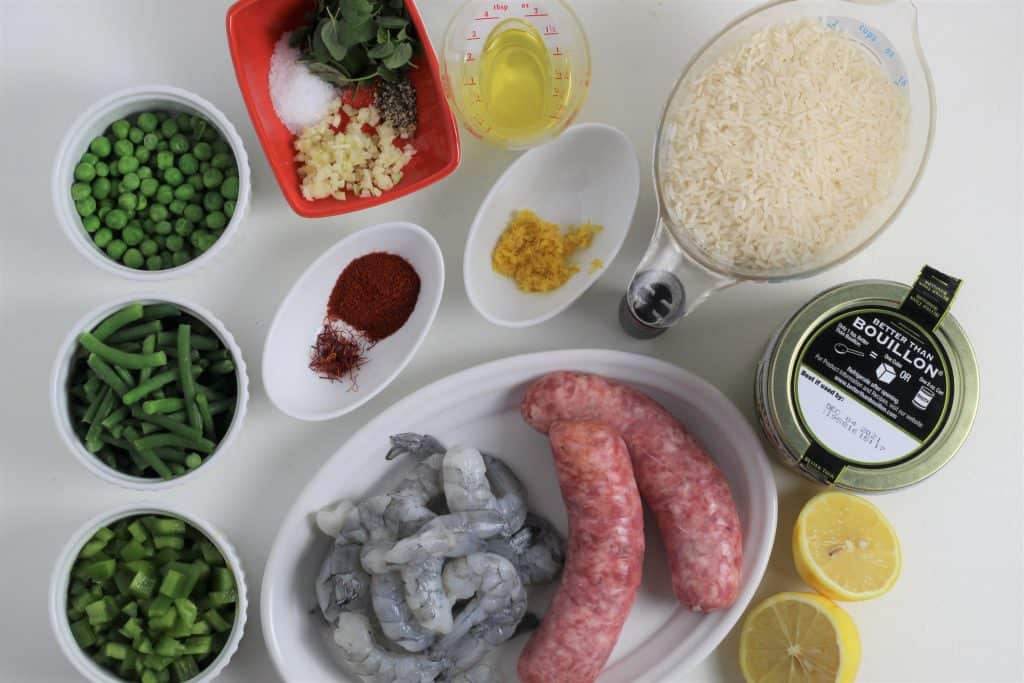 Save the fancy and more authentic paella for celebrations with friends and try this Cheater Paella out soon. The bright lemon flavor and the sunny hue will brighten any weeknight dinner. If you are serving this as the main dish, it serves 4 adults generously. If there are other dishes in your spread, 6 or more could enjoy this dish.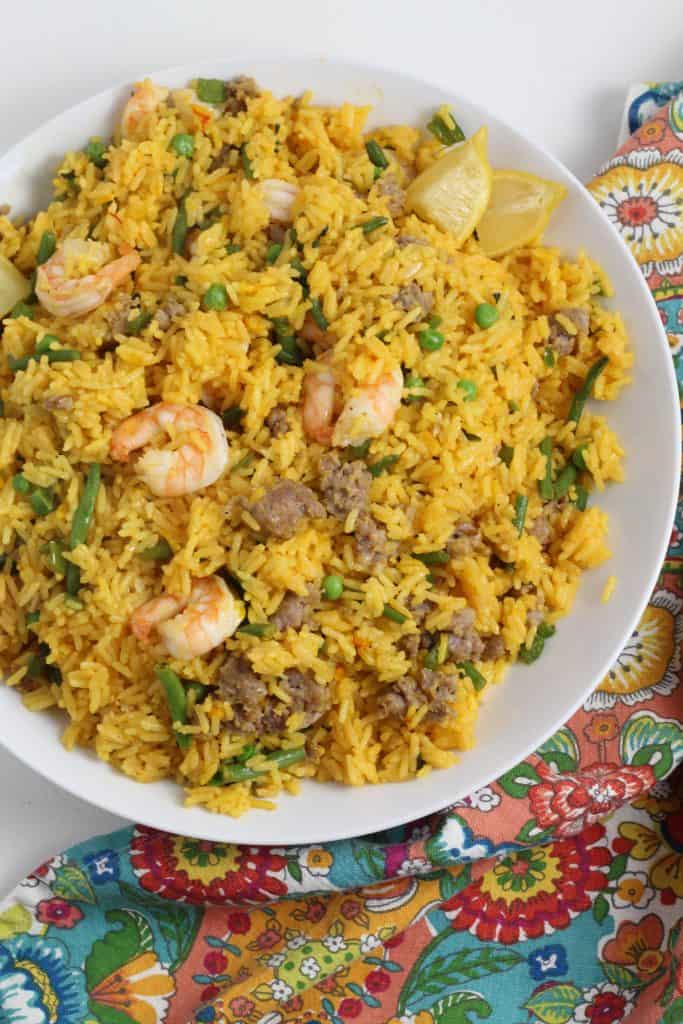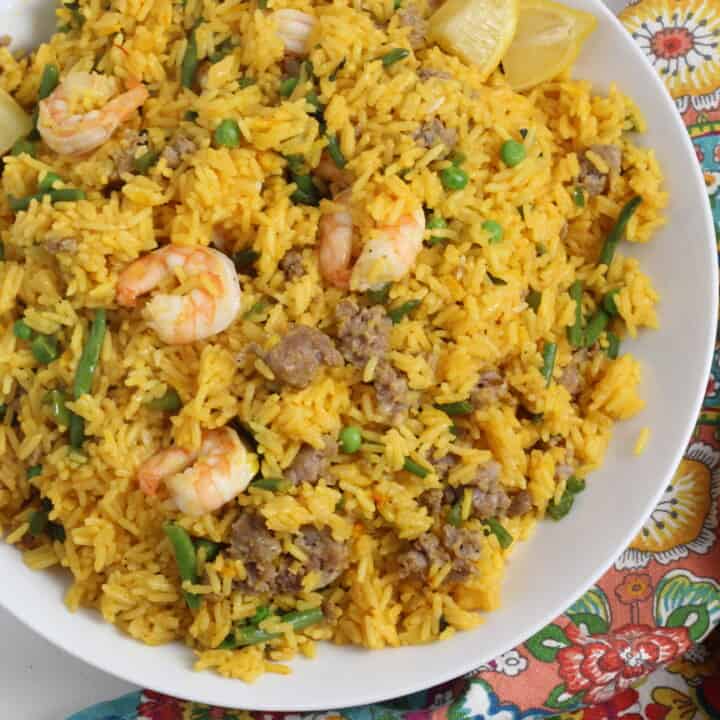 Cheater Paella
Paella flavors combine in this simple rice dish meant for weeknight dinners. Add sausage, shrimp, or both for a hearty dinner.
Print
Pin
Rate
Ingredients
2

cups

white rice

2 ½

cups

chicken broth or stock

or 4 c. if cooking rice on the stove top

¼

teaspoon

saffron threads

2

teaspoon

smoked paprika

2

tablespoon

olive oil

12

oz.

sausage, sliced or removed from casing

sweet Italian, merguez, or andouille sausages work well

1

pound

shrimp, peeled and deveined

3

cloves

garlic, minced

2

tablespoon

chopped fresh oregano leaves

or 1½ tsp. dried oregano

1

teaspoon

kosher salt

¼

teaspoon

ground black pepper

1

cup

diced green bell pepper

1

cup

cut green beans

about 1" pieces

½

cup

fresh or frozen peas (thawed)

1

lemon, zested and juiced

additional lemon wedges and olive oil for serving
Instructions
Prepare Rice - Pressure Cooker
Add rice, broth, saffron, and paprika to the bowl of the pressure cooker.

Cook with manual high pressure for 5 minutes. Naturally release the pressure for 10 minutes, then quick release to relieve the remaining pressure.

Fluff rice and keep it warm until step 7, below.
Prepare Rice - Stove Top
Add rice, broth, saffron, and paprika to a large saucepan or Dutch oven.

Bring the mixture to a boil and then reduce heat until you have a slow simmer.

Simmer, covered, until the water has been absorbed (about 12-15 minutes). Remove from the heat and let stand 5-10 minutes.

Fluff the rice and keep it warm until step 7, below.
Saute of Paella Ingredients and Assembly of Paella
If you are using sausage, start with that first. Add the oil to a large frying pan and heat to a shimmer over medium-high heat.

Add in sausage slices or the crumbled sausage and cook until the sausage is browned.

If you are using shrimp, add the shrimp in to the oil and cook for 3-5 minutes, until pink and cooked through.

Remove sausage and/or shrimp to a plate.

In the same frying pan, add bell pepper, green beans, salt, pepper, and oregano. Cook, stirring often, for 2-3 minutes.

Add in garlic and cook for an additional minute. Reduce heat to medium-low or remove from heat until the rice is ready.

When the rice is ready, bring heat back to medium-low and add peas, lemon zest, lemon juice, sausage and/or shrimp, and rice.

Cook for a few more minutes, stirring rice together and mixing the components so everything is distributed evenly.

Remove to a serving dish and drizzle with additional olive oil. Garnish with several lemon wedges.
Share on Facebook