Thanksgiving is over, the dishes are washed, and the fridge is full of leftovers. Now what? It's time to repurpose those leftovers in the most delicious way! This collection of leftover turkey recipes will have you covered. Soups and salads, snacks, hot dinners, and cold lunch options are all below.
Take a peek at this collection of 25 Cozy and Simple Family Dinner Recipes for more cold-weather dinner ideas!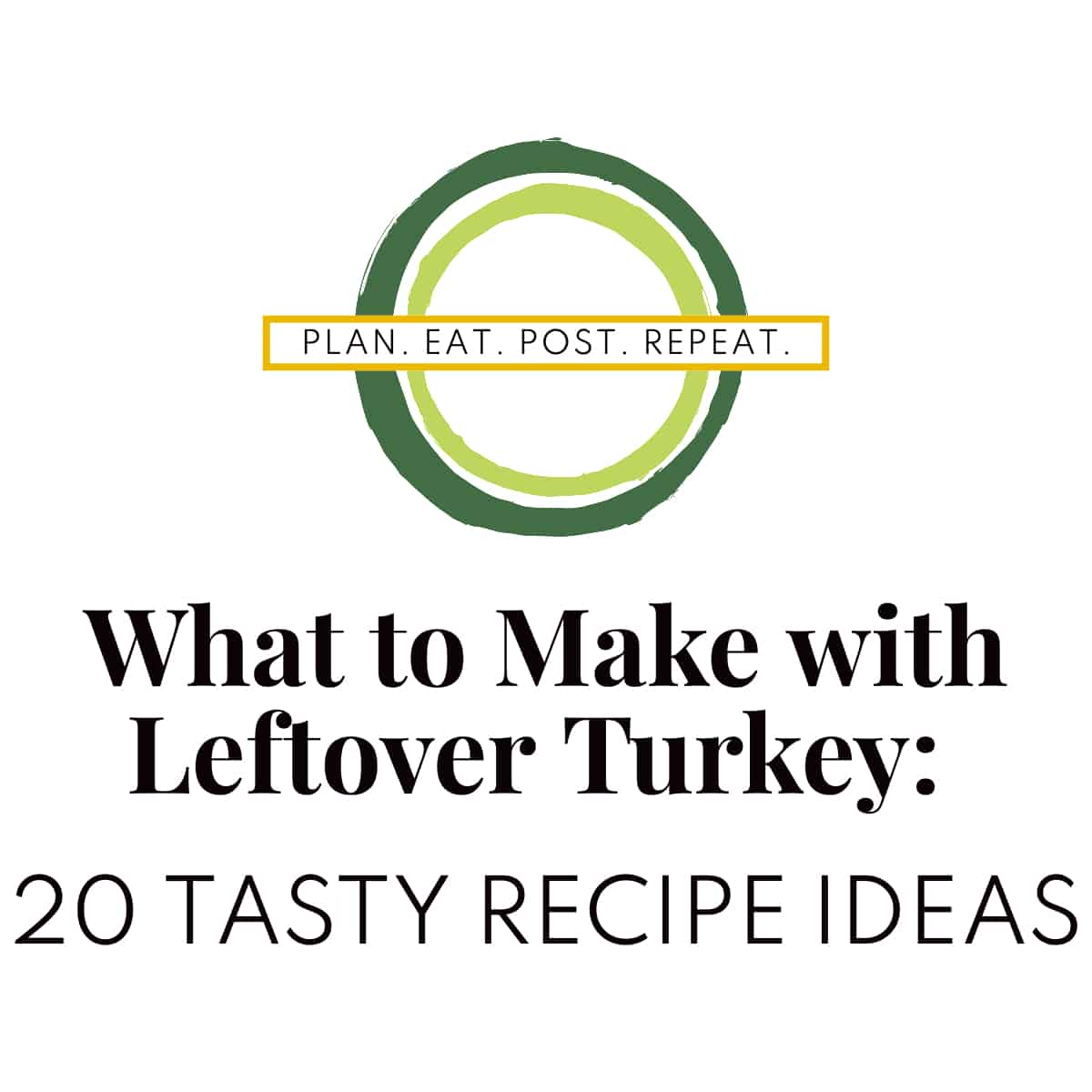 Lots of these recipes list chicken as the main ingredient, but all of them work equally well with turkey leftovers or chicken leftovers. Because you are using already cooked chicken, many of the recipes are quick and easy!
Salads
A big salad with greens, tasty tidbits, and a good dressing is so satisfying. Add some protein from your leftover turkey and it's a complete meal!
Soups
Cozy soups can still feed a crowd easily if you have guests throughout the weekend. Pair them with a simple salad or veggie sticks for a delicious dinner.
Snacks and Lunch Options
These recipes make great snacks or smaller meals. Bring out a few of them for watching football or celebrating happy hour with friends!
Oven Meals
Fire up that oven one more time and you'll be rewarded! I love this collection of warming recipes with diverse flavor profiles. Leftover turkey can be tucked in to layered enchiladas, used as a pizza topping, or added to a casserole.
Stove Top Favorites
I love using rich and flavorful sauces and spices to keep these leftover turkey recipes interesting and avoid that dreaded turkey burnout.
Four meals you can make with no recipe at all!
Turkey Nachos would be a fun way to snack after a long day of holiday shopping. Layer shredded turkey over tortilla chips and add refried beans, black beans, or shredded cheese. Broil this in the oven until the cheese is melted and then top with salsa, sour cream, lime juice, cilantro, hot sauce, or chopped tomatoes.
Barbecue Turkey Sliders on Hawaiian rolls are as simple as stirring together shredded turkey meat and your favorite barbecue sauce. Serve these with cole slaw, chips, and veggie sticks for an easy meal.
Turkey Quesadillas can be made as simply as turkey and cheese grilled in a skillet between two flour tortillas. Serve them with salsa or sour cream for a meal the kids will love.
Teriyaki Turkey Stir Fry over rice can be made with any veggies you have around. Sauté carrot coins, broccoli florets, water chestnuts, pea pods, and more in a bit of oil, toss in the diced or shredded turkey, and finish with bottled teriyaki sauce. Spoon this over rice and dinner is ready in way under 30 minutes.
Food Safety and Storage of Turkey Leftovers
Thanksgiving leftovers are only good in the refrigerator for three to four days after they were originally cooked, according to the USDA. At that point, they should be tossed or moved to the freezer. If you make a meal from them, the countdown to spoilage starts form the day the meat was cooked, not the day you prepared the leftover dish.
If turkey leftovers are frozen on the day of preparation, you can store them for 6 months. In the best case, freeze smaller portions of the turkey leftovers in airtight containers so that you can use them for new meals in the next 6 months. Many of these leftover turkey recipes use around 2 cups of shredded or diced turkey, so this is a good quantity to freeze in each container. To make things easier on your future self, dice or shred the turkey before storing it!
Try One and Share
I hope you find this collection of leftover turkey recipes helpful and share it with family or friends. I want to see what you make! Tag your photo with #planeatpostrepeat and mention me @planeatpostrepeat on Instagram or Facebook. I can give you a virtual high five and thank you for cooking one of my recipes! Comment below with any questions.