Cross the flavors of a chocolate-covered strawberry with the perfection of simple strawberries and cream and you get this luxurious strawberry mousse with chocolate ganache. It's a 5-ingredient dessert that requires no baking and you've got to give it a try!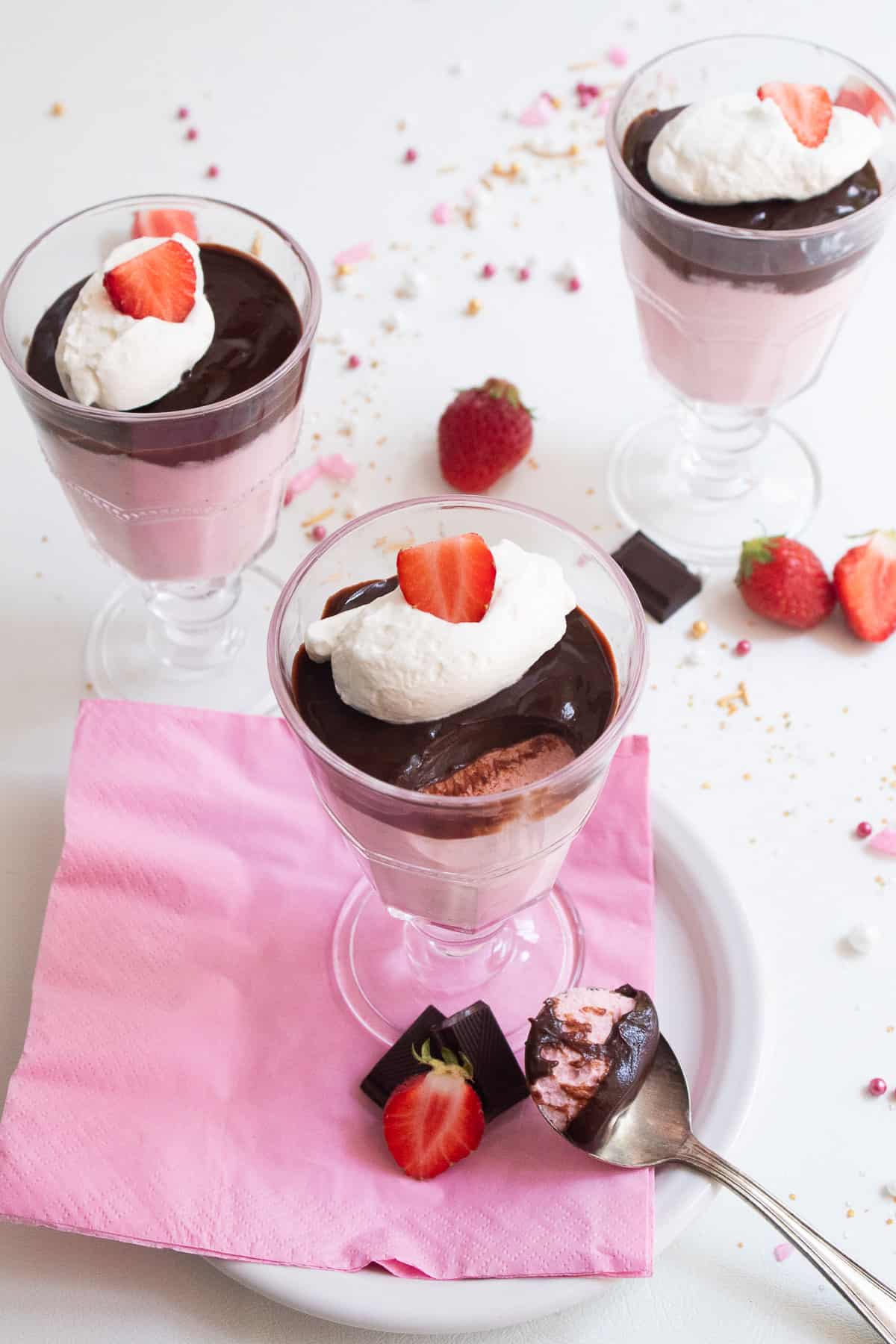 Mousse is not something I've made very often, but this recipe changes all of that nonsense. I thought it was too complicated! I was wrong. There are chilling steps that take a bit of time, but it is dead simple. This means we can have strawberry mousse any time and that's good news for everyone!
Strawberry mousse takes advantage of perfectly ripe and sweet strawberries. If you have extra to work with, try a strawberry goat cheese salad or strawberry jalapeno margaritas made with homemade 2-ingredient strawberry simple syrup!
Jump to:
Ingredients
Only 5 ingredients are needed to make this dessert, so use the best you can get your hands on!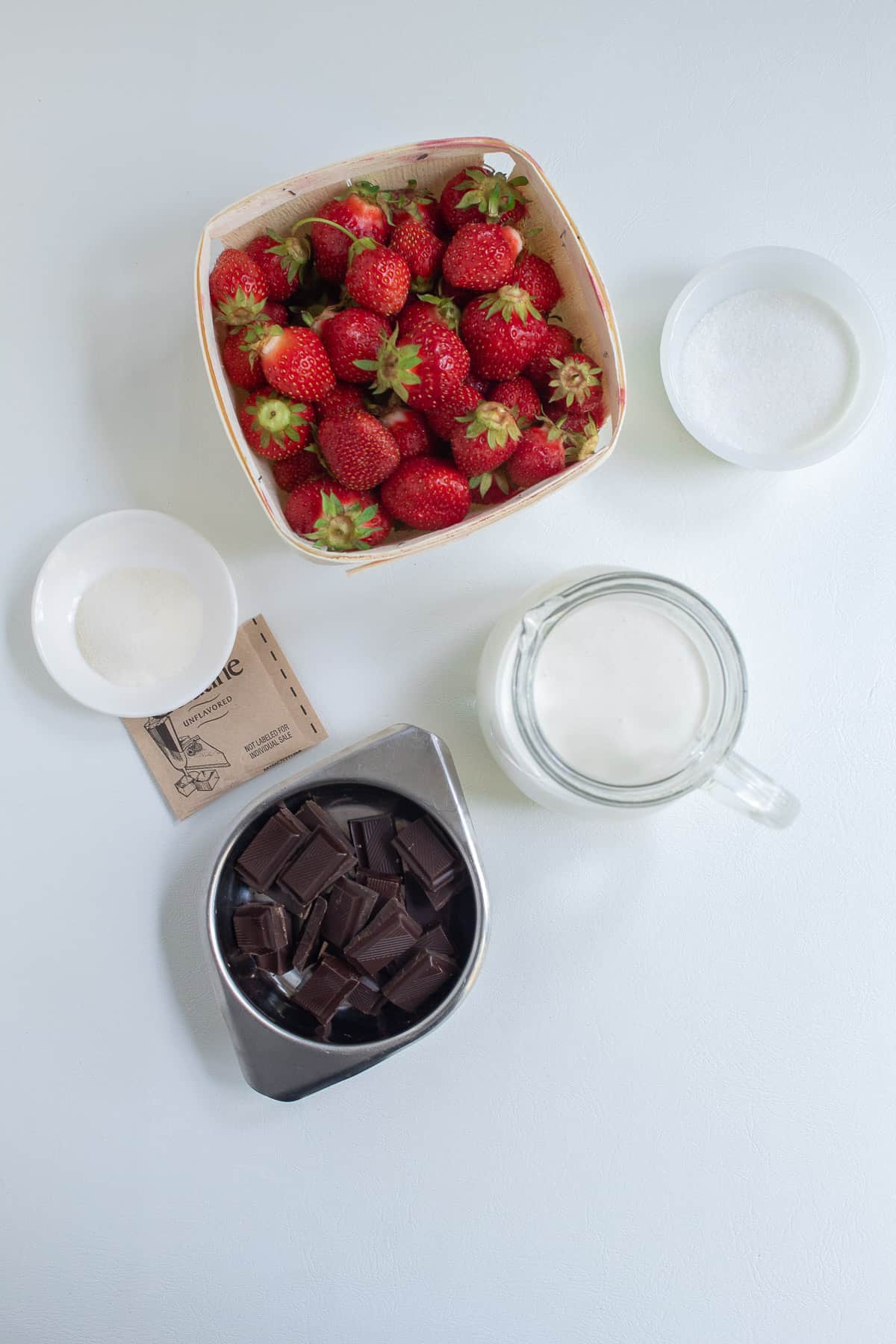 I include ingredient notes here when I think they'll be helpful, including ways to source, any preparation tips, or why I've chosen a particular ingredient. Be sure to check out the recipe card below for the full list of ingredients and their quantities!
Strawberries - Use fresh and perfectly ripe berries if you can, but know that frozen berries will absolutely work in this recipe.
Heavy Cream - Heavy cream or heavy whipping cream has a higher fat content than half and half or whipping cream (in the US it contains at least 36% fat) and is used to whip the mousse into a light texture and for garnishing the final dessert.
Granulated Sugar - Use granulated sugar when making the strawberry mixture. It will be heated so that the sugar completely dissolves, avoiding any grainy texture.
Gelatin - Simple unflavored gelatin is sold near the other gelatin boxed desserts. Gelatin stabilizes the whipped mousse so that it doesn't deflate while chilling.
Chocolate - Use a good quality chocolate, I like to break up a semisweet bar (around 70% cacao) for this recipe.
Prepare the Strawberry Mousse
Prepare the mousse a few hours ahead of when you'll need it in order to have time for the three chilling steps.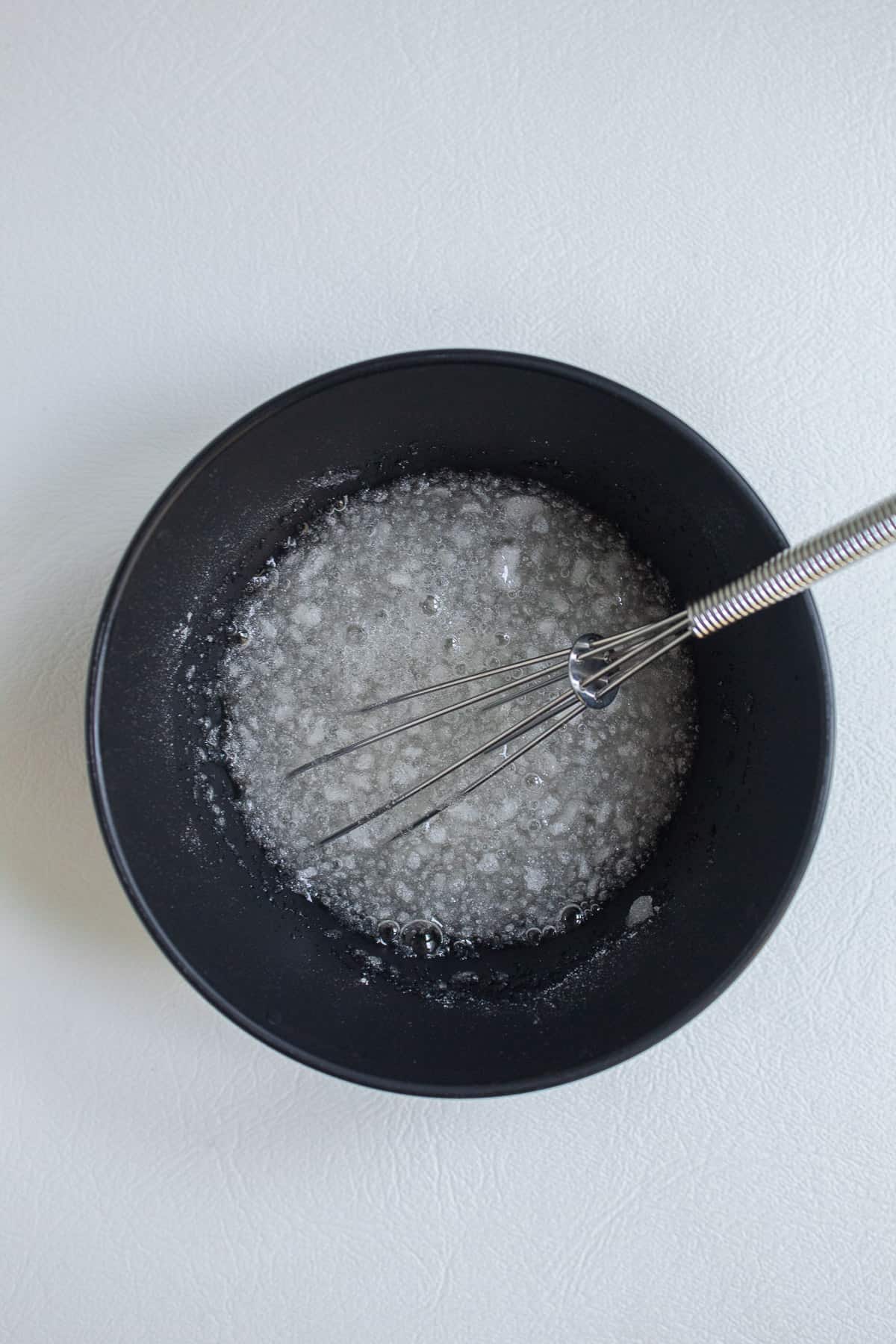 Add the gelatin powder to ¼ cup water in a small bowl to rehydrate (or "bloom") it. Set the mixture aside.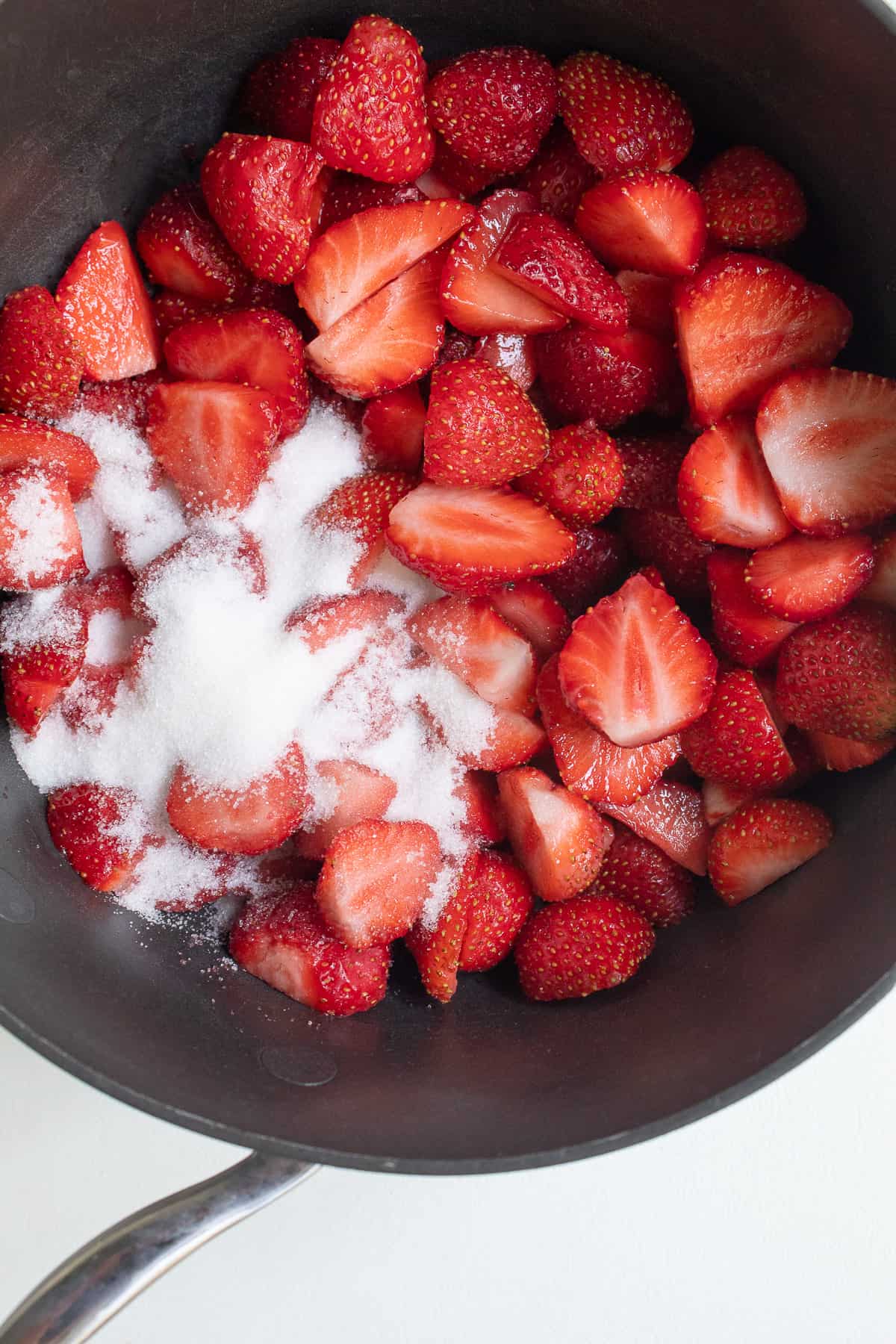 Add the strawberries and sugar to a saucepan and cook over medium-high heat. Bring the mixture to a rolling boil and cook for 3 minutes. Stir frequently to prevent the strawberries from boiling over.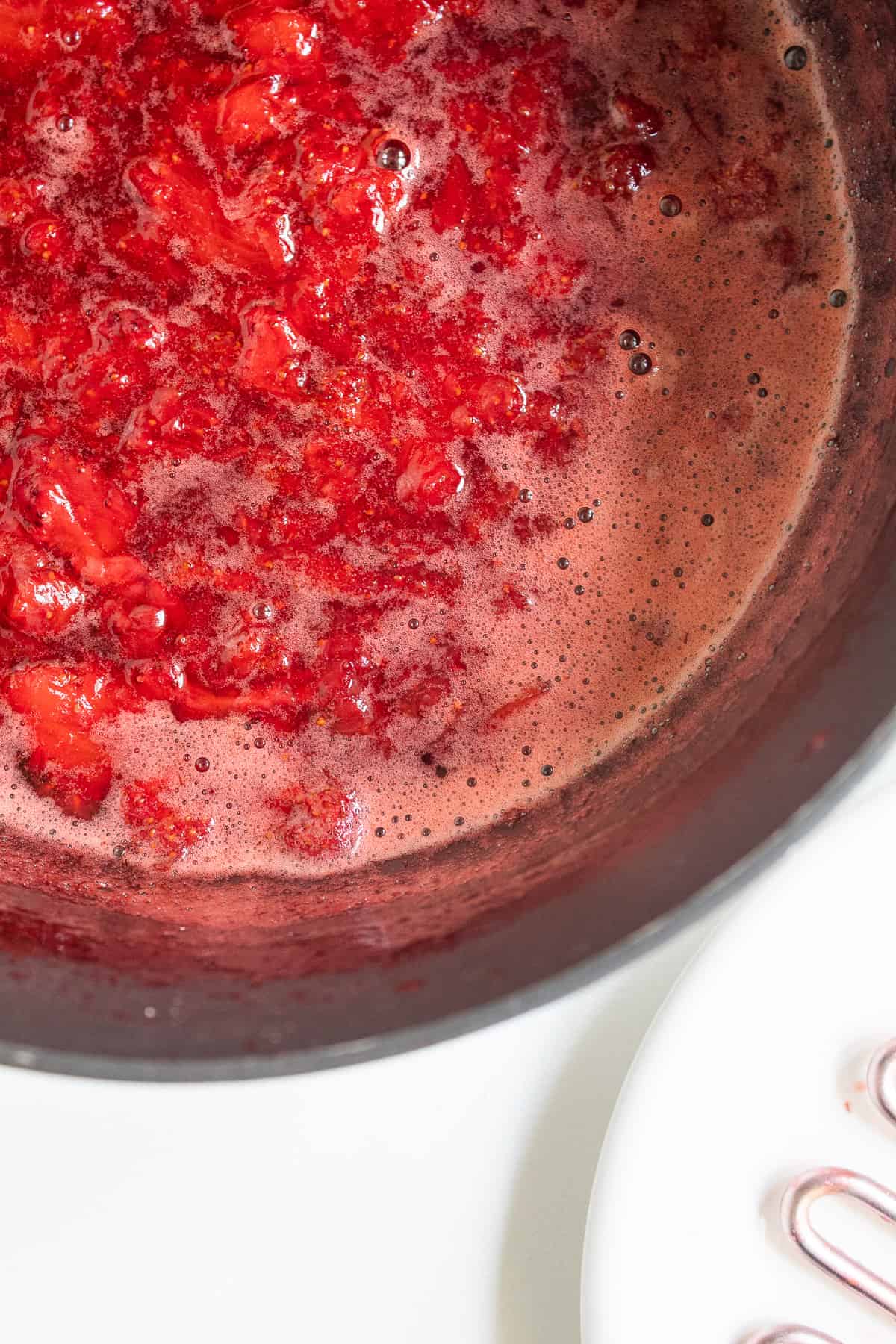 Remove the mixture from the heat and mash the berries with a potato masher.
Strain the mixture over a large bowl. Save the strawberry solids for stirring into yogurt, oatmeal, or smoothies.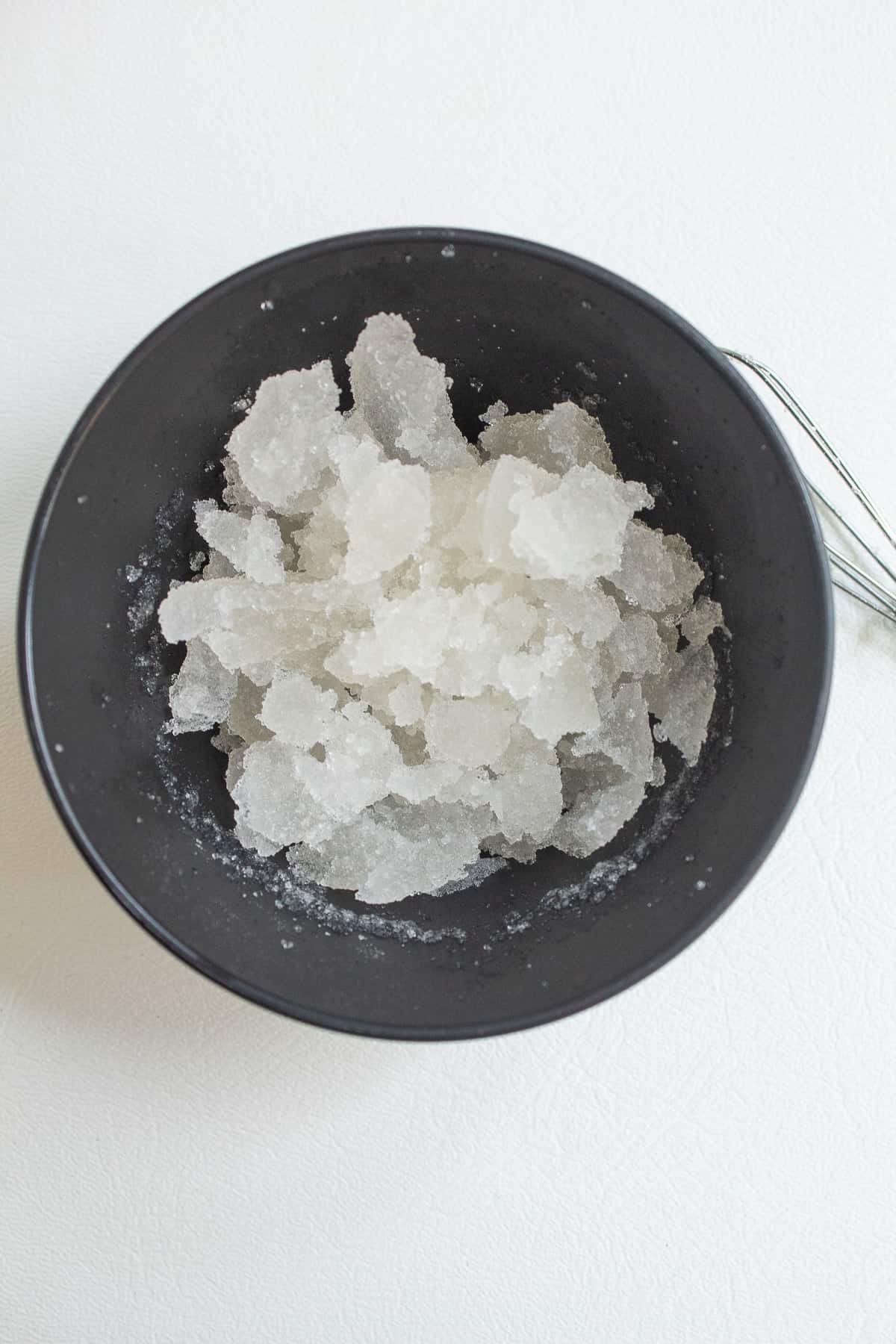 Break up the hydrated gelatin a bit with a spoon before adding to the strawberry mixture. Stir until the gelatin is dissolved and then chill the strawberry mixture for 30 minutes.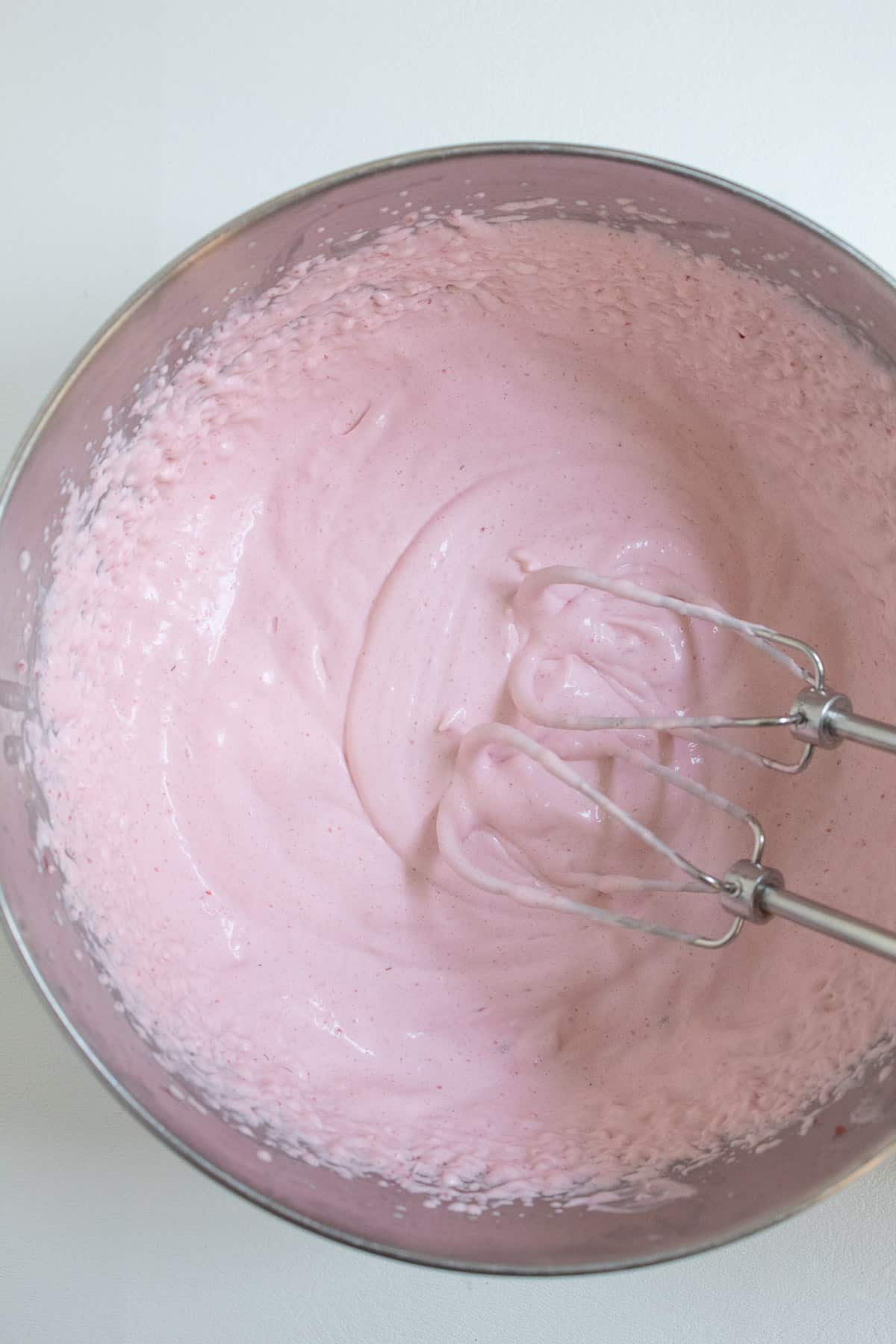 Add 1 cup of heavy cream to the strawberry mixture and whip everything together for 5 minutes.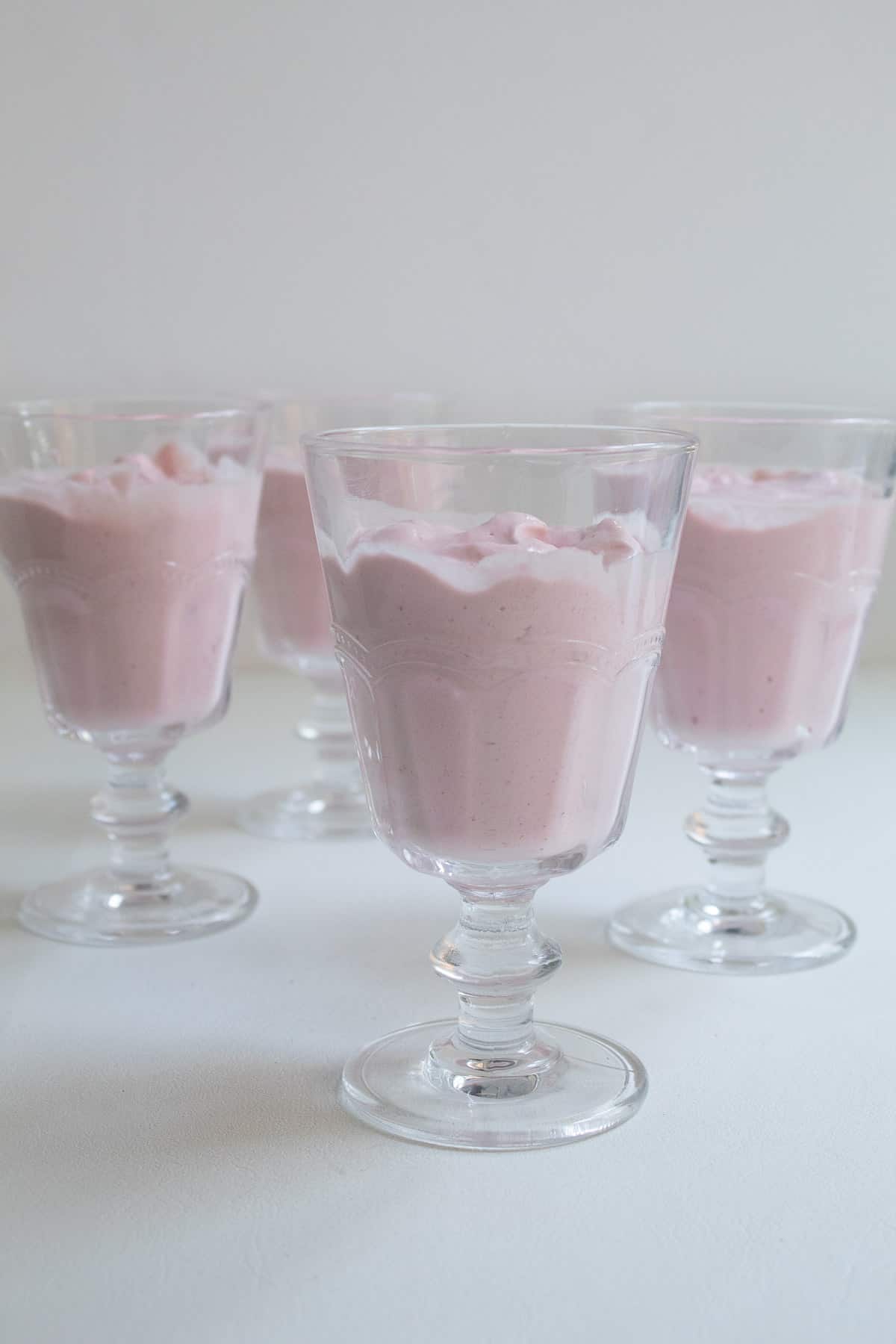 Divide the mousse between 4 serving glasses or bowls. Chill for 1 hour.
For Extra Presentation Credit
To keep your mousse layer extra neat, transfer your whipped mousse to a piping bag and pipe it into the serving glasses. Shimmy the glasses to make an even, flat layer of mousse for the ganache layer to sit on before chilling.
Make the Chocolate Ganache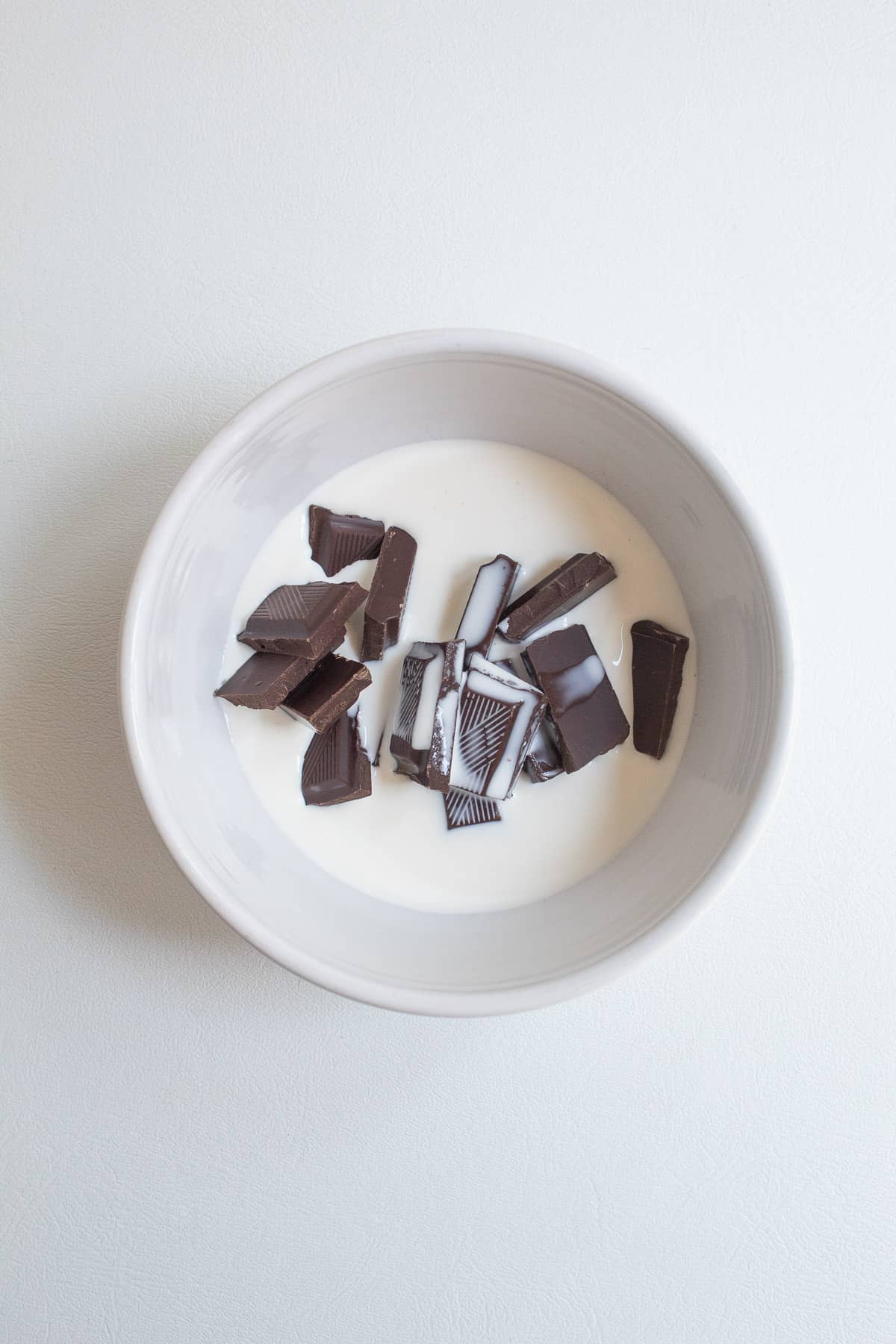 Add the chocolate pieces and ¼ cup of heavy cream to a microwaveable bowl. Microwave for 30 seconds.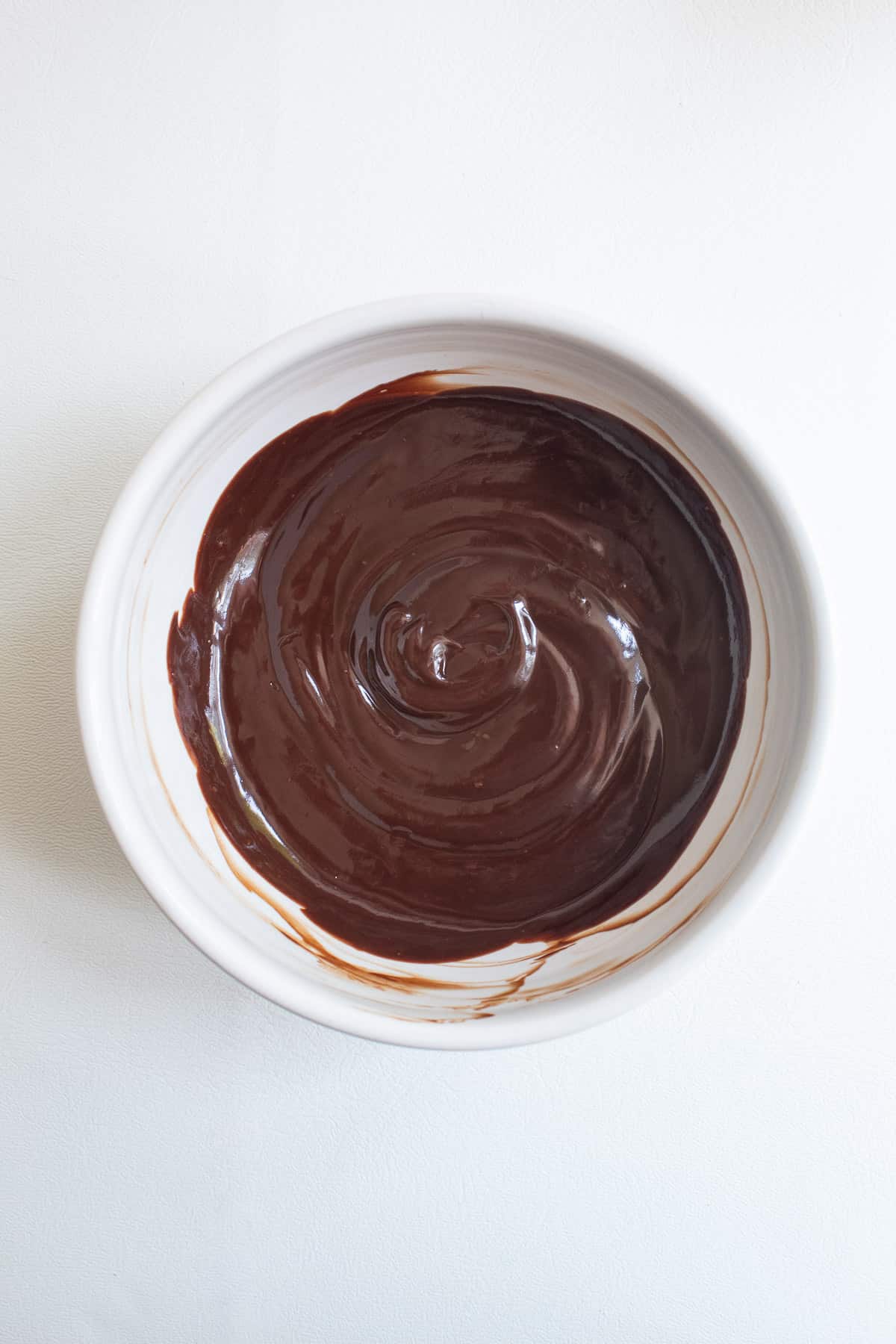 Stir the cream and chocolate together until the chocolate melts completely and you end up with a thick chocolate ganache.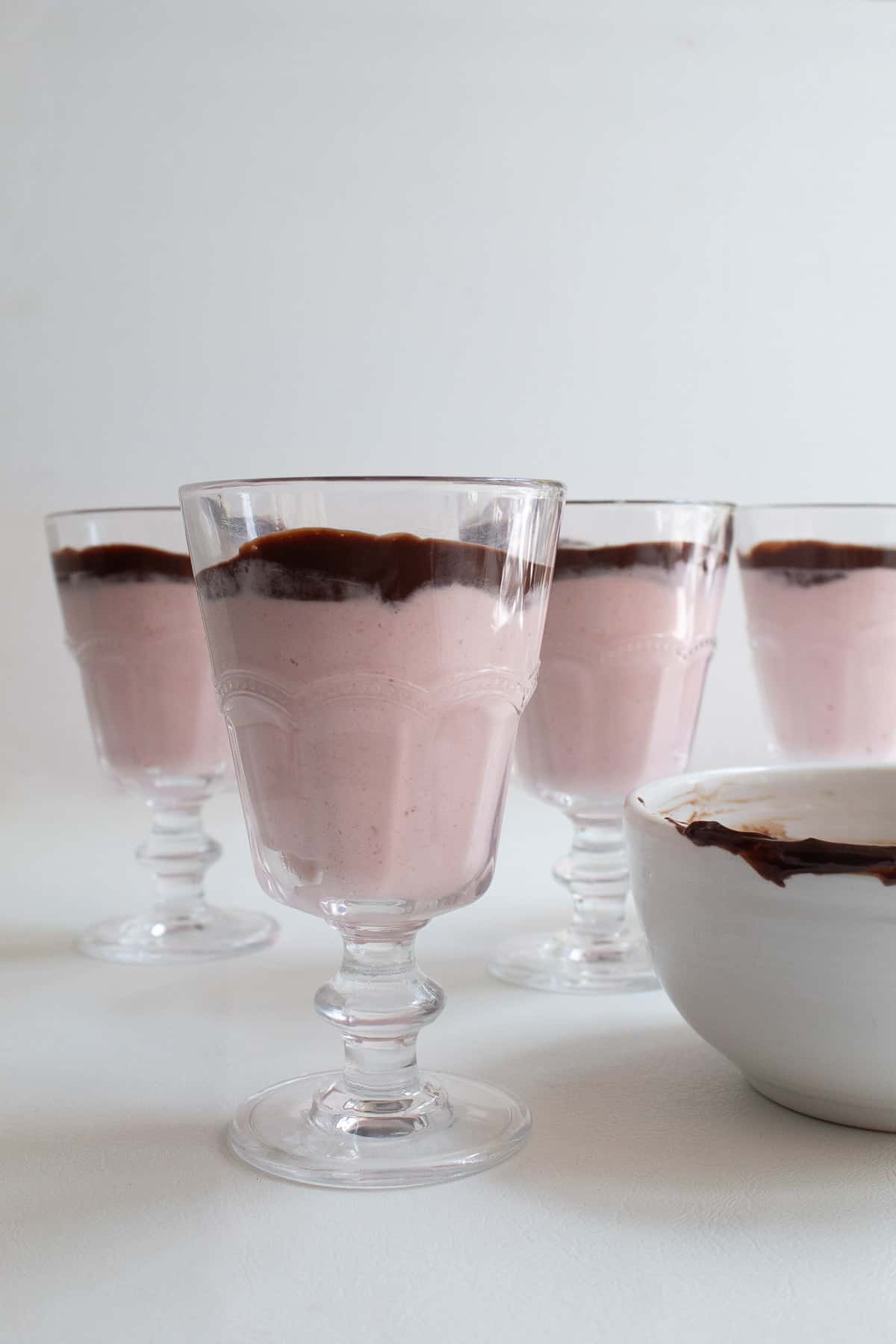 Divide the ganache among the four serving glasses, completely covering the mousse with a layer of ganache.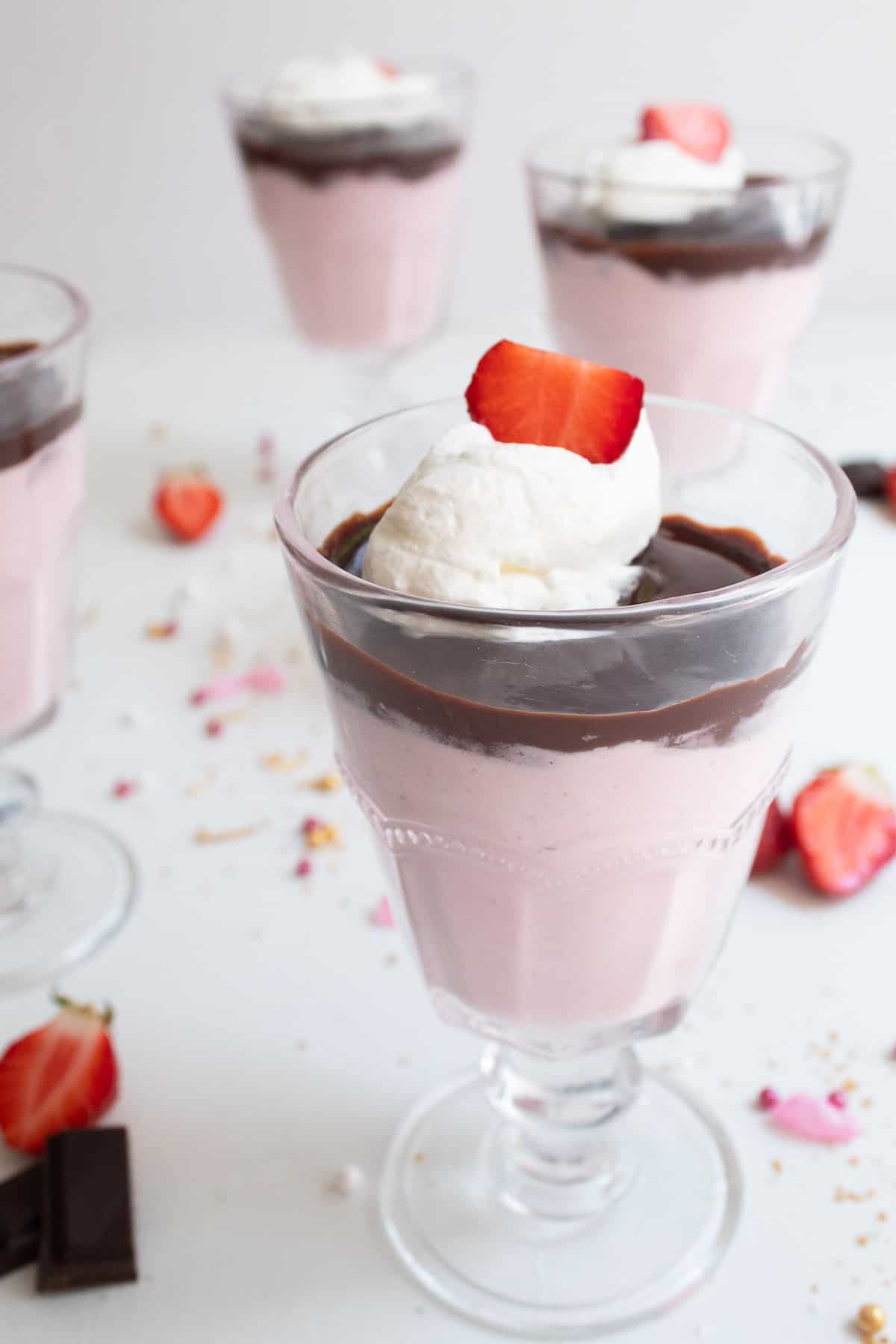 If desired, garnish each serving with extra whipped cream, strawberry slices, or shaved chocolate.
Hint: When making the ganache, it will seem like there isn't enough heat to melt the chocolate after just 30 seconds of heating. Keep stirring! If you stir for a full minute and it still doesn't come together, microwave for 7-10 seconds more.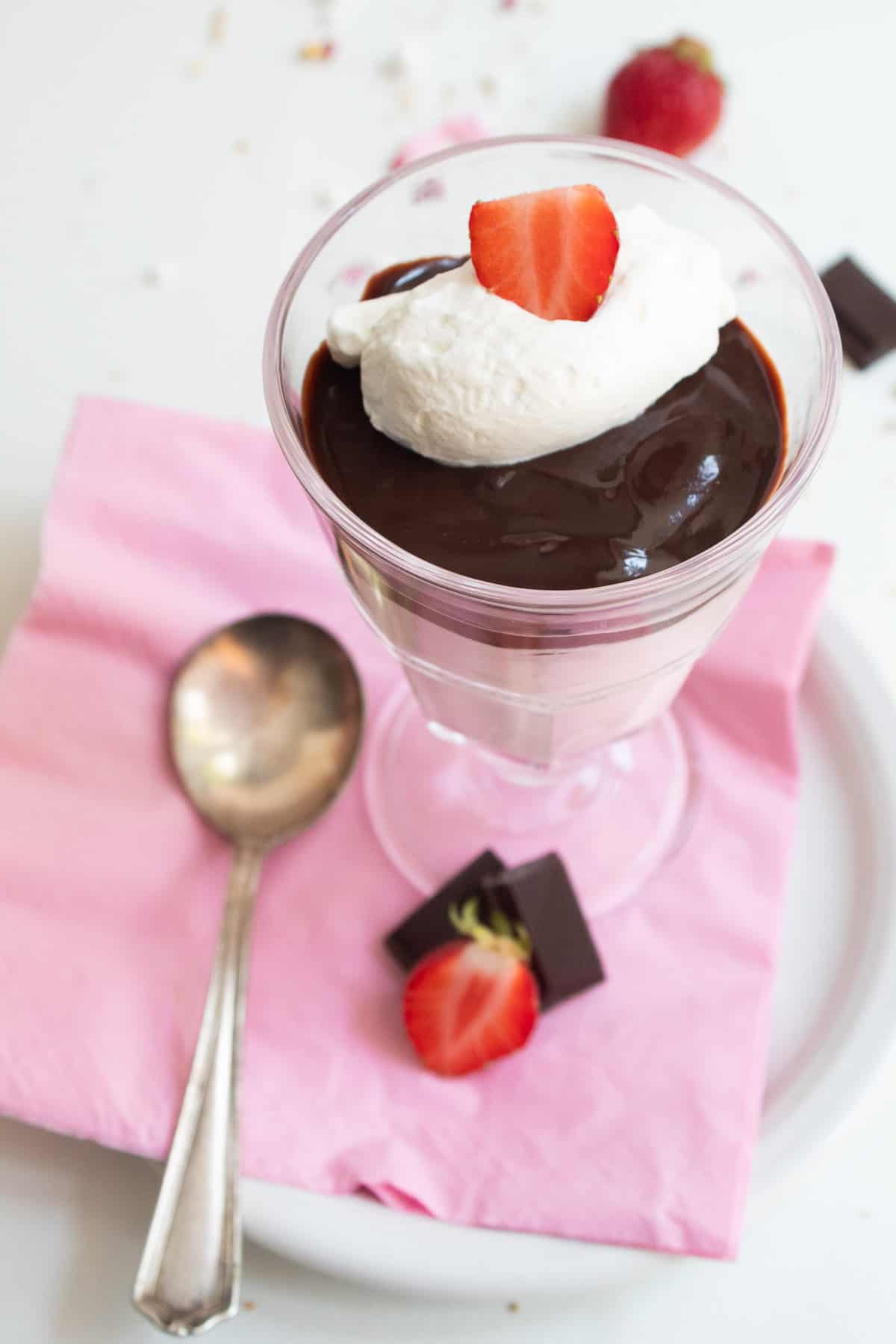 Variations
There aren't many ingredients to change, but here are some variations you can make with this recipe:
Use Milk Chocolate - If you prefer the creamy sweet flavors of milk chocolate, feel free to use that instead of a darker chocolate.
Make Raspberry Mousse - Raspberries are a good swap for the strawberries in this recipe.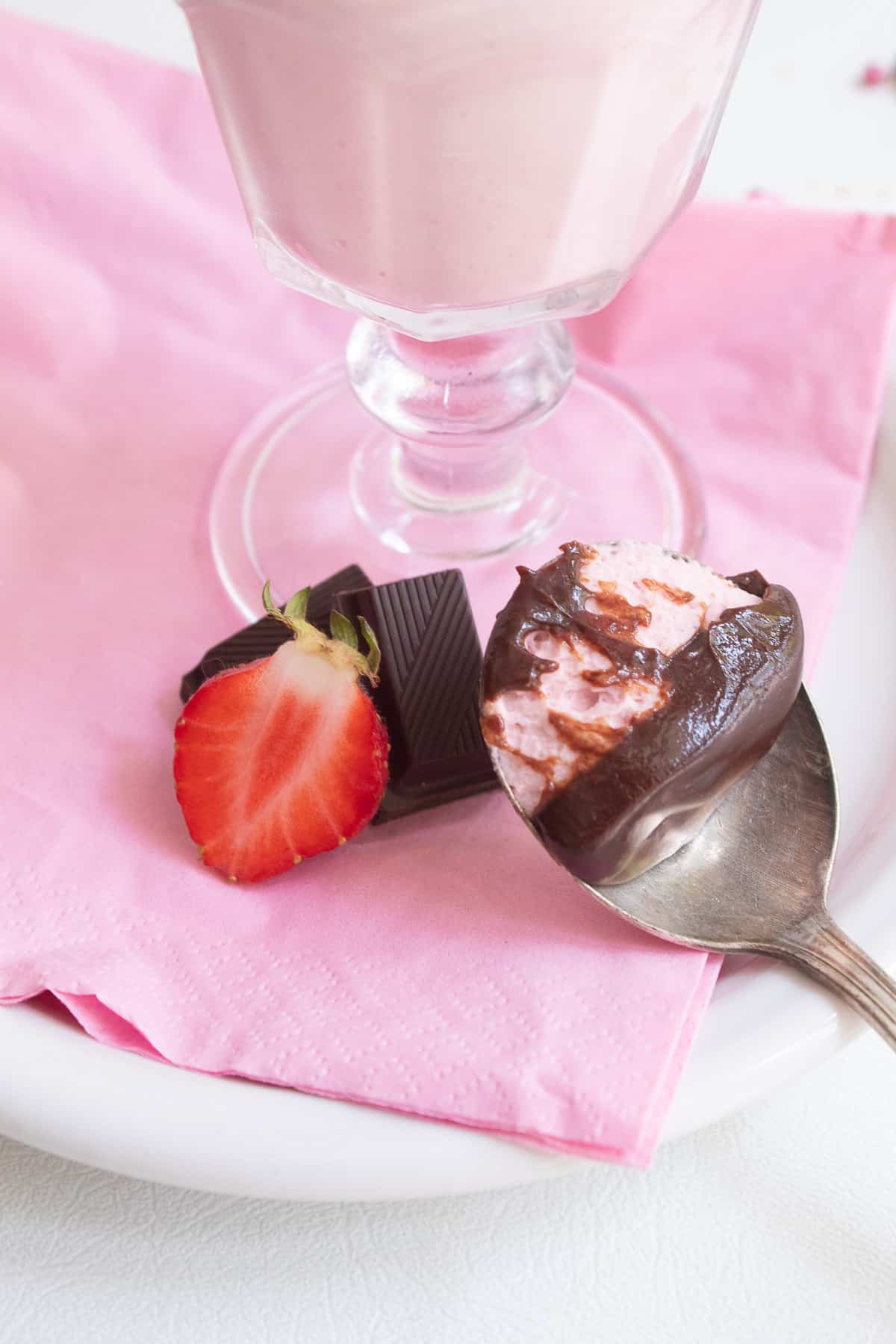 Equipment
I prepare this strawberry mousse with a simple hand mixer. If you have a stand mixer, feel free to use it here, you may have to whip the strawberry and cream mixture for a shorter amount of time to get the airy texture.
Use a piping bag or even a gallon-sized zip top bag to pipe the whipped mousse into the serving glasses for clean, neat layers.
Storage
The finished mousse can be stored in the refrigerator for one day before serving. Cover the mousse well with a layer of plastic film to prevent it from taking on any refrigerator odors. Because of the added gelatin, this mousse will keep its texture well under these storage conditions.
Make-Ahead Options
The strawberry and gelatin mixture can be made a day ahead and stored in the refrigerator covered in plastic wrap. You can also prepare the mousse and top it with the ganache a day ahead. Hold the garnishes until right before serving, however.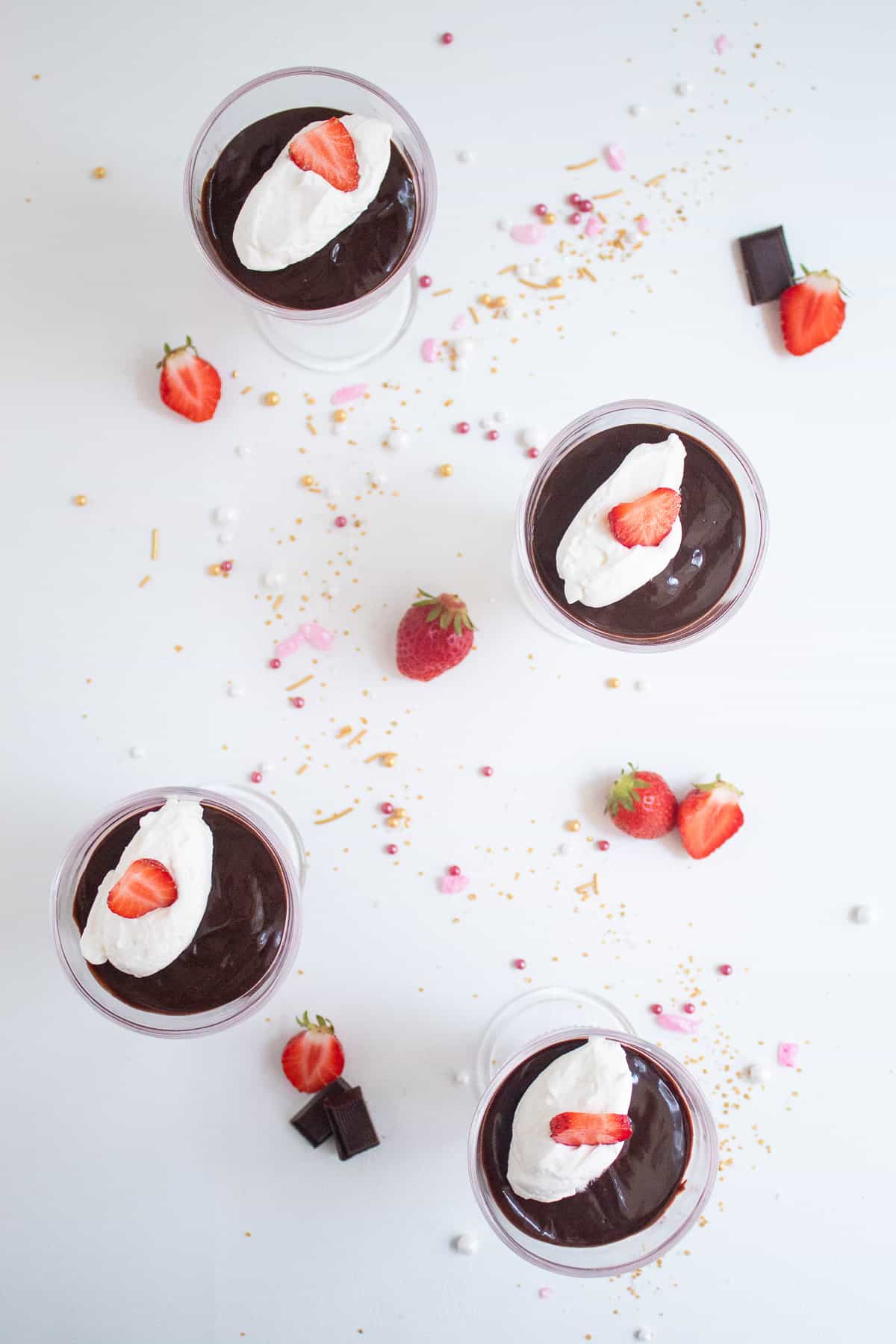 FAQ
Is strawberry mousse gluten-free?
The ingredients for the mousse are gluten-free, however some chocolate bars contain gluten. Before making the ganache for the topping, check the label carefully to avoid any additives that may contain gluten.
Can I use frozen strawberries to make the strawberry mousse?
You sure can! Add them to the saucepan along with the sugar and cook according to the recipe. It will take a few more minutes to come to a boil, but the frozen strawberries can be used directly from the freezer.
Can you freeze strawberry mousse?
The texture of the mousse can be affected after freezing and thawing. I recommend preparing this recipe and serving it within a day from the refrigerator.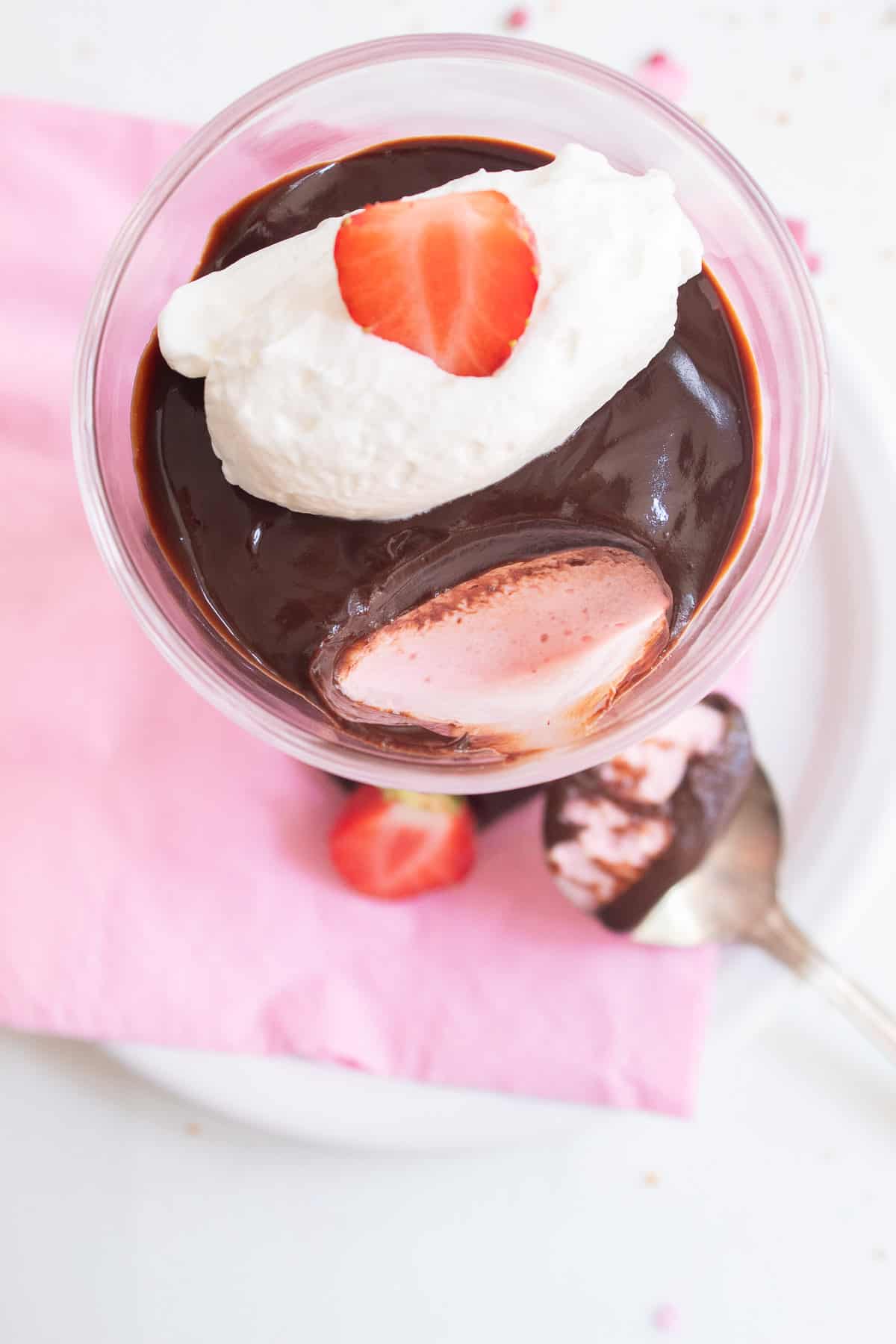 No Cook Recipes to the Rescue!
This is a no-bake recipe that will barely heat up your kitchen in the summer. Try it with one of these no-cook recipes to keep your kitchen cool: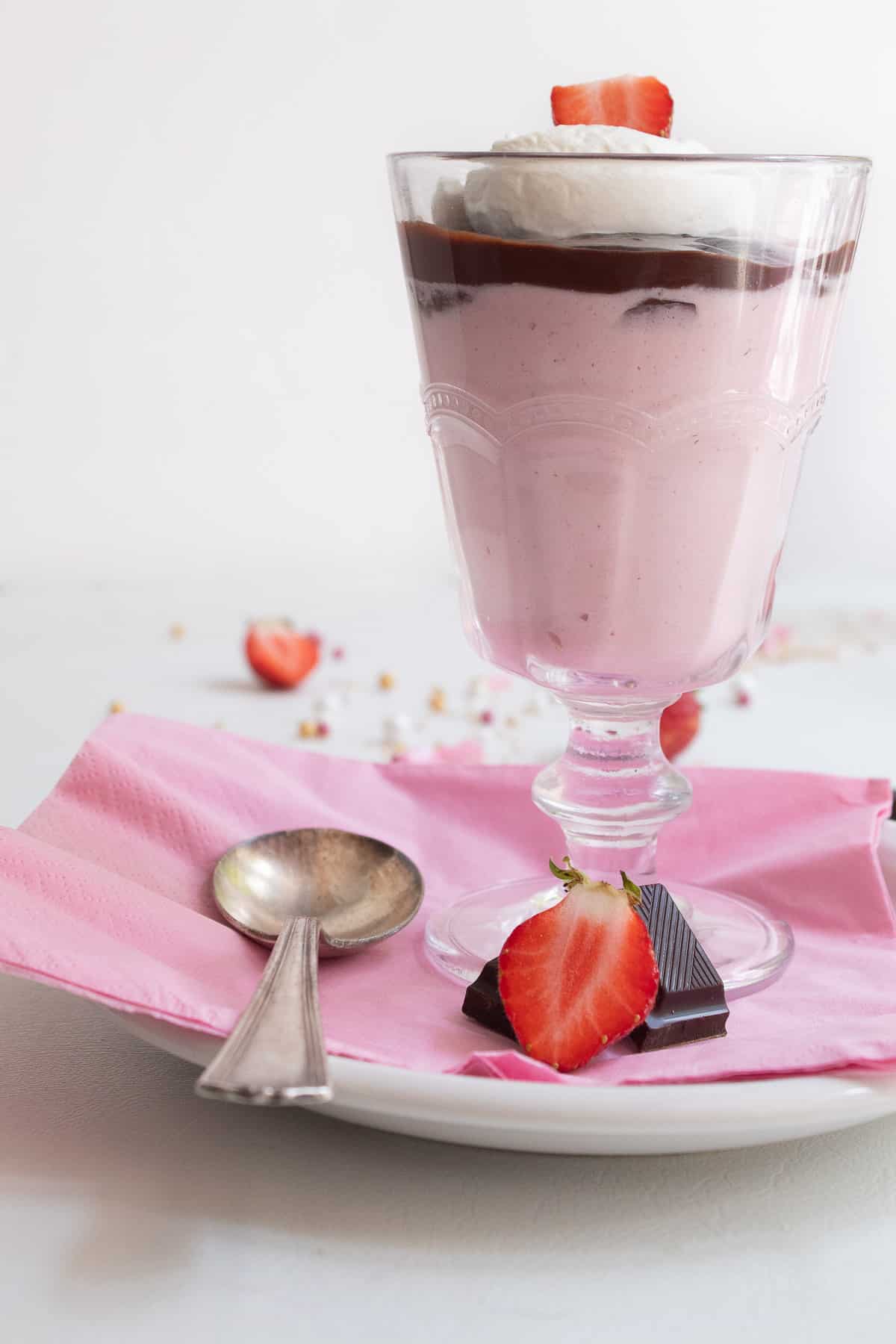 Pairing
Here are some great options to pair with this strawberry mousse:
Try It and Share
Prepare this strawberry mousse with chocolate ganache for your friends and family and let me know what you think of it in the comments. I want to see your results! Tag your photo with #planeatpostrepeat and mention me @planeatpostrepeat on Instagram or Facebook. I can give you a virtual high five and thank you for cooking one of my recipes! Comment below with any questions and please leave a review so others can find this recipe more easily.
Recipe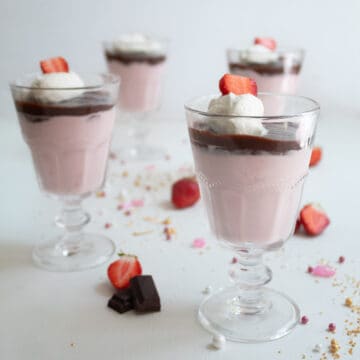 Strawberry Mousse with Chocolate Ganache
Creamy and fragrant strawberry mousse is accented with a layer of chocolate ganache for this easy 5-ingredient no-bake dessert.
Ingredients
0.25

oz.

unflavored gelatin

(1 packet)

16

oz.

strawberries

(hulled and halved or quartered)

¼

cup

granulated sugar

1¼

cups

heavy cream

(divided)

3

oz.

semisweet chocolate

whipped cream and strawberries

(for garnish, if desired)
Instructions
Sprinkle the gelatin over ¼ cup of water in a small bowl and whisk it to combine. Set this aside.

Heat the strawberries and sugar in a saucepan over medium-high heat and bring to a rolling boil. Cook for 3 minutes, stirring frequently to prevent boiling over.

Remove from the heat and mash the berries with a potato masher. Strain the berries using a mesh strainer over a large bowl.

Whisk the hydrated gelatin into the strawberry sauce until dissolved. Chill the strawberry mixture for 30 minutes.

Add 1 cup of heavy cream to the strawberry mixture and whip on high with a handheld electric mixer for 5 minutes.

Divide the mixture into four serving cups or ramekins. Chill the mousse for 1 hour.

Melt the chocolate and ¼ cup of heavy cream in the microwave for 30 seconds. Stir the ganache until the chocolate melts completely.

Divide the chocolate over the mousse in the serving cups. Chill for ½ hour, until the ganache is set. Garnish with whipped cream and strawberries, if desired, and serve.
Nutrition facts are sometimes provided below and are calculated using an online calculator. With specific brands of ingredients and additions, omissions, or substitutions the nutrition facts may change. We encourage you to use your own nutrition facts caculator to obtain the most accurate nutrition facts for your meal.
Nutrition Facts
Calories:
466
kcal
Carbohydrates:
34
g
Protein:
6
g
Fat:
35
g
Saturated Fat:
22
g
Polyunsaturated Fat:
2
g
Monounsaturated Fat:
9
g
Trans Fat:
0.02
g
Cholesterol:
85
mg
Sodium:
27
mg
Potassium:
365
mg
Fiber:
4
g
Sugar:
28
g
Vitamin A:
1118
IU
Vitamin C:
67
mg
Calcium:
82
mg
Iron:
2
mg